ITALIAN PRIME MINISTER Giuseppe Conte submitted his resignation to President Sergio Mattarella, in a bid to form a new, stronger government.
The president accepted the resignation and "reserves the right to decide (what to do next) and invited the government to stay in office in a caretaker capacity", Mattarella's office said.
Mattarella, the ultimate arbiter of Italian political crises, said he would start a round of discussions with party leaders on the way forward tomorrow afternoon. Talks are expected to last until Thursday.
Conte is expected to seek a new mandate for what would be his third consecutive government in three years, but this depends on his ability to expand his parliamentary majority.
The political crisis was triggered two weeks ago by ex-premier Matteo Renzi's decision to pull his party Italia Viva out of the ruling centre-left coalition, depriving Conte of a solid parliamentary majority.
The other parties
To succeed in forming a government, Conte would need to bring Renzi's Italia Viva party back on board, along with the populist Five Star Movement and the centre-left Democratic Party – Conte's main backers.
The PD has called for a new Conte government with a "wide parliamentary basis", code for enlarging the coalition to include centrists currently in the opposition.
The idea is that this would curtail Renzi's veto powers within the coalition. But it is unclear whether enough lawmakers are willing to make the jump.

Matteo Renzi speaks with Paola De Micheli in the Senate.
Source: SIPA USA/PA Images
Conte sacrificed
Renzi, who played a key role in the formation of Conte's second government in 2019, has long made clear he no longer has confidence in the outgoing premier.
He may demand the appointment of a new leader as the price of his return within the government coalition. So far, Renzi has been biding his time.
Italian media suggest that a PD heavyweight, such as Culture Minister Dario Franceschini, or former M5S leader Luigi Di Maio could be offered the prime minister's job.
Another possibility is naming an independent as premier, to prevent rows between the PD and M5S. According to the leftist La Repubblica daily, Conte could serve as a minister in such a cabinet.
Technocrats in charge
If the outgoing ruling coalition cannot be glued back together, Mattarella will likely ask a non-partisan figure to form a so-called national unity government.
Centrist backbenchers and ex-premier Silvio Berlusconi's centre-right Forza Italia party might back it, while far-right opposition leaders Matteo Salvini and Giorgia Meloni are unlikely to.
#Open journalism
No news is bad news
Support The Journal
Your contributions will help us continue
to deliver the stories that are important to you
Such a government would be expected to pull Italy through the worst of the Covid-19 pandemic and finalise the country's application for European Union recovery funds, due by late April.
Italy is eligible for some €220 billion in loans and grants from Brussels, a massive cash boost crucial to its future prospects.
New elections
The current parliamentary term ends in March 2023, but Mattarella can call snap elections if the political crisis proves intractable – except during a six-month window starting from July.
Under the constitution, parliament cannot be dissolved in the last six months of a sitting president's term, and Mattarella's seven-year mandate ends in January 2022.
Current opinion polls suggest general elections would hand victory to a right-wing opposition bloc including Salvini's League, Meloni's Brothers of Italy and Berlusconi's Forza Italia. 
Source: http://prntscr.com/fub00u
AN OFFICE-BASED worker here had no option but to resign from her job during the first Covid-19 lockdown after her employer rejected her plea to work remotely from home.
That is according to Workplace Relations Commission (WRC) Adjudication Officer, Kevin Baneham who has ordered the employer pay the operations coordinator €3,712 compensation for her unfair dismissal on 12 May last.
Today, employment law expert, Richard Grogan described the WRC ruling as "a wake-up call" for employers.
Grogan – who wasn't involved in the case – stated: "The amount of compensation isn't high as the worker got new a new job within a short space of time, but the findings are important as it is the first ruling that the WRC has made concerning a Covid-19 related unfair or constructive dismissal."
The Dublin based solicitor stated: "I believe that we are going to see an awful lot more of such Covid-19 cases going through the WRC".
In an email to her employer, a university-based facilities management service provider last April, the worker stated that her employer's refusal to accept the remote working proposal "has increased the infection risk with Covid-19 for all three operations coordinators".
She stated: "In the event one of us gets sick I will be putting at risk my husband who is an asthmatic patient."
In his ruling, Baneham found that the university-based operations coordinator had "no real option but to resign" after her employer failed to take reasonably practicable steps to mitigate risk posed by Covid-19 in the workplace.
Baneham found that the employer failed to implement the proposals made by three office workers that would have eliminated the risk of transmission of Covid-19 in the workplace.
The employer rejected a proposal from the three that two could work remotely at any one time in response to the risk posed by Covid-19.
In the case, the woman – represented by Siptu – worked for the facilities management company at a university where there are 3,200 rooms to accommodate students.
In his findings, Baneham found that the requirement by the employer that the operations coordinator attend the workplace without adequate consideration of the elimination of risk posed by Covid 19 "amounts to repudiation of contract".
He stated: "This arises as providing a safe place of work is a fundamental term of the contract of employment."
Baneham found that the employer did not comply with the statutory framework by first seeking to eliminate risk, "causing the worker to attend work in greater danger".
Baneham stated: "In this case, the risk could have been readily eliminated or reduced through 'reasonably practicable' steps, as suggested by the complainant."
Baneham stated that the operations coordinator "articulated a clear grievance and suggested how the work could be done in the safest way possible".
Baneham stated: "This was not adequately considered by the respondent, leaving her with no real option but to resign."
The award made by Baneham would have been higher but for the worker concerned securing alternative employment within five weeks at a higher pay rate.
Baneham stated: "As an infectious disease, Covid-19 constitutes a biological hazard. In this context and at the centre of this case are the duties of both employer and employee arising from the Safety, Health and Welfare at Work Act and the underpinning health and safety principles."
Some 1,000 students were stuck on the campus in March, some of whom were self-isolating and Baneham stated that the worker and her colleagues dealt with the difficult task of managing thousands of students who vacated their accommodation at the start of the lockdown.
Baneham stated that it was striking that the employer did not trial the "eminently sensible" suggestion by the three office-based operations coordinators that only one worker attend the office and the others work remotely at any one time.
The worker provided a "lockdown" photo taken on 17 April last showing her and her colleagues working in close proximity in the small office.
In an email dated 17 April, the worker told her employer that she was not able to socially distance from her two colleagues in the workplace.
Formal grievance
In a formal grievance lodged on 30 April, the three operations coordinators stated: "All three of us have family members in the 'at risk' category and we are concerned about the health of our family members as well as our own wellbeing."
They stated that these concerns were brought to the employer's line manager attention numerous times at the start and during the Covid-19 outbreak "but nothing was done about it and zero care and consideration was given back".
They state: "Most of our work can be completed from home but if there are issues that require our presence there will be one coordinator in the office to address them. This measure will minimise the infection risk and will help us keep our family and ourselves protected."
However, in response the employer rejected the work from home proposal.
#Open journalism
No news is bad news
Support The Journal
Your contributions will help us continue
to deliver the stories that are important to you
In a letter on 4 May, the employer stated: "Prior to Covid-19 there was never a suggestion that the roles could be performed remotely, and the same situation pertains in a post-Covid situation.
"Each person may absent themselves from work and check if they are entitled to a state benefit. The position will be kept under review, but at present the employer's position is that the three roles are not suitable for remote working."
The employer stated that it had taken Covid-19 workplace precautions, including PPE; changing the physical layout of the office; the installation of screens and warning tape and moving desks.
In her emailed resignation letter on 12 May, the operations coordinator stated on her return to the office her anxiety and stress levels have once again increased and on this occasion have caused her to experience panic attacks.
She stated "With this email communication I am handing in my notice, as I am not able to manage the levels of pressure imposed by management and the impact this is having on my health wellbeing."
She stated the employer's approach "to the whole situation has been a real disappointment and the lack of care for their employees has left me feeling disheartened and insecure".
The MD of the facilities management company told the hearing that the worker was of the opinion that she should work from home, but the company's client would not have allowed this to happen.
He stated that her job was essential, and the client would not have allowed her to work from home.
He outlined that it was the coordinators' role to deal with the students and they were required to be on campus.
The MD stated that no staff member thankfully contracted Covid-19, either in the university or elsewhere.
He stated that the client had the best record of all the universities in Ireland and this was due to the precautions taken.
In response to the proposal that some coordinators work from home, the MD told the hearing that it was so busy at this time, so they all needed to be there.


TheJournal.ie's coronavirus newsletter cuts through the misinformation and noise with the clear facts you need to make informed choices. Sign up here:
Source: http://prntscr.com/fub00u
A WOMAN WHO launched a "frightening, vicious and unprovoked" attack on a fellow attendee of a Westlife concert 18 months ago has avoided a jail term.
Jackie Walsh (26) split the victim's ear lobe during the attack after her earring got caught up when Walsh was pulling fistfuls of the woman's hair. The victim said during the assault she could feel blood pouring down her face and could see clumps of her hair all over her shorts.
The victim, who didn't make a victim impact statement because she is currently going through a severe bout of depression, was treated by a doctor at the concert.
Her ear lobe was stitched up and she was given an anaesthetic. While she complained of an extreme headache for days after the attack, she didn't require further treatment.
Walsh of Clonard Park, Ballybeg, Co Waterford, pleaded guilty at Dublin Circuit Criminal Court to assault causing harm at Croke Park Stadium on 5 July 2019. She has no previous convictions and has not come to garda attention since.
Judge Melanie Greally said the "facts speak for themselves" and described it as "a frightening, vicious and unprovoked assault which had immediate consequences for the victim".
She said testimonials before the court indicate that Walsh's behaviour was "entirely out of character" and she was not normally a person who was "inclined to engage in violent conduct".
Judge Greally accepted evidence from Detective Sergeant Stephen Coleman that Walsh was heavily intoxicated on the night and genuinely didn't recall the assault, which started after the victim indicated that Walsh was sitting in her (the victim) boyfriend's seat.
The judge acknowledged that Walsh was a bright young woman with plenty of potential. She noted that she has mental health difficulties, which she was addressing before the assault and which she continues to address.
Judge Greally sentenced Walsh to two and half years in prison which she suspended in full on condition that she undergo 12 months' Probation Supervision. She acknowledged that Walsh had saved €3,000 as a token of remorse for the victim who is willing to accept it. She ordered that the money be transferred to the victim within a week.
Additional evidence
Detective Sergeant Coleman told Siobhán Ní Chúlacháin BL, prosecuting, that the victim had not been drinking during the concert and her boyfriend had just gone to get her a burger when Walsh fell into his seat.
She turned to tell Walsh that it was her boyfriend's place when the woman attacked her by first grabbing her head and two fistfuls of her hair. She pushed her into the group sitting in front of her and punched her a number of times in the head.
Walsh was arrested at the stadium during which she continued to be verbally abusive to gardaí. She was released on bail but came to the garda station voluntarily the following September during which she identified herself on CCTV footage and took responsibility for the assault.
#Open journalism
No news is bad news
Support The Journal
Your contributions will help us continue
to deliver the stories that are important to you
She said she didn't remember anything about the incident and admitted she had been drinking heavily.
Coleman agreed with David Perry BL, defending, that Walsh genuinely had no recollection of the assault.
Perry said his client had written a letter of remorse to the court and a letter of apology to the victim.
He handed in a number of other letters written on behalf of Walsh which stated that her behaviour on the night was out of character.
Counsel said his client had a difficult childhood and had mental health issues as a result. She had been dealing with them at the time of the assault but was still abusing alcohol. She has since begun to address her difficulties "in a very serious and profound way", Perry submitted.
He said Walsh is "embarrassed, mortified and ashamed" of her behaviour on the night after she had drunk so much alcohol to the point of "blackout".
Source: http://prntscr.com/fub00u
THE GOVERNMENT HAS today approved the drafting of legislation for the new role of a directly elected mayor for Limerick City and County with executive responsibilities. 
The electorate of Waterford, Limerick and Cork city went to the polls in 2019 to decide whether or not they wanted to have a directly-elected mayor but only Limerick voted in favour.
The concept would see someone directly elected by the people and given a significant amount of the powers currently held by the chief executive who runs the local council. 
Minister of State Peter Burke today confirmed that the legislation required to enable the first election for a directly elected mayor will be advanced as quickly as possible, with the aim of an election taking place before the end of this year. 
As the role is due to come into existence in the middle of the local government electoral cycle, the first mayoral term will run until the local elections in 2029. 
The government has decided that the directly elected mayor will have many of the executive functions currently held by the local authority's chief executive. 
These areas include housing and building, road transport and safety, strategic development and environmental services. 
The government today also sanctioned government departments to explore the potential transfer of additional functions to a directly elected mayor for Limerick once the role has been created.
#Open journalism
No news is bad news
Support The Journal
Your contributions will help us continue
to deliver the stories that are important to you
The proposed legislation will be consistent with the implementation advisory group's recommended governance structures. These will include:
The directly elected mayor being empowered to develop a 'Programme for Local Government in Limerick', a programme setting out the mayor's vision and ambitions for Limerick, for approval by the elected council.
The mayor being responsible for drafting the local authority's annual budget, for approval by the elected council.
The Chief Executive (to be re-named a 'Director General') retaining responsibility for functions such as managing and accounting for the council's finances.
The elected council retaining its reserved functions.
"Today's decision marks the next step towards the people of Limerick having a directly elected mayor with significant powers," Minister Burke said.
"Having a directly elected mayor will enable the people of Limerick to have a greater say over how services and infrastructure are delivered and how Limerick develops," he said.
"The new role will be a starting point, a basis on which more powers will be decentralised to Limerick over time, possibly including greater financial autonomy."
Source: http://prntscr.com/fub00u
BANKS, POST OFFICES and credit unions have been added to the list of workplace where the wearing of face coverings is now deemed mandatory. 
Minister for Health Stephen Donnelly today changed the regulations governing the wearing of face coverings to include banks, post offices and credit unions to the list of workplaces where it is compulsory. 
The new regulations come into force with immediate effect.
The change was made following a campaign by the Financial Services Union (FSU), who represent staff in banks and credit unions, to have the regulations changed. 
"Our members were very concerned that they were being treated differently to any other retail staff," FSU general secretary John O'Connell said. 
O'Connell added that "concerns increased when the new variant of Covid-19 was identified and the virus became more transmissible". 
#Open journalism
No news is bad news
Support The Journal
Your contributions will help us continue
to deliver the stories that are important to you
"This is a sensible move which can help alleviate some of anxieties expressed by staff.  We would urge all customers to abide by the new regulations and help keep themselves and workers safe" he said. 
Labour's finance spokesperson Ged Nash has welcomed the decision by Minister Donnelly. 
"Belatedly, common sense has prevailed and this will come as a relief for customer-facing staff, customers themselves and the Financial Services Union who have campaigned for this simple but important workplace health and safety measure to be introduced in law," Nash said. 


TheJournal.ie's coronavirus newsletter cuts through the misinformation and noise with the clear facts you need to make informed choices. Sign up here:
Source: http://prntscr.com/fub00u
ANDY FARRELL YESTERDAY named his 36-man Ireland squad for the 2021 Six Nations.
They kick off their campaign with a visit to Cardiff to face Wales on Sunday 7 February before a home clash with France the following weekend. 
Here, we break down Farrell's squad by position groups, examining the pecking order and noting some of the players who narrowly missed. The squad is listed below along with [age, Ireland caps].
Loosehead prop:
Cian Healy [33, 104]
Dave Kilcoyne [32, 39]

Dave Kilcoyne's return is a boost for Ireland.
Source: Inpho/Billy Stickland
The return of Munster's Dave Kilcoyne after missing last autumn through injury is a real boost for Farrell, with the Limerick man providing an explosive ball-carrying option.
Kilcoyne will look to put pressure on incumbent starter Cian Healy, who will benefit from competition for his place. One concern is that Kilcoyne has only played 55 minutes this season after recovering from a long-term ankle issue, but Farrell clearly feels he can get up to speed again quickly. 
The Ireland boss has opted against including a third player in this position – Ed Byrne and Eric O'Sullivan drop out of the mix – but he indicated recently that he still views Andrew Porter as a possible option at loosehead, even if the Leinster man is likely to be important at tighthead in this championship.
With Healy and Kilcoyne's age profile in mind, it is perhaps surprising that Farrell didn't include a younger loosehead in O'Sullivan, Byrne, Peter Dooley, or Josh Wycherley while Munster's James Cronin is also overlooked despite his consistent form.
Hooker:
Rob Herring [30, 16]
Ronan Kelleher [23, 6]
Dave Heffernan [29, 5]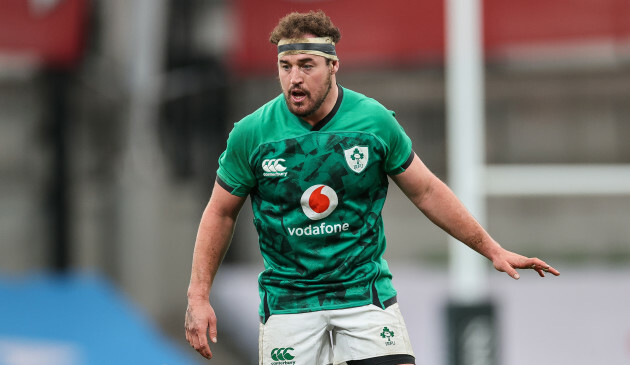 Herring has been in good form for Ulster.
Source: Gary Carr/INPHO
Ireland have gone for the same three hookers as last autumn, with Herring in line to remain the first-choice in this position for the Six Nations.
The Ulster man's form in recent months has been good as he has brought physical bite and nice handling skills for his province, while he is the most experienced Test player of this trio.
23-year-old Leinster man Kelleher has had an up-and-down time over the past year, which should be expected for any young hooker, but he is a superb athlete with potential for plenty of development.  
Connacht's Heffernan is a dynamic and mobile presence around the pitch who can offer something different off the bench but he would dearly love a first Test start to show he can offer an impact as the main man too. 
Beyond these three, it's unclear who Farrell sees as next in line. Niall Scannell, Kevin O'Byrne, and Rhys Marshall are fighting it out in Munster, Sean Cronin started for Leinster last weekend, while Shane Delahunt has been pushing Heffernan in Connacht. 
Tighthead prop:
Tadhg Furlong [28, 44]
Andrew Porter [25, 32]
Tom O'Toole [22, 0]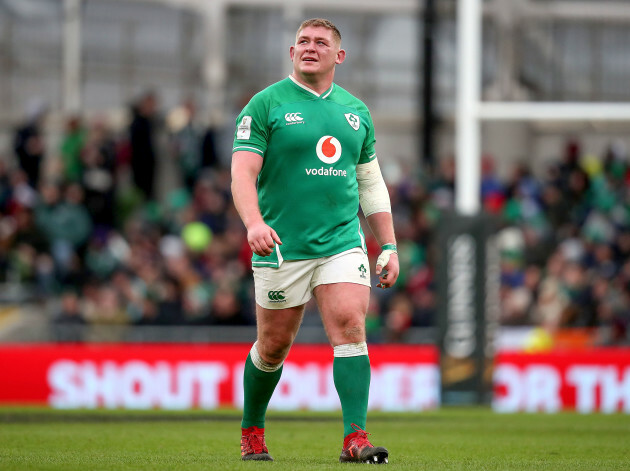 Furlong is another returning player.
Source: Bryan Keane/INPHO
Tadhg Furlong's expected return for Leinster this Saturday after 11 months out of action is a huge boost for province and country. The 28-year-old will surely need time to get back to his best but when he hits that level, he is a key figure in Irish rugby.
Having been bedevilled by back, calf, and hamstring injuries since last year, Furlong is obviously badly short of game time coming into this Six Nations, meaning the highly-reliable and consistent Porter could remain the starter for now.
25-year-old Porter has certainly benefited from Furlong's absence, even if he has had to withstand a major strain in accumulating a huge amount of minutes this season – with another 80 last weekend against Munster.
Meanwhile, the uncapped 22-year-old Tom O'Toole is back in the mix after missing the autumn through injury. Farrell is a big fan of the Ulster man's athleticism and potential, but there is, of course, lots for O'Toole still to learn. 
He remains behind Marty Moore in the Ulster pecking order but Farrell is keen to fast-track him at Test level and a debut awaits in this championship. 
Connacht's Finlay Bealham will be very disappointed to drop out of the squad, particularly given that he was asked to play out of position at loosehead on a bad day for Ireland against Georgia in the autumn. Munster's John Ryan is also left out this time.  
Second row:
James Ryan [24, 32]
Iain Henderson [28, 58]
Tadhg Beirne [29, 17]
Quinn Roux [30, 16]
Ultan Dillane [27, 17]

Tadhg Beirne is in superb form.
Source: Dan Sheridan/INPHO
James Ryan's dominant performance for Leinster against Munster last weekend underlined his status as one of the first names on Ireland's team sheet as he carried and tackled with relentless impact and caused havoc in the lineout.
Opposite him, Tadhg Beirne delivered another supreme showing for the southern province as he won two characteristic turnovers close to Munster's tryline but also made a real impact in the collisions – one aspect of his game that has been questioned. A skillful passer of the ball too, Beirne's form is difficult to ignore.
Ulster captain Iain Henderson has, however, been Ryan's most likely locking partner for Ireland whenever fit and he brings grunt, leadership, and Test experience to the mix. The 28-year-old hasn't played since Ireland's autumn campaign due to a knee injury, though, and it remains unclear exactly how fit he is.
The lock stocks are rounded out by two Connacht men in Quinn Roux and Ultan Dillane. Roux brings a physical edge to proceedings and specialises in mauling, scrummaging, and rucking – the unglamorous heavy-duty work that coaches must pay attention to.
Dillane is a far more explosive presence around the pitch with his eye-catching ball-carrying ability, while he has worked hard on his set-piece basics. Just three Test starts in his 17 caps so far indicate how he has been viewed as an impact replacement.
21-year-old Leinster prospect Ryan Baird is among those to miss out in this department but he has a point to prove with his province after being slowed down by injury niggles in recent times.
Back row:
Caelan Doris [22, 7]
CJ Stander [30, 46]
Peter O'Mahony [31, 73]
Rhys Ruddock [30, 26]
Will Connors [24, 5]
Josh van der Flier [27, 28]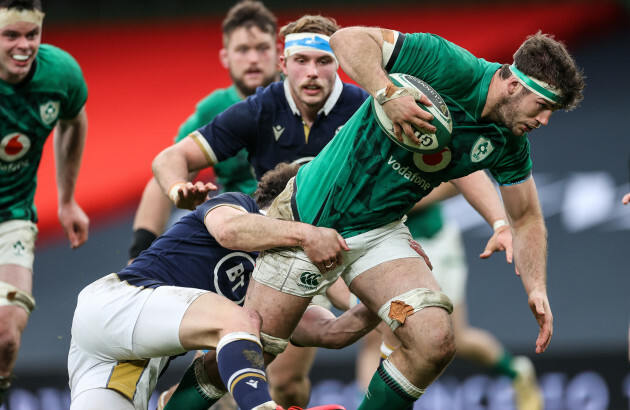 Caelan Doris is already a key player for Ireland.
Source: Gary Carr/INPHO
Having finished the autumn as the starting back row, it would be a surprise if CJ Stander, Peter O'Mahony, and Caelan Doris aren't in Ireland's number six, seven, and eight jerseys against the Welsh. All three have been in good form for their provinces.
Another man who has delivered consistently strong performances is Leinster's Rhys Ruddock, who deservedly returns to the fold. The hope now is that the athletically-improved 30-year-old has a real part to play for Ireland. His leadership, ability to win the gainline, and toughness could be useful against big teams like France and England.
Leinster opensides Will Connors and Josh van der Flier round out this crop of back rows and offer different skillsets. Connors is a defensive weapon who is increasingly showing his passing and offloading ability in attack, while van der Flier offers an infectious work rate. 
Be part
of the team
Access exclusive podcasts, interviews and analysis with a monthly or annual membership.
Munster's 22-year-old Gavin Coombes misses out despite his impressive form this season but his time will surely come, while the likes of Leinster pair Jack Conan and Dan Leavy, and Connacht's Paul Boyle will be motivated to prove their points in the coming months.
Scrum-half:
Conor Murray [31, 87]
Jamison Gibson-Park [28, 5]
Craig Casey [21, 0]

Craig Casey has already trained with Ireland.
Source: Billy Stickland/INPHO
This area of the squad was always going to spark debate. John Cooney, Luke McGrath, Kieran Marmion, and Caolin Blade would all have had hopes of getting the call but miss out.
Conor Murray remains the obvious first-choice given his good form for Munster since the autumn, while Farrell has also opted for the rather different qualities Jamison Gibson-Park and Craig Casey offer. 
Gibson-Park's creativity is a strength and he can bounce out of the game plan with his good decision-making and sniping threat, while his solid cameo on the wing last weekend showed that he's a rounded player.
The selection of uncapped 21-year-old Casey is an exciting one. The Limerick man is a mature young man whose rapid-fire passing is a real strength. He remains behind Murray at Munster but his form has partly prompted the 31-year-old's good displays.
As for those who miss out, Cooney may be wondering whether he should have opted to play for Scotland when given the opportunity a number of years ago.
McGrath was superb for Leinster last weekend against Munster but Farrell prefers Gibson-Park's strengths, while the Connacht duo of Marmion and Blade might be suffering from their province's lack of consistency.
Out-half:
Johnny Sexton (captain) [35, 95]
Billy Burns [26, 3]
Ross Byrne [25, 11]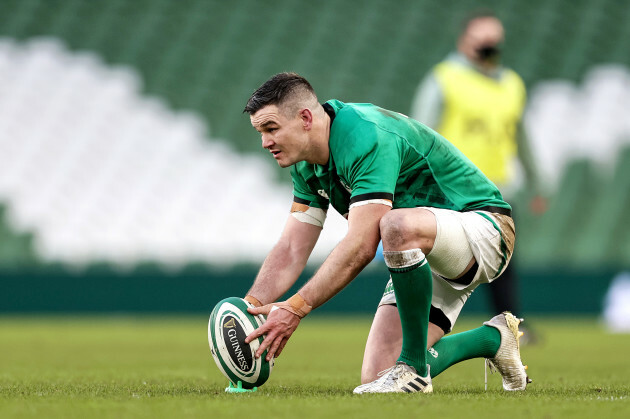 Johnny Sexton continues as Ireland captain.
Source: Laszlo Geczo/INPHO
35-year-old Sexton remains the main man in this squad and Farrell will be pleased that initial worries over the out-half's hamstring appear to be receding now ahead of the Wales clash.
He is backed up again by Billy Burns and Ross Byrne, both of whom were part of the autumn campaign last year. Ulsterman Burns made more of an impact in that window and seems likely to be the bench option.
That said, Byrne showed real composure off the bench for Leinster last weekend with the game-changing attacking kick for Jordan Larmour's try and then a calm conversion from wide on the right.
The 25-year-old's two Test starts so far have come against England, with Ireland struggling collectively on both occasions, but he will be feeling the need to underline his talent in the international game.
Connacht's Jack Carty hasn't been able to convince Farrell of his merits, though it must have been tempting to include his tactical kicking and creative qualities to offer something different.
The sight of Joey Carbery with the Munster squad at Thomond Park last weekend was encouraging, with the 25-year-old making progress with his recovery from a long-term ankle issue.
Irish rugby has a number of promising young playmakers in Munster pair Ben Healy and Jack Crowley, as well as Leinster's Harry Byrne and Ciarán Frawley – now playing at 12 for Leinster – but they will look for more game time with their provinces for now. 
Byrne has been involved in several Ireland camps already and Farrell needs him to push through with Leinster, having been unfortunate to get injured just before what would have been his first Champions Cup start in December.
Centre:
Garry Ringrose [26, 30]
Robbie Henshaw [27, 47]
Bundee Aki [30, 30]
Chris Farrell [27, 14]
Stuart McCloskey [28, 4]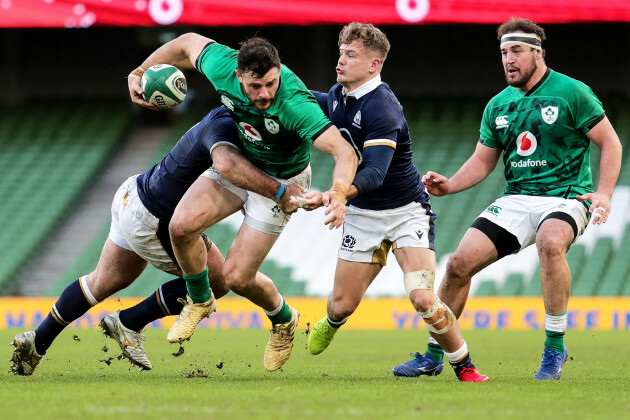 Robbie Henshaw is in excellent form.
Source: Laszlo Geczo/INPHO
Leinster inside centre Robbie Henshaw is the most in-form of this crew and has surely done enough to earn the number 12 shirt, particularly with Aki only just back from a knee issue. Elusive on the ball, dominant in the air, and energetic in defence, Henshaw is in a good place.
Garry Ringrose is nailed-on as Ireland's outside centre given his consistency, creative footwork, and defensive intelligence. Aki should not be discounted, of course, with his power and enthusiasm usually very effective.
Munster's Chris Farrell hasn't been able to break past that front-line trio when they're fit but he remains a strong option in midfield. It is a little surprising that Farrell has also included Stuart McCloskey – who will hope to at least feature on the pitch for Ireland, given how he remains so important for Ulster.
Tom Daly was very close to selection following his excellent form for Connacht and Farrell has encouraged him to keep doing what he has been doing. Younger prospects like Ulster's James Hume will hope they can impress in the coming months too.
Back three:
Keith Earls [33, 88]
Jordan Larmour [23, 24]
Hugo Keenan [24, 6]
Andrew Conway [29, 24]
James Lowe [28, 2]
Shane Daly [24, 1]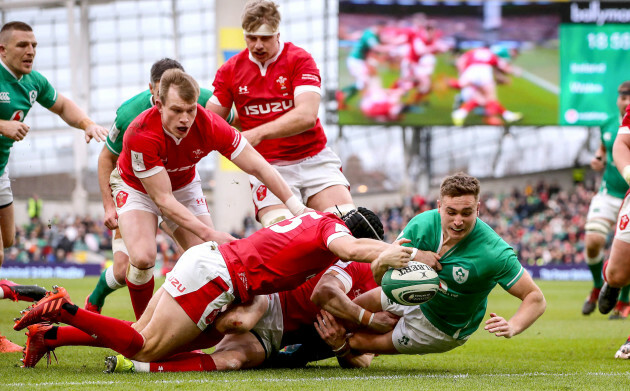 Jordan Larmour is back after missing the autumn.
Source: Ryan Byrne/INPHO
Jacob Stockdale is missing due to a knee injury and it's unclear whether he will recover in time to feature in this year's championship.
Leinster's Jordan Larmour – who missed the autumn with a shoulder injury – returns having racked up two starts for Leinster in recent weeks, showing off his delightful footwork but having trouble in the air against Munster under Conor Murray's strong box kicking and with Shane Daly applying pressure. That said, it's worth remembering that Larmour was Ireland's first-choice fullback prior to injury.
Hugo Keenan's excellent form for Leinster makes him favourite for the number 15 shirt in many people's eyes. He has been calm and composed in the backfield, hard-working off the ball, and dangerous on it, as well as increasingly stepping up as a distributor. 
Keith Earls has had a relatively quiet run of form and will hope to get on the ball more often with Ireland, with his nous making him a valuable member of the back three club.
Andrew Conway and James Lowe have been included despite their total lack of game time for Munster and Leinster in recent months but both are now clear of their injury issues and Farrell hasn't been too quick in forgetting the qualities they possess. Lowe has real game-breaking ability that Farrell is a fan of.
24-year-old Daly is included again having made a debut last autumn and one senses that the confident Cork man could explode if given the chance. He has stepped up with poise every time Munster have asked him to and would love to be handed responsibility in the number 15 shirt for province and country.
Munster's Mike Haley has been in strong form and is unlucky to miss out, while versatile 24-year-old Jimmy O'Brien has been good for Leinster but picked up a hamstring injury last weekend, a game Dave Kearney missed through injury. 
Ulster pair Robert Baloucoune and Will Addison are likely to come back into the mix when they recover from current injury issues, while Alex Wootton has been doing well in Connacht. Longer-term, Ulster's 20-year-old Ethan McIlroy has impressed in recent months and will surely come onto the Ireland radar.
Source: http://prntscr.com/fub00u
THE BRITISH SOCIALITE awaiting trial on charges she recruited girls in the 1990s for Jeffrey Epstein to sexually abuse has asked a judge to dismiss her case on multiple grounds.
Lawyers for Ghislaine Maxwell said the indictment against their client was obtained unjustly and does not allege crimes specific enough to bring before a jury.
But they listed first among 12 separate arguments attacking the indictment that a non-prosecution deal Epstein reached with the federal government a dozen years ago should shield Maxwell from prosecution too.
The agreement sought to protect Epstein and those around him, but Maxwell was not identified by name in the document that was signed as Epstein agreed to plead guilty to state charges in Florida that forced him to register as a sex offender afterwards.
Lawyers for Epstein had planned to argue the deal with federal prosecutors in Florida in 2008 protected him against sex trafficking charges lodged against him in July 2019 in New York City.
Manhattan federal prosecutors maintained they could proceed against Epstein or those who worked for him regardless.
Epstein died by suicide at a Manhattan federal prison a month after his arrest.
Maxwell, 59, was arrested last July and has remained jailed on grounds she might flee.
She has pleaded not guilty to charges that she recruited three teenage girls, including a 14-year-old, for Epstein to sexually abuse from 1994 to 1997.
Federal prosecutors declined to comment and will file arguments in response in a few weeks ahead of a scheduled trial in July.
#Open journalism
No news is bad news
Support The Journal
Your contributions will help us continue
to deliver the stories that are important to you
In the event Maxwell's lawyers cannot force a dismissal of the charges against her, they also made requests that would reduce the number of charges she faces.
Among the more unusual filings was a claim that the indictment should be thrown out because it was obtained from a grand jury seated outside New York City in White Plains, where the lawyers said black and Hispanic grand jurors would have been under-represented.
They said the coronavirus outbreak was used as an excuse to seat the grand jury outside of New York City when the pandemic was killing thousands of city residents.
In a footnote, they wrote: "The fact that Ms Maxwell herself is neither Black nor Hispanic does not deprive of her of standing to raise this challenge."
They said the fact that a Manhattan grand jury convened as early as 25 June showed there was no reason for prosecutors not to wait "other than a publicity-driven desire to arrest Ms Maxwell on the anniversary of the Epstein indictment".
Source: http://prntscr.com/fub00u
THE PANDEMIC HAS exposed failings in Ireland's prison service, including overrun capacity and a lack of access to technology for prisoners, a report has found.
Covid-19 measures were introduced in Irish prisons last year to prevent the spread of the virus, including a reduction in prisoner numbers and cell-sharing.
The Irish Penal Reform Trust (IPRT) said that addressing the overcrowding in prisons in a short period of time was an "extraordinary achievement".
Before the outbreak of the pandemic, 75 prisoners were sleeping on mattresses on the floor because of a lack of space.
A report carried out by the IPRT found that coronavirus measures improved some standards within prisons.
The report 'Progress in the Penal System: Assessing progress during a pandemic' is the fourth annual review of standards in Irish prisons.
It found that the Covid response revealed that the majority of closed prisons across the State were "overcrowded and unsafe".
At the outset of Covid-19, there were more than 4,200 prisoners in custody in Ireland.
Following the outbreak of the pandemic, the Irish Prison Service and the Department of Justice reduced the prison population by 10% to 3,807.
Executive director of the IPRT, Fiona Ní Chinnéide, said the physical improvements in the prison system are at risk of being reversed.
"We definitely don't want to see a return to that when the courts return and deal with the backlog in cases," she told PA news agency.
"There were sometimes two prisoners sleeping on beds and one on the floor.
"We don't want to see a return to the high number of people who are committed to prison for very short sentences.
"Over three quarters of sentence committals in 2019 were for sentences of 12 months or less.
"This is the clearest demonstration of the over-reliance on prison as a response."
She said an increasing number of prisoners' families have contacted the charity about concerns for their loved ones in prison, particularly around isolation, mental health and welfare issues.
"(Prisoners) are confident they are protected against Covid-19 but the lack of in-person visits have been very difficult for families, particularly children," Ní Chinnéide added.
"Covid-19 has exposed all the issues across the penal system, including running over-capacity and the lack of access to technology.
"Video calls were introduced but we would like to see every prisoner have a tablet so they can continue on with their remote education.
"The vast majority of people who were released were serving sentences of 12 months or less, and the fact they could be released into the community does beg the question: why were they in prison in the first place and not serving community service orders?"
#Open journalism
No news is bad news
Support The Journal
Your contributions will help us continue
to deliver the stories that are important to you
She also said that a reduced prison population saw a near-end to prisoners sleeping on mattresses on floors and a move towards single-cell occupancy.
"Single-cell occupancy is a key measure in supporting men's and women's dignity in prisons," Ní Chinnéide added.
"The Covid response demonstrates that the majority of closed prisons across the State were overcrowded and unsafe in the first instance. It also suggests that prison was not a necessary sanction for all of those imprisoned before the pandemic hit."
The IPRT report also welcomed the introduction of video calls and in-cell phone provisions to enable prisoners to speak to their families.
Ní Chinnéide said the changes are at risk of being reversed as the courts prepare to clear the backlog of cases.
"Furthermore, in recent years, the number of those held on remand in our prisons is rising at a concerning level. Imprisonment is not the only sentence option in the criminal justice system," Ní Chinnéide added.
"It should not act as shelter for people charged with low level offences. It should not be a waiting room for those who need treatment in our Central Mental Hospital.
"Covid has offered us a brown-field site for a more humane penal system. There should be no reversal of that."
Source: http://prntscr.com/fub00u
RESIDENTS OF HOMES for unmarried mothers and their children in Northern Ireland suffered a "lifetime of trauma", Stormont's First Minister has said.
A "victim-centred" independent investigation was ordered and Arlene Foster pledged the voices of survivors would be heard "loudly and clearly".
A research report into operation of the institutions examined eight mother and baby homes, a number of former workhouses and four Magdalene laundries.
Foster said: "It is with huge regret that we acknowledge the pain of those experiences and the hurt caused to women and girls who did nothing more than be pregnant outside of marriage, some of them criminally against their will.
"None of us should be proud of how our society shunned women in these circumstance and of their experiences while resident in these institutions."
More than 10,500 women entered mother and baby homes over a 68-year period from 1922.
Around a third of those admitted were aged under 19 and most were from 20-29.
A number were the victims of sexual crime, including rape and incest.
Foster added: "The research report to be published later today is only the start of a process to allow the long-silenced voices of women and their children to be heard.
"For too long they have carried a burden of shame and secrecy.
"Too often their treatment from those who were in positions of power and trust caused them real harm and a lifetime of trauma."
Around 4% of babies were either stillborn or died shortly after birth across the entire period.
The research report does not reach firm conclusions about rates of infant mortality in mother and baby homes, the DUP leader added.
An estimated 32% of infants were sent to baby homes following separation from their birth mother.
Related Reads
25.01.21
Galway County Council 'profoundly sorry' for failing those at Tuam mother and baby home
25.01.21
'It was like a jail': What should become of Ireland's last Magdalene Laundry?
17.01.21
'We can't just say it's too difficult': Could criminal investigations into Ireland's mother and baby homes happen?
Other babies were boarded out – fostered in today's terms. Others (around a quarter of babies) were placed for adoption.
Research was undertaken by a team of academics from Queen's University Belfast and Ulster University.
It gives an account of individual and collective experiences of the institutions and highlights the need for further examination of a number of important issues, including adoption and infant mortality rates.
Ministers have agreed that the independent investigation should be shaped by survivors through a co-design process, which will be facilitated by experts and completed within six months.
Foster said the voices of survivors had been silenced for too long.
She added: "That was a significant wrong. As a society we must acknowledge this and do all we can to bring the truth of your experience into the open."
She said it was with deep regret that she acknowledged the pain of those experiences and the hurt caused to women and girls who did nothing more than be pregnant outside of marriage, some of them because they were victims of criminal acts.
"It was shameful how so many of these women were treated.
#Open journalism
No news is bad news
Support The Journal
Your contributions will help us continue
to deliver the stories that are important to you
"The accounts of cold and uncaring treatment are truly harrowing and the separation of mothers from their children a terrible legacy."
Deputy First Minister Michelle O'Neill said the report gave a "sad and troubling" insight into the lived experiences of the thousands of women and girls, and their now adult children, who suffered in these institutions.
"The harsh treatment of these women was cruel, unjust and inhumane.
"As a mummy, my heart breaks for the women and girls who did no wrong, whose rights were ignored and whose children were so cruelly taken from their arms.
"For those children who never knew their mothers, who for too long have been kept in the dark.
"They were failed on every level and we cannot allow them to be failed any longer."
Source: http://prntscr.com/fub00u
THE EXECUTIVE DIRECTOR of the European Medicines Agency (EMA) has said that work is ongoing to assess the Astrazeneca Covid-19 vaccine, and it's hoped that a decision will be made on whether to grant approval "by the end of this week". 
Addressing the European Parliament committee on public health this afternoon, Emer Cooke referenced the shortage in supply of the Astrazeneca vaccine and said the EMA was "working" with the company and it's hoped the problems with supply will be "short-lived". 
If the EMA agrees to grant a conditional marketing authoritisation to the Astrazeneca vaccine this Friday, it paves the way for its rollout in Ireland. 
However, that rollout here is set to be lower than initially expected due to the company's unexpected delay in delivering millions of doses of its Covid-19 vaccine to EU member states.  
Last Friday, the pharma giant said it would not meet its contractual delivery commitments to the European Union because of unexplained "reduced yields" in its European supply chain.
Health Minister Stephen Donnelly said last night that delivery of the vaccine in March is set to be "considerably lower than what was originally stated by the company".
However, if approved on Friday, Ireland will receive a supply of the Astrazeneca vaccine "within the expected range" for February. 
Commenting on the already approved Pfizer/BioNTech and Moderna vaccines today, the EMA's Cooke said that it is requiring rigorous safety and effectiveness studies of these products. 
She said that monthly safety updates are required from the companies with approved vaccines, and this is in addition to regular updates already required by legislation. 
"With respect to the transparency of this work, we're planning to publish the first Covid-19 vaccine safety update later this week, and this is based on the monthly safety report that has been reviewed and assessed for the Pfizer vaccine," she said. 
Cooke also said today, in response to questions from MEPs, that EMA staff are working around the clock on the process to approve vaccines. She said it wouldn't be unusual to see staff exchanging emails in the middle of the night. 
She said that it wasn't specifically in the remit of the EMA to boost production of a vaccine, but the agency would "do everything we can to facilitate production from a scientific and regulatory perspective". 
She said: "The other issue that we're working on with the companies of the national authorities is how to ensure that production capacity can be increased.
"And we're looking at different manufacturing options which require formal manufacturing changes in order to increase the production capacity. I think you're all aware of the problems with supply identified at a European level, due to some of the manufacturing issues. We're working with the companies on these and we very much hope that these will be short lived."
Related Reads
26.01.21
Travellers into Ireland to be subject to mandatory quarantine at home or in a hotel, government says
26.01.21
New Zealand borders likely to remain closed for most of 2021, Ardern says
26.01.21
Germany joins AstraZeneca in rejecting 'completely incorrect' reports on Covid vaccine efficacy in elderly
Cooke said the EMA is continuously monitoring the impact of new variants of Covid-19, and was requesting companies with approved vaccines to submit information on the immunse response induced by the vaccine against these new strains. 
She said the next vaccine potentially in line for approval – made by Janssen (the pharmaceutical wing of Johnson and Johnson) – is being examined on a rolling basis, but there is no indicative date for when it could reach approval stage as of yet. 
Cooke also addressed the media reports regarding the efficacy of the Astrazeneca vaccine in people aged over 65.
This morning, Germany's health ministry joined the pharma company rubbishing reports quoting unnamed government sources that claimed the vaccine showed little efficacy for people above 65.
Cooke said that the EMA is examining the "totality of the data" provided by Astrazeneca across different age groups. She said she wouldn't prejudge any decision on the vaccine's approval, but said it was possible for an approval to contain a provision that the vaccine only be given to certain age groups. 
MEP Mick Wallace questioned Cooke on the speed with which the EMA is approving its vaccines, compared to the UK which has already approved the Astrazeneca vaccine as well as the Pfizer/BioNTech and Moderna vaccines. 
"Does the EMA demand more complete or higher quality data than the UK regulator?" Wallace asked. 
#Open journalism
No news is bad news
Support The Journal
Your contributions will help us continue
to deliver the stories that are important to you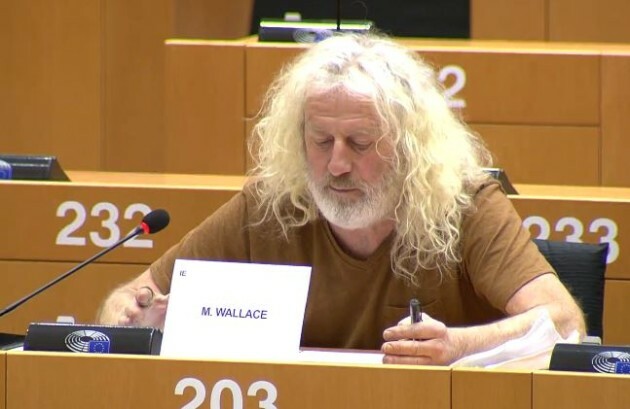 Mick Wallace
Source: European Parliament
Cooke said that the mechanism used by the UK to approve vaccines was through a temporary use authorisation, which is not something within the remit of the EMA. The EMA instead provides conditional marketing authorisation to vaccines it deems safe and efficacious. 
Astrazeneca's vaccine was already approved for use in the UK before it applied for European approval earlier this month, and Cooke said this was a reflection of the further data needed, and that this data had been provided by Astrazeneca in recent weeks. 
"We are confident that the process behind a conditional marketing authorisation provides a robust scientific review that can be relied upon in all 27 member states," she said.
"The conditions and criteria that we use for the evaluation of the conditional marketing authorisation are the same conditions we would expect for any vaccine."
Source: http://prntscr.com/fub00u
IT'S 10 YEARS this month since Roy Keane last worked as a manager. Since he was sacked by Ipswich Town, he has served as assistant with Ireland along with Aston Villa and Nottingham Forest, but hasn't been entrusted with a top job in a decade. 
That could scarcely be imagined just four years before he left Ipswich, when Keane led Sunderland back to the Premier League in an astonishing rise from the Championship relegation places. 
Now he is a television pundit on Sky Sports, and though Keane has said he would like to get back in the game, that return is looking increasingly remote. 
This week's guest on Behind the Lines is Dion Fanning, who is now the Associate Editor of The Currency having spent many years covering Irish football – and thus Keane – for the Sunday Independent. 
(Behind the Lines is exclusively available to members of The42. Each episode features a lengthy interview with a writer about their career and their favourite pieces of sportswriting, so for access to a 61-episode back catalogue, head over to members.the42.ie.) 
Keane was among the many topics covered on the podcast, and Dion's first interview with him was tentatively arranged at the baggage carousel at Dublin airport, as Ireland returned from a Euro 2000 qualifier defeat away to Yugoslavia. 
"This was 98/99, he had come back from his knee injury", recalls Dion on the podcast.
"And this was when he began to transform, and was seen as more distant and more intimidating. He would describe them as lifestyle choices  – I would describe them as more profound than that – but he was changing. His physical shape was changing, he had become leaner and had shaved his hair. The exuberant Keane was disappearing."
The interview was the basis for Dion's trip to Barcelona for Manchester United's Champions League tie with Barcelona, though once he reached the Camp Nou, the club secretary said Keane knew nothing about any interview.
"I went to the team hotel that night, and waited and waited outside the restaurant where the players were eating. I was there at about half six, and waited for what seemed like hours. Finally Keane came down with Denis Irwin, and I went over and said, 'Mr. Keane, I am here for that interview we arranged.'
"'What fucking time do you call this!?' 
"He said it was too late to do it, and went off to eat. He left me hanging there, but I hung around, and it went on another hour or so until at one point I looked up and saw Keane striding over to me. I was braced for another bit of abuse,  and instead he said, 'Sorry about that, sure you weren't to know', and he totally saw my side of things. Then he sat down and did the interview." 
Be part
of the team
Access exclusive podcasts, interviews and analysis with a monthly or annual membership.
Keane was endlessly fascinating as a player, manager and, as it proved, as an assistant manager too. But now he's an increasingly one-note television pundit, does Dion still find Keane interesting? 
"I know people say he's boring, but I find what he has become interesting. It's not necessarily his problem, but he has carried a lot of expectation for what he is supposed to represent and what he is supposed to be, throughout his career. 
"And in a way, he is still dealing with that. One of the things I find disappointing – and this isn't Roy Keane's issue – he hasn't become the figure in football I thought he would be. 
"It's not up to Roy Keane. But he's the same age as Pep Guardiola and he speaks like a man from a bygone age. I find that strange. 
"I remember covering Keane's first year at Sunderland and I thought, 'This guy…this is going to be huge, this management career.' 
"I remember the unveiling at Sunderland. One of the things as Irish people with Keane, you would often read pieces in English newspapers and they would talk about him as a thug or a bully, and it was misjudged. It always seemed to me they didn't get Keane. He is an intelligent guy and has a lot more to say and is a lot more interesting than that. 
"I remember the unveiling at Sunderland, the English media were there, and I think a lot of people came with a preconception of who Keane was, and they were going to be dealing with somebody like that. 
"That day, he was extraordinary. It was classic Keane. He was funny and self-deprecating; he had this disarming way. You could see people from the English press thinking, 'This is not what I expected.' 
"I went to a lot of games that first season at Sunderland, and I thought this is the beginning of something really big, and we know that's not what happened." 
Listen to the full interview by subscribing at members.the42.ie. 
Source: http://prntscr.com/fub00u
GARDAÍ ARE SEEKING the public's help in tracing the whereabouts of two teenagers who are missing from Co Kerry. 
17-year-old Elise Mulumba and 15-year-old Aaliah Mulumba have both been missing from the Tralee area since yesterday. 
Elise is described as being 5'2″ in height, of slim build, with black hair and brown eyes.
Aaliah is described as being 5'2″ in height, of slim build, with brown hair and brown eyes. 
Elise and Aaliah are believed to be with one another and currently in Dublin. 
Anyone with information on their whereabouts are asked to contact gardaí in Tralee on 66 710 2300, the Garda Confidential Line on 1800 666 111 or any garda station. 
#Open journalism
No news is bad news
Support The Journal
Your contributions will help us continue
to deliver the stories that are important to you
Source: http://prntscr.com/fub00u
A €1,500 FINE was too lenient a penalty for a truck driver whose careless driving caused the death of a three-year-old girl, the Court of Appeal has ruled.
The three-judge court today imposed a 16-month sentence on 64-year-old Senan O'Flaherty but suspended the entire term on condition that he be of good behaviour for two years.
The court found that the trial judge was wrong to place O'Flaherty's culpability at the lower end of the scale with Ms Justice Isobel Kennedy saying he was at the "upper end" and that his blameworthiness was more significant than that identified by the judge.
She said that in the lead up to the tragic accident, which took the life of three-year-old Estlin Wall and caused serious injuries to her father Vincent Wall, witnesses saw "unusual features" in O'Flaherty's driving.
The court upheld the €1,500 fine and a four-year driving ban.
Mr Justice George Birmingham, presiding, with Ms Justice Kennedy and Mr Justice Patrick McCarthy, said he would like to express the court's sympathies with the Wall family on "the loss of a greatly, greatly loved daughter".
Estlin was just days away from her fourth birthday when she was killed in an accident on 15 March 2017 on the N85 between Inagh and Ennistimon.
Arising from the crash, Senan O'Flaherty (64) of Lower Gowerhass, Cooraclare, Co Clare, pleaded guilty at the Circuit Criminal Court to careless driving causing death and careless driving causing serious bodily harm.
At a sentencing hearing last year, Judge Gerald Keys fined O'Flaherty €750 in respect of each charge and banned him from driving for four years, the shortest ban allowed under the statute.
Judge Keys said O'Flaherty had a "low culpability" in causing the tragedy.
At a hearing yesterday, Shane Costelloe SC for the DPP asked the Court of Appeal to impose a custodial sentence to act as a deterrent.
Outlining the facts, he said O'Flaherty was driving his heavy goods vehicle behind a bus which was accelerating and slowing down "erratically".
He said that O'Flaherty may have become frustrated by the continuously changing speed and was seen by witnesses in cars behind him driving "right up behind the bus".
Counsel submitted that at the first point on the road where it was legal to overtake, O'Flaherty crossed over the median line either to overtake or to see if it would be possible to overtake.
#Open journalism
No news is bad news
Support The Journal
Your contributions will help us continue
to deliver the stories that are important to you
By crossing the line, counsel said, he caused Wall to take evasive action. Wall lost control of his Skoda Fabia which did a 360 degree turn and was in collision with an oncoming car that had been driving behind O'Flaherty's truck. Wall's daughter, who was in the back seat strapped into a baby seat, suffered catastrophic injuries and died.
Costelloe said the sentencing judge had erred by accepting a statement by O'Flaherty that he only crossed the median line because he saw the bus crossing it and thought there might be a pedestrian or cyclist on the left side of the road.
Counsel said the judge had found that the only error committed by O'Flaherty was in driving too close to the rear of the bus.
Ms Justice Kennedy said that none of the witnesses saw anything on the left side of the road which would have caused O'Flaherty to pull out and all were of the opinion that he pulled out to see if it would be possible to overtake.
She said it was surprising that O'Flaherty, who knew the road well, would have attempted to overtake a bus at that point in the road.
She said the court was persuaded that the trial judge was in error in placing the truck driver's responsibility at the lowest end of the scale and said the penalty imposed was a substantial departure from the appropriate sentence.
O'Flaherty, who was watching proceedings from his solicitor's office, entered into the bond to be of good behaviour for two years. He has already paid the €1,500 fine.
Source: http://prntscr.com/fub00u
A BUSINESS MAN who held up a judge, a barrister and his estranged wife with a fake pistol and a hoax pipe bomb in a Dublin court siege has been jailed for six years.
Sentencing Edmond Dunican (47) today, Judge Patricia Ryan said this was a planned and premeditated offence which has had ongoing adverse effects on the victims.
During a court hearing in December 2018, Dunican told the court he had a "problem" with an opposing barrister, Lisa Daly, before he drew a "realistic" firearm from his briefcase and threatened her with it, Dublin Circuit Criminal Court heard.
Dunican, described in court as a "man on the edge", was also wearing an elaborate device around his neck that resembled a pipe bomb. The court heard Dunican, a fitter by trade, had made the fake bomb at home.
The judge in the court room at the time, Judge Susan Ryan, refused to leave when Dunican told her she could go. She stayed in court with the other two women and repeatedly appealed to Dunican to drop the gun.
The 17-minute siege ended after an armed garda negotiator persuaded Dunican to surrender the gun and let the women go.
The court building was evacuated and surrounded by armed garda units during the incident, while an army unit was called in to assess the device.
Dunican of Stadium Business Park, Ballycoolin, Dublin, pleaded guilty to one count of carrying an imitation firearm with criminal intent at a court in Dublin city on 20 December, 2018. He has no previous convictions.
The court heard that in a letter of apology to the victims Dunican said "I never intended to hurt anyone".
The judge reduced a sentence of eleven years to eight years after noting a number of mitigating factors including Dunican's remorse and his state of mind at the time.
Counsel for the accused Fiona Murphy had earlier told the court that at the time her client "was a man on the edge" and felt this was "his only course of action".
The judge backdated the sentence to the day of the offence, when Dunican went into custody.
She suspended the final two years on condition that he be of good behaviour and that he have no contact whatsoever with any of the three victims. 
'You have no idea'
Detective Garda Shane Connolly previously told Anne-Marie Lawlor SC, prosecuting, that barrister Lisa Daly had had a number of dealings during court proceedings with Dunican, who was representing himself.
On the day in question she told the court that it was her last day as a barrister as she was going to become a solicitor.
When Dunican's matter was called before the court, he drew the imitation firearm and told her: "Did I hear you say today is your last day? You have no idea Lisa, you have no idea."
As the barrister crouched in her chair, the judge repeatedly told Dunican: "Put your weapon down sir, please."
The court registrar pressed the panic alarm and gardaí were called to court over the tannoy system, while Dunican said: "It's too late for the guards, judge."
Dunican said the registrar and judicial assistant could leave the court and the judge too, telling her he didn't mean her any harm, but the judge replied: "I'm not leaving."
The judge continued to reason with Dunican until armed gardaí entered the court and a negotiator persuaded Dunican to surrender.
The barrister told gardaí it was a terrifying experience and she believed Dunican was going to shoot her in the head or detonate a live bomb. Dunican's wife said she was "petrified" and "frozen in fear" throughout the ordeal.
Metal pipe fitted
The court heard the bomb looked realistic and was fitted with a metal pipe and a functioning red and green light. The imitation firearm resembled a semi-automatic pistol.
The judge told gardaí that Dunican told her she could leave but that she remained "in order to defuse the situation as best she could".
She told gardaí the incident was "surreal" and she had never experienced anything like it. She said that at no point did Dunican say why he was doing it or what he wanted to achieve.
Victim impact statements were handed into court from the barrister and Dunican's wife, but the judge declined to make one.
Counsel for the accused said he "appreciates the serious nature of the matter before the court".
#Open journalism
No news is bad news
Support The Journal
Your contributions will help us continue
to deliver the stories that are important to you
She handed up a detailed psychological report and a letter of apology from her client. The court heard Dunican previously ran a successful business but that his life "crumbled" in recent years.
Counsel said Dunican had become increasingly stressed in the months before the offence, that he suffered from heart problems and was "at the end of his rope".
The judge said she was also taking into consideration Dunican's serious medical conditions, as outlined in a psychological report.
Additional evidence
In a 17 minute recording of the siege, played in court, the judge repeatedly appealed to Dunican to put the gun down, before asking him what was hanging around his neck.
Dunican replied: "You don't want to know judge. The guards will understand."
As the court building was evacuated and armed gardaí surrounded the building, the judge got permission from Dunican to place a call.
She rang the court office requesting the presence of gardaí urgently, telling them: "You will be too late. Do you understand?"
During the incident, Daly was crouched down by her desk, crying and trying to call her husband. At one point, Dunican asked her if she had children. Armed gardaí entered the court shortly afterwards, causing Dunican to roar: "Back off lads. If I fall you're gone. If I fall yous are all gone."
A trained negotiator engaged with Dunican and the judge was taken out of the court before Dunican eventually agreed to put the gun down.
"My job is done here today," Dunican told gardaí. "I've achieved what I wanted to achieve."
In relation to the barrister, he told gardaí: "I will destroy her. Not here today, but I will destroy her. I've got the tools to do it now."
As Dunican was arrested and the imitation firearm was taken, he could be heard saying: "I apologise. There's nothing in it."
Source: http://prntscr.com/fub00u
Updated 10 hours ago
THE TAOISEACH HAS confirmed that Level 5 measures will remain in place until 5 March.
Micheál Martin said at a press conference this afternoon that the restrictions had been shown to have a positive effect in recent weeks, but that an extension of Level 5 was necessary if the number of patients in hospital was to be driven downwards.
A further tightening of incoming travel has also been confirmed, including mandatory 14-day quarantine in hotels for arrivals from 'high-risk areas' such as Brazil and South Africa and those without a negative PCR test.
The government also said that those entering the country from non 'high-risk' areas will be required to self-isolate at home by law for the first time.
Arrivals into the country from other red region countries, will still require a negative PCR test, but they will be allowed to leave their home if they can produce a negative PCR test five days after they arrive into the country.
These regulations will apply to anyone who travels into Ireland from any port or airport on the island, including ports and airports in Northern Ireland.
Visa-free travel from South Africa and Brazil will also be suspended until 5 March, while extra gardaí will be deployed at airports and ports to police the new travel restrictions.
"We must stay focused on the measures that will bring this disease under control, and which we as a country are in a position to deliver," Martin said.
"The road we are on is hard. The length of time that we've had to live with restrictions and the proximity of vaccination makes it even harder, but it is the road we must take together.
"We have done it before. And we can do it again."
The measures were agreed by members of the Cabinet today.
Tánaiste Leo Varadkar said it would take a number of weeks for the travel restrictions to become operational, due to a need by the government to find locations where incoming passengers can quarantine.
In a statement, the Irish Hotels Federation (IHF) said that the sector will engage with authorities with regards to providing quarantine facilities. 
"We expect that the number of hotels required will be small and in the vicinity of airports. Participation will be a matter for individual hotels.," IHF president Elaina Fitzgerald Kane said. 
When considering the provision of facilities for quarantine purposes, decisions will have to be made around the suitability of the property from a structural and location perspective and some of the current safety protocols may need to be reviewed, depending on the nature of the support that is being provided.
25.01.21
Level 5 restrictions to remain in place until 5 March as ministers agree on mandatory quarantine measures
Border 
Transport Minister Eamon Ryan also suggested that gardaí will be able to turn people back at the border if they come from the North for a non-essential journey, but that this will not happen if individuals are travelling to an airport.
The Taoiseach said that the majority of people travelling into the country at present are Irish citizens, but added that "quite a number went on holidays during the Christmas period and are coming back".
"I think that's why a lot of the emphasis is on actually what we can do domestically to reduce non-essential travel by our citizens overseas, it's a very important aspect of this and that's why the extra garda checkpoints at airports and ports will have an impact."
It is understood that depending on the pattern of the virus, the economy will be re-opened on a phased basis from April.
This would be similar to the approach taken heading into the summer last year, with guidance on home visits gradually relaxed and more shops and services gradually opening up. 
Speaking last night, Tánaiste Leo Varadkar said that "what we'll have to do on this occasion is any easing of restrictions which will have to be very, very, slow. More like the way we eased restrictions after the first wave".
#Open journalism
No news is bad news
Support The Journal
Your contributions will help us continue
to deliver the stories that are important to you
"It might start off very slow, maybe just with some retail, with maybe being allowed to meet two people outdoors, it's going to be a very slow unwinding of restrictions but you know if we can get the figures down very low, that becomes a possibility," he said on RTÉ's Claire Byrne Live programme. 
Government sources state that people need to understand that it won't be a return to normality if restrictions do begin to lift this year, even with the vaccine numbers on the rise. 
With reporting by Christina Finn,  Orla Dwyer and Rónán Duffy


TheJournal.ie's coronavirus newsletter cuts through the misinformation and noise with the clear facts you need to make informed choices. Sign up here:
Source: http://prntscr.com/fub00u
THE REMOTE IS our weekly look at the upcoming TV listings.
What With Everything, people are at home a bit more than usual these days so we've got you covered whether you want a solo TV night or one for all the family.
We'll focus mainly on free-to-air TV and freely available streaming services – with the occasional recommendation from subscription services too.
Something to get you out of the country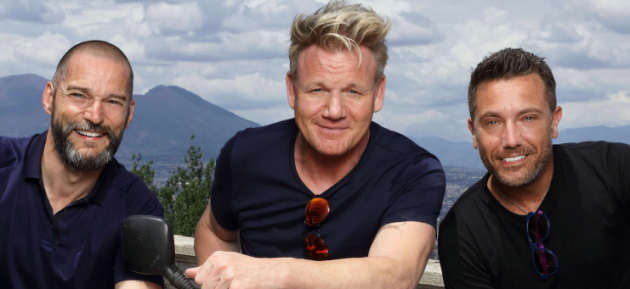 Source: Virgin Media
Well not really, but you may at least feel like you're on holidays with Gordon, Gino & Fred's Road Trip
TV chefs Gordon Ramsey and Gino D'Acampo and First Date's Fred Sirieux basically climb onto some scooters to sample fun and food across the US and Europe. The show aired on ITV a couple of years ago but now makes its way here.
When's it on? Tonight at 9pm on Virgin Media One.
Something human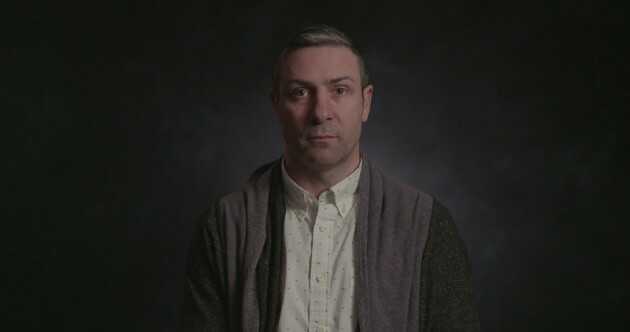 Source: TG4
TG4′s documentary series Finné is into its third series. The show explores the personal testimony of people who've faced adversity throughout their life to give an insight into how it affected them.
The programme is presented by RTE's courts correspondent Orla O'Donnell and this week's episode features Olympian Kenneth Egan, who speaks about his alcoholism. All previous episodes are available on TG4′s player.
When's it on? Tomorrow at 9.30pm on TG4.
Something sporty
Here are the contenders for the RTÉ Sport 2020 Young Sportsperson of the Year award.
🏆Aaron Hill
🏆Katelynn Phelan
🏆Keane Barry
🏆Oisin Mullin
🏆Oisin O'Callaghan
Find out the winner on Thursday 28 January on @RTEOne pic.twitter.com/eFS3a4hZpJ
— RTÉ Sport (@RTEsport) January 23, 2021
It's usually held at a black tie event before Christmas but not this time of course.
Better late than never though and the RTÉ Sports Awards 2020 should be an enjoyable look back on the pandemic-affected sporting year that was.
There are six people nominated in each category for manager of the year, young sportsperson of the year and sportsperson of the year.
When's it on? Thursday at 10.15pm on RTÉ One.
Something away with the fairies
Source: Netflix/YouTube
You'd have to wonder where the idea came from, but Netflix's new magical teen drama is about a group of hormonal young people at a boarding school for fairies.
#Open journalism
No news is bad news
Support The Journal
Your contributions will help us continue
to deliver the stories that are important to you
Fate: The Winx Saga was shot in Co Wicklow, with locations including Kilruddery House and studios in Bray and Ashford.
The show is a six-parter from the creator of the Vampire Diaries, so is likely to create some buzz. It's already provoked some accusations of 'whitewashing'.
When's it on? Streaming now on Netflix.
Something to drag you into February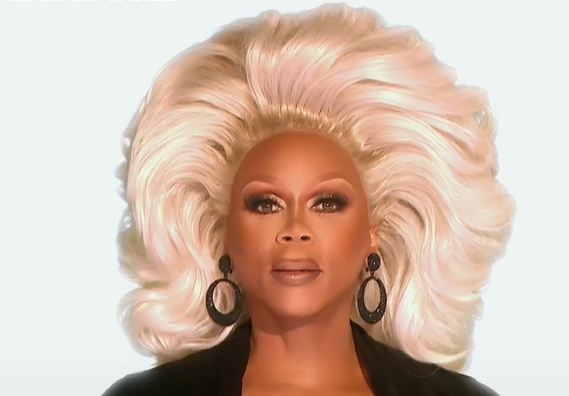 Source: Instagram
The phenomenally successful and Emmy-award winning RuPaul's Drag Race has been running for over a decade in the US but the UK version is currently in its second season. 
The show does for drag performers what American Idol does for singers and eponymous RuPaul gives the contestants tasks via TV link. 
When's it on? After midnight on Mondays on BBC One.
Source: http://prntscr.com/fub00u
Updated 10 hours ago
A FURTHER 928 new cases of Covid-19 have been confirmed in Ireland, the National Public Health Emergency Team (NPHET) has said this evening.
In a statement, it said that a further 90 people confirmed to have Covid-19 have died. NPHET said 89 of these deaths occurred in January. 
These latest figures confirm that more than 3,000 people have died in Ireland with Covid-19 since the start of the pandemic. 
The total number of cases now stands at 189,851, while the death toll is 3,066. 
NPHET said this evening that six additional cases are linked to the South African variant of the virus. 
As of 2pm today, 1,750 patients with Covid-19 were hospitalised. Of these, 216 are in ICU. 
Within today's new cases, half are in people under 45 years of age. 257 of the new cases are in Dublin, 115 in Cork, 71 in Louth, 53 in Galway, 45 in Limerick and the remaining 387 cases are spread across all other counties.
In a statement, chief medical officer Dr Tony Holohan said: "Today we are reporting a further 90 deaths, bringing our cumulative total of lives lost to Covid-19 to more than 3,000 in Ireland.
"This highly infectious disease is having a severe impact on the most vulnerable in our society and we must continue the good work we are doing to suppress it.
"The decline in daily incidence of Covid-19 has begun, however the volume of disease in our communities remains very high. To date we have reported 96,000 cases in January 2021, which has already passed the total of 93,500 cases reported in 2020. Indeed, public health doctors in the Midlands reported a total of 4,000 cases in the first 8 months of 2020 and another 4,000 cases in the first four weeks of 2021.
"Through our enhanced public health surveillance programme, we have identified 6 additional cases linked to the Southern African variant of concern. All cases are being followed up by public health teams in line with the latest ECDC guidance published on the 21st January."
Deaths of people with Covid-19 are not reported in real time but may have occurred over a period of several days.
The number of deaths reported on a given day, therefore, does not necessarily mean that a person with Covid-19 died within the previous 24-hour period or even the preceding few days.
#Open journalism
No news is bad news
Support The Journal
Your contributions will help us continue
to deliver the stories that are important to you
In the early days of the pandemic, Chief Medical Officer Dr Tony Holohan urged families, despite the difficulty, to register their loved ones deaths as early as possible so that health officials could gain an accurate picture of mortality.
Essentially, there is a delay between when a person dies from Covid-19 and the National Public Health Emergency Team being informed of their passing.
Earlier today, the government announced that the country will remain under the current Level 5 restrictions until 5 March at the earliest. 
A further tightening of incoming travel was also confirmed, including mandatory 14-day quarantine in hotels for arrivals from 'high-risk areas' such as Brazil and South Africa and those without a negative PCR test.
The government also said that those entering the country from non 'high-risk' areas will be required to self-isolate at home by law for the first time.
With reporting from Cónal Thomas


TheJournal.ie's coronavirus newsletter cuts through the misinformation and noise with the clear facts you need to make informed choices. Sign up here:
Source: http://prntscr.com/fub00u
THE PSNI HAS said it is investigating the possible breach of Covid-19 regulations at the funeral of a well-known republican in Derry yesterday.
The funeral of Eamon McCourt, aged 62, was held in the Creggan area yesterday, and despite engagements beforehand about the need to adhere to Covid restrictions, the PSNI said "a significant" number of people gathered for the cortege.
Sinn Féin MLA for north Belfast Gerry Kelly told BBC Radio Ulster's Talkback that he was "fairly certain" there were no MLAs present at the funeral.
Sinn Féin was not involved in organising the funeral and it had been organised by the man's family, he said.
"There is a family grieving, and people are living through very difficult times, and arguably at the moment they're the most difficult of the pandemic. But people need to adhere to the public health guidelines."
In a statement to TheJournal.ie, a Sinn Féin spokesperson said that the party did not organise the funeral, and that it was arranged by the family.
"I'm conscious that the family is now grieving after burying a loved one," the spokesperson said. 
"People are living through very difficult times, arguably the most difficult of the pandemic but people need to adhere to the public health guidelines.
"This is now a matter of a police investigation so it wouldn't be proper to comment any further."
Chief Superintendent David Jones said: "Over the weekend, police became aware of a funeral planned for Monday which had the potential draw a significant number of people.
"As a result, we engaged with representatives of the family of the deceased, the local church and local political representatives. Across these engagements, we emphasised the need for adherence to the current health protection regulations. 
#Open journalism
No news is bad news
Support The Journal
Your contributions will help us continue
to deliver the stories that are important to you
"As a result, we were given a number of assurances as to the conduct of the funeral, and that people would seek to pay their respects to the deceased from outside their homes rather than gather at the funeral. 
"Regrettably a significant number of people gathered as part of the cortege, in a manner likely to be in breach of the health protection regulations.
"As a result, police have commenced an investigation into the matter, and where individuals are identified as potentially being in breach of the regulations they will be reported to the Public Prosecution service with a view to prosecution."
Source: http://prntscr.com/fub00u
THE FATHER OF a young girl who was raped by her cousin has criticised the "chronic lack" of government funding for a charity that supports victims of child sexual abuse.
The girl's father was speaking at the sentencing of his 16 year-old nephew, who admitted sexually assaulting and raping his cousin on dates between December 2017 and May 2019 when she was aged between eight and nine and the perpetrator was aged 13 and 14.
Lawyers for the accused told the Central Criminal Court that a Probation Services assessment identified that the boy's pathway to offending was the viewing of adult pornography on his mobile phone at an early age.
Brendan Grehan SC said that there is "an epidemic in it's own right of young boys accessing pornography and then acting it out in inappropriate ways".
The abuse emerged in May 2019 when the victim became upset one day and told her mother that her cousin had touched her. Gardaí were called in and child specialist interviewers spoke to the girl.
When the boy's parents asked him about the allegations, he admitted that he had shown her videos of adult pornography and he became upset and made to try to stab himself in the stomach.
He was crying and kept telling his parents: "I'm guilty, I'm a paedophile and the guards should just lock me up".
The girl told gardaí that the boy would force her to engage in sexual acts with him and said she didn't like it and "it wasn't nice".
She said sometimes the boy would get cross if she said she didn't want to do things and he would tell her "you have to, there's no way of getting out of it".
She said that she had wanted to be his friend but that sometimes he would be very strict and "horrible" towards her.
Referring to her cousin she told gardaí: "I'm really angry at him but I still love him".
The boy pleaded guilty to the rape of the girl at his home in Co Dublin and to sexual assault by engaging with oral sex with her at her home in another county.
He also pleaded guilty to causing a child to watch sexual activity.
Lack of government funding
In his victim impact report, the victim's father said he wished to thank gardaí and the CARI Foundation for their support and help.
He said because of the "chronic lack of government funding", CARI has a long waiting list and it was 15 months before his daughter could get an appointment.
He said it is "a sorry reflection of modern Ireland" that the government cannot give more support to such organisations.
He said that in May 2019, he learned that "an evil monster" had groomed his little girl and made her perform unspeakable vile acts against her will.
He said he and his wife now realised the reason for the erosion they had already observed in their daughter's sense of fun and confidence.
He said during a medical examination at a Sexual Assault Treatment Unit his daughter trembled with fear and she has suffered "blind panic attacks filled with terror".
#Open journalism
No news is bad news
Support The Journal
Your contributions will help us continue
to deliver the stories that are important to you
The guilty boy sat in the docks with his parents and throughout the hearing on Monday afternoon each of them could be seen crying as they listened to the evidence.
Counsel for the defence read a letter written by the boy to his cousin in which he apologised repeatedly for his actions and the resultant harm.
"I took advantage of you and abused that. You must hate me. That's ok. I hope you are getting support.
"I can't put into words how much I feel ashamed. I really messed up. Every night I pray this is all a dream. I'm so sorry. I didn't know how much pain this would cause.
"I should never have looked at those videos online. I'm miserable, not because I got caught, I deserve that, but because I have caused so much hurt."
In a letter, the boy's mother said she stills get angry at him for what he did and the hurt and heartbreak he has caused, but added that she is not going to abandon her son.
"I worry for him as he walks about wanting to go to sleep and never wake up," she said.
She described him as the light and soul of our home and a caring, emotional, affectionate child.
The boy has engaged with sex offender therapy since the offending emerged and counsel for the defence outlined how his initial attempts to minimise his offending has since developed to insight of the harm he has caused.
Justice Michael White said he needed time to consider the evidence and various professional reports handed into court. He adjourned sentencing to 23 February next.
Source: http://prntscr.com/fub00u
THE REAL COSTS of New Apartment Delivery 2020, published today by the Society of Chartered Surveyors Ireland, highlights that unaffordable housing prices remain the key obstacle for many people who would like to own their own home.
The report found that the all-in cost of private developer-led delivery of medium-rise two-bedroom apartments in the Greater Dublin Area ranged from €411,000 for a low-spec unit in the suburbs, to €619,000 for a high-spec one in the city.
These findings confirm that affordability remains a critical issue and that a first-time buying couple would require a deposit of €38,000, and a joint income of €98,000, to purchase the lowest priced apartment type.
Empty promises
Insofar as there has been a change of housing policy between this Government and the last, the change has been rhetorical.
It would be fair to say that the language around housing has changed. The new Housing Minister is happy to deploy words which imply a more directive, more hands-on role for the State.
But the change has been cosmetic and the State's policy remains as it has been for many years: a framework which puts the interests of people seeking to buy and rent affordably at the back of the queue.
The Affordable Housing Bill, which was published this month, is this Government's first major test on housing. The flagship policy of the Bill announced by the Minister for Housing is an import of a UK model of shared equity loans for new homes.
Not only are these equity loans likely to fail to deliver an increase in the supply of affordable housing, but they may also well lead to house price inflation, as has been flagged by Robert Watt, the outgoing Secretary-General at the Department of Public Expenditure and Reform.
Equity fuelling developers
Even in its country of origin, this equity loan scheme has been judged to fail in a number of ways. A 2019 report by the UK Comptroller and Auditor General found that the UK equity loan scheme increased profits for developers.
It also resulted in first-time buyers paying a premium for new build homes and was availed of mainly by people who did not need help purchasing a home in the first place.
The 2019 report found that the UK scheme was mainly used to purchase larger and more expensive new-build homes compared to properties bought by other first-time buyers without the scheme.
In the East Midlands, the average purchase price for a first-time buyer of new-build property in 2018 was £157,558. At the same time, first-time buyers who availed of the equity loan bought homes at an average cost of £235,470.
Related Reads
18.12.20
New affordable housing plan will see State take 30% stake in homes of first-time buyers
16.12.20
Taoiseach told he is living in a world of 'make believe' by ignoring the reality of the housing crisis
26.11.20
Opinion: It's time for courage – Rebuilding Ireland is dysfunctional and must be replaced
In North-East England, where take up of the equity loan was highest, the gap was even wider. The report also found that three-fifths of those availing of the scheme did not need it in order to purchase a home.
Between the introduction of the scheme in April 2013 and December 2018, prices paid for new-build properties increased in England by 41 per cent.
Independent analysis of house prices in ten towns and cities across England found that homes available under the equity loan scheme were an average of nearly 15 per cent more expensive per square metre than comparable homes not eligible under the scheme.
Developer wins
This is the direction of travel here for new build housing under the Affordable Housing Bill: higher prices than otherwise would have been the case, availed of by people who would have been able to buy a home in any case – with the extra money being spent benefiting only the developer.
The Government is in effect implementing evidence-based policymaking in reverse, introducing a policy which is shown to have failed and one whose demerits have been pointed out already by one of Ireland's most senior civil servants.
One group that the UK policy did not fail are the British property developers who availed of the scheme and who have announced record profits. The last thing we need in Ireland is another bonanza for developers.
The Affordable Housing Bill will achieve the opposite of what it supposedly aims to do. Its title is in effect a form of Orwellian doublespeak, which promises one thing but delivers another.
If it is passed unamended, there should be no surprises if it turns out to be a costly, ineffective instrument which does little to address the core problem: the chronic lack of affordable housing to buy and rent in Ireland.
#Open journalism
No news is bad news
Support The Journal
Your contributions will help us continue
to deliver the stories that are important to you
Cian O'Callaghan TD is the Social Democrats spokesperson for Housing.
Source: http://prntscr.com/fub00u