THE STATE PLANS to buy up properties that, previous to the pandemic, were for rent on short-term letting platforms such as Airbnb.
There has been a marked increase in the number of rental properties available in Ireland and elsewhere as former short-term lets came back on the market amid recent travel restrictions.
In a wide-ranging interview with TheJournal.ie, new Housing Minister Darragh O'Brien said his department is drawing up a detailed submission for the government's July Stimulus Plan which will seek to acquire properties that were once listed on Airbnb and other short-term letting websites.
The minister also told this publication that he is drafting legislation to deal with rental arrears, with plans also underway to continue giving people rental supports as they return to work as the country reopens. 
Taoiseach Micheál Martin met with O'Brien on Friday to discuss the July Stimulus which aims to restart the economy and boost employment after the Covid crisis.
O'Brien said there will be significant public housing initiatives, as well as infrastructural projects in the mix. His department is currently drafting a costed submission.
"There are opportunities now to do things quicker," he said. Acquisitions is one area where the minister said the government will be ramping up activity.
"The Airbnb properties that are now not being used – is there an opportunity for the state to buy more of them? It's something that I'm looking at, absolutely. It is something that I want to do frankly," said O'Brien.
"If there are opportunities for the state to buy, at reasonable prices, so we can house people and then they can rent them on a secure basis from the state, then we should."
While the minister said he could not go into much detail on the stimulus package, he said acquisitions of properties, such as Airbnb properties, will be included in the department's submission.
"I think we have a chance to do some quite significant things right now," said O'Brien.
Expanding the Help-to-Buy scheme
The minister said the Help-to-Buy scheme is also here to stay, and will be expanded.
The scheme was an incentive introduced for first-time buyers in Budget 2017, to try to help them reach the level of savings required to afford a deposit for a house.
The scheme entitles those buying new-build or self-build homes valued up to €600,000 to claim a tax rebate of up to 5% of the value of the home up to €20,000.
O'Brien confirmed that he is looking at a maximum relief limit. He claimed the scheme hasn't been inflationary.
"It's a support for first-time buyers right now. So potentially expanding it further, looking at the limits," he said, adding that officials are currently working on the options.
"If we get to a situation, which I want us to get to, where there is affordable housing out there, then you reduce the need for the help-to-buy. But in the medium term, help-to-buy is here to stay and potentially expanding."
Eviction bans
In terms of rental rights, the minister said there needs to be further strengthening of tenants' rights.
"I'm working on that now. Things like rent arrears. Eviction bans and rent freezes aren't going to stay in forever anyway. Anyone that says that is just not being truthful. We've got to be mindful of that too. So how do we further improve things for people? I'm working on a parallel piece of legislation on arrears," he said.
"I think there's a role that we need to know about arrears much sooner. So, if a tenant falls into arrears, then I'm looking at putting in an obligation that the copy of that arrears letter would have to go to the Residential Tenancies Board (RTB), where they would then get an early warning that there's an arrears situation and then advise the tenants on what they need to do," he said.
The RTB would then step in to assist with advice on rent allowance or emergency emergency financial assistance. 
The minister said that just less than a million people are either on the pandemic unemployment payment or the wage subsidy scheme.
"We announced an emergency rent supplement scheme. So for people who lost their jobs, or had their salaries reduced, there is help with their rent. We've only had 8,000 applications for that. I'd be saying to your readers, as well as people who have had their salary reduced or have lost their job, you should not be going into rent arrears. I am asking them to apply for the emergency rent supplement."
While the support might have gone under the radar for some, the minister said he is now looking at the "flexibility" of emergency rent supplement, with a view to letting some people avail of it as they re-enter the workforce.
"That's something I have to work with the Minister of Social Protection on, to get those supports for people coming back or whose salaries have been reduced, because we don't need people to get into a rent arrears situation," he said.
"Should they get into the rent arrears situation, I'm looking at legislation that flags that very early, and that the state can offer supports very quickly. So we don't get into an eviction type situation," said O'Brien.
AirBnb and short-term lets
The regulation of short-term let platforms such as Airbnb has been a talking point since the former Housing Minister Eoghan Murphy brought in new rules governing the sector this time last year.
"The problem is they were brought in quite quickly, they were a bit rough and ready… The biggest issue, when the regulations were put in place, was the resources to implement it and to oversee those regulations weren't put in place.
"Some of those additional staff have started to come on stream, and I'll be putting more in place… we need to kick start it again. Now is the time to do it, because a lot of those short-term lets are actually back in the market now, because there's no foreign tourists coming in. So now is the time to get our lists right, get our systems right and to get our staff in place. It's about a balance – is there a role for short term lets – there is, but we've got to look at the proportion," he said.
On the issue of regulating the platforms, the minister said the websites should have to show that the house or apartment listed has been granted planning permission to be a short-term let.
"That's something that we should be doing. So, that I think would make a big difference because then we have visibility."
Home ownership
The programme for government commits to the rollout of affordable rent and affordable housing. It was a staple of the Fianna Fáil manifesto prior to the general election. 
Fianna Fáil prides itself as the party of home ownership, which O'Brien argues for strongly.
"Most people who are renting don't want to rent. That's the truth of the matter. Most people who are renting would rather own their own home. That's why in September, I'll be bringing forward an affordable housing scheme.
"For those who are stuck renting, they will actually be able to buy homes at affordable rates where the mortgages will be half of what they pay in rent.
"You shouldn't be paying more than 35% of your net take-home pay in rent. Above that, it becomes unaffordable. I know people who are paying 50% and 60% of the net take- home pay. So they're working to pay rent basically, and the quality of life is practically zero."
There are people trying to save for a home, who feel completely hopeless, said the minister.
"I'm going to change that. It doesn't have to be that way. It should be that way," he said, stating he will deliver homes on a shared equity basis where the state takes a share in the house for prices of between €160,000 to €260,000.
He said affordable home targets will be set out in September, with O'Brien acknowledging people need to see delivery from the government.
"It's all very well talking about it and some of the opposition are great at theorising and talking about delivering but it's been done before. It will be done. And it will be done by this government, and it'll be done by me as minister," he said.
However, he added that it will take a "little bit of time to start delivering those first homes, there will be a lead in time". 
Since 1991 there has been a substantial decrease in younger age groups owning their own home, with 30% of 25-34 year olds owning their homes in 2016 by comparison to 68% in 1991.
The minister said that trend should be reversed.
The Rent Pressure Zones haven't really worked, according to the new minister. While they have "tapered the increase" rents are still too high, said O'Brien.
Affordable rent
He said an affordable rental scheme is needed in Ireland, and work is underway to set out what the affordable rent limits will be.
"Within about eight weeks, I should have those options," he said, stating there's an expert group that's been working the rent limits. The will soon publish what an affordable rental scheme will look like in this country.
"There's going to be variances, depending on where you are in the country and depending on what type of home or apartment it is," said the minister.
However, generally the minister said the definition is 35% or a third of your net take home pay.
"You can get into a differential rents situation, whereby you have someone who's working and might be earning €30,000 and renting somewhere pays less than someone who is renting the same place and is earning €50,000," he said.
#Open journalism
No news is bad news
Support The Journal
Your contributions will help us continue
to deliver the stories that are important to you
"I've talked in opposition about the need for affordable housing. I now have an opportunity as minister to deliver on it and implement it and I am absolutely focused on doing it. I want to see, in my term, large amounts of people moving into affordable homes."
While the minister stated he aims to buy up properties that were once used for short-term lets, he also wants local authorities to buy a range of properties with a particular focus on homes for single people.
"I've been asking local authorities to acquire more single units in particular. 40% of our people in emergency accommodation are single men and single women, and it's a big, big issue. I want to make big strides in that area," he said. 
In terms of homelessness, the minister said progress has been made on reducing family homelessness, particularly throughout the pandemic period.
"We've got to harness some of the good things that were done during the start of the pandemic," he said, stating that the collaboration between housing and health departments cannot be lost.
"I know health are up for that challenge to. It makes a massive difference. We get better results when we work together," he said.
"We're going to let the local authorities off the leash to deliver homes themselves… Letting them be responsible for developments of 60, 70, 80 homes in their own area with oversight, but reducing the bureaucracy," he said. 
"I'm looking to acquire more homes for families, there's a fighting fund for homelessness in the programme so we can be buying homes with tenants in situ and taking them into the public housing stock.
The minister said family hubs should be a "stop gap for people".
"The solution is permanent housing," he said, stating that the Housing Assistance Payment (HAP) – which gives rental payments to private landlords – should also be a relatively short-term support.
Last year, the government ringfenced an additional €80m for HAP as part of Budget 2020, bringing the annual budget for the payment to €502.7 million.
However, O'Brien feels the last government were over reliant on HAP. He disagrees with how people are categorised when on the payment also.
"People were effectively taken off the [housing] list and said that you've been deemed housed and your housing need has been met. I don't accept that," he said.
"We need to reduce the reliance on HAP. That's tricky for one reason, because when people are in a tenancy if you stop paying for it, well where do they go? So, we need to get that tipping point of increasing the public housing supply.
The pandemic has had an impact on housing output this year, with O'Brien stating that for three months the construction sector was effectively shut down.
"We're probably going to be down to 14,000 house completions this year, where we were on track to get 25,000. That's an issue, so we have to catch up," he said.
On vulture funds, the minister said cuckoo funds buying up blocks of apartments and renting them out has been a big issue. He said it is impossible for first-time-buyers to compete in a shrunken market against big institutions.
"That's the reason why I want to focus on the state-led affordable housing scheme, that no vulture fund or cuckoo fund can buy in. That it's our stuff and it's our stuff for our people."
If ramping up supply is key, what does the minister think about high-rise?
"There shouldn't be limits," said the minister.
"There are areas in our cities that it makes sense that we go up. The Docklands. Absolutely. It's beyond me as to why the highest building there is 24 storeys. What I'm told is that the height caps have been lifted. But the application of that seems to be rather strange as to how some of our local authorities make decisions," said the minister, who added that he is precluded from speaking about any specific planning applications.
The minister said that buildings should be much higher than 24 storeys, with consultation with local residents, he said.
In appropriate parts of Ireland's cities, looking at high rise, should be considered, he said. "Other countries are able to do it better than us," he said.
O'Brien said he absolutely does not underestimate the challenge ahead of him, but housing is a priority of the new government. 
He said he plans to leave after his term in office with his head held high, having delivered affordable homes and rent for the Irish people. 
"We did this before, we can absolutely do this again," he promised.
Source: http://prntscr.com/fub00u
DO NOT COUNT Donald Trump out. Just as in January, when pundits and bookmakers were premature in their often definitive forecasts that this unprecedented President of the United States would win a second term, those who now claim that he is finished in the wake of Covid-19 and the emergence of the Black Lives Matter movement are jumping the gun.
There is a good bit to go yet.
That said, Joe Biden is in an enviable position in the July of a presidential election year. RealClearPolitics.com, the poll aggregator, has him up by 3% in North Carolina, by 3.5% in Arizona, by 5% in Pennsylvania, and by 6.5% in both Pennsylvania and Wisconsin. If these numbers were to hold up on 3 November, the Democrat would triumph in a landslide.
In the coming months, however, Biden will come under severe attack from President Trump and his allies. And if precedent is any dictate, it is highly likely that the gaffe-prone former vice-president will commit at least one serious blunder that will bring to the fore the related issues of his advanced age and capacity to be the leader of the free world.
Biden on the up
Biden's supporters have a fast, furious and logical response: "whatever Joe might do or say pales by comparison with what we already know about Trump!" But that wilfully overlooks the incumbent's political masterstroke.
Donald Trump has changed the game and plays it by a very different set of rules than anyone else.
In short, while the advantage is absolutely Joe Biden's, Trump has a chance of making a comeback. It's not over. Whether the Trump presidency concludes this November or he pulls off another shocker and gets four additional years, it is worth considering the trajectory of American politics after he leaves the White House.
Both major parties are divided and face into an uncertain future. In this respect, they are a mirror image of their country and its citizenry. Indeed, there would never have been a President Trump in the US were it not in the midst of a fraught period in its short history.
The Lincoln Project
Much is being made in traditional and social media of prominent Republicans who abhor Donald Trump and are disseminating powerful ads against him in the hope that some fellow travellers on the right will lend their votes to Joe Biden this year. One such group has branded itself the Lincoln Project.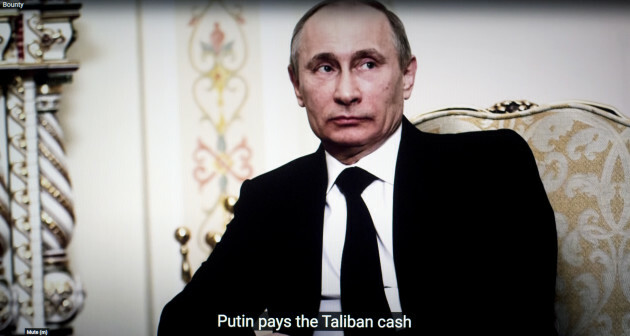 A video capture of the Lincoln Project's latest anti-Trump ad entitled 'Bounty'. The Lincoln Project, a political action committee formed by Republican operatives, is dedicated to stopping Trump in November.
Source: Brian Cahn
A founder of the Lincoln Project, John Weaver, was a top strategist in the presidential campaigns of the late Arizona Senator, John McCain, and the former Ohio Governor, John Kasich.
Married to a Mayo woman and a frequent visitor to Ireland, Weaver commented recently on the RTÉ States of Mind podcast that he "would rather be dragged up the Cliffs of Moher than work for Donald Trump."
The Lincoln Project is comprised of traditional conservative Republicans who lionise President Ronald Reagan and champion America's highest ideals. Generally speaking, they are outward-looking, internationalist, pro-free trade, pro-growth, pro-immigration and fans of laissez-faire economic theory. To them, Trump is a profound embarrassment as a person and an ideological foe as a politician.
The difficulty for disciples of the Lincoln Project is two-fold. First, exponents of their fundamental beliefs, such as the aforementioned McCain, Mitt Romney and most of the 17 presidential hopefuls in the 2016 GOP primary, have been comprehensively defeated at the ballot box.
Related Reads
02.06.20
Larry Donnelly: Trump is a mess but he can still win the election because of a weak Democratic party
24.05.20
Larry Donnelly: An erratic Trump now leads a US further divided by Covid-19
17.05.20
Larry Donnelly: 'US politics may have lost civility, but online discourse here is no better'
Opinion surveys consistently show that a majority of voters reject US interventionism – militarily and otherwise – and are sceptical of the once-presumed benefits of trade agreements.
Second, Donald Trump still enjoys the support of more than 90% of registered Republicans. While the Lincoln Project may retort that many "principled conservatives" have abandoned the party, it is hard to dispute the truth that its grassroots have overwhelmingly embraced Trump and all that his "America First" mantra entails.
It is entirely possible that Republican primary fights will be referendums on "Trumpism" in the short term. Unless there is a precipitous shift in the broadly shared perspective within the party, my suspicion is that the president's defenders will prevail in most of them.
On the other side of the aisle, even assuming that Joe Biden vanquishes President Trump, Democrats are at a crossroads. How far left, in an American sense, will the party go? Its younger, progressive wing has been energised to a phenomenal extent and continues to try and "take out" out reliable, long-serving Democrats – who are typically older white men – and install more diverse and leftist standard-bearers in their stead.
They want action on the causes most important to them and they want it immediately – to hell with what more experienced advocates say are rather intractable obstacles.
Democrats shifting left
There are genuine risks in this tack. On hot button, cultural issues, what about "old school" Democrats and Latinos, both of whom have been gravitating to the Republican Party? On wallet or pocketbook issues, what about blue-collar women and men, as well as what remains of the labour union movement, who feel let down by their mother ship and see plenty to like in Trump's "America First" economic nationalism?
Biden's just-unveiled "Buy American" initiative is a shrewd manoeuvre and suggests that he will make a concerted effort to reconnect with them.
Whether the Democratic primary electorate did so consciously or subconsciously, I think they begrudgingly went for Joe Biden this time because they deemed him best-placed to reconcile these conflicting factions and competing priorities. Yet the Herculean nature of this task should not be underestimated. The impending choice of a running mate will send significant signals to the party's key constituencies in this regard.
Republicans and Democrats must deal with these internal matters while the US, as a society, must confront the following realities. Extraordinary, and mounting, income inequality has been precipitated by the twin forces of technology and globalisation and amplified by provisions of the tax code favouring the wealthy.
#Open journalism
No news is bad news
Support The Journal
Your contributions will help us continue
to deliver the stories that are important to you
There is an increasingly imminent threat posed by climate change. An overdue reckoning with the vexed topics of race and racism is playing out as we speak. A global pandemic has had a near uniquely devastating impact. The rise of insularity and indifference to the rest of the world seems inexorable.
In this frightening context, the current state of American politics is complex and its future direction impossible to predict, to put it mildly. Contrary to what some may wish, beating Donald Trump, who has sadly and successfully exploited the palpable and understandable fears stemming from this milieu for his own gain, will not fix things.
The problems are far, far bigger than him. Sending him back to Trump Tower would merely be the first step on a better path.
Larry Donnelly is a Boston attorney, a Law Lecturer at NUI Galway and a political columnist with TheJournal.ie.



TheJournal.ie's coronavirus newsletter cuts through the misinformation and noise with the clear facts you need to make informed choices. Sign up here:
Source: http://prntscr.com/fub00u
AFTER SURVIVING MONTHS of bombardment, Syrian man Nasr Sultan had feared his 10 children may starve or catch the coronavirus if the divided UN couldn't agree on a renewal of cross-border humanitarian aid to rebel-held northwest Syria.
But last night, after a significant compromise, the UN Security Council passed a resolution to restart cross-border humanitarian aid to Syria.
This was only after caving to Russian pressure to close one of two access points into the war-torn country.
European countries and the US had wanted to maintain both crossing points – it represents a diplomatic failure for the US, whose ambassador had called the maintenance of two border crossings a "red line".
The #SecurityCouncil has voted on the 🇩🇪🇧🇪 draft resolution to extend cross-border access in northwest Syria.
🇩🇪🇧🇪🇫🇷🇪🇪🇬🇧🇺🇸🇹🇳🇻🇳🇳🇪🇻🇨🇿🇦🇮🇩 voted in favor
🇷🇺🇨🇳🇩🇴 abstained pic.twitter.com/pIhwfIkk4F
— German Mission to UN (@GermanyUN) July 11, 2020
Source: German Mission to UN/Twitter
Following a week of division and seven ballots, the Council passed a proposal submitted by Germany and Belgium allowing the use of the Bab al-Hawa crossing point for one year.
The measure was approved by 12 of 15 members, with Russia, China and the Dominican Republic abstaining, diplomats said.
Authorization for the continued transport of aid to Syria, a system in place since 2014, expired on Friday night after Moscow and Beijing used their veto power and the Council then rejected a counter-proposal from Russia.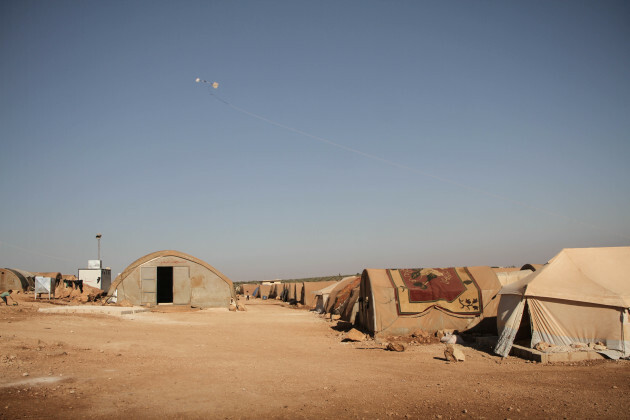 A group of children make kites in a camp in Idlib, northern Syria.
Source: Moawia Atrash
With the approval of the German-Belgian proposal last night, the Bab al-Hawa crossing point on Syria's northwestern border with Turkey will be maintained for a year, until 10 July 2021.
This will allow badly needed humanitarian aid to continue flowing to several million Syrians living in the insurgent region of Idlib, which the Syrian regime does not control.
For weeks, Russia, Syria's most important ally, has been demanding an end to the use of the Bab al-Salam border crossing, which leads to the Aleppo region in northern Syria.
"Russia controls this process," said Richard Gowan of the International Crisis Group think tank.
"The drama and vetoes of the last week were a distraction as ultimately Russia was always going to force a settlement on roughly the terms we see today," he told AFP.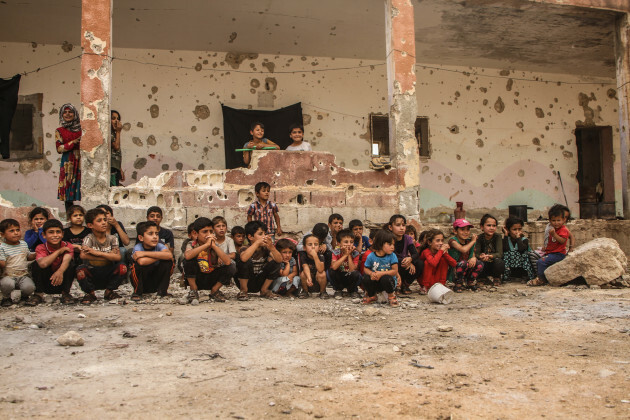 A theatrical troupe performs for displaced children in a destroyed school inhabited by displaced Syrians in the city of Binnish, Idlib.
Source: Moawia Atrash
UN authorization allows the international body to distribute aid to displaced Syrians without Damascus's permission.
But Russia and China argue that the authorization violates Syria's sovereignty, and that aid can increasingly be channeled through Syrian authorities.
Ireland will be joining the UN Security Council from 2021-2022 period after a successful bid for a place last month.
In a statement, Irish aid agency Concern Worldwide welcomed the news that the UN Security Council voted to continue allowing humanitarian aid into Syria for the next 12 months through a single border crossing point from Turkey.
However, Concern is very disappointed that some Security Council members succeeded in removing the second border crossing, crossing point into Syria, which served one million people with health supplies in May alone – not to mention the failure to re-authorize the Yaroubiya crossing into the Northeast.
"In northern Syria humanitarian actors continue to struggle to fill the gaps left by the Security Council's decision to remove UN cross-border assistance from Iraq in January," Concern's Regional Director of the Middle East, Brid Kennedy said.
Although the ceasefire on 6 March 2020, brought a much-needed decrease in hostilities, millions of Syrians still depend on UN assistance for the most basic services such as food, shelter, water and medical care.
"This decision means that life-saving food, shelter, hygiene and medical services that aid workers can bring into Syria can continue, helping millions of people in dire need. The aid is especially needed now, as the Syrian pound crashes, the impact of conflict continues and fears of Covid-19 spreading grow," Kennedy said.
#Open journalism
No news is bad news
Support The Journal
Your contributions will help us continue
to deliver the stories that are important to you
Since 2011, an estimated half a million lives have been lost and over 16 million people have been displaced by war in Syria. 
On the ground
The Idlib region, Syria's last major opposition bastion, is home to some three million people, nearly half of whom have been displaced from other regions. 
In a crowded Idlib displacement camp, 45-year-old Nasr said life without aid would plunge into hunger many of those who had already lost their homes in Syria's nine-year war. 
"We have abandoned our home, our land and our livelihoods. The aid they give us is all we have," he said from inside his tent near the town of Maaret Misrin.
"If the assistance is scrapped, we will face famine."
Susannah Sirkin, of Physicians for Human Rights, called the UN system "the most viable channel to deliver aid to millions of Syrians in need."
But the German ambassador, Heiko Maas, said it was "good news for millions of Syrian men, women and children that the Security Council was ultimately able to agree on our compromise proposal."
Apart from food insecurity, Idlib has recorded at least three cases of Covid-19 since Thursday, sparking fears of a health catastrophe if the pandemic hits overcrowded displacement camps.
The confirmed cases are all medical personnel working in hospitals near the Turkish border. 
"If medical assistance is not delivered to the camps, then we will be finished" said Nasr. "The coronavirus will get us."
Source: http://prntscr.com/fub00u
PRESIDENT DONALD TRUMP wore a face mask in public for the first time, as the US posted another daily record for coronavirus cases, while Disney World reopened in a state hit hard by the pandemic.
White House experts leading the national fight against the contagion have recommended wearing face coverings in public to prevent transmission of the illness.
But Trump had repeatedly avoided wearing a mask, even after staffers at the White House tested positive for the virus and as more aides have taken to wearing them.
Hours after the World Health Organization urged countries to step up control measures to rein in the disease, Trump donned a dark mask bearing the presidential seal as he visited wounded military veterans at the Walter Reed military hospital in a suburb outside Washington.
"I've never been against masks but I do believe they have a time and a place," he told reporters as he left the White House.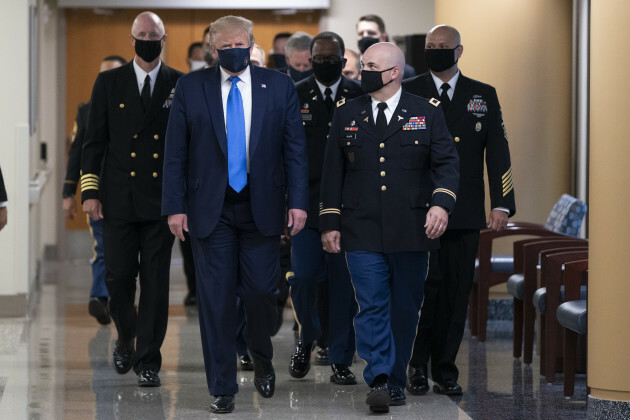 United States President Donald J. Trump arrives at Walter Reed National Military Medical Center.
Source: Chris Kleponis
Trump is trailing Democrat Joe Biden in the polls ahead of a November election and surveys show most Americans are unhappy with how he has handled the public health crisis.
But the president has continued to praise his own response to the pandemic despite a cascade of figures showing the extent of the disease's spread across the United States.
The country posted yet another daily record of confirmed cases last night, with 66,528 new infections, while the death toll rose by almost 800 to nearly 135,000.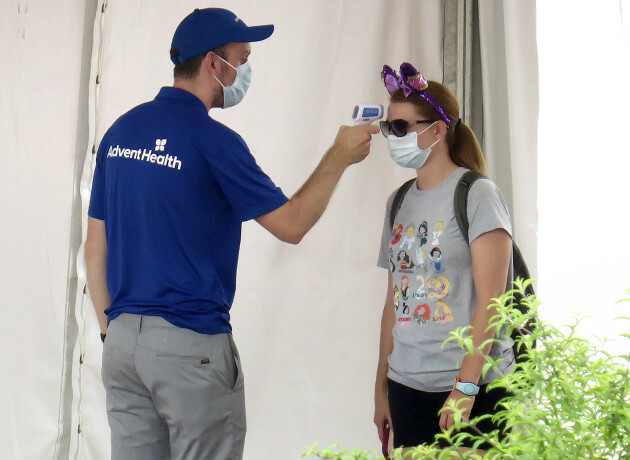 A guests gets her temperature taken before entering the official re-opening day at a Disney park in Florida.
Source: Joe Burbank
In Florida, where nearly one in six of those new infections were recorded, the Walt Disney World theme park partially reopened after four months of shutdown prompted by the virus.
Hundreds of people queued to enter the park in Orlando, some sporting Mickey ears but all wearing face masks, with social distancing and other hygiene precautions also in place.
Days earlier, top US infectious disease expert Anthony Fauci said that Florida had begun reopening before meeting the criteria that would have enabled it to do so safely.
The coronavirus pandemic has infected nearly 13 million people, killed over 560,000 and triggered massive economic damage since the disease was first detected in China late last year.
The United States is the country worst hit by the illness, followed by Brazil – which surpassed 70,000 deaths on Friday.
'Tested to the limit'
WHO chief Tedros Adhanom Ghebreyesus called on countries to adopt an aggressive approach to tackling the virus, citing successful mitigation efforts in Italy, South Korea and elsewhere.
"Across all walks of life, we are all being tested to the limit," he told a virtual news conference in Geneva on Friday.
#Open journalism
No news is bad news
Support The Journal
Your contributions will help us continue
to deliver the stories that are important to you
"Only aggressive action combined with national unity and global solidarity can turn this pandemic around," he added.
Elsewhere, French officials warned of rising cases in metropolitan France as the death toll there topped 30,000.
Israeli Prime Minister Benjamin Netanyahu admitted a decision to allow bars and other businesses to reopen may have come "too soon" after his country reported a record 1,500 new infections on Friday.
Australian authorities said they would slash by half the number of people allowed to return from overseas each day after a fresh surge in cases that saw a lockdown imposed on Melbourne, the country's second-largest city.
In Hong Kong, a spike has marked a setback for the city after daily life had largely returned to normal, with restaurants and bars resuming regular business and cultural attractions reopening.
Schools in the city will be closed from tomorrow after the city recorded "exponential growth" in locally transmitted infections.
Source: http://prntscr.com/fub00u
GARDAÍ HAVE SEIZED cocaine estimated to be worth €1.2 million after two vehicles were stopped and searched on the M3 near Ashbourne, Co Meath yesterday.
Two men, aged 35 and 62 years, were arrested as part of the searches that were part of an intelligence-led operation targeting organised criminality.
The searches were carried out by Garda members attached to the Garda National Drugs and Organised Crime Bureau (GNDOCB) supported by the Garda National Crime and Security Intelligence Service, and with the assistance of the Revenue Customs Service.
The estimate is a street value and is subject to analysis.
The two arrested men are currently being detained, pursuant to Section 2 of the Criminal Justice (Drug Trafficking) Act, 1996, at Ashbourne Garda Station.
Detective Chief Superintendent Angela Willis, who is head of the bureau at GNDOCB, said:
An Garda Síochána is committed to continuing to disrupt the activities of organised criminals supplying drugs to our communities.
#Open journalism
No news is bad news
Support The Journal
Your contributions will help us continue
to deliver the stories that are important to you
"This seizure of a substantial quantity of cocaine today is another example of our relentless efforts to disrupt this supply, enabling us to keep people safe."
Source: http://prntscr.com/fub00u
JUNE 15 1988, PACKIE Bonner is in pain, his back in spasm. The previous Sunday he was a hero but today he's a crock and he's scared, all the fear in the world stored deep within his blue eyes.
He walks cautiously to Jack Charlton's room, knocks on the open door and sees his manager washing socks in the bathroom sink. Later that evening Ireland will play their second game of Euro 88 but Jack Charlton has eyes for the suds in his socks rather than the Soviet Union.
"What do you want?" he says to Bonner, not once looking up from his sink.
Bonner explains his predicament. He found it a struggle to get out of bed. His back was killing him. He'd tried physio. He wasn't right.
There's no response.
Like the funniest comedians, the best managers know the effect of a pause.
So the silence is prolonged.
And still no eye contact before Charlton finally speaks.
"If you don't play," he says to Bonner, "not only will you let yourself down, but you'll also let me down and worse than any of that, you'll let your country down. Now piss off."
Bonner played in Hanover that night.
John Anderson didn't. The former Newcastle United defender travelled with an injury to Germany and never kicked a ball. But the comic-book character of big bad Jack disguised the fact that deep down, he was a sentimental old softie who knew what Ireland meant to Anderson. 
So he pretended he didn't notice the limp. Then when Ray Houghton headed that ball against England, Charlton banged his head so hard off the dug-out roof that he nearly passed out. "Who scored?" Charlton asked Anderson of Ireland's most famous goal.
The player who scored got a typed letter off Charlton, post tournament, thanking him for his contribution. Every member of the squad did. But John Anderson, who Charlton had managed for Newcastle and then Ireland, had a personal handwritten note attached. "He was f**k all use to us because he was injured," wrote Jack. "But I hope he enjoyed his holiday."
Those words sound colder than they were ever intended to be. Bonner and Anderson knew that; all the players did. Why else, over the last few months and years, did so many from that era make it their business to travel north and spend time with Charlton after hearing he wasn't well?
In any line of work that kind of warmth for an old boss is fairly unusual. But in football, it's practically unheard of.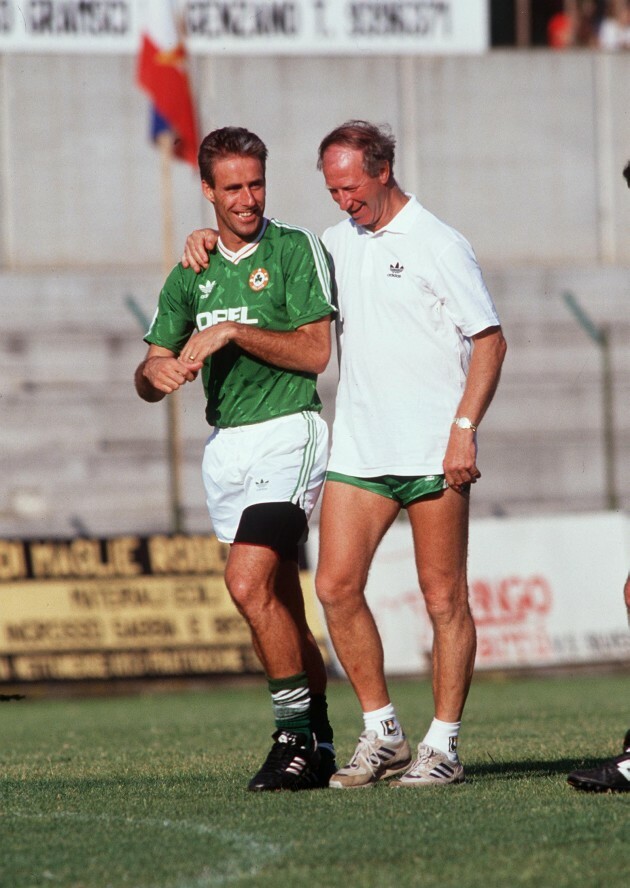 Charlton and McCarthy share a joke in Italy.
Source: INPHO
And you could get a sense of people's affection for him when news broke yesterday of his passing. Mick McCarthy used the word love, Niall Quinn spoke of sadness, Tony Cascarino of respect. Yet it was the words a reader posted on this site which really summed up the emotions of so many. "A nation sheds a tear," it said.
Nostalgia has that effect. It takes you back to sunbright days, to the smells and the sounds of 1990, the smiling faces of people who've left us, the wildness and innocence of youth. You might physically move on but emotionally you never really leave that place behind.  
Some of us don't want to. We look back to the last summer of innocence because we're frightened to look forward at what tomorrow might bring, as this pandemic plays havoc with people's health and wealth.
You look at children today and wish they could have their own Italia 90, when the Aer Lingus 737 carrying the team home from Rome diverted its path to allow the passengers on board see the crowds on O'Connell Street.
Everyone fell silent on that plane when the captain made his announcement, looking down at an estimated half million people lining Dublin's streets to welcome the Ireland team. Eight days later, when the victorious German team arrived back with the World Cup, only 50,000 attended that homecoming.
It's a story that pretty much sums up why there was such an outpouring of love yesterday afternoon. A nation shed a tear for an old man because it cast its mind back to easier times, when we danced on the street and drank through the night.
It wasn't just Jack Charlton we were mourning but the passing of time. Way back then, anything seemed possible. Ireland beat England in '88, made it to the quarter-finals in '90, put one over the Italians in '94.
Aside from all that, they did something else, too. In seven years, from October 1988 through to June 1995, Ireland lost just one of 30 World Cup and European championship qualifiers. Consistency became a byword for that team, great expectations a burden for those that followed.
Something else changed too. Ahead of his final qualifier for USA 94, Billy Bingham dubbed Ireland's team mercenaries, a reference to the fact that just six of the 21 players named in Charlton's squad for that decisive game in Belfast had been born in Ireland.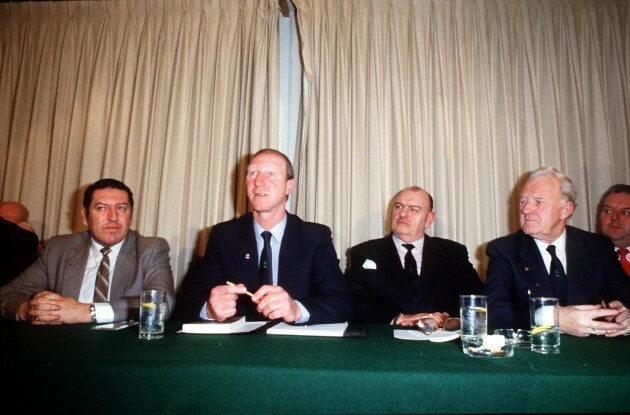 Charlton at his unveiling after his controversial appointment.
Source: INPHO
Come Euro 2016, however, the children of that era were making their way in the world, seven different Irish counties providing 16 members of Martin O'Neill's 23-man squad, the diversity reflected by those unfortunate to miss out, Wexford's Kevin Doyle and Galway's David Forde.
That's part of the legacy Jack Charlton left behind, soccer creeping into corners of the country where once it wasn't welcome.
The gas thing is he nearly didn't get the job, just three of the 18 members of the FAI board voting for him in the opening round of their complicated election system way back in December 1985. At that stage Bob Paisley, the former Liverpool manager, looked likelier to get the gig, as he received nine of the first round votes. By the time they got to the fourth ballot, though, Charlton had somehow surged in popularity to jump from four votes to 10.
While he played a good hand that day, Charlton was particularly irked by the card Kevin Sheedy played on the bus to the England game in Stuttgart. "Jack was renowned for his tightness, and I hit him with the Queen of Spades," Sheedy recalled. "He said to me, 'if you don't pick that up, you won't be sub'. He was deadly serious."
Sheedy picked up the card. He knew who was boss.
By summer 1990, everyone did. Mick McCarthy tells an innocuous story about walking down the street in Malahide with Charlton and Bonner – captain, manager and hero of the Genoa shoot-out, all together. En route to a Chinese restaurant from Gibney's, they were stopped a dozen times, Charlton the only one people wanted to speak to.
"He could become President if he went for it," said Cascarino once, knowing Ireland were one player away from turning Charlton into an even bigger hero. "He said we needed a striker like Gary Lineker, fast, quick enough to get away from defenders and be a lethal scorer," Cascarino wrote in yesterday's Times of London. And he's right. In 480 minutes at Italia 90, Ireland scored twice, yet still made it to the quarter-finals.  
Had Lineker an Irish granny, then who knows how far that Ireland team could have gone? O'Connell Street could well have been renamed a second time.
As it is, the honour of being remembered as the most popular manager Irish sport has ever known is a fairly decent legacy to leave behind.
May he rest in peace. 
Source: http://prntscr.com/fub00u
IT'S A DAY of rest, and you may be in the mood for a quiet corner and a comfy chair.
We've hand-picked the week's best reads for you to savour.
What the struggle Amazon workers face during the pandemic says about the future of work in America…
(Vox, approx 42 minutes reading time)
If it's still uncertain how customers will ultimately respond to Amazon and how it handled the pandemic, what has become clear is that the past three months have shaken up Amazon's internal culture, which one employee described as an "artificial internal class system" that has until now separated corporate employees from fulfillment center workers.
The story behind Michaela Cole and her new HBO-BBC series I May Destroy You…
(New York Times Magazine, approx 30 mins reading time)
Coel recalls one clarifying moment when she spoke with a senior-level development executive at Netflix and asked if she could retain at least 5 percent of her rights. "There was just silence on the phone," she says. "And she said, 'It's not how we do things here. Nobody does that, it's not a big deal.' I said, 'If it's not a big deal, then I'd really like to have 5 percent of my rights.' " Silence. She bargained down to 2 percent, one percent, and finally 0.5 percent. The woman said she'd have to run it up the chain. Then she paused and said, "Michaela? I just want you to know I'm really proud of you. You're doing the right thing." And she hung up.
3. The Double Life of Peter Arno
Ben Schwartz recalls the affairs, brawls, and scandals that marked the New Yorker cartoonist's audacious reign.
(The New Yorker, approx 25 minutes reading time) 
In 1924's cartooning world, Arno was a misfit. The gold standard was *Life'*s Gibson Girls, beautiful Progressive Era ladies who kept men at a distance with prim looks and wry bromides. "Cartoons were polite," Sorel says. "You had Charles Dana Gibson at Life, whose old millionaires were avuncular, his Gibson Girls decorous. Arno saw young people in that social class as hedonists, playboys, men and women hot to trot. His old plutocrats were far from lovable. He was lucky The New Yorker came along." And vice versa. "I was the luckiest son of a bitch alive,"
The story of the Ibrahim brothers, born into a moderate Muslim family, who carried out the most devastating terrorist attacks in Sri Lankan history. 
(The New York Times, approx 30 minutes reading time)
Of all the bombers, these two young men proved the most baffling to other Sri Lankans. There have always been well-off terrorists, even wealthy ones. Still, when new examples emerge, they force us to re-examine a tenet of modern life: our belief that security and economic comforts are the rudiments of a peaceful community, and that people turn against strangers only when they face some material peril or privation. Most of us associate violence with desperation. What did the Ibrahim brothers have to be desperate about?
A journey into the dizzying universe of Dylan Brady and Laura Les, the possibly not-joking musical duo behind the Gecs.
#Open journalism
No news is bad news
Support The Journal
Your contributions will help us continue
to deliver the stories that are important to you
(GQ, approx 12 minutes reading time)
Articulating some concrete link to the zeitgeist, you get the sense, would be extremely un-Gec, as would categorizing sounds, styles, or philosophies as Gec and un-Gec—another extremely appealing thing about this music is that the people behind it don't seem like they're angling to take what they're about and bottle it as a lifestyle brand.
How a violent attack and personal tragedy lead one man to develop a fascination with the principles of the physical universe. 
(BBC, approx 10 minutes reading time)
After three and a half years of living like a virtual hermit, going to school changed everything for Padgett. He started to get psychological help for his OCD and even met the woman who would become his wife.But why was he seeing things in such a strange and different way? Why was his world now comprised of geometric shapes and graphs?
 …AND ONE FROM THE ARCHIVES…
The story of Christine Chubbuck, a 29-year-old newscaster who committed suicide live on air.
(Washington Post, approx 28 minutes reading time)
When somebody commits suicide, especially violently and publicly, once the initial shock dies away and people can absorb what has happened, they can begin to speculate on why. This is what was happening in Sarasota one week after the death of "TV Star Chris Chubbuck." Everyone had his or her own idea of why it happened.
Source: http://prntscr.com/fub00u
BONFIRES HAVE BEEN lit in loyalist areas across Northern Ireland as the annual Twelfth of July tradition took place amid coronavirus restrictions.
While there were fewer fires than usual, significant crowds did gather at several of the bonfires that went ahead.
In north Belfast, there was a second night of sporadic disorder close to a community interface as police came under attack from petrol bombers in the nationalist New Lodge close to a bonfire in the loyalist Tiger's Bay area.
Ahead of the Eleventh Night fires, politicians and community leaders had urged people to avoid mass gatherings and stick to Covid-19 regulations that limit outdoor gatherings to no more than 30 people.
Crowds well in excess of 30 were witnessed at a number of fires that were lit late last night.
The Northern Ireland Fire and Rescue Service said crews responded to 24 bonfire related incidents between 6pm last night and 1am today – a 29.5% decrease compared to 2019.
The spokesman added that no attacks on personnel or appliances were reported.
Bonfires are torched in loyalist communities across the region every 11 July to usher in the main date in the Protestant loyal order parading season, the Twelfth of July.
The bonfires mark a loyalist tradition to remember the anniversary of the Protestant King William's victory over the Catholic King James at the Battle of the Boyne in 1690.
While the majority pass off without incident, some are the source of community tension, with authorities previously having intervened to remove towering pyres on health and safety grounds.
#Open journalism
No news is bad news
Support The Journal
Your contributions will help us continue
to deliver the stories that are important to you
Many of the fires were cancelled during the Covid-19 lockdown, with a number of sites cleared of wood by the local authorities.
However, the recent easing of restrictions in Northern Ireland led to some reversing the decision to cancel.
Some bonfire builders also appear to have been motivated amid loyalist anger over a controversy that saw hundreds of republicans acting in alleged variance with the regulations to gather in west Belfast last month for the funeral of IRA veteran Bobby Storey.
The Orange Order has cancelled its plans for traditional mass Twelfth of July parades and demonstrations, which were scheduled to take place tomorrow, 13 July due to the fact the Twelfth falls on a Sunday.
Some loyalist bands are planning to take part in localised events tomorrow, urging people to stay in their homes while they parade past.
Source: http://prntscr.com/fub00u
TAOISEACH MICHEÁL MARTIN has said that it is too soon for British citizens to holiday in Ireland without going into a two-week quarantine.
Speaking on the BBC's Andrew Marr Show, Martin said that Ireland's list of green countries would be determined by those who are at "Ireland's level of disease control of below".
"Suppression of the virus is key," he said. "In certain parts of the UK there are still difficulties where certain areas have had to go into lockdown and so on and further severe restrictions… Caution is the watch word here."
He said that this list would be kept under constant review.
"Why, because there's a lot of international volatility with this virus, we've seen a spike in numbers and we're very concerned about that," he said, adding that Cabinet would look at this issue next week.
We're watching what's happening across Europe, he said.
It comes after there was increasing concern about a number of flights from US cities this weekend – including New York, Texas, California. 
Social Democrat leader Róisín Shortall said in response to the influx of flights:
This madness has to stop, Micheál Martin needs to act urgently to remove this shocking risk to our health and our economy.
"Complacency and mixed messages from government about ongoing threat from Covid-19 is very worrying and risks wasting all the sacrifices of past four months," she said.
#Open journalism
No news is bad news
Support The Journal
Your contributions will help us continue
to deliver the stories that are important to you
#Marr: Do you think we'll get a deal with the EU?
Irish PM Micheal Martin: "There has to be a deal…. I see no sense in a no-deal #Brexit"https://t.co/PLNXFALtsa pic.twitter.com/SsCot60jqM
— BBC Politics (@BBCPolitics) July 12, 2020
Source: BBC Politics/Twitter
On Brexit discussions, Martin said "I think there will be a deal, there has to be a deal. It can't be at any price." 
When asked about comments that Martin made at the MacGill Summer School about Boris Johnson – where he accused Johnson of not having "the slightest understanding" about the Good Friday Agreement – Martin replied that he was "very happy" with discussions he and British Prime Minister Boris Johnson have had.
"I'm very heartened by our discussion in terms of trying to reset the British Irish relationship post Brexit, which I think the Prime Minister is very keen on doing. And I was particularly taken by that," he said, adding that he's "dedicated and committed" to doing that with Johnson.
Addressing Fianna Fáil's policy of a United Ireland, Martin said that he was was including a new Shared Island Unit in the Department of An Taoiseach "to develop fresh thinking around" how to move relations between the North and Republic forward.
"A border poll is too divisive," Martin said, echoing comments he made in an interview with BBC Northern Ireland.
Source: http://prntscr.com/fub00u
GARDAÍ ARE APPEALING for help in tracing the whereabouts of 50-year-old Deirdre Redmond who is missing in the Gorey area of Co Wexford.
Deirdre has short red/dark hair, is approximately 5ft 6in in height and of slim build.
When last seen she was wearing a purple top and dark jeans.
She was last seen leaving her house in Gorey at approximately 2pm yesterday, 11 July.
Her family are concerned for her well-being and have sought Garda assistance in tracing her.
#Open journalism
No news is bad news
Support The Journal
Your contributions will help us continue
to deliver the stories that are important to you
My mother, Deirdre Redmond, is missing from Gorey. She left at lunch time Saturday. This is completely out of her character. We are gathering at 7:00 at the Sandhole in Garden City Sunday morning.
If anyone has any info, please contact Gorey Garda Station on (053) 943 0690. pic.twitter.com/dpUyaTu02c
— Jason Redmond (@JasonRedmond_) July 12, 2020
Source: Jason Redmond/Twitter
Anyone with information is asked to contact Gorey Garda Station on 053 943 0690 or the Garda Confidential Line on 1800 666 111.
Source: http://prntscr.com/fub00u
WORKERS WHO ARE in receipt of the government's wage subsidy scheme may owe income tax at the end of the year, but the Minister for Finance has said Revenue's plans to collect this tax will "minimise any financial hardship to the greatest extent possible".
The scheme introduced by the government in March sees the State pay a large proportion of a worker's wages in companies adversely affected by the Covid-19 crisis. 
The government has said the initiative was vital to keep people in a job where otherwise they might not have had one.
Over half a million people have received at least one payment on the temporary wage subsidy scheme and over 65,000 employers have signed up to it.
While workers are liable to pay tax on income received through the scheme, they are not being taxed on it week-to-week or month-to-month.
Instead they'll be liable for it at the end of the year. The same also applies for those who've received the pandemic unemployment payment. 
Minister for Finance Paschal Donohoe has said it's not possible to give an accurate estimate, right now, of how much someone might owe at the end of the year or if they'll face a tax bill at all. 
There's a chance there might not a tax bill because a person's tax credits may offset any potential underpayment at the end of the year. 
In response to parliamentary questions, the minister said: "The level of tax and USC due by any person at year end in respect of TWSS and PUP payments may be reduced or eliminated by the amount of unused tax credits available. Any liability due may also be further reduced if the person has additional tax credits, for example health expenses, to offset."
He said Revenue has recently placed all people in receipt of either scheme on a "week one basis" to "preserve" unused tax credits that can be used to offset tax or USC liabilities.
#Open journalism
No news is bad news
Support The Journal
Your contributions will help us continue
to deliver the stories that are important to you
Even if you do owe tax, there won't be a requirement for you to pay it all back to Revenue immediately.
Donohoe said: "Revenue has also assured me that if any tax and USC liabilities still arise following the allocation of unused credits, it will work with the persons impacted upon to collect the outstanding liabilities over an extended period.
This will be achieved by reducing their tax credits for future years, thereby minimising any financial hardship to the greatest extent possible.
Each person's tax situation will be different, so any liability they do have at the end of the year will be dependent on a range of factors.
These include a person's civil status, the available tax credits, the actual amount they receive on the wage subsidy scheme or pandemic unemployment payment, any top-up payments from their employer and other credits such as health expenses.
Source: http://prntscr.com/fub00u
TWO MEN HAVE appeared before Cork District Court after gardaí seized heroin worth an estimated €425,000 last Thursday. 
The men (aged 42 and 57) were charged and appeared before the court yesterday.
Gardaí in Togher arrested the men on Thursday after receiving calls from the local community about "unusual activity". 
The Divisional Drug Unit carried out a search at Harbour View road late on Thursday night. 
The search was part of an intelligence-led operation targeting the sale and supply of controlled drugs in Cork city.  
During the search, gardaí seized the heroin which is subject to analysis with an estimated street value of €425,000. 
#Open journalism
No news is bad news
Support The Journal
Your contributions will help us continue
to deliver the stories that are important to you
The two men were arrested and detained at Gurranabraher Garda Station on Thursday. Gardaí say investigations are ongoing. 
Comments are closed due to ongoing proceedings.
Source: http://prntscr.com/fub00u
A FEW YEARS AGO, Niall O'Regan was at Uefa HQ in Switzerland, busy bending Harry Kewell's ear. 
Kewell had a task: to set up a training session to prepare to face Liverpool in the Champions League.
(Yep, that's already-won-the-Champions-League-with-Liverpool, Harry Kewell.)
O'Regan, meanwhile, was one of his assistant coaches, along with another European Cup winner in Benni McCarthy and Premier league veteran Hermann Hreidarsson.
All four were completing their Pro Licence coaching courses, and while O'Regan's playing career could not compare with his colleagues, his coaching career did. 
"I was going to bed that night thinking I've just told a guy who won the Champions League with Liverpool about how we should go about preparing to face his former side, and he's soaking it up", O'Regan tells The42. 
He's talking to us to explain what exactly happens on a Pro Licence coaching course, where illustrious playing careers don't quite hold the same weight as they do on television. 
The Pro Licence is the highest coaching badge in Europe, and a necessary qualification to manage in a top-tier domestic league along with the Champions League and Europa League. 
O'Regan earned his stripes and has now gone from student to master: as the head of the FAI's Coach Education, O'Regan arranges and oversees the course at the FAI, and helps to grade the work submitted at the end of the course.
The latest batch of candidates graduated at the end of June, with Damien Duff, Robbie Keane, Keith Andrews, Vinny Perth, Andy Reid, and Neale Fenn among the most recognisable names. (Jim McGuinness started the course but left to take up a job in the U.S., and will rejoin the next crop of coaches later in the year.) 
It's heavy work, and O'Regan says candidates sink between 600 and 700 hours' work into the 18-month duration.
"Only 9,000 people in the world have a Pro Licence, you're talking about an extremely elite group of people and it's very rewarding", says O'Regan.
The course costs €7,000 through the FAI, which is often compared unfavourably with other courses in Europe (the Spanish course is around €1,200, for example) but the FAI course includes travel, accommodation and food expenses incurred on foreign trips, which isn't the case in Spain. O'Regan estimates the FAI spend around 90% of that fee on delivering the course itself. 
Candidates meet for eight, three-day "contact blocks" across the 18 months, with lots of course work to keep them busy in the interim. 
(Damien Duff's completed file of assignments, session plans, and reflections came in at just under 800 pages. Ulysses is shorter.) 
Coaches have to present a full "periodisation" plan – a roadmap of the number and types of sessions they plan to arrange for a team – along with the course's signature test, a research assignment. 
The FAI decided to give these a more practical quality, and assigned each candidate a national team that Ireland may face at the European Championships. All parts of these reports have been made available to Stephen Kenny and his management team, so they have a vast library of information about opponents to draw on whenever they like.
To give a few examples: Duff studied perennial Irish opponents Denmark, Andrews analysed England, while Keane – then a part of the Irish set-up – researched the Irish team.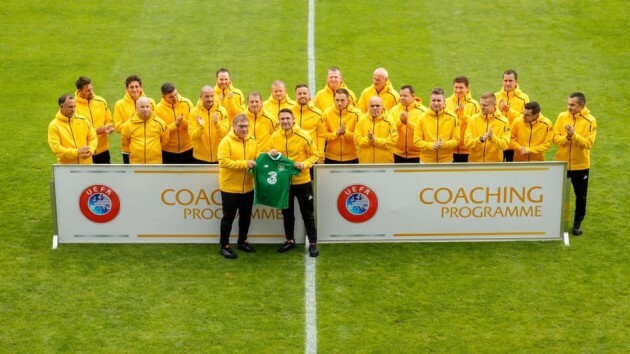 Frank Ludolph, Head of Football Education Services for Uefa, meets the Irish coaches at a student exchange.
The research projects are very detailed, needing about 250 hours' work.
Candidates were asked to produce a pre-tournament report on their assigned nation, and were expected to have studied 10 previous games in granular detail, down to shape and set-up around every single restart, including throw-ins.
They had to be able to present on teams' shape, and how they react and change in games. How do they change if they are winning 1-0? Or losing 2-0? Does the manager usually bring on a certain player in that scenario? Or does he change shape? 
Candidates also had to study all of the relevant manager's press conferences, both before and after the games.
"There are ways in which we can find underlying messages", says O'Regan. "Is he trying to downplay an opposition? How does he speak about key players? Does he talk about ways in which he will approach a game and then act differently in the game?
"Human beings are creatures of habit and there will be tells, like a game of poker. If you analyse a manager in every press conference around 10 games, it's amazing what you will learn in terms of what they're getting across to their own players."
Candidates do some media training of their own. As part of the course, a TV reporter was brought in to role-play a series of post-game interviews. There were a number of different real-world scenarios used, with each interview recorded and then reviewed.
Now comes a question rooted in this reporter's self-interest. How are candidates supposed to handle these interviews?
"Objectivity is key. We always say the stats never lie, so look back at your stats, so if someone challenges you in terms of results or what you're doing, try and have a reference point to hand.
Never speak about an individual player, don't get caught up in speaking about individuals as it can create conflict, be vague about what you're actually saying. The most important thing you want is, prior to going into any interview, knowing what you want taken away as the headline. Have that one-liner ready, so you're giving them the one-liner they are looking for but one that is what you want it to be.
"It's really about managing the conversation, and being comfortable."
To illustrate that final point, O'Regan cites a visit the candidates made to Celtic, where they were invited to sit in on an interview with Scott Brown. At one point, Brown took polite umbrage at a question he was asked, and responded in a way that would make most reporters' blood run cold and question all of the life choices that had brought them to that room. 
I'm not comfortable answering that, and I'm actually disappointed you've asked it."
The message, says O'Regan, is that it's better for coaches to be forthright in rejecting questions than try and politely massage their way around an awkward answer, lest they part with something they didn't want to say.
It was also at Celtic that O'Regan and those with him learned a keener sense of the game's sharp edge. He was among a group of coaches from Ireland sitting with Neil Lennon after Celtic were knocked out of the Champions League by Cluj in 2019.
Celtic lost but should have won, and there they sat with Lennon in the fraught hour after a defeat as chanted variations of 'Lennon out' wafted through the windows from outside.
As respected and as exhaustive as the Pro Licence course is, it doesn't fully prepare anyone for The Job.
"Nothing will ever prepare you for the manager's job", says O'Regan, citing the berserk stress of the gig.
"Statistically, if you don't get to 76 games in your first job, there's more than a 90% chance you won't get a second job. The stress of that environment is huge."
O'Regan says those conditions can't be replicated, but they work with coaches to identify how they might react instinctively in certain situations.
Each candidate does a psychometric test to determine how they might naturally respond, and thus are at least aware whether their response is calmly considered.
"We can challenge them and put them in scenarios, and find out their areas of weakness and exploit them, and create those external threats. 
"It's about figuring out who you are, and then being aware that if you're put in this situation, this is how you will likely react. So when the coaches are in that situation, they will have a reference point, 'I have to be careful here, as this could trigger a personal emotion or something in me that will come out in a way I don't want it to."
There were a series of club visits along with a trip to meet a few other nations' candidates at Uefa HQ in Nyon, where Duff put on a session while Keane and Ger O'Brien gave presentations. This year's crop have had several guest speakers, including Netherlands Assistant Manager Dwight Lodeweges, former Leeds boss Howard Wilkinson, West Ham assistant Alan Irvine, and Stephen Kenny.
Kenny is certainly in touch with what's happening around him: he watched all of the research project presentations and has offered feedback to O'Regan on elements of the course. 
The Pro Licence course meshes with most of the international teams at the FAI, with each of the underage Irish international managers serving as mentors to candidates on the course. 

Damien Duff, pictured when coaching at Shamrock Rovers.
Source: Morgan Treacy/INPHO
O'Regan heaps praise on the FAI's High-Performance Director Ruud Dokter, who sits on an influential coaching committee at Uefa. Dokter has faced plenty of criticism since joining the FAI – particularly in schoolboys' circles – but O'Regan says Dokter's standing in Europe has benefitted the FAI coaches enormously, helping in one instance to secure dressing room access for candidates at first-team games in the Dutch Eredivise. 
O'Regan says the involvement of underage international coaches as coach educators along with Dokter's reputation – he has been inducted to the Dutch Asociation's Hall of Fame – has given the FAI's course "huge credibility" in Europe. 
The programme has been criticised in the past for not doing more for retiring Irish players eager to start coaching – Shay Given and Kevin Kilbane said they did theirs in Northern Ireland following a lack of communication from the FAI – but it seems that issue has been addressed, and they have already started talking to Seamus Coleman and Conor Hourihane about their coaching ambitions. 
O'Regan has praise for all of the class of 2020, and namechecks Dave Rogers, Kevin Maher, Paddy McCarthy, and one other familiar candidate.
"In terms of sheer ability, Damien Duff. Damien came into the B Licence eight years ago with a new MacBook he had bought off the shelf and had not yet turned on. He is now more efficient than anyone I've ever met at creating a presentation. 
"He is outstanding on a laptop and backs it up with what he puts on the pitch. His work ethic is phenomenal and he will 100% manage at the highest level." 
The class of 2020 completed their exit interviews virtually, and will gather for their graduation ceremony later this year.
The full group of graduating Pro Licence candidates for 2020 are: John Andrews, Keith Andrews, Jim Brennan, John Cotter, Damien Duff, Neale Fenn, Paul Hegarty, Robbie Keane, Paddy McCarthy, Kevin Maher, Ger O'Brien, William O'Connor, Vinny Perth, Andy Reid, Stephen Rice, Dave Rogers, Szilard Suto, Srdjan Tufegdzic.
Source: http://prntscr.com/fub00u
EMBATTLED AGRICULTURE MINISTER Barry Cowen has issued a statement addressing a Sunday Times story that claims a Garda report records him as doing a U-turn at a Garda checkpoint in 2016 – something he vehemently denies.
Cowen has been embroiled in a revelation that he was banned from driving for three months in 2016 after being over the drink-driving limit while on a provisional licence.
He has apologised for his actions in the Dáil, calling it a "terribly stupid, stupid mistake" for which he is "profoundly sorry".
The Sunday Times story reports that Cowen disputes the accuracy of a Garda report of the incident, which alleges he performed – or attempted to perform – a U-turn after approaching a Garda checkpoint where he tested over the drink-driving limit.
The author of the Sunday Times story, John Mooney, said on Twitter that they didn't publish the information last week "due to legal threats".
In response to the story, Cowen has released the following statement to the media:
"The Sunday Times has today published an article referring to an incorrect Garda record dealing with the incident which occurred on 18 September 2016 despite the fact that my solicitors wrote to the newspaper in advance of publication.
I did not evade, or attempt to evade, a Garda. Such an act would constitute a serious criminal offence and I was not charged with such an offence. On being informed of its existence I sought a copy of this incorrect record and am taking steps under the Data Protection Act to have it corrected.
"This incorrect Garda record can only have come into the possession of the newspaper through a criminal act.
07.07.20
'A source of deep regret': Barry Cowen apologises to Dáil over drink driving ban
"It is a criminal offence for a member of An Garda Síochána to disclose any information obtained in the course of his or her duties. I am informed that An Garda Síochána has commenced a criminal investigation into the source of this leak."
It is obvious that the disclosure of this information at this time, in flagrant breach of the criminal law and my rights under data protection law, is a disgraceful attempt to cause me the maximum personal and political harm.
The Sunday Independent is reporting that a Garda investigation has begun into whether information was leaked about Cowen's drink-driving incident. In a statement to TheJournal.ie about the story, Gardaí said:
"An Garda Síochána is conducting a preliminary examination to ascertain if an investigation should be conducted into whether a third party had access to personal data held by the organisation in relation to an individual."
In an updated statement, Gardaí said: "As Minister Cowen's statement constitutes a complaint against a member or members of An Garda Síochána, the Commissioner will be referring the matter to GSOC [the Garda Síochána Ombudsman Commission] for its consideration."
In a statement to TheJournal.ie, a GSOC spokesperson said that it had received "a number of media inquiries about a matter involving a Government minister which has been widely reported upon in the media in recent days".
#Open journalism
No news is bad news
Support The Journal
Your contributions will help us continue
to deliver the stories that are important to you
"GSOC has to date received no referral, complaint or notification from the Garda Síochána in relation to this matter," it said, sent after 3pm this afternoon.
Source: http://prntscr.com/fub00u
PORTUGESE AUTHORITIES HAVE searched wells as part of their investigation into the disappearance of Madeleine McCann, according to reports.
The Mirror reported that police and divers in the Algarve region examined three disused wells in Vila do Bispo for eight hours on Thursday.
The area is around 10 miles from the Praia da Luz resort, where Madeleine disappeared on 3 May 2007.
Multiple investigators were at the scene with specialist diving equipment to examine the wells, with the largest thought to be more than 13 metres deep.
According to the paper, Madeleine's parents Kate and Gerry McCann have not been told on what grounds authorities searched the wells.
It was also reported the search sites are near a beach where suspect Christian Brueckner's camper van was photographed in 2007.
The investigation into Madeleine's disappearance was renewed in June after German authorities announced they were investigating Brueckner, a convicted German child sex offender.
Brueckner is known to have lived on the Algarve coast and his Portuguese mobile phone received a half-hour phone call in Praia da Luz around an hour before Madeleine went missing 13 years ago.
He is in jail in Germany for drug dealing, and is appealing against a conviction for the 2005 rape of a 72-year-old woman, also at Praia da Luz.
He has not yet spoken to investigators, who say they are convinced that he has committed other sex attacks.
Thursday's searches come after Kate and Gerry McCann denied receiving a letter from German investigators stating "there is evidence or proof" Madeleine is dead.
The pair posted a statement on the Find Madeleine website last month to deny the reported claims, saying that the news caused "unnecessary anxiety to friends and family and once again disrupted our lives".
#Open journalism
No news is bad news
Support The Journal
Your contributions will help us continue
to deliver the stories that are important to you
The couple also said that they do not have a family spokesman, and are not actively paying any lawyers to represent them.
German prosecutor Hans Christian Wolters, who is leading the investigation into the main suspect in Madeleine's disappearance, told the PA news agency that a letter had been written to the couple, but would not reveal what it said.
Wolters said prosecutors have "concrete evidence", but not "forensic evidence" that Madeleine was killed by the suspect and may "know more" than Scotland Yard, who are still treating the case as a missing person investigation.
The Metropolitan Police maintain their active investigation into Madeleine's disappearance, Operation Grange, is a missing person inquiry as there is no "definitive evidence whether Madeleine is alive or dead".
In the days after the renewed appeal, Scotland Yard said they received hundreds of tips to their Operation Grange team.
Source: http://prntscr.com/fub00u
SHOULD THERE BE a facility near Dublin Airport where people arriving in Ireland have to self-quarantine?
If such a facility were to be built, the cost and maintenance would most likely fall to the Irish government. 
This weekend, there have been many reports of tourists arriving in Ireland from around the world, including from places where there are a high number of Covid-19 cases, like New York and Texas.
Taoiseach Micheál Martin has said today that it is too soon for British tourists to travel to Ireland without quarantining for the required two weeks.
So, we're asking: should there be a government facility near Dublin Airport where people have to quarantine for the required two-weeks?
Poll Results:
Yes (8080)
No (1612)
I don't know (311)
Vote
#Open journalism
No news is bad news
Support The Journal
Your contributions will help us continue
to deliver the stories that are important to you
Source: http://prntscr.com/fub00u
Updated 8 hours ago
MORE THAN £700 million is to be spent on building new infrastructure, hiring staff and developing technology to ensure Britain's border systems are fully operational when the UK leaves the EU at the end of the year.
Cabinet Office Minister Michael Gove said the major investment would ensure traders and the border industry are able to "manage the changes and seize the opportunities" when the transition period ends in December.
Speaking on the BBC's Andrew Marr programme, Gove avoided answering whether UK Prime Minister Boris Johnson was wrong to say there would be no checks on goods going to or from Northern Ireland, Gove didn't give a yes-or-no response.
He said that was unfettered access on goods going from Northern Ireland to Great Britain, but said there would be some checks on goods travelling in the opposite direction.
It's certainly not going to be the case where you will have customs officer saying 'halt', what you will have are vets who are suitably equipped in order to carry out surveillance and I say as in most cases we will have the same standards on both sides of the Irish Sea, there won't be any impediment to trade.
#Marr: Was PM correct to say there will be no checks on goods going from Great Britain to Northern Ireland?
Cabinet Office Minister Michael Gove: There will be a vetting process to "carry out surveillance… there won't be any impediment to trade"#Brexit https://t.co/5JRL8uWjzx pic.twitter.com/T5O4UvSHOs
— BBC Politics (@BBCPolitics) July 12, 2020
Source: BBC Politics/Twitter
The £705 million package includes £235 million for staffing and IT systems, and £470 million for port and inland infrastructure to ensure compliance with new customs procedures and controls.
New border infrastructure will be built inland where there is no space at ports, while ports will get one-off financial support to ensure the right infrastructure is in place.
Of the £235 million for staffing and IT systems:
£100 million will be used to develop HMRC systems to reduce the burden on traders.
£20 million will be spent on new equipment to keep the country safe.
£15 million will go towards building new data infrastructure to enhance border flow and management.
£10 million will be used to recruit around 500 more Border Force personnel.
The funding relates only to the implementation of the GB-EU border; the UK government is expected to publish specific guidance and measures for Northern Ireland in the coming weeks.
Gove said: "We are taking back control of our borders, and leaving the single market and the customs union at the end of this year bringing both changes and significant opportunities for which we all need to prepare.
"That is why we are announcing this major package of investment today.
With or without further agreement with the EU, this £705 million will ensure that the necessary infrastructure, tech and border personnel are in place so that our traders and the border industry are able to manage the changes and seize the opportunities as we lay the foundations for the world's most effective and secure border.
Liz Truss' letter
In a letter to her cabinet colleague Michael Gove, leaked to the media this week, international trade minister Liz Truss expressed concern that border infrastructure would not be ready by July 2021.
(The UK has said it will not immediately introduce checks on EU imports, but will instead introduce them on a phased basis over the first half of next year, due to the coronavirus.)
She warned the delay in imposing checks could spark a legal challenge at the World Trade Organization, adding: "I would like assurances that we are able to deliver full controls at these ports by July 2021."
Gove, the minister in charge of preparing for Brexit, said the government had been consulting on the issue for months and insisted the borders would be ready.
"That's the basis of the announcement today – more than £700 million in order to provide infrastructure at ports, to invest in technology and also to make sure we have the personnel to keep ourselves safe," he told the BBC.
The main opposition Labour party said Truss' letter showed a "growing sense of chaos and confusion" within the cabinet about Brexit preparations.
#Open journalism
No news is bad news
Support The Journal
Your contributions will help us continue
to deliver the stories that are important to you
The government is also planning a new public information campaign to prepare businesses and individuals for the end of the transition, dubbed "The UK's new start: let's get going".
It will include detailed guidance for everyone from traders to holidaymakers on what might change, Gove said.
Background
The transition period is set to end at the end of December 2020, when the UK will leave the single market and customs union.
The funding package comes ahead of a public information campaign in which guidance will be given to traders and hauliers explaining what they may need to do to prepare for the end of the transition period.
Meanwhile, the Sunday Telegraph reported that Chancellor Rishi Sunak is poised to introduce tax cuts and an overhaul of planning laws in up to 10 new freeports.
Sunak is said to be planning to open bidding for towns, cities and regions to become freeports – where UK taxes and tariffs will not apply – in his autumn Budget.
The paper said the ports will be "fully operational" within 18 months of the UK leaving the customs union and single market at the end of this year.
– with reporting from AFP


As the clock ticks down, get all the best Brexit news and analysis in your inbox:
Source: http://prntscr.com/fub00u
CENTRAL BANK GOVERNOR Gabriel Makhlouf has said the regulator "made clear" to banks its expectations for transparency about mortgage breaks offered to people during the Covid-19 crisis.
The break sees qualifying customers whose earnings have been affected by the Covid-19 pandemic receive a break on loan repayments. 
Tánaiste Leo Varadkar said this week that if it transpires the banks are making a profit from this break, he would view it as a "serious scandal".
Varadkar added yesterday that he doesn't "fully trust" the banks not to try to profit during the Covid-19 crisis.
Makhlouf, speaking today on RTÉ radio's This Week, said mortgage breaks were a "voluntary scheme designed by the banks". 
"We made clear to them [the banks] that we expected certain things to apply in particular that they were transparent with their customers as to the implications of this, but the focus right now is what will happen in the future with these payment breaks," he said. 
"The longer we go on, the less sustainable a payment break is. So we're very focused on finding out from the banks what are their plans."
Sinn Féin TD Pearse Doherty raised the issue of the banks charging interest on mortgages that have availed of pandemic payment breaks.
Gabriel Makhlouf said: "The decision, at the end of the day, whether or not to charge interest is a commercial one for them to make in the context of their operations."
The governor said the government in its July stimulus should focus on "protecting the productive capacity of the economy" through flexible measures.
#Open journalism
No news is bad news
Support The Journal
Your contributions will help us continue
to deliver the stories that are important to you
"We want to make sure that policy avoids what economists call 'scarring effects', long term unemployment, viable businesses failing," he said.
Makhlouf said that another mortgage arrears crisis is "absolutely what we want to avoid". 
At the moment, the banks are at a much more resilient position than they were going into the previous crisis.
"But they, like us, I mean their resilience is not unlimited, and they like us are living with the uncertainty that that we're facing," he added.


TheJournal.ie's coronavirus newsletter cuts through the misinformation and noise with the clear facts you need to make informed choices. Sign up here:
Source: http://prntscr.com/fub00u
THE GENERAL SECRETARY of the National Bus and Rail Union has said that it's "distasteful" to expect bus drivers and train drivers to police passengers who don't wear face coverings on public transport, ahead of new regulations coming into force tomorrow.
The NBRU's Dermot O'Leary said on RTÉ's This Week programme that the union had written to the  National Transport Authority on 1 June asking who would police new regulations that make it mandatory for passengers to wear face coverings.
Yesterday on RTÉ's Saturday with Cormac Ó hEadhra programme, Minister of State for Trade Robert Troy suggested that bus drivers would be responsible, before being corrected by a statement sent in to the radio programme by O'Leary.
Speaking on air today, O'Leary said that there wasn't as much of a concern of conflict between drivers and passengers, though he added that may happen.
He said the main concern would be of conflict among passengers themselves.
The driver would then have to ring central control to report an altercation, and it will then become a public order offence where Gardaí may have to intervene.
When asked about drivers' ability to not let people on a bus if they don't have a fare, and whether face coverings can be an extension of this, O'Leary said that they don't actually have any legal power to do this.
When someone made the decision many years ago to get rid of bus conductors, the onus on the driver to insist on a fare was taken away with that. So a driver does not have to stop a person without a fare it's at the driver's discretion whether they stop a person without a fare, that's what the law says.
He said that although some of his members will "put themselves in that position" to refuse people who aren't wearing face coverings on the bus, the union isn't supporting the situation where drivers are put in that position.
He referenced the case of Philippe Monguillot, a bus driver from Bayonne in the southwest of France who was seriously beaten by passengers last weekend, and died this weekend.
He said that if they had been at the decision making table, this anomaly about how mandatory face coverings on public transport could have been avoided.
Background
The government signalled last month that the use of face coverings on public transport would become mandatory, following criticism that passengers on trains, buses and the Luas were not using face coverings while travelling.
#Open journalism
No news is bad news
Support The Journal
Your contributions will help us continue
to deliver the stories that are important to you
Previously, Taoiseach Leo Varadkar had indicated that the National Transport Authority would have "the authority and the capacity to say to people 'You may not come on if you don't have or if you're not wearing a mask'."
And if people persist in disobeying then the Gardaí can be called. We don't envisage that having to be necessary.
But on Friday, Justice Minister Helen McEntee said it was not expected that Gardaí would have powers to enforce the new regulations from tomorrow.
The compliance rate of people wearing face masks or coverings on public transport varies widely, from about 40% to 98%, according to National Transport Authority figures.
– with reporting from Stephen McDermott 
Source: http://prntscr.com/fub00u
Updated at 15.15
JACK CHARLTON should have been knighted after helping England win the 1966 World Cup, according to former Liverpool and Republic of Ireland midfielder Ray Houghton.
Charlton, who later handed Houghton his international debut in his first match in charge of Ireland against Wales in March 1986, died on Friday aged 85, his family announced in a statement.
As tributes poured in from his former clubs and the Premier League announced black armbands will be worn by players at all matches this weekend, Houghton labelled Charlton a "legend" after winning a clutch of honours with Leeds as a player and helping the Republic qualify for the 1990 and 1994 World Cups and Euro 1988.
But while younger brother Sir Bobby was among a number of England stars to receive knighthoods in the years after they lifted the Jules Rimet trophy, Jack did not, which left Houghton incredulous.
"He was a larger than life character," Houghton told talkSPORT.
The word legend is used too much in football but not for Jack, for what he's done domestically with Leeds, winning the World Cup, which he should have been knighted for, I've still never understood that, I think that's an absolute disgrace and the fact that he did so well with Ireland.
"He changed everything about Irish football because there was a stage where we hadn't qualified for tournaments, we had some great players and very good managers but didn't quite get over the line.
"Jack came in and changed that mentality, got us through two World Cups and one European Championship. His legacy within Ireland is absolutely huge."
Ex-Leeds team-mate Johnny Giles insisted Charlton would make his all-time XI but said the arrival of Don Revie changed everything for the defender at Elland Road.
Giles told BBC Radio 5 Live: "It wasn't always great times at Leeds for Jack. It was just after Don Revie took over that it became great.
"Up to then Leeds had a few years in the First Division, but they were mostly in the Second Division. Don Revie changed the face of Leeds United and was a huge influence on Jack's career.
"I believe when Don took over Jack didn't have a very good reputation in training and he was prepared to let him go if he didn't buck up and get on with the job.
"Jack then really took off from there as a major centre-half. In my 10 years with Jack, for five of those 10 years he was the best centre-half in what is now the Premier League."
Andy Townsend, Ireland's captain at World Cup 1994, described Charlton as a "very special man".
Townsend told Sky Sports: "He was an Englishman becoming the Irish national team manager at a time when it wasn't always easy politically and for various other reasons, but as Jack always did he breezed into it and took it by the scruff of the neck.
"For that he was a very, very special man and it was a great honour to have worked with him and known him because he was just such a special guy."
Mark Lawrenson remembered a telling-off he received from Charlton after he scored the winner for the Republic against Scotland in a Euro 1988 qualification match.
"The whistle goes and a minute later Jack comes onto the pitch and he is coming over to me," Lawrenson told BBC Radio 5 Live.
"I am thinking he will give me massive congratulations for scoring the goal to beat Scotland and we are on our way to the Euros, but he gave me the biggest b******ing ever."
Irish boss Stephen Kenny and former goalkeeper Alan Kelly were also among those paying tribute to Charlton.
"It was very sad to hear the news yesterday of Jack's passing," Kenny told FAI.ie. "To qualify for three major tournaments, two World Cups and a European Championship, was an exceptional achievement.
"Those tournaments also showed us how a successful Irish football team can lift and inspire the nation. May he rest in peace."
Kenny's goalkeeping coach Kelly won his first Ireland cap under Jack Charlton and was part of the squad at the 1994 World Cup in Orlando and New Jersey.
"Big Jack was a legend on both sides of the Irish Sea, a legend in England for winning the World Cup and a legend in Ireland for what he did for our national team," said Kelly.
You just have to look at what he achieved as a player with Leeds United and England and as a manager with Ireland to realise that his legendary tag is fully deserved. He was such a huge character and such a great man.
"When he walked into a room, you waited to see what he was about to say. There was always a nugget in there when he spoke and always something worth listening to, no matter what the subject.
"I can only thank Jack for everything he did for Ireland and for me as a player. It was a pleasure to play for him and to know him and my heart goes out to Pat, John, Deborah and Peter and all the Charlton family."
Meanwhile, the  Football Association of Ireland has opened a Virtual Book of Condolences, which allows Irish supporters to express their sympathies to the family of Charlton.
The Book of Condolences is now live at fai.ie/jack-charlton-rip, and will remain so until 27 July, when the messages will be shared with Charlton's family.
FAI President Gerry McAnaney added: "The national outpouring of grief since Jack's death was announced on Saturday morning has been phenomenal and reflective of the esteem in which Jack was held here in Ireland.
"We are offering Ireland fans the opportunity to extend their sympathies to Jack's family online and to show the family just how much Jack meant to all of us here in Ireland."
Additional reporting by Paul Fennessy
Source: http://prntscr.com/fub00u