TECHNOLOGY CONSULTANCY FIRM Accenture is set to expand its presence in Ireland with the creation of 500 jobs.
The majority of the roles will be based in Cork and Munster while Dublin will also benefit from the announcement, although the company did not give a breakdown of how many jobs will be in each location.
They will be created over three years with a focus on cloud technology, security and artificial intelligence.
The jobs will add to Accenture's 5,000-strong workforce in Ireland.
A new regional technology hub will be established in Munster as part of the plans to support the growth of Cork-based manufacturing services provider Enterprise Systems Partners, which Accenture acquired in 2019.
The new regional hub will link up with ESP's biopharma manufacturing expertise and will aim to build on already existing tech start-up and research firms in the Munster region, as well as collaborating with Accenture's laboratory in Leopardstown.
Dublin will also benefit from the announcement through new roles at the company's R&D and Innovation Centre in Grand Canal Dock. These roles will specialise in quantum computing.
The company said the regional hub will also allow greater support for opportunities in the food and agricultural sectors.
Taoiseach Micheál Martin welcomed the news, saying it would provide a boost to the economy: "This investment to create 500 jobs over the next three years will increase the skills and manufacturing capacity in Ireland's life sciences industry – and provide an important boost to the economy."
Alastair Blair, country managing director of Accenture in Ireland, said the new roles will aim to meet demands of the increasingly important life sciences industry, ranging from pharmaceuticals to food processing.
#Open journalism
No news is bad news
Support The Journal
Your contributions will help us continue
to deliver the stories that are important to you
"Over the last 50 years, we have seen tremendous change and growth, and these new roles are a great indicator of the direction of change in Ireland," he said. "We are also committed to building Ireland's talent base to meet the demands of the increasingly important life sciences industry."
The news was especially good for the Munster workforce according to IDA Ireland CEO Martin Shanahan.
"The need for companies to innovate and keep pace with technology change, enhancing their digital and competitive capability, is all important and Accenture's support of the life sciences sector in this regard is timely and welcome."
Minister for Public Expenditure Michael McGrath said it was a vote of confidence in Cork and the wider Munster region, noting that it comes only a day after 70 jobs were announced by Carriglaine-based pharma manufacturer SimoTech. 
"It shows that Ireland continues to be an attractive location for investment in high quality cutting edge technology," the Cork TD said. 
Source: http://prntscr.com/fub00u
Updated 16 hours ago
THE UK'S NORTHERN Ireland Secretary of State Brandon Lewis has said it is reasonable to take the view that changes will be made to the Northern Ireland Protocol as it is "not sustainable" in its current form.
The comments came after outgoing DUP leader Edwin Poots said he had received a personal assurance from the UK Government that significant changes will be made to the Protocol.
The UK Government and the European Union are locked in a dispute over the implementation of the Protocol, the part of the Brexit divorce deal aimed at avoiding a hard border with Ireland.
Appearing before the Northern Ireland Affairs Committee today, Lewis was asked what he had told Poots.
He said: "We are very clear that the current position of the Protocol is not sustainable, it is causing issues for businesses and consumers and citizens in Northern Ireland and we need to rectify that.
Ultimately for us there is a very core point about the Protocol, which is about protecting and respecting the UK's internal market and not disrupting everyday lives of people in communities.
"We want to get that rectified and we are determined to do so, so I think it is reasonable for anybody to take the view that we have said that there will be changes because there has to be, the current status quo is not sustainable."
Lewis continued: "At the moment it's very questionable whether it's going to be sustainable in its current format and I think that's why it's in everybody's interests to see it rectified."
However, Lewis has been told by DUP MP Ian Paisley that any changes made to the Northern Ireland Protocol must be significant to address "commercial discrimination" against businesses and customers.
Paisley said that any changes needed to be substantive, and could not be "tinkerings".
He referred to correspondence sent from Stormont Economy Minister Paul Frew to the committee.
He said: "It is saying they have significant concerns about the distinct possibility that firms in GB will become dissuaded from engaging with Northern Ireland markets when faced by regulatory barriers.
"He goes on to say that the UK Internal Markets Act does nothing to protect against commercial discrimination. These are very strong words from the Department of Economy in Northern Ireland that businesses are now facing commercial discrimination."
#Open journalism
No news is bad news
Support The Journal
Your contributions will help us continue
to deliver the stories that are important to you
Lewis responded: "I think it highlights the points I made around the sustainability of the Protocol in its current format and how it is being implemented.
"We've got to get back to that situation where the products that are available in Northern Ireland are the products you've always been able to access and they are not unavailable because of anything other than consumer choice."
Paisley said: "I don't think it should be lost on anyone as to why there is a requirement for significant changes, and I hope that those changes, which you are tempting us with, and putting in front of us, that they are actually significant and they will not be tinkerings, but they will be changes which address this discrimination aspect."
Meanwhile, in an interview with BBC Radio Ulster's Nolan Show, outgoing DUP leader Poots warned that tensions over the Protocol meant the paramilitaries may get involved if violence was to flare again in the summer.
"I fear that if things don't change over the course of the summertime, that perhaps some older people who are involved in paramilitaries will get involved."


As the clock ticks down, get all the best Brexit news and analysis in your inbox:
Source: http://prntscr.com/fub00u
Updated 16 hours ago
THE OVERALL COST to the HSE following the recent cyber attack could amount to half a billion euro, an Oireachtas committee has heard.
Chief executive Paul Reid also warned that he can "never be confident" that the HSE has seen the worst of the cyber attack.
Reid said that while there are financial costs, there will be human costs as well, adding that it will take months before systems are fully restored.
He told the Oireachtas health committee that the immediate costs amounted to €100 million, but that will rise when other factors are included.
Fine Gael Senator Martin Conway said he expects it to amount to hundreds of millions of euro, "possibly half a billion".
Reid said Conway was "correct", adding that significant investment is needed to protect the systems.
The HSE boss said there are technical and infrastructure costs.
"There are particular costs in relation to capital costs, which would be the replacement of a number of devices across the networks," he added.
"There is also capital costs in upgrading key systems to have them at a higher standard.
"Third party costs which relate to a number of technical expertise that we have engaged from a range of specialist providers. We have also engaged international expertise.
"There are costs we will incur in the future, and we need to put in place a security operation centre to monitor our network on a more comprehensive basis."
He also said that a lot of the Microsoft applications will be updated, adding that immediate costs are "well over" €100 million.
"That is just to get us through this," Reid warned.
"The other costs we have is clinical costs and local IT costs we have to put in place to strengthen resourcing.
"Looking back we would have invested €82 million in malware protection but we have a really old legacy network in the HSE. It needs investment for protection, it needs investment for security and protection of data, and we will have many lessons learned from this in reports we will get."
He said that while he is not aware of any other sensitive data belonging to patients that have been illegally accessed.
However, Reid warned that the HSE may not have seen the worst of the cyber attack.
27.05.21
Cyber attack will likely cost HSE over €100 million, Paul Reid says
Maternity hospitals
Meanwhile, the HSE is to issue updated advice to all maternity hospitals and units on its visitation guidance.
It recently sent out advice asking maternity hospitals to review it approach and adopt a "least restrictive approach possible".
Fianna Fail's John Lahart, however said that TDs have been getting emails for months from expectant mothers and their partners.
He read an email he received from a pregnant woman who was in hospital and spoke of how she was "alone, lonely, vulnerable, anxious, angry and confused".
"I don't think the response has been strong enough in asking all maternity units to review their approach again," Lahart added.
"Why, when the CMO has said there is no good reason why partners cannot accompany their partners either to prenatal appointments or in labour, how many hospitals are not complying with this?"
Reid said: "There is nobody more aware than ourselves in the HSE and the medical teams who provide compassionate care for mothers and babies.
"We have to do things very differently in terms of infection prevention and control.
#Open journalism
No news is bad news
Support The Journal
Your contributions will help us continue
to deliver the stories that are important to you
"A lot of our 19 maternity hospitals are old and old hallways and old antenatal rooms and are not built for dealing with infection prevention."
He said that 16 out of the 19 maternity hospitals were working through complying with the measures, but three were not, which included Wexford, Kilkenny and Tullamore maternity units.
The HSE chief clinical officer Colm Henry they are are amending the guidance this week for those attending early pregnancy assessment units.
"We are also planning to alter our visiting guidance and roll that out across all 19 units," Henry added.
It also emerged during the hearing that young people aged 18-20 may have to wait until September or October to receive their Covid-19 vaccination.
Source: http://prntscr.com/fub00u
A CORONER HAS called for a public awareness campaign to highlight the dangers of a particularly lethal strain of meningitis and septicaemia following an inquest into the sudden death of a 24-year-old Longford woman.
Dr Myra Cullinane made the recommendation for increased information about meningococcal W (MenW) at the conclusion of an inquest at Dublin Coroner's Court into the death of Gemma McGee who died on 4 August, 2018 within 36 hours of falling ill.
The MenACWY vaccine, for which Gemma's parents had actively campaigned after her death, was introduced in 2019 for first year students in secondary schools due to a rise in cases of MenW infection.
However, her family claim improved care and greater public awareness are still needed to ensure nobody else dies from a preventable disease.
The inquest heard that the Trinity College Dublin graduate and talented boxer from Aughnacliffe, Co Longford had suddenly begun experiencing vomiting, diarrhoea and seizures on 3 August, 2018 in her apartment in Mullingar, Co Westmeath as she and two cousins were preparing to travel to Cork for a music festival.
McGee's father, John, said his daughter had appeared fit and healthy when he saw her on the previous day.
"She was a healthy young woman – same as ever," he said.
Her cousin, Lauren McKeown, told the hearing that at one stage, Gemma was unconscious and her lips had turned blue as well as a rash developing on large parts of her body.
The inquest heard Gemma was brought by ambulance to the Regional Hospital Mullingar before being transferred to the Mater Hospital in Dublin to access a specialised piece of equipment but died a few hours later.
Dr Owen MacEneaney, who performed an autopsy, said Gemma had died from the combined effects of septic shock and a form of abnormal blood clotting due to severe meningococcal septicaemia.
Dr MacEneaney said MenW was fatal in around 10% of cases while 30% of infections presented as septicaemia without meningitis.
The pathologist said Gemma had no other illness and had no signs of meningitis.
Following evidence from a number of medical witnesses, Dr Cullinane returned a verdict of death due to natural causes.
The coroner also recommended that PCR tests for the infection at the Irish Meningococcal and Meningitis Reference Laboratory at Temple Street Children's Hospital should be carried out on a seven-day basis.
The inquest heard that the results of a blood sample taken before Gemma died only confirmed MenW infection three days after her death because testing was not carried out over a bank holiday weekend.
Speaking outside the court, Gemma's mother, Rosaleen McGee, described her daughter, who worked as a geologist, as "a bright spark and full of spirit who achieved everything she set out to do."
McGee said her family's life had been turned upside down as a result of Gemma "dying in the most horrific manner from a vaccine preventable disease."
"Gemma had all her vaccines or so we thought but she didn't have the one which could have saved her life," she added.
#Open journalism
No news is bad news
Support The Journal
Your contributions will help us continue
to deliver the stories that are important to you
Despite the introduction of the MenACWY vaccine in Ireland, McGee said there was no catch-up programme for people aged over 13 years, while she also criticised the lack of publicity about the vaccine which she pointed out could be obtained privately for €50.
"Our daughter's life could potentially have been saved by this vaccine but we knew nothing about it," said McGee.
She also expressed disappointment that Prof Karina Butler, a consultant in infectious diseases at Children's Health Ireland, told the inquest that a catch-up programme for the MenACWY vaccine was not deemed cost-effective by the health authorities, when it was available for those aged 14-25 in Northern Ireland.
"It is not acceptable that a vaccine exists but is not freely available in the Republic," said McGee.
She said several questions about her daughter's death remained unanswered after the inquest including how Gemma had contracted the infection and why she had to wait for an ambulance from Tullamore even though she was living a short distance from the hospital in Mullingar.
She said there were no doctors or advanced paramedics in the ambulance which arrived despite her case being flagged as extremely urgent.
McGee said the treatment for sepsis was receiving antibiotics as quickly as possible but it was over 90 minutes after the 999 call before she received any drugs at the hospital to treat her condition.
Source: http://prntscr.com/fub00u
TÁNAISTE LEO VARADKAR has said that AstraZeneca vaccine doses could be administered to younger age cohorts in July and July due to "excess" doses being available. 
At present, the AstraZeneca Covid-19 vaccine is not recommended for people under the age of 50 but Varadkar said today that engagement is underway with the National Immunisation Advisory Committee (NIAC) about whether this could change.
The Tánaiste was today asked about a decision in the Netherlands this week to open up the Johnson & Johnson vaccine to people aged over 18 on an opt-in basis. 
He said that Ireland does not have the excess stock of J&J jabs to provide this access but that it will soon have "hundreds and thousands" of AstraZeneca vaccines available after older age groups have received two doses. 
"We do have excess AstraZeneca vaccines, we may over the course of the next couple of weeks have hundreds of thousands of excess AZ vaccines and it would be a shame not to use them," he said. 
There is some engagement ongoing with health authorities, with NIAC, now as to whether we could offer those excess AstraZeneca vaccines in June and July to people in those younger cohorts, at least giving them some protection soon rather than having to wait for protection later.
The HSE said last week that there are 450,000 people awaiting a second dose of the AstraZeneca vaccine and that they will receive it by 19 July. 
23.06.21
What we know about the Delta strain and how it's spreading in Ireland
Varadkar said the AstraZeneca vaccine doses arriving in the next couple of weeks "are more than we need" to complete those second doses and that there will then be AstraZeneca vaccines "that we can't use". 
He added that "there is engagement" to see if they can then be used for 18-year-olds "if that's advised by NIAC".
Varadkar said that this consideration to vaccinate younger age groups with AstraZeneca is driven by concern over the Covid-19 Delta variant. 
"There is concern now about a fourth wave driven by the Delta variant and that does change the picture a bit, giving people vaccines that we have to give them some protection might be a better option," he said. 
#Open journalism
No news is bad news
Support The Journal
Your contributions will help us continue
to deliver the stories that are important to you
Source: http://prntscr.com/fub00u
A GROUP REPRESENTING gardaí in Limerick city has claimed there is fear and confusion in frontline ranks over the use of discretion.
Sources in Limerick have said there is a serious risk of an industrial relations dispute in the area as anger grows.
The comments come as gardaí were directed by Commissioner Drew Harris and Minister for Justice Heather Humphreys to use discretion in their dealings with publicans.
The local Garda Representative Association group contacted The Journal and in an unusual move issued a statement explaining their position.
As revealed yesterday five Road Policing Unit gardaí, stationed at Henry Street Garda Station, are suspended as part of an investigation into the cancellation of penalty point offences. They have not been charged with any offence.
As many as 200 gardaí, and an unknown number of members of the public, are the subject of the investigation which began in November 2019.
Minister Niall Collins, solicitor Dan O'Gorman and the President of the GRA Frank Thornton yesterday raised serious concerns about discretion and have referenced the Limerick investigation by the National Bureau of Criminal Investigation.
In a strongly-worded statement, the Limerick Divisional GRA grouping has called on the local Chief Superintendent Ger Roche to clarify the use of discretion. 
"We are now directed to use discretion under various other legislation. There is utter confusion and fear in Limerick, with members finding themselves in a situation where they are now directed to use discretion in one set of circumstances but not another.
"There is a real fear of internal discipline, criminal investigation and potential imprisonment involved. Society has a right to have trust and confidence in their police force. It is they, we serve. Morale is on the floor.
"Correspondence has been submitted by the GRA in Limerick to our Chief Superintendent seeking urgent clarity on the use of discretion which has been a cornerstone of the policing response for almost 100 years," the statement said. 
The GRA grouping in the city revealed the nature of the investigation which they say is separate from another investigation into alleged malpractice which the NBCI is also conducting in the area.   
#Open journalism
No news is bad news
Support The Journal
Your contributions will help us continue
to deliver the stories that are important to you
"For 99 years, members of An Garda Síochána have used discretion responsibly, competently without fear or favour.
"Since November 2019 a criminal investigation has been ongoing relating to what the GRA in Limerick believe is unequivocally related to the use of discretion in minor offences under the Road Traffic Act.
"Approximately 50 Gardai have been interviewed with the final number expected to be close to 200. This does not take into account, retired Gardai and members of the public," the statement added. 
An Garda Síochána refused to comment. 
Source: http://prntscr.com/fub00u
PLANS FOR BRITISH schoolchildren to engage in a mass sing-a-long event this Friday have been criticised by politicians and on social media as a "spoof". 
The UK government has supported the campaign by a former police officer which aims to instil pride in Britain through a celebratory day this week.
One Britain One Nation (OBON) Day is due to be celebrated in schools on Friday through the singing of a patriotic song, after the campaign was founded by retired police inspector Kash Singh.
The Department for Education is encouraging schools across the UK to celebrate OBON Day on Friday, so "children can learn about our shared values of kindness, pride and respect".
Inspiring a generation. Urging all schools to join us on 25th June for #OBONDAY2021 campaign supported by @educationgovuk to spread the message of #Pride #Unity #Love #Respect for all through a song composed by @StJohnsCE.
Please see link for full details https://t.co/7CtBQIPBos pic.twitter.com/7ngqoLmhiU
— One Britain One Nation (OBON) (@1Britain1Nation) June 3, 2021
Source: One Britain One Nation (OBON)/Twitter
Singh told Times Radio: "It was something that was born from my dream as a police officer, in terms of what I'd see, in terms of my passion, pride and frustration, and something that I feel needed to be done in this country.
"This country is a brilliant country. I came to this country as a six-year-old kid who couldn't speak a word of English. My parents were labourers, they worked in a factory and foundry, and there are fantastic people in this country.
However, the idea has been derided widely online, including by one of the Conservative Party's own MPs, Caroline Nokes.
She retweeted a preview of the OBON song saying: "I can't unhear this (however fervently I wish I could)."
The OBON website describes its vision as to "create a strong, fair, harmonious and a proud British Nation, celebrating patriotism and respect for all our people".
Scotland's First Minister Nicola Sturgeon said she first assumed the UK Government's backing for the idea was a "spoof" when she saw it on social media.
Speaking after meeting with EU citizens living in Scotland and organisations supporting people to apply for settled status to remain in the UK, she said: "I'm trying to imagine the outrage there would be if the Scottish Government was insisting or even encouraging Scottish school kids to sing some song about how great Scotland is.
#Open journalism
No news is bad news
Support The Journal
Your contributions will help us continue
to deliver the stories that are important to you

Scottish First Minister Nicola Sturgeon said the idea is 'ludicrous'
Source: Andrew Milligan/PA
"People would be – and rightly so – up in arms about it.
"It's ludicrous and it perhaps says everything about the disinterest the UK Government has in Scotland that they're asking this to happen on the day Scottish schools go off on their holiday.
"Every aspect of it is ludicrous and I think it says sadly so much that we know about the misguided priorities, the hypocrisy and just the ridiculous nature of a lot of what this UK Government is doing.
"Meanwhile, EU citizens that have been here for most of the lives and are working so hard to help make the country what it is are having to jump through hoops to stay here."
Source: http://prntscr.com/fub00u
NORTHERN IRELAND'S PUBLIC Health Agency (PHA) has identified a further 612 confirmed or probable cases of the Delta variant of Covid-19.
The PHA said that around half of Covid-19 positive cases sampled in Northern Ireland are now indicative of the Delta variant.
The variant was first identified in India, and is now dominant in the UK.
Up to Monday, a total of 449 people were tested in Omagh and 689 were tested in Ballymoney after a number of probable cases were identified in the two towns.
Early analysis of results shows a total of 31 positive cases of Covid were detected, the PHA said.
All positive cases have been contacted and advised to self-isolate in line with public health guidance.
The PHA said that no additional public health interventions are required at present.
Dr Gerry Waldron, head of health protection at the PHA, said: "The spread of the Delta variant underpins the need for continued vigilance and adherence to the public health guidance – it is essential that people continue to work within the regulations and advice.
Related Reads
23.06.21
What we know about the Delta strain and how it's spreading in Ireland
22.06.21
No plans to delay 5 July reopening as Cabinet discusses Delta variant
"We ask that the public remain vigilant, keep their interactions with others down, continue following the health advice to limit the spread of Covid-19, and engage with the Contact Tracing Service if identified as a confirmed case or a close contact, and follow the advice given.
"There is a range of testing sites across Northern Ireland, so if you develop symptoms or are asked to get a PCR test because you are a close contact, please book one as it will help reduce further spread and assist us in identifying any additional variants.
"We have also activated enhanced testing in areas where we have identified a number of probable cases of the Delta variant.
"In order to help slow down the transition of the variant, we have been asking asymptomatic people to get tested in selected, targeted neighbourhoods where cases have been identified.
"We would urge anyone who is invited to get tested under one of these localised programmes to do so."
#Open journalism
No news is bad news
Support The Journal
Your contributions will help us continue
to deliver the stories that are important to you


TheJournal.ie's coronavirus newsletter cuts through the misinformation and noise with the clear facts you need to make informed choices. Sign up here:
Source: http://prntscr.com/fub00u
Updated 14 hours ago
GERMANY WILL STAGE a defiant display of rainbows on Wednesday after Uefa blocked plans to light Munich's stadium in rainbow colours in protest against Hungary's anti-LGBTI+ law, with the foreign minister slamming the European football body's decision as "wrong".
In the escalating political row over Hungary's passing last week of a law banning the "promotion" of homosexuality to minors, EU chief Ursula von der Leyen also weighed in from Brussels, slamming Budapest's move as a disgrace.
Budapest meanwhile hit back, praising Uefa for taking a stance against "provocation", while stadia across the country prepared to light up in national colours in a tit-for-tat display during Germany's Euro 2020 match with Hungary.
Uefa president Aleksander Ceferin says the footballing body could not give in to "populist" requests from politicians, as he defended the decision.
Uefa cannot be used as a tool by politicians," Ceferin told Germany's Die Welt newspaper after Munich's mayor had made the rainbow request.
"We don't want to be used in populist actions," Ceferin said, while insisting that "Uefa is not a homophobic organisation".
The two countries are due to play later Wednesday at the Allianz Arena in Munich, whose city authorities had planned to light the stadium up in rainbow colours to "send a visible sign of solidarity" with Hungary's LGBTI+ community.
But Uefa refused the request, insisting it must remain a "politically and religiously neutral organisation".
German Foreign Minister Heiko Maas criticised the move, tweeting: "It's true, the football pitch is not about politics. It's about people, about fairness, about tolerance. That's why @UEFA is sending the wrong signal."
Vowing defiance, Munich was planning to put up rainbow-coloured flags at its town hall and illuminate a huge wind turbine close to the stadium, as well as the city's 291-metre (955-foot) Olympic Tower.
Other stadiums across Germany were also planning rainbow light displays, including Berlin's iconic Olympic Stadium, as well as Bundesliga stadiums in Cologne, Frankfurt and Wolfsburg.
German newspapers, such as the Sueddeutsche zeitung, displayed rainbows on their front pages, while Bavarian industrial giants such as Siemens and BMW also decked themselves in rainbow colours on Twitter.
The Aviva Stadium in Dublin, which is not hosting games during Euro 2020, will also turn rainbow-coloured tonight in solidarity with the LGBTI+ community.
Be proud to be you 🏳️‍🌈
It's time to #LaceUpWithPride! Tonight we'll be lighting up @avivastadium in the rainbow colours of pride in solidarity with the LGBTI+ community. Play your part and join us as we #LaceUpWithPride by sharing photos of your rainbow shoelaces on social media pic.twitter.com/FpM0slOr5f
— AVIVA (@AVIVAIRELAND) June 23, 2021
In Brussels, Von der Leyen said the Hungarian bill "clearly discriminates against people on the basis of their sexual orientation. And it goes against all the values, the fundamental values of the European Union".
Uefa's refusal to allow Munich to send its message of solidarity also drew condemnation from football personalities across Europe, as well as from Germany's lesbian, gay, bisexual, transgender community.
"I find it shameful that Uefa forbids us to send a sign for cosmopolitanism, tolerance, respect and solidarity with the people of the LGBT community," said Munich mayor Dieter Reiter.
Be part
of the team
Access exclusive podcasts, interviews and analysis with a monthly or annual membership.
Germany head coach Joachim Loew said he "would have been happy" if the stadium was lit in rainbow colours.
Markus Ulrich, a spokesman for Germany's Lesbian and Gay Association (LSVD), told AFP subsidiary SID that Uefa had "not recognised the signs of the times — and it is clear to see which side it is taking with its decision".
However, Hungarian Foreign Minister Peter Szijjarto hailed Uefa's decision as correct.
"The leadership of Uefa made the right decision by not assisting in a political provocation against Hungary," Szijjarto told AFP.
The interim president of the German FA also backed European football's governing body.
"It is no longer a mere statement in the common fight against any form of discrimination, but a political action," said Rainer Koch, who also sits on Uefa's Executive Committee.
Source: http://prntscr.com/fub00u
SENIOR UK CABINET minister Michael Gove has said he "can't see" Boris Johnson granting a new referendum on Scottish independence before the next general election.
Gove – who is responsible for countering the push for independence – said the Prime Minister's focus was completely focused on recovery from the pandemic "for the lifetime of this parliament".
His comments – which are likely to infuriate the SNP – appear to go further than other ministers who have said that this is the wrong time for another referendum.
Under the Fixed Term Parliaments Act, the next general election is not due until May 2024 – although Johnson is committed to repealing the act which could allow him to go to the country before then.
Asked in an interview with The Daily Telegraph whether there was "any circumstance" in which Johnson would approve a referendum before a May 2024 election, Gove said: "I don't think so."
Asked whether his position was that "there will be no referendum before the 2024 election", he replied: "I can't see it."
After pro-independence parties won a majority in the elections to the Scottish Parliament in May, First Minister Nicola Sturgeon said it was "a matter of when, not if" there would be a second referendum.
Gove's intervention may heighten the chances that the SNP could try to hold a unilateral referendum without the approval of Westminster, which would almost certainly result in a legal battle through the courts.
#Open journalism
No news is bad news
Support The Journal
Your contributions will help us continue
to deliver the stories that are important to you
Gove however insisted that it was "foolish" to talk about a referendum at a time when the country was still recovering from the coronavirus pandemic.
"The Prime Minister is completely focused on making sure that, for the lifetime of this parliament, we increase economic opportunity, we provide people with the chance to make more of their lives, take control of their futures. And that's quite rightly what the Prime Minister of the United Kingdom's focus should be," he said.
"It seems to me to be at best reckless, at worst folly, to try to move the conversation on to constitutional division when people expect us to be working together in order to deal with these challenges."
Source: http://prntscr.com/fub00u
THE FRESH INQUESTS into the 1981 Stardust fire could be set to finally commence in the autumn after several delays. 
A pre-inquest hearing this afternoon heard that further work needs to be done before the inquests can begin, but that legal representatives for the victims' families would be ready by October.
Today's hearing, led by Dublin city coroner Dr Myra Cullinane, followed a delay to the inquest around the issue of legal aid.
At the last hearing in March, the coroner heard that some of the bereaved families were eligible for legal aid but that others were not.
The Minister for Justice has since signed the Civil Legal Aid Regulations 2021, which means that all families of the victims can access legal aid regardless of their means.
It was confirmed at the hearing today that the problem has been resolved.
Solicitor Darragh Mackin, representing families, said that "six months has been lost but hopefully we're now at the end of the tunnel".
"We can finally draw a line under the funding position and move forward," Mackin said.
There are still several outstanding matters that must be considered before the inquests can begin, including whether a European principle on the right to life is applicable to the proceedings and what the scope of the inquests will be.
Two hearings to deal with those issues have been scheduled for the 28th, 29th and 30th of July.
Article Two of the European Convention on Human Rights outlines that everyone's right to life shall be protected by law. 
Dr Cullinane asked when the parties expect to be in a position to formally start the inquest proceedings, which Mackin said was a "difficult question".
Related Reads
19.05.21
Families of Stardust victims to be given legal aid, paving the way for new inquests into disaster to begin
01.01.21
40 years on, Stardust families hope for answers from largest scale inquests in modern Irish history
September had been suggested for a start date, but Mackin requested that it be put back to October.
He said he does not want to see families wait any longer than necessary but that the legal team still has a large amount of evidence disclosed by the other side to review, including over 9,000 items of garda material.
"The reality of the situation is that the material is voluminous," Mackin said.
Dr Cullinane said she "wants the families to understand that I am conscious that there has been a long lead into the commencement of these inquests, and I really, for their sake, want to be able to proceed and get into the evidence and the actual hearings". 
Mackin agreed that "these proceedings have been a long time coming for the families".
He said that previous investigations have not brought answers for them and that he felt "professionally and ethically it is appropriate to ensure all those preparations are done, they're compiled and completed, with all the relevant experts instructed fully and properly, and all the disclosure outstanding resolved, and to allow that task to be completed I think that it would be an additional four weeks".
"Having consulted with my clients, their position continuously has been that that it has been forty years to get to this stage, four weeks is a drop in the ocean," he said.
#Open journalism
No news is bad news
Support The Journal
Your contributions will help us continue
to deliver the stories that are important to you
The inquests will hear evidence, including eye-witness accounts, about the deaths of 48 people at the Stardust nightclub in Artane, north Dublin in 1981. 
The Attorney General ordered new inquests into their deaths in September 2019 after years of campaigning by their families.
Eye-witness accounts from the night, factual evidence on the emergency response and garda investigation, and expert evidence relating to inquests are set to be heard at the fresh inquests.
It was originally hoped that the full scope of the inquests would be finalised at a hearing in January and that the inquests would begin early this year.
Source: http://prntscr.com/fub00u
A STALLED REOPENING of the hospitality sector due to concerns about the Delta variant would have a "catastrophic" impact, members of the industry have said.
Adrian Cummins of the Restaurants Association of Ireland explained that an eleventh hour declaration by Government would financially ruin restaurants and bars.
Padraig Cribben of the Vintners' Federation of Ireland said the comments by Health Minister Stephen Donnelly that there was a risk of an extension to restrictions have caused "serious concern" in the sector.
Donnelly said this morning that it is "too early to say" if a further reopening of society, due on 5 July, will be delayed by a few weeks due to the Delta variant of Covid-19. 
The Delta variant now accounts for 20% of all of last week's case numbers.  
Tánaiste Leo Varadkar also said today that the Government can only make a decision with the most up to date data. 
The variant now accounts for 20% of all of last week's case numbers. 
NPHET is due to advise the Government next Thursday on the epidemiological situation in Ireland, ahead of the next phase of reopening due on Monday 5 July.
Varadkar said variants of concern will also have to be considered, stating that the "dark cloud" is the Delta variant.
The government is looking to data in the UK, which is far more advanced in its reopening than Ireland, and has a higher rate of the Delta variant, said Varadkar.
He added it is concerning that there has been between a 30%-40% increase in cases and hospitalisations there over the last week, but also highlighted that this is "from a very low base". 
Cummins called for an urgent meeting with Government to get clarity on the situation.
"Any delay in reopening indoor hospitality on 5 July will have a catastrophic economic effect on restaurants, cafes & pubs specifically those in tourist area's.
"Indoor hospitality is currently open in Irish hotels and across all of Northern Ireland's hospitality industry.
"Businesses are currently in planning stage with regards to restocking, rostering and preparing to reopen on 5 July – a last minute, late postponement will have financial impact on terms of loss of stock.
"We are seeking an urgent meeting with Government to clarify the situation," he said. 
#Open journalism
No news is bad news
Support The Journal
Your contributions will help us continue
to deliver the stories that are important to you
Cribben said that 5 July will mean a return to work for more than 25,000 staff and the opportunity for pubs to trade during a busy summer season.
He explained that the eight weeks until the end of August is a vital period for publicans as it remains the only realistic opportunity to salvage something from 2021 and tide them over until next year.
"The comments from Government ministers that  the 5 July reopening may be delayed is causing huge upset and concern in the hospitality sector. With only two weeks to go it's not acceptable to treat our members in this manner," Cribben said.  
"There are just eight weeks in the summer season for pubs to recoup some of the massive losses accumulated over the past 15 months, so to tell publicans they may lose any of those weeks will devastate the trade.
"The business generated in July and August will sustain most pubs through the winter and into next year so for Government to delay reopening during the summer will impact the sector to a much greater degree than, for instance, a delay in January. 
"Publicans are busy rehiring staff and ordering stock so this new uncertainty places them in an impossible position. They need immediate confirmation that reopening on 5th July will proceed as planned.
"The fact Government will not make a final decision until Friday 2nd July – just three days before reopening – illustrates how detached Ministers are from the realities of running a business. The mental stress this uncertainty is placing on our members cannot be overstated," he added. 
Cribben said that Ireland is "lagging behind" Britain and mainland Europe and added that it was now critical that 5 July go ahead as planned. 
Source: http://prntscr.com/fub00u
NINE CATALAN SEPARATISTS pardoned by the Spanish government walked out of prison today to the cheers of supporters.
The men left behind them their lengthy terms for organising a bid four years ago to make Catalonia an independent republic.
Spain's Cabinet pardoned them yesterday in the hope of starting what Prime Minister Pedro Sanchez called a much-needed reconciliation in the country's restive north-eastern region, although fervent local support for the pardoned separatists indicated the problem would not go away anytime soon.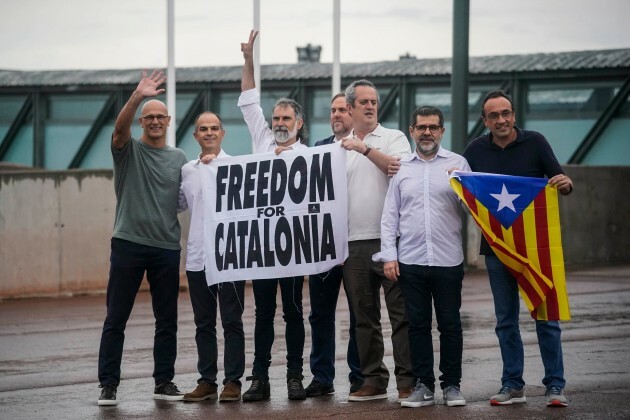 Catalan leaders imprisoned for their role in the 2017 push for an independent Catalan republic outside Lledoners prison near Barcelona on Wednesday
Source: Joan Mateu/AP
Former Catalan vice president Oriol Junqueras, five fellow Cabinet members, the former regional parliament's speaker and two pro-independence activists walked free shortly after noon. They had spent between three-and-a-half and four years behind bars.
Spain's official gazette published the government decree pardoning them today.
The freed separatists were met by dozens of cheering, clapping supporters and relatives who had gathered in the rain.
The men, released in a group, held up a small banner that said, in English, "Freedom Catalonia", as well as a Catalan flag. They addressed their supporters in the Catalan language.
"We are aware that today, with our release from prison, nothing has ended," Junqueras told supporters in a defiant speech.
"Prison does not scare us, it reinforces our ideas."
The Catalan regional president, Pere Aragones, and the speaker of the Catalan parliament, Laura Borras, also went to prison for the separatists' release.
The pardon cancelled the remainder of prison terms ranging from nine to 13 years over sedition and misuse of public funds linked to the 2017 banned referendum and a short-lived Catalonia independence declaration.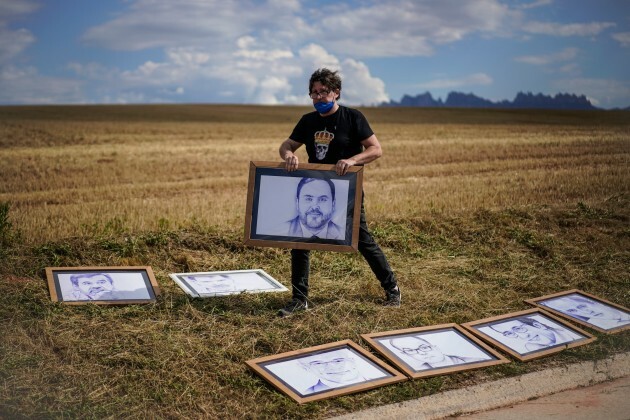 A man places drawings of Catalan separatist leaders jailed for sedition outside the Lledoners prison
Source: Joan Mateu/AP
But the separatists will not be able to hold public office until the end of their sentences and they could go back to prison if they break Spanish law again, the decree said.
#Open journalism
No news is bad news
Support The Journal
Your contributions will help us continue
to deliver the stories that are important to you
Despite polls showing that many people in Spain were against the pardons, Sanchez has defended them, arguing that they are popular in Catalonia and that freeing the separatists will be a fresh start for relations between central and regional authorities.
The prime minister's office announced today that Sanchez and Aragones will meet in Madrid on 29 June, exactly one week after the pardons, in their first encounter since the latter became Catalonia's regional chief earlier this year.
The political divisions were on full display on Wednesday at the nation's parliament, with Conservative opposition leader Pablo Casado calling for the prime minister's resignation for issuing the pardons without consulting politicians.
"You are applauding an unfortunate day for Spain's democratic history, you are throwing the fate of the country into the hands of the separatists," Casado said, accusing Sanchez of lying because the Socialist leader had vowed not to make concessions to separatists when he came to power.
Sanchez responded saying the decision to issue pardons was "brave, restorative and in favour of coexistence".
Catalan separatist legislators called for the government to take a step further and urged it to follow the "Scottish way" — in reference to Scotland's 2014 independence referendum that was authorised by the British government.
Source: http://prntscr.com/fub00u
Lawyers defending four men accused of abducting and assaulting Quinn Industrial Holdings director Kevin Lunney are challenging CCTV evidence gathered by gardai.
The Special Criminal Court trial heard today from dozens of witnesses from Cavan, Monaghan, Westmeath and Dublin who said they made CCTV footage available to gardai from their business premises.
Each one agreed with lawyers for the defence that if gardai asked for footage they would allow them to take what they wanted.
A number of them also said that they were not familiar with the Data Protection Act and did not question gardai about the reasons why the footage was being sought.
In some cases they said they were given copies of section 41b of the Data Protection Act which allows gardai to seize CCTV footage as long as it is "necessary and proportionate" for the investigation of crime.
A 40-year-old man known as YZ, Alan O'Brien (40), of Shelmalier Road, East Wall, Dublin 3, Darren Redmond (27), from Caledon Road, East Wall, Dublin 3 and Luke O'Reilly (67), with an address at Mullahoran Lower, Kilcogy, Co Cavan have all pleaded not guilty to false imprisonment and intentionally causing serious harm to Mr Lunney at Drumbrade, Ballinagh, Co Cavan on September 17, 2019.
Northern Irish police officers have also told the trial that they receive regular training on data protection regulations.
Detective Constable Michael Askin told Michael O'Higgins SC, representing the unnamed accused, that members of the Police Service of Northern Ireland receive "service instructions" from time to time.
He agreed that a service instruction was issued in 2018 following the introduction of the Data Protection Act and circulated to all members.
Among the requirements for PSNI officers is that all members carry out data protection training and update their training every three years thereafter. 
#Open journalism
No news is bad news
Support The Journal
Your contributions will help us continue
to deliver the stories that are important to you
Mr Lunney has told the court that he was bundled into the boot of a car near his home and driven to a container where he was threatened and told to resign as a director of Quinn Industrial Holdings.
His abductors cut him with a Stanley knife, stripped him to his boxer shorts, doused him in bleach, broke his leg with two blows of a wooden bat, beat him on the ground, cut his face and scored the letters QIH into his chest.
They left him bloodied, beaten and shivering on a country road at Drumcoghill in Co Cavan where he was discovered by a man driving a tractor.
The trial continues in front of Mr Justice Tony Hunt, presiding, and Judge Gerard Griffin and Judge David McHugh.
Comments are disabled as court proceedings are ongoing. 
Source: http://prntscr.com/fub00u
PUBLIC HEALTH OFFICIALS have confirmed 348 new cases of Covid-19 in Ireland.
The Department of Health has reported that 41 patients with Covid-19 are in hospital today, including 13 people in ICU.
Data relating to the number of deaths associated with Covid-19, as well as case numbers by county, have been affected by the cyber attack on the HSE IT systems.
Today's figures did not contain any information about whether there were any other deaths due to the virus. 
Yesterday, 294 cases of Covid-19 were confirmed in Ireland.
#Open journalism
No news is bad news
Support The Journal
Your contributions will help us continue
to deliver the stories that are important to you


TheJournal.ie's coronavirus newsletter cuts through the misinformation and noise with the clear facts you need to make informed choices. Sign up here:
Source: http://prntscr.com/fub00u
ANY SIGNIFICANT RELAXATION of public health measures this summer could lead to a significant new surge of Covid-19 this autumn, the European Union's disease control agency has said, urging countries to keep vaccination programmes moving quickly.
The warning comes as uncertainty grows over whether Ireland will press ahead with the planned resumption of many indoor activities on 5 July.
The European Centre for Disease Prevention and Control said the Delta variant of the coronavirus, first identified in India, could account for 90% of new cases across the bloc in the coming months.
"It is very likely that the Delta variant will circulate extensively during the summer, particularly among younger individuals that are not targeted for vaccination," Andrea Ammon, director of the ECDC, said in a statement.
"The Delta variant is more transmissible than other circulating variants and we estimate that by the end of August it will represent 90%" of new cases in the EU, she added.
In Ireland, the chief medical officer warned that the variant accounted for 20% of new cases last week, while that figure is at 50% in Northern Ireland.
More contagious
The ECDC estimates that the Delta variant (B.1.617.2), is 40 to 60% more contagious than the Alpha variant (Β.1.1.7), first discovered in the UK, which is currently the predominant variant of the novel coronavirus circulating in the EU, including in Ireland.
The Delta variant may be associated with higher risk of hospitalisation, the ECDC warned, citing a study by Public Health Scotland.
To counter the spread of the variant and mitigate the health impact, the ECDC said "it is very important to progress with the vaccine roll-out at a very high pace".
To date, about 30% of the over-80s and some 40% of the over-60s in the EU are still not fully vaccinated, according to the ECDC.
Vaccine uptake levels
Vaccine uptake levels are higher in Ireland than in some EU counterparts: Almost 100% of those over 80, 97% of those aged 70 to 79, 92% of those aged 60 to 69, and 87% of those aged 50 to 59.
"At this stage it becomes crucial that the second vaccination dose is administered within the minimum authorised interval from the first dose, to speed up the rate at which vulnerable individuals become protected," Ammon said.
Irish authorities have already taken such a move, reducing the dose interval for the AstraZeneca vaccine from three months to two.
The ECDC is also urging countries to be cautious about relaxing curbs aimed at limiting the spread.
#Open journalism
No news is bad news
Support The Journal
Your contributions will help us continue
to deliver the stories that are important to you
"Any relaxation over the summer months of the stringency of non-pharmaceutical measures that were in place in the EU/EEA in early June could lead to a fast and significant increase in daily cases in all age groups," the agency said.
This increase could in turn lead to a rise in "hospitalisations, and deaths, potentially reaching the same levels of the autumn of 2020 if no additional measure are taken," it added.
England, where the Delta variant is dominant, has experienced an uptick in hospitalisations and deaths despite widespread vaccination.
The report continues:
The continuation of vaccination rollout at current levels is crucial in order to keep the incidence levels at manageable levels, and further acceleration of vaccination rollout, including achieving higher levels of vaccination coverage, could have a substantial impact on decreasing incidence, hospitalisations and deaths, particularly in older age groups.
Non-pharmaceutical interventions should be maintained at a level sufficient to contain community transmission of the Delta [variant] until greater shares of the population are fully vaccinated, in order to avoid a resurgence of cases with a possible increase in hospitalisations and mortality.
More than 3.45 million Covid vaccine doses have been administered in Ireland.
More than 2.3 million people have a first dose, equal to 58.8% of the eligible population, and almost 1.2 million people are fully vaccinated, equal to 30.7% of the eligible population.
© – AFP, 2021, with additional reporting by Nicky Ryan


TheJournal.ie's coronavirus newsletter cuts through the misinformation and noise with the clear facts you need to make informed choices. Sign up here:
Source: http://prntscr.com/fub00u
THE ALL TOGETHER Now music festival has been cancelled for the second year running. 
Organisers said they had "exhausted all possibilities" but cited the ongoing health restrictions as reasoning for their decision. 
Iggy Pop and Sinead O'Connor were booked as headliners for the festival at Curraghmore in Co Waterford, which was due to take place on the upcoming August Bank Holiday weekend. 
The cancellation was not unexpected, as organisers faced a race against time to be ready in time amid the easing of pandemic restrictions.  
The Government is to make a call on further lifting of restrictions next week amid fears of a growth in cases caused by the Delta variant. 
One pilot music festival for outdoors is taking place at Royal Hospital Kilmainham in July, while the organisers of Electric Picnic have pushed that festival back a month, for late September, in a bid to have it go ahead.
However Longitude Festival and Forbidden Fruit have both been cancelled for this summer.
All Together Now, which began in 2018, drew over 20,000 revellers when it last took place on Lord Waterford's estate two years ago. 
It has now been rescheduled for July 29-31, 2022 and tickets for this year's offering will still be valid for next year, according to a statement posted by organisers POD on Wednesday. 
"After exhausting all possibilities to enable the festival to happen this summer, it has become clear that despite recent signs of hope from the authorities, the current health restrictions make it impossible to make plans for the event to take place this August Bank Holiday Weekend," the statement said.
#Open journalism
No news is bad news
Support The Journal
Your contributions will help us continue
to deliver the stories that are important to you
"We can hardly imagine how emotional it will be to reopen the gates to the festival next summer and meet again after such a sad and long absence. We all need and deserve a festival to look forward to and we are dedicated to making All Together Now 2022 a special celebration."
Source: http://prntscr.com/fub00u
IRELAND'S FIRST MAJOR music festival in almost 16 months has been granted a liquor licence after a judge was given a detailed account of organisers' measures to prevent the spread of covid-19 at the event.
The outdoor gigs are due to take place at Royal Hospital Kilmainham, in Dublin, on Saturday, July 3 next.
It is a pilot music festival in the reopening of live entertainment which had been shut down due to the coronavirus.
The event has been organised by promoters MCD in association with the Department of Tourism, Culture, Arts, Gaeltacht, Sport and Media, the Office of Public Works, and Dublin City Council.
MCD applied to Dublin District Court today for an occasional licence to serve alcohol at the over-18s event which 3,500 people will be allowed to attend.
The event on the grounds of the Irish Museum of Modern Art is expected to feature a line-up including Gavin James, Lyra, Denise Chaila, Sharon Shannon, Wyvern Lingo and Wild Youth, each performing full sets.
The gigs will be hosted by the 2 Johnnies.
Dorothy Collins BL, instructed by solicitor Ursula Courtney, for MCD, told Judge Marie Quirke the one-day event which will run from 2 pm to 10 pm, and organisers will have a range of precautionary measures in place.
Detailed evidence of the planning of the festival was given by covid compliance officer Margaret Connolly, event controller Eamonn Fox and Ashlee Dickinson who will be in charge of the bars.
They outlined how the event would be run in accordance with government guidelines and will encourage social distancing. Rapid antigen testing of ticket holders will take place at a nearby location, and all staff will be tested as well that day.
Once they are negative, they can enter the venue.
There will be two entrances, and signage telling them to wear masks, and hand sanitiser will be available at the bars and toilets.
Tickets will be sold in pods of four or six people.
Staff have undergone training to monitor the crowd and an isolation area will be set up; if anyone displays coronavirus symptoms, they will be given medical attention or sent home.
There will be up to 3,500 ticket holders on-site while prior to the pandemic the capacity at the venue was 23,000 people.
#Open journalism
No news is bad news
Support The Journal
Your contributions will help us continue
to deliver the stories that are important to you
Four sections
The promoters have asked people not to attend if they have covid symptoms; if people are ill, their tickets are fully refundable. Organisers have co-operated with gardai and the fire officer in the planning, the court heard.
The area will be split into four sections, each with its own bars and toilet areas.
Event organisers and gardai will liaise with local residents and will send them a newsletter detailing the arrangements. Security inside the venue has been doubled.
Concert goers will get an information booklet with the rules to ensure "total clarity", Judge Quirke noted.
It follows James Vincent McMorrow's pilot concert at the Iveagh Gardens in Dublin on June 10, where 500 people were allowed to attend, but alcohol was not served at that show.
Granting the occasional licence, Judge Quirke noted it was the beginning of the resumption of music events. It was a special occasion and would be a wonderful celebration of music, she said, adding that she wished them good fortune.
In a statement, Minister for Arts Catherine Martin has said the festival "marks a significant step forward towards larger gigs in the coming months, subject to the public-health situation".
Some 500 free tickets were set aside for frontline healthcare workers "as a gesture of thanks for their hard work and dedication during the pandemic".
Source: http://prntscr.com/fub00u
THE DEPARTMENT OF Social Protection and An Garda Síochána have issued further warnings as scam calls continue.
In recent days, Gardaí have had reports of automated calls from numbers with 085 /087 prefixes claiming to be from the Department of Social Protection.
These calls consist of an automated message telling the recipient that their PPS number has been compromised. They are then asked to press 'one' to speak with an investigator or official, where they are then asked to provide personal information, such as bank details.
Gardaí have also received reports in recent days of scam calls with the 087 prefix claiming to be An Garda Síochána. These reports have come in nationwide, including from counties Donegal, Monaghan, Kilkenny and Dublin.
This call is also an automated message that says the Gardaí are investigating the recipient regarding suspicious activity linked to their PPS number. The recipient is then asked to press a number to rectify the situation and speak with someone further on the matter.
The Department of Social Protection updated their advice against scam calls on their website today.
They wish to remind the public that they will never ask for bank details over the phone and they won't seek any personal information via text.
"If you receive such a call or text, please do not engage with the caller and do not share any part of your PPS Number, bank account details or any other personal information with them," the Department said on their website.
#Open journalism
No news is bad news
Support The Journal
Your contributions will help us continue
to deliver the stories that are important to you
If a member of the public has shared their information, they are asked to contact Gardaí and their financial institution.
Gardaí have also issued advice should a member of the public receive a scam call:
Do not engage with the caller.
Do not return the call.
Do not follow the automated instructions – Do not press 1 etc.
Never transfer money.
Never disclose personal or financial information.
Hang up and block the number if possible.
"Whilst the scammers may change their stories and methods, their goal is always the same," according to a statement from the Garda Press Office, "they want to access your sensitive information and get their hands on your money."
More information and advice from Gardaí is available here.
Source: http://prntscr.com/fub00u
SINN FÉIN PRESIDENT Mary Lou McDonald has urged the DUP to commit to "real powersharing" with her party at Stormont.
McDonald claimed that a DUP "failure to accept rights and equality" was a contributory factor in the recent "political storm" that has hit unionism.
After former first minister and DUP leader Arlene Foster was ousted by her party and replaced by Edwin Poots, Sinn Féin refused initially to re-nominate Michelle O'Neill as deputy First Minister until it received assurances over protections for the Irish language.
After Sinn Féin secured a commitment from the UK government to progress the cultural legislation at Westminster, the DUP was then rocked by an internal revolt over Poots's decision to proceed with nominating Paul Givan as the new first minister.
After Poots was forced to resign, the incoming DUP leader Jeffrey Donaldson warned that it is "not realistic" to expect stability in Northern Ireland under the terms of the NI Protocol.
In a keynote speech in the Balmoral Hotel in west Belfast, Mary Lou McDonald said: "The outworking of Brexit and the decision of the DUP to support it, the inevitable disaster of the post-election pact with the English Tories and the loss of the unionist majority in Stormont have created a political landscape which many within the leadership of the DUP seem incapable of reconciling themselves to."
McDonald said she took "no comfort" from the internal difficulties in the DUP.
She added: "We don't seek to humiliate or profit from the dysfunction within the DUP."
The party leader said she had spoken with Donaldson yesterday and would meet with him next week.
She said: "The question facing him is whether he is up for real partnership, real powersharing, for political institutions that deliver? If the answer to those questions is yes then he will find a willing partner in the Sinn Fein team under [deputy First Minister] Michelle O'Neill.
A partner who wants to get on with the task of delivering better public services, tackling the hospital waiting lists, building decent homes and managing the economy out of Covid.
"A partner who will continue to give voice to those who have none, and who will work across party lines in both the Assembly and the Executive in achieving rights for women, Irish language speakers, newcomer communities and every section of the people who live here."
McDonald said the contents of the New Decade New Approach deal that restored devolution in 2020 were non-negotiable.
Related Reads
22.06.21
Jeffrey Donaldson confirmed as new DUP leader without contest
22.06.21
Outgoing DUP leader Poots says he 'has been promised significant victory' over NI Protocol
"Its implementation is not a point of negotiation. It is an obligation on us all," she said.
The failure of the DUP to meet this basic political benchmark and to obstruct basic rights is not the basis upon which effective partnership government can be built.
She also claimed the DUP's approach to the NI Protocol was out of step with the wider public, including many unionists.
"The DUP will be making another political error if they seek to endanger the political stability of the institutions over the consequences of the outworking of their Brexit policy," she said.
McDonald added: "Talk of abolishing the Irish protocol are not grounded in reality. Good faith engagement and use of the Joint Committee is the only mechanism to address challenges and difficulties.
The Sinn Féin president said it was critical that stability was restored to the powersharing institutions in Belfast.
"In the days ahead it is critical that political stability be restored. That is the minimum people expect," she said.
Sinn Fein stands ready to renominate Michelle O'Neill as deputy First Minister. We will play our part.
McDonald reiterated her view that a referendum on Irish unity would come before the end of the decade.
#Open journalism
No news is bad news
Support The Journal
Your contributions will help us continue
to deliver the stories that are important to you
"I firmly believe that within this decade the people will have the opportunity to freely choose new constitutional and political arrangements on this island, as underpinned by the provisions of the Good Friday Agreement," she said.
"Let me be clear, there is no contradiction in working within a functioning powersharing government while building for a new united shared Ireland."
Source: http://prntscr.com/fub00u