Comme une bulle dans un bocal
J'ai perdu pied
Au fil des jours
Et c'est la vie qui me trimbale
Et ses amours
Et ses amours
Elle me promène des uns aux autres
De ciel en ciel
De jour en jour
Dans des prières ou elle se vautre
Et des amours
Et des amours
Je la supplie parfois des heures
De me laisser passer mon tour
Et elle me parle de mon bonheur
Et des amours
Et des amours
Elle me dessine un beau destin
Sur les accents de mon discours
Qui et en scène mes lendemains
Et ses amours
Et ses amours
J'ai perdu pied dans mon bocal
Mes mains posés sur ses contours
Cherchant en vain un idéal
Et des amours
Et des amours
Peut être un homme nu comme un ver
Viendra crever ma bulle
Un jour
Pour me donner une bouffée d'air
Et de l'amour
Et de l'amour
J'aurais enfin mes fleurs du mal
Pour faire des bulles dans mon bocal
Et faire l'amour
Et faire l'amour
Et faire l'amour
Pour pouvoir me tenir plus loin de ta rue
Je m'inventerai des circonstances
Pour ne pas te mentir je ne vois plus
C'est une question de bienséance
Mon sentiment se perd au fond de la mer
Et je pense à ton existence
Mon sentiment se fond et je tourne en rond
Et je réclame ton indulgence
Pour pouvoir me tenir plus loin de ta rue
Je m'inventerai des circonstances
Pour ne pas te mentir je ne vois plus
C'est une question de bienséance
Ce monde est en délire et moi je me tire
C'est une façon d'être en avance
Ce monde est en faillite et moi je te quitte
Et je déclare mon innocence
Ce monde est en délire et moi je me tire
C'est une façon d'être en avance
Ce monde est en faillite et moi je te quitte
Et je déclare mon innocence
[Intro]
Ok
Ooweeeee!
Drippp!
Ok
[Verse 1]
Pints in my house to the ceiling
Drank to my ear I can't even listen
All this water on a nigga wrist make a white man wanna go fishin'
Sauce done made the bitch lose her faith cuz the shit she do for me ain't Christian
I took the bitch on some money missions
On some shit that can get ugly missions
Never sent her on no dummy missions
But…you know that pimpin' ain't easy
Sprinkle that flavor that seasonin'
Then take his watch and his visa
My game is cold as ten freezers
Out in Alaska on ski slopes
I'm sippin syrup on speedboats wit 2 bitches thats speakin no Englos
Two chains on my neck weigh a kilo
But just about one is a kilo
The bitch done flew me out to Rio
I been goin' wit plans in Berdino
Ain't no squares in my circle that we know
Ain't no snakes in my circle that we know
I pimp bitches and stack up my Cheetos
And shit on my Fritos who gave me Doritos
[Bridge]
Away
The bitch want me she gonna pay
And if she do I'm gonna stay
And make sure it's all ok
Ok, ok
[Verse 2]
Pourin my pint in 2 liters
Ridin' around with big heaters
How the streets is nowadays I don't know if my enemy is one of my people
So I be damned if I don't come with that sleeper
So everyday ima walk with that beeper
Come with some smoke and on sauce Ima bleep ya
In otherwords that mean Ima delete ya
[Hook]
I'm blowin' a zip ok (ok)
I'm pourin' a brick ok (ok)
I pimp on a bitch ok (ok)
All my niggas rich ok (ok) (drip!)
I rep with a stick ok (ok)
Yeah I'm with the shit ok (ok)
All my bitches thick ok (ok)
And they with the shit ok (ok)
Ok, ok, ok, ok, ok, ok, ok, ok, ok, okayy
Ok, ok, ok, ok, ok, ok, okayy
Ok, ok, ok, ok, ok, ok, okayy
Ok, ok, ok, ok, ok, ok, okayy
[Outro]
So look
Keep all that shit
Like keep-keep all that
[Intro]
I said babe tell me how you feeling today
She said "beige"
I said babe tell me how you feeling today
She said "beige"
I said babe tell me how you feeling today
She said "beige"
[Chorus]
Feels never enough
Yet always too much
That's beige
That's beige
[Verse 1]
I remember back when yes was yes and no was no
And red was red
And blue was blue
And 2 plus 2 was 4
Now it's x and ys and hella variables
And exes asking why they cannot get with you no mo
And now I'm killing records make a living off the dead just like a funeral home
But I remember I was in a threesome with my bills and all my student loans
Hooked up to the 4 on Roman numeral my soul
Was dripping slowly out the cubicle
[Refrain]
Roll one
Blunt for me
Bad bitch never take one from me
I f*cked up
I came back for loving
Back for living
Double my dividends
[Chorus]
Just a little beige
Just a lil beige
Feel never enough
Yet always too much that's beige
[Verse 2]
If your heart is where my home at
I'm a nomad cuz you keep on moving ways
And you afraid to let me past the doormat
In the past you been treated like a doormat
Aww you can stay
Got your mind in a haze
[Refrain]
Roll one
Blunt for me
Bad bitch never take one from me
I….f*cked up
I…..came back for loving
Back for loving
Double my dividends
All The Time, I knew it All The Time,
From the moment that you came in view,
I could truthfully have said
'I love you.'
I could see, that this was meant to be,
So if love is shining in my eyes,
It should come as no surprise.
How sweet and fresh the mornings come,
As I wake from my dream of you,
And the dream of you running through my heart,
Makes my day happy too.
Love has wings, and other magic things,
To the heavens we could climb,
If we could be together,
All The Time.
Musical repeat of a stanza. Then;
Love has wings, and other magic things,
To the heavens we could climb,
If we could be together,
All The Time
Don't tell the boys that you've been crying in my arms
Yea I believe it's sharing season for the feelings in our hearts
Come on now!
Sign the dotted line
Go head and join my little cult
We'll talk about how childhood traumas guide our actions as adults
Slam the bottle on the counter
Take this thing down shot for shot
You know i've made a lot of best friends, you're the best friend that I've got
Now we're howling at the moon
Hell yea!
We're making lots of noise
You know i hate to say i love you, but thеre ain't no other choice
Don't tеll the boys
Don't tell the boys that we done spent the week inside
And watched 3 seasons of the oc, 'till marrisa f*cking dies
You know at times im more like ryan, and you're a little more like Seth
You're so quick witted when we talk about what happens after death
I heard your brother's in the desert
He's been fighting for our freedom
He's been chasing nameless faces ever since he finished rehab
Can we support the individual, without supporting the whole damn complex?
It's either shooting guns or heroin, at least one of them pays for college
Ah shit!
Don't tell the boys
Don't tell the boys that we just had our little talk
You know in tougher times, us guys decide we'd rather walk the walk
I'll always be a lending ear, i'll be your elephant best friend
Don't tell the boys we've got each other, and i'll love you till the end
Don't tell the boys
[Intro] (Words of Wisdom – You Made Me Everything)
Ayye
What you gave to me
Oh Lord
Your sweet love (your sweet love)
Oh Baby
Then again I go down
I go down on my knees and I pray
Yes Lord, thank you Lord
[Verse]
Usher said "you don't have to call"
But you have to call
My schedule too busy to be tacking on
Ouu got your bae watching like I'm Hasselhoff?
Can't ignore, going for your Mrs. like I grabbed a board
Border agents paranoid so much back and forth
I touched down in New York Eli Manning boy
All my life I got off on the 13th floor
Grateful for these blessings till I'm seeing plenty more
That's for sure
[Pre hook]
Hmmm shooting it lights out
Came out the mud
A diamond in rough
Just gimme a wipe down
Shining bright till the lights turn out
Salute me when you see me man
Salute me when you see me
Goddamn
[Hook]
The pain made me everything I am
Took everything I got right up to the top (2X)
Aye! you ain't got the bandwidth to handle this
You ain't got the bandwidth to handle this np (2X)
Nahh
[Verse 2]
Ouuu Well spoken for a black man
That's how you serve a compliment with your back hand
Routine stop ain't no talking back
Save your breath keep your two cents and invest in a dash cam
I been a menace since back when
Sleeping on me you get smack cammed
Keep it g, would you rather be
A never was or has been?
I put it down put a towel on it
In out them walls like the house haunted
I'm looking down but I never look down on her
I put a crown on her, yeah
The kids are fed
The money is long
The head is good
The future's bright
The crown is heavy
The dash is wood grain
A long way from young dumb misunderstood
A long way from home strong how I still came
[Pre-hook]
Shooting it lights out
Came out the mud
A diamond in rough
Just give me a wipe down yeah
Shining bright until the lights turn out
Salute me when you see me man
Salute me when you see me
Goddamn
[Hook]
The pain made me everything I am
Took everything I got
Right up to the top (2X)
Aye!
You ain't got the bandwidth to handle this
You ain't got the bandwidth to handle this Nah (2X)
AH HAH
Oh, what's the matter baby?
Is the truth too hard to hear?
Well, I think you know I'm not the one who lied
Now it's all behind us
And we both play out our lives
But the years don't change the way I feel inside
So I'll play the game now
Though it feels the same now
Are you missin' me?
Well, baby, just be aware
Of how much I still care
Oh, I need your love
I gave to you my heart and soul
Now I just need to let you know
You're part of me that I just can't let go
Well, tell me something baby
Is there still something inside
To remind you of the way it used to be?
And how the years they go by
Still there's something I must say
No one ever could have loved you more than me
So I'm passin' time now
Wishin' you were mine now
Are you missin' me?
Well, you know it's not too late
Oh, how long must I wait?
Oh, to hear you say
I gave to you my heart and soul
Now I just need to let you know
You're part of me that I just can't let go
And I need your love
And I need your love
Everywhere I go there's a memory
If you can't decide on me
Well, you gotta make up your mind
'Cause some day you're gonna find
You just might need me
Well, baby just be aware
Of how much I still care
Oh, I need your love
I gave to you my heart and soul
Now I just need to let you know
You're part of me that I just can't let go
…
DaBaby's baby mama MeMe don't want to be associated with him.
DaBaby's love life is quite complicated if you think about it. At any given point, he can be spotted jetting with the Dominican princess DaniLeigh. Yet, there are times we see him hanging out with MeMe, who is the mother of his two kids. This topsy turvy type of relationship has been going on for years now, but 2021 could be the end of the back and forth.
Within the last couple of months, the Kirk rapper has been spending a lot more time with his "Levi High" co-singer, which presumably prompted Meme's recent call to not have her name associated with the rapper. The call does come at a strange time though since Meme was spotted with Dababy at Offset's birthday party in December.
That did not stop her from throwing the rapper under the bus, hinting that he's not even fit to be called the father of her kids. MeMe took to social media to share a cryptic post via her Instagram Stories, which has gotten a lot of people questioning her exact motives.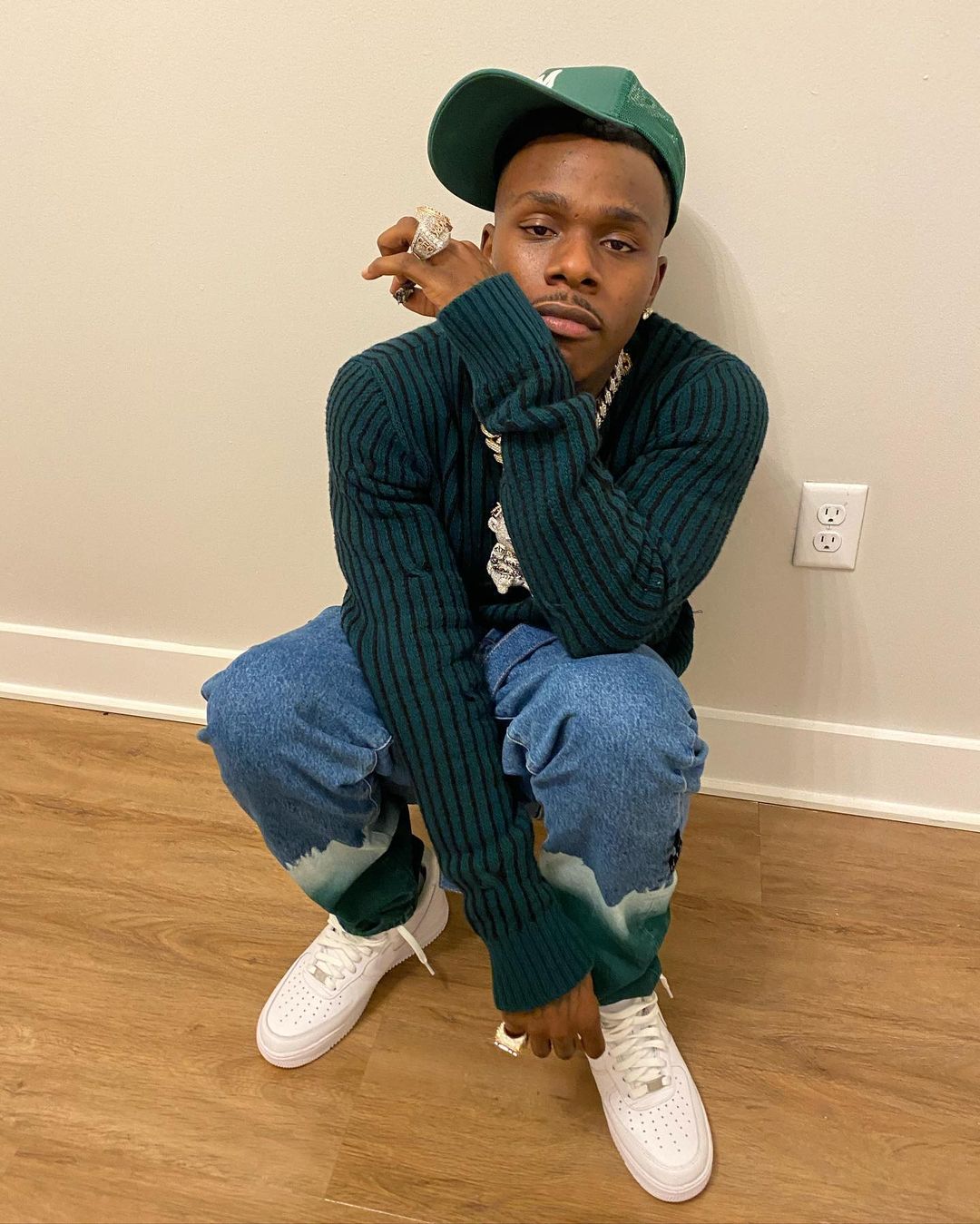 "Don't attach my name to nobody… these YALL ni**as," were the words included in the post she reshared to her Instagram Stories. She went a step further to add that Dababy played no part in the conception of her kids: "Period! My chiren [sic] came from the lord."
There are numerous posts of the Billion Dollar Baby Entertainment kingpin performing his daddy duties. Therefore, there seems to be some form of fallacy in the statement from Meme. Could it be that she simply meant it as a joke and only intended to cause a stir in the media?
The multi-platinum recording artist has not commented on the share from his baby mama, presumably being too busy with the release of new music and his issues with the law.
View this post on Instagram
Chris Brown has spotted some similarities between Lori Harvey's stepdad Steve Harvey and her new boyfriend Michael B. Jordan.
There is a saying that the only man a girl can rely on is her daddy, so it is hardly surprising that many women end up dating guys who resemble their fathers. Lori Harvey has a pretty good relationship with Steve Harvey, who formally adopted her after he married her mother, Marjorie, and it seems that her current boyfriend may have something in common with the Family Feud host.
Lori revealed earlier this week that she has a new man in her life: Black Panther star Michael B. Jordan. The pair have been spending time together over the last couple months, flying to Atlanta and Salt Lake City, but finally confirmed that there is something going on between them in an Insta post. The 24-year-post uploaded a photo in which she has an enormous grin, and PEOPLE's Sexiest Man Alive looks set to kiss her cheek, while he also posted two photos in which the lovebirds stared into each other's eyes intimately.
Now that the new relationship is in the public eye, Chris Brown noticed some similarities between the two guys in Lori's life. The "Loyal" singer posted a meme of Steve and Michael side by side, and the resemblance is uncanny. "I can't unsee it," the meme states. When Chris's Insta Story was shared by The Shade Room, fans commented that Lori looked to be dating her dad's twin, while others suggested that if Breezy wanted the model, he should just come out and say it.
View this post on Instagram
Timbaland and Swizz Beatz are spilling all their favorite Verzuz moments amid the first season, and dancehall culture is getting another nod.
The first series of Verzuz has come to a close, and its showrunners are reflecting on the reel. Of the modicum of positive moments that came out of 2020, Verzuz makes the top of many people's lists. The ingenious use of the Instagram platform was certainly one of the highlights of the year, and since its inaugural presentation, the exciting music duel has grown into a full-blown production, with Apple Music now offering high definition replays after episodes end.
Interestingly enough, as Timbo and Swizz reflected on the best Verzuz moments of the year, it was a pre-glamour battle that they recalled most fondly. During a recent interview on The Carlos Watson Show, the legendary producers and Verzuz co-founders were asked about the best moment and best performance. They agreed that the battle that deviated most from the usual theme was actually a favorite of theirs. The Memorial Day weekend battle between dancehall icons Bounty Killer and Beenie Man got a lot of love from Timbaland and Swizz Beatz after it ended, and it is still getting a lot of love now.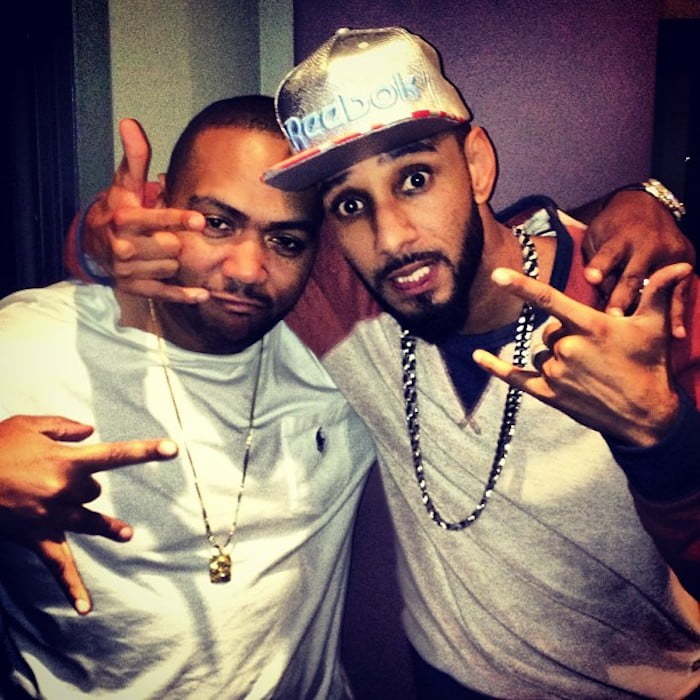 The dancehall battle was an iconic moment because it was a turning point for the Verzuz orchestrators who went back to the drawing board after the presentation. Soon they were implementing rules about the wifi quality, equipment, and more, and it incited the idea of in-person battles. The episode garnered millions of views across a number of territories and also produced some viral moments, including Rihanna's conspicuous attendance. Of course, the Verzuz battleground was inspired by the clash culture in dancehall music, so it was also quite fitting that a dancehall battle enter the list of over 20 showdowns.
Swizz Beatz actually acknowledged this and more in a lengthy post celebrating the success of Verzuz on Instagram. "Can't mention VERZUZ without Bounty Killer and Beenie Man," he wrote. "The FIRST to do a Verzuz in the same room, get visited by the police, have the Prime Minister of Jamaica watch, AND have perfect WIFI (IYKYK). VERZUZ was influenced by sound clashes – Thank you Beenie, Bounty, and everyone who made it happen."
View this post on Instagram
The Verzuz co-creators also credited Gucci Mane and Jeezy's joint performance of "So Icy" as the best moment from the series."People showed up for them to go into destruction and they gave them destruction during the Verzuz," Timbaland said. "But [in] the end, the brothers gave everybody love. This one was special because we were dealing with real issues that a lot of people don't get to talk about.
"It's showing going forward, you know, like unity. Our platform shows a lot of unity and love that's what we are," he added. Verzuz became an escape for many of us whose year was marred with adversity but moreover, it brought people together. The strategic round-ups helped rivals to settle differences, icons to deliver nostalgic treats, and hip-hop and soul music overall to remain evermore relevant.
As they look on to Season 2, the Verzuz showrunners are hoping to get even deeper with soul music. When asked who he would like to see appear when the show returns, Timbo mentioned Grammy Award-winning R&B singers Sade and Anita Baker. "I don't have a wishlist because we don't force nothing on Verzuz," Timbaland began. "Everything comes to us. I want to show the world about love, slow-songs, that feel-good music that touch your soul. I was thinking about Anita Baker, and I was like 'man, we have to give Anita her flowers.'
"To tell this woman how much her music has done for me, and I feel like we can't leave the world without Anita Baker or celebrating Sade," he added. The future of Verzuz looks to be right in the pocket of what we all need right now – to "feel good" and nourish our souls. Taking into account the considerable growth of the platform over 8 months, it is quite likely that it will only continue to flourish in Season 2.
Skillibeng once again prove why he is at the top of the new generation in dancehall.
The Kingston-based multimedia production company RD Studios has once again outdone themselves with a pretty innovative music video for one of Skillibeng's brand new tracks, "Hot." Skillibeng recently released his brand new mixtape titled The Prodigy. The months leading up to the release of this major project saw the deejay dropping various other singles, with "Hot" being one of the standout tracks.
The audio-only upload has garnered over 700,000 views on Youtube since its release in November. While this is a major accomplishment, the music video dropped on January 14, 2021, seems to be on a trajectory path that could surpass the 700K mark in short order. The freshest release is currently #2 on Youtube's local trending charts with over 200,000 views.
Aside from a banging production from YGF and some truly sizzling lyrics from the St. Thomas man, the work of the RD Studios team cannot go unnoticed. The editing team deserves a ton of praise for bringing "Hot" to life. A burning newspaper, a cup of steamy noodles, a feature on the cover of "Hot" Magazine, a Microwave, and a Ghostrider remake of Skillibeng with his head in flames, all highlight just what it means to be "Hot." The deejay also gets to play the role of a meteorologist and does it well, as he predicts that the entire JA will be engulfed in flames.
Dr. Dre is currently resting at home after being discharged from the hospital, Ice T confirms.
A week almost seems like a whole year as the hip hop community grew very concerned about Dr. Dre's health. The legendary rapper/producer was hospitalized for over a week for a brain aneurysm. Although we were privy to regular updates from his close friends like Ice T, there were still some deep concerns and even some rumors surrounding his health. At least one rumor came out that he was allegedly poisoned using rat poison. As outlandish as it sounds, some fans are speculating.
There is finally some good news on his health as fellow rap legend Ice T offered up an update via Twitter saying that Dre is finally home. "Update: Just FaceTimed with Dr. Dre," Ice T wrote. "He just made it home. Safe and looking good."
This is welcoming news for the hip hop community, given how serious a brain aneurysm is, as well as the length of time he spent in the hospital. Dr. Dre was hospitalized at the Cedars-Sinai hospital in Los Angeles, where he was admitted to the ICU. This means he spent 10 days getting treatment at the medical institution notorious for treating celebrities.
Ice T and Dr. Dre have been friends for years, which means that the West Coast rap legend is likely aware that Ice has been giving regular updates on his condition.
Aside from his recent health scare, Dr. Dre is currently in the middle of a bitter divorce from his estranged wife Nicole Young, who is gunning for a sizeable portion of his billion dollar fortune. While in the hospital, Dre agreed to pay her $2 million per month in temporary spousal support, a sum he first declared as too high.
View this post on Instagram
Akbar V is among a very long list of women lusting over Drake after he shared his pics from in the gym.
Drake has never liked his dating life to be in the public eye, despite consistently spilling all his emotions every time he puts out an album. But for the most part, it's hard to say at any given moment if Drake is single and looking or booed up with some mystery woman. For most eligible women out there, this means that the 6 God is fair game to shoot their shot should they be so inclined. Plenty of ladies were, in fact, inclined after a recent workout picture posted by Drizzy had the internet going crazy over the way Champagne Papi was filling out his sweatpants.
Love & Hip Hop: Atlanta star Akbar V is the latest to make a pass at Drake with a creative video inspired by the Alicia Keys music video for "You Don't Know My Name". Posting the clip to Instagram, Akbar begins her mock phone conversation, saying, "I'm gonna go ahead and call him, I think I'm gonna call him."
View this post on Instagram
After pretending to dial, Akbar V flirtatiously says, "Hello? Can I speak to Drake? Hey Drake, this is Akbar V. I know you don't know me or anything but I just be watching you all over the blogs and I see you with the joggers on and I seen that print hanging out of it and it's real big, I was just telling my girlfriends that."
Pushing the joke further, Akbar adds, "And I was wondering, could I test drive it? I mean like, I think we would make a good couple…I remember the first tape Take Care and I just feel like you need someone like me Drake." V asked for support from her followers in her caption for the post, writing, "can y'all help me out I'm shooting my shot with @champagnepapi I just need him to know my name." Do you think Akbar has a chance with Drizzy?
View this post on Instagram
Mavado drops a perfect dancehall banger called, "Not Perfect."
The Gully Gad proclaims that he is only taking on 'wins' for 2021, and as such, he is professing that his 18-year-old son Dante will be released from juvenile lockup soon. Mavado reveals these and more on his first release for the year, which is a melodic, somber, and meditation like-song titled "Not Perfect."
United States-based Sponge Music has been cranking out a ton of new releases since the latter part of 2020, and this track adds to the growing list, which includes tracks from Alkaline, Shaneil Muir, Jahmiel, among others. Mavado explains that, like any other man, he is not perfect. He has had a few "run-ins with the cops," a few broken relationships with former Alliance members, and his high profile beef with Vybz Kartel.
The singjay also has a few enemies within his community of Cassava Piece. In 2018, an incident within the community allegedly led to the murder of Lorenzo Thomas, also known as 'Israel' or 'Trulups.' The singer's son and another man have been held for the crime and are currently on trial for conspiracy to murder, arson, shooting with intent, and illegal possession of a firearm and ammunition.
Mavado is confident his son will be a free man any day now. "Just know very soon dat yuh coming home," he sings. He also explains that many critics do not know exactly how the incident went down, and he's just "misunderstanded." He continues through to the chorus where he sings, "Wish me coulda tell yuh seh me perfect but Am Not."
Mavado may not identify himself as being perfect, but he does have a way of delivering quality tracks that trod the path of musical perfection. The fans are also of that mindset, which is reflected in them pushing "Not Perfect" all the way to the #3 spot on Youtube's local trending list.
Conscious singer Jahmiel faced a near-death experience in 2020, which forced him to rethink his steps. He's now back on the path of righteousness and has no plans to stray from his mission, which is centered around bringing positive energies to his followers. He recently dropped "Unbroken" with his team at Sweet Music and Quantainium Records, which should serve as just another step on his major journey.
Jahmiel explains that he may have been down, but he certainly was not out of the game when evil, unseen forces tried to get him down last year.
"Jah protect me like a premises/ me full a enemies, eyes open so me see everything," he explains over a piano-driven rift that runs through the entirety of the track. "Affi protect the energy from blood sucker who will do anything fi riches cause them love power," he sings in his second verse.
The slow-moving, tranquil, and picturesque scenes captured in the music video definitely helps to soak up the message the Patriotz chief is passing on to his listeners. "I love all his music this what a human should be like peaceful not destructive," commented one fan below the Youtube upload. "I swr you always a find so some way to uplift people with your songs," came another comment.
In a recent interview, Jahmiel expressed that he received 100's of direct messages from fans thanking him for his words of encouragement. We are sure those numbers will increase solely based on "Unbroken."
You can check out the music video below.
Tarrus Riley debut his new video "EZ Nuh" with Romeich making a cameo.
Tarrus Riley aka Singy-Singy shocked fans a few months ago when he jazzed up his wardrobe to compliment the tone of the music video done for "Lighter," which featured Romeich Entertainment's princess Shenseea. His dress down showcased not just his sense of style but also his elaborate collection of body art. The revelation repelled a few but attracted many, with some fans addressing as Tarrus "Dreamy" Riley.
Tarrus Riley has done it again through a brand new music video directed by Xtreme Arts and starring Romeich Major. The visuals follow the Chimney Records produced track "EZ Nuh," which was released on their new Style A Style Riddim. Chimney and Riley have been working together for years, yet, this latest production has managed to bring about a different level of vibrancy than what we have been accustomed to.
The music video follows along the same path, as Tarrus Riley is fitted with some serious drip. These include iced out chains, bracelets, watches, and some cool threads. Riley goes through a number of outfits throughout the video, opting for gold shoes in one take before sporting an "EZ Nuh" hooded sweater and cap in another. The Xtreme Arts clip is definitely not short on flamboyant styles. There is also no shortage of females, with up to 6 beautiful women flanking Mr. Riley at one point.
"EZ Nuh" shows a fun, energetic side of Tarrus many have didn't know existed. What do you think of the music video?
Updated 15 hours ago
IRELAND MAY HAVE to re-examine its vaccine rollout after it was announced today that US pharma group Pfizer will reduce vaccine deliveries as it ramps up production.  
Pfizer has warned that Covid-19 vaccine deliveries to Norway and Europe would be reduced "as of next week" as the company ramps up its production capacity, Norwegian health authorities said.
"The temporary reduction will affect all European countries," Norway's Public Health Agency said in a statement. "It is not immediately clear how long it will take for Pfizer to attain maximum production capacity, which will rise from 1.3 to 2 billion doses."
Chair of Ireland's High-Level Task Force on Covid-19 Vaccination Professor Brian MacCraith said today that Pfizer's manufacturing plant in Belgium is currently scaling up from 1.3 billion doses per year to 2 billion doses which has lead to a pause due to "regulatory issues". 
"We can't make predictions about the actual scale backwards in terms of deliveries with confidence, as we've stated a number of times, on the number of vaccines that will be coming on a weekly basis from Pfizer," MacCraith told RTÉ's News At One.
"And as of this moment we don't know what the implications are in that regard," he said. 
MacCraith said the task force is currently working through "a number of scenarios" about how the delay may affect Ireland's rollout. 
"We've always said from the very beginning of this that the implementation plan, the strategy had to be agile, we're dealing with so many factors that are uncertain and again, we're seeing potentially a production issue for one of the major vaccines.
"But it also highlights the fact that it's so important to have a range of vaccine possibilities coming on stream. So we'll wait and see. It's just very difficult to predict the impact of this but we will adjust accordingly. We've planned for this sort of eventuality, we'll adjust accordingly to change the rollout plan to accommodate this," he said. 
Professor MacCraith added there were implications for people receiving their second dose of the Pfizer vaccine which he said health authorities are "watching very closely" and said the vaccine programme may have to be adjusted given the Pfizer delay.
"Crucially we're waiting on specific information from Pfizer themselves and what the percentage reduction is. Early indications are that it might be just three or four weeks.
"But once these sort of things happen one is never sure…but the [vaccine rollout] plan is intended to be adaptable, we'll model through this now and as soon as we get, solid information from Pfizer, we will adjust accordingly."
A spokesperson for Pfizer said the company "is working hard to deliver more doses than originally forecasted this year with a newly stated goal of 2B doses in 2021. To do this, Pfizer is scaling up manufacturing operations to increase dose availability and output.
"As part of the normal productivity improvements to increase capacity, we must make modifications to the process and facility that will require additional regulatory approvals. Although this will temporarily impact shipments in late January to early February, it will provide a significant increase in doses available for patients in late February and March.
#Open journalism
No news is bad news
Support The Journal
Your contributions will help us continue
to deliver the stories that are important to you
"Consequently, there may be fluctuations in orders and shipping schedules at our Puurs facility in the immediate future to quickly enable the increased production volumes."
The HSE yesterday confirmed that 77,303 Covid-19 vaccine doses – 1.58% of the population – have been administered in Ireland.
The first delivery of the recently approved Moderna vaccine arrived in Ireland this week.
As of yesterday, Ireland has received 152,100 doses of the Pfizer/BioNTech vaccines and 3,600 Moderna vaccines. 
Over the course of this week, the HSE plans to administer 25,060 vaccinations at 186 long-term care facilities, along with 14,040 vaccinations to frontline healthcare workers. 
The Department of Health and the HSE have been contacted for comment. 
Source: http://prntscr.com/fub00u
THE US AMBASSADOR to Ireland will officially step down from his role next Tuesday. 
Edward F Crawford said it has been "the honour of a lifetime to represent my country in the land from which my parents originated". 
His parents emigrated from Ireland to the US in the 1920s. 
It is common that all politically appointed US Ambassadors step down from their positions before the beginning of a new administration.
Crawford was nominated to the position by Donald Trump in 2018 and he took up the role in 2019. 
President-elect Joe Biden will enter office on 20 January. 
The Deputy Chief of Mission at the US Embassy Dublin, Alexandra McKnight, will become Chargé d'affaires (serving in the absence of an ambassador) when Crawford leaves on 19 January. 
"Experiencing the warm welcome from hundreds of everyday people in Ireland, I couldn't help reflecting on the hard work and sacrifices that allowed me to live the American Dream," Crawford said in a statement.
#Open journalism
No news is bad news
Support The Journal
Your contributions will help us continue
to deliver the stories that are important to you
The US Embassy Dublin said Crawford promoted entrepreneurship during his time as ambassador.
The ambassador said he is "confident that Ireland will be the entrepreneurial capital of Europe". 
My time in Ireland as U.S, Ambassador has come to an end, and I have enjoyed every moment of it. To all of the Irish people who graciously welcomed Mary and me, go raibh maith agaibh, thank you. pic.twitter.com/M7hLZGJlQO
— Ambassador Edward F. Crawford (@USAmbIreland) January 14, 2021
Source: http://prntscr.com/fub00u
THE CHIEF MEDICAL officers from Northern Ireland and the Republic have issued a joint stay-at-home plea.
Dr Tony Holohan and Dr Michael McBride said they are "gravely concerned" about the "unsustainably high level of Covid-19 infection" across the island.
The CMOs warned it is having a "significant impact" on the health of the population as well as the "safe functioning" of the healthcare systems.
The joint statement came today amid tension between the Stormont Executive and Irish Government over data sharing.
First Minister Arlene Foster and deputy First Minister Michelle O'Neill said the Republic was failing to share information on travellers arriving on the island.
Some 44 deaths and 4,928 further Covid-19 cases were confirmed across the island yesterday.
Hospitals on both sides of the border remain under pressure, with 1,846 Covid-19 patients in hospital in the Republic and 850 in NI.
McBride and Holohan said the number of people in hospital is likely to rise further.
"Unfortunately, due to the surge of infections we have experienced over the past few weeks, we have seen an increase in mortality figures and our health systems have been placed under immense pressure," they said.
We are likely to see ongoing increases in hospitalisations, ICU admissions and mortality in the weeks ahead.
Earlier, Translink announced a reduction in its cross-border train service in line with the latest lockdown restrictions.
#Open journalism
No news is bad news
Support The Journal
Your contributions will help us continue
to deliver the stories that are important to you
Both chief medical officers strongly urged everyone to stay at home except for essential reasons, and to avoid all unnecessary journeys.
"Many of the patients admitted to hospital in January have been under the age of 65 years," the CMOs said.
Covid-19 can affect us all, regardless of age or underlying condition. It highlights the need for us all to protect one another by staying at home.
"Not only will you keep yourself and your loved ones safe, but also help to save lives and avoid more preventable Covid-19 admissions to our currently struggling healthcare systems.
"We will continue to work together to protect public health across the island, as we have done throughout this pandemic, but we need everyone to play their part by staying at home and protecting themselves and their communities."


TheJournal.ie's coronavirus newsletter cuts through the misinformation and noise with the clear facts you need to make informed choices. Sign up here:
Source: http://prntscr.com/fub00u