FACEBOOK AND GOOGLE have this week confirmed that their staff in the United States will have to be vaccinated against Covid-19 before being allowed to return to the office.
It's not clear yet whether the tech giants intend to apply this policy to their Irish-based staff or even whether that's legally possible — the question throws up all manner of thorny issues.
Broadly speaking, Irish employers cannot mandate that their staff be vaccinated before returning to the workplace.
However, according to the advice in the Government's Work Safely Protocol, employers can "redeploy" unvaccinated workers within the business if it is "deemed that an unvaccinated worker is not safe to perform certain work tasks".
Asked today whether employers should require workers to be fully vaccinated, Taoiseach Micheál Martin told reporters, "We need to be extremely careful as a society in terms of restricting people's access to earning a wage."
But in a recent blog post, employment law solicitor Richard Grogan warns that without further "clear and definitive advice" from Government, workplace disputes on the subject of vaccination status could lead to litigation.
In the absence of new guidance, employers are currently "feeling around in the dark", solicitor Karen Killalea, partner and head of the employment team at law firm Maples and Calder, tells The Journal.
"Obviously, one of the key developments since [the Work Safely Protocol] was last updated in May 2021 has been the significant advances in the national vaccination scheme," she says.
However, Killalea explains, the Protocol "is largely silent, in terms of specific guidance for employers on how they should regard vaccination status".
Mandatory vaccination "does not exist in any shape or form" in Ireland and has never been a feature of our public health system, she says.
"So when you translate that into the workplace, employers are simply not in a position to mandate that somebody takes the vaccine,' Killalea adds.
However, "employers are absolutely entitled, and in fact, must have regard to public health guidance to drive their decisions on who comes back, when and how," she says.
"But at the moment, using vaccination status is not based in any current public health guidance," Killalea explains.
That means that if an employer asks staff to be fully jabbed before coming back to work, they could leave themselves vulnerable to complaints of discrimination.
Potential disputes
Broadly speaking, it throws up the potential for disputes across two main areas, Killalea says.
Related Reads
29.07.21
Google employees 'will need to be vaccinated' before returning to offices
29.07.21
Offices likely to be in a position to begin reopening in September, minister says
The first falls within the category of employment law.
There is certainly the risk there that an employee who is not vaccinated may say, 'Well, this is unfair; there's no basis for this; this is a penalisation of me.' Therefore, the employer needs to be very careful.
"The employer would need to interrogate the reasons why somebody is not vaccinated," she explains.
"Maybe it's because the programme hasn't rolled out sufficiently, or it could be for a medical reason, or indeed, it could be for a political opinion… You start to get into tricky legal ground if you penalise people for that."
The second issue, she says, is around data protection and the processing of "special category" data such as vaccination status.
Killalea explains, "It's quite difficult to process that data unless you can show that you have a proper legal basis for doing so.
"And again, the absence of any instruction or guidance to employers to actually take vaccination status into account is immediately problematic because all you can do is say to the employee, 'Look, tell me if you're vaccinated.'"
Killalea says some employers have even asked if they can require workers to furnish their Digital Covid-19 Certificate as proof of vaccination status.
This is problematic because, according to guidance issued by the Office of the Data Protection Commissioner, workers "should not be asked to consent to the processing of vaccine data as this consent is not likely to be freely given".
Even redeploying unvaccinated workers within a business, as the Government's guidance suggests, could be risky, Killalea says, because workers could claim they're being penalised or treated differently.
#Open journalism
No news is bad news
Support The Journal
Your contributions will help us continue
to deliver the stories that are important to you
With all of this in the foreground, there is a "strong desire" among employers for fresh public health guidance that clarifies whether vaccination status "is actually a key prevention and control measure for the spread of Covid-19″, Killalea says.
She adds, "For example, the Work Safely Protocol talks about the importance of social distancing.
"Everybody knows to keep two metres distance. No one questions this. If someone comes within two metres of us you can say, 'Please don't because the public health guidance has told us there is increased risk if you do.'
"So wouldn't it be great if the vaccination status was treated in the same way?" 
Source: http://prntscr.com/fub00u
A MAN WHO imprisoned, sexually abused and repeatedly assaulted a teenager during a four day "reign of terror" in a Co Cavan house has been jailed for nine years.
The main male accused (27) subjected the victim to this multiple day ordeal after forming the "irrational" view that the victim had "ratted" on him, based on the fact that the victim had not been served a charge sheet upon his release from custody after being found in possession of drugs.
The Central Criminal Court heard that during the ordeal, this man stabbed the victim with a number of knives and cut a crescent shape onto the victim's face, which the court heard in certain circles bears the inference of a "rat scar".
The man also at one point inserted a dildo or other sex toy into the man's "back passage".
The court heard that a female co-accused (23) carved the numbers 666 into the victim's forehead during the incident, while her twin brother (23) assaulted the victim with a wrench and a dumbbell.
The ordeal came to an end after material recorded during the events and uploaded to social media came to the attention of the victim's friends and family and they were able to use a tracking device on his phone to locate them. They attended at this address and enabled the victim to escape.
The victim was aged 19 at the time of the offences. None of the parties in the case can be named for legal reasons.
The main male accused pleaded guilty to aggravated sexual assault, assault causing serious harm, false imprisonment, making threats to kill, assault causing harm and robbery, all at a location in Co Cavan between 17 and 20 October 2019.
This accused has a total of 26 previous convictions in this jurisdiction and in Northern Ireland, including convictions for theft, possession of drugs for sale or supply, possession of knives and other articles and public order offences.
The male twin pleaded guilty to false imprisonment and two counts of assault causing harm, while the female twin pleaded guilty to false imprisonment and assault causing harm, all offences at the same location in Co Cavan during the same period.
The male twin has 11 previous convictions, including convictions for assault, theft, criminal damage and public order offences. The female twin has no previous convictions.
The female twin was sentenced last May to four years imprisonment with the final three years and three months suspended. The male twin will be sentenced tomorrow.
A local detective sergeant told Patrick Gageby SC, prosecuting, that the victim came to know the main male accused in October 2019 in the context of them having mutual friends.
The detective sergeant said that on 17 October 2019, the victim and this man went to Dublin where they purchased cannabis and Zopiclone tablets. Their conduct on the bus back to Cavan caused the driver to stop the bus and contact gardaí who arrested both men.
Gardaí searched the two men in a garda station and found the drugs in the possession of the victim. Both men were released without charge and they retired to the accused's address.
The detective sergeant said the accused formed the "irrational" view that the victim had "ratted" on him, basing this erroneous view on the fact that the victim had not been served a charge sheet upon his release from custody.
From that point on until the victim's escape on 20 October, the victim was subject to a constant refrain that he had been a rat in some way along with constant threats and actual violence towards him.
The court heard that the victim was not free to leave the house and was effectively kept in the house at the "beck and command" of those inside it. There was also an amount of drug taking going on independently of the assaults.
The main male accused stabbed the victim with a number of knives. He also cut a crescent shape onto the victim's face, which the court heard in certain circles bears the inference of a "rat scar".
The victim sustained cuts on his face, arms and body, as well as being hit with implements and subjected to threats that he and his family would be killed by the main male accused. His phone and wallet were also taken during the incident.
The main male accused was joined by two acquaintances, the two co-accused in this case. The male twin hit the victim with a wrench and a dumbbell, while the female twin hit him with a HDMI cable and carved the numbers 666 into his forehead.
At one stage during the incident, the main male accused told the victim to bend over a bed or his throat would be sliced. He then put shaving foam around the victim's "back passage" and inserted a dildo or other sex toy into the victim's "back passage".
The court heard that the co-accused were both present during this offence. This was apparently filmed by the main male accused and while there is no evidence that this was uploaded or circulated, quite an amount of other material recorded during the incident was uploaded.
The victim was given "speed" to keep him awake over the course of the weekend. On two occasions he was forced to leave the address, on the first occasion to go begging for money and on the second to shoplift.
Material uploaded to Snapchat came to the attention of the victim's friends and family and they were able to use a tracking device on his phone to locate them. They attended at this address and enabled the victim to escape.
Gardaí had also launched an investigation on foot of the material and arrested the main male accused at his parents' home. During interview with gardaí, the main male accused for the most part made no comment to the allegations that were put to him.
Victim impact statement
In his victim impact statement, which was read before the court by the detective sergeant, the victim said he used to think of the main male accused as a good mate, but not after what happened.
The victim said they used to have a laugh together, but now he cannot laugh at all. He said he is trying to recover from the incident and the accused has scarred him for life.
Mr Justice Michael White said the ordeal had been a "betrayal by friends" for the victim, whom he said was "remarkably understanding" in his impact statement.
Passing sentence today, Justice White said the main male accused was the "instigator" of the false imprisonment.
Justice White said the nature of the offending was an aggravating factor as the victim was subjected to a "reign of terror" over several days. He said the other aggravating factors were the impact of the violence on the victim and some of the activity being recorded and uploaded online.
He said this was an order of criminality out of character to the main male accused's previous offending. He noted the accused has had behavioural difficulties since childhood which are aggravated by chronic drug use.
Mr Justice White sentenced the main male accused to 11 years imprisonment, but suspended the final two years of the sentence on strict conditions including that he will follow all directions of the Probation Service for two years post release.
#Open journalism
No news is bad news
Support The Journal
Your contributions will help us continue
to deliver the stories that are important to you
Additional evidence
The detective sergeant agreed with Michael O'Higgins SC, defending the main male accused, that his client developed the irrational belief the victim had implicated him to gardai and that appears on his part to have been "in all probability" influenced by drug taking.
The main male accused told the court that he was sorry and addressing the victim said "I took that video in an attempt to embarrass you, but I only ended up embarrassing myself". He said his reaction to seeing a video recorded during the ordeal was "disgust and shame".
O'Higgins said his client had been bullied in his early teens and now recognised what he did as "the actions of a bully". He said that if his client's drug abuse was removed, there was "a significant possibility that his rehabilitation can be achieved".
Counsel said that in sentencing the man there should be "some correlation" with the penalty given to his co-accused.
A local garda agreed with Dominic McGinn SC, defending the male twin, that it was clear the "horrific violence" for the most extent was perpetrated by the main male accused. He agreed that on the basis of the videos, the main male accused was clearly "an aggressive and dangerous individual".
He agreed with counsel that his client and the victim had been friends prior to the incident and that they would drink and abuse drugs together. He agreed the male twin had invited the victim to live in his family home, but that they were both later told to leave the house.
The garda agreed with counsel that his client was "essentially homeless" at the time of the incident. He agreed the male twin has not come to the attention of gardaí since the incident.
McGinn said his client was not "an inherently bad man" and was a man who for a period of his life was "badly affected" by intoxicants. He submitted that his client was now in work and is no longer abusing alcohol or taking illicit drugs.
Counsel said his client made "significant admissions" when interviewed by gardaí. He said that at the time of the incident his client was in a "crisis of his own" having tried to take his own life a week earlier.
McGinn said his client accepts he needs to be punished for what he did.
The court heard that the female twin claimed that the main male accused was very violent and aggressive and had threatened her "off camera" to carve the numbers into the victim's forehead. She said the man had threatened her family and had threatened to throw acid in her child's face.
Counsel for the female twin said she was deeply ashamed and disgusted with herself for her actions.
She had a difficult relationship with her mother. She had a history of drug addiction and mental health and "a significant history of sexual abuse". She had a child when she was 16 years old.
It was suggested that she was "induced into taking significant drugs" that day which she had never taken before and she then "did everything she was told to do".
Source: http://prntscr.com/fub00u
SECONDARY SCHOOL STUDENTS have welcomed the government's decision to roll out the Covid-19 vaccine to those aged 12-15, as they are due to return to schools in a matter of weeks.
Cabinet this week agreed that children aged between 12 and 15 are to be offered a Covid-19 vaccine, with registration likely to open from next month.
Parental consent will have to be given for this cohort and an information campaign specifically for parents is to be launched soon.
Speaking to TheJournal.ie, Eoin Connelly, secretary of the Irish Second-Level Students' Union (ISSU), said the news was welcome and came earlier than students were expecting.
However he said it is "vital" that young people are part of the discussion as their parents and guardians are deciding whether to give consent for the vaccine.
"They're the ones getting the shot and they may have some unaddressed questions about it, it's a no-brainer in my opinion that they have to have the opportunity to discuss it and make sure they are comfortable going in," he said.
"I think you're always going to get a certain level [of hesitancy], I don't have that myself, I have absolute confidence in it and I think the vast majority do, but I know it is there. Some people may have some concerns, but some young people in vulnerable groups are already vaccinated and are fine and once it's rolled out more I think a lot of that hesitancy will go down."
Connelly said the ISSU is working on campaigns to encourage people to get a Covid vaccination, but he said it would be helpful if government information campaigns were also directed towards younger people.
"I think even when we get back to schools, having it talked about there would be a good idea as you have a pretty captive audience. A lot of the concerns are very easy to dispel once people sit down and talk about it. It's all about providing straightforward information."
Suzanne Connelly, Barnardos CEO, told The Journal it will be important that parents and guardians are "very comfortable with the facts" around vaccines ahead of discussions with their children about them.
"Each child is different, but talk to the child and give them the facts in a way that child can hear it. Ask them what their views are: 'Do you have any worries? What do you think of it?'. 
"I'm aware that the department is going to issue a factsheet [for parents] and I think that needs to be very straightforward and transparent."
She said any campaigns or information leaflets about vaccines for children should be designed in a way that parents can share them with their child and use them to help answer any questions they may have. 
"The language needs to be quite simple and we'd like the government and medics to acknowledge what we don't know too. I think people can make an informed decision with confidence then, based on facts. It's important in terms of managing any behaviour on social media that might try to scare people."
'Benefits exceed the risk'
At yesterday's NPHET briefing, Karina Butler, chair of the National Immunisation Advisory Committee (NIAC) said it is "very reasonable" for parents to pause and think about whether their children should be vaccinated. 
Related Reads
28.07.21
'The benefits of vaccination exceed any risk': NIAC's Prof Karina Butler outlines advice to parents
28.07.21
Children aged 12 to 15 at high risk to be prioritised in Covid vaccine rollout
27.07.21
New Covid variants 'do not change' the measures needed in schools, Foley says
She said that while Covid is overwhelmingly a mild illness in children, there will be  a small number of children who will have severe disease and require hospitalisation. 
"Beyond that there's the impact of the pandemic where we have seen an increase in anxiety, an increase in eating disorders, fear of mingling, feeling that adults are pulling away from them, disruption to their normal growth and development," she said.
"Taking all that into account, we felt that the benefits of vaccination exceeded any risk associated with the vaccine for children."
Butler said NIAC and the Department of Health conducted focus groups with young people to seek their views on the issue.
"One could only be struck by their maturity in thinking about it, and quite reasonably, they weren't so worried about the consequences of infection for them, because that is a rare event that they would end up in hospital or in an ICU, but they were concerned about everything else," she said.
They were concerned about the fact that they might unwittingly pass it to someone else. They were concerned that their lives have been disrupted; they talked about wanting to get back to that life that they liked before Covid. They've been through a hard year and they saw it as the vaccine would have benefits for them. 
Reopening of schools
The government has said there will be no requirement for a child to be vaccinated in order to return to school in September. Minister for Education Norma Foley said new variants of Covid do not change infection prevention and control measures required in schools.
She said the department is planning for a full reopening in August and September. 
Results of a survey published by Barnardos yesterday revealed 41% of children are happy about returning to school, with a further 17% saying they are excited, while 14% are worried and 8% are sad. One fifth of children in the survey said they didn't care about returning to school.
#Open journalism
No news is bad news
Support The Journal
Your contributions will help us continue
to deliver the stories that are important to you
Parents in the survey expressed concern about their children's behaviour and their ability to return to the structure of the school setting. A majority of both primary and secondary school parents said their children will need support on returning to school. 
The Barnardos CEO told The Journal that the pandemic has made it clear that school is not just about education for children and that it "plays an important role in their overall wellbeing and lives". 
"We're asking the government that while they're rightly paying attention to ventilation, there also needs to be an understanding that children will need support emotionally and socially," Suzanne Connelly said.
"We provide that ourselves through breakfast clubs and afternoon groups and it makes a big difference so as needed that could be done on a wider scale. We'd like the minister to make a discretionary budget available to schools for this."
Source: http://prntscr.com/fub00u
Updated 15 hours ago
GOOGLE HAS TOLD employees that it is rolling out a policy that its workforce must be vaccinated before returning to work in offices.
Sundar Pichai, Google's CEO made the announcement in an email to the company's more than 130,000 employees worldwide this morning.
Pichai said that the tech giant is now aiming to have most of its workforce back to its offices by 18 October instead of its previous target date of 1 September.
"First, anyone coming to work on our campuses will need to be vaccinated. We're rolling this policy out in the U.S. in the coming weeks and will expand to other regions in the coming months," he said. 
Pichai did not give specifics about countries and did not mention its Dublin base but did say that the protocol will vary with local regulations.
A spokesperson for Google in Ireland told The Journal that the company had "nothing specific to share on Ireland plans outside the details shared on our blog".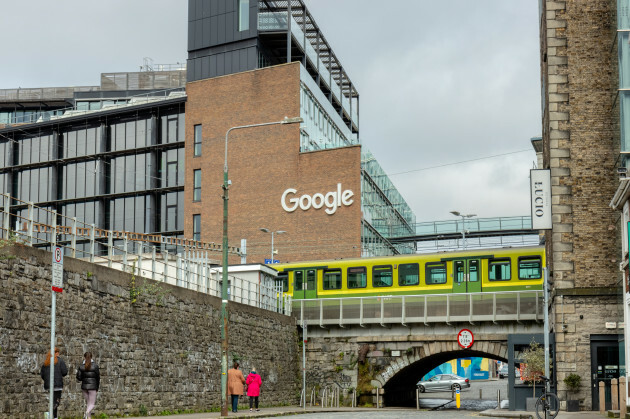 Google's Dublin office block was not mentioned directly by Pichai.
Source: Shutterstock
The vaccination requirement will be first introduced at Google's headquarters in Mountain View, California, and other US offices. Later it will be extended to the more than 40 other countries where Google operates, including Ireland.
"The implementation will vary according to local conditions and regulations, and will not apply until vaccines are widely available in your area.
"You'll get guidance from your local leads about how this will affect you, and we'll also share more details on an exceptions process for those who cannot be vaccinated for medical or other protected reasons," he added. 
The company said the decision to delay the company's return to offices was associated with the spread of the Delta variant. 
"At the same time, we recognize that many Googlers are seeing spikes in their communities caused by the Delta variant and are concerned about returning to the office.
"This extension will allow us time to ramp back into work while providing flexibility for those who need it," Pichai added. 
Facebook, which has offices in Ireland, announced yesterday that they are also to introduce the vaccination requirement in their US offices.
29.07.21
Explainer: Why bosses could be on shaky legal ground if they ask staff about vaccine status
A spokesperson said: We don't have an update for Ireland because our return to office plans are dependent on government guidance and at the moment our policy remains to be work from home."
The social media company's Vice President for People, Lori Goler said yesterday that US office campus workers would be required to be vaccinated.  
"As our offices reopen, we will be requiring anyone coming to work at any of our US campuses to be vaccinated.
"How we implement this policy in our international offices will depend on local conditions and regulations.
"We continue to work with experts to ensure our return to office plans prioritise everyone's health and safety, Goler said. 
Speaking at a vaccination centre in Swords this morning, Taoiseach Micheál Martin, said he does not support the same move here in Ireland.
"I think this is a very challenging subject but the workplace is about access to making a livelihood – that's a very fundamental thing.
"Government will be very cautious, and we'll avoid, if at all possible, that kind of distinction in terms of people coming back to work in terms of regulating that.
#Open journalism
No news is bad news
Support The Journal
Your contributions will help us continue
to deliver the stories that are important to you
"We've gone about vaccination in this country in a voluntary way – which was to encourage people to be vaccinated, and they have responded well.
"So the approach that we've taken may be correct because we have higher vaccination rates than in almost every other country in Europe. We didn't do it by compulsion, didn't do it by law. We did it by encouraging people by science, by a good healthy robust debate in a democracy. So that's my sense of it," he said.
Richard Grogan, a specialist employment law solicitor, called for greater clarity in Irish law in a blog post. 
"Currently the law is as clear as mud. The lack of clarity is going to lead to litigation by both vaccinated and non vaccinated employees . A lot more clarity is needed. The days of the Government sitting on the fence needs to cease.
"Whatever route is taken the days of two metres apart has to finish. There needs to be absolute clarity for businesses to reopen," he said. 


TheJournal.ie's coronavirus newsletter cuts through the misinformation and noise with the clear facts you need to make informed choices. Sign up here:
Source: http://prntscr.com/fub00u
AN ARREST HAS been made after an armed man entered a home in Athy, Co Kildare in the early hours of the morning. 
At approximately 5am, a man armed with what's believed to be a knife entered the home. 
The occupants awoke and confronted the man, who injured the woman occupant while trying to escape. 
The woman received medical treatment at the scene. 
A number of items were taken from the property. 
A search of the scene and surrounding property commenced and gardaí arrested one man fitting the description of the suspect. 
#Open journalism
No news is bad news
Support The Journal
Your contributions will help us continue
to deliver the stories that are important to you
He was taken to Kildare Garda Station where he is currently detained under Section 4 of the Criminal Justice Act 1984. 
A number of items of property were located in the area also. 
Investigations are ongoing. 
Source: http://prntscr.com/fub00u
€10,000 IN CASH, two cars and three Rolex watches were among items seized during raids in Co Longford this morning. 
The Criminal Assets Bureau (CAB) carried out the searches at 12 locations across the county. 
The search operation was conducted by CAB, supported by the Emergency Response Unit, the Regional Armed Support Unit, local Gardaí, the Stolen Motor Vehicle Investigation Unit and the Customs Dog Unit. 
CAB conducted searches in Co. Longford this morning, 29/07/21.
Among items seized were:
€10,000 cash
A 212 Ford Focus (€26,400)
A 172 Nissan Navara (€27,000)
Over €78,000 restrained in bank accounts
Cherry Picker #DenyandDeprive
See further –https://t.co/QnRQGJ3cvk pic.twitter.com/XRfEc42CcY
— Criminal Assets Bureau (CAB) (@criminalassets) July 29, 2021
During the searches, €10,000 in cash, over €78,000 restrained in bank accounts, a 212 Ford Focus worth €26,400 and a 172 Nissan Navara worth €27,000 were seized. 
Three Rolex watches, a cherry picker and financial documents and electronic devices were also seized. 
#Open journalism
No news is bad news
Support The Journal
Your contributions will help us continue
to deliver the stories that are important to you
In a statement, Gardaí said: "This morning's operation was conducted as part of an on-going Criminal Assets Bureau investigation into assets, including properties linked to a significant midlands based organised crime gang believed to be involved in the sale and supply of drugs and vehicle crime."
Source: http://prntscr.com/fub00u
EXACTLY ONE YEAR ago today, on 29 July, I was 10 weeks pregnant and attended an ultrasound appointment at my maternity hospital.
We were six months into Covid, so my husband was not permitted to accompany me at the scan. It was there that I heard the dreaded words that I had, unfortunately, been subjected to before: "I'm so sorry, love. There's no heartbeat".
This was my fourth pregnancy loss but it was my first where I received the news on my own. I remember I was shaking. I had been shaking with nerves since I walked into the room, wracked with the fear that this could potentially be an outcome.
I couldn't bring myself to phone my husband so I sent him a text. "There's no heartbeat." He was in the playground with our then 2.5-year-old son. He wrote back "No. No. No…." We had so hoped this time would be different.
Our loss before this was at 14 weeks, two weeks after we had told everyone the good news. They were starting to pile up and I felt like I was running out of room in my heart to grieve them all.
A week later, I checked into the hospital at 8am for my third D&C, this time, alone. It was one of the longest days of my life. I cried my way through all the paperwork, the repetitive questions about my medical history, the self-advocation when I needed more pain medication.
Following the procedure, I sat propped up in the bed for five hours staring at the cold salmon pink walls, echoes of newborn babies crying down the hall and mothers pushing life into the world as I had just said goodbye to another one of my babies.
It was at that moment I made the decision I couldn't put myself through this again. We had been trying to conceive naturally for two years at this point and had been pregnant four times. My body was wrecked. My heart was beyond broken.
The doctors told us it was bad luck; recurrent miscarriages are very uncommon. After all, we had a healthy son who was conceived naturally and we should really think about trying again. We made a decision that day that the only way we would consider it was if we went down the IVF road, where we could test the embryos in advance to ensure they were healthy.
One year on and two return trips to Prague under my belt and I'm currently 36 weeks pregnant with a healthy baby girl. The IVF was a success, first time around. And my husband was allowed to be by my side for the entire retrieval process, with appropriate Covid safety measures.
The pure happiness and relief hits me afresh every morning when I wake, even though, truth be told, pregnancy after loss is far from a happy state to exist in. I have spent this entire pregnancy waiting for the other shoe to drop. Living from scan to scan. Dreading every sharp pain, every trip to the bathroom, every test result.
Restrictions
But that's to be expected and I've managed that anxiety as best I can. The tougher and more unexpected element of this journey has been the rigid restrictions that are in place in Ireland for all my maternity visits. My husband has been allowed to be present at one ultrasound at 20 weeks.
Apart from that, he has not been allowed to accompany me to any medical appointments, despite his very strong desire to be there to hold my shaking hand and see his baby girl growing from week to week. He will meet my doctor for the first time on the morning of the birth.
It has been a challenge for us thus far. We have our own independent anxiety about this birth due to our history but the bigger struggle for us now surrounds the birth of the baby and the subsequent days in the hospital due to the continued strict visiting restrictions in place.
I am due to have a scheduled C-section, given my high-risk medical history. My husband and I are vaccinated. We have a private room. He can and will, for his own peace of mind, get a PCR test two days prior to the birth and can self-administer antigen tests on the subsequent days before he visits me as the hospital doesn't provide them.
Mask wearing and hand sanitising are a given, of course. I genuinely believe pregnant couples must be some of the safest people around when it comes to wanting to avoid catching Covid. We lost my husband's father to Covid last year, we know it's not to be messed with.
As it stands, we know that I will have to be admitted on my own and he will have to wait outside the hospital and will only be allowed in once I'm ready to undergo the Caesarean. He can stay with me through the birth and join me for the recovery.
Time limits are not clear, though, regarding how long he can stay or how long he can visit me on the following days. We know it must be after 2pm each day so I'm out of luck if I or the baby want or need him in the morning. We have heard some positive stories of our hospital making discretionary exceptions and letting partners stay a bit longer than the two-hour rule but that's not something they will commit to in advance.
No one is listening

So, we are left with the uncertainty of not knowing when and for how long my husband can actually visit – and more to the point, why these restrictions are still in place at all when they really make no sense.
Related Reads
14.07.21
Four maternity units not allowing partners attend emergency pregnancy cases
10.07.21
'I didn't want to do this alone': Your stories about pandemic maternity restrictions
30.06.21
Maternity partner restrictions raised again in Dáil as Taoiseach told all units compliant
If it's to protect the staff, they are all now vaccinated. If it's to protect the mother and baby – well the partner is already with them 24/7 so..? Covid doesn't discriminate between mornings and afternoons or between 1cm or 3cm dilations.
If the partner is cleared to be able to be there for some of the time, why not all of the time? It screams of control. This is their child too. Our top clinician, the CMO, minister for health and CEO of our health service have all publicly stated that these restrictions are no longer necessary.
So, again, why are they still in place? It seems no one can really answer that question which only adds to the frustration and anxiety felt by women and their partners around the country.
It's an open secret that in some quarters of hospital management there's a benefit to restricting partner access. Partners can physically get in the way and when it comes to advocating for their pregnant partners. The staff on the ground, let's be honest, are no doubt run off their feet and doing a fantastic job but it is easier for some in higher level not to have to deal with extra voices and it's more peaceful to have fewer people around.
So, is the Covid risk just being used as the fall guy by the maternity hospital administrations who refuse to release any risk assessments or data relating to any Covid statistics since the beginning of the pandemic? Another unanswered question with no one rushing to answer it or offer any solution.
Weeks go by and yet again, we women are not being listened to. Last September, a petition was started asking these exact same questions about the restrictions. Over 60,000 people have signed it. There have been online rallies with senior opposition party TDs, in-person protests, and many, many media interviews discussing why these restrictions are continuing. And yet again, here Ireland is – not listening to women.
Women are last in line
Our mental and emotional well-being is just not as important as getting bums on seats in restaurants. Of course, we are used to it, here in the back seat.
The patriarchy runs deep in the country but especially in the health system. We are ignored while we scream from the rooftops to the delivery wards for someone to prioritise our basic human needs. One thing is for sure; we could really do with a minister for women's health, and for it to have been brought in yesterday.
Meanwhile, the government focuses on getting the country inside pubs for pints, getting sporting events up and running and making sure 100 people can support a couple on their wedding day – but one person has restricted access on the day of their child's birth. Is it a lack of financial incentive? If partners offered to pay €1,000, would the needle move a bit quicker?
Of course, no one is thinking of the mental health cost from the trauma that is being experienced by these parents – and we know there is trauma, thanks to research from the Psychological Society of Ireland.
There are 19 maternity hospitals in Ireland, overseen by six different hospital group CEOs. Each hospital has its own individual restrictions ranging from Limerick UH which currently limits partners to one 45-minute visit a day to Galway maternity hospital which allows partners to visit anytime between 8 am-9 pm.
Pregnant couples are quite literally embroiled in a cruel game of postcode lottery depending on what hospital they are attending. I'm hearing anecdotally that some women are choosing to delay going to the hospital to prolong the time they can be with their partner and some are discharging themselves earlier than they should.
#Open journalism
No news is bad news
Support The Journal
Your contributions will help us continue
to deliver the stories that are important to you
The restrictions are forcing these women to make unsafe and potentially life-threatening choices because the anxiety of going through an already difficult enough experience like childbirth and post-natal recovery is made a hundred times worse by the thought that they will be enduring a fair part of it alone.
So, the questions remain:
Who is the one with the power to lift these restrictions and why as a country are we in a situation where no one knows?
Why are we beholden to each individual hospital to make such a huge and weighty decision?
Why are risk assessments not being published?
Why are partners not being PCR and/or antigen tested?
Why are the management of hospitals completely ignoring these questions and reasonable suggestions which all provide solutions?
And just how many more babies are going to be born to anxiety-induced parents with damaged mental health for a reason that no one can honestly provide?
It's time for answers. The women of Ireland deserve no less.
Natalie Britton is an actress and producer.


TheJournal.ie's coronavirus newsletter cuts through the misinformation and noise with the clear facts you need to make informed choices. Sign up here:
Source: http://prntscr.com/fub00u
TAOISEACH MICHEÁL MARTIN has said it is "reprehensible" that people would co-ordinate online campaigns of abuse against businesses that are following rules on indoor hospitality
The Journal reported this morning that some pubs and restaurants have been the subject of coordinated online abuse and fake reviews by those opposing the use of Covid-19 vaccine certs to attend indoor dining.
A Facebook page with hundreds of members which opposes the use of vaccine certificates has seen users post the names of businesses that have reopened indoor dining and resulted in hundreds of comments being left on businesses' Facebook posts announcing their reopening.
The Restaurant Association of Ireland has written a letter to the government about the issue, as well as to Facebook and Google. It is to contact the Garda Commissioner over 'fraudulent' posts that it said is causing its members' businesses to suffer.
One-star reviews are also being left on Google reviews for businesses that have reopened indoor dining. 
Asked by The Journal to respond to the RAI's letter to government, An Taoiseach said that online campaigns such as the one described were "reprehensible".
Related Reads
29.07.21
Don't expect a 'Freedom Day' but Taoiseach says lifting restrictions in September will be discussed next month
29.07.21
Offices likely to be in a position to begin reopening in September, minister says
29.07.21
Restaurants dealing with 'malicious, coordinated' campaign of abuse from anti-vaccine cert protesters
"The hospitality sector has been through a terrible time because of Covid-19. Covid-19 has just completely undermined and disrupted, hospitality, travel, tourism, the live arts, culture, music and so forth because unfortunately the virus is very compatible with behaviours that encourage congregation," he said.
So I think we need to give them every chance to make a comeback. Government has supported pubs and restaurants as best we can but they really want to be back in business, serving people safely. And I think it's anything that undermines that is reprehensible.
On 12 July, the government approved the reopening of indoor dining to those who are fully vaccinated, based on the National Public Health Emergency Team's advice issued in response to the surge of the Delta variant of Covid-19.
Since Monday, the new law has been in force, allowing some pubs to open for the first time since the pandemic began. Those who are not vaccinated can still dine outdoors.
– With reporting by Gráinne Ní Aodha
#Open journalism
No news is bad news
Support The Journal
Your contributions will help us continue
to deliver the stories that are important to you
Source: http://prntscr.com/fub00u
Updated 13 hours ago
THE JURY IN the trial of a Munster child abuse trial have ceased their deliberations at the Central Criminal Court and retired for the evening.
Justice Paul McDermott sent the jury out just before lunch-time today on the ninth week of the trial, which has been sitting in a temporary courtroom in Croke Park.
The judge said to the jury "there was no restriction on time" and to return verdicts based on the evidence before them.
He handed them the issue paper and the various exhibits in the case before he advised them that any verdict returned must be a unanimous one.
He sent the jury home just after 4pm this afternoon after it had been deliberating for almost two and a half hours. The jury will continue with its deliberations tomorrow morning.
The panel of 13 jurors were reduced to 12 members earlier this morning after a male juror was excused when he indicated he had a commitment next week.
"I don't know whether this is a disappointment or relief to you," Mr Justice McDermott said addressing the juror before he thanked him "sincerely" for "the effort you put in, in this hard task and then to be met with an anti-climax".
He acknowledged that the juror had devoted his time to the case, a role which he said is difficult in normal times but particularly during the current times of the pandemic.
Justice McDermott asked the man not to contact the other jurors until "they have concluded their deliberations". He excused the man from jury service for 10 years.
Earlier in the trial, Justice McDermott directed the jury on a number of legal principles including the burden of proof, presumption of innocence and the ingredients of each of the alleged offences. He also summarised the evidence that was heard during the nine-week trial.
He told the jury that the indictment sets out an extensive set of counts, each of which represent a separate trial.
"The ingredients of the offence as set out in each count have to be established beyond a reasonable doubt, if there is any doubt they have to be acquitted," Mr Justice McDermott said before he added every separate accused should also be treated separately.
The five family members, who cannot be named for legal reasons, are accused of abusing three children between 2014 and 2016. The accused are the parents, aunt and uncles of the children. They range in ages from 27 to 56 and live in various locations in Munster.
The parents are also accused of neglecting five of their children. All of the accused have denied the charges against them.
Reporting restrictions are in place to protect the welfare and identities of the children.
The 56-year-old father has pleaded not guilty to 34 counts including rape, anal rape, oral rape, sexual assault, sexual exploitation and wilfully neglecting a child at locations in Munster on unknown dates between 18 August, 2014 and 28 April, 2016. An additional three counts against him were withdrawn during the trial.
#Open journalism
No news is bad news
Support The Journal
Your contributions will help us continue
to deliver the stories that are important to you
The 34-year-old mother has pleaded not guilty to 25 counts including sexual assault, sexual exploitation and wilfully neglecting a child at locations in Munster on unknown dates between 18 August, 2014 and 28 April, 2016.
The mother and father have also pleaded not guilty to wilfully neglecting another two of their children at a location in Munster on unknown dates between 18 August, 2014 and 28 April, 2016.
A 35-year-old woman – the children's aunt – has pleaded not guilty to three counts, including sexually assaulting the girl and sexually assaulting one of the boys at locations in Munster on unknown dates between 18 August, 2014 and 28 April, 2016.
Her 49-year-old husband has pleaded not guilty to 10 counts including rape, anal rape, oral rape, sexual assault and sexual exploitation at locations in Munster on unknown dates between 18 August, 2014 and 28 April, 2016. Two additional counts were withdrawn during the trial.
A 27-year-old man – the children's uncle – has pleaded not guilty to 10 counts including rape, oral rape, anal rape, sexual assault and sexual exploitation at locations in Munster on unknown dates between 18 August, 2014 and 28 April, 2016.
A count of alleged sexual exploitation by him of the eldest boy was withdrawn by order of the trial judge.
The case against two other women – the children's uncle's 32-year-old partner and their 57-year-old grandmother – was withdrawn earlier in the trial by direction of the judge.
Source: http://prntscr.com/fub00u
LIFELONG CRIMINAL TREVOR Byrne will serve consecutive jail sentences totalling 17.5 years for firearms offences and for the armed robbery of a bookmakers, after which he hijacked a woman's car at gunpoint and threatened to kill her.
Byrne, who has 44 previous convictions, had left his phone at the scene of the robbery and was convicted earlier this year by the Special Criminal Court of five charges arising from the armed robbery of Boylesports in Applewood Village in Swords, Co Dublin, on 19 March, 2010.
Byrne (41) of Cappagh Road, Finglas West in Dublin had pleaded not guilty to the robbery, possession of a firearm, false imprisonment, threatening to kill and to unlawfully seizing a vehicle used in the getaway.
The court had heard that Byrne was released from a separate sentence in November 2009, just four months before carrying out the Swords raid.
The father-of-three is already serving a nine-year sentence backdated to November 2019 for a firearms offence. He had been found by armed gardaí in a back garden cabin, where a loaded handgun had been stashed.
He had pleaded guilty six days into his trial to possession of a loaded 9mm Luger-caliber Radom 35 firearm at a house in Woodford Grove, Clondalkin, Dublin 22 on 15 November, 2019.
Three other charges of possession of ammunition and €3,050 in cash that he was reckless towards, believed to be, or knew to be the proceeds of crime, were taken into consideration.
Byrne previously served an eight-year term for robbery of a pub and off-licence, after which he tried to hijack an unmarked garda car, pointing a gun at gardaí. He then managed to escape in a taxi, after holding a gun to a taxi-driver's head while being pursued by gardaí.
The non-jury court convicted Byrne in the present case after being satisfied that a mobile phone dropped at the scene during the robbery was his. He was also recognised from CCTV.
Today at the Special Criminal Court, presiding judge Mr Justice Michael MacGrath said that both the robbery and false imprisonment carried maximum sentences of life imprisonment.
He said that a threat to kill carried a maximum sentence of 10 years, while hijacking had a maximum sentence of 15 years. He said the firearms charge carried a presumptive minimum sentence of five years in prison.
Mr Justice MacGrath said that Byrne had previous convictions for larceny, burglary, robbery, unlawful taking of a vehicle, possession of a firearm, and that he hijacked an unmarked Garda vehicle after pointing a shotgun at a garda.
At a previous hearing, prosecuting Garda Sergeant Mairéad Murray told Shane Costelloe SC, prosecuting, that it was the fourth time a trial had been scheduled for Byrne to face these charges.
He had originally been tried in the Circuit Criminal Court with a co-accused. While his co-accused was acquitted, there was a disagreement among the jury on Byrne's charges. His second trial before the Circuit Criminal Court collapsed, after a member of the jury asked to be recused.
A bench warrant had to be issued for Byrne's arrest when his third trial was due to begin. At that stage, the DPP decided that the trial should be remitted to the Special Criminal Court.
Today, Mr Justice MacGrath said that Byrne had put staff at the bookmakers and the victim of his hijacking in "great fear and terror" and placed them in fear of their lives.
The judge said that Byrne's actions were a cause of "great distress" for them and said they were "serious" offences.
Mr Justice MacGrath said that the robbery involved two men and was "intentional, premeditated and planned" for the day of the Cheltenham Gold Cup, when the bookies would be busy.
The judge said that Byrne's victims had been put through "significant psychological trauma", which was an aggravating factor as was his previous convictions.
Mr Justice MacGrath said that he would fix ten years' imprisonment as the headline sentence for the armed robbery and the false imprisonment before any mitigation – both having a maximum sentence of life imprisonment.
The judge noted Byrne's tragic family circumstances, that he had a young family and that he was no longer using drugs and gave a six-month discount on all five offences.
The judge said that Byrne's barrister, John D Fitzgerald SC, had pointed out that his client's earliest previous conviction was at a time when he was a minor.
Fitzgerald had said that he had been raised by his mother with four siblings, three of whom had died in tragic circumstances.
"It's a background marked by chaos and tragedy," he said.
Mr Justice MacGrath then further discounted a year for proportionality and possible rehabilitation.
In passing sentence, Mr Justice MacGrath said that all five sentences arising from the raid on the bookies would run concurrently to each other but would run consecutively to the conviction for the other firearm offence in November 2019.
He then sentenced Byrne to eight-and-a-half years in jail for both the armed robbery and the false imprisonment, six-and-a-half years for the threat to kill and seven-and-half years each for the possession of the firearm and for hijacking the car.
Prosecution counsel Shane Costelloe SC had told the non-jury court that both the manager of the bookmakers and the victim of the hijacking did not wish for their victim impact statements to be read out in open court.
Costelloe had said that it would be apparent why the victim impact statements weren't being read aloud and asked the judges to take that into consideration when giving their judgement.
A previous hearing of the court was told that some members of the public were present when firearms were put to the heads of staff members in the bookies. The alarm was raised when another member of the public attempted to enter the shop, saw the robbery taking place and called the gardaí.
#Open journalism
No news is bad news
Support The Journal
Your contributions will help us continue
to deliver the stories that are important to you
However, before they arrived, the raiders had compelled staff to open a shutter and let them out. It was the Gold Cup day of the Cheltenham festival, but the raiders got away with only €1,490 in cash.
Threats were also made to a woman, whom Byrne and another male car-jacked at gunpoint outside the Boylesports shortly after closing time that day.
The woman had been leaving a nearby shop at the time.
She gave evidence in court of one of the men telling his accomplice during their getaway that he "could not believe" he had dropped his phone at the scene. The woman said that the males refused to let her out of the car, demanding that she look to her left out the window and not at them. However, she said she could hear one refer to the other using a name beginning with 'T'.
They eventually released her on a country road in north Dublin but took a portion of a letter she had in her handbag. It bore her address, and they threatened to come and find her and kill her if she went to gardaí.
The mobile phone found at the scene was examined. A phone number saved on it as 'Ma' matched the number given by Byrne's mother on various official government documents.
Byrne had told gardaí that the phone could have been an older one that once belonged to him and claimed to have had a phone stolen from him.
Following the trial, Mr Justice MacGrath said it would have been incredible for the phone to have been "stolen and then brought back to the scene the next day by someone who looked like the accused".
Mr Justice MacGrath had said that he was satisfied with the good quality of the CCTV at the bookies, from which gardaí identified the defendant as he looked towards the camera upon entering the premises.
Byrne and the other male then entered the bathroom, from which two men re-emerged 35 minutes later, brandishing guns and wearing balaclavas.
Photos were later taken of the inside of one of the stalls. A ceiling tile had been displaced and the assumption was that they had hidden in the attic crawl space.
Mr Justice MacGrath said that the court was satisfied that the robbery had put the staff and the woman in fear of their lives due to the use of "lethal weapons" by both men.
Justice MacGrath said that he was satisfied that it was Byrne who was caught on the CCTV in the bookies before the robbery and said the CCTV, which captured the entire incident was of good quality. He said that the staff and the female motorist were all "entirely consistent" in giving their evidence and that Byrne's claim that the phone was stolen from him "doesn't bear scrutiny".
Source: http://prntscr.com/fub00u
SEVEN MATERNITY HOSPITALS have yet to become fully compliant with the easing of Covid-19 restrictions around high-risk pregnancies that took place in June.
The HSE's Chief Clinical Officer Dr Colm Henry said today that the Covid-19 guidelines for maternity hospitals were revised most recently in June.
At this point restrictions were eased for Early Pregnancy Assessment Units, for routine visits where a woman was considered a high risk pregnancy, and for emergency presentations in late gestation.
Dr Colm Henry told a press briefing today that a follow-up analysis has shown that the "great majority" of the hospitals are fully compliant across those three areas.
He added that, in some isolated cases, particularly regarding high risk pregnancies, some hospitals were only partially compliant.
The latest survey found that 12 of the 19 maternity units were fully compliant for routine visits where a woman was considered a high risk pregnancy, the other seven were found to be only partially compliant.  
For emergency presentations in late gestation, 15 were found to be fully compliant and four were partially compliant.
All but one of the maternity hospitals were fully compliant with the easing of restrictions on Early Pregnancy Assessment Units.
Dr Henry said the HSE is working with the hospitals that aren't fully compliant and he expects them to be operating within the guidelines in the coming week.
"There were some difficulties and differences between the units, in terms of infrastructure and in terms of how they responded and how quickly they responded, but the general trend is towards full compliance," Dr Henry said.
Related Reads
29.07.21
Opinion: Maternity hospitals have no excuses left – they must lift restrictions
14.07.21
Four maternity units not allowing partners attend emergency pregnancy cases
An earlier round of Covid-19 restrictions on maternity wards was relaxed earlier this year.
A survey carried out in May found that all 19 hospitals were compliant with the easing of earlier restrictions, including allowing partners on the labour ward during labour, daily postnatal visits of at least 30-minutes and allowing partners to attend anomaly scans.
Hospital figures
Speaking at today's briefing, HSE CEO Paul Reid shed some light on the situation around Covid-19 cases in hospitals, which the government had sought clearer data on.
Reid said around 70% of people in hospital with Covid-19 are there because of the disease. 
"The majority of cases in hospital are there because they contracted Covid. A smaller number may have acquired it in hospital. An even smaller number may be in for other reasons but test positive in hospital," he said.
#Open journalism
No news is bad news
Support The Journal
Your contributions will help us continue
to deliver the stories that are important to you
The HSE chief said every Covid-19 patient has a "disproportionate effect" on the health system.
"All of them have to be isolated to prevent spread. Staff precautions need to be taken, elective care is impacted. Isolation capacity is limited with ageing infrastructure," Reid said.
The latest statistics show that there are 160 patients with Covid-19 in hospital in Ireland, with 26 in intensive care units.
Source: http://prntscr.com/fub00u
THE COMPANY BEHIND property website Daft.ie has agreed to develop processes to identify and remove property advertisements that are discriminatory.
The agreement with the Irish Human Rights and Equality Commission (IHREC) follows a 2019 decision from the Workplace Relations Commission (WRC) which ruled in favour of IHREC.
The IHREC's complaint related to adverts that included terms directed at prospective tenants such as  'rent allowance not accepted'; 'suit family or professionals only'; 'would suit young professionals' and 'references required'.
The WRC ordered Daft to "refrain from publishing, displaying or permitting to be published or displayed on its website" discriminatory adverts.
It also ordered the company to "develop a methodology to identify, monitor and block discriminatory advertising on its website" based on a list of terms of trigger words and phrases provided previously to them by the IHREC and to be kept updated.
These trigger phrases include:
'Rent allowance not accepted'
'Suits professionals only'
'No rent, rental supplement or allowance accepted, no housing assistance accepted, tenants will be means tested'
'Please provide current work status', or 'work reference required'
'Would [not] suit young, mature, senior, elderly, person in their golden years'
'Would [not] suit family, children, single person, couple, bachelor, married'
Today the IHREC said Daft Media Limited has agreed to expand and develop practical methods to identify, investigate, review and take down discriminatory advertising on the Daft.ie website, and has also committed to reviewing and, where necessary, improving the system on a continuous basis.
Sinéad Gibney, chief commissioner of IHREC welcomed Daft's "engagement in this matter and the resolution of this long-standing litigation".
We took the initial proceedings in 2016 as the Commission had identified a number of adverts that discriminated on the housing (HAP), age and family status grounds of the Equal Status Acts.
#Open journalism
No news is bad news
Support The Journal
Your contributions will help us continue
to deliver the stories that are important to you
"The procedures that Daft will operate must help to ensure that discriminatory advertising does not appear on the website of one of Ireland's leading property advertisers."
A spokesperson for Daft said they were not in a position to comment at this time.
Note: Journal Media Ltd has shareholders in common with Daft.ie publisher Distilled Media Group.
Source: http://prntscr.com/fub00u
Updated 13 hours ago
JONATHAN HILL HAS opened up on his whirlwind start to life as the FAI chief executive, describing how his first seven and a half months at the helm "feels like seven and a half years".
The Londoner, who spent a decade on and off working for the English FA before succeeding the disgraced John Delaney, explained how he has experienced a "different level of intensity and emotion" within the Irish game.
Speaking to Athlone Town's LOI TV stream, Hill also provided clarity on a number of other issues, including his hopes to have 25,000 fans in Aviva Stadium for September's World Cup qualifiers against Azerbaijan and Serbia, which he described as "two games we have to win".
And he also aims to have a full house in Dublin for the visit of Portugal later this year, admitting he would love Stephen Kenny's side to beat them and lay down a marker.
"I've settled in well. It's everything I expected it to be, and more. My seven, seven-and-a-half months feels like seven-and-a-half years, if I'm honest," Hill began.
"That's only because I have spent so much time chatting to a whole range of people across the whole of the Irish football community. It's been fascinating. I was 10 years on and off at the English FA and the challenges, opportunities and disciplines if you like around the game in Ireland are no different than those in England.
"At times they are just a different level, certainly a different level of intensity and emotion at times, I've found. There's no lack of emption in the Irish game, which I love personally. People have very strong opinions everywhere in football and Ireland is no different.
"We've made really good progress with return to watch in terms of our League of Ireland clubs," Hill continued. "That's worked really well. We can now have a conversation with government about getting some pretty serious numbers of fans back in for the September games.
"I'm hopeful that we can get 20, 25,000 in for Azerbaijan and Serbia because arguably they are the two games we have to win. I'm not worried about filling the stadium in November for Portugal because I think there is a real built up desire for fans to get back and watch football, and if you've got a dollop of Ronaldo and Bruno Fernandes in all that I think you will be pretty happy to be a season ticket holder.
"What I want and what I am pushing government hard for is to have a full house against Portugal because whatever we've got to in terms of qualification, I'd love us to go and beat them and show that we are ready to go for the next stage, which will be the Nations League and beyond that Euro 2024."
The FAI CEO also expressed his desire to see League of Ireland clubs progress in Europe this season, and set them the target of improving the league's co-efficient, which is currently ranked 37th but due to drop from next season.
Dundalk's Europa Conference League second qualifying round second leg tie away to Levadia Tallinn this evening (5.30pm) is in the balance after a 2-2 draw at Tallaght Stadium, while Bohemians have a 1-0 lead as F91 Dudelange face them in front of 8,000 fans at Aviva Stadium at 7.45pm.
Be part
of the team
Access exclusive podcasts, interviews and analysis with a monthly or annual membership.
Along with Shamrock Rovers, who received a bye into the third round and will face Teuta of Albania, Hill is hopeful of positive outcomes with places in the play-off round worth €1 million to each club.
"Dundalk have made it harder for themselves in that second leg but from what I saw [in the first leg] there is no reason why they can't go there and win. Bohs done brilliantly in their first leg and you would be really positive and confident that in front of 8,000 people, and the tickets were sold out in 90 minutes, so I would be really confident that they can win again."
He added: "We've already gone up three places on the back of the results in the last few weeks and I would like to see us back in the 30s, not in the 40s, and striving to get into the 20s in due course. That's a big challenge but I think everyone in Irish football will want those teams to do well."
The42 is on Instagram! Tap the button below on your phone to follow us!
Source: http://prntscr.com/fub00u
A CONVICTED RAPIST has been sentenced to 16 further years in prison for a campaign of harassment and death threats directed at his victim and lawyers involved in his original trial, with the judge calling his actions an "unprecedented and deliberate" abuse of process.
Michael Murray (50), formerly of Seafield Road, Killiney, Co Dublin, was excluded from his sentence hearing at Dublin Circuit Criminal Court today after flinging the Bible from the witness box at the presiding judge.
He was found guilty earlier this month of making death threats against Dominic McGinn SC in November 2014 and Tony McGillicuddy BL in January 2015, the barristers who prosecuted the rape case against him in 2013.
He was also convicted of harassing his victim by advertising her online as a prostitute, and making similar posts about McGinn and his former defence solicitor in January and February 2015.
He had pleaded not guilty to all of these offences.
Murray was jailed in 2013 for 15 years for falsely imprisoning, raping and sexually assaulting a woman at a Dublin apartment in February 2010, and abducting her child. His sentence was later increased to 19 years imprisonment by the Court of Appeal.
He has 34 previous convictions, including convictions for common assault, carrying firearms, robbery and aggravated burglary, with the offending dating back to 1987.
McGinn, who had led the prosecution in Murray's rape trial, described waking in the middle of the night on 16 November 2014 to receive a "devastating" phone call, telling the trial: "I answered it without really thinking about it. A male voice said 'bang bang'."
That same night, a phone call was received at Garda Headquarters saying: "Dom McGinn was going to be shot dead."
Murray admitted making the call when he was interviewed by detectives.
Threats
"I put out the hit on him. I wanted to do it myself," he said.
"If you call me a rapist, I'll kill you. I don't care who the f**k you are. I'll smash him into pieces. I'll throw him into Dún Laoghaire Harbour if you like," he told detectives.
The following February, McGillicuddy, who was the junior counsel in the rape trial, was working late at his office when a blocked number rang.
"You prosecuted a man that we know, you and Dominic McGinn, and I am telling you we are going to kill you," the voice said.
McGinn, along with Murray's defence solicitor in the 2013 trial, and the woman he was convicted of raping, received calls and texts from unknown numbers in January and February of 2015, the court heard.
"I was terrified. I wondered why so many calls," the rape victim told the court through an interpreter. "I didn't understand why they have my contact number."
Some of the callers mentioned online ads.
McGinn and the female defence solicitor all described googling their names and phone numbers to discover ads describing them as prostitutes on a website called BackPage.com. The rape victim's husband found an ad referring to her in the same way.
"Escort available for private calls. Uniforms, toys, available," read a post made on 19 January 2015.
Phone browser data recovered from a mobile phone seized from Murray found six different ads had been placed using the phone.
"I intended to use the threats as a mechanism to get them before the courts. I do say I had a lawful excuse. The lawful reason was because of how the previous trial was conducted," Murray told his trial when he was called to give evidence in his defence.
He was excluded from court for the closing stages after claiming he had been offered a list with the names and addresses of the jurors.
They found him guilty on all five counts on the indictment by unanimous verdict on 5 July. He had pleaded guilty to having the phone in jail before the trial opened.
There was no mitigation offered at Murray's sentence hearing this morning, but Murray sought to address the court and was allowed enter the witness box.
"I came to court for justice in my trial of 2013," Murray said, calling it "an insult to justice and the criminal system".
Judge O'Connor stopped him and said: "I am not going to allow Mr Murray to use these proceedings to have any form of attack on the victim in the original trial."
She said she would insist on reading his prepared statement before allowing him to continue reading it. "He either shows it to me or he takes it back to where he's sitting," she said.
"I'm telling the truth, that's all," Murray said.
She ordered him back to the dock, but Murray took up the copy of the New Testament he had sworn on and threw it at Judge O'Connor. It passed to her right and hit a monitor on the wall behind her.
"Mr Murray is to be excluded from this court for the remainder of this sentence hearing," Judge O'Connor said. "The DAR [Digital Audio Recording] is to remain on."
He was taken back into the custody area and the court rose. When the court returned, Judge O'Connor said: "It was a Bible – that was the literature which Mr Murray threw."
She proceeded to read Murray's statement.
"It criticises the judicial process. It criticises this court for the trial. It says that he was subjected to a total abuse of the laws of the State. [He claims] there is no longer any separation of powers between the government and the judiciary."
Sentencing
Passing sentence, Judge O'Connor said Murray's strategy to bring about the trial by making threats against members of the Bar was an "unprecedented and deliberate abuse of proceedings".
#Open journalism
No news is bad news
Support The Journal
Your contributions will help us continue
to deliver the stories that are important to you
He had "chosen to visit on his victims unwanted and unsavoury calls" by posting ads of a "particularly repulsive nature calculated to cause distress," she said.
Judge O'Connor said harassing a woman he had been convicted of violently raping in this manner was "a more egregious aggravating factor" and that the calls had left her "terrified" and subjected her to "additional re-victimisation".
Calling Murray's actions towards the barristers "a fundamental attack on our system of justice", she said she intended to send a "strong message" in sentencing him.
"He attempted to interfere with the integrity of the trial process and made a clear attempt to derail the trial and cause its collapse," she said.
"The accused appears to be incapable of rehabilitation at this point. No mitigation has been presented on his behalf… and it is not on this court to invent mitigation."
Judge O'Connor sentenced Murray to nine years in prison for the threat to kill McGinn and seven years for the threat to McGillicuddy.
The judge sentenced Murray to the maximum seven years for the harassment of the woman he is convicted of raping "in the context of re-victimising [her] after such serious and violent offending."
She ordered sentences of four years for the harassment of McGinn and the female defence solicitor and five years for possession of the mobile phone in prison.
Judge O'Connor ordered that the nine-year sentence for the threat to McGinn and seven-year term for harassing his victim be served consecutively to each other, for an effective operative sentence of 16 years imprisonment.
The judge ordered that this sentence is to date from the end of his original 19-year sentence for rape.
She also ordered that Murray have no contact or communication with the three people he is convicted of harassing for the next 30 years.
"Judge, on my own behalf, my juniors' and my solicitor I want to express my utter disgust at the behaviour of our client towards you this morning," said Barry White SC, defending.
Additional evidence
Murray was given the phone by another former solicitor of his, Joanne Kangley, while he was being treated in hospital in Portlaoise in October 2014.
Kangley, who formerly had a practice in Bailieboro, Co Cavan, received a 12-month suspended sentence in 2019 for handing him the phone and subsequently a SIM card.
The phone was seized from him the following February when it fell out of his rectum as he resisted a strip-search in the Midlands Prison in Portlaoise, having told a prison officer he wanted to hand it over to gardaí to "get back" at his solicitor.
A garda IT expert who recovered data from the phone described receiving it covered in "pieces of excrement" at his trial.
On the phone he found browser data which showed it had been used to post a series of ads on a website called BackPage.com, a website seized by the US Justice Department in 2018, when it called it "the internet's leading forum for prostitution ads".
Source: http://prntscr.com/fub00u
PUBLIC HEALTH OFFICIALS have confirmed 1,361 new cases of Covid-19 in Ireland.
The Department of Health has reported that 160 patients are in hospital with Covid-19, including 26 in intensive care units. 
Yesterday, 1,408 cases of Covid-19 were reported, with 152 patients with the illness in hospital, 26 of whom were in intensive care.
Chief Medical Officer, Dr Tony Holohan, said: "We have to continue to drive up vaccination rates as high as possible.
The higher we go the better the protection we have and the sooner we'll be able to ease more of the economic and social restrictions that still remain in place.
Dr Holohan added that walk-in vaccination centres are opening across the country, where anyone over 16 years of age can register for a Covid-19 vaccine.
"Encourage your friends and family to ensure they get reliable information about the vaccines available here and to get vaccinated as soon as possible," he said.
#Open journalism
No news is bad news
Support The Journal
Your contributions will help us continue
to deliver the stories that are important to you
Data relating to the number of deaths associated with Covid-19, as well as case numbers by county, have been affected by the cyber attack on the HSE IT systems 
Today's figures did not contain any information about whether there were any other deaths due to the virus.


TheJournal.ie's coronavirus newsletter cuts through the misinformation and noise with the clear facts you need to make informed choices. Sign up here:
Source: http://prntscr.com/fub00u
FORMER "SINGING" PRIEST Tony Walsh has been sent forward for trial accused of sexually abusing a boy in Dublin in the 1980s.
Walsh, 67, who toured in the All Priests Show, performing as an Elvis Presley impersonator, from the late seventies and into the 1980s, appeared again at Dublin District Court today.
A book of evidence was served in court. A State solicitor told Judge Michael Walsh that the Director of Public Prosecutions was seeking a return for trial order.
He consented to the request and told the accused he was being sent forward for trial on indictment, and that he will face his next hearing on 29 October next at Dublin Circuit Criminal Court.
Following a request from defence solicitor Colleen Gildernew, Judge Walsh granted legal aid to include representation of senior counsel.
Walsh, who has not yet indicated how he will plead, is charged with two counts of indecent assault of a male between January 1983 and December 1985.
At an earlier hearing, Garda Laura Brennan, of Clondalkin station told the court Walsh "made no reply" when the charges were put to him.
Questioned by the defence solicitor about the procedural timeline, and possible delay in bringing the case, Garda Brennan said the DPP issued the direction to charge him on 14 June last.
The complainant made a report in May 2019 to a Garda Protective Services Unit.
A file was sent to the DPP who issued the direction in June to charge him. There had been no previous report made by the complainant, the court heard in exchanges between Garda Brennan and the defence solicitor.
#Open journalism
No news is bad news
Support The Journal
Your contributions will help us continue
to deliver the stories that are important to you
Gildernew said this may be something for another forum and the judge said while the questions were fair, it was a matter for the trial court.
The ex-priest, formerly of North Circular Road, Dublin, must notify the prosecution within 14 days if he intends to use an alibi in his defence.
Comments are closed as legal proceedings are ongoing.
Source: http://prntscr.com/fub00u
DONATIONS TO THE RNLI have rocketed in the UK after the charity's chief executive this week described its role in rescuing people crossing the English Channel as "humanitarian work".
Figures provided to the PA news agency show online donations to the RNLI passed the £200,000 (€235,000) mark in the last 24 hours, up from around £7,000 (€8,225) on a typical day.
There was also a near four-fold increase in people viewing volunteering opportunities on the sea charity's website during the same period.
However, a "small number" of others contacted the RNLI to withdraw financial support following boss Mark Dowie's decision to speak out and praise volunteers' work during the migrant crisis.
RNLI fundraising director Jayne George said: "We are overwhelmed with the huge level of support we have received from our amazing supporters in the last couple of days.
"We have seen an uplift in donations, with over £200,000 being donated yesterday alone through a combination of one-off donations, new regular support and supporters increasing their regular donation amount.
"This is simply incredible."
We're proud of the lifesaving work our volunteers do in the Channel – we make no apology for it. Those we rescue are vulnerable people in danger & distress. Each of them is someone's father, mother, son or daughter – every life is precious. This is why we launch: pic.twitter.com/lORd9NRpdP
— RNLI (@RNLI) July 28, 2021
The RNLI said it faced criticism for rescuing migrants in the Channel in the last five years, but particularly in recent weeks, with a London-based crew having to call the police after receiving abuse at the weekend.
Speaking on his GB News segment on Wednesday, former UKIP leader Nigel Farage said the RNLI were being used as a "taxi service" for illegal trafficking gangs.
Conservative political commentator Darren Grimes has also criticised the RNLI's missions in the Channel on Twitter, calling them "deeply irresponsible".
It prompted Dowie to give a series of interviews in which he said the sea charity was "doing the right thing" by going to people's aid, regardless of their reason for being in the water.
#Open journalism
No news is bad news
Support The Journal
Your contributions will help us continue
to deliver the stories that are important to you
Responding to the spike in donations since Dowie's intervention, George said: "This was never a fundraising campaign – we simply wanted to tell the story of our crews and make it clear that our charity exists to save lives at sea.
"Our mission is to save every one.
"Our supporters' kindness means so much to us, without them we could not save lives at sea, every one is a lifesaver."
She also signalled that Dowie's comments also had a negative impact on some donors.
"We know that this is a polarising issue and people have strong opinions on the subject," she said. 
"Sadly, a small number of supporters have contacted us to withdraw their support."
Source: http://prntscr.com/fub00u
A NEW REPORT has warned that Irish teenagers are experiencing "high levels" of sexual harassment, with 80% of adolescents reporting that they've been subjected to some form of sexual harassment in the last year.
The study, published by Rape Crisis Network Ireland, was based on a survey of nearly 600 teenagers and interviews with 93 adolescents and 21 youth workers.
It asked participants about their experiences during the last 12 months, with ages ranging from 13 to 17.
The findings show that 24% of teenagers surveyed were subjected to physical or extreme forms of sexual harassment, while 83% had witnessed some form of sexual harassment.
Over 40% of the sexual harassment reported by the teenagers surveyed occurred online, while 12% took place in school.
The report also found that nearly 70% of LGBT teenagers had experienced serious sexual harassment, while girls were nearly two and a half times more likely to have experienced unwanted sexual touches compared to boys.
Girls were also twice as likely to have faced sexual harassment online compared to boys.
LGBT teenagers, the report found, were subjected to higher levels of sexual harassment than heterosexual teenagers.
#Open journalism
No news is bad news
Support The Journal
Your contributions will help us continue
to deliver the stories that are important to you
One of the participants, interviewed as part of the study, said: "It's just the way it is. Like you could be standing talking to your friends and like some guy will try and grab you or whatever. Like you just have to push them off or whatever.
So, it's kind of accepted, that just what boys do. Like, it is hard because no one is going to do anything. It happens to everyone at least once.
Another teenager said: "I think because a lot of my friends being LGBT, like it happens a lot more. Like almost every one of my close friends has experienced some sort of sexual harassment."
Gender inequality and a lack of "adequate" sex education in Irish schools is partially blamed by the report for the level of sexual harassment faced by teenagers.
The study recommends improving relationships and sex education in Irish schools and calls for ways to make it easier for teenagers to report sexual harassment.
Source: http://prntscr.com/fub00u
FOR THE FIRST time in decades, Cubans took to the streets this month to protest.
Videos of people chanting "libertad" ("freedom") were shared around social media – notable in part because mobile internet was only introduced in the country three years ago. The cry "patria y vida", from an anti-government song, was also heard ringing out.
The protests came as the country experiences food shortages, medicine shortages and the spread of Covid-19. The pandemic, US sanctions and high prices have all contributed to a situation that many Cubans are finding untenable.
Many protesting were calling for massive change in the country – including political change. But President Miguel Díaz-Canel said that "destabilisation in our country" would be met with a "revolutionary response".
What led Cubans to protest? And why were there reports of the electricity being shut off, people arrested, and journalists detained?
To find out more about what has been going on, and what it's like in Cuba right now, on this week's podcast we have Ruaridh Nicoll, an Observer journalist living in Havana. 
Here's some of Nicoll's recent reporting:
Don't forget that you can now listen to our award-winning podcast directly from your app – here's how.  
#Open journalism
No news is bad news
Support The Journal
Your contributions will help us continue
to deliver the stories that are important to you
Source: The Explainer/SoundCloud
This episode was put together by presenter Sinéad O'Carroll, producers Aoife Barry and Nicky Ryan.
Source: http://prntscr.com/fub00u
FACEBOOK IRELAND AND Gavin Duffy have resolved a dispute over ads that appeared on the social media site which claimed the former presidential candidate was dead. 
Duffy had threatened legal action over the fake advertisements, which used his image and suggested he was deceased. The link in these ads brought users to articles about investing in cryptocurrencies. 
Duffy's solicitor Paul Tweed shared a joint statement by Facebook and his client which stated they had resolved the issue regarding ads containing "misleading and inaccurate statements" about Duffy.
These statements, it said, had been published on Facebook by "malicious third-parties".
"Facebook Ireland puts significant resources towards tackling things kinds of ads," the statement said.
For the record, Mr Duffy states and Facebook Ireland accepts that he has never traded, speculated, or invested in any cryptocurrency nor has he ever recommended anyone to do so.
My client is not dead!
Joint statement issued this afternoon by Facebook and my client, Gavin Duffy, which reads… pic.twitter.com/OBqzWEHpPl
— Paul Tweed (@Paul_Tweed) July 29, 2021
#Open journalism
No news is bad news
Support The Journal
Your contributions will help us continue
to deliver the stories that are important to you
The statement said it is important that ads on Facebook "are useful to people and not used to promote deceptive behaviour, like using images of public figures to mislead people".
"Mr Duffy and Facebook Ireland have also agreed to continue to work together to address any further misleading and inaccurate ads relating to Mr Duffy in the event that such ads reappear on Facebook."
Source: http://prntscr.com/fub00u