Category Archives: Airline
Updated 19 hours ago
EMPTY SUPERMARKET SHELVES, queues at petrol stations and pumps running dry is far from what one would expect from Britain in 2021.
How they got to this point appears to differ based on the political leanings of who you ask but the facts are clear: Brexit is at the root of the shortages and issues plaguing Britain.
After years of negotiations, the British Government led by Boris Johnson got what they wanted – a hard, extreme Brexit with the UK out of the Customs Union and Single Market.
As a result, hundreds of thousands of non-UK workers have had no choice but to leave the UK and return to the EU. This includes 14,000 lorry drivers in a single year. Now, Britain cannot access enough lorry drivers to deliver petrol to their pumps or food to the supermarket shelves.
The aftermath
As a result, queues tens of cars deep have formed across Britain and 50-85% of all independent service stations have run dry. Supermarket shelves are running low, chain restaurants from McDonald's to Nando's and Subway are closing temporarily due to food shortages and C02 shortages are leading to delays in accessing everything from fizzy drinks and crisps to baby food and packaged meats.
If you ask the British Government the reasoning behind this chaos, they claim it is purely down to the Covid-19 pandemic. This, however, is simply not the whole truth.
Were HGV tests cancelled due to Covid-19 restrictions? Absolutely. Did this lead to 14,000 drivers leaving the UK? No. Have other EU member states experienced driver shortages? Absolutely, Ireland alone is estimated to be short 4,000 drivers.
However, do we have food or fuel shortages? No, the shelves in Ireland and across Europe are full. The Covid-19 pandemic hit the EU to largely the same extent as the UK and yet we are experiencing none of these issues, thanks to our EU Membership. The persistent underlying factor in this situation is Brexit and ignoring the reality of the situation will not change this.
'Nothing to see here'
The British Government's response to this shortage is to offer 5,000 visas to fuel and lorry drivers and 5,500 to poultry workers from the EU that will run until Christmas Eve.
Considering the UK is facing a shortage of 100,000 lorry drivers, this is merely a drop in the ocean compared to what they need to address this. Even when faced with better pay in the UK than at home, many drivers will not take such a short-term contract when they cannot bring their family or dependents.
Related Reads
20.09.21
Boris Johnson says disputes over Northern Ireland Protocol 'can't go on forever'
14.09.21
UK to delay some post-Brexit border controls for EU goods 'due to pandemic'
10.09.21
DUP threatens to collapse Stormont 'before November' amid NI Protocol row
Looking to the EU to solve their issues that are supposedly unrelated to Brexit is not a good reflection of where the UK have found themselves as of late.
Northern Ireland, which is protected from the worst impacts of Brexit thanks to the Protocol, is not experiencing these issues either. Northern Ireland has retained access to the EU Single Market and so can easily diversify its markets where there are supply chain issues and as a result, the fuel pumps and supermarkets are full.
This is not to say that there have not been issues for Northern Ireland since Brexit, however as the new system was 'bedded in' and businesses redesigned their supply chains through the EU, they have been much better ff and as a result, exports from Ireland to Northern Ireland have increased by 42%.
The fact is that in attempting to dupe the British public, the British Government is doing themselves no favours. Around 53% of Britons believe that Brexit is going badly. Ignoring the reality of the situation they have found themselves in will not change this.
Clearly, the fault lies with the hard Brexit that the British Government were so determined to see implemented. With no other EU Member State facing these issues and turning to the EU to solve these problems, the UK Government are misleading the very people they seek to represent. We always knew no Brexit could be a good Brexit but the reality is very stark indeed.
Neale Richmond is a Fine Gael TD for Dublin Rathdown and is former Seanad spokesperson on EU affairs for the party. 
#Open journalism
No news is bad news
Support The Journal
Your contributions will help us continue
to deliver the stories that are important to you

Source: http://prntscr.com/fub00u
Category Archives: Airline
A FRENCH COURT has handed former president Nicolas Sarkozy a one-year sentence for illegal financing of his 2012 re-election bid – six months after he received a jail term for corruption.
Sarkozy, 66, will not serve time behind bars under the terms of today's verdict, with the court ruling that he would be able to serve the sentence outside of prison.
He was not in court to hear the judge hand down the maximum sentence for illegal campaign financing after finding that he had "voluntarily neglected" to monitor his campaign spending.
Sarkozy's lawyer Thierry Herzog said he would appeal the verdict.
The verdict, which as in the first trial means he will likely serve the term at home with an ankle bracelet if confirmed on appeal, is not the same as a suspended sentence and goes down in his record as a full prison term.
Sarkozy spent nearly twice the legal limit of €22.5 million on his failed bid for a second term in office.
The case is one of several arising out of a string of investigations into Sarkozy's affairs since he lost his presidential immunity.
Bygmalion
In March he became France's first post-war president to be sentenced to jail in a separate case relating to his attempts to secure favours from a judge.
Sarkozy received a three-year jail term for corruption and influence peddling at that trial, two years of which were suspended.
In that case, too, he will likely avoid prison, with the judge saying she would consider letting him serve the remaining year of his sentence at home, wearing an electronic ankle bracelet.
France's president from 2007 to 2012 pulled out all the stops to try fend off his Socialist rival Francois Hollande.
A series of lavish US-style election rallies caused his costs to spiral, with the final bill coming to at least €42.8 million.
The public relations firm Bygmalion, hired to organize the events, set up a system of fake invoices to mask the real cost of the events.
While the investigation failed to prove Sarkozy was aware of the fraud, the court found that it "undeniably" benefited him.
'Cavalier' attitude
At his five-week trial in May and June, the prosecution had portrayed him as having a "cavalier" attitude to the public money available to candidates during campaigning and said he ignored warnings from his accountants about the ballooning costs.
Sarkozy dismissed the allegations of wanton recklessness as "a fairy tale", saying he had been too busy running the country to pay attention to the finer details of his campaign finances.
His Union for a Popular Movement party, since renamed the Republicans, picked up the tab for most of the excess.
Thirteen other people, including Sarkozy's former campaign manager, several Bygmalion executives and a handful of former directors of Sarkozy's The Republicans party were also tried in the case.
#Open journalism
No news is bad news
Support The Journal
Your contributions will help us continue
to deliver the stories that are important to you
They received jail terms of up to three-and-a-half years in prison, with part of the sentences suspended.
Before Sarkozy, the only French leader to be sentenced at trial was his predecessor Jacques Chirac, who received a two-year suspended sentence in 2011 for corruption over a fake jobs scandal relating to his time as Paris mayor.
Sarkozy attended just one day of his campaign finance trial, a snub that infuriated prosecutors who accused him of acting "as if he is not answerable to the law like everyone else".
The case failed to garner much interest among the public, with the charges seen as less sensational than the corruption charges that had already dented any prospect of Sarkozy making another comeback.
In 2016, he attempted to win back the Elysee Palace but failed to gain the nomination of his right-wing party.
Sarkozy was defeated by his former prime minister Francois Fillon, who was tipped to go on to win the election but crashed out in the first round over a fraud scandal that would later see him convicted.
Fillon's downfall left the right rudderless and added to nostalgia among conservative voters for the heyday of the energetic Sarkozy, who led France through the eurozone debt crisis of 2008-2009.
With new presidential elections looming in April next year, conservative candidates have been jostling to receive Sarkozy's endorsement.
Source: http://prntscr.com/fub00u
Category Archives: Airline
RENTS ACROSS IRELAND grew by 7% on an annual basis in the second quarter of 2021, an increase that the Residential Tenancies Board (RTB) has flagged as a "source of concern".
The latest rent index from the RTB has revealed that, in the three months from April to June, rents underwent the highest national growth rate since the first quarter of 2019.
In reporting the increase today, the rental watchdog pledged to investigate and sanction landlords that break rent cap rules as the jump may indicate an "unacceptable level of non-compliance" with regulations restricting rent increases in Rent Pressure Zone areas.
Nationally, the standardised average rent now stands at €1,352, an increase of €32 compared to the previous quarter. In statistical terms this amounts to an increase of 3.4% on the previous quarter and a rise of 9.1% compared to the same time last year.
Rents are highest in Dublin, with the average rent standing at €1,848 a month. This represents a 1.2% increase compared to quarter one and a 2.4% jump on a year-on-year basis.
Galway city has the second highest rent, averaging €1,355 per month. Cork city follows closely behind, with the average rent standing at €1,344, while in Limerick city it is €1,196.
The year-on-year growth rates in the cities of Cork and Galway were 6.3% and 9.2%.
With average rents of €969 per month, Waterford is the only city where the standardised average rent is lower than €1,000 per month.
Rents in the cities of Waterford and Limerick City increased by 9% and 8.7% year-on-year.
A total of 10 counties have standardised average rents above €1,000 a month – Cork, Dublin, Galway, Kildare, Kilkenny, Laois, Limerick, Louth, Meath and Wicklow.
The index shows that rents rose in all but three counties in the second quarter of 2021.
On a quarterly basis, rents in Leitrim increased the most with a growth rate of 17.6%. Louth experienced the largest quarterly decrease, falling by 0.5%.
The county with the lowest monthly rents was Donegal at €677 a month.
The RTB also reported a decline in the number of tenancies registered. The index for the second quarter has 13,884 tenancies compared to 16,085 in the first quarter of the year.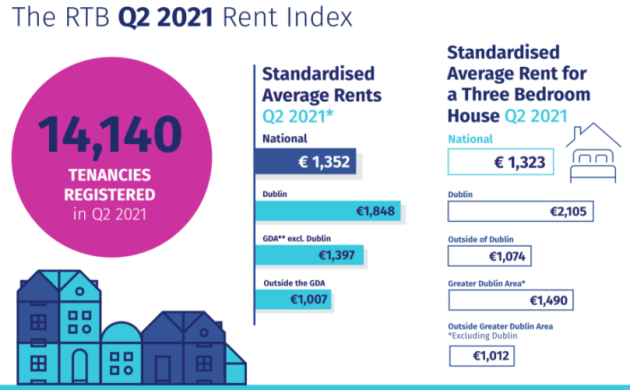 Padraig McGoldrick, Interim Director of the RTB, said the report released today shows national rent increases have rebounded quickly after an initial slow down due to the impact of Covid-19 lockdowns.
#Open journalism
No news is bad news
Support The Journal
Your contributions will help us continue
to deliver the stories that are important to you
The easing of restrictions and the uptick in economic activity has resulted in rents rising in the commuter belt near Dublin, indicating the pandemic has resulted in people moving away from urban areas.
The RTB is yet to examine the effect of new legislation linking rents to inflation instead of a 4% cap, but McGoldrick has said the level of reported increase is still concerning.
"While the latest rent levels will not yet have been impacted by the change in rules for rent setting introduced in July, the level of increase in Q2 2021 is a source of concern and, while there may be legitimate reasons reflecting the rate of increase, it may also indicate an unacceptable level of non-compliance by landlords with rent setting regulations restricting rent increases in Rent Pressure Zone areas (RPZ)," McGlodrick said.
The impact of not complying with these measures can be very severe, and the RTB is committed to ensuring increased compliance with these requirements.
The RTB is currently investigating over 400 cases of non-compliance by landlords in relation to rent increases.
The board has the power to investigate and apply sanctions to landlords that circumvent the legislation in relation to RPZ rent caps. It can apply fines of up to €15,000 and/or costs up to €15,000.
"As of quarter 2 2021, the RTB has commenced almost 400 investigations into improper conducts and to date almost €260,000 has been refunded to current and former tenants as a direct result of breach of rent setting rules," McGoldrick said.
"On the basis of a request from Minister Darragh O'Brien, the Minister for Housing, Local Government and Heritage, the RTB will escalate its response and introduce an accelerated and focussed campaign to identify and, where necessary, pursue those who abuse or ignore their rent setting responsibilities," McGoldrick added.
Source: http://prntscr.com/fub00u
Category Archives: Airline
Updated 17 hours ago
THE POLICE OFFICER who strangled Sarah Everard with his police belt after kidnapping her under the guise of a fake arrest for breaking lockdown rules will die in jail.
Wayne Couzens, 48, was handed a whole life order for the "groseque" killing of the 33-year-old marketing executive which shocked and outraged the nation.
Sentencing at the Old Bailey court today, Justice Fulford described the circumstances of the murder as "grotesque".
He said the seriousness of the case was so "exceptionally high" that it warranted a whole life order.
He said: "The misuse of a police officer's role such as occurred in this case in order to kidnap, rape and murder a lone victim is of equal seriousness as a murder for the purpose of advancing a political, religious ideological cause."
He paid tribute to the dignity of Ms Everard's family, whose statements in court revealed the human impact of Couzen's "warped, selfish and brutal offending which was both sexual and homicidal".
Couzens shook in the dock as he was sent down to begin his sentence.
The court had heard how Couzens used his Metropolitan Police-issue warrant card and handcuffs to snatch Ms Everard as she walked home from a friend's house in Clapham, south London, on the evening of 3 March.
The firearms officer, who had clocked off from a 12-hour shift at the American embassy that morning, drove to a secluded rural area near Dover in Kent, where he parked up and raped Ms Everard.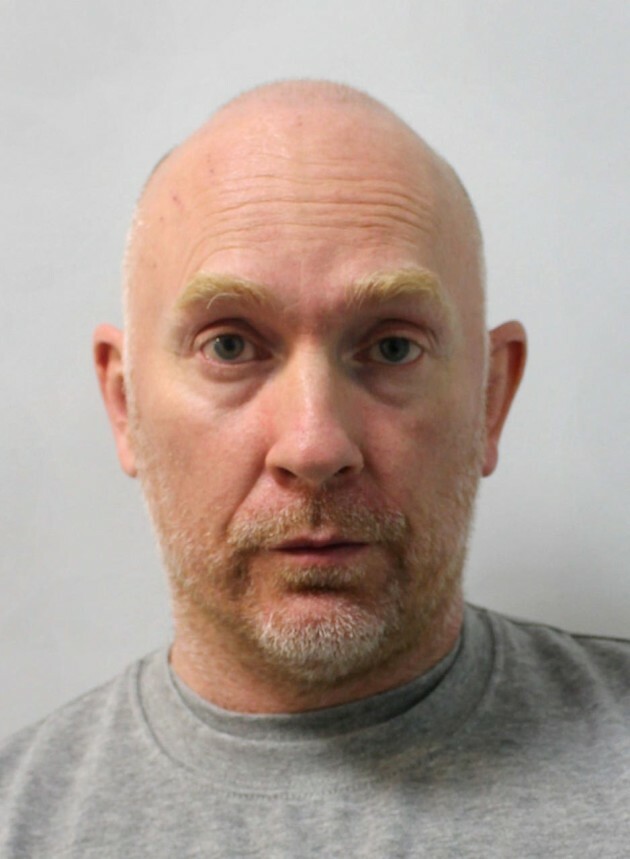 Wayne Couzens
Ms Everard, who lived in Brixton, south London, had been strangled with Couzens' police issue belt by 2.30am the following morning.
Couzens then burned her body in a refrigerator in an area of woodland he owned in Hoads Wood, near Ashford, before dumping the remains in a nearby pond.
He was arrested at his home in Deal, Kent, after police connected him to a hire car he used to abduct Ms Everard, whose remains were found by police dogs on 10 March.
Police waited for two hours before moving in to detain the officer, giving him the chance to wipe his mobile phone beforehand.
In an emergency interview at his home, Couzens concocted a fake story that he had been "learnt" on by a gang which forced him to hand over "a girl".
He went on to plead guilty to Ms Everard's kidnap, rape and murder and was sacked from the force in July.
#Open journalism
No news is bad news
Support The Journal
Your contributions will help us continue
to deliver the stories that are important to you
Yesterday, Ms Everard's parents Jeremy and Susan and sister Katie asked Couzens to look at them, condemning him as a "monster" as he sat in the dock with his head bowed.
Met Police Commissioner Cressida Dick also attended court to hear how one of her own officers had abused his position to carry out his crimes.
Prosecutor Tom Little QC suggested the case was so exceptional and unprecedented that it could warrant a whole life order, meaning Couzens would die in jail.
Couzens' defence barrister Jim Sturman QC urged the judge to hand him a lengthy life sentence, meaning he would be eligible for parole in his 80s.
Sturman said: "The defendant was invited to look at the Everards. He could not, I am told."
"He is ashamed. What he has done is terrible. He deserves a very lengthy finite term, but he did all he could after he was arrested to minimise the wicked harm that he did."
Source: http://prntscr.com/fub00u
Category Archives: Airline
Updated 17 hours ago
MICA-AFFECTED HOMEOWNERS will continue to protest outside Leinster House today calling for 100% redress. 
Housing Minister Darragh O'Brien last night met with homeowners to update them on Government proposals. 
Campaigners are seeking 100% redress for damage to their homes which was caused by the mineral Mica in concrete building blocks.
Previously Minister O'Brien and the wider Government gave a commitment that it will enhance an existing redress scheme for residents in Mayo and Donegal.
O'Brien has acknowledged that the current scheme is not working as originally intended. 
In a statement, the Department of Housing said the Minister understands the stress and the hardship which affected homeowners are facing and assured them that enhancements would be made to the current scheme.  
The Minister said he expects to have receipt of the report of the working group today, which he will consider. 
"The homeowner representatives have submitted a very detailed proposal as to what they wish to see in an enhanced scheme and I would like to thank them for their engagement and proposals.
"As for the next steps, I will, along with the Taoiseach, Tanaiste, Minister Ryan, Minister Donohoe and Minister McGrath, and with input from the Attorney General, consider proposals which can then be presented to Cabinet in a memo.
"I intend to bring this memo to Cabinet in the coming weeks," he said. 
It is expected the memo will be brought in two weeks time. 
Speaking on RTÉ's Morning Ireland today, Mica campaign spokesperson Michael Doherty said affected homeowners presented their final position paper regarding redress to the Minister.
"We listened to the Minister again and he reaffirmed his commitment to an enhanced scheme and we were told we will get the consolidated final Working Group document today," he said. 
Doherty said however "there was nothing concrete" following the meeting and said affected homeowners are "very, very concerned" that redress could be capped at €350,000 per homeowner which he said would leave 40% of those affected "behind". 
"Again, it looks like a deliberate attempt to pitch homeowner against homeowner," he said, adding campaigners would today reiterate calls for 100% redress for those affected. 
"We cannot leave people behind here, this is our one time to do it and to do it right. We want everybody included, there should be nobody left behind."
21.09.21
Mica redress: Tánaiste says 'it's not the government's money' so 'we must have cost control'
A previous scheme launched by the government was deemed inadequate by campaigners, something that has been acknowledged by government. 
Paddy Diver, one of the leaders of the campaign, said that he had no confidence in the housing minister to deliver on his promises.
"I'm not impressed. They're kicking the can down the street all the time," he said.
"I don't think Darragh O'Brien cares. He cares more about his image and his hairstyle than he does care about Mica. He is playing with people's minds.
"He told them there'd be an answer at the end of September. Now he says the first week of October. Then he said the third week of October. Darragh O'Brien needs to get his act together."
He called on people to attend a protest organised in Dublin next month.
Helen McLaughlin, who lives in Dublin but is from Donegal, attended the demonstration outside the Dail today.
"I'm from Buncrana originally and I think how this whole Mica disaster has played out has just been devastating and we're here to lend support to our own local community in Buncrana, but also obviously to the wider community beyond Donegal.
"We really think, taking time to come here today, the Government really has to get something over the line. It cannot go on any longer," she said.
#Open journalism
No news is bad news
Support The Journal
Your contributions will help us continue
to deliver the stories that are important to you
Also speaking on Morning Ireland Finance Minister Paschal Donohoe said that a "more comprehensive" response is needed but added that he would not speculate on figures. 
"I'm not going to add to the anxiety and incredible trauma that all those faced who have seen their homes begin to crumble by y further art into speculation in relation to it," he said. 
"What I and others in government have said is we absolutely accept and we need to respond back in a more comprehensive way, an enhanced way than we have at the moment. What we need to do is find a way of doing it that does all we can to meet the needs that we know are there but there are issues that we need to consider regarding how we can do it, and the cost in relation to it." 
This morning, Taoiseach Micheál Martin addressed the Construction Ireland Federation annual conference, though he did not mention the Mica controversy.
"These have without question been very challenging times," he told stakeholders in the industry.
"But as Ireland moves into a new phase of managing the pandemic, we have set out a clear path in front of us to push forward and build for the future… housing is the single most urgent and important social issue facing our country at this moment in time," he said.
With reporting by Christina Finn and Press Association
Source: http://prntscr.com/fub00u
Category Archives: Airline
STEPHEN KENNY HAS named a 26-man squad for the Republic of Ireland's upcoming matches next month. 
The Boys in Green travel to Baku to take on Azerbaijan in a World Cup qualifier on Saturday, 9 October, before facing current Asian champions Qatar at the Aviva Stadium three days later. 
Next year's World Cup hosts received a guest spot in Group A of the European qualifiers in order to play friendlies against the other five nations. 
There is one new face in the squad as Wigan Athletic striker Will Keane receives an Ireland call-up for the first time.
The 28-year-old has scored four goals in nine League One matches playing as a second striker for the Latics this season.
Former England U21 international Keane, who is the twin brother of Everton defender Michael, began his career at Manchester United before spells with Hull City, Ipswich Town and his current club. 
He met with Mick McCarthy in 2019 and declared his interest in representing Ireland. 
Captain Seamus Coleman and West Brom defender Dara O'Shea are ruled out, but Enda Stevens, Jason Knight and Chiedozie Ogbene make welcome returns to the international fold, having missed the games earlier this month through injury.
Republic of Ireland squad for Azerbaijan and Qatar matches
Goalkeepers: Gavin Bazunu (Portsmouth, on loan from Manchester City), Caoimhin Kelleher (Liverpool), Mark Travers (AFC Bournemouth).
Be part
of the team
Access exclusive podcasts, interviews and analysis with a monthly or annual membership.
Defenders: Matt Doherty (Tottenham Hotspur), Cyrus Christie (Fulham), Shane Duffy (Brighton and Hove Albion), John Egan (Sheffield United), Enda Stevens (Sheffield United), Ryan Manning (Swansea City), James McClean (Wigan Athletic), Andrew Omobamidele (Norwich City), Nathan Collins (Burnley).
Midfielders: Josh Cullen (Anderlecht), Jeff Hendrick (Newcastle United), Conor Hourihane (Aston Villa), Harry Arter (Nottingham Forest), Jamie McGrath (St. Mirren), Jason Knight (Derby County).
Forwards: Callum Robinson (West Bromwich Albion), Aaron Connolly (Brighton and Hove Albion), James Collins (Cardiff City), Daryl Horgan (Wycombe Wanderers), Adam Idah (Norwich City), Troy Parrott (MK Dons, on loan from Tottenham Hotspur), Will Keane (Wigan Athletic), Chiedozie Ogbene (Rotherham United).
The42 is on Instagram! Tap the button below on your phone to follow us!
Source: http://prntscr.com/fub00u
Category Archives: Airline
ACCESS BETWEEN THE internet and NUI Galway's campus network has been disabled after an attempted cyber attack on its IT systems.
The university said there is no evidence at this stage that any data was compromised, but that the incident is being monitored and investigated.
The measure impacts access to the internet for both students and staff studying and working on campus.
In a statement, a spokesperson confirmed: "NUI Galway has been subject to an attempted cyber attack on the university's IT systems."
"Our IT, cyber security and data protection specialists are monitoring and investigating the incident closely. At this point there is no evidence of any data being compromised," the spokesperson said.
"As a precautionary measure, the university has disabled access between the campus network and the wider internet, impacting all users, including students and staff.
"We are working to restore normal access as soon as is possible. We apologise for the inconvenience caused."
The university has cancelled several events that were scheduled to take place due to the disruption, including a support session on using campus accounts, Blackboard (a platform used for sharing course material), and student emails, and an online talk about part-time jobs.
In an email from the university, students were told that the incident had led to "significant disruption to connectivity between the campus network and the wider internet".
"Access to university cloud-based platforms including email, MS Teams and Zoom remains possible from off-campus locations," the email said.
"If you are on campus, you can access these services from a mobile phone if you turn off its WiFi connection. Access to some services including Blackboard is not currently available from any location."
Last year, NUI Galway was one of more than 20 institutions globally affected by hackers targeting Blackbaud, a cloud provider used by some third-level institutions to store information.
#Open journalism
No news is bad news
Support The Journal
Your contributions will help us continue
to deliver the stories that are important to you
The university said that names, phone numbers and emails of alumni in its database may have been obtained in the hack.
Blackbaud paid a ransom to the attacker, which said that the copy of the data it removed from NUI Galway's system had been destroyed.
In April, IT services were disrupted at Technological University Dublin and the National College of Ireland when they were hit by ransomware attacks. 
TU Dublin's Tallaght campus experienced a "significant" ransomware attack, sparking a garda investigation, but said there was no indication that data had been downloaded or copied.
Source: http://prntscr.com/fub00u
Category Archives: Airline
TÁNAISTE LEO VARADKAR has said he is "confident" that there will be no electricity blackouts this winter but that "nobody can guarantee it for certain". 
Questions around the security of Ireland's electricity supply have been brought into sharp focus in recent weeks and were highlighted further by yesterday's report from Eirgrid.
The national grid operator is predicting that Ireland could face electricity shortfalls over the next five years due to increased demand and lower supply due to the closure of a number of fossil fuel-fired power stations.
Speaking in the Dáil today, Varadkar said that supply this winter is likely to be safe but that this is dependent on the reopening of two gas-fired stations that are temporarily closed, the Bord Gáis-owned Whitegate in Cork and Energia-owned Huntstown in Dublin.
These two stations have been shut down for maintenance most of 2021 due to what the national grid operator, EirGrid, described as "unexpected and significant failure of equipment.
Varadkar said today that the two plants should be operational again in October and November. 
"We're confident that that's going to be the case but we can't guarantee it absolutely," he said. 
The Tánaiste added that should this happen supply should be secure:
I've had a chance over the last couple of days to study the presentations that Eirgrid and the Commission for the Regulation of Utilities has provided government. Having looked at those presentations I am confident that we will avoid blackouts and brownouts this winter, but nobody can guarantee it for certain because there are certain factors outside of our control.
He added: "There is a short-term immediate risk to the supply of electricity and that has been caused by a number of factors including those two power stations that are closed, wind not blowing as much as was anticipated and also problems with the interconnector between the UK and Ireland."
Speaking last night at the Fine Gael parliamentary party meeting, Varadkar had told his party colleagues that he was "reasonably confident power outages would not occur this winter". 
Related Reads
29.09.21
Winters of discontent? Why EirGrid is highlighting its concerns about potential power shortages
26.09.21
Supply and demand: What's behind the surge in Irish and European energy prices this year?
Addressing those comments today, Sinn Féin TD Pearse Doherty said that "people want more than that", adding that the demand for electricity was "driven by the proliferation of data centers in recent years". 
"Despite the slew of Fine Gael TDs coming out yesterday and backing the continued construction of data centers, it's clear that we need to have a conversation about the demands placed on the energy infrastructure into the future," he said. 
In response, Varadkar said that data centres currently use about 11% of Ireland's electricity and that "one large power station is enough to power all of them. "
"Of course, the increase in the number of data centers planned over the coming years is an issue and we need to make sure that data centers are part of the solution as well as part of the problem which they are," he said. 
Independent TD Michael Healy-Rae also raised the energy price crunch and questioned the decision to close peat-fired electricity plants.
"Eirgrid have stated that if no action is taken, Ireland will be short 260 megawatts of electricity in 2022 and 2023. Why has this happened?," he asked. 
#Open journalism
No news is bad news
Support The Journal
Your contributions will help us continue
to deliver the stories that are important to you
In response, the Tánaiste said that the peat-fired power stations were not closed by the government but were closed "because of planning and legal issues". 
He added that other planned closures may be deferred "until we have sufficient wind and gas" power stations.
Source: http://prntscr.com/fub00u
Category Archives: Airline
THE HSE IS beginning to offer booster vaccines against Covid-19 to people with weakened immune systems from this week.
The health service has confirmed that people aged 12 and over who are immunocompromised will be able to receive an additional vaccine dose, starting with over-16s.
The dose will either be of the Pfizer/BioNTech or Moderna vaccine, both of which use mRNA technology, regardless of the person's initial vaccine type.
Appointments for adults and teenagers aged 16 and up will start this week, while 12 to 15-year-olds will need to wait longer as they received their initial vaccine course more recently.
"As the vaccination programme for the 12 years to 15 years started later, those aged 12 years to 15 years who have been identified for an additional dose will be offered an appointment at a later date," the HSE said.
"This is to facilitate the two month minimum interval from their last dose of Covid-19 vaccine." 
People eligible for an additional dose are those aged 12 and over who have certain health conditions or are undergoing treatments that mean they are immunocompromised or immunosuppressed.
According to the HSE, hospitals will identify those who need an additional dose and people will receive a text message with an appointment to be vaccinated.
The doses are to be given through a vaccination centre, or in a hospital for inpatients, and GPs may also vaccinate some people. 
HSE Chief Clinical Officer Dr Colm Henry said that it "has been shown that people with weakened immune systems do not generate a full immune response to their first two doses of the Covid-19 vaccine".
#Open journalism
No news is bad news
Support The Journal
Your contributions will help us continue
to deliver the stories that are important to you
"This additional dose we are offering will mean they will get the maximum benefit from their primary vaccination course, giving them better protection against the serious effects of Covid-19," Henry said.
Last week, HSE CEO Paul Reid said the health service expected the first appointments for booster doses to be issued by yesterday and for the programme to run for around five to six weeks.
The National Immunisation Advisory Committee (NIAC) recommended that a booster dose be given to over 65s living in residential care and anyone over the age of 80, later extending its advice to include immunocompromised people aged 12 and over. 
"If people are not contacted, it most likely is an indication that they're not in that higher risk category," Reid said.
Source: http://prntscr.com/fub00u
Category Archives: Airline
TÁNAISTE LEO VARADKAR has defended the Attorney General after it was reported that he was acting in a private capacity for former directors of Independent News & Media in the company's proceedings with High Court-appointed inspectors.
The Tánaiste said that the Attorney General is "finishing out a number of cases that he had taken on prior to his appointment as Attorney General in this government".
He said that the coalition's three party leaders and the Cabinet were aware of that decision, but said that they had not been informed of individual cases the Attorney General was involved in.
The Irish Times had reported that Paul Gallagher, the Attorney General, had been granted permission by the Government to continue working on several outstanding cases after his appointment.
It was reported that the inspectors were appointed by the High Court following a request from the Office of the Director of Corporate Enforcement, a state body.
The Social Democrats co-leader Roisin Shortall called it a "stunning" conflict of interest.
"He cannot take off his Attorney General hat, leave it at the door and enter the room as a different persona," Shorthall said.
"On what planet was it felt it was appropriate to do so?" she asked.
"Apparently Mr Gallagher sought and received Government approval to carry on his private legal work. Who provided this approval?
"There are strict rules when it comes to civil servants, especially senior civil servants, engaging in private work.
#Open journalism
No news is bad news
Support The Journal
Your contributions will help us continue
to deliver the stories that are important to you
"Can you see there are serious problems with this?" she asked the Tánaiste.
Shortall said it appeared to be "grossly inappropriate".
Varadkar said that her questions were reasonable and that he would provide answers to them as soon as possible.
"I am certain the Attorney General would be careful to avoid any conflict of interest or perception of a conflict of interest," Varadkar said.
"He is a person of the highest integrity and ability," he said.
Source: http://prntscr.com/fub00u
Category Archives: Airline
THE LATE LATE SHOW is marking Bob Geldof's 70th birthday with a special tribute episode this Friday evening.
Geldof, who turns 70 next Tuesday, will appear on the show along with his wife Jeanne Marine, his children Pixie and Tiger and his sister Lynn.
The Late Late Show is chronicling the musician and philanthropist's life achievements, including his career in The Boomtown Rats, Live Aid, Band Aid and more.
RTÉ said President Michael D. Higgins will wish Geldof a happy birthday during the show, while former President Mary Robinson will speak about her relationship with Bob and his role as a humanitarian.
Members of The Boomtown Rats, Midge Ure, Andrea Corr, Imelda May and others are also set to pay tribute to Geldof.
"There will also be special contributions from Bob's illustrious friends across the world of entertainment and beyond including Sting, Van Morrison, Tony Blair, Ringo to name a few," RTÉ said.
#Open journalism
No news is bad news
Support The Journal
Your contributions will help us continue
to deliver the stories that are important to you
Bob Geldof first became known in the 1970s for his role as the lead singer of the Boomtown Rats, an Irish band, and then for his charity work.
The Late Late Show has produced more than 30 special tribute shows since the 1960s, including an episode dedicated to Gay Byrne, the show's first host, in 2019.
Source: http://prntscr.com/fub00u
Category Archives: Airline
450 PEOPLE WILL attend a pilot event at Dublin's Button Factory tonight, as a nightclub gets to open its doors for the first time since the Covid-19 pandemic reached Ireland.
The event will see popular acts such as Sunil Sharp, DART and Sim Simma leading the line-up with two rooms of music running from 8:30pm until 12:30am.
Tickets – which were priced at €22.23 – sold out and the organisers of the event say they were snapped up "within seconds" of going on sale. 
So, how will it work?
The Temple Bar venue will operate at 60% of its total capacity for the trial run and no social distancing restrictions will be in place. "It will be like a glimpse back to 19 months ago," explains one of the organisers, Will Rolfe.
Doors open at 8pm and people will be required to wear a mask when queueing to get into the event and when leaving the venue.
Along with a ticket, those attending the gig will need their Digital Covid Certificate and will have to test negative on a rapid antigen test.
In a bid to speed up the entry process, the organisers have been running antigen testing for attendees at Filmbase in Temple Bar since midday today.
It's anticipated that most people will get tested prior to their arrival this evening, so the organisers are not expecting any significant delays.
It's currently unclear whether antigen testing will be required when nightclubs reopen on 22 October, however, Rolfe noted that, because tonight's event is a trial run, it makes sense to test as many scenarios as possible to assess their feasibility.
The gig is hosted by Hidden Agenda and District 8 in consultation with nightlife campaign group Give us the Night.
Reopening
Rolfe says the event is a welcome sign that the nightlife industry may finally be able to return following a very challenging 19 months.
"It's great to see everyone back working, it's people's livelihoods, it's what they enjoy doing and being a part of. But we're only a small group of people who are working on the show and the wider industry really needs to get to a place of being reopened," he said.
#Open journalism
No news is bad news
Support The Journal
Your contributions will help us continue
to deliver the stories that are important to you
The promoter says many in the industry still have reservations about the 22 October return because previous reopenings have been delayed.
"For a lot of the industry it's a situation of hesitation, until that (reopening) happens, which has been the same throughout Covid, nobody knows what's going to happen next," Rolfe said.
These things can move and change. But, I think, there is a lot of hope. It does feel real. It feels like we're within touching distance. But you wouldn't want to get carried away until we're fully back.
Minister for the Arts, Catherine Martin, said the event was an "important step as we prepare for a further reopening in October".
"There are many challenges ahead for the live performance sector, particularly in a post Covid-19 context, and it is essential that we continue to learn from pilots such as this one. This pilot is important for this industry to help it plan for a safe full reopening on 22 October, subject to the public health situation," Martin said.
It is hoped that the event will help pilot the logistics of event ticketing, venue admittance, the impact of antigen testing and ventilation to ensure a safe and financially sustainable reopening of the nightclub sector.
Source: http://prntscr.com/fub00u
Category Archives: Airline
"SERIOUS QUESTIONS" NEED to be answered by the Metropolitan Police, the UK Home Secretary has said, as she backed Cressida Dick in the wake of Sarah Everard's murder.
The Met commissioner faced more calls to step down amid demands for urgent action to restore the confidence of women in the police after Wayne Couzens was handed a whole life sentence for the killing.
Earlier this month her contract was extended by two years, which means she will continue to lead the Met until 2024.
Speaking at the Home Office, Priti Patel said: "There are questions, serious questions that need to be answered by the Metropolitan Police … from the very day that Sarah went missing.
"I have been, clearly, in contact with the Metropolitan Police and putting forward some questions around the conduct of the potential suspect at the time and all the requirements and checks that should have been put in place."
When asked if Dick should resign, she said: "I will continue to work with the Metropolitan Police and the commissioner to hold them to account as everybody would expect me to do, and I will continue to do that."
Describing Couzens as a "monster" and the case as "sickening" and an "appalling tragedy", Patel said: "It is right that he has been given a whole-life tariff and with that he can never walk the streets of our country again."
The Chief Inspector of Constabulary Tom Winsor told BBC Radio 4's The World At One: "Cressida Dick is not responsible for the individual acts of every police officer, including a police officer of the appalling criminal intent of Wayne Couzens.
"Cressida Dick has a great deal of support from her officers and has led the force with distinction."
Labour leader Keir Starmer also rejected calls for the commissioner to be replaced, telling ITV's Good Morning Britain: "I was pleased that her contract was extended and I support her."
30.09.21
Police officer who killed Sarah Everard will die in jail for her murder
Met Deputy Commissioner Stephen House told the London Assembly's police and crime committee the actions of Couzens "constitute a gross betrayal of everything in policing that we believe in, everything that the Met stands for", adding: "He was one of us and we need to look at ourselves very, very carefully to understand, a, how was he allowed to be one of us, and what does it say about us as an organisation that he was."
He said the case has raised questions on recruitment and vetting, adding: "We know we have to work to rebuild trust and confidence, and we will do all we can to achieve that."
Officers are being instructed to allow phone calls to the control room, if necessary, to confirm their identify when they present a warrant card to the public, he said, adding: "We know we have to go further to achieve trust and to prove identity of plain clothed officers.
"And we are prepared and keen to do that."
Harriet Harman, the MP for Camberwell and Peckham, who is also mother of the House of Commons and chairwoman of the Joint Committee on Human Rights, has asked Patel to take urgent action to "rebuild the shattered confidence of women in the police service", and told Dick she needs to step aside to "enable these changes to be taken through".
She set out a number of changes needed, including swifter suspensions over allegations of violence against women, and dismissals when crimes are proven, as well as tougher disciplinary action for those who fail to report colleagues and stricter vetting checks for new recruits and transfers.
#Open journalism
No news is bad news
Support The Journal
Your contributions will help us continue
to deliver the stories that are important to you
The case comes against a backdrop of concerns in how the criminal justice system addresses what is being described as an epidemic of violence against women and girls.
Anna Birley, co-founder of Reclaim These Streets and a Labour councillor, said "very little" has changed since Everard's death, telling the PA news agency: "The Government needs to stop dilly-dallying and take tangible action to stop women from being killed."
Labour's shadow home secretary Nick Thomas-Symonds called for an "urgent investigation" to make sure nothing like this ever happens again, while chairman of the Commons Home Affairs Committee Yvette Cooper said police forces must not dismiss the actions of Couzens as a "one-off" as "the system clearly completely failed to stop him or to root him out at a much earlier stage when it should have done so".
Source: http://prntscr.com/fub00u
Category Archives: Airline
THE LOTTO JACKPOT has been capped until it is won after reaching a new record of €19,060,800. 
The jackpot reached the new record on Wednesday when it wasn't won. 
A single winner of the prize will become the biggest ever Lotto jackpot winner in the history of the game in Ireland. 
For each draw until won, the jackpot will remain at €19,060,800 and the funds that would normally contribute to growing the jackpot will now flow down to the next tier at which there are winners. 
This means that there will be even more prize money guaranteed to be won at non-jackpot prize tiers. 
The next Lotto draw will take place on Saturday. 
#Open journalism
No news is bad news
Support The Journal
Your contributions will help us continue
to deliver the stories that are important to you
Source: http://prntscr.com/fub00u
Category Archives: Airline
A MENTALLY ILL woman who believed she was possessed by the spirit of Princess Diana and killed her housemate before cutting off his genitals to "protect Prince William" has been found not guilty of murder by reason of insanity at the Central Criminal Court.
Grace Miano (53) had been charged with the murder of Malawian man Limbani 'Robert' Mzoma (27) at Tudor Lawns in Foxrock, Co Dublin, on 1 November 2018.
The jury took just under two-and-a-half hours to reach their unanimous verdict today.
Miano, who is also known as 'Margaret Sloane', told the court on the first day of the trial on Monday that she was pleading "not guilty by reason of insanity".
Justice Paul McDermott thanked the jury and excused members from jury service for a period of ten years.
At a previous hearing, a consultant psychiatrist told the Central Criminal Court that the accused was, in his opinion, "possibly the most floridly schizoaffected person" he had ever met.
Her defence counsel, Michael Bowman SC, yesterday told the jury that Miano on occasion "believed she was effectively possessed by Princess Diana, who came to tell her what she had done. She was not in her right mind, and claims that the day after [the killing], Princess Diana told her she was the one who did it," he said.
Counsel had said that the delusions were "as real as they could be to her" and added that the medical opinions were "all one way".
The trial has heard from consultant psychiatrists that Miano told gardaí that she killed Mzoma to "protect Prince William" and had cut off his genitals after death "to protect women". She also told psychiatrists that she had been inhabited by the spirits of Princess Diana and other British royals to stop a plot that would have put Prince William and Prince Harry in danger.
After the verdict was delivered, Mr James Dwyer SC said that the State's application was for Miano to be examined at a designated centre for 14 days to see if she is in need of inpatient treatment.
Mr Justice McDermott granted the application and remanded Miano to reappear at the Central Criminal Court on 11 October for the production of a psychiatric report.
The judge extended his condolences to Mzoma's family who "suffered greatly with the loss of a valued member of their family".
In his charge to the jury this morning, Justice Paul McDermott said that the special verdict of not guilty by reason of insanity was open to the jury. The judge said that both the defence and prosecution consultant psychiatrists had told the court that this was the appropriate verdict to return.
Mr Justice McDermott said to the jury of seven men and five women that if they were satisfied that Miano killed Mzoma, "then you have to consider the state of mind of whether or not she intended to kill or cause serious injury".
Mr Justice McDermott said that there were three criteria under which a person might be found not guilty of murder by reason of insanity according to the Criminal Law (Insanity) Act of 2006.
Firstly, he said, was the question of whether or not the person knew the nature and quality of their actions, secondly whether that person did not know what they were doing was wrong and, finally, if the person was unable to refrain from committing the act.
#Open journalism
No news is bad news
Support The Journal
Your contributions will help us continue
to deliver the stories that are important to you
The judge told the jury that only one of the three criteria was needed for the accused to be considered for a verdict of not guilty by reason of insanity. He said that both psychiatrists agreed that Miano qualified under two criteria: that she did not know what she was doing was wrong and that she was unable to refrain from her actions.
The judge said that if the jury was satisfied beyond a reasonable doubt with the evidence of the medical experts in the case that Miano was operating under a mental disorder then the law recognises that it does not require a conviction regarding a criminal offence.
He said the accused person has a burden to established that they were insane at time, "in that she did not have the capacity to commit murder, as it is claimed she lacked that capacity because of her illness to have responsibility for those acts".
He told the jury that both psychiatrists independently concluded forms of paranoid schizophrenia as a defective disorder affecting Miano.
"They do not differ that the accused was suffering from, at the time, paranoid schizophrenia," he said.
Comments are closed as legal proceedings are ongoing. 
Source: http://prntscr.com/fub00u
Category Archives: Airline
THE 42′s TOP PICKS
Nathan Doak (Ulster)
Height: 6'1'
Weight: 13st, 7lbs
Position: Scrum-half
Age: 19
WE HAVE REACHED the stage where Nathan Doak has an identity of his own. In other words, the most talented scrum-half Ulster have produced in a couple of generations no longer needs his name to be prefixed with the information that he is the son of Neil Doak, who you may recall was a handy enough No9 in his day.
Saturday is when Doak junior, will more than likely, make his starting debut for Ulster, Zebre the opponents. Looking further down the line, his biggest opponent is likely to be team-mate, John Cooney, one of the first names on Dan McFarland's team sheet.
It doesn't help Doak's cause that Cooney is normally one of the last names on Andy Farrell's squad-list, his rare international outings allowing Ulster to pretty much have the Dubliner all to themselves. That's a potential roadblock for Doak down the track but he can't worry about that just yet.
An outstanding schoolboy player, Doak is still 19, and after making his Ulster debut off the bench against Munster last January, he has gone on to play twice more for the province, against Leinster last season, and then last Friday against Glasgow, when he scored a try and three conversions in his 49-minute showing.
"He is his own player he has got a good head on him, he reads the game well and he has a pretty decent understanding and he knows what he wants," said his father, Neil, just before his Ulster debut last January.
Junior backed up Doak senior's words during the summer when he won the man-of-the-match award with a 20-point haul against Wales in the Under 20 Six Nations championship.
Tellingly, Ulster coach, Dan McFarland, hasn't overhyped the situation, with his words.
His actions, however, were deafening. Alby Mathewson, the veteran, was allowed leave, Doak promoted. "He's done pretty well, young player, lots to learn," said McFarland recently. So far he's got an A-Plus in his mocks.
Others to keep an eye on in Ulster: Aaron Sexton, Tom Stewart, Ethan McIlroy, Callum Reid, David McCann, Cormac Izuchukwu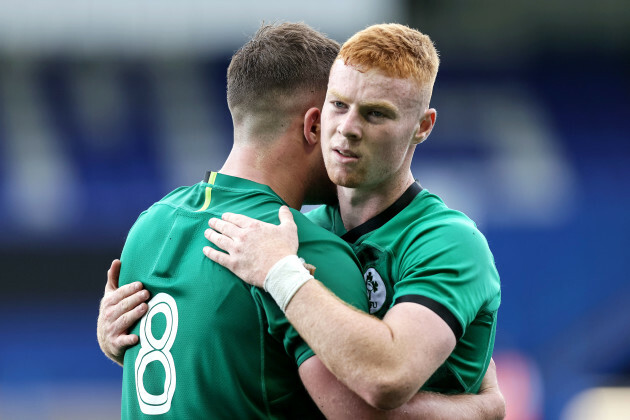 Doak with Alex Kendellen for Ireland U20s.
Source: Laszlo Geczo/INPHO
Alex Kendellen (Munster)
Height: 6'2'
Weight: 16st, 6lbs
Position: No8
Age: 20
There are very few ifs about Alex Kendellen. Attitude? It's 10/10. "He is an incredible young player," said Richie Murphy, the Ireland U20 coach after Kendellen's player-of-the-match performance against Scotland earlier this year. "As a captain, he leads very much by example; he is not a screamer or a shouter. He communicates with the lads in a calm manner."
Ability wise, he was just about 10/10 for the Ireland U20s in this year's Six Nations, scoring six tries in five games; topping or coming close to the top of the stats charts in terms of carries, tackles, metres gained.
The only 'if' or 'but' stems from where he is at. Munster, also known as – Munster, still seeking to end their trophy famine – pay his wages. They're under serious pressure to deliver results and silverware. How often are young players trusted to deliver in those circumstances? It's worth noting Thomas Ahern came off the bench last week against the Sharks, Ahern being 22, 6'9', a former underage star. It is also worth noting Ahern has made just eight appearances for the senior side, while precocious out-half, Jack Crowley, has made only three.
Kendellen did get his senior debut last year, against Scarlets, and to all intents and purposes, should get more chances this term, especially after doing well against Exeter in pre-season. "The competition is crazy down there," Kendellen said about Munster's back-row options in June. "I was really thrown into the deep end after school but that's the best way to learn – to just get thrown in and kind of sink or swim."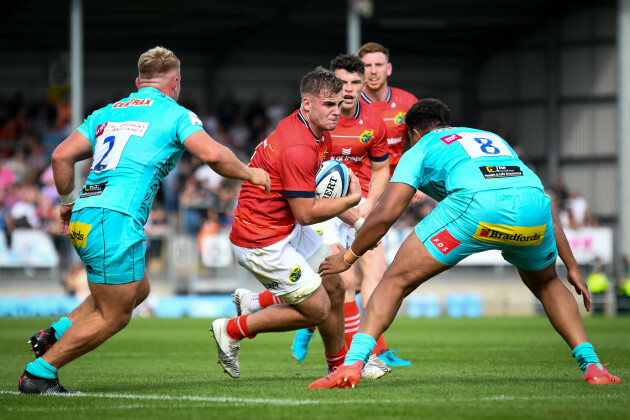 Kendellen in pre-season against Exeter.
Source: Andy Watts/INPHO
So far he has done more than just stay afloat. "The fact is Alex is a very good age group player," said Murphy after Ireland's win over Wales in the summer.
"There is a big step up to provincial level, but I think he's definitely a player Munster will have their eye on for the future."
Others to look out for in Munster: Josh Wycherley, Thomas Ahern, Jack Crowley, Jack Daly, Jake Flannery, John Hodnett
Alex Soroka (Leinster)
Height: 6'5'
Weight: 16st, 6lbs
Position: Back row
Age: 20
The Leinster formula is well-known by now. Cap them early, usually against Zebre or Dragons, usually away from the TV cameras and the crowds. If they survive that, then test them again, first with a start, then with a game against trickier opponents, then in an Irish derby. If they're still breathing by this stage, you put them into a Champions Cup game.
Get exclusive
rugby analysis
Access members-only podcasts, analysis and insider reports from The42's Murray Kinsella
Sounds simple, doesn't it? For Alex Soroka, the complication comes from the fact that the path is so well-worn at this stage that there is no shortage of backrowers for Stuart Lancaster and Leo Cullen to look at.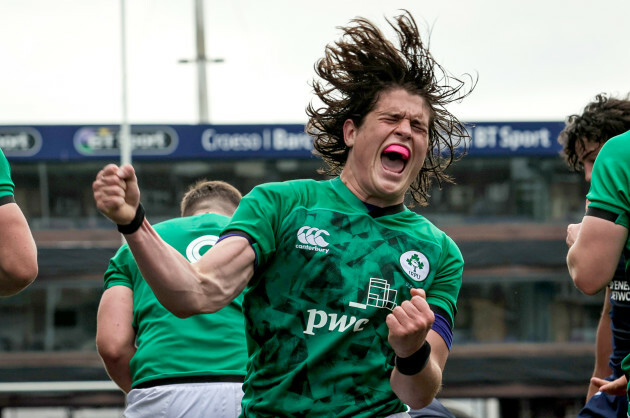 Alex Soroka celebrates for Ireland U20s.
Source: Laszlo Geczo/INPHO
You've British and Irish Lion, Jack Conan; you've grand slam winner, Dan Leavy; internationals Caelan Doris, Will Connors, Max Deegan, Rhys Ruddock and Josh van der Flier. If you're still stuck, you could turn to Ryan Baird and ask if he'd mind relocating from the second row to the back row. Failing that you've try-scoring sensation Scott Penny or Josh Murphy.
So what chance has the bright-young-thing got? Well, so long as you've a club ethos that rewards talent and risks results to blood the next generation, then Alex Soroka should be fine. "It's not sustainable to keep internationals playing all the way through the season," said Lancaster recently. "That's a positive for bringing younger players through."
Soroka has already got a taste of it, winning two caps last year, against Glasgow, and sure enough, Zebre. He's rangy, fast, tough, skilful and certainly good enough to become a decent pro, if not more. His trouble isn't his talent. No, his problem is the quality and quantity of back-rowers ahead of him in the queue.
Others to look out for at Leinster: Thomas Clarkson, David Hawkshaw, Michael Milne, Cormac Foley, Martin Moloney, Marcus Hanan, Jamie Osborne, Max O'Reilly
Sam Illo (Connacht)
Height: 6'1'
Weight: 18st, 5lbs
Position: Tighthead prop
Age: 20
Sam Illo is still only 20, a baby in tighthead terms. But if first impressions are anything to go by, then Ireland has a new star.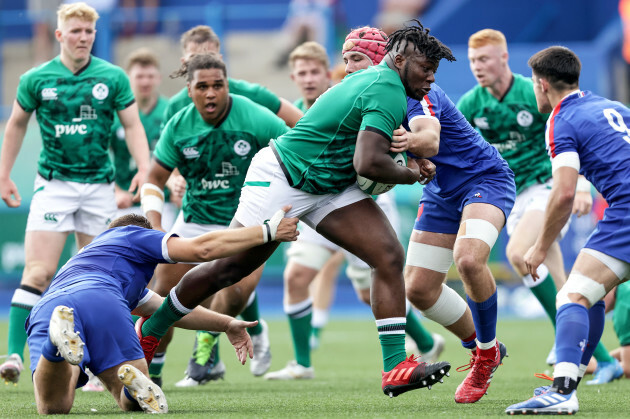 Stop me if you can! Sam Illo on the charge.
Source: Laszlo Geczo/INPHO
He was immense in the Irish Under 20s Six Nations tournament; powerful in the loose, scorer of a try, destructive in the scrum. You can't say for certain that any player that age will make it, least of all a prop. Still, if you could get stock in a prospect, he'd be near the top of the buy list.
"Getting the chance to play for Ireland, pulling on that shirt, I'm really proud of that," said Illo during the tournament. "Only a few get the chance. It's something I've been hoping to do for a long time."
He has every right to keep dreaming. Moving from Leinster to Connacht was smart as he has to play the long game.
Others to look out for at Connacht: Shane Jennings, Cathal Forde, Oran McNulty, Cian Prendergast, Dylan Tierney-Martin
Source: http://prntscr.com/fub00u
Category Archives: Airline
NOW IS NOT the time to increase carbon tax in this years Budget, according to Mayo TD Michael Ring. 
The Fine Gael TD – a former minister for rural development – told his party members at a meeting last night that he had written to Finance Minister Paschal Donohoe and Climate Action Minister Eamon Ryan asking for no increases in the carbon tax this year due to the rising cost of heating for consumers.
Speaking to The Journal this afternoon, he said "we have to cut out the hypocrisy", stating that "we are facing into a very uncertain winter" and now is not the time to increase costs for people.
"We have a problem, now is not the time to increase carbon tax on fuel," he said, adding that there is a "serious problem" right now with the "price of fuel, electricity and everything else". 
As part of the Programme for Government agreed by Fianna Fáil, Fine Gael and the Green Party, the coalition outlined a target of increasing carbon tax gradually up to €100 per tonne by 2030.
As part of that pledge, carbon tax increased by €7.50 from €26 per tonne to €33.50 per tonne in Budget 2021 and increased €6 per tonne in the previous budget.
Carbon tax is applied to petrol, diesel and home-heating fuels.
Finance Minister Paschal Donohoe has previously that the government "remains committed" to increasing carbon tax to €100 per tonne, adding that climate change will be "central" to the upcoming budget.
Ring said while the carbon increases are set out in legislation, the pandemic has shown that laws can be amended and changed when emergencies dictate.
He said the cost of petrol and diesel at the moment is "horrendous". Carbon taxes hit rural areas disproportionately, he said, adding that in rural Ireland there is no public transport, and people are forced into their cars if they want to travel somewhere. 
"We are already paying enough for fuel," he said.
Ring is not the only one calling on the government to defer increasing the carbon tax in this years Budget.
#Open journalism
No news is bad news
Support The Journal
Your contributions will help us continue
to deliver the stories that are important to you
People Before Profit's Richard Boyd Barrett told Tánaiste Leo Varadkar today that the public have already seen two, three or four energy price hikes this year alone.
"The Government can do something about it, though, and I suggest it does, namely, through the carbon tax. We have always believed that the carbon tax was an unfair and regressive tax on people who have very little control over the amount of energy they use because of a lack of insulation in their homes and so on.
"In the context of surging energy prices, which will rifle people's pockets, the Government should defer any talk of adding to that burden by increasing carbon tax in the forthcoming budget," he said.
Varadkar said he could not make commitments in respect of the budget. 
He said the carbon tax is an important climate action measure.
"The majority of climate scientists, including many Nobel prize winners, are adamant that climate action cannot be achieved unless carbon taxes and carbon pricing are part of the solution. However, a proportion of those receipts will be ring-fenced to assist people in fuel poverty in particular," he said.
Source: http://prntscr.com/fub00u
Category Archives: Airline
POP SUPERSTAR SHAKIRA has revealed that a pair of wild boars attacked her and stole her handbag in a park in Barcelona.
The Colombian singer said the beasts confronted her while she was walking with her eight-year-old son Milan.
The 44-year-old recounted the bizarre encounter in a series of Instagram stories yesterday.
Holding the battered remnants of the recovered bag to the camera, she said: "Look at how two wild boar which attacked me in the park have left my bag."
"They were taking my bag to the woods with my mobile phone in it," the singer continued. "They've destroyed everything."
Shakira then turned to her son, whose father is the Barcelona FC footballer Gerard Piqué, and said: "Milan tell the truth. Say how your mummy stood up to the wild boar."
Wild boars have increasingly become a nuisance in cities across Europe.
As recently as last week, video of a group of more than a dozen boars wandering amongst traffic on the streets of Rome went viral in Italy. The video quickly became an issue in the city's mayoral race.
#Open journalism
No news is bad news
Support The Journal
Your contributions will help us continue
to deliver the stories that are important to you
Earlier this month, the city's mayor Virginia Raggi opened a criminal lawsuit against the surrounding Lazio regional government over "the massive and uncontrolled presence of wild boar in Italy's capital". 
The robust animals can survive in almost any environment. They can carry a wide range of diseases and are listed among the world's most invasive species. They are being increasingly drawn to cities, due to the steady supply of food left in bins by humans.
Source: http://prntscr.com/fub00u
Category Archives: Airline
PUBLIC HEALTH OFFICIALS have confirmed 1,271 new cases of Covid-19 in Ireland.
There were 297 patients with Covid-19 in hospital, including 59 in ICU, as of 8am today.
Yesterday, there were 1,453 new cases of Covid-19, 300 people with the virus in hospital and 60 in ICU. 
Deaths are being announced weekly due to the HSE data breach in May – as of yesterday, 5,249 people have died with Covid-19 in Ireland.
A total of 7.213 million vaccines have been administered in Ireland against Covid-19.
#Open journalism
No news is bad news
Support The Journal
Your contributions will help us continue
to deliver the stories that are important to you


TheJournal.ie's coronavirus newsletter cuts through the misinformation and noise with the clear facts you need to make informed choices. Sign up here:
Source: http://prntscr.com/fub00u
Category Archives: Airline
AS MANY AS 11 boxing matches at the 2016 Rio Olympics were likely corrupted by officials involved in manipulating bouts for money, according to a report by an independent investigation released today. 
"A system for the manipulation of bouts by officials existed at Rio," said a report by a team led by Canadian lawyer Richard McLaren.
"The seeds of this were sown years before starting from at least the Olympic Games of the 21st century through the events around 2011 and London 2012."
Among the fights in question is Michael Conlan's controversial loss to Vladimir Nikitin of Russia in the quarter-final of the bantamweight division. 
Belfast boxer Conlan — going for his second Olympic medal — was outspoken about the result at the time, and he tweeted the AIBA today to say: 
"Lads, I want my medal. Get it sorted and I'll DM you my address. Thanks, MC."
The report added that investigators had not been able to ascertain the exact number of tarnished fights, although it could be as high as 11.
AIBA has had a long history of match manipulation and corruption," the report said.
Ching-Kuo Wu, then-president of the International Boxing Association (AIBA), and then-executive director Karim Bouzidi had been complicit in allowing the corruption to happen, it added.
The report pointed fingers at neither boxers nor their entourages, instead unveiling a vast network of "bout manipulation" involving "compliant and complicit" referees and judges acting under "a culture of fear, intimidation and obedience" created by AIBA.
Taiwan's Wu and Frenchman Bouzidi were, McLaren said, "key actors in organising the field of play to allow the manipulation to flourish".
In response to the McLaren report, AIBA said it had "noted the findings regarding the Rio 2016 boxing tournament with concern and confirmed that extensive reforms have been implemented to ensure sporting integrity at current AIBA competitions".
"AIBA hired Professor McLaren because we have nothing to hide," said AIBA President Umar Kremlev.
We will work to incorporate any helpful recommendations that are made.
Be part
of the team
Access exclusive podcasts, interviews and analysis with a monthly or annual membership.
"We will also take legal advice with regard to what action is possible against those found to have participated in any manipulation.
"There should be no place in the AIBA family for anyone who has fixed a fight."
© – AFP, 2021 with reporting from Ben Blake
The42 is on Instagram! Tap the button below on your phone to follow us!
Source: http://prntscr.com/fub00u