Investigations are under way into the cause of a 'chemical haze' which left hundreds seeking hospital treatment along the Sussex coast. pic.twitter.com/RjRdTBIQRg
— BBC Sussex (@BBCSussex) August 27, 2017
Source: BBC Sussex/Twitter
AROUND 150 PEOPLE have sought treatment in hospital in Sussex after what's described as an "unknown gas cloud" hit the coast in the southern English county yesterday.
According to local police, the first reports of a 'haze' coming in from the sea were received just before 5pm yesterday.
People reported irritation of their eyes and throats as the plume of gas moved eastwards along the coast.
According to a statement from Sussex Police this morning:
It appears that the last reports were received some three hours after the first, but long queues built up at Eastbourne General District Hospital well into the evening, with approximately 150 people being treated.
However, the effects were mostly minor and it was not necessary to admit anyone for further treatment.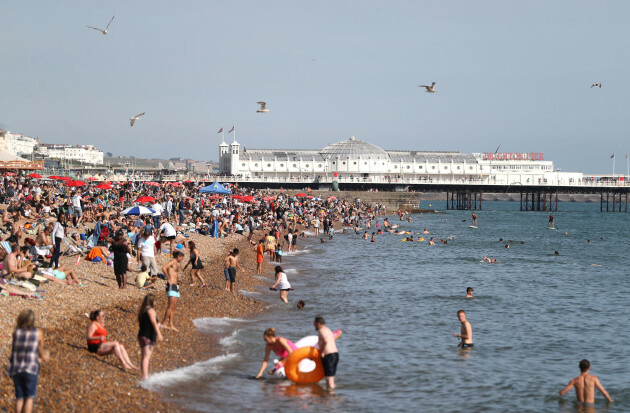 People sunbathe on Brighton Beach in Sussex on Saturday.
Source: PA Wire/PA Images
Investigations into the cause of the chemical cloud are under way.
However, East Sussex Fire and Rescue Service has advised that it is "extremely unlikely" that it was chlorine, as had been suggested on social media.
Said police:
It is believed that it came in from the sea, but this has not been confirmed and work continues to locate the cause.
At first, patients were dealt with as a precaution with a "full decontamination treatment," according to police, however "it became clear that this was not necessary following clinical advice".
Still affected by the gas cloud? See here for advice from Public Health England. Thankfully, nobody seriously hurt. https://t.co/lRoIFHkxv8
— Sussex Police (@sussex_police) August 27, 2017
Source: Sussex Police/Twitter
Those affected are being advised by Public Health England to irrigate their eyes if they are irritated and to wash all over with plenty of soap and water.
According to the police statement:
The effects, while uncomfortable, were not serious and an investigation is now under way by a number of agencies working in partnership to establish the source of the gas.
It is believed that it came in from the sea, but this has not been confirmed and work continues to locate the cause.
Still not confirmed source or exact nature of this haze cloud. We will investigate with partners
— C/Insp Bruce Mathews (@CIBruceMathews) August 27, 2017
Source: C/Insp Bruce Mathews/Twitter
People living along the coast were advised yesterday to remain indoors with windows and doors shut. However, the vast majority of the gas appeared to have dissipated by later yesterday evening.
It's a Bank Holiday in the UK today – so thousands of people are expected to flock to the beach once again. The situation will continue to be monitored, according to authorities – but it is believed that it was an isolated incident.
Read: 60 families given financial assistance in wake of Donegal floods >
Read: 'Hard labour – it's hard': Canadian pastor freed from North Korean jail despite life sentence >
Source: http://prntscr.com/fub00u