A DUBLIN-BASED resource exploration firm has started drilling for off the coast of Kerry in the hopes of making a massive oil find.
Providence Resources said this morning that it has started drilling in the southern Porcupine Basin, about 220km off the south-west coast of Ireland.
The project is one of the first undertaken by an indigenous firm in Irish waters in years, as the exploration sector has suffered from a downturn in oil prices.
The location where the company plans to drill covers licences for two of its projects, named 'Druid' and 'Drombeg'. Providence has said that there could be billions of barrels of oil at both locations.
Providence has contracted a deep-water drillship called the Stena 'IceMAX' to drill the well at a depth of more than 2km. Drilling operations are expected to last between 45 and 60 days.
Funding
Providence said that an update will be provided once the prospect "has been penetrated or as appropriate".
The Irish company has a 56% stake in the well. UK-based Cairn Energy, one of the world's largest oil and gas explorers, holds a 30% stake in the well through its Capricorn subsidiary.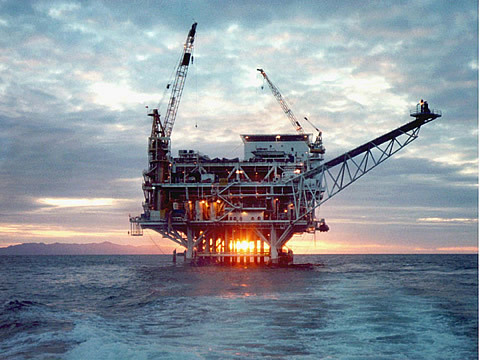 An offshore oil rig
Source: Wikimedia
A company called Sosina Exploration holds the remaining 14%. French major Total paid Providence for an option to acquire a 35% stake in the project after the exploration well is completed. The well is estimated to cost $42 million to finish.
As part of the agreement with Cairn, the UK firm will cover just under half of the costs of drilling the well. The bulk of the remainder will be funded with the money raised from the deal with Total.
Prospects
Providence estimates that there could be as much as 3.2 billion barrels of oil at its Druid location.
However, this is an 'un-risked' estimate of prospective resources – these estimates do not factor in the chance of drilling a successful well.
As oil drills generally have low success rates, particularly in Ireland, the risked value would likely be a fair bit lower.
In a research note published this morning, Davy analyst Job Langbroek was upbeat about the project.
He said that the well "meets the most important exploration event criteria of all — that a success case adequately compensates for the risk involved. Very much so in this case".
Sign up to our newsletter to receive a regular digest of Fora's top articles delivered to your inbox.
Written by Paul O'Donoghue and posted on Fora.ie


Get the top business news from Fora delivered to your inbox:
Source: http://prntscr.com/fub00u