IT'S BEEN MORE than a year since the UK voted to leave the European Union, and for a while, it wasn't clear what kind of split that would be.
Despite British Prime Minister Theresa May's promises that she wanted to keep relations between Britain and Ireland close in the wake of Brexit, and that she wishes to avoid a hard border in the North, the announcements so far have hinted at a 'hard' Brexit.
Already, the UK have publicly announced their intention:
To withdraw from the customs union, which would mean they would be free to negotiate their own trade deals with individual countries
To distance themselves from the oversight of the European Union in relation to citizens' rights, and
To leave the London Fisheries Convention 1964.
The final one is quite significant – announced as Brexit talks began, it showed that the UK fully intended to assert their "take back control" mantra in relation to their waters – even if it could adversely affect their own industry.
The London Fisheries Convention allows other EU countries to fish in the 6-12 nautical mile zone off the coast of countries, and allows neighbouring countries to fish in the 0-6 mile zone (such as Northern Ireland and the Republic).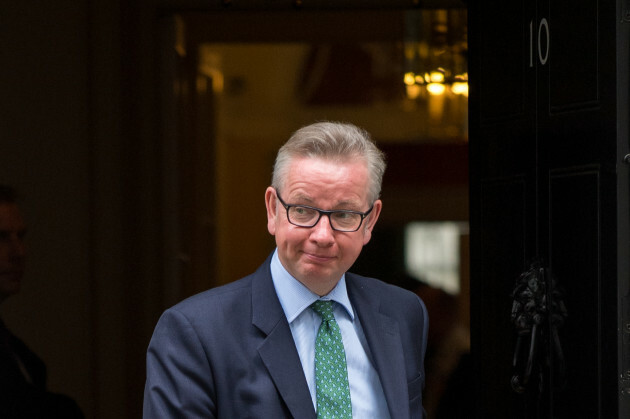 Michael Gove said that it was time the UK "takes back control" of its waters.
Source: Dominic Lipinski via PA Images
When the announcement was made by UK environment secretary Michael Gove, Minister for Agriculture, Food and the Marine Michael Creed called it "unhelpful and unwelcome".
In committee this week Creed acknowledged that Brexit poses a "very specific threat over and above those common to most other sectors".
"In fact, if we no longer have access to the UK waters, or we see a significant drop in our quotas, the trade implications will be the least of our problems," he told the committee, saying that the UK had made "no secret" of their desire for a hard Brexit.
Did we get a heads-up?
The UK government did tell Ireland in advance – through our British embassy.
The week before the announcement, Creed told Gove about the importance of long established fishing patterns by the Irish fishing fleet and the importance of these being acknowledged and protected after Brexit.
He had previously discussed fisheries issues with UK secretary George Eustice, and twice with Gove's predecessor Andrea Leadsom.
Despite those efforts to maintain cohesion, the UK verbally notified Ireland of its intention to withdraw via the British Embassy in Dublin – two days before the UK's public announcement on Friday 30 June, a spokesperson said.
That leaves Ireland in a tricky position to safeguard its fishing industry – on average, 34% of Irish landings are taken from UK waters.
For our largest fishery, mackerel, 64% is taken in UK waters, and our second biggest fishery, prawns, 43% is taken in UK waters.
The Irish government are also in the process of passing an amendment that would allow the government to comply with the Convention. Currently, there's no provision in law to allow boats from Northern Ireland to fish in Ireland's 0-6 mile-belt.
The government has fought hard for this provision – both in the Seanad and in the courts – but will now reconsider their position following the UK's announcement.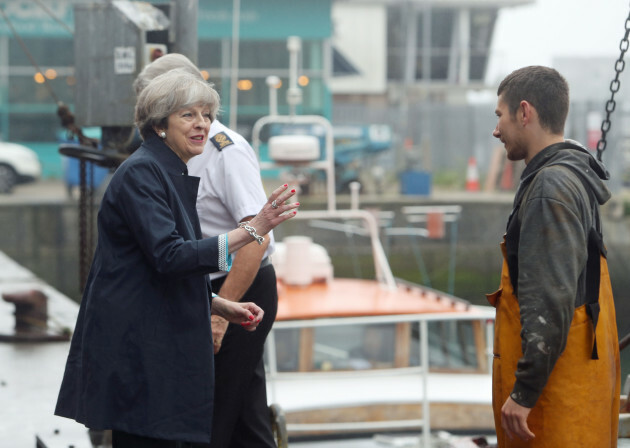 Prime Minister Theresa May meets Carl Hatton during a General Election visit to Plymouth Fisheries.
Source: Steve Parsons via PA Images
Although the Convention only concerns the 0-12 nautical mile belt off the coast, there are concerns about the influx of boats to Irish shores should the UK continue to "lift the drawbridge on its waters" as Creed himself put it.
So what Britain are saving?
It mightn't be all that much – but it's hard to measure.
In the aftermath of the announcement, the UK's environment, food and rural affairs secretary George Eustice told to Sky News that although overseas vessels caught just over 10,000 tonnes of fish in the 6-12 nautical mile zone that the Convention concerns, British vessels catch a relatively small amount in EU waters.
He said that out to 200 nautical miles, access for foreign vessels is for up to 700,000 tonnes of fish; "there's a huge imbalance here, because we only fish about 150,000 tonnes in other people's waters."
Creed said however that it would be "hard for the UK to ignore the fact that they rely on the EU for 70% of their seafood exports".
Read: Ireland calls UK withdrawal from fisheries agreement 'unhelpful and unwelcome'
Read: The government wants to open up Ireland's exclusive fishing boundaries – and Senators aren't happy
Source: http://prntscr.com/fub00u