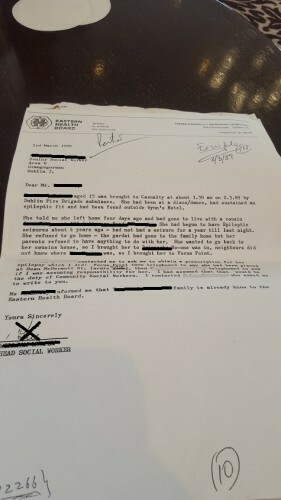 A letter from the Eastern Health Board confirming victim suffered fit and was brought to hospital. Also details family is known to health services.
Source: TheJournal.ie
THE GARDA COMMISSIONER'S office has ordered that a review be held in relation to claims that a woman's sex abuse allegations were shelved by officers for 11 years.
Earlier this month, TheJournal.ie published a report on how the woman had claimed that she was raped by her father and brother over a number of years, and that gardaí had told her they forgot to send her file to the DPP until eleven years after she made a complaint, only after she had pursued them about it.
It has now emerged that, following the publication of the articles, the Garda National Protective Services Bureau (GNPSB) has been ordered by the Commissioner's office to gather all the information pertaining to this case and to report back with its findings. The Commissioner's office will then direct officers to conduct a new investigation if it decides that the case was not properly dealt with in the past.
Gardaí have not told the woman how long this process could last. However, she will be informed via the Department of Justice what will happen next.
The woman has also received correspondence from the DPP in the last week acknowledging her request that it furnish her with the reasons her father was not charged with any crime. The office said it will get a lawyer to deal with her case in the next 28 days.
Files obtained by TheJournal.ie showed how her father admitted abusing her, that the child abuse was confirmed by social workers and the Eastern Health Board and that the victim had been removed from her home by court order but was then sent home six months later where she says she was repeatedly raped.
In an interview with this publication last week, the woman said that hearing from the DPP eleven years after making her official complaint that no charges were to be brought was one of the toughest things she has had to deal with.
I remember getting the phone call and it was like someone had kicked me in the stomach. For years, I was told I was liar and that I was a troublemaker and how dare I do this to my father. But it was my dad who was touching me and having sex with me and making me do things I never wanted to do. To hear them on the phone basically saying they didn't believe me, that hurt as much as the abuse, really.
"But I just didn't understand it either. Why would me and my sisters be taken into care? Why would a judge say it wasn't safe for us to be there? Why did the social workers say that my dad admitted he abused me? It's not a case of his word against mine. There's so much evidence and he's just sitting there living his life and I'm finding it so hard to get on with mine.
"For years, I've been reading court cases about rape and abuse and a lot of the times people have come forward with no documents and accused someone of doing something. These cases have gone to court. I don't understand why mine hasn't. I need it to happen."
Read: 'I want my rapist father to die in prison for what he did to me': Woman continues fight for justice >
Read: Woman's rape claims against father and brother were 'shelved' by gardaí for 11 years >


Want our daily report from the Disclosures Tribunal straight to your inbox? Sign up here:
Source: http://prntscr.com/fub00u