Updated at 7pm
THE IRISH ARMY has been asked to assist the water shortage problem in Louth and east Meath that's affected around 70,000 people.
Defence Force members are currently on route with two 10,000-litre water tankers and four 1,000-litre water tankers after six days without a constant water supply in the two regions. They will first be stationed at Gormanston, and then in various locations in Drogheda.
Irish Water said that an alternative supply of water has been created today, running from Fingal to southern Ashbourne.
It said that 33,000 customers had access to "rolling water supplies" today, and has asked that customers to conserve as much water as possible until repairs have been made.
When the problem was first announced, locals were initially told it would be fixed on Saturday, then Monday, and yesterday they were told it would be Thursday.
However, Irish Water said today that it will probably be Friday "and maybe even the weekend" before normal water services are restored.
Thirty-three water tankers are being deployed to supplement the burst water main.
Water tankers have been secured from Wicklow, Fingal, Dublin City Council, Westmeath, Waterford and Northern Ireland as well as a number of private sources.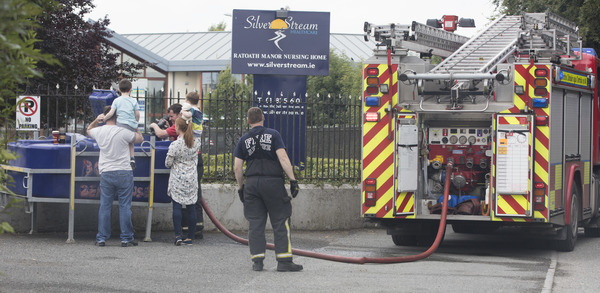 Children watch as members of the Fire Service fill up a tank outside a nursing home in Ratoath County Meath.
Source: Eamonn Farrell via RollingNews.ie
Our Lady of Lourdes hospital in Drogheda has been prioritised to maintain supply to the hospital and supply is also being maintained to the commercial centre in Drogheda town in the Mell area.
Areas in Drogheda receiving a rolling water supply are being asked to conserve water. In a statement this afternoon Irish Water said:
This is a rolling schedule and only one area will have supply at any one time. As each area has supply, the other areas will be without water and not all houses in the areas will receive water at the same time due to demand or possible airlocks.
It added that 86 stationary water containers are in place across Louth and Meath and 8,000 5-litre and 10-litre foldable water containers will be delivered to Louth County Council and Meath County Council.
Customers must bring their own containers to avail of the water and are advised that water must be boiled before consumption as a precaution.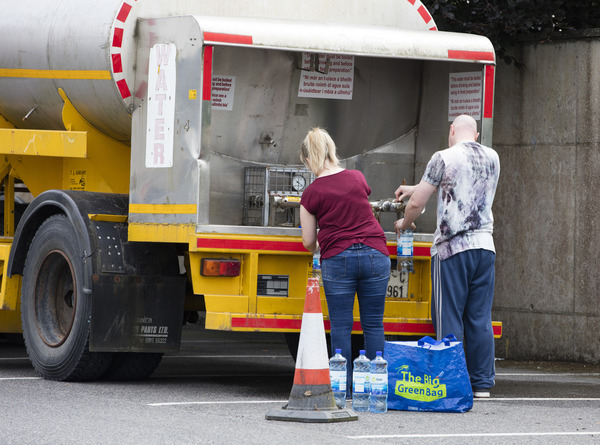 Residents fill up from a water truck in supermarket car park in Ratoath.
Source: Eamonn Farrell via RollingNews.ie
Delays
Speaking on Morning Ireland on RTÉ Radio 1, the managing director of Irish Water Jerry Grant said, "The unfortunate thing is that the engineering solution hasn't been possible in the normal timeframe when the reservoir storage would normally get us through".
He explained that special fittings had to be manufactured in Northern Ireland.
We hope to have those this evening, work will recommence on the installation tomorrow and we hope to have supplies gradually restored during Thursday, but it will probably take us into Friday and maybe even the weekend to get all supplies back to normal.
"We're doing our very best to ration water… We've a roster of water but we're limited in the extent to which we can move water around a complex network."
Labour Senator for Louth Ged Nash says the people of Drogheda are angry and frustrated.
The patience of the people of Drogheda has been stretched to the limit because of poor and unclear information, missed deadlines and entirely inadequate contingency plans, which have seen a mere six water stations available to a town with 43,000 households.
He added that frustration is growing by the hour as Irish Water's own deadlines continue to be missed.
Fianna Fáil spokesperson on Housing, Planning and Local Government Barry Cowen has called on Minister Eoghan Murphy to intervene in the situation to ensure there is a co-ordinated response to the crisis. Cowen said:
The initial response to the outage left a lot to be desired. People are worried that Irish Water seems to be unable to provide the expertise needed to spearhead the response to this crisis.
"There has already been two dates missed and now it may be Friday before the damaged pipe is fixed."
Customers can contact Irish Water's customer care helpline on 1850 278 278 or visit www.water.ie for further updates.
Read: Saucepans, tankards, and cancelled holidays: How the Irish town with no water is pulling together>
Source: http://prntscr.com/fub00u