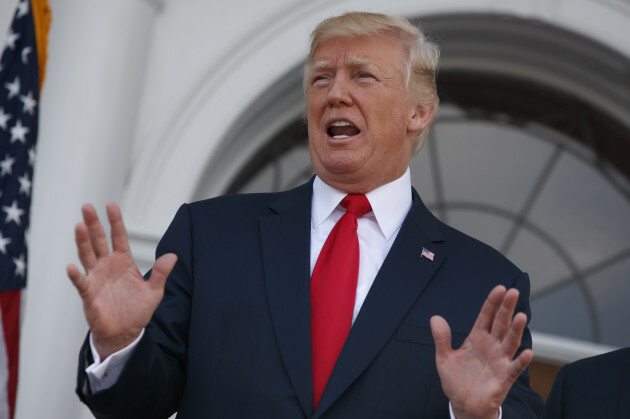 The US President speaks from Trump National Golf Club in n Bedminster, New Jersey.
Source: Evan Vucci/PA Images
US PRESIDENT DONALD Trump has said that his "fire and fury" threat to North Korea "may not be tough enough".
Speaking to reporters during a holiday at his New Jersey golf club, Trump doubled-down on his earlier threat and said that North Korean leaders "better get their act together".
In an unplanned remark from the same golf club earlier on Tuesday, Trump had threatened North Korea with "fire and fury like the world has never seen".
It prompted a response from North Korea in which it suggested a missile strike on the US Pacific territory of Guam.
Reacting to those series of events today, Trump said he feels he should have gone further.
"I don't think they mean that and frankly it's the first time they've heard it like they heard it and frankly the people that were questioning that statement 'was it too tough?', maybe it wasn't tough enough," Trump said.
They've been doing this to our country for a long time, for many years and it's about time somebody stuck up for the people of this country and for the people of other countries, so if anything maybe that statement wasn't tough enough.And we're backed 100% by our military, we're backed by everybody, we're backed by many other world leaders and many senators and others today came out in favour about what I said, but if anything, that statement may not be tough enough.
President Trump says maybe his "fire and fury" statement on North Korea wasn't tough enough https://t.co/29jCMlAGBi pic.twitter.com/imFbCNGmby
— Bloomberg (@business) August 10, 2017
Source: Bloomberg/Twitter
(Click here if video doesn't play)
Trump then issued a new warning over North Korea's ongoing development of nuclear weapons.
Trump said the secretive state "better get their act together or they are going to be in trouble like few nations have ever been in trouble."
Read: Donald Trump threatens North Korea with 'fire and fury like the world has never seen' >
Read: Explainer: Why is North Korea threatening to bomb the tiny Pacific island of Guam? >
Source: http://prntscr.com/fub00u