ESPN MAGAZINE'S 'FIGHTING Issue' comes out on August 21 and – unsurprisingly given his bout against Floyd Mayweather is just five days later – Conor McGregor is gracing its cover.
The splash talks about his "dangerous road" to Mayweather:
The @thenotoriousmma story is no fairy tale. Read his cover story in ESPN the Magazine's Fighting Issue.
The longread cover story is written by renowned American sportswriter Wright Thompson and delves into the Dublin gym scene, McGregor's mood in the run-up to the fight and his roots in Crumlin.
The rather hyperbolic depiction of Dublin has come under fire since the article appeared online yesterday. Particularly this passage
The Dublin I inhabit and the Dublin ESPN thinks Conor McGregor inhabits are vastly different places. pic.twitter.com/3r84fZ1yQS
— Peadar Ó Caomhánaigh (@TheKavOfficial) August 7, 2017
Source: Peadar Ó Caomhánaigh/Twitter
The Crumlin Road sounds like it's the setting of a hip hop rivalry that would beat out the Tupac/Biggie feud for sheer brutality:
It's a clannish, parochial place. Crossing the wrong street has traditionally been reason enough for an ass-whipping.
Men have had to drop dates off at bus stops instead of walking them all the way home. About 60 boxing clubs still dot the city, training kids to defend themselves and their block, each gym a world unto itself.
The neighboring, rival communities of Crumlin and Drimnagh are within the gritty Dublin 12 postcode, separated only by Crumlin Road, which runs on an east-west diagonal.
The piece itself is over 5,000 words long and is being widely praised outside of Ireland.
However, for Irish readers, this portrayal of Dublin as a war-torn gangland has been coming in for some criticism.

Source: Dublin Girlo/Twitter
The lazy, cliché ridden shite from ESPN on Conor McGregor's background would erode your faith in journalism.
— karlstanley (@karlstanley) August 7, 2017
Source: karlstanley/Twitter
used to say i "lived" on crumlin road for seven years but maybe i have to start saying i "survived" https://t.co/QAPcuONwY5
— Ken Early (@kenearlys) August 7, 2017
Source: Ken Early/Twitter
"Sheriff Street is one of the worst streets in Dublin," is an actual caption on this story so I stopped reading: https://t.co/MC83ImXfWN
— Roisin Ingle (@roisiningle) August 7, 2017
Source: Roisin Ingle/Twitter
ESPN themselves shared the article on Twitter and the replies were telling.
One Dubliner said they found the article to be "offensive" and "inaccurate".
While another said it was "hilarious", adding that the area is in no way like a "war zone".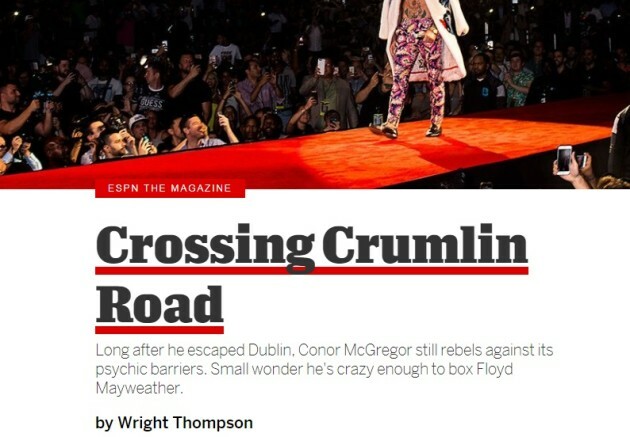 Source: ESPN
Phrases like "turf" and "projects" are littered throughout, and many of the sections about McGregor's hometown have raised the eyebrows of some readers.
Any mysteries about him can be solved on his home turf: an area named Crumlin, built in the 1930s just south of Dublin's centre, when the government tore down the inner-city tenements and needed a new place to house the poor. The Irish revolutionary writer Brendan Behan was one of those moved there, and he described his new home as a place 'where they eat their young.'
There's been no response from Wright Thompson to the controversy as of yet.
DailyEdge is on Snapchat! Tap the button below to add!
Written by David Elkin and posted on DailyEdge.ie

Source: http://prntscr.com/fub00u