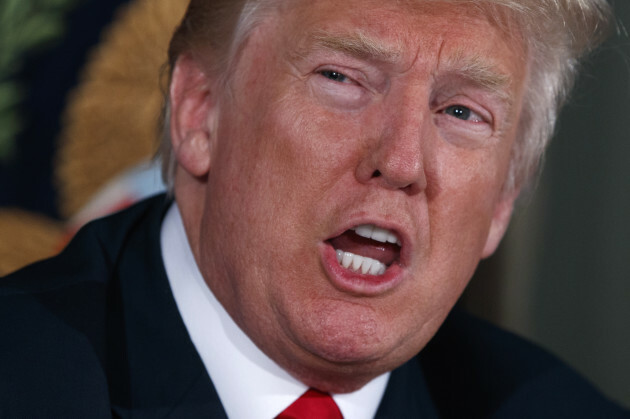 President Donald Trump issued a strong warning to North Korea yesterday.
Source: Evan Vucci/PA Images
US PRESIDENT DONALD Trump warned North Korea that it faces "fire and fury like the world has never seen" over its weapons programmes.
North Korea said it will turn South Korean capital Seoul into a "sea of flames". It said the "US imperialists are nuclear war maniacs".
It then announced that it has been "carefully examining the operational plan for making an enveloping fire at the areas around Guam with medium-to-long-range strategic ballistic rocket(s)".
The governor of the tiny western-Pacific island of Guam, meanwhile, told its residents that there is "no threat to our island".
So, how serious is this new row between the US and North Korea? And why is North Korea threatening Guam?
Months of tension
All year, tensions have been high between North Korea and South Korea, along with allies Japan and the United States.
The North Koreans have been escalating the country's weapons programmes for quite some time, with the development of a nuclear weapon considered a distinct possibility.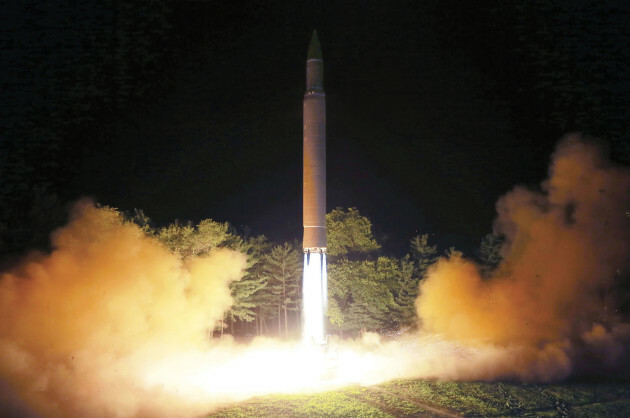 A photo distributed by the North Korean government after the July missile test
Source: KCNA via AP/PA Images
Pyongyang conducted its last nuclear bomb test in September 2016. It was roughly the same size as the bomb the US dropped on Nagasaki during World War Two in 1945.
At the beginning of the year, before his inauguration as President, Trump tweeted that North Korea would not develop a nuclear weapon capable of reaching the US.

Source: Donald J. Trump/Twitter
This year, North Korea has demonstrated an ability to launch an intercontinental ballistic missile (ICBM) in two tests. The most recent of these took place on 28 July.
It showed that a missile with a theoretical range of 10,000km could reach major targets in the US and Europe, such as New York and Paris.
Experts have said, however, that a number of technical hurdles must still be overcome before North Korea would be able to launch a missile against the US mainland.
Trump, meanwhile, has sought the help of China to try to exert its influence over North Korea to curb these weapons tests.

Source: Donald J. Trump/Twitter
In response, the UN Security Council has unanimously approved a set of sanctions which could cost North Korea around $1 billion a year.
US Secretary of State Rex Tillerson has said that the UN will only entertain dialogue with North Korea if it halted its ballistic missile programme.
He told reporters: "The best signal that North Korea could send that they're prepared to talk would be to stop these missile launches."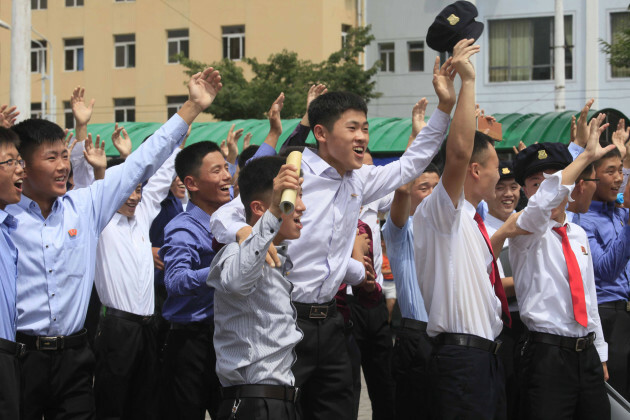 People react to the news broadcast of the missile launch in Pyongyang
Source: Jon Chol Jin AP/PA Images
North Korea, however, has remained defiant in the face of sanctions.
"We will under no circumstances put the nukes and ballistics rockets on (the) negotiating table," North Korean Foreign Minister Ri Yong-Ho said earlier this week.
Neither shall we flinch even an inch from the road to bolstering up the nuclear forces chosen by ourselves unless the hostile policy and nuclear threat of the US against the DPRK (North Korea) are fundamentally eliminated.
A recent Washington Post report quoted a Defense Intelligence Agency analysis as saying officials think North Korea now has "nuclear weapons for ballistic missile delivery" — including in its intercontinental ballistic missiles.
The progress suggests North Korea is further along the path to having a deployable nuclear missile than had previously been acknowledged.
Where does Guam fit in?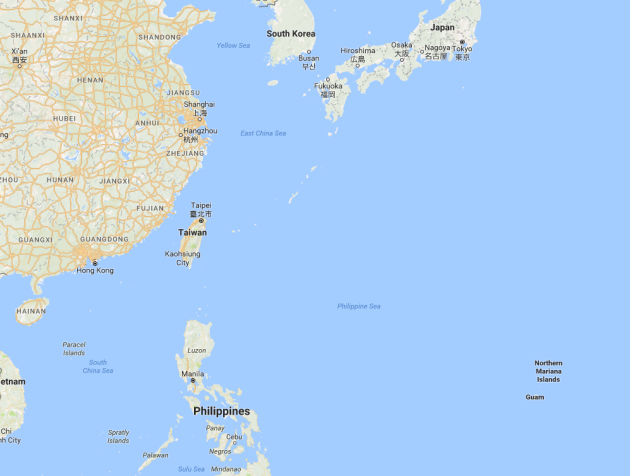 Guam can be found at the bottom right of the picture
Source: Google Maps
Guam is a tiny island in the western Pacific ocean with a population of around 160,000.
It is an unincorporated territory of the United States, which means it is controlled by the US government while not actually a part of the country.
It was invaded by Japan during World War Two, but recaptured by the US in July 1944.
Today, US military bases cover about a quarter of the island with around 6,000 personnel based there. It gives the US access to many important points in the region such as the South China Sea and North and South Korea.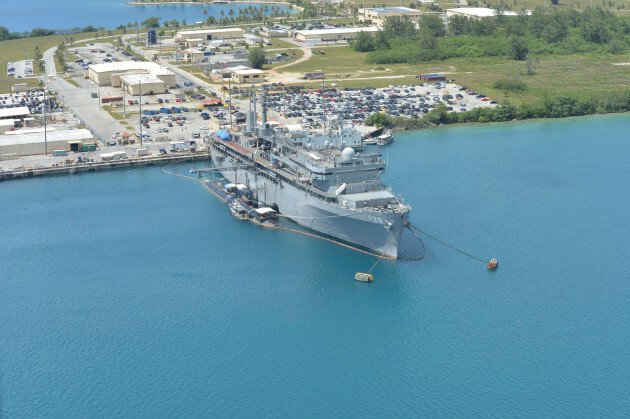 A US warship docked in Piti, Guam in April.
Source: Po1 Jamica Johnson/Zuma Press/PA Images
Trump upped the rhetoric against North Korea yesterday, saying that the country will be met with "fire and fury like the world has never seen" if it makes any more threats against the US.
The President said that North Korean leader Kim Jong-Un "has been very threatening beyond a normal state".
"As I said, they will be met with the fire and fury and, frankly, power," he told reporters.
The North Koreans reacted in combative fashion, signalling that a plan was being prepared to attack Guam.
The plan will be finalised "and will be put into practice in a multi-concurrent and consecutive way any moment once Kim Jong Un, supreme commander of the nuclear force of the DPRK, makes a decision," the North Korean official news agency added.
The governor of Guam has sought to play down the risk to the island, saying that there are "several levels of defence" strategically placed to protect the region.
Eddie Calvo also said that he has been assured that any attack on Guam would be considered an attack on the United States.
"I want to reassure the people of Guam that currently there is no threat to our island or the (neighbouring Northern) Marianas," he said.
Guam would be a key military target from the North Koreans' point of view in the event of any conflict, but it faces enemies on all sides in the shape of Japan and South Korea.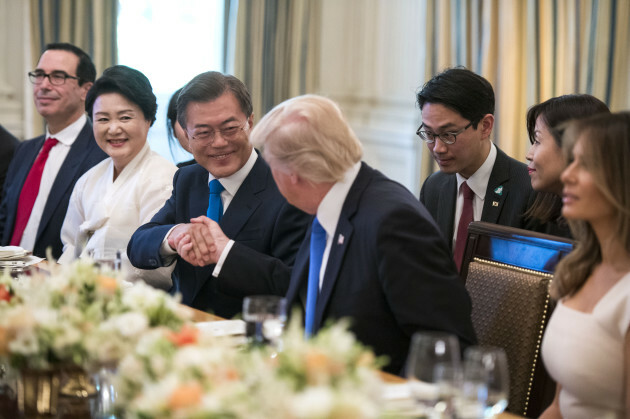 Trump shakes hands with South Korean President Moon Jae-in
Source: SIPA USA/PA Images
With China fully behind the sanctions against its neighbour, North Korea is short on friends at the moment.
Tensions continue to escalate but Donald Trump, at the very least, appears hopeful that US allies can come together to find a solution to the problem.

Source: Donald J. Trump/Twitter
With neither side showing any signs of backing down, this crisis could get worse before it gets better.
With reporting from AFP – © AFP 2017
Read: North Korea threatens to attack Guam after Trump promises 'fire and fury'
Watch: Donald Trump threatens North Korea with 'fire and fury like the world has never seen'
Source: http://prntscr.com/fub00u