ONE OF THE integral scenes in Katie should, on the face of it, rank among its most inconsequential.
Katie Taylor is out for a meal with her group of friends — maybe six or seven of them — and they're doing what friends do: taking the piss out of each other.
And the Katie Taylor who sits among them, laughing away to beat the band — largely at her own expense — is not the Katie Taylor that people have gotten to know having seen her scale scarcely believable heights for literally half her life in the boxing ring. She's Katie Taylor, a 32-year-old woman from the Oldcourt estate in Bray, enjoying a bit of grub, sipping a drink and shooting the breeze as she tends to when she's home.
The great triumph of Ross Whitaker's latest documentary film is that we see on camera for 90-odd minutes what Katie Taylor the person is like away from the cameras, but when the end credits roll for the first time in 20 cinemas nationwide this Friday — listings here — those in attendance will leave their seats with a far greater appreciation for the sportsperson they've known all along, too.
And that's why Taylor was keen to partake in the documentary in the first place: to show us that 'ordinary' people can go on to achieve extraordinary things, no matter the hurdles in front of them.
"I haven't actually seen the documentary myself. I might watch it after I finish my career… Maybe," Taylor laughs. "I just hate watching myself on TV and stuff, so…
"But I don't think I could have done this documentary with anyone other than Ross Whitaker, really. He was very unintrusive. Half the time, I didn't even know the camera was in the room.
"I think that's how it came out raw and honest. I could kind of let me guard down because I trusted Ross so much.
For the first time, maybe, people will see the real me in the documentary — get to know my real personality. And I think that's very, very important, but most importantly, I guess I just hoped it would encourage people and inspire people.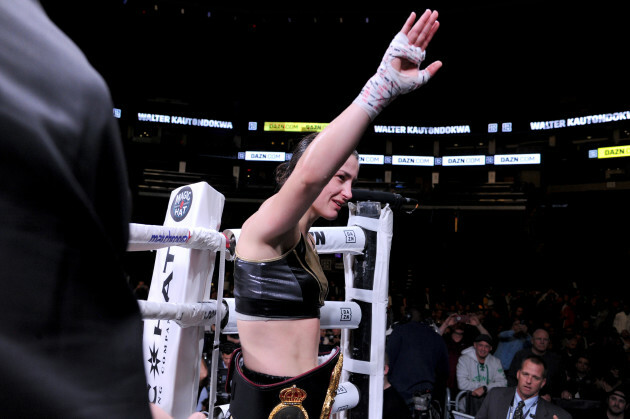 Taylor celebrates victory at TD Garden, Boston, last Saturday
Source: Emily Harney/INPHO
"You know, sometimes life doesn't go the way you want," Taylor continues. "You have ups and downs in life all the time; every single person in life can go through that and find themselves at a low point.
"And I think it's how you react to them — those low points, those losses, those disappointments — that actually make you who you are.
For me, the Rio Olympics was the lowest moment of my career… Of my life, really. I really was at a low point during that time. And if I can get through it, anyone can.
"That was a big deal for me when deciding to do the documentary. I felt like, even after the Rio Olympics, 'This isn't the end. The best is still to come.' And hopefully others can take something from that."
Taylor explains that she began to conquer those demons by taking time to herself and spending time with her family, particularly with "everything that was going on."
That speaks to the crux of those demons in question: she wasn't was forced to contend merely with the devastation of Olympic defeat upon her return to Ireland, but the partial cause of that defeat: the destruction of her family nucleus which, for so long at that point, had taken its toll not only on Taylor herself, but on her mother and siblings.
In Katie, the titular character battles back tears to tell the full story behind that familial fracture succinctly and honestly. And in truth, it doesn't require a great deal of exploration — only a few minutes' worth. The pictures, in this instance, paint a thousand words, and Taylor and family add a few of their own to complete a job well done by director Whitaker.
What's explained at greater length — and with good reason within the context of this beautifully-told comeback story — is how family trauma so emphatically contributed to reducing Taylor, the long indomitable force, to a mere tenant of the ring she once owned.
The unified lightweight world champion describes training without her father, Pete Taylor, as like losing her right arm. And a one-handed boxer is scarcely likely to be much use.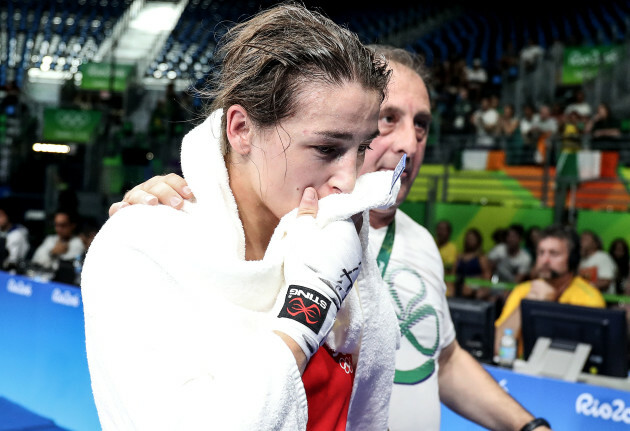 Source: INPHO/Dan Sheridan
"In the very first meeting that we had, we both agreed — and it came from Katie as much as it came from me — that it would have to be as truthful and as real and as raw as it needed to be to tell the story properly," says director Ross Whitaker, who admits he was surprised Taylor was so open to the idea of doing a documentary in the first place.
"Katie wasn't interested in a soft serving of her life. I kind of said to her, as well, that we wouldn't be able to see how far she had come if we didn't see how far she had fallen. The engine of this film is her comeback, and to understand her comeback you need to understand what she's coming back from.
People have to understand, she didn't just walk into the ring in Rio and, out of nowhere, she had declined as a boxer. There was total devastation in her life that led to that defeat. She had to address what happened with her father, she had to address the pain of Rio. Without those, the whole thing wouldn't stand up. And I think she knew that as much as I did.
Whitaker, whose CV lists some of the most celebrated Irish sports documentaries in recent times — Anthony Foley: Munsterman, Between Land and Sea, and When Ali Came to Ireland to name just three — admits that his Katie project represented a significant challenge in his own career.
Taylor, a natural introvert, describes her rise to national prominence thusly: "I just went about my work quietly and came back through the airport with gold medals." She is famous, but so too, at this stage, is her open disdain for media obligations and intrusions into her personal life which, like her fists, she has kept tightly under wraps for the bones of her pugilistic career.
And so when he was approached in the autumn of 2016 by his friend, Brian Peters — who is now Taylor's manager but was then merely weighing up the possibility — Whitaker made a conscious decision to go about his own work quietly; to observe Taylor and "harness who she is" rather than take a crowbar to her personality.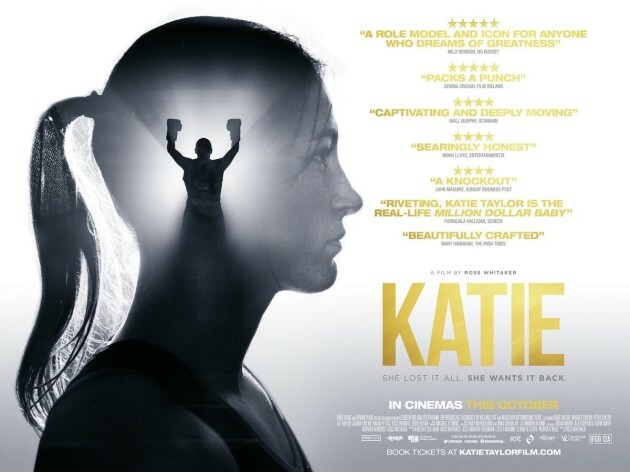 Cinema poster for 'Katie'
"The thing I thought about most when starting out was the fact that Katie is, by nature, a reasonably quiet person, and that usually when people think of making a documentary about someone, they think of the word 'character,'" says Whitaker. "Like, is the person a good character?
"And people see characters in colour: the more colourful you are, the bigger the character you are. I don't think that's necessarily the case, but it does make it more challenging.
"But I felt, spending time with Katie, she is a fascinating character, even if she's not an extroverted one.
"I find her drive compelling, and it was a case of trying to figure out how to get that across without forcing her to be someone she isn't, or without having her talk more than she usually would. But when you're there with her in person, you kind of get that nearly through osmosis — by witnessing who she is and how she is.
She recognised that this was a key moment in her career. She was someone who was trying to overcome her demons. She was someone who was trying to push herself in sporting terms but also in terms of working out her identity; if you're a great champion and you get knocked out in the first round of the Olympics, it's going to gnaw away at you a little bit as far as your identity is concerned, in terms of who you are.
Adds Taylor's manager, Peters, who got the wheels moving on the film initially: "It was very important for Katie that it was raw and uncut, and it wasn't like some documentaries where the star of the show gets to edit it or gets the final cut where they can make changes.
"I think what was very important for me when I brought Katie and Ross together, was that… Whenever Katie fights, she wins. I suppose complacency is a major human error, and people just got used to Katie winning. That's how they knew her — always winning.
But this was a huge low in Katie's life, in Katie's career, and I thought she was very brave to take something like this on at the time. This is what made it unique: you were seeing a Katie Taylor that we haven't seen before…except, maybe, when RTÉ left the camera on for a little bit too long after what happened in Rio.

Taylor and manager Brian Peters, with trainer Ross Enamait in the background
Source: James Crombie/INPHO
"All we know of Katie, really, is in and around fights or tournaments", adds Whitaker, "and everyone has taken their impression of who she is from those small windows when cameras are around.
"To get to know her better, you have to spend time with her outside of those scenarios. It was important to me to show her with her family, show her with her friends, to get a sense of who she really is. And you do see a completely different side to her.
What's amazing is how she can then switch. She's so driven that she just switches into this mode where, even though she enjoys human contact and friendship and family, her drive to win is so massive that she can live without those things. She can put off the gratification of human relationships in order to focus on what she kind of feels is her mission in life, which is to be a great champion and to break down all those doors that have traditionally stood in female athletes' way.
"She enjoys all of the normal things that we enjoy, but she has this ambition and drive that is quite unique to her."
Acclaimed Irish documentary Katie opens on Friday and we're delighted to welcome director Ross Whitaker for a Q&A after the 20.30 screening on Sunday October 28th. #katietaylorhttps://t.co/TfjAtXcfIT pic.twitter.com/MfsdZdoekr
— Irish Film Institute (@IFI_Dub) October 23, 2018
Whitaker and Katie poignantly illustrate what Taylor has sacrificed in order to satisfy that hunger: this is, after all, a grown adult who now lives alone in the Connecticut wilderness but can hardly cook and, per her own admission, can "barely look after" herself.
But what we learn, too, is what Taylor will never sacrifice.
She describes in the film how she split with trainer and father Pete partially to preserve her own integrity, even though she knew it was a decision likely to cost her in the ring down the line.
Expanding upon that point months later, Taylor — who these days occupies a realm in which nefarious acts invariably translate to bigger paychecks — explains that her principles will always take precedence over her profession.
"How I carry myself, how I live my life, my values, my morals, my faith, everything — that's more important to me than anything in boxing, really," she says.
I don't think anybody should compromise their integrity for any success. Integrity is the most important than anyone can have.
"You don't need to go that way to be successful.
"And I do have only the utmost respect for my opponents. I know it's a big deal to step into the ring and to fight. I know it takes a lot of courage. And I only have respect for people who do step into the ring.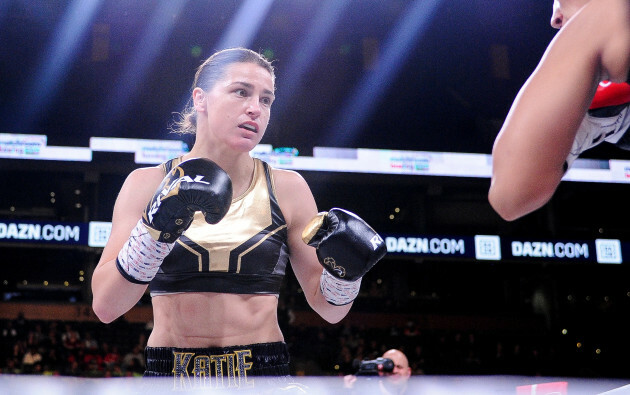 Taylor in action against Cindy Serrano last Saturday
Source: Emily Harney/INPHO
"You never really know what people are going through or what they've fought to overcome," Taylor adds. "I think I've always known that, though. It's not just because I went through that low point myself — I've always known that people have gone through hardships.
Even when I used go away to these amateur competitions in the Eastern Block, you'd look at some of the people's faces and there was something really deep inside them — they are going through hardship, they're going through something that we don't know about.
"You just don't know what battles people are facing."
In one of the most powerful sports documentaries to hit any screen in recent years, we find ourselves throwing with venom every punch as Taylor battles back.
In doing so, we finally get to know Katie Taylor.
Tickets and showtimes for 'Katie', which opens in selected Irish cinemas this Friday, are available here.
Subscribe to our new podcast, Heineken Rugby Weekly on The42, here:
Taylor toys with tough Cindy Serrano to retain titles in Boston as a 'Notorious' fan watches on
Source: http://prntscr.com/fub00u