WE'VE STARTED SERVING elderflower drinks in GROW HQ of late, and I am reminded, as I generally am at this time of the year, to get out there and forage some elderflower for our own drinks at home. I always think that elderflower is a great starter for novice foragers because it's so easy to identify.
The biggest clue is that the flowers are cream, not white. They also have an unmistakably earthy, almost musty, aroma. The season for elderflower is short – about six weeks or so – so it would be a shame not to have a batch of elderflower cordial in the fridge for the summer months. There are great big blossoms of creamy-white elderflower in hedgerows at the moment, so it's a great time to get out there and start foraging.
Remember when foraging for elderflower that you should not take more than a few heads from each bush – this ensures that there are enough flowers remaining to allow the bush to thrive (keep next year, and other foragers, in mind). Better to pick a few flowers from lots of different locations, rather than stripping a bush in one location completely bare. Pick flowers that are at their best – that is, you don't want to pick heads that the flowers aren't open on, nor do you want ones that are obviously passed their prime. You will need about 30 heads to make a decent batch of elderflower cordial and champagne.
It's good to pick on a sunny day as the heat will heighten the smell, making the elder easier to identify. Collect them in a brown paper bag, rather than a plastic one – this will allow them to breathe. As is always the case with foraging – avoid picking flowers at roadside as they may be tainted with petrol fumes.
Champagne and cordial will keep for months
Use the flowers as soon as possible. Both elderflower champagne and elderflower cordial will keep for months in sterilised, sealed bottles. We once found a bottle of elderflower champagne that we think was two years old in the back of a press and it still tasted lovely. (Incidentally we've also had a bottle of the champagne explode in the press once – it's seriously fizzy stuff).
The cordial has loads of uses – you can use it diluted for a refreshing summer thirst quencher or make ice-pops (one part cordial to two parts water). I like it diluted with fizzy water and served with a slice of lemon and a sprig of mint. Of course if the sun is over the yardarm, you could always add a shot of vodka or gin (an "elder-tini" if you will).
You can also use it undiluted to splash on fruit salads, as a marinade for chicken or even as the base for a vinaigrette (mix with mustard, white wine vinegar, olive oil and season well).
The champagne is wonderful – it's non-alcoholic, but feels decadent – like something Patsy from Ab Fab might drink assuming she didn't actually know it was non-alcoholic. When stored in a bottle, the natural yeasts in the flowers ferment to create a delicious, fizzy summer drink that everyone (even the kiddies) can enjoy. See recipes for cordial and champagne below.
The Basics – Helping Climbing French Beans to Climb
Loosely tie the plants to supports to start but after that they should climb themselves quite happily (one of nature's great mysteries is how they know where the supports are). Water plants copiously; during dry weather to maximise pod development. Pinch off the growing tip once the plants have reached the top of their supports (about 8ft).
Mulch around stems to preserve moisture and keep weeds down. Don't forget to succession sow – you could have a second, much later crop of beans in October, if you sow some seeds now.
Recipe of the Week – Elderflower Cordial and Elderflower Champagne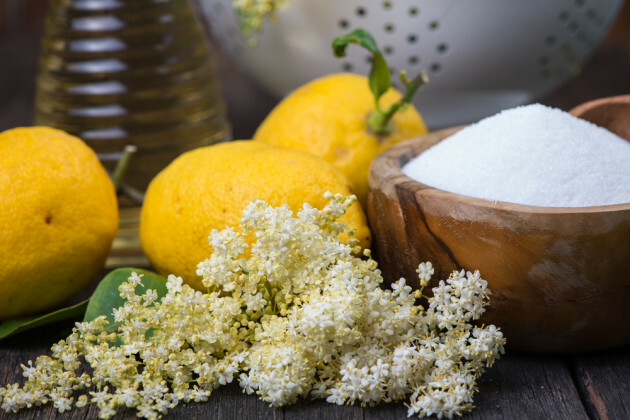 Source: Marcin Jucha via Shutterstock
I find the swing-top bottles are the best for storing these. The citric acid will help it to store longer, but I have never bothered with it.
Elderflower Cordial
Ingredients
25 elderflower heads
Finely grated zest of 3 unwaxed lemons and 1 orange, plus their juice (about 150ml in total)
1kg sugar
1 heaped tsp citric acid (optional)
Directions
Place the flower heads in a large bowl together with the orange and lemon zest. Bring 1.5 litres water to the boil and pour over the elderflowers and citrus zest. Cover and leave overnight to infuse.
Strain the liquid through a piece of muslin and pour into a saucepan.
Add the sugar, the lemon and orange juice and the citric acid (if using). 

Heat gently to dissolve the sugar, then bring to a simmer and cook for a
couple of minutes.
 Use a funnel to pour the hot syrup into sterilised bottles. Seal the bottles
with swing-top lids, sterilised screw-tops or corks.
Elderflower Champagne
Ingredients
7 heads of elderflowers
1 gallon hot water
1 1/2lbs white sugar
2 lemons, sliced thinly
2 tbsp white wine vinegar
Directions
Dissolve sugar in water, and leave to get cold; add lemons, flowers and vinegar. Cover loosely with a tea towel and leave for 24 hours. Strain and bottle, try after a fortnight.
Michael Kelly is founder of GIY and GROW HQ. 
Click here for more GIY tips and recipes.
Source: http://prntscr.com/fub00u