Updated at 10.33
A LITTLE OVER two years ago, Ray Power was relaxing at home with his wife when he received a Twitter message that would ultimately spark a dramatic change in his life.
At the time, Power was settled in Nottingham aged 32, with a wife and kids.
Passionate about football since childhood, the Waterford native had qualified as a schoolteacher while working on his coaching badges.
He taught History and Geography in Blackrock College while undertaking the Higher Diploma in Further Education.
From there, he spent two years teaching in Switzerland, but it didn't take long before he decided to totally devote himself to his first love, football. Nonetheless, Power believes there are significant parallels between the two tasks, while the likes of Louis van Gaal, Gérard Houllier and José Mourinho (all former teachers) would probably agree.
It's quite seamless actually," Power tells The42. "Physically, the environments are different. But a lot of the stuff that I've picked up while teaching and learning to be a teacher are completely relevant to football coaching, in terms of understanding how children or even adults learn. And understanding how to present information, and put teaching and learning as the centrepiece of whatever you do, whether it's in the classroom or on the pitch.
"You don't have to be a teacher to be a coach (or vice versa), but the experience of both has helped me greatly."
Power's coaching career has included a stint with a community football programme in Lincolnshire, time spent working in the underage set-up at lower-league English side Boston United, as well as more recently taking a job at Central College Nottingham.
I was heading up a football programme for academy players that had been released," he explains. "Lads that are still good players but never went full-time at their club, so I spent four years growing that from a two-evening afterthought at the college to a full-time (role).
"We won the U19 Youth Conference in the midlands, which included teams like Boston, Peterborough, Kidderminster Harriers, big non-league and lower-league teams. So that was what got me on the pitch. That was the thing that got me working with players day in day out, when I had a feel for the pro game, in that it was daily."
In 2012, Power completed his Uefa A licence, and for all the useful information this experience provided him with, there are certain aspects of football coaching that such coursework cannot prepare anyone for.
I guess most coaches will admit that the first time you stand in front of an elite group, regardless of age, you're sort of duty-bound to be an expert straight away.
"You feel you're ready, but there's nothing like time on the grass and actually working with players as much as possible.
When you look back, some things make you cringe, some things I would still do now. Anything I did at the time, I jumped into wholeheartedly for better or worse.
"But that just comes with experience — you can't put on a coaching course and everyone walks out an expert. Even the top coaches and managers in the game would admit to that."
Around the height of his coaching success in Nottingham, Power received the aforementioned Twitter message offering the potential chance of a unique opportunity.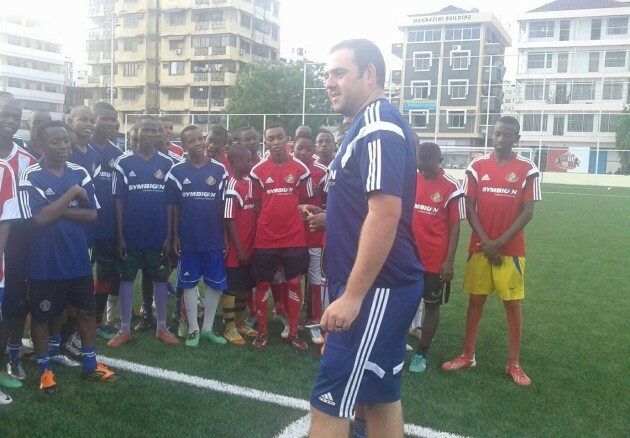 Ray Power pictured during trials for the academy.
It was an ex-colleague who knew an agent that was helping with recruitment for a job as a football coach in Tanzania.
Power had all the necessary qualifications required for the role and before he knew it, he was planning for a journey to a deeply unfamiliar location that would be like nothing he had ever experienced before.
I went from googling where Tanzania was to them very quickly going: 'This is what we're doing, this is what we have. We'd like to have you on board.'
"The project is very different to anything we'd have here (in Ireland). Sunderland were involved and it was financially supported by a US power company based in Tanzania.
So after a little bit of time making sense of it, it kind of felt like it was then or never, that opportunity doesn't come around too often."
It was not an easy decision to move, however. Power's wife and children remained in Britain, though he would return home "every four or five months" for Christmas and other events.
The arduous 24-hour journey made in July 2015 took him to a place where he learned plenty of "life lessons" as well as footballing ones.
When you spend a lot of time in the third world, it opens up your eyes," he says.
"From a footballing point of view, there were some really outstanding players. Maybe if they were European, they would possibly play in the Premier League — certainly one or two come to mind. But that's a long journey for them over there.
And there are other social factors. Physically, there's quite a lot of malnourishment among the kids. You're dealing with malaria and other such problems as well that are completely different to the problems you'd have in elite academies in the UK.
"But it was completely worthwhile, I made a lot of good friends, good connections."
Power's role was effectively that of an academy manager. In his first year, he worked with 42 players between the ages of 13 and 16.
Some of them were so technically excellent, but we had to do a lot of work with them around game understanding, tactics, psychology and physical stuff," he says.
"It was one of those jobs where you just did what you needed to do. Whether that's putting together an elite footballing curriculum and working with the national team coaches to get these boys involved, down to going and buying water for kids who couldn't have access to that.
And of course, loads of time on the pitch is working with players. We'd lots of games and lots of issues around birth certificates. So you're kind of an airport security guy as well, trying to verify whether the kids are appropriate or not. (The job) became a little bit of everything, which helped accelerate my development as a coach or academy manager.
"The blueprint that an academy would use in the UK was what I was grounded in, but taking that there was a little bit irrelevant. If you're lecturing them about nutrition, they 'should eat 60% carbs and x amount of proteins,' this sort of stuff goes out the window when you're just happy enough if they're there and they're fed. So it's a massive learning curve.
"And I maintain to anyone that if you can manage in Africa in an environment like that, that's so changeable so often, you can manage anywhere."

Source: CGTN Africa/YouTube
Communicating with the young footballers was another challenge. The Irish coach admits his grasp of Swahili, the main language there, was limited at best.
Luckily enough, we had some really good local coaches as well who could facilitate us from a communication point of view," he adds.
"With the players, rather than waffle on, you had to say what was needed to be said and move on. We'd use a lot of visual aids, demonstrations and things like that to build a bridge between that communication barrier."
Yet aside from all the invaluable experience he picked up as a coach, life out in Tanzania gave Power renewed appreciation for the privileges he and most Irish people tend to take for granted growing up.
Living in the city, I was so fortunate," he recalls. "The access I had to simple things like medical care and your day-to-day living needs — the vast majority of Tanzanians don't have that access. I'd drive 5km between my apartment and the academy — it was just littered with homeless kids. And homeless adults, old people, disabled people, who don't get the same medical benefits that you get in the west.
"It was just what you'd expect in the Third World. Everyone was ducking and diving, trying to make a living.
For a white guy, especially in the middle of all that busy traffic, those scenes (were reminiscent of) maybe a Jason Bourne movie, where he's in a Third-World city and it's kind of chaotic, it's noisy, it's busy, it's not quite lawless but has a little bit of bedlam.
"You learn to cope with that. When you get into work, you try to be professional in the job and more organised, that's probably where the biggest barriers are — that organisation, that clear communication. Education isn't top of too many people's lists.
"You'll have young people who won't be in school, because they've got to beg, or they've got to do some work, or they've got to do something to live."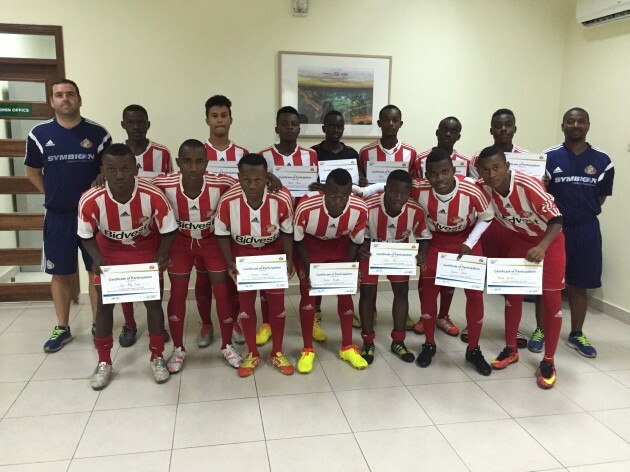 Power (far left) pictured with some of his players in the academy.
Power was somewhat removed from the more impoverished areas of Tanzania, and while there were a couple of "sticky situations," the 34-year-old coach never felt in serious danger during his time there.
Most of the westerners would live in a little peninsula just outside the city. That's probably where most of your embassies, hotels and things like that are, most of your western teachers, aid workers or businessman — there are big businesses as well over there for many people. So in certain environments, it was westernised. In real day-to-day life, you just needed to be careful about the decisions you made.
"I made some really good friends among local guys as well. If you didn't know where you were going, you'd always have guys who were willing to help you out, or take you there.
I was robbed a couple of times — I was mugged in the street. As you're driving through traffic, they would even steal the mirrors off the side of your car to go and sell.
"Obviously, you think: 'I don't want my car mirrors to be stolen.' But this guy will probably sell them for less than a euro, so he can go get a meal somewhere. There were a couple of times you would squirm a little bit, but nothing overly dangerous.
Probably, the saving grace was a little bit of that culture we can't relate to, in that thieves were severely punished — not necessarily by the law or by the police, but by the local people. If they caught them, it's almost punishable by death, so any of those awkward situations you could get yourself in came and went pretty quickly. They weren't interested in doing harm, they were just interested in taking whatever was valuable. I lost a watch, but that was about it."
Having become familiar with a world that most Irish people are only made faintly aware of via brief news footage, after a life-changing two years, Power opted to leave Tanzania last March.
You spend two years in a Third-World environment and you re-assess a few things," he explains.
"Nothing is easy when you work in that environment. And I won't elaborate too much, but there was a house we were (arranging to live in) in Waterford, so it was a case of it being the right time to leave.
It was a brand new facility and a brand new academy (in Tanzania), so I felt that everything was put in place there going forward.
"A couple of weeks before I left, we had 17 of those 42 players (originally coached by Power and his fellow academy staff) that were involved in the national team.
(The journey) kind of came to a natural end in many respects and it was probably the right time to go."
Power returned to his family in Britain, and they subsequently re-located to the house where he grew up in Waterford. He has a couple of footballing workshops he'll be hosting in Dublin, Drogheda and South Africa to keep him ticking over in the coming weeks, but is keen land a new coaching job in the longer term.
I'm content enough to wait for the right opportunity to (come up). All being well, that will emerge in a couple of weeks," he says.
Moreover, while impressed by some of the work that the FAI have performed in recent times, particularly in relation to the introduction of the underage national leagues, Power believes there is room for improvement overall in terms of underage coaching in Ireland.
The thing is here, the investment all comes down to money. The more resources you have, the better equipped the teams will be. So if you visit a Manchester City for example, or even a Brighton or a Birmingham City, the investment is huge from the Premier League and the FA. Whereas, over here, that sort of thing is just not sustainable. It's not big enough.
"You have to work pretty hard in those circumstances, you're back to being the underdog and there are players with a lot going on in their lives from other sports and school to work — some of the better players in the League of Ireland are part-time.
All that makes it inherently difficult. There's a rawness about Irish players that's actually quite liked overseas — that GAA edge to them, that little bit of rough and ready. They'll run around, they'll work hard for sure, though they may not be technically the best, which is probably the biggest journey we need to go on.
"The U13 stage is massive, because that's the age where they're really starting to (develop). I'm not sure whether Ireland could ever look abroad for a model. It has to be their model, which gets as many players into the system and playing as possible. And the more time you have with them in that system, the better."
****************
Ray Power is an Irish UEFA A Licence coach, and author of five-star best-selling coaching books, Making the Ball Roll and the Deliberate Soccer Practice series. Ray has worked as a Technical Director and Academy Manager in England and Tanzania, before returning to Ireland. 
With a teaching and coach education background with the FA, Ray now runs his own coach education company. Ray offers clubs in Ireland and Internationally bespoke coach education through his Club Coach Development Programme and is also running a one-day Deliberate Practice workshop in Drogheda on September 23rd. Tickets, including 40% off Early Bird ones, are available here.
You can also find info on the coaching books he has published here.
Subscribe to The42 podcasts here:
"People say: 'Bloody hell, what happened you after that? It ruined you'">
Wu's laughing now? A year on from Rio, Michael Conlan has left the failing Aiba in his wake>
Source: http://prntscr.com/fub00u