HAVE YOU HEARD of the Marty Love Trip?
Today, sports commentator and television personality Marty Morrissey addressed a crowd assembled for Mass at the annual novena at the Knock Shrine this afternoon, and as you'd imagine, gave quite a unique talk to parishioners gathered.
"If you're surprised or shocked to see me on this pulpit, you're not alone because I'm totally gobsmacked," Morrissey said.
The novena, which began on Monday in Knock, Co Mayo offers "nine days of reflection and prayer and a chance to reconnect with your faith in a sacred space", through guest speakers, workshops and other events.
During his speech, Morrissey emphasised the importance of communication, of living life to the full, having family and friends in tough times – and pleaded with God to "let Mayo win the All-Ireland" and "bring Sam back" to his home county.
Unsurprisingly, the sports commentator said the spoken word was vitally important – and to prove his point, asked parishioners to take part in the 'Marty Love Trip'.
Turn to the person on your right, say hello, how are you, and if you're brave enough tell them 'I love you'.
"To avoid jealousy", he asked them to do the same to the person on their left, and urged people to "give love and be loved".
"We had a laugh, we got the chance to say hello and to smile, isn't the spoken word fantastic?"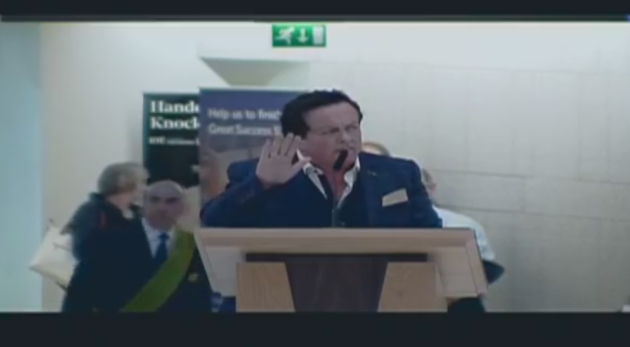 Marty Morrissey gave a well-received speech which covered a variety of topics this evening.
Source: Knock Shrine
Why Marty?
Good question – from his talk today Morrissey seemed to wonder himself about the reason he was asked.
"This is not a sermon, I'm not a preacher," he said at the beginning of his talk, in an attempt to explain his appearance at the religious event.
I'm no Holy Joe, I'm no Holy Marty.
A few months ago, Morrissey explained that he was preparing a news package for the Six One News when he got a call from a private number and answered reluctantly.
'Hello Marty, I'm Father Richard Gibbons', a voice on the other end of the phone said. I thought, 'What in the name of God does this guy want from me – tickets for the All-Ireland football final?
Morrissey said that he was told Six One news presenter Brian Dobson had spoken at the novena in the past, and they would like him to do it this year. As he was talking on the phone to Gibbons, Dobson walked by.
So I handed the phone to Dobbo, and he said 'Hello Richard, how are you?'
"Good god this Father Richard guy is real, I almost died, so I couldn't say no to the man after that, and here I am."
Only an Irish person would get just how amazing this photo is. @MartyM_RTE meeting the @PoorClaresCarl pic.twitter.com/lDJv87U7Ea
— Elaine Byrne (@ElaineByrne) June 20, 2017
Source: Elaine Byrne/Twitter
Morrissey used his speech to urge the importance of family and friends, and said that the GAA community had been there for him after the death of his father.
He said that if people took one thing from the novena Mass, it was that people should reconcile with family or friends they may have fallen out with.
"Love is the greatest power on earth," he said. "It conquers all… If you give positivity, you receive positivity back."
'Live life to the full'
When introduced on stage shortly after 3pm, Morrissey was described as a great example of how to use "our gifts to their full measure".
Morrissey's "upbeat personality" was also cited as an inspiration for a positive approach to life – and he proved that this afternoon by bringing up the less-than-complimentary impressions by comedians of him.
Addressing satirical depictions of himself over the years by the likes of satirist Oliver Callan, who depict Morrissey as a fake-tan-wearing, white-toothed, pink-shirted party-lover.
He said:
They [say I] wear fake tan – I want to assure my friends in Knock, my teeth are my own…
"The real Marty is here today. I'm Marty and I do love to party and this is unquestionably the biggest party I've ever been at!" he said, to rapturous applause.
Read: The 'strange occurrences' that turned Knock into a place of pilgrimage
Read: We spent a day talking to Irish pilgrims about strange occurrences (and airports)
Source: http://prntscr.com/fub00u