Updated 11.40am
AN INDIAN COURT has sentenced controversial religious leader, Gurmeet Ram Rahim Singh, to 10 years in prison for raping two of his followers.
Prior to his court appearance in the northern state of Haryana today, Indian police said they would use all necessary force to maintain order following the sentencing.
Tens of thousands of his supporters set fire to cars and clashed with security forces in the northern state of Haryana just minutes after Singh was found guilty on Friday of raping two of his followers.
Prime Minister Narendra Modi condemned the violence, but his ruling Bharatiya Janata Party, which is also in power in Haryana, was criticised for failing to anticipate the riots.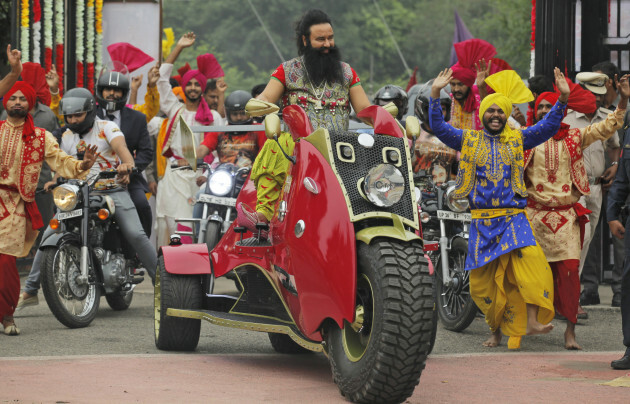 Ram Rahim Singh Ji Insan arrives at a press conference for a new film last year.
Source: Tsering Topgyal
In anticipation of further violence, police in Rohtak cut mobile internet, barricaded roads with barbed wire and deployed soldiers to man checkpoints.
More than 100 of Singh's senior loyalists were placed in detention as a precautionary measure, said Rohtak police chief Navdeep Singh Virk.
He said his officers would use "whatever force is required" to resist the guru's devotees should they again resort to violence.
"If the situation so arises that (we) need to use firearms, my officers have complete authority," the police chief told broadcaster NDTV.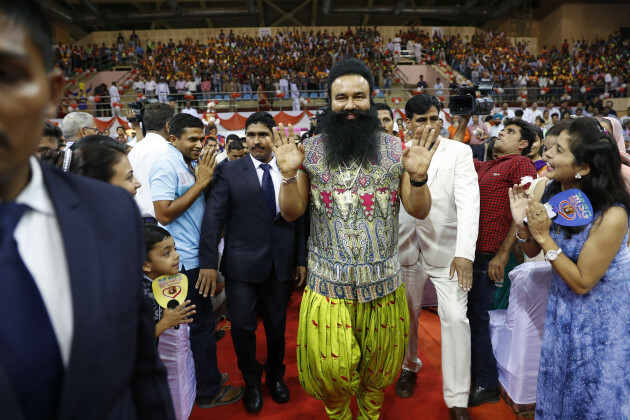 Source: Tsering Topgyal
The rape case was brought against Singh after an anonymous letter was sent to then-prime minister Atal Bihari Vajpayee in 2002 accusing him of repeatedly raping the sender and several other women in the sect.
A judge asked the Central Bureau of Investigation to look into the accusations, but it took years to trace the alleged victims and it was not until 2007 that two women came forward and filed charges.
An estimated 200,000 members of Singh's Dera Sacha Sauda movement gathered in the city of Panchkula for the verdict.
Critics say Haryana state authorities grossly underestimated the risk posed by the army of devotees.
Over the weekend, thousands of followers congregated in the spiritual headquarters of his sect at Sirsa, despite calls from police and troops for them to disperse.
Devotees eventually began trickling out one by one from the compound yesterday, under the supervision of hundreds of soldiers and riot police, after a curfew was briefly lifted.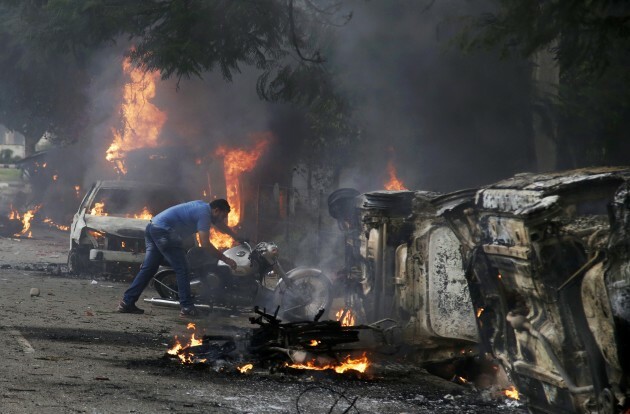 A man lifts a motorbike in an area vandalised by Dera Sacha Sauda sect members in Panchkula, India, on Friday.
Source: AP/PA Images
Prime Minister Narendra Modi said yesterday it was "natural to be worried" as the violence even briefly reached the capital New Delhi.
"Violence is not acceptable in the nation, in any form," Modi said in his monthly radio address.
Those who take law in their hands or take to violence will not be spared, whoever they are.
Followers of the self-styled "godman" continue to insist upon his innocence.
India has been rocked by numerous scandals involving popular mystics claiming to possess powers.
Singh's Dera Sacha Sauda sect describes itself as a social welfare and spiritual organisation but he is no stranger to controversy.
In 2015 he was accused of encouraging 400 followers to undergo castration at his ashram so they could get closer to god.
He also stood trial for conspiracy over the murder of a journalist in 2002.
Read: India bans practice that allowed men to divorce their wives by reciting word three times >
Read: 'Hard labour – it's hard': Canadian pastor freed from North Korean jail despite life sentence >
Source: http://prntscr.com/fub00u