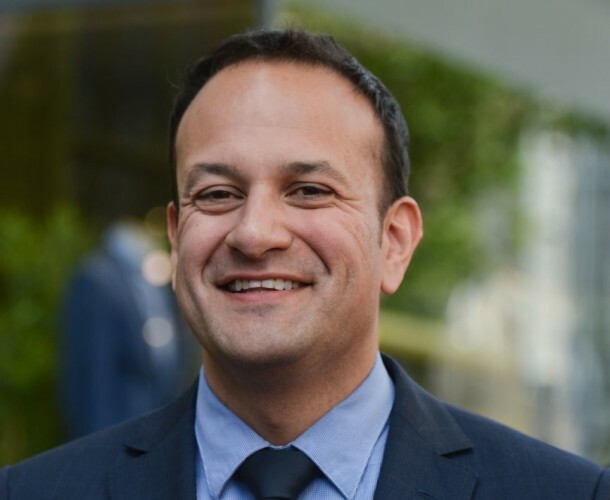 Leo Varadkar
Source: Artur Widak/SIPA USA/PA Images
ON THE DAY he was elected Taoiseach – 14 June 2017 – Leo Varadkar promised to create "a republic of opportunity".
He told the Dáil: "The government I will lead will be one of the new European centre, as we seek to build a republic of opportunity that is a republic in which every citizen gets a fair go and has the opportunity to succeed, and in which every part of the country has a chance to share in our prosperity."

Source: TheJournal.ie/YouTube
The government has grown fond of the phrase since then, with it popping up in various press releases and speeches.
During the week, for example, Education Minister Richard Bruton used it when congratulating students who received their Leaving Cert results.
"The government is committed to building a republic of opportunity and that means making sure everyone has the opportunity to fulfil their potential," Bruton stated.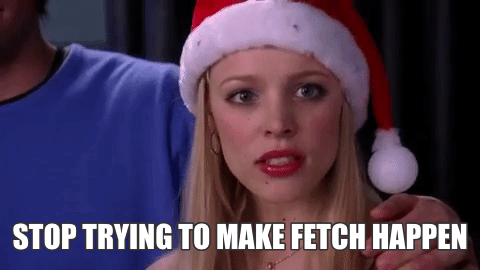 Is RoO the new 'fetch'?
Source: Giphy.com
Fine Gael is likely hoping the phrase will go down better than the party's 2016 general election slogan, Keep the Recovery Going. That was labelled tone deaf, given how many people were yet to reap any benefits from the country's overall economic improvements.
Eoghan McDermott, a director at the Communications Clinic, thinks Fine Gael has learned its lesson from the "disastrous" election slogan.
Keep the Recovery Going could only mean something for some people. If you were not experiencing the recovery, you weren't able to keep it going. Republic of Opportunity can mean multiple things to multiple people.
"It's a far more positive, future-tense, aspirational slogan.
"Keep the Recovery Going was for a very specific demographic who were feeling a recovery, a huge consort of people weren't feeling that at all."
McDermott tells TheJournal.ie Fine Gael's latest slogan is also "more aggressive" than former Taoiseach Enda Kenny referring to Ireland as 'the best small country in the world in which to do business'.
In order for a political slogan to work, McDermott says it has to be "as inclusive as possible and positive and visionary".
"I'm not sure I want to compare it to [US President Donald] Trump's Make America Great Again, but that was visionary and positive for a certain consort of people. I'm not saying there's a direct parallel but that was successful," he notes.
'Very Leo'
McDermott describes Republic of Opportunity as: "A Taoiseach Varadkar approach, a very Leo kind of phrase."
So, where does the slogan come from?
Back in 2009, Eoghan Murphy – now the Housing Minister and a close ally of Varadkar in this year's Fine Gael leadership race – used the wording in a general election leaflet.

An Eoghan Murphy election leaflet from 2009
Source: eoghanmurphy.ie
Ireland was in the midst of a recession at the time and Murphy discussed the impact of the economic crisis.
"At the first signs of economic trouble, the first people to suffer were the elderly, the young and the disadvantaged. That is not the kind of society that I want to live in."
Murphy continued by saying "tough times" were ahead, but so too were opportunities.
That's what this is about. It's about a generation getting involved and creating new opportunities. It's about a regeneration of politics in this country – both in terms of people and in terms of ideas.
However, there's evidence of the phrase being used well before that.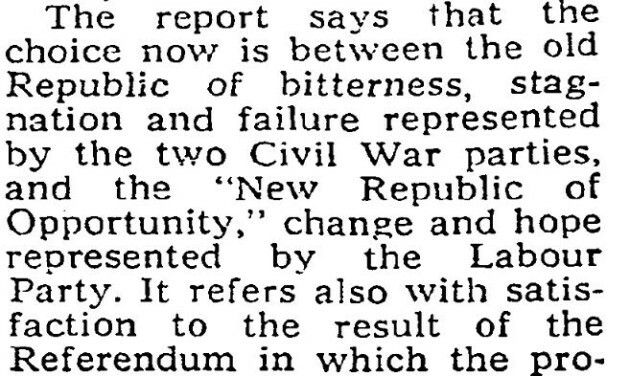 Source: Irish News Archive
On 30 January 1970, an article in the Nationalist and Leinster Times noted that the Labour Party's 1969 annual report stated voters had a choice "between the old Republic of bitterness, stagnation and failure represented by the two Civil War parties, and the 'New Republic of Opportunity', change and hope represented by the Labour Party".
Lacking substance?
But opposition TDs have criticised the phrase as more style than substance.
Finance and Public Expenditure and Reform Minister Paschal Donohoe spoke about the meaning of the slogan in the Dáil last month.
When the Taoiseach speaks about the republic of opportunity and the Dáil asks what progress has been made in it to date, I point, for example, to the decision to make available 970 more special needs assistants in our schools. Is that not an example of a government meeting the needs of those who need support the most?
Donohoe then pointed to the government's plan to "put in place a budget that builds on progress made and to make careful choices about how we can achieve more with taxpayers' money".
When asked why it has started to use the phrase and the message it's trying to convey with it, Fine Gael didn't reply.
McDermott says the phrase's vagueness could be viewed as a strength. "That actually may be part of what makes it good, it can mean anything to anyone," he said.
Read: Leo Varadkar makes Fortune's 40 under 40 list
Read: Simon Coveney: 'Ireland will not be a pawn in Brexit negotiations'
Source: http://prntscr.com/fub00u