THE VILLAGE OF Carn, located near the Hill of Uisneach in Co Westmeath, has been empty for almost 200 years.
As a clochan, or gathering of families on the one plot of land, it once hosted 70 different families in the 1840s. Now it's a jumbled up ruin of what once hosted a small rural community – and a well-preserved ruin.
Séamus O'Brien, who authored the book Carn Killare: A Forgotten Westmeath Famine Village has been studying the ruins of the houses left behind and the various archaeological features that are rarely found elsewhere.
He tells the story of how dozens of families had to uproot and move out during the years of the Great Famine.
"Their Catholic landlord owner, Richard Nagel, got involved in banking. It was common at the time to dabble in banking, sometimes it worked, sometimes it didn't."
It didn't work for him. Nagel was bankrupted and put the property up for sale. Another landlord in Athlone bought it, but under the condition of vacant possession – meaning all the families had to leave their homes.
"Around 70 families were sent to the workhouse in Mullingar. The way they measured it was 'How far could a labourer and his family walk in one day?' If they could walk 10 miles, there would be a workhouse in Athlone and another in Mullingar, and decided who went where."
O'Brien said that the land changed from "garden farming to grazing farming", "from cultivation to grazers".
So in other words, cattle and sheep replaced people.
And it was done to make more money.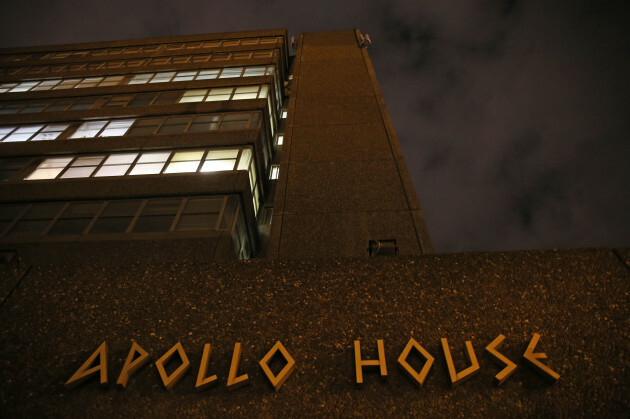 A view of Apollo House where the homeless campaign group Home Sweet Home occupied in January this year.
Source: Niall Carson via PA Images
Tenants have not always had a great history in Ireland.
"There are interesting insights and parallels with today's story," O'Brien says when asked about the similarities with rent uncertainty today.
Threshold, the housing and tenant advocacy charity, this week released figures on the number of eviction-related queries they received last month.
Of over 100 clients who contacted the charity in the last two weeks of July looking for assistance to do with tenancy terminations, 85% had to do with landlords attempting to evict tenants.
Within this group, 41% of attempted evictions were because the landlord was selling the property, while 19% had to do with a landlord's family members moving into the property.
A total of 12% of the attempted evictions had to do with landlords looking to evict tenants so that they could refurbish the property.
CEO of Threshold John Mark McCafferty says the historic problem with the rental market stemmed from the feudal system and the-then obsession with owning a home.
"It's easy to fall into rent arrears when they're so high," he says.
There's the added problem of landlords using many loopholes in the law to evict tenants in order to make money.
For NJ Kenny, a member of Dublin Tenants' Association who was evicted herself, living in rented accommodation now means constantly being in "survival mode".
"People really don't understand the stress of not having affordable home, not having a plan for the future. I can't pay pensions scheme at work, I won't pay for health insurance in case something happens – you just don't know."
She says it's not just eviction notices forcing people out of their homes either – it's also rising rents.
"I work in the debt advice sector, and I'm seeing it day after day.
The rent could have gone up by 30-50%, other debts pile up, and people are gradually going further into arrears.
"Thousands of people who are faced with unemployment have nowhere to go but the streets."
When asked about the historic parallel with the clochan of Carn and other places like it around the country, NJ says:
"I'm wondering if some sort of workhouse solutions will be suggested here – it's always record levels of homelessness, every month. Are they going to have camps of tents?"
Power of protest
One thing that is very different in cases of evictions now compared to 100 years ago is the way people protested against them, says O'Brien.
"There wasn't protests – not in the sense of today. In one sense people were fatalistic; there had been such a long spell of distress: people had emigrated, the population had been halved from 8 million, and there were constant abuses against people."
But at Carn there were tales that survived from fold memory about some anger among those evicted
Smoke was rising from the hill when it was evacuated – we know that from the physical documents that remain… and one of the guys ejected from his home, was accused of trying to kill the landlord.
O'Brien has a son who lives in Dublin at the moment, so he agrees there are some direct parallels with the problem with the rent markets of today, and those mass evictions during and after the Great Famine.
There's an extreme stress on young people in Ireland caused by the capitalist system that makes you wonder has anything changed? They're trying to get established while under massive pressure to pay exorbitant rents – you're not starving, but there's the stress and a helplessness about it.
"It's a huge economic crisis of civilisation in the country," he says.
Read: Landlords are evicting tenants and doing up their properties as a 'back door' around rent limits
Read: 'Something needs to be done': Residents of 8 apartments in complex face eviction in Limerick
Source: http://prntscr.com/fub00u