"THEY SAY LAUGHTER is the best medicine and if it is, we're on good high doses of it."
TP O'Gorman has been a member of Kilbeggan Men's Shed for almost three years, he says it makes a huge difference to both the mental and physical health of its members.
Speaking to TheJournal.ie at the launch of a new Men's Shed health website, O'Gorman said that through Men's Shed he's learning more about what he should and shouldn't eat, has his hearing and blood pressure checked and has started walking more thanks to a diabetes initiative.
He said it also allows men to talk about things other than sports and politics.
"We do open up which goes against the grain, the perception is that men don't speak but the Men's Shed is good in that regard. We are beginning to let go a bit and express our own personal feelings.
It used to be all talk about sport, politics and world affairs, thinking we had to fix the world.
He said that this week at his Men's Shed a group of six or seven men spent time talking about prostate cancer.
"It's an inherently health, positive place. Men who have fallen into bad habits become invigorated by the shed and become brighter and more enthusiastic."
There are 400 Men's Sheds in Ireland with at least three in every county and more than 10,000 men use them every week.
This week the Irish Men's Shed Association launched a dedicated men's health website, malehealth.ie, which offers information and support from more than 40 leading Irish health organisations.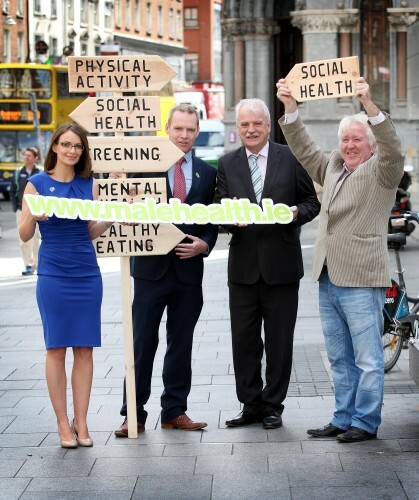 Edel Byrne, Health & Wellbeing Coordinator Irish Men's Sheds Association, Barry Sheridan, CEO Irish Men's Sheds Association, Minister of State for Disability Issues, Finian McGrath and TP O'Gorman, Kilbeggan Men's Shed member
Source: Robbie Reynolds
O'Gorman said, "The site is not there to tell you how to live your life, it's there to give you information to make choices.
You know the way you Google and sure there's a million things coming up. This is Irish and that's a big thing.
Speaking about his own health and dealing with any ailments, O'Gorman said, "I'm the typical ostrich, I stick my head in the sand and say 'I'll go to the doctor next week'."
He said the Men's Shed has made him more aware of health issues that could affect him.
Another man from the Kilbeggan Men's Shed, John Sheehy, told TheJournal.ie how he changed his lifestyle around after learning, through the Men's Shed, that he was borderline diabetic.
It gave me great awareness and I walk 10,000 steps everyday and I've totally changed my lifestyle and I've lost a lot of weight.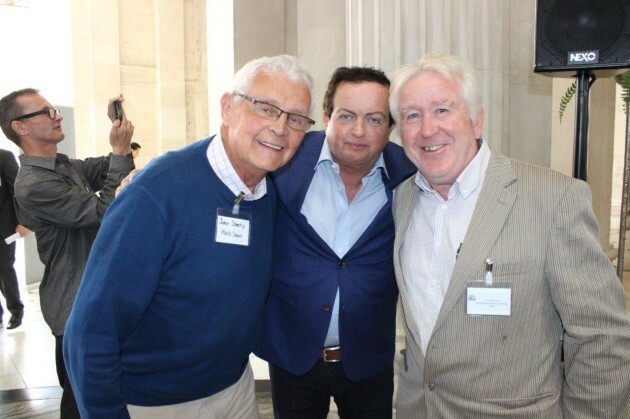 John Sheehy, RTÉ's Marty Morrissey and TP O'Gorman at the launch of MaleHealth.ie
However O'Gorman added, "It's not all about talking about health, it's really not."
He said that some people don't open up a lot but they still return to the shed every week because they enjoy the company, even if they don't want to share much themselves.
He described how one of his good friends lost his wife a number of years ago and the man "just retreated into himself".
TP said the man was living in isolation for three or four years after his wife died.
"I happened to meet him at a funeral and asked him to come to the shed and said that we'd love to see him.
That man is just different now, he would say 'TP the shed, I'm not telling you a lie, it saved my life.'
"This is a guy who would be a hard kind of a guy in a way, but now he'd say Wednesday [when his local Men's Shed is on] is the best day of the week."
Describing what the Men's Shed has done for him, O'Gorman said, "I met such lovely men, a broad spectrum of different kinds of men that before I would have saluted and said hello to but that was it, whereas now I know stuff about them, they know stuff about me, we're partners in crime."
Read: "We look out for each other": This Men's Shed meant an end to loneliness for these men>
Source: http://prntscr.com/fub00u