A MAN IN his 20s has been arrested by gardaí in relation to a fire at a retail outlet in Coolock, Dublin in the early hours of this morning.
Gardaí responded to reports of a fire outside a shop in the retail outlet in north Dublin at 5am this morning.
The fire caused considerable damage to a number of units in the shopping centre before it was brought under control by units of Dublin Fire Brigade, according to gardaí.
A forensic examination of the fire scene was carried out by garda crime scene examiners.
A Chinese takeaway in the retail unit posted photos of the damage on social media today.
It said that it has closed for business tonight, but will reopen tomorrow.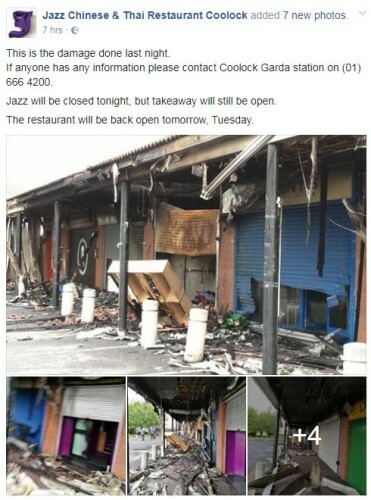 Source: Jazz Chinese & Thai Restaurant via Facebook
Gardaí arrested a 25-year-old man in relation to the incident this afternoon.
He is currently detained under Section 4 of the Criminal Justice Act, 1984 at Coolock Garda Station.
Read: Man who used fake Facebook profiles to sexually abuse children jailed for 16 years
More: Pilot falls to his death from helicopter he was operating in Belgium
Source: http://prntscr.com/fub00u