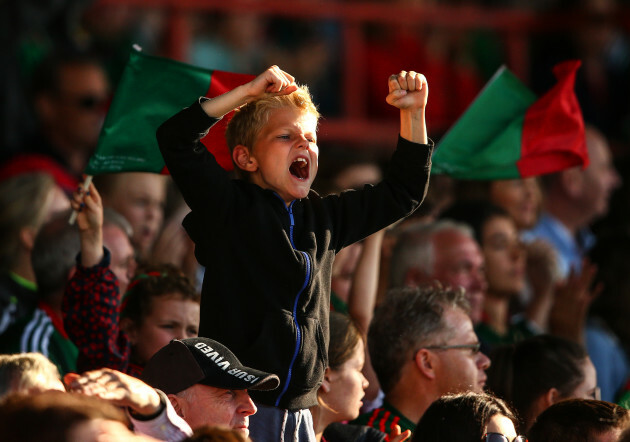 Source: Cathal Noonan/INPHO
Updated at 21.30
THERE'S A FAMOUS scene in the iconic film 'Gladiator' where Russell Crowe's character, Maximus Decimus Meridius, slays four opponents in a spectacular fight.
His victory stuns the Coliseum spectators into silence. He fires a sword into the crowd and raises his two arms up.
"Are you not entertained?" he roars as he circles around the dead bodies in the gladiator pit.
"Are you not entertained?" he repeats. "Is this not why you are here?"
When the Mayo players were leaving the field at the Gaelic Grounds after their enthralling extra-time victory over Cork, they could have borrowed the famous line from Crowe.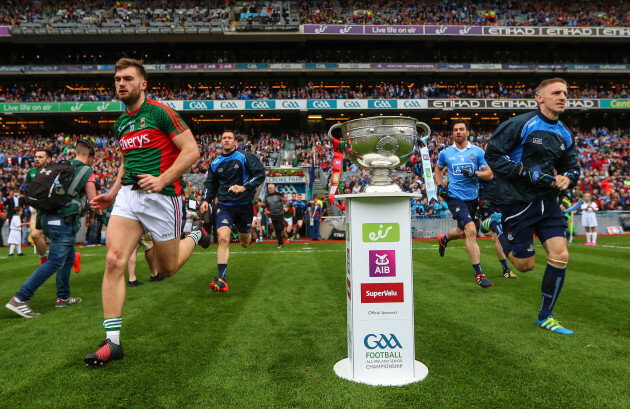 Source: James Crombie/INPHO
Is this the year Mayo will finally end that dreadful drought and lift the All-Ireland title? That much is unclear. But what we can ascertain after their second extra-time victory in three games is this: It's now abundantly clear that Mayo are the GAA's great entertainers.
This group may not have an All-Ireland medal, but there are a flood of images burned into the memory from the battles they've been a part of over the years.
From the bloodied face of Aidan O'Shea after clashing heads with Cillian O'Connor during the Gaelic Grounds war with Kerry in 2014, to the sight of Lee Keegan tearing Diarmuid Connolly's jersey in half or Andy Moran sitting with his daughter on the field in Croke Park and wondering how another All-Ireland final slipped away.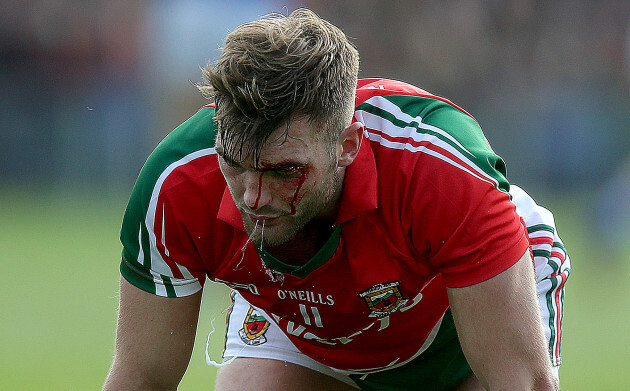 Source: Donall Farmer/INPHO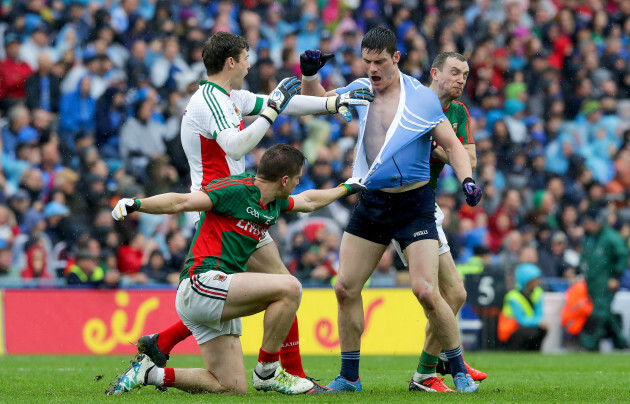 Source: Morgan Treacy/INPHO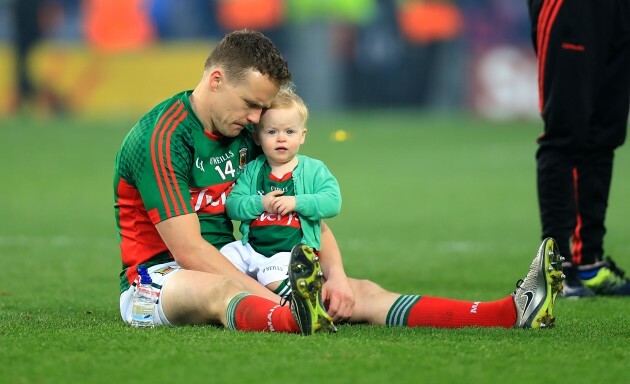 Source: Donall Farmer/INPHO
And yet they keep coming back.
They're put on this earth to enthrall, captivate and fascinate. Never a dull moment.
"With some of these players, and the system we play, every team we play has a chance," former Mayo midfielder David Brady told the RTÉ GAA Podcast back in June.
"We give too many teams opportunities in the last 15 minutes to be in the game when we have the players and capability to push ahead."
That's part of the beauty surrounding this Mayo team. Every team they play has a chance. But more often than not, they'll find a way to get by.
They made it past Fermanagh, Kildare and Westmeath with varying degrees of difficulty in the qualifiers last summer, before pipping Tyrone by a point despite not scoring for the game's final 10 minutes.
They had just five points to spare over Tipperary, a Division 3 side, in the All-Ireland semi-final but they still managed to push Dublin all the way and bring them to the final seconds of a replay.
This summer has been no different. A defeat to Galway in Connacht threatened to derail their season, before Mark Lynch punched in a late goal to bring Derry's qualifier in Castlebar to extra-time. Stephen Rochford's men eventually prevailed.
Mayo trailed Clare by two points at half-time in the next game but recovered to win a great contest by five.
They shipped two second-half goals to Cork which forced extra-time on Saturday, but Mayo found something within them and hit their best form of the summer to edge through by a single point.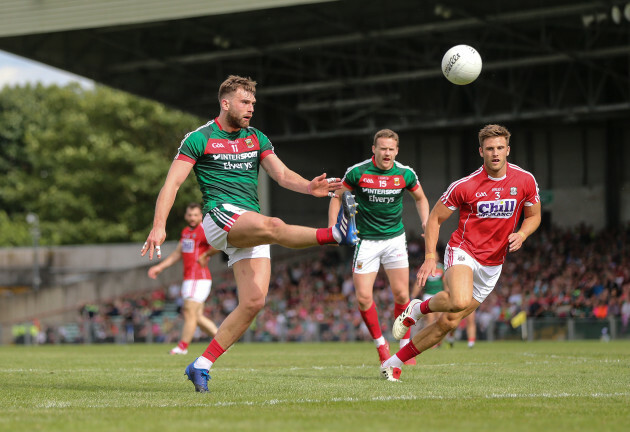 Source: Cathal Noonan/INPHO
While their fellow All-Ireland contenders Kerry and Dublin have breezed through their provincial championships and racked up some big victories the each of last two years, Mayo have done things their own way. They've taken the scenic route.
They could have quietly slipped away against Derry or Cork, without much fanfare or furore and avoided all the heartbreak that August and September inevitably bring. But they didn't. They made it through to a seventh All-Ireland quarter-final in succession. That's a remarkable achievement in itself.
Roy Keane once stated that he used to thrive in chaos. He mistrusted serenity and feeling on edge helped him get the best out of himself. The same could be said about Mayo.
They're a team that never seems to be humming along nicely. There's always a controversy. At any moment, there appears to be a risk they'll self combust.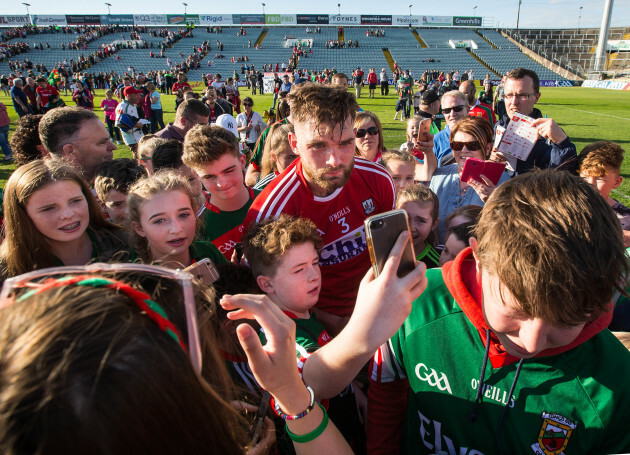 Source: Cathal Noonan/INPHO
In the past year alone, you had the O'Shea 'dive' controversy, the two own goals they scored in the All-Ireland final, Stephen Rochford's decision to axe All-Star David Clarke in favour of Rob Hennelly, Lee Keegan's black card in the replay against Dublin, the infamous interview Noel Connelly and Pat Holmes gave last December and the O'Shea selfie storm that got far more airtime that it should have.
Some of those were self-inflicted, but you couldn't imagine others happening to a county apart from Mayo.
Rochford referenced "the Jekyll and Hyde aspect" to their performance on Saturday night. They led Cork by 0-17 to 0-11 with 15 minutes to go in normal time. The way Sean Powter and Luke Connolly ran in goals past the Mayo rearguard in the final quarter will worry Rochford as he prepares for Roscommon on Sunday.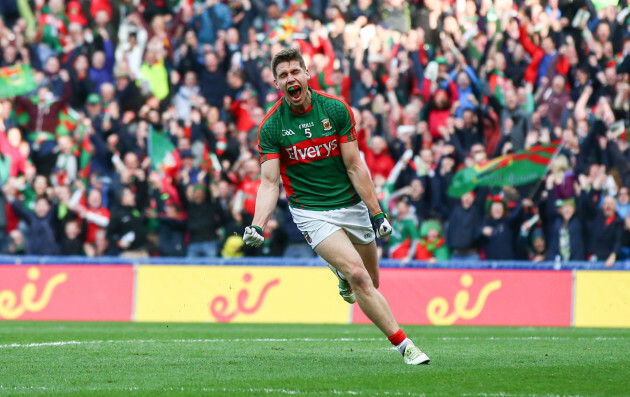 Source: Cathal Noonan/INPHO
Had it not been for the rather unfortunate spate of injuries Cork picked up during the game, Mayo's season might be over. James Loughrey, Aidan Walsh, Kevin Crowley and Powter all left the action hurt and it hampered Cork's challenge.
But Mayo made it through and they'll be warm favourites to account for their countyman Kevin McStay and the Rossies in the last eight. Having endured through two 90-minute epics in the last three weeks, you'd have to worry it'll take its toll on their legs by the time a potential semi-final against Kerry comes around.
Then again, it's Mayo. The GAA's great entertainers. The team that could get by on their heart alone. If anyone can do it, it's them.
The42 is on Instagram! Tap the button below on your phone to follow us!
'I'll take a bit of time, but I couldn't speak highly enough of them' – Davy to reflect on Wexford future
Here are fixture details for the All-Ireland hurling semi-finals and the football quarter-finals
Source: http://prntscr.com/fub00u