MODERATORS OF THE biggest Irish internet forum have had their personal information leaked online for banning users who posted content which broke rules banning hate speech and racism.
Around a dozen of the moderators on Boards.ie have had their names, addresses and phone numbers shared on websites which have been set up to look like replicas of the forum.
Warnings have been posted on Reddit – one of the most popular forums in the world -about the behaviour in the last 10 months citing a "group of disgruntled, banned users from Boards.ie [who] have set up a forum for making fun of the site".
A spokesperson for Boards.ie said it was "not acceptable" for someone to "publish personal information about moderators on other websites for the explicit purpose of encouraging or facilitating the trolling of these moderators".
According to a number of users on both Boards.ie and Reddit, the new forum has been attempting to post personal details of those who have disagreed with their opinions online.
"They use information you've posted on the site to try and figure out who you are in real life, where you're from, photos etc and post it alongside your Boards username," a post on Reddit read.
Boards.ie has more than 340 voluntary moderators who monitor more than 10,000 comments that are left on the site every day.
Hate speech
Many of those who have been targeted have removed and banned comments from right-wing posters who have been attacking Islam and making homophobic remarks.
The practice, which is known as doxxing, is not specifically addressed under Irish law but can be illegal if specific information such as phone numbers or other sensitive data is leaked online. Other potential legal breaches by doxxing can include incitement to hatred. This law prohibits "actions likely to stir up" violence against a person or a group of people.
In one instance seen by TheJournal.ie, internet users posted details of one Boards.ie user on another online forum. The user mocked up the official Boards.ie logo and subdeck which, when altered, read: "Boreds.ie/Now Ye're Stalkin'". This is a play on the real slogan of Boards.ie, which is "Now ye're talkin'".
Details on where the man went to college and where he grew up were readily available. Users were also advised to "stay tuned" as photographs were to be published soon.
"This is both unfair and ultimately self-defeating," Boards.ie said in a statement.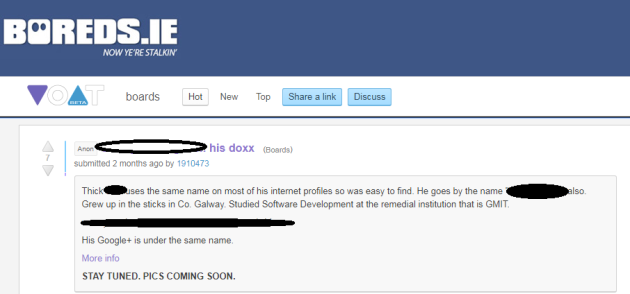 A screengrab from the doxxing forum.
"People want to be able to share their thoughts and opinions with other like-minded people, they want to be able to discuss and debate the things that interest them online.
"However the majority of people want to be able to do so where certain basic standards of deceny and good behaviour apply, where online bullying and clearly offensive, disturbing and inappropriate content is not tolerated."
Not everyone will agree with the decisions made by moderators, the statement said, but the decisions are made with the best interests of the Boards.ie community at heart.
"And if anyone wants to challenge those decisions there are well-established mechanisms to raise such issues, right up to management level."
How to avoid being doxxed is a hot topic of discussion among those who consider themselves part of an online community.
There are currently calls to make doxxing illegal in the UK. Writing on Slate, Nick Thieme wrote that intentionally or recklessly re-identifying individuals from anonymised data would be banned.
According to the UK bill's statement of intent, the purpose of the laws is to "enhance protections by allowing citizens much greater control of their own data.
Alongside strengthening individuals' rights, we will offer further clarity and certainty to businesses whilst they continue to collect, share and process personal data – in so doing maintaining the UK's world-renowned culture of innovation, promoting economic growth and cementing the UK's position as a global leader in the digital economy.
At the end of last year, the then-Justice Minister Frances Fitzgerald  said she had received approval from the Cabinet over the Non Fatal Offences Bill which seeks to address the dissemination of revenge pornography and stalking.
The proposed laws also sought to make posting abuse from fake social media profiles a form of harassment. However, this would not extend to doxxing.
The new laws are expected to be implemented when the Dáíl returns after the summer break.
Note: Journal Media Ltd has shareholders in common with Boards.ie 
Read: Revenge porn perpetrators to be jailed under new laws >
Read: Police missed a number of chances to catch paedophile Ian Watkins, report finds >
Source: http://prntscr.com/fub00u