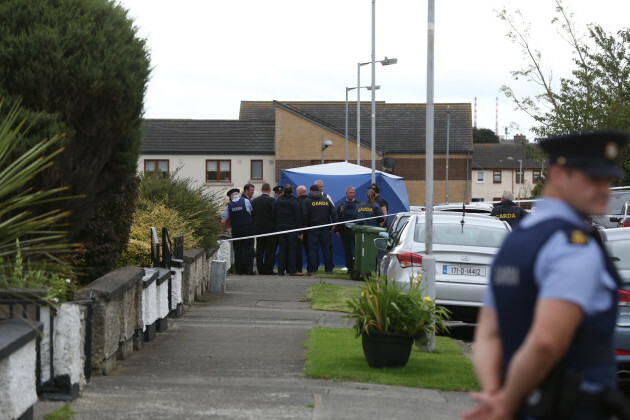 The scene of a shooting in Ballymun this afternoon.
Source: Sam Boal via RollingNews.ie
Updated 8.30pm 
TWO PEOPLE HAVE been killed and two others injured in a shooting incident in north Dublin.
Gardaí have confirmed the shooting took place at Balbutcher Drive in Ballymun just before 4pm.
A woman in her 40s and a man in his 30s sustained gunshot wounds and died of their injuries. Two others, a young woman and a man, are being treated for less serious injuries at the Mater Hospital.
Gardaí said this evening that a mother of six was among the two dead.
Speaking to reporters this evening, Ballymun chief superintendent Lorraine Wheatley said that a child was in the house at the time of the shooting and had sustained minor injuries.
Wheatley also confirmed that a firearm had been recovered "in the vicinity" and is currently being analysed.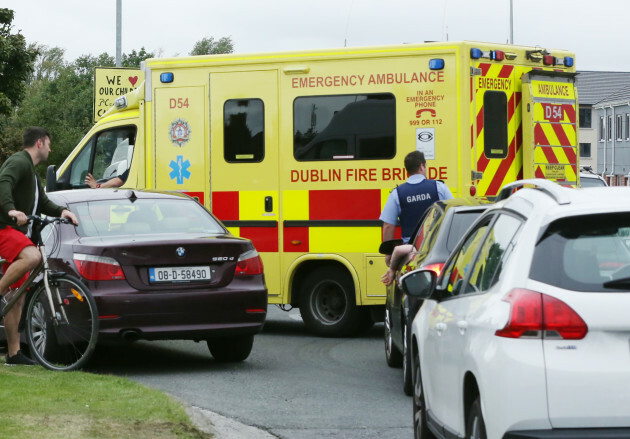 Source: Sam Boal via RollingNews.ie
It is understood the intended target of the shooting was at the scene, but escaped uninjured.
A silver Opel Zafira with number plates of 08 LS was found partially burnt out a short distance from the scene at Balbutcher Drive. The area is sealed off and being examined by garda technical examiners.
Gardaí said the state pathologist has been notified and that an incident room had been set up at Ballymun Garda Station.
Gardaí also found a second car – a Golf GTi with number plates 06-LH-3466 – at Santry Close that they believe is linked to the incident.
Appeal
Chief superintendent Lorraine Wheatley appealing for information on today's shooting pic.twitter.com/tC2C0pzk9d
— Cormac Fitzgerald (@Cormfitz) August 16, 2017
Source: Cormac Fitzgerald/Twitter
"We would be interested in anyone who has any information in respect of the movement of those vehicles or you know anything in connection with those two vehicles," Wheatley said today.
"I want to appeal to the community for information they may have in respect of this crime," she said.
We're particularly interested in people who may have been in Balbutcher Drive today… We're also appealing to people who may have dash cams.
The shooting is not believed to be linked to the Hutch-Kinahan feud. However, it is believed to be connected to gangland crime in the north inner city.
"Outrageous attack"
Justice Minister Charlie Flanagan released a statement this evening condemning what he called an "outrageous attack".
"This outrageous attack is totally unacceptable and I utterly deplore this shooting which has tragically resulted in the loss of who lives as well as other injured," the minister said.
"These ruthless people have no regard for human life and this will not be tolerated.
"The gardaí continue to confront this threat daily and are determined to see those involved brought to justice.
This callous, cold-blooded violence has no place in our communities – the Government and Gardaí stand with the people of Ballymun against such despicable acts and will continue to ensure there is high visibility policing to combat such attacks, including extensive armed checkpoints across the city, for as long as necessary.
Anyone who was in the Balbutcher Drive area this afternoon between 3pm and 4pm is asked to contact Ballymun Garda Station on 01 666 4400.
– With reporting from Cormac Fitzgerald.
Read: Renewed appeal after man (59) and woman (23) injured in Carlow hit-and-run
Read: Appeal for information after death of man found outside Mayo house treated as homicide
Source: http://prntscr.com/fub00u