What ate Sam Kanizay's legs during a beach trip? https://t.co/vJm4hb0CSk
— smh.com.au (@smh) August 6, 2017
Source: smh.com.au/Twitter
A TEENAGE BOY is in hospital after suffering unusual injuries after going for a walk in the sea in Melbourne, Australia.
Sam Kanizay, aged 16, walked into the water and when he walked out his feet were covered in hundreds of little pin holes that were bleeding profusely.
The West newspaper reports that the boy decided to soak his legs at the Dendy Street Beach in Brighton, Melbourne, after a game of football.
But when he walked out of the sea a half-hour later, his feet and shins were covered in blood.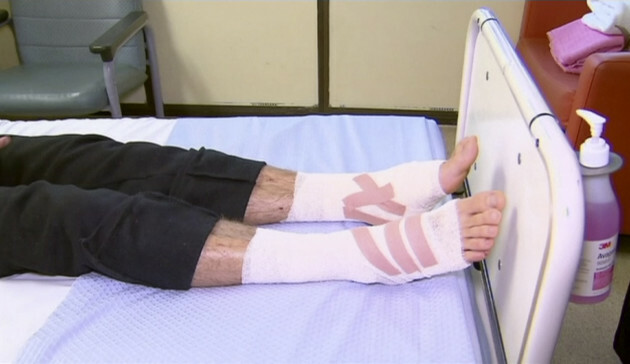 Sam Kanizay's bandaged feet and ankles.
Source: AP/PA Images
He went to hospital, were staff were baffled by the injuries.
His father Jarrod Kanizay returned to the spot with meat in a net, and recorded footage that showed "critters" feeding on the meat.
Sam Kanizay's dad thinks these bugs bit his son. He caught them with a piece of meat at Brighton after teen was attacked @7NewsMelbourne pic.twitter.com/b7hah3YCYV
— Jodi Lee (@jodilee_7) August 7, 2017
Source: Jodi Lee/Twitter
The executive director of the Dolphin Research Institute, Jeff Weir, told The West that the critters are likely to be sea lice, or amphipods, which feed on decomposing plant and animal scraps.
However, a parasite expert also told the paper that it would be "really unusual" for amphipods to cause such an injury.  Other experts said the bleeding could have been caused by a stingray or jellyfish larvae.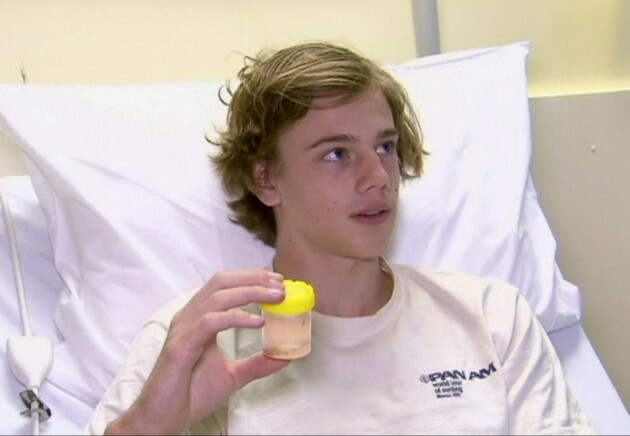 Sam Kanizay, 16, holding a jar with creatures in it speaks from a bed of a hospital where he is treated, in Melbourne, Australia,
Source: AP/PA Images
The Sydney Morning Herald spoke to a marine biologist, Professor Michael Keough, who also said that sea lice were a possibility.
For now, Kanizay is still receiving treatment, while experts analyse what exactly are the mysterious 'sea critters' that caused his injuries.
Read: Should Ireland start feeding its cows seaweed? The government isn't sure>
Source: http://prntscr.com/fub00u