MALCOLM CLEIN AND his father gave years of their life to their business, but it wasn't enough.
Clein's father, Stuart, ran a scrap metal business, but when Malcolm was 17 the firm closed – and he "didn't do anything for a few years". The failure hurt him.
However when Clein, now 50, finished college in 1987, he and his father bought a heavily indebted metals business that employed about 10 people for a second foray into the industry.
The Limerick-based firm melted scrap metal and forged the remains into aluminium ingots. Although the company was struggling when they bought it, Clein was hopeful that they could turn things around.
Unfortunately, this company went the same way as his father's last.
"We operated it for about five, six years but ultimately the debts were too great," Clein tells Fora.
"We did turn the company around but, between the currency and the huge debt, we couldn't make it work and it went into liquidation.
It was difficult. No one likes to lose. When you're in a business that's failing it can have huge emotional effects. There are long days, no holidays, you're working extremely hard at it.
"I had personal guarantees that followed me, it took 10 years to get through them. No one wants to admit defeat, but there is a point in your life when you can see that you have to stop. It can be a relief to close it.
"Now when I look back on it, I see that it was an important lesson to learn. I was able to use that experience to help me run a better business in the future."
A decent act
Clein's father Stuart was 65 when the business eventually folded in 1993. He retired, an ignominious end for someone who worked so hard to keep their business afloat.
However, from the ashes of the company, Clein was able to build a new one, and his father was able to help. The building the pair had rented for their failed company was owned by Pat Mulcaire, one of Limerick's most successful businessmen.
Mulcaire, now deceased, founded construction giant Roadbridge which is one of Ireland's biggest companies. He was a friend of Clein's father and decided to let the son stay in the building, rent free, while he was setting up a new metals business.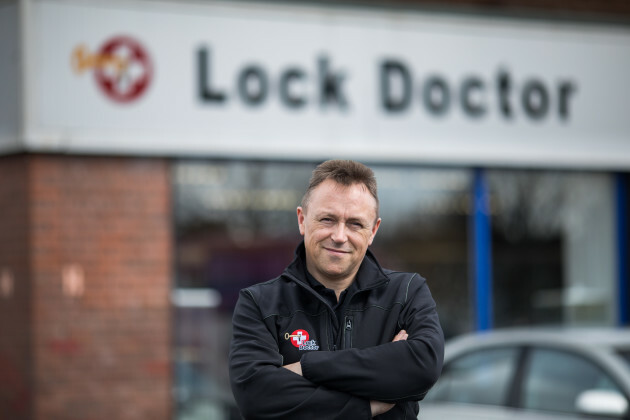 Lock Doctor managing director Malcolm Clein
Source: True Media
"When the business failed he said, 'Stay where you are, you can pay me when you can'," says Clein. "It was a very decent act and a huge help to us when we were at our lowest."
Clein, alongside his partner Anthony Donlan, set up a new metals recycling business called Munster Metals. Before he passed away in 2012, his father would occasionally advise the pair as they built up the company.
By 2005, Munster Metals had been built up into a successful one, employing 40 people and turning over about €15 million a year, when Clein decided to sell his stake.
It was nothing to do with money, the main thing was that I wanted another challenge, I wanted to do something completely different," he says.
The Limerick native did some consultancy work for a few years before setting up a locksmith and security business, the Lock Doctor, in September 2007.
The Lock Doctor
Six months after establishing the business, Clein bought a unit in the Crescent Shopping Centre, which has housed a Lock Doctor store ever since.
Just before he started the Lock Doctor, Clein had also co-acquired the Irish master franchise of a homecare business for the elderly called Blue Bird Care.
He eventually sold his stake in the business in 2013 but it gave him the inspiration to expand Lock Doctor as a franchise.
"I expanded my network through franchising to get more delivery of service," he says.
Sometimes you are called out in the middle of the night, and I felt that franchisees who had a vested interest in the business would take a call at any time.
Clein now directly runs two Lock Doctor outlets in Limerick and Dublin, and also oversees seven franchised Lock Doctor outlets covering many of Ireland's more populated areas, including Cork and Galway.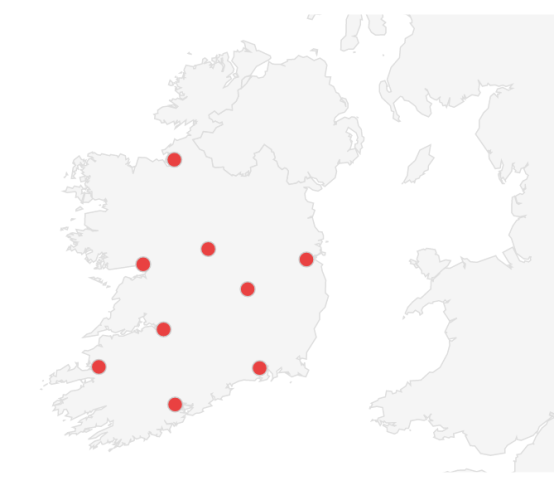 Lock Doctor outlets across Ireland
Source: lockdoctor.ie
People pay an upfront fee of about €75,000 to join as a Lock Doctor franchisee, and then contribute 10% of their turnover every year to the master firm.
Clein acknowledges that it is a high price, but says that the company then provides the locksmiths with a stream of customers as well as advice and support in a variety of areas, such as marketing.
He declines to say how much the business is turning over, merely saying that the firm is the "largest in the country for what we do".
The company made a profit of about €100,000 in the year to the end of 2015 and employs almost 40 people directly and through franchisees.
Targets
It has three main areas that it targets for business. The first is the domestic market, where it helps people who get locked out of their houses and advises on home security.
The second is the commercial market, where the company installs safes and locks in large businesses or office buildings. The last is roadside assistance.
"We do car openings, where someone locks their keys in their car… the insurance company rings us and we open it without any damage," Clein says.
We also make keys when they've been lost or stolen. We can supply a new key for a car at a roadside within a few hours.
Clein now plans to open a further four units throughout Ulster, in areas such as Donegal and Belfast, so that he will have "the whole of Ireland covered".
Most of the Lock Doctor's franchisees are based in vans, allowing the locksmiths to be more mobile. The company recently expanded into the UK, and that is where he sees the company continuing to roll out its network.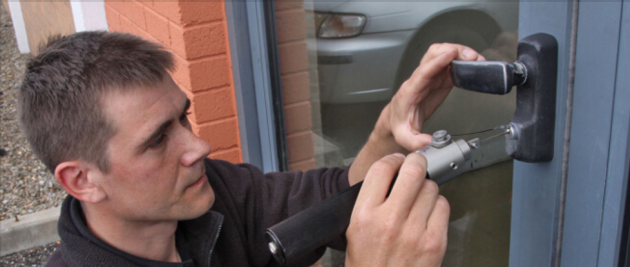 A Lock Doctor employee works
Source: The Lock Doctor
"I'm trying to perfect the model (in the UK), and I want to get van-based businesses working well before I open shops," he says. "Shops aren't a necessity, they enhance the service but they're not essential.
"I don't let people open shops for about two years after they get a van because they need the experience."
Clein says over the "next few years" he wants to have between 20 and 30 vans in the UK, mostly clustered around the London area.
While he said that the model could theoretically work in any country, he is focusing on Ireland's near-neighbour before looking at expansion elsewhere.
Stay local
Dyno Lock is probably the Lock Doctor's closest direct competitor, covering most of Ireland and offering a range of locksmith services.
Clein is also mindful of local locksmiths, many of whom have worked in their areas for years.
We are a local business (too), our franchises are local. When you ring us you don't go through to a call centre, it's through to a local business.
While the company does look to compete on price, service is more of a focus.
"We're an established brand and all of our work comes with a guarantee," Malcolm says. "Our vans are well serviced, staff are uniformed and professional and lots of our work comes from referrals."
Scale
Clein's father passed away just as the Lock Doctor was beginning to expand in 2012. While he didn't see his son's business spread across Ireland, Clein says his father was proud of what was achieved at Munster Metals and in the Lock Doctor's early days.
Now that the firm is on a fairly sure footing, Clein is focusing all of his efforts on expanding into new areas and markets.
"I want to add more services to our existing abilities. There are plenty of other areas in security that I could see us operating in, but first of all I need to have the scale. As we grow it will enable us to look at other areas," he said.
"In business you're always open to any opportunities, but my goal isn't building up the business to sell. I just want to keep building and make the business more successful."
This article is part of our weekly series examining the nuts and bolts of businesses. If you would like to see your company featured please email news@fora.ie.
Written by Paul O'Donoghue and posted on Fora.ie


Get the top business news from Fora delivered to your inbox:
Source: http://prntscr.com/fub00u