INTERNATIONAL TRAVEL IS to be permitted for non-essential reasons from 19 July, Taoiseach Micheál Martin has confirmed.
All EU countries are to come off the mandatory hotel quarantine list. This is to facilitate the introduction of the Digital Green Certificate, or the EU's Covid passport.
This will allow those who are fully vaccinated, have produced a negative Covid test result from the previous 72 hours, or who have fully recovered from Covid to travel in the EU.
Speaking outside Governing Buildings this evening, the Taoiseach said: "I understand the importance of our aviation and tourism sectors. International connectivity is critical to this country's success and place in the world and many jobs and livelihoods across the country depend on it."
Martin said he understands the "pent up desire of very many people to have a break overseas or to welcome friends and family from abroad".
"But I also understand very clearly the need to get this right and to make sure we restore international travel in a safe and sustainable way," he said.
"At my most recent meeting with European Leaders last week, we confirmed our support for EU Digital Covid Certificates for travel within the EU. Today at government we agreed to fully operate that scheme from 19 July.
"This will facilitate a return to international travel in accordance with clear safety protocols," he said.
The EU Digital Covid Certificates (DCC) will show if a passenger is vaccinated, if they recovered from Covid-19 in the past nine months, and if they had a negative test result taken 72 hours before arrival.
Passengers arriving from EU/EEA countries with a DCC will not have to quarantine.
If they do not have a DCC, or if the DCC shows a negative result from a non-PCR test (such as an antigen test), they must have proof of a negative PCR test from within 72 hours prior to their arrival.
Children between 7 and 18 who have not been vaccinated must have a PCR test.
Outside the EU
The approach to travel outside the EU/EEA applies to travel to and from the United States and Great Britain.
The new guidelines on travel outline that "to protect its citizens against importation of variants, an 'emergency brake' mechanism will be coordinated at EU level to react swiftly to the emergence of a variant of concern or variant of interest".
"Government advice will be to avoid travel to a country where the emergency brake has been applied."
Different requirements will apply depending on whether a person can provide proof of vaccination and if they are coming from a country where an "emergency" brake has been applied.
Passengers arriving into Ireland from a country where the EU has not applied an "emergency brake":
With proof of vaccination will have no travel-related testing or quarantine requirement
With no proof of vaccination must have a negative PCR test within 72 hours prior to arrival; self-quarantine; and undergo post-arrival testing provided through the HSE.
Passengers coming from a country with an emergency brake in place must still provide a negative test, undergo self-quarantine and post-arrival testing even if they have proof of vaccination.
For those without proof of vaccination and coming from an emergency brake country, they must undergo mandatory hotel quarantine in addition to a negative result before arrival and post-arrival testing.
#Open journalism
No news is bad news
Support The Journal
Your contributions will help us continue
to deliver the stories that are important to you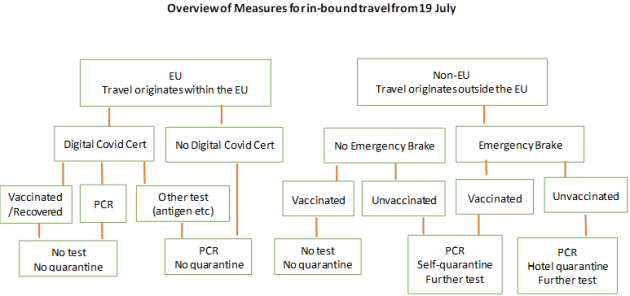 The proposed plan for international travel
Source: Department of Transport
There are no restrictions on travel to or from Northern Ireland, but passengers coming from Northern Ireland who have been overseas 14 days prior to their arrival must comply with restrictions.
Chief Executive of Tourism Ireland Niall Gibbons said the announcement is "an extremely welcome and important step on the road to recovery for our industry".
"This will help protect thousands of jobs and livelihoods across the tourism industry. For the first time in many months, we can look to the future with optimism," Gibbons said.
Aer Lingus has said that flying schedules will be a "fraction of normal levels for some time to come".
"While Aer Lingus welcomes the easing of travel restrictions announced today, it will not facilitate a significant level of travel to and from Ireland during the critical summer months of 2021," a statememt from the airline said.
"It is also disappointing that the reopening of the Common Travel Area is delayed and that EU approved rapid antigen testing has not been approved as a standard of pre-departure testing," it said.
"With restrictions in place until late July, Aer Lingus will continue to burn a significant amount of cash over the coming months. The cumulative consequences of the crisis over the last 15 months leaves Aer Lingus facing significant restructuring to rebuild its network and financial strength."
Contains reporting by Lauren Boland
Source: http://prntscr.com/fub00u