IRISH WATER IS working to provide water tankers and containers to as many customers as possible who have been impacted by the burst water main supplying the Drogheda and east Meath area.
The water main at the Staleen water treatment plant, close to Drogheda, burst on Friday afternoon. Three attempts have been made to fix the pipe since Friday.
This evening, the water company said its repair solutions were not holding due to the complexity of the repair and the age of the pipe.
"The pipe is 50 years old and has warped. In addition, it is one of the highest pressure pipes which makes the repair more complex," a statement from Ervia said.
Storage reservoir levels are now critically depleted.
Water rationing
Water rationing has been rolled out on a phased rota throughout Drogheda and east Meath to ensure customers have a water supply at some stage to restore storage tanks to homes and businesses.
A statement from Ervia said:
Throughout the day Irish Water has worked with Louth and Meath County Councils, local authorities from across the country, and Northern Irish Water to mobilise water tankers and containers to reach as many customers as possible impacted by the burst water main supplying the Staleen Water Treatment Plant.
Our Lady of Lourdes Hospital in Drogheda has been prioritised for water supply.
Ervia has provided a map of the areas impacted by the water outage: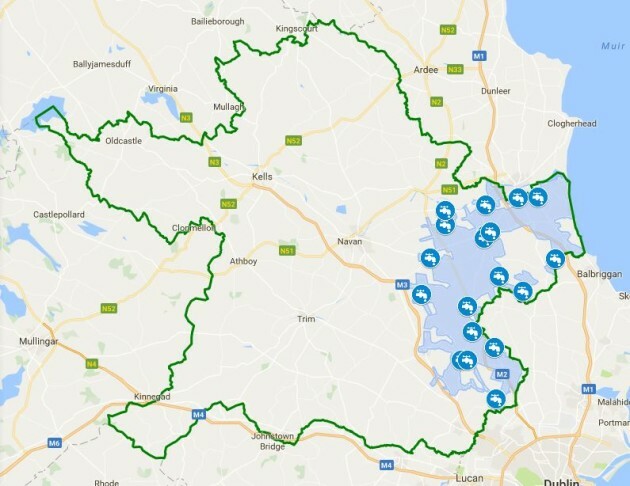 Sinn Féin organised a protest in Drogheda at 6.30pm this evening for locals to voice their "concerns and anger" at the water outage situation.
Sinn Féin Louth County Councillor Joanna Byrne said:
"[Our] activists are out on the ground doing what we can to help the people left high and dry by Irish Water and government.
"But this cannot continue. Elderly people, children, people with disabilities cannot continue like this."
Temporary water stations are currently in place at 11 locations across Louth:
Stameen on the Dublin Road
Termonabbey
Marleys Lane
Bothar Brugha
Ballsgrove shops
The shop at North Quay
Clogherhead outside the amusements on Main Street
Collon side of St Joseph's Church Lower Mell
Right-hand side of entrance to Marley's Court, Marley's Lane
Drogheda Retail Park, Donore Road near Costa Coffee
Outside the national school at Termonfeckin
In east Meath there are currently 19 locations:
Duleek at three locations – the church, St Cianan's Villas and the industrial estate
Lagavoreen at the entrance to the housing estate
Donore church
Ashbourne at Race hill x 2
Kilbreck housing estate at Stamullen
The Londis car park at Kenstown
The church at Ardcath
Ratoath, two at St Paul's School and two at National School Fairyhouse Road
The school at Knockcommon
The Snailbox car park at Kilmoon
The church at Curragha
The church at Kilbride x 2
The church Rossnaree
The GAA pitch at Skryne
The entrance to the Grange Rath housing estate x 2
The community centre at Ashbourne Town x 2
The Tesco car park at Ashbourne Town
Donecarney church
Colaiste Na Hinse Secondary School
Harrys Shop at Mornington
In order to manage the remaining water resource, Irish Water re-commenced its programme of rationing water for the remainder of Drogheda town since this morning.
Customers are asked to bring their own containers to avail of the water and are advised that this water must be boiled before consumption as a precaution.
Fine Gael TD for Louth and east Meath Fergus O'Dowd said that Irish Water needs to treat the water supply crisis in Drogheda as an emergency.
"This is an unprecedented emergency and immediate preparations must be made for a fleet of water tankers to be sent to Drogheda and south Louth, east Meath and other areas," O'Dowd said.
This seriousness of the situation in Drogheda, south Louth and east Meath is escalating by the hour. As this crisis enters its fourth day the people of one of Ireland's largest urban areas have been forced to endure unsanitary conditions and a lack of drinking water.
Irish Water has apologised to customers for the inconvenience caused and thanks them for their patience while crews work to repair the burst.
The water company has also urged people to check in on neighbours and family, especially elderly people. It's encouraging farmers to reactivate their own wells where possible to conserve water.
A normal supply is expected to be restored on Thursday.
Customers can contact the customer care helpline 24/7 on 1850 278 278 or visit www.water.ie for further updates.
Read: Donegal residents concerned after sewage spill at Irish Water treatment plant
More: 'We're over 36 hours without water' – Irish Water slammed locally for response to supply crisis in north-east
Source: http://prntscr.com/fub00u