OVER HALF A million passports have been issued in the first half of this year – representing a 10% increase in passport applications on the year before.
The Department of Foreign Affairs says that March was a particularly busy month in comparison with 2016, with a 36.5% rise in applications in the month that the online application option was launched.
Peak demand this year was in May, when the Passport Service registered close to 97,000 passport applications during that month.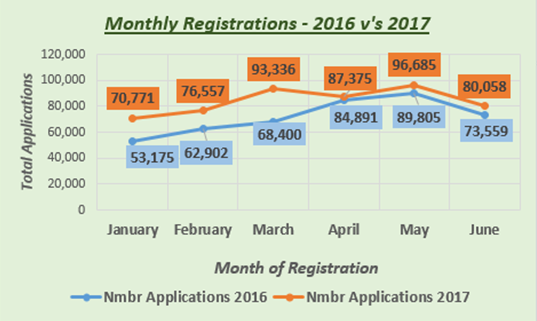 Source: Department figures
The department said that it expects the year-on-year increase to continue in the coming years.
In April, it emerged that the cost of running the Passport Office surged by almost €4.3 million last year as demand for Irish passports increased in the wake of the Brexit referendum.
An additional 32 staff were hired to cope with the rise in applications for Irish passports during 2016, while a number of temporary clerical officers were also engaged during especially busy periods.
Minister for Foreign Affairs Simon Coveney said that the process has been sped up through the online application option, which was launched in March.
"The target turnaround time for online renewal is ten working days plus postage. In actual fact, 90% of online applications are currently being processed within just five working days."
Almost 17% of all applications are sent through the online service, the department said.
Coveney advises those planning holidays and looking to renew or apply for passports to consult the Passports section of the department's website to identify the right application route and renew online if possible.
More information is available here.
Read: Pretty soon you're going to need this card to do a whole load of important things in Ireland – but why?
Read: Concern in Passport Office as 66,000 applications outstanding (and the number's growing)
Source: http://prntscr.com/fub00u