Category Archives: Airline
THERE HAVE BEEN calls for clarity over the advice and obligations for arrivals from Great Britain following confusion brought about by the introduction of new travel measures. 
Yesterday, the government announced new measures which force people arriving into this country to undertake mandatory quarantine either at home or in a hotel.
Tánaiste Leo Varadkar stated that "in most cases" people would be quarantining at home.
Persons arriving from Brazil and South Africa or those without a negative PCR test will be required to quarantine in a designated facility such as a hotel, with that quarantine lasting for 14-days.  
Transport Minister Eamon Ryan said that arrivals from all countries except South Africa and Brazil will be able to end their quarantine with a negative PCR test taken five days after arrival.
This has led to questions about arrivals from Great Britain and whether they can also do so when the measures come into force. 
Prior to yesterday, Brazil, South Africa and Great Britain were subject to the same HSE advice. The advice stated that those arriving from those areas must self-isolate for the full 14 days regardless of a negative PCR test.
Self-isolation is stricter than restricting movements as it essentially asks people to stay in their rooms. Both come under the umbrella term of quarantine. 

Source: HSE.ie
Last night, the HSE's website outlining the advice around self-isolation after travel was updated to remove the reference to Great Britain. TheJournal.ie contacted the HSE about this change and was told to inquire with the Department of Foreign Affairs (DFA). 
A spokesperson for the DFA said that the advice in relation to travel from Great Britain had not changed and that the HSE's website would be changed again to reflect this. 
The advice remaining the same suggests that people arriving from Great Britain should still self-isolate for 14 days but at home and not in a hotel. 
This is because the Transport Minister implied that Britain does not come under the same mandatory quarantine rules as Brazil and South Africa. 
TheJournal.ie was also told by the DFA that details about the mandatory quarantine measures were still being worked out.  
Varadkar said yesterday that it would take "a few weeks to operationalise" the new travel restrictions. 
Related Reads
27.01.21
HSE says cases need to drop at a 'consistent level' before it can resume testing close contacts
27.01.21
AstraZeneca says vaccine delivery talks with EU will go ahead, contradicting earlier claims
Traffic light system
The requirement that people arriving into this country quarantine at home essentially gives a legal basis to the previous advice that people restrict their movements for 14 days.
Under the EU's traffic light system, which the Irish government has signed up to, people are allowed to end their 14-day movement restriction if they receive a negative Covid-19 test that was taken at least five days after arrival. 
This condition is in place for countries that are listed as either red or grey in the weekly ECDC map. Any country that is not part of the EU system is automatically classified as grey. 
Speaking at yesterday's government announcement, Ryan said this rule remains in place for all countries except Brazil and South Africa.
Ryan said it was "important to stick with our European colleagues" but that concern over new variants of Covid-19 means that some tougher measures need to be in place. 
"So what you might call 'darker red countries', the likes of Brazil and South Africa, we're saying that no it has to be the full 14 days, that that option out, the five day release, won't apply," he said. 
Ryan did not specifically mention Britain as part of his response and 'darker red' was his term rather than a category in the traffic light system. 
New variants
Before Christmas, the HSE had issued advice for visitors from Britain, saying that they should self-isolate for 14 days after arriving in Ireland regardless of a test result.
#Open journalism
No news is bad news
Support The Journal
Your contributions will help us continue
to deliver the stories that are important to you
The advice had come about as a result of the rapid transmission of Covid-19 in the south of England due to the new variant that had been identified. 
The variant, known as B1117 or the 'UK variant', is however now already responsible for the majority of transmissions here in the Republic of Ireland. 
Speaking about the apparent relaxation of the advice for arrivals from Britain, Social Democrats co-leader Catherine Murphy said that an explanation was required from the minister. 
"According to the government's announcement, if UK passengers take a second PCR test after five days, they no longer need to restrict their movements. This is extraordinary given the fact that the UK variant of the virus is now the most prevalent one in our country. The minister needs to urgently clarify the reasoning for this decision," she said.
Source: http://prntscr.com/fub00u
Category Archives: Airline
A SOUTH DUBLIN woman has brought High Court proceedings against Facebook after a hacker took over and locked her out of her account.
The action has been brought by Sylvia O'Mahoney, who claims she first became aware of the hack in mid-December when her social media contacts started receiving messages from her account that she did not send.
In reply Facebook accepts that her account was hacked, but says that it moved quickly to restore full control to her, and that all information she had sought concerning the hack had been provided to her.
Its counsel Rossa Fanning SC told the court says like all other internet and e-commerce entities Facebook has issues with online security.
However, he said that there was no evidence before the court that Facebook could be held culpable for accounts being hacked.
O'Mahoney, who has a Facebook account for many years claims that after becoming aware that messages were being sent from her account, she tried to change her password on her account.
She said she was unable to do so, and was denied access to her account. In a sworn statement to the court, she said her friends started getting messages from her account. including invitations to like the business page of a decking company.
In addition, her name profile changed to a 'Luo Yihan' instead of Sylvia O'Mahoney, and she was concerned about the nature of some of content of the messages.
She reported this through Facebook's automated complaints system due to her concerns about the unknown person's access to her private information including photos and personal messages.
She followed the instructions, including uploading picture ID, on at least two occasions, but said she claims she only got messages back saying her issue had been resolved, which it had not.
As a result, she has brought proceedings against Facebook, where she claims her constitutional right to privacy and GDPR rights have been breached.
O'Mahoney from Brighton Place, Foxrock, Co Dublin has brought proceedings against Facebook Ireland Ltd where she seeks orders including mandatory injunctions.
The injunctions would require Facebook to prevent the unknown person, identifying as Luo Yihan from using or accessing O'Mahoney's account, and any information originating from the account.
She also seeks orders requiring Facebook to retrieve and return any data take from O'Mahoney's account from the hacker, and that she be provided with all the activity on her account from 1 January last.
When the matter came before the High Court today, O'Mahoney's counsel Jack Fitzgerald said the matter was become even more urgent.
As well as her concerns about her own personal data his client had discovered in recent days learned that her account had been linked to many entities, and groups that had nothing to do with her.
#Open journalism
No news is bad news
Support The Journal
Your contributions will help us continue
to deliver the stories that are important to you
He said his client did not want to delete her account as she wants to keep evidence of the wrong doing. However, due to the recent revelations regarding her account his client was required to amend her action, counsel said.
Counsel added that some direct contact between his client and Facebook regarding her concerns would be beneficial in resolving the matters.
In reply Fanning said his client had been concentrating on dealing with the issues raised rather than preparing sworn documents for court proceedings.
Counsel said added that in recent days Facebook had sent out two letters to O'Mahoney's solicitors, stating that once it was established the account was hacked, access was restored to O'Mahoney within two business days.
An online meeting with Facebook's representatives with O'Mahoney had been also taken place, counsel said.
Ms Justice Reynolds adjourned the matter to a date in early February, to allow the sides exchange documents.
Comments are closed for legal reasons
Source: http://prntscr.com/fub00u
Category Archives: Airline
PUBLIC HEALTH OFFICIALS have confirmed a further 1,335 new cases of Covid-19 in Ireland, bringing the total number of cases to 191,182.
Additionally, the Department of Health has reported that 54 more people have died with Covid-19. Fifty of these deaths occurred in January. 
The median age of those who died is 85 years, and the age range is 55-96 years.
Today's update brings the total number of Covid-19 deaths in Ireland to 3,120.
Of the cases notified today:
618 are in men and 711 are in women;
54% are in people under 45 years-of-age
The median age is 43 years old;
437 cases were based in Dublin; 114 were in Cork; 78 were in Galway, 71 were in Meath; 61 were in Louth; and the remaining 574 cases were spread across all other counties.
As of 2pm today, 1,670 patients were in hospital with Covid-19, of whom 217 are in intensive care. There have been 81 additional hospitalisations in the past 24 hours.
Commenting on today's figures, Chief Medical Officer Dr Tony Holohan outlined how stark the situation in Ireland continued to be.
"The current 14-day incidence remains more than double the peak incidence experienced during previous Level 5 measures in October, therefore, now is not the time to drop your guard and start to interact with people outside your household," he said.
"The risk of transmission in the community remains very high. We must continue to work towards reducing incidence of disease and preventing further hospitalisations and deaths."
Meanwhile, Tánaiste Leo Varadkar has told a meeting of the Fine Gael parliamentary party this evening that the EU will take hard stance with AstraZeneca over the supply of its Covid-19 vaccine.
#Open journalism
No news is bad news
Support The Journal
Your contributions will help us continue
to deliver the stories that are important to you
Varadkar told party members that he expected the company's vaccine will be used here from the second week of February, with over 85s expected to be the first age-group to receive it through GPs initially.
He added that under current projections, the government expects 1.1 million people to be vaccinated by the end of March, rising to 2 million people by May.
With reporting from Christina Finn.


TheJournal.ie's coronavirus newsletter cuts through the misinformation and noise with the clear facts you need to make informed choices. Sign up here:
Source: http://prntscr.com/fub00u
Category Archives: Airline
DUP MP IAN Paisley Junior has faced criticism from counterparts in the UK House of Commons after linking activities by the IRA with Catholicism.
Paisley's reference to the sectarian murder campaign by the "Catholic IRA" drew critical responses from fellow members of the parliament's Northern Ireland Affairs Committee.
Paisley was questioning Northern Ireland Secretary Brandon Lewis on legacy issues and was asking him if he was going to push the Irish Government to do more to secure justice for IRA killings in border areas during the Troubles.
"Today is Holocaust Memorial Day where we remember victims of Holocaust and also other genocide around the world and in Northern Ireland of course we remember the border campaign and the genocide of sectarian murder where the IRA, the Catholic IRA, murdered Protestants at the border," the North Antrim MP said.
"And we've been pushing for over a year now for the Irish government to move beyond lip service that they would address issues to do with the unsolved 500 murders on the border that were of British people in their jurisdiction and then dumped on our border."
In response, Lewis said he supported DUP First Minister Arlene Foster's request for Taoiseach Micheál Martin to fully investigate allegations that former Garda members colluded with the IRA during the Troubles.
At the conclusion of Paisley's questioning, Alliance MP Stephen Farry criticised the remarks.
"I want to very much disassociate myself from the comments about the Catholic IRA," he said.
He added: "IRA terrorism and indeed sectarian murders were strongly condemned by the Catholic Church, it's nothing to do with Catholicism."
Committee chairman and Conservative MP Simon Hoare also expressed concern at the comment.
"I appreciate how incredibly sensitive this is and I appreciate the huge problems and fear for their lives that the Paisley family have gone through but as a practising Roman Catholic myself I would also just like to note that I didn't think the way that that question was phrased was conducive to trying to move things forward."
Paisley attempted to interject to respond to the remarks of Hoare and Farry, but the chairman would not let him and instead asked the Alliance MP to move to his substantive questions to Lewis.
The Secretary of State was facing committee questions on the Government's yet to be published revised plans for dealing with the toxic legacy of the Troubles.
In March last year, Lewis announced that only killings with "compelling" new evidence and a realistic prospect of prosecution will receive a full police re-investigation.
He said most unsolved cases will be closed after a review exercise and a new law would prevent those investigations into the decades of violence from being reopened.
The written statement to Parliament marked a dramatic step away from mechanisms agreed by the UK and Irish Governments and main Stormont parties in the 2014 Stormont House Agreement.
The Stormont House proposals included a new independent investigation unit to re-examine all unsolved killings.
In a further statement in January, in response to an examination of legacy issues by the NI Affairs Committee, the Government said it wanted to place "information recovery at the heart of any new legacy system".
It said the current "divisive cycle of reinvestigations and civil action" as a primary route to securing truth recovery was failing to obtain answers for a majority of victims.
#Open journalism
No news is bad news
Support The Journal
Your contributions will help us continue
to deliver the stories that are important to you
Pension scheme
Hoare pressed Mr Lewis on when definitive proposals would be made public.
Lewis said he remained confident that draft legislation, along with a plan for implementing new measures, would be published before Westminster's summer recess.
He insisted the ongoing consultation with victims would be central to the process of developing the new plans.
Lewis was also challenged by SDLP MP Claire Hanna on the stand-off between the Government and the Stormont Executive on who pays for a new pension scheme for Troubles victims.
The Secretary of State reiterated his criticism of the Executive stance but he stressed that there was no doubt that the victims would ultimately get the payments.
"They will get their money, they are legally entitled to it," he said.
Mr Lewis said the executive had got a £900 million uplift in funding in November's spending review.
"The Executive Office estimate that this in year one is about £28 million (the cost of the pension scheme) yet the Department of Finance still haven't allocated a single penny in the budget for what is a priority of the Executive," he said.
"I don't think that's tenable. I don't think it is acceptable."
Source: http://prntscr.com/fub00u
Category Archives: Airline
THE RAIN IS going to be heavy and widespread this evening, leading to thundery downpours and spot flooding in places.
A Status Yellow rainfall warning issued by Met Éireann took effect at 6pm tonight for 12 counties – all of Connacht, Cavan, Monaghan, Donegal, Longford, Louth, Westmeath and Meath. 
Similarly a Yellow rain warning issued by the UK Met Office is in effect for Antrim, Armagh, Down, Fermanagh, Tyrone and Derry. 
Met Éireann said northern areas will bear the brunt of the rain tonight, with drier weather following from the south-west. 
In Ulster, temperatures will reach as low as 3 to 7 degrees but it'll be milder elsewhere and range between 7 and 10 degrees. 
Tomorrow morning will be dry in most areas with some bright or sunny spells. 
#Open journalism
No news is bad news
Support The Journal
Your contributions will help us continue
to deliver the stories that are important to you
Rain will develop in the south-west in the afternoon and spread north-eastwards throughout the evening. Highest temperatures will range between 7 and 11 degrees. 
Looking further ahead, Met Éireann forecast that it will be unsettled with spells of rain in the coming days. 
It'll be generally mild at first, but becoming cold again at the weekend, it added. 
Source: http://prntscr.com/fub00u
Category Archives: Airline
KARL SHEPPARD'S LEGACY won't be shaped by the fact that his football career ended before his 20s did.
In fact, he has always been grateful that a premature conclusion didn't arrive much sooner.
In 2011, being diagnosed with Wolff-Parkinson-White syndrome required him to undergo surgery on his heart.
Even before that, the psychological wounds sustained while attempting to make the grade with Everton took a considerable toll on his desire to make the game his profession.
He persevered nevertheless, and a career as one of Irish domestic football's most successful players of the last decade was to follow.
Aged 29, Sheppard announced his retirement earlier this month after making a decision that was ultimately forced upon him by his struggles with psoriatic arthritis.
In an ideal world he'd now be preparing for his second season with Shelbourne, yet the process of coming to terms with his status as a former footballer has been eased by a firm belief that he left nothing behind.
He's most closely associated with his spells at Shamrock Rovers and Cork City, where his respective achievements included qualification for the Europa League group stages and a Premier Division and FAI Cup double.
Overall, however, he can be remembered as a player who demonstrated that success and satisfaction from a football career isn't only attainable across the Irish Sea.
"Football has given me some unbelievable nights – the best ones of my life," says the attacker from Portmarnock, who also received international recognition with the Republic of Ireland at U21 level while earning his living at home.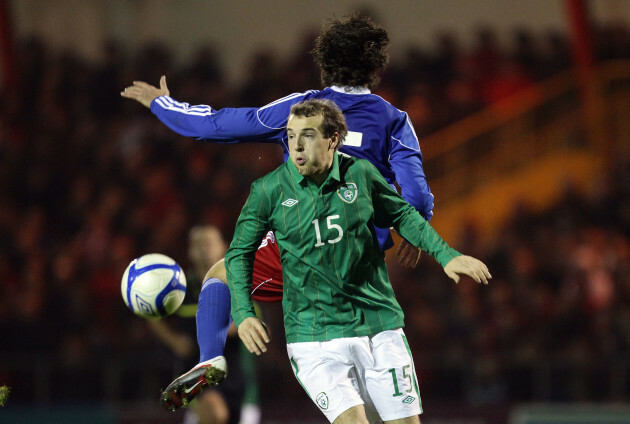 Sheppard playing for the Ireland U21s in a European Championship qualifier against Liechtenstein.
Source: Cathal Noonan
Sheppard's advocacy for the possibilities on offer in the League of Ireland has been reinforced by the two stints he had in England, neither of which are recalled with fondness.
When he entered the academy at Everton at the age of 16, it was the realisation of a dream. He stuck it out for nearly three years, but life on the books of a Premier League club wasn't all that he imagined it would be.
"The truth is that unless it looks like you will be a first-team player pretty early on, they don't care about you. They don't tell you that when they want you to sign," he told  The42 in December 2019.
"When you leave home so young and are thrown into a room in someone else's house, how can you be expected to develop mentally as a person? I became withdrawn from everyday life, I didn't want to mingle with anyone, I would stare at the walls and ring my dad, telling him I wanted to leave and come home."
Early in 2010 he did just that, cutting his time on Merseyside short in favour of a flight home and a move to Galway United. There, as a 19-year-old sampling competitive senior football for the first time, he excelled under Sean Connor.
Shamrock Rovers manager Michael O'Neill was suitably impressed and signed him for the League of Ireland Premier Division champions ahead of a memorable 2011 season.
In addition to winning his first league title, Sheppard was part of the first Irish side to qualify for the group stages of a European competition. He scored one of his 15 goals that year away to PAOK Salonika, before facing the likes of Jermain Defoe and Harry Kane when Tottenham Hotspur came to Tallaght Stadium.
His performances that season yielded an opportunity to return to England. With the benefit of an extra couple of years of maturity and experience, Sheppard was adamant that things would be different this time when he signed for a Premier League-bound Reading side who were en route to winning the Championship.
Twelve months later, with his only first-team football having come during a loan spell at Accrington Stanley in League Two, Sheppard was a Shamrock Rovers player once again. 

In possession for Shamrock Rovers against Tottenham.
Source: James Crombie
"I just didn't like it," he said of his second crack at professional football in England. "I had injuries and couldn't force my way in. I would say that I was terrible around the place. I didn't feel part of it and I didn't try to. I didn't integrate well at all and just retreated into a shell.
Be part
of the team
Access exclusive podcasts, interviews and analysis with a monthly or annual membership.
"I was on a good contract, good money and was comfortable. But I wasted so much money on stupid stuff. You don't feel good about yourself as a person so you try to fill that void by going out and getting a new car, watches, spending ridiculous money on jumpers and clothes… I was spending money just to avoid sitting at home."
Sheppard spent two more seasons in Tallaght, before a five-year spell at Cork City began in 2015. He was a key ingredient in John Caulfield's success as manager, which peaked with the double the Leesiders claimed at the expense of a previously dominant Dundalk outfit.
"What advice would I give my younger self now? Probably to stay at home, get into the League of Ireland and play a hundred or so games before looking to go away," he told The42 this week.
"You can get your education done at the same time then as well. Going across the water with a degree in your back pocket is a great position to be in, as you see from guys like Danny Grant (Bohemians to Huddersfield Town) and Conor McCarthy (Cork City to St Mirren).
"These boys have stayed at home and experienced men's football. They're in a better position in terms of their careers after football but they've also become better players for it. And even if you don't go away, the League of Ireland can give you a great career and a lot of great nights.
"I had two stints in England and both times when I came back my confidence was on the floor. When I came back from Everton it was Sean Connor who picked me back up, and after Reading it wasn't until John Caulfield put his arm around me and gave me a kick up the backside that I was able to get back to the level I wanted to be at." 
While Sheppard acknowledges that a one-size-fits-all pathway for player development doesn't exist, and that many teenagers embrace the opportunity to move to England, he believes Brexit's potential to keep young Irish players at home for longer could be of immense benefit.
"I wouldn't push any kid away from the idea of going to England, but I would advise that in Ireland you can have a great career where you can also get your education alongside it and you'll get plenty more in return.

Sheppard (left) won two FAI Cups and a Premier Division title at Cork City.
Source: INPHO/Ryan Byrne
"There's a huge drop-off of kids who fall out of love with the game when they come back from England. Instead of having to play U23s football in England, you can become accustomed to playing men's football in Ireland and you can grow that way.
"When they come back they go one of two ways, which I've seen so many times. They could be no longer playing football at all within six months, or they're going to rediscover their confidence and they'll be flying again. You just hope that when they come back they'll have the right people around them so they can rebuild.
"There are so many advantages to staying in Ireland, especially if you can get in with one of the top clubs, because then you'll get the chance to play in Europe as well. There are brilliant players in the Championship and League One in England who will never really get that chance. That opportunity is there every year in Ireland.
"For me personally, when the Reading move came up after the European run with Rovers I thought I'd give it one more try, but when I came home I knew there was never a question again of even trying to look at the possibility of a move back to England.
"There was no chance of me going back, no matter how good the money might have been or anything like that. I'd never have considered it. It's different for everyone obviously but it just wasn't for me."
Sheppard is now focused on his role in sales with the Cuco Coffee company, but it's his intention to ensure that his experiences in football are put to use again.
He says: "I have my coaching badges so I'll either go down that route and potentially look at getting into management in the League of Ireland, or I could also go down the agent route.
"I suppose I have a lot of experience in terms of what doesn't help young players when they go over to England and that's something I've always been passionate about. I feel I can probably pass on some knowledge from where I went wrong."

Buy The42's new book, Behind The Lines

Source: http://prntscr.com/fub00u
Category Archives: Airline
FRESH DISRUPTION IS being anticipated at Irish ports as a new requirement for negative Covid-19 tests for lorry drivers entering France comes into force.
The new rules come into effect from 11pm tonight Irish time – but government testing centres will not be operational until tomorrow morning.
The Irish Road Haulage Association (IRHA) has described calls from the Department of Transport to pre-book Covid-19 tests "absolutely infuriating".
Spokesman Eugene Drennan told the PA News Agency: "I have an email here asking us to test on time. Ministers urge hauliers to pre-book and allow enough time for pre-departure. Now that is absolutely infuriating.
"The nature of our work is governed by strict timelines. We cannot get to the test centres until the timeline allows us. We are delayed at the import point, so that delays everything on the way.
"Then we try to get to the ferry. Pre-booking does nothing for you, because there will be a queue to the centres and it's articulated trucks that are going there.
"So the guy that is 27th down the line, the fact that he has a test booked in the next 10 minutes, do you think everybody is going to stand aside and allow him to go ahead of them?"
Direct sailings to the continent, many of which enter through France, have been a lifeline for hauliers seeking to avoid the UK land bridge due to Brexit chaos.
The government has set up two testing centres where lorry drivers can be tested free of charge, at Dublin Airport and in Gorey, Co Wexford, near Rosslare harbour.
But road hauliers believe the two centres are not enough.
Drennan said: "There aren't enough centres. There aren't enough centres in truck-friendly places.
"What will happen if they can't test quick enough and drivers can't get out? It doesn't get to market on time if it doesn't get on the ferry."
Drennan said he had been reassured that any lorries departing on Wednesday night prior to 11pm will be allowed into France without a negative Covid-19 test.
He added: "But I'm worried about it. I hope the French honour their word. I am a little bit worried about that. It's absolutely going to be difficult.
"I hope they honour their word and we can get off of the ship. That's the big fear."
Drennan said the IRHA had first flagged concerns over testing requirements with the Department of Transport on December 14, and raised the issue repeatedly since.
#Open journalism
No news is bad news
Support The Journal
Your contributions will help us continue
to deliver the stories that are important to you
He added: "The first sailing is tonight and we have no centre.
"What do you tell the fisherman out in Donegal today – should you land your catch we're not sure we can get on the boat with that. It's worrying."
The Department of Transport has said it is continuing to work with Wexford County Council on an additional site for traffic bound for Rosslare harbour.
It is intended that this site will open for testing over the coming days, the department said in a statement.
The statement said: "The testing facilities will be reviewed on a daily basis to ensure alignment between demand and provision of the service.
"Hours of operation at the sites will be based around ferry sailing times to France and will be subject to review based on demand.
"The testing facilities can be availed of by all commercial drivers who are departing on ferry sailings from Ireland to France including hauliers from Northern Ireland."
Tests will only be provided to hauliers who are travelling to France or other countries where a negative Covid-19 test is required for entry.


TheJournal.ie's coronavirus newsletter cuts through the misinformation and noise with the clear facts you need to make informed choices. Sign up here:
Source: http://prntscr.com/fub00u
Category Archives: Airline
EVERY WEEK, WE bring you a round-up of the best longreads of the past seven days in Sitdown Sunday.
And now, every weeknight, we bring you an evening longread to enjoy which will help you to escape the news cycle. 
We'll be keeping an eye on new longreads and digging back into the archives for some classics.
The bond between dogs and humans
Humans love dogs, and dogs love humans. But why? 
(The Guardian, approx 10 mins reading time)
But, of course, Ludo is a unique animal to me and the rest of his human family. He is now an elderly gentleman aged 12 and a half, and we would do almost anything to ensure his continued happiness. We willingly get drenched as he tries to detect every smell on Hampstead Heath. We schedule our days around his needs – his mealtimes, his walks, the delivery of his life-saving medication (he has epilepsy, poor love). We spend a bizarrely large amount of our disposable income on him, and he never sends a card of thanks. When he's not with us for a few days (when our children take him for a weekend, say), then the house feels extraordinarily empty. I feel so fortunate to know him. Goodness knows how we'll cope when he dies.
Read all the Evening Longreads here> 
#Open journalism
No news is bad news
Support The Journal
Your contributions will help us continue
to deliver the stories that are important to you
Source: http://prntscr.com/fub00u
Category Archives: Airline
GARDAÍ ARE ASKING the public for help in tracing the whereabouts of a 54-year-old man who has been missing from his home in Co Roscommon for nearly two weeks.
Sean Spellman is described at being 5 foot 10 inches in height, of slim build and as having no hair.
He was seen leaving his family home in Taughmaconnell at around 2.30pm on Saturday 16 January.
CCTV footage showed him walking out of the town in the direction of Grace Road in Athlone, Co Westmeath at around 6pm that evening.
He was wearing black rain jacket, black trousers, a grey, white and black striped jumper, and grey shoes with a beige sole at the time.
Gardaí and his family say they are concerned for his safety.
#Open journalism
No news is bad news
Support The Journal
Your contributions will help us continue
to deliver the stories that are important to you
Anyone with any information on Sean's whereabouts is asked to contact Roscommon garda station on 090 6638300, any other garda station, or the Garda Confidential Line on 1800 666 111.
Source: http://prntscr.com/fub00u
Category Archives: Airline
THE TAOISEACH HAS claimed that almost half of passengers arriving into Dublin Airport yesterday were coming back from holiday destinations.
Speaking at a meeting of the Fianna Fáil parliamentary party this evening, Micheál Martin said that around 800 people arrived into the airport yesterday, approximately 397 of whom were returning from holiday. 
The Taoiseach had defended the government's plan to reduce cases of Covid-19 in the Dáil earlier, after new restrictions on travel and an extension on Level 5 restrictions.
New measures announced yesterday include a mandatory quarantine at a designated facility for people who arrive into Ireland without a negative PCR test taken in the past 72 hours.
Passengers arriving without a negative test could also face a fine of €2,500 or a six-month prison sentence.
Visa-free short-term travel from South Africa and South America has also been suspended until at least 5 March.
All passengers entering the country will be subject to mandatory quarantine, a change from the policy of voluntary self-isolation.
Martin told the Dáil that he will do "whatever it takes" to keep numbers down, adding that his government sought to ensure a "prolonged suppression" of Covid-19. 
"I want to make a very clear that there will be no half-measures from me as Taoiseach, or from Government, in ensuring a prolonged suppression of this virus," he said.
"We will do whatever it takes to keep the numbers down once we get the numbers down, and we are achieving that."
He also said that Ireland cannot allow daily cases to return to the levels of recent weeks.
Meanwhile, Tánaiste Leo Varadkar told a meeting of the Fine Gael parliamentary party this evening that international travel accounts for 1% or less of Covid-19 cases in the country, but that he would not rule out any new strategy to deal with the pandemic.
#Open journalism
No news is bad news
Support The Journal
Your contributions will help us continue
to deliver the stories that are important to you
He also indicated to his party's TDs that people should be able to book a vaccine appointment with their GP by July.  
Varadkar said he was "quietly confident" a phased reopening of schools would begin next month, and that the country may move to Level 4 restrictions on 5 March if conditions allow for it.
He also said the country may go from Level 5 to Level 4, or "Level 4 with modifications", similar to the manner in how the country emerged from the first wave last year, according to sources in the meeting.
The Tánaiste told the meeting "it was important to emphasise that following this week's measures there is no silver bullet to eliminate Covid from Ireland".
He highlighted measures taken in 2020, including closing public houses and schools, which he said would not have been countenanced before, but noted that action had to be taken to stop the spread of the virus.
With reporting from Press Association and Christina Finn.


TheJournal.ie's coronavirus newsletter cuts through the misinformation and noise with the clear facts you need to make informed choices. Sign up here:
Source: http://prntscr.com/fub00u
Category Archives: Airline
SHEFFIELD UNITED PRODUCED the shock of the Premier League season so far as they beat a lethargic Manchester United 2-1 at Old Trafford.
Ole Gunnar Solskjaer's men were riding the crest of a wave after Sunday's FA Cup win against Liverpool, only to be brought crashing down to earth on a night when many expected them to go back top of the league.
Ex-Manchester City youth prospect Kean Bryan gave the visitors a shock lead that former Blades defender Harry Maguire cancelled out, only for Burke's heavily-deflected strike to seal the visitors a shock 2-1 win at Old Trafford.
Even in such an unpredictable season, few could have foreseen this result.
The Blades had just five points to show from their first 19 games – the worst haul in Premier League history – and had not beaten the Red Devils since 1993, with their previous Old Trafford victory coming in 1973.
Kean got them off the mark from a corner as Billy Sharp's push on David De Gea went unpunished midway through a first half in which Anthony Martial saw an equaliser ruled out.
The ineffective hosts eventually clawed one back through Maguire's header from a corner, but Solskjaer's comeback kings faltered in embarrassing fashion.
Sheffield United capitalised on some atrocious defending and Burke saw his effort rifle in off Axel Tuanzebe, sealing just a fourth win of the season in all competitions for his side.
The home side's first league loss since November 1 was a shock to the system on a night that started with Marcus Rashford firing low and just wide.
But it soon became clear that while they were dominating possession, they were passive with the ball against the compact Blades, whose veteran striker was denied by De Gea when they got a first sniff.
The video assistant referee may have got involved for a potential offside against the 34-year-old, but there was a distinct lack of intervention in the 23rd minute.
Sharp appeared to barge into De Gea as the goalkeeper looked to deal with a John Fleck corner, but Bryan reached it instead and headed it in off the far post.
Be part
of the team
Access exclusive podcasts, interviews and analysis with a monthly or annual membership.
The shock opener left Solskjaer's side in the all too familiar position of needing to come from behind, with Mason Greenwood seeing a snapshot saved before another effort was blocked.
Manchester United thought they had equalised when Martial slotted into an empty net, but Maguire was adjudged to have fouled goalkeeper Aaron Ramsdale when challenging for the ball.
The hosts raged but there was to be no reprieve and United created precious little before half-time.
Greenwood dragged wide after being put through by Bruno Fernandes early in the second half, but the visitors were having half-chances of their own.
David McGoldrick missed with an effort hit with the outside of his boot, then blazed over when one-on-one – unaware the offside flag would be raised.
Rashford fired a free-kick down the throat of Ramsdale as the hosts toiled, only for another set-piece to finally break the Blades' resolve.
Alex Telles sent over a corner in the 64th minute and Phil Jagielka lost Maguire, who powered home a header and immediately raced back to the halfway line.
Fernandes tracked superbly to halt a break by the visitors, who were now having to deal with the presence of Edinson Cavani at the other end.
But just as Manchester United looked to be building momentum, the Blades caught them napping at the back.
Inexplicably bad defending from the hosts ended with John Lundstram cutting back for Burke, whose strike hit Tuanzebe – making his first league start of the season – and went in off the underside of the bar.
A Telles effort from distance looped just over Ramsdale's goal as the hosts looked for another leveller, but the Blades dealt with their largely aimless attempts to find the net as Wilder's side kept their cool and held on for a shock win.
Source: http://prntscr.com/fub00u
Category Archives: Airline
THE EUROPEAN UNION Aviation Safety Agency (EASA) and its UK counterpart today cleared the Boeing 737 MAX to fly again in European skies, 22 months after the plane was grounded following two fatal crashes.
"Following extensive analysis by EASA, we have determined that the 737 MAX can safely return to service," EASA director Patrick Ky said in a statement.
"This assessment was carried out in full independence of Boeing or the (American) Federal Aviation Administration and without any economic or political pressure," the agency added.
The move led the Irish Aviation Authority to lift the suspension of operations of the Boeing 737 MAX in and out of Irish airspace.
IAA Aviation Regulator Diarmuid Ó Conghaile said: "We are satisfied that EASA's review has been comprehensive and ensures that the aircraft is safe to return to operations in Europe."
The move was also welcomed by the Irish Air Line Pilots' Association. 
The MAX was grounded in March 2019 after two crashes that together killed 346 people — the 2018 Lion Air disaster in Indonesia and an Ethiopian Airlines crash the following year.
Investigators said a main cause of both crashes was a faulty flight handling system known as the Maneuvering Characteristics Augmentation System, or MCAS.
Meant to keep the plane from stalling as it ascends, the automated system instead forced the nose of the plane downward.
The findings plunged Boeing into crisis, with more than 650 orders for the 737 MAX cancelled since last year.
#Open journalism
No news is bad news
Support The Journal
Your contributions will help us continue
to deliver the stories that are important to you
The US Federal Aviation Administration (FAA) ordered Boeing to revamp the jet and implement new pilot training protocols, before finally approving the plane for a return to service in November.
Britain's Civil Aviation Authority also today granted its approval for the 737 MAX to return to service.
"The UK Civil Aviation Authority has today announced that it will allow UK airlines to operate passenger flights with the Boeing 737 MAX aircraft, subject to close oversight," the CAA said in a statement.
Source: http://prntscr.com/fub00u
Category Archives: Airline
US PRESIDENT JOE Biden has issued executive orders to cut oil, gas and coal emissions and double energy production from offshore wind turbines in a bid to combat climate change.
The orders target federal subsidies for oil and other fossil fuels, and halt new oil and gas leases on federal lands and waters.
They also aim to conserve 30% of the country's lands and ocean waters in the next 10 years and move to an all-electric federal vehicle fleet.
Biden's sweeping plan is aimed at slowing human-caused global warming but it also carries political risk for the president and Democrats as oil and coal-producing states face job losses from moves to sharply increase US reliance on clean energy such as wind and solar power.
"We can't wait any longer" to address the climate crisis, Biden said at the White House.
"We see with our own eyes. We know it in our bones. It is time to act."
He said his orders will "supercharge our administration's ambitious plan to confront the existential threat of climate change".
Biden has set a goal of eliminating pollution from fossil fuels in the power sector by 2035 and from the US economy overall by 2050, speeding what is already a market-driven growth of solar and wind energy and lessening the country's dependence on oil and gas.
The aggressive plan is aimed at slowing human-caused global warming that is magnifying extreme weather events such as deadly wildfires in the West and drenching rains and hurricanes in the East.
Biden acknowledged the political risk, repeatedly stating that his approach would create jobs in the renewable energy and automotive sectors to offset any losses in oil, coal or natural gas.
"When I think of climate change and the answers to it, I think of jobs," Biden said. "We're going to put people to work. We're not going to lose jobs. These aren't pie-in-the-sky dreams. These are concrete actionable solutions. And we know how to do this.
"I'm signing today an executive order to supercharge our administration's ambitious plan to confront the existential threat of climate change," he continued, adding: "We must lead the global response."
In a change from previous administrations of both parties, Mr Biden is directing agencies to focus help and investment on the low-income and minority communities that live closest to polluting refineries and other hazards, and the oil and coal-patch towns that face job losses.
Biden pledged to create up to a million jobs building electric cars, as well as installing solar panels, wind turbines, "capping abandoned walls, reclaiming mines, turning old brownfield sites into the new hubs of economic growth".
#Open journalism
No news is bad news
Support The Journal
Your contributions will help us continue
to deliver the stories that are important to you
Even so, Republicans immediately criticised the plan as a job killer.
"Pie-in-the-sky government mandates and directives that restrict our mining, oil, and gas industries adversely impact our energy security and independence," said Cathy McMorris Rodgers of Washington state, the top Republican on the House Energy and Commerce Committee.
"At a time when millions are struggling due to the Covid-19 pandemic, the last thing Americans need is big government destroying jobs, while costing the economy billions of dollars," she said.
Biden is also elevating climate change to a national security priority. The conservation plan would set aside millions of acres for recreation, wildlife and climate efforts by 2030.
President Donald Trump, who ridiculed the science of climate change, withdrew the US from the Paris global climate accord, opened more public lands to coal, gas and oil production and weakened regulation on fossil fuel emissions.
Experts say these emissions are heating the Earth's climate dangerously and worsening floods, droughts and other natural disasters.
Source: http://prntscr.com/fub00u
Category Archives: Airline
THERE HAVE BEEN 110 recorded breaches of the PCR test rule at Dublin Airport since regulations were brought in on 16 January. 
Figures released by the Department of Justice & Equality show there have been approximately 140 recorded breaches of the travel regulations in total at all ports and airports in Ireland between 16 January and last Sunday. 
All passengers arriving into Ireland by air or ferry are required to produce evidence of a negative/not detected PCR test taken up to 72 hours prior to arrival, under rules brought in to help curb the spread of Covid-19. 
The department said the breaches were a mixture of people failing to provide a test result and others providing a test result from beyond the 72-hour limit. 
Between Saturday 16 January and Sunday 24 there were a total of 19,320 arrivals at Dublin Airport.
A spokesperson for the Department said An Garda Síochána will prepare a file for the Director of Public Prosecutions over the 110 recorded breaches at Dublin Airport. 
The government announced yesterday that all visa-free short term travel from South Africa and all of South America is suspended until at least 5 March with the Taoiseach saying this can be put in place immediately.
Anyone who arrives from Brazil or South Africa will also be subject to a mandatory quarantine at a designated facility.
26.01.21
A lockdown extension and new travel rules – Here are the main points you need to know
Passengers arriving from all other countries without a pre-departure negative PCR test will also have to quarantine at one of these facilities under these new rules. They will also be subject to a €2,500 fine or six months imprisonment.
Once a PCR test result is provided upon arrival, passengers will now be required by law to quarantine at home. They can free themselves from this quarantine after five days with a negative PCR test result here in Ireland.
If any countries in the European 'traffic light' system move to green or amber (due to a reduction in their incidence), they will not need to quarantine at all once they have a negative pre-departure test, the government said. 
These regulations will apply to anyone who travels into the Republic from any port or airport on the island, including those in the North. Gardaí will be able to turn people back at the border if they are in breach of the regulations.
The Taoiseach said detailed legislation will be needed to implement some of these measures and work will get underway on this immediately. He said much of the regulatory framework will be ready by the end of this week. 
#Open journalism
No news is bad news
Support The Journal
Your contributions will help us continue
to deliver the stories that are important to you
Source: http://prntscr.com/fub00u
Category Archives: Airline
ITALIAN PRIME MINISTER Giuseppe Conte submitted his resignation to President Sergio Mattarella, in a bid to form a new, stronger government.
The president accepted the resignation and "reserves the right to decide (what to do next) and invited the government to stay in office in a caretaker capacity", Mattarella's office said.
Mattarella, the ultimate arbiter of Italian political crises, said he would start a round of discussions with party leaders on the way forward tomorrow afternoon. Talks are expected to last until Thursday.
Conte is expected to seek a new mandate for what would be his third consecutive government in three years, but this depends on his ability to expand his parliamentary majority.
The political crisis was triggered two weeks ago by ex-premier Matteo Renzi's decision to pull his party Italia Viva out of the ruling centre-left coalition, depriving Conte of a solid parliamentary majority.
The other parties
To succeed in forming a government, Conte would need to bring Renzi's Italia Viva party back on board, along with the populist Five Star Movement and the centre-left Democratic Party – Conte's main backers.
The PD has called for a new Conte government with a "wide parliamentary basis", code for enlarging the coalition to include centrists currently in the opposition.
The idea is that this would curtail Renzi's veto powers within the coalition. But it is unclear whether enough lawmakers are willing to make the jump.

Matteo Renzi speaks with Paola De Micheli in the Senate.
Source: SIPA USA/PA Images
Conte sacrificed
Renzi, who played a key role in the formation of Conte's second government in 2019, has long made clear he no longer has confidence in the outgoing premier.
He may demand the appointment of a new leader as the price of his return within the government coalition. So far, Renzi has been biding his time.
Italian media suggest that a PD heavyweight, such as Culture Minister Dario Franceschini, or former M5S leader Luigi Di Maio could be offered the prime minister's job.
Another possibility is naming an independent as premier, to prevent rows between the PD and M5S. According to the leftist La Repubblica daily, Conte could serve as a minister in such a cabinet.
Technocrats in charge
If the outgoing ruling coalition cannot be glued back together, Mattarella will likely ask a non-partisan figure to form a so-called national unity government.
Centrist backbenchers and ex-premier Silvio Berlusconi's centre-right Forza Italia party might back it, while far-right opposition leaders Matteo Salvini and Giorgia Meloni are unlikely to.
#Open journalism
No news is bad news
Support The Journal
Your contributions will help us continue
to deliver the stories that are important to you
Such a government would be expected to pull Italy through the worst of the Covid-19 pandemic and finalise the country's application for European Union recovery funds, due by late April.
Italy is eligible for some €220 billion in loans and grants from Brussels, a massive cash boost crucial to its future prospects.
New elections
The current parliamentary term ends in March 2023, but Mattarella can call snap elections if the political crisis proves intractable – except during a six-month window starting from July.
Under the constitution, parliament cannot be dissolved in the last six months of a sitting president's term, and Mattarella's seven-year mandate ends in January 2022.
Current opinion polls suggest general elections would hand victory to a right-wing opposition bloc including Salvini's League, Meloni's Brothers of Italy and Berlusconi's Forza Italia. 
Source: http://prntscr.com/fub00u
Category Archives: Airline
AN OFFICE-BASED worker here had no option but to resign from her job during the first Covid-19 lockdown after her employer rejected her plea to work remotely from home.
That is according to Workplace Relations Commission (WRC) Adjudication Officer, Kevin Baneham who has ordered the employer pay the operations coordinator €3,712 compensation for her unfair dismissal on 12 May last.
Today, employment law expert, Richard Grogan described the WRC ruling as "a wake-up call" for employers.
Grogan – who wasn't involved in the case – stated: "The amount of compensation isn't high as the worker got new a new job within a short space of time, but the findings are important as it is the first ruling that the WRC has made concerning a Covid-19 related unfair or constructive dismissal."
The Dublin based solicitor stated: "I believe that we are going to see an awful lot more of such Covid-19 cases going through the WRC".
In an email to her employer, a university-based facilities management service provider last April, the worker stated that her employer's refusal to accept the remote working proposal "has increased the infection risk with Covid-19 for all three operations coordinators".
She stated: "In the event one of us gets sick I will be putting at risk my husband who is an asthmatic patient."
In his ruling, Baneham found that the university-based operations coordinator had "no real option but to resign" after her employer failed to take reasonably practicable steps to mitigate risk posed by Covid-19 in the workplace.
Baneham found that the employer failed to implement the proposals made by three office workers that would have eliminated the risk of transmission of Covid-19 in the workplace.
The employer rejected a proposal from the three that two could work remotely at any one time in response to the risk posed by Covid-19.
In the case, the woman – represented by Siptu – worked for the facilities management company at a university where there are 3,200 rooms to accommodate students.
In his findings, Baneham found that the requirement by the employer that the operations coordinator attend the workplace without adequate consideration of the elimination of risk posed by Covid 19 "amounts to repudiation of contract".
He stated: "This arises as providing a safe place of work is a fundamental term of the contract of employment."
Baneham found that the employer did not comply with the statutory framework by first seeking to eliminate risk, "causing the worker to attend work in greater danger".
Baneham stated: "In this case, the risk could have been readily eliminated or reduced through 'reasonably practicable' steps, as suggested by the complainant."
Baneham stated that the operations coordinator "articulated a clear grievance and suggested how the work could be done in the safest way possible".
Baneham stated: "This was not adequately considered by the respondent, leaving her with no real option but to resign."
The award made by Baneham would have been higher but for the worker concerned securing alternative employment within five weeks at a higher pay rate.
Baneham stated: "As an infectious disease, Covid-19 constitutes a biological hazard. In this context and at the centre of this case are the duties of both employer and employee arising from the Safety, Health and Welfare at Work Act and the underpinning health and safety principles."
Some 1,000 students were stuck on the campus in March, some of whom were self-isolating and Baneham stated that the worker and her colleagues dealt with the difficult task of managing thousands of students who vacated their accommodation at the start of the lockdown.
Baneham stated that it was striking that the employer did not trial the "eminently sensible" suggestion by the three office-based operations coordinators that only one worker attend the office and the others work remotely at any one time.
The worker provided a "lockdown" photo taken on 17 April last showing her and her colleagues working in close proximity in the small office.
In an email dated 17 April, the worker told her employer that she was not able to socially distance from her two colleagues in the workplace.
Formal grievance
In a formal grievance lodged on 30 April, the three operations coordinators stated: "All three of us have family members in the 'at risk' category and we are concerned about the health of our family members as well as our own wellbeing."
They stated that these concerns were brought to the employer's line manager attention numerous times at the start and during the Covid-19 outbreak "but nothing was done about it and zero care and consideration was given back".
They state: "Most of our work can be completed from home but if there are issues that require our presence there will be one coordinator in the office to address them. This measure will minimise the infection risk and will help us keep our family and ourselves protected."
However, in response the employer rejected the work from home proposal.
#Open journalism
No news is bad news
Support The Journal
Your contributions will help us continue
to deliver the stories that are important to you
In a letter on 4 May, the employer stated: "Prior to Covid-19 there was never a suggestion that the roles could be performed remotely, and the same situation pertains in a post-Covid situation.
"Each person may absent themselves from work and check if they are entitled to a state benefit. The position will be kept under review, but at present the employer's position is that the three roles are not suitable for remote working."
The employer stated that it had taken Covid-19 workplace precautions, including PPE; changing the physical layout of the office; the installation of screens and warning tape and moving desks.
In her emailed resignation letter on 12 May, the operations coordinator stated on her return to the office her anxiety and stress levels have once again increased and on this occasion have caused her to experience panic attacks.
She stated "With this email communication I am handing in my notice, as I am not able to manage the levels of pressure imposed by management and the impact this is having on my health wellbeing."
She stated the employer's approach "to the whole situation has been a real disappointment and the lack of care for their employees has left me feeling disheartened and insecure".
The MD of the facilities management company told the hearing that the worker was of the opinion that she should work from home, but the company's client would not have allowed this to happen.
He stated that her job was essential, and the client would not have allowed her to work from home.
He outlined that it was the coordinators' role to deal with the students and they were required to be on campus.
The MD stated that no staff member thankfully contracted Covid-19, either in the university or elsewhere.
He stated that the client had the best record of all the universities in Ireland and this was due to the precautions taken.
In response to the proposal that some coordinators work from home, the MD told the hearing that it was so busy at this time, so they all needed to be there.


TheJournal.ie's coronavirus newsletter cuts through the misinformation and noise with the clear facts you need to make informed choices. Sign up here:
Source: http://prntscr.com/fub00u
Category Archives: Airline
A WOMAN WHO launched a "frightening, vicious and unprovoked" attack on a fellow attendee of a Westlife concert 18 months ago has avoided a jail term.
Jackie Walsh (26) split the victim's ear lobe during the attack after her earring got caught up when Walsh was pulling fistfuls of the woman's hair. The victim said during the assault she could feel blood pouring down her face and could see clumps of her hair all over her shorts.
The victim, who didn't make a victim impact statement because she is currently going through a severe bout of depression, was treated by a doctor at the concert.
Her ear lobe was stitched up and she was given an anaesthetic. While she complained of an extreme headache for days after the attack, she didn't require further treatment.
Walsh of Clonard Park, Ballybeg, Co Waterford, pleaded guilty at Dublin Circuit Criminal Court to assault causing harm at Croke Park Stadium on 5 July 2019. She has no previous convictions and has not come to garda attention since.
Judge Melanie Greally said the "facts speak for themselves" and described it as "a frightening, vicious and unprovoked assault which had immediate consequences for the victim".
She said testimonials before the court indicate that Walsh's behaviour was "entirely out of character" and she was not normally a person who was "inclined to engage in violent conduct".
Judge Greally accepted evidence from Detective Sergeant Stephen Coleman that Walsh was heavily intoxicated on the night and genuinely didn't recall the assault, which started after the victim indicated that Walsh was sitting in her (the victim) boyfriend's seat.
The judge acknowledged that Walsh was a bright young woman with plenty of potential. She noted that she has mental health difficulties, which she was addressing before the assault and which she continues to address.
Judge Greally sentenced Walsh to two and half years in prison which she suspended in full on condition that she undergo 12 months' Probation Supervision. She acknowledged that Walsh had saved €3,000 as a token of remorse for the victim who is willing to accept it. She ordered that the money be transferred to the victim within a week.
Additional evidence
Detective Sergeant Coleman told Siobhán Ní Chúlacháin BL, prosecuting, that the victim had not been drinking during the concert and her boyfriend had just gone to get her a burger when Walsh fell into his seat.
She turned to tell Walsh that it was her boyfriend's place when the woman attacked her by first grabbing her head and two fistfuls of her hair. She pushed her into the group sitting in front of her and punched her a number of times in the head.
Walsh was arrested at the stadium during which she continued to be verbally abusive to gardaí. She was released on bail but came to the garda station voluntarily the following September during which she identified herself on CCTV footage and took responsibility for the assault.
#Open journalism
No news is bad news
Support The Journal
Your contributions will help us continue
to deliver the stories that are important to you
She said she didn't remember anything about the incident and admitted she had been drinking heavily.
Coleman agreed with David Perry BL, defending, that Walsh genuinely had no recollection of the assault.
Perry said his client had written a letter of remorse to the court and a letter of apology to the victim.
He handed in a number of other letters written on behalf of Walsh which stated that her behaviour on the night was out of character.
Counsel said his client had a difficult childhood and had mental health issues as a result. She had been dealing with them at the time of the assault but was still abusing alcohol. She has since begun to address her difficulties "in a very serious and profound way", Perry submitted.
He said Walsh is "embarrassed, mortified and ashamed" of her behaviour on the night after she had drunk so much alcohol to the point of "blackout".
Source: http://prntscr.com/fub00u
Category Archives: Airline
THE GOVERNMENT HAS today approved the drafting of legislation for the new role of a directly elected mayor for Limerick City and County with executive responsibilities. 
The electorate of Waterford, Limerick and Cork city went to the polls in 2019 to decide whether or not they wanted to have a directly-elected mayor but only Limerick voted in favour.
The concept would see someone directly elected by the people and given a significant amount of the powers currently held by the chief executive who runs the local council. 
Minister of State Peter Burke today confirmed that the legislation required to enable the first election for a directly elected mayor will be advanced as quickly as possible, with the aim of an election taking place before the end of this year. 
As the role is due to come into existence in the middle of the local government electoral cycle, the first mayoral term will run until the local elections in 2029. 
The government has decided that the directly elected mayor will have many of the executive functions currently held by the local authority's chief executive. 
These areas include housing and building, road transport and safety, strategic development and environmental services. 
The government today also sanctioned government departments to explore the potential transfer of additional functions to a directly elected mayor for Limerick once the role has been created.
#Open journalism
No news is bad news
Support The Journal
Your contributions will help us continue
to deliver the stories that are important to you
The proposed legislation will be consistent with the implementation advisory group's recommended governance structures. These will include:
The directly elected mayor being empowered to develop a 'Programme for Local Government in Limerick', a programme setting out the mayor's vision and ambitions for Limerick, for approval by the elected council.
The mayor being responsible for drafting the local authority's annual budget, for approval by the elected council.
The Chief Executive (to be re-named a 'Director General') retaining responsibility for functions such as managing and accounting for the council's finances.
The elected council retaining its reserved functions.
"Today's decision marks the next step towards the people of Limerick having a directly elected mayor with significant powers," Minister Burke said.
"Having a directly elected mayor will enable the people of Limerick to have a greater say over how services and infrastructure are delivered and how Limerick develops," he said.
"The new role will be a starting point, a basis on which more powers will be decentralised to Limerick over time, possibly including greater financial autonomy."
Source: http://prntscr.com/fub00u
Category Archives: Airline
BANKS, POST OFFICES and credit unions have been added to the list of workplace where the wearing of face coverings is now deemed mandatory. 
Minister for Health Stephen Donnelly today changed the regulations governing the wearing of face coverings to include banks, post offices and credit unions to the list of workplaces where it is compulsory. 
The new regulations come into force with immediate effect.
The change was made following a campaign by the Financial Services Union (FSU), who represent staff in banks and credit unions, to have the regulations changed. 
"Our members were very concerned that they were being treated differently to any other retail staff," FSU general secretary John O'Connell said. 
O'Connell added that "concerns increased when the new variant of Covid-19 was identified and the virus became more transmissible". 
#Open journalism
No news is bad news
Support The Journal
Your contributions will help us continue
to deliver the stories that are important to you
"This is a sensible move which can help alleviate some of anxieties expressed by staff.  We would urge all customers to abide by the new regulations and help keep themselves and workers safe" he said. 
Labour's finance spokesperson Ged Nash has welcomed the decision by Minister Donnelly. 
"Belatedly, common sense has prevailed and this will come as a relief for customer-facing staff, customers themselves and the Financial Services Union who have campaigned for this simple but important workplace health and safety measure to be introduced in law," Nash said. 


TheJournal.ie's coronavirus newsletter cuts through the misinformation and noise with the clear facts you need to make informed choices. Sign up here:
Source: http://prntscr.com/fub00u
Category Archives: Airline
ANDY FARRELL YESTERDAY named his 36-man Ireland squad for the 2021 Six Nations.
They kick off their campaign with a visit to Cardiff to face Wales on Sunday 7 February before a home clash with France the following weekend. 
Here, we break down Farrell's squad by position groups, examining the pecking order and noting some of the players who narrowly missed. The squad is listed below along with [age, Ireland caps].
Loosehead prop:
Cian Healy [33, 104]
Dave Kilcoyne [32, 39]

Dave Kilcoyne's return is a boost for Ireland.
Source: Inpho/Billy Stickland
The return of Munster's Dave Kilcoyne after missing last autumn through injury is a real boost for Farrell, with the Limerick man providing an explosive ball-carrying option.
Kilcoyne will look to put pressure on incumbent starter Cian Healy, who will benefit from competition for his place. One concern is that Kilcoyne has only played 55 minutes this season after recovering from a long-term ankle issue, but Farrell clearly feels he can get up to speed again quickly. 
The Ireland boss has opted against including a third player in this position – Ed Byrne and Eric O'Sullivan drop out of the mix – but he indicated recently that he still views Andrew Porter as a possible option at loosehead, even if the Leinster man is likely to be important at tighthead in this championship.
With Healy and Kilcoyne's age profile in mind, it is perhaps surprising that Farrell didn't include a younger loosehead in O'Sullivan, Byrne, Peter Dooley, or Josh Wycherley while Munster's James Cronin is also overlooked despite his consistent form.
Hooker:
Rob Herring [30, 16]
Ronan Kelleher [23, 6]
Dave Heffernan [29, 5]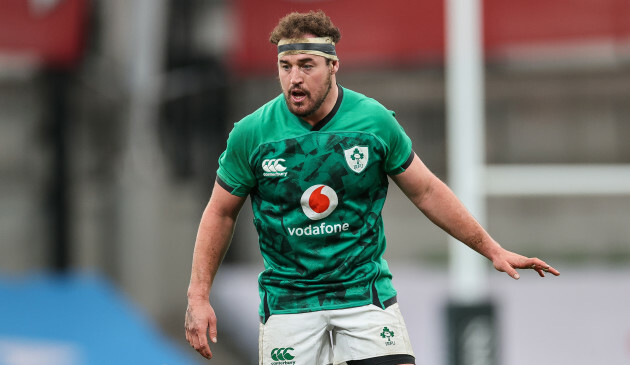 Herring has been in good form for Ulster.
Source: Gary Carr/INPHO
Ireland have gone for the same three hookers as last autumn, with Herring in line to remain the first-choice in this position for the Six Nations.
The Ulster man's form in recent months has been good as he has brought physical bite and nice handling skills for his province, while he is the most experienced Test player of this trio.
23-year-old Leinster man Kelleher has had an up-and-down time over the past year, which should be expected for any young hooker, but he is a superb athlete with potential for plenty of development.  
Connacht's Heffernan is a dynamic and mobile presence around the pitch who can offer something different off the bench but he would dearly love a first Test start to show he can offer an impact as the main man too. 
Beyond these three, it's unclear who Farrell sees as next in line. Niall Scannell, Kevin O'Byrne, and Rhys Marshall are fighting it out in Munster, Sean Cronin started for Leinster last weekend, while Shane Delahunt has been pushing Heffernan in Connacht. 
Tighthead prop:
Tadhg Furlong [28, 44]
Andrew Porter [25, 32]
Tom O'Toole [22, 0]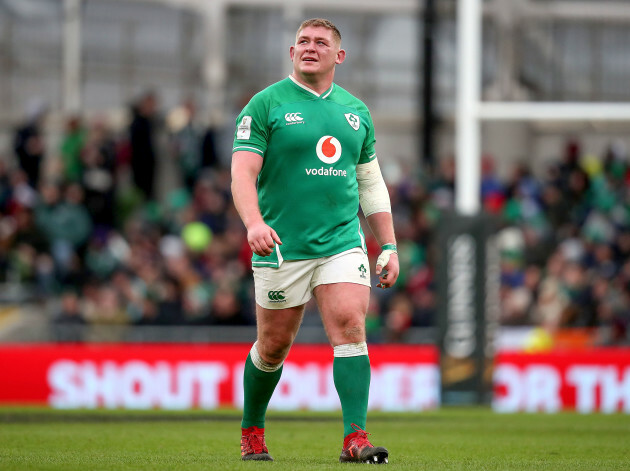 Furlong is another returning player.
Source: Bryan Keane/INPHO
Tadhg Furlong's expected return for Leinster this Saturday after 11 months out of action is a huge boost for province and country. The 28-year-old will surely need time to get back to his best but when he hits that level, he is a key figure in Irish rugby.
Having been bedevilled by back, calf, and hamstring injuries since last year, Furlong is obviously badly short of game time coming into this Six Nations, meaning the highly-reliable and consistent Porter could remain the starter for now.
25-year-old Porter has certainly benefited from Furlong's absence, even if he has had to withstand a major strain in accumulating a huge amount of minutes this season – with another 80 last weekend against Munster.
Meanwhile, the uncapped 22-year-old Tom O'Toole is back in the mix after missing the autumn through injury. Farrell is a big fan of the Ulster man's athleticism and potential, but there is, of course, lots for O'Toole still to learn. 
He remains behind Marty Moore in the Ulster pecking order but Farrell is keen to fast-track him at Test level and a debut awaits in this championship. 
Connacht's Finlay Bealham will be very disappointed to drop out of the squad, particularly given that he was asked to play out of position at loosehead on a bad day for Ireland against Georgia in the autumn. Munster's John Ryan is also left out this time.  
Second row:
James Ryan [24, 32]
Iain Henderson [28, 58]
Tadhg Beirne [29, 17]
Quinn Roux [30, 16]
Ultan Dillane [27, 17]

Tadhg Beirne is in superb form.
Source: Dan Sheridan/INPHO
James Ryan's dominant performance for Leinster against Munster last weekend underlined his status as one of the first names on Ireland's team sheet as he carried and tackled with relentless impact and caused havoc in the lineout.
Opposite him, Tadhg Beirne delivered another supreme showing for the southern province as he won two characteristic turnovers close to Munster's tryline but also made a real impact in the collisions – one aspect of his game that has been questioned. A skillful passer of the ball too, Beirne's form is difficult to ignore.
Ulster captain Iain Henderson has, however, been Ryan's most likely locking partner for Ireland whenever fit and he brings grunt, leadership, and Test experience to the mix. The 28-year-old hasn't played since Ireland's autumn campaign due to a knee injury, though, and it remains unclear exactly how fit he is.
The lock stocks are rounded out by two Connacht men in Quinn Roux and Ultan Dillane. Roux brings a physical edge to proceedings and specialises in mauling, scrummaging, and rucking – the unglamorous heavy-duty work that coaches must pay attention to.
Dillane is a far more explosive presence around the pitch with his eye-catching ball-carrying ability, while he has worked hard on his set-piece basics. Just three Test starts in his 17 caps so far indicate how he has been viewed as an impact replacement.
21-year-old Leinster prospect Ryan Baird is among those to miss out in this department but he has a point to prove with his province after being slowed down by injury niggles in recent times.
Back row:
Caelan Doris [22, 7]
CJ Stander [30, 46]
Peter O'Mahony [31, 73]
Rhys Ruddock [30, 26]
Will Connors [24, 5]
Josh van der Flier [27, 28]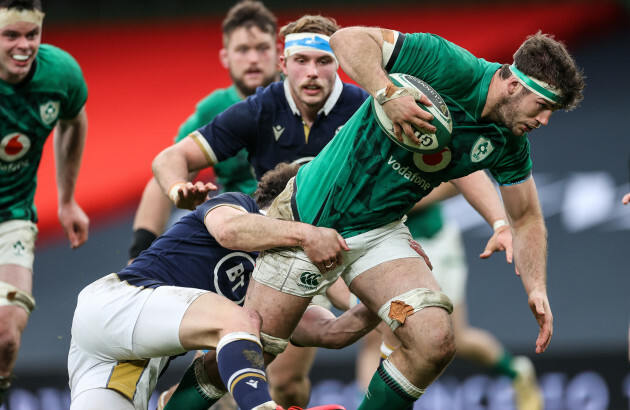 Caelan Doris is already a key player for Ireland.
Source: Gary Carr/INPHO
Having finished the autumn as the starting back row, it would be a surprise if CJ Stander, Peter O'Mahony, and Caelan Doris aren't in Ireland's number six, seven, and eight jerseys against the Welsh. All three have been in good form for their provinces.
Another man who has delivered consistently strong performances is Leinster's Rhys Ruddock, who deservedly returns to the fold. The hope now is that the athletically-improved 30-year-old has a real part to play for Ireland. His leadership, ability to win the gainline, and toughness could be useful against big teams like France and England.
Leinster opensides Will Connors and Josh van der Flier round out this crop of back rows and offer different skillsets. Connors is a defensive weapon who is increasingly showing his passing and offloading ability in attack, while van der Flier offers an infectious work rate. 
Be part
of the team
Access exclusive podcasts, interviews and analysis with a monthly or annual membership.
Munster's 22-year-old Gavin Coombes misses out despite his impressive form this season but his time will surely come, while the likes of Leinster pair Jack Conan and Dan Leavy, and Connacht's Paul Boyle will be motivated to prove their points in the coming months.
Scrum-half:
Conor Murray [31, 87]
Jamison Gibson-Park [28, 5]
Craig Casey [21, 0]

Craig Casey has already trained with Ireland.
Source: Billy Stickland/INPHO
This area of the squad was always going to spark debate. John Cooney, Luke McGrath, Kieran Marmion, and Caolin Blade would all have had hopes of getting the call but miss out.
Conor Murray remains the obvious first-choice given his good form for Munster since the autumn, while Farrell has also opted for the rather different qualities Jamison Gibson-Park and Craig Casey offer. 
Gibson-Park's creativity is a strength and he can bounce out of the game plan with his good decision-making and sniping threat, while his solid cameo on the wing last weekend showed that he's a rounded player.
The selection of uncapped 21-year-old Casey is an exciting one. The Limerick man is a mature young man whose rapid-fire passing is a real strength. He remains behind Murray at Munster but his form has partly prompted the 31-year-old's good displays.
As for those who miss out, Cooney may be wondering whether he should have opted to play for Scotland when given the opportunity a number of years ago.
McGrath was superb for Leinster last weekend against Munster but Farrell prefers Gibson-Park's strengths, while the Connacht duo of Marmion and Blade might be suffering from their province's lack of consistency.
Out-half:
Johnny Sexton (captain) [35, 95]
Billy Burns [26, 3]
Ross Byrne [25, 11]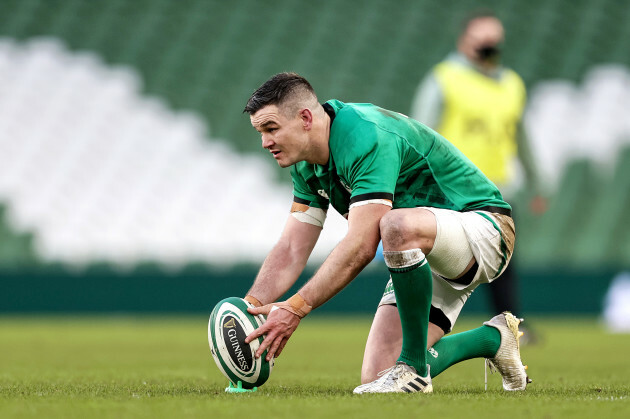 Johnny Sexton continues as Ireland captain.
Source: Laszlo Geczo/INPHO
35-year-old Sexton remains the main man in this squad and Farrell will be pleased that initial worries over the out-half's hamstring appear to be receding now ahead of the Wales clash.
He is backed up again by Billy Burns and Ross Byrne, both of whom were part of the autumn campaign last year. Ulsterman Burns made more of an impact in that window and seems likely to be the bench option.
That said, Byrne showed real composure off the bench for Leinster last weekend with the game-changing attacking kick for Jordan Larmour's try and then a calm conversion from wide on the right.
The 25-year-old's two Test starts so far have come against England, with Ireland struggling collectively on both occasions, but he will be feeling the need to underline his talent in the international game.
Connacht's Jack Carty hasn't been able to convince Farrell of his merits, though it must have been tempting to include his tactical kicking and creative qualities to offer something different.
The sight of Joey Carbery with the Munster squad at Thomond Park last weekend was encouraging, with the 25-year-old making progress with his recovery from a long-term ankle issue.
Irish rugby has a number of promising young playmakers in Munster pair Ben Healy and Jack Crowley, as well as Leinster's Harry Byrne and Ciarán Frawley – now playing at 12 for Leinster – but they will look for more game time with their provinces for now. 
Byrne has been involved in several Ireland camps already and Farrell needs him to push through with Leinster, having been unfortunate to get injured just before what would have been his first Champions Cup start in December.
Centre:
Garry Ringrose [26, 30]
Robbie Henshaw [27, 47]
Bundee Aki [30, 30]
Chris Farrell [27, 14]
Stuart McCloskey [28, 4]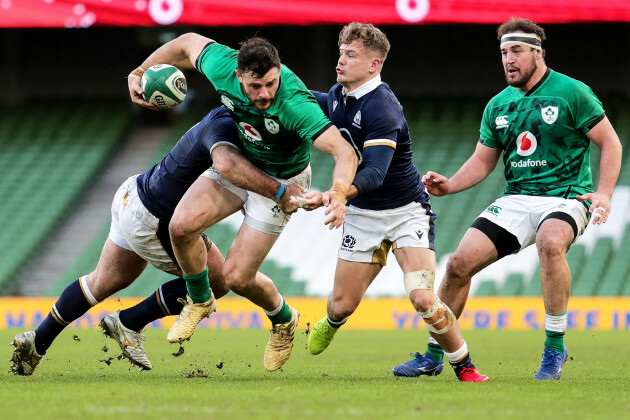 Robbie Henshaw is in excellent form.
Source: Laszlo Geczo/INPHO
Leinster inside centre Robbie Henshaw is the most in-form of this crew and has surely done enough to earn the number 12 shirt, particularly with Aki only just back from a knee issue. Elusive on the ball, dominant in the air, and energetic in defence, Henshaw is in a good place.
Garry Ringrose is nailed-on as Ireland's outside centre given his consistency, creative footwork, and defensive intelligence. Aki should not be discounted, of course, with his power and enthusiasm usually very effective.
Munster's Chris Farrell hasn't been able to break past that front-line trio when they're fit but he remains a strong option in midfield. It is a little surprising that Farrell has also included Stuart McCloskey – who will hope to at least feature on the pitch for Ireland, given how he remains so important for Ulster.
Tom Daly was very close to selection following his excellent form for Connacht and Farrell has encouraged him to keep doing what he has been doing. Younger prospects like Ulster's James Hume will hope they can impress in the coming months too.
Back three:
Keith Earls [33, 88]
Jordan Larmour [23, 24]
Hugo Keenan [24, 6]
Andrew Conway [29, 24]
James Lowe [28, 2]
Shane Daly [24, 1]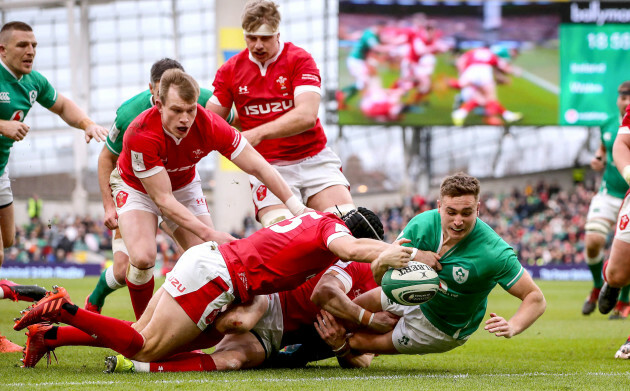 Jordan Larmour is back after missing the autumn.
Source: Ryan Byrne/INPHO
Jacob Stockdale is missing due to a knee injury and it's unclear whether he will recover in time to feature in this year's championship.
Leinster's Jordan Larmour – who missed the autumn with a shoulder injury – returns having racked up two starts for Leinster in recent weeks, showing off his delightful footwork but having trouble in the air against Munster under Conor Murray's strong box kicking and with Shane Daly applying pressure. That said, it's worth remembering that Larmour was Ireland's first-choice fullback prior to injury.
Hugo Keenan's excellent form for Leinster makes him favourite for the number 15 shirt in many people's eyes. He has been calm and composed in the backfield, hard-working off the ball, and dangerous on it, as well as increasingly stepping up as a distributor. 
Keith Earls has had a relatively quiet run of form and will hope to get on the ball more often with Ireland, with his nous making him a valuable member of the back three club.
Andrew Conway and James Lowe have been included despite their total lack of game time for Munster and Leinster in recent months but both are now clear of their injury issues and Farrell hasn't been too quick in forgetting the qualities they possess. Lowe has real game-breaking ability that Farrell is a fan of.
24-year-old Daly is included again having made a debut last autumn and one senses that the confident Cork man could explode if given the chance. He has stepped up with poise every time Munster have asked him to and would love to be handed responsibility in the number 15 shirt for province and country.
Munster's Mike Haley has been in strong form and is unlucky to miss out, while versatile 24-year-old Jimmy O'Brien has been good for Leinster but picked up a hamstring injury last weekend, a game Dave Kearney missed through injury. 
Ulster pair Robert Baloucoune and Will Addison are likely to come back into the mix when they recover from current injury issues, while Alex Wootton has been doing well in Connacht. Longer-term, Ulster's 20-year-old Ethan McIlroy has impressed in recent months and will surely come onto the Ireland radar.
Source: http://prntscr.com/fub00u