IF YOU REPEAT something frequently enough, it tends to be accepted as truth and in the case of Patrick O'Connell's story, the narrative seems pretty well-worn at this stage.
His is the tale of an Irishman who captained Manchester United, found more fame and fortune in Spain as a manager, guided Real Betis to the Spanish title and then moved to Barcelona where he was the hero who saved the club from bankruptcy. Later, after attaining so much success, he died – penniless and forgotten – in London and was buried in an unmarked grave.
Much of that is accurate. But it's his time in Catalonia and his influence and impact on Barcelona that seems to have been rewritten. The accepted version of events has left some locals quite curious.
One of those is Carles Viñas, acclaimed academic, author and a Doctor of Contemporary History at the University of Barcelona.
"I respect O'Connell a lot but, obviously, he didn't save Barcelona," Viñas says.
O'Connell, like many similar figures of his generation, has plenty of complexities. Despite so much material being released about his life in recent years, there remains plenty of holes.
Born in Westmeath but reared in Dublin, O'Connell was a solid if unspectacular player. After joining Belfast Celtic in his late-teens, he got his break in England with Sheffield Wednesday whom he signed for in 1909. But he didn't play much across his three seasons at Hillsborough and moved to Hull. He got more game-time there but it seems his performances for his country persuaded United to make him theirs.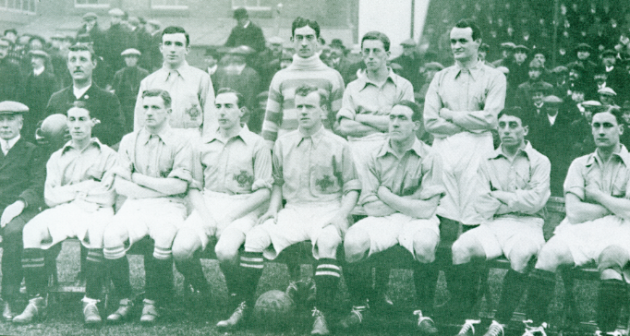 O'Connell, far right in the back-row, with the 1914 Home Championship-winning Ireland team.
In the early part of 1914, the Ireland national team competed in the annual British Home Championship. With O'Connell anchoring things at the back, they beat Wales in Wrexham and followed it up with a superb 3-0 victory over England in Middlesbrough. They drew 1-1 with Scotland and when England suffered another loss in their final game in Glasgow, the Irish were crowned champions for the first and only time in history.
United moved quickly and offered O'Connell a deal.
But despite going on to skipper United in the 1914/15 campaign, his legacy at Old Trafford is tainted by the betting scandal his relegation-threatened side were embroiled in towards the end of the season. In a crunch game against Liverpool, players from both sides fixed the result. There was a subsequent investigation and while O'Connell – the captain – was never found guilty, three of his team-mates were, along with four Liverpool players.
The first World War, essentially, put paid to O'Connell's playing career. There were later stints in Scotland and in England's lower leagues as his professional career dovetailed neatly with the instability of his personal life.
When he took on a job as player-manager with Ashington, deep in the north-east of the country in 1921, he did so alone and distanced himself from his wife, Ellen, and their four children.
Worse was to follow for the family.
When they heard from O'Connell next, it was via letters sent from a city at the northern tip of Spain.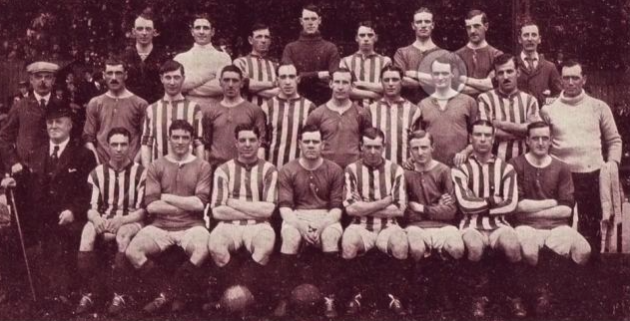 It's not known how he ended up as coach of Racing Santander in 1922 but he was part of a trend.
"All of the trainers from the UK and the surrounding area were prestige in mainland Europe," Viñas says.
"'Oh, we have a British coach! An Irish coach!' It was exciting. They were seen as masters of the game."
Santander had already employed an Englishman – Fred Pentland – as their coach for the 1921/22 season but his success there led to his poaching by Athletic Bilbao.
So, Racing clearly felt they shouldn't change a good thing. The foreign influence, after all, seemed to be working. Still, it remains a mystery how O'Connell was recommended to them in the first place and why, exactly, he was hired. In Pentland's case, he had previously been in charge of both the German and French national teams. He had coaching pedigree. The extent of O'Connell's management was one season as player-coach of a lowly, Northumberland-based club in the basement of the English football pyramid. But, O'Connell surely didn't care about the details and spent seven years there.
However, it was at Real Betis where O'Connell made the step up. He joined the Seville-based club after a two-season stint with Real Oviedo and, after pushing them to promotion from the second division in 1932, he brought them to the promised land three years later.
"He won the league while in charge at Betis – their only championship in history," says Viñas.
"In Betis, it's the only league title. He's an idol. He's the star of Betis. In Barcelona, no. He never won a championship. Or any trophy. But he's respected for his compromise during the war."
O'Connell's work hadn't gone unnoticed and Barcelona were quick to pounce.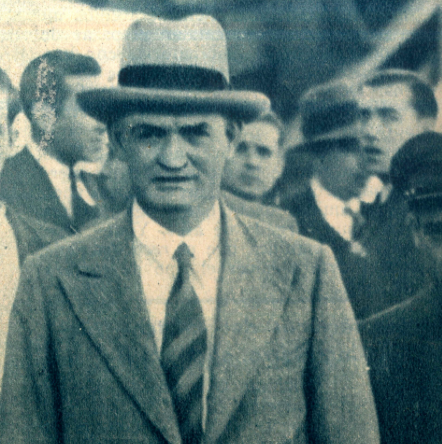 Source: FC Barcelona
"The goal was to win the league – that was the desire," Viñas says.
He was Irish. And the Irish and Catalans have a great friendship because the Catalan nationalists in the 1920s were heavily influenced by the Irish nationalists. It's a strong relationship. So, the reaction was 'Oh, an Irish trainer? Okay! Welcome to Catalonia!' But the war started and the season collapsed."
In a similar way to his time at United, conflict interrupted O'Connell's plans. The Spanish Civil War had been simmering for some time and, in July 1936, it exploded. The league was suspended, though a club committee ensured Barcelona remained active and played in a local competition despite the chaos engulfing the region and country.
O'Connell had been back home in Ireland, holidaying after his first season in charge, when the military coup started. He could've stayed away. But, for whatever reason, he returned to a country that was on its knees.
"He's very respected here," Viñas acknowledges.
When the war erupts, he is away. And he writes a letter to the club asking if he should come back. The club tell him, 'Come back if you want but we don't have any money to pay you'. But O'Connell says, 'That's no problem. I have a home there so I'll come back.' For this, he's very respected here. But not as the man who saved the club. That's a myth."
In August 1936, Barcelona's president – and the man who brought O'Connell to the club – Josep Sunyol, was killed by Francoist forces as he made his way back to Catalonia from Madrid.
For O'Connell, football and politics were always to be kept separate. But it was getting increasingly difficult to keep up such a mindset.
Early the following year, one of the Barcelona players – Josep Iborra – received a proposal from a Catalan businessman friend of his to tour his new home in Mexico, play some exhibition games and also be a symbol of the Spanish Republic in a socially-sympathetic country. Given they had no national league to play in anymore, it would give Barcelona a chance to make some money too. The club agreed and club secretary Rossend Calvet organised a six-game itinerary.
Travelling by boat via France, the tour proved such a success that it was extended. Barcelona had played four extra games in Mexico when it was suggested that the team head across the border to the United States and take in four more fixtures. For their trouble, the club would be paid $2000.
All of the games took place in the New York area so the travelling party took another boat from Mexico to Manhattan. But, on board and making the same journey, were hundreds of Mexican women.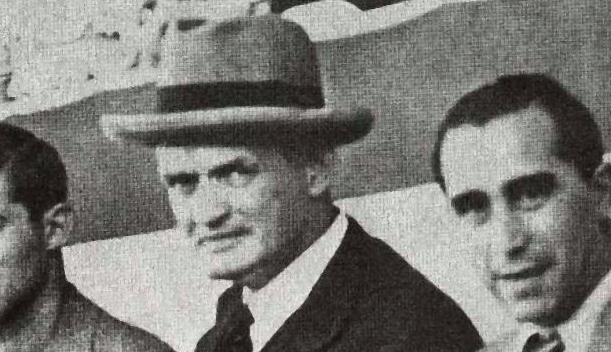 By that stage in his life, O'Connell had acquired another partner. She was also Irish and also called Ellen, or Ellie. It's not known if either of his wives ever knew about the other. Or if Ellie was aware of the four young children O'Connell had left behind in England to be raised by a single parent.
"It's a dark side to O'Connell," Viñas says.
It was a controversial situation. Later, on that tour of America, he goes alone. And there were, let's say, romantic affairs involving the players and other members of the travelling party."
The entire trip proved lucrative for Barcelona. The players and staff appeared at numerous official functions, increasing awareness of the political situation in Spain. They were hosted at the Catalan Centre in New York while there was another reception with the Spanish ambassador and former Minister of Socialist Justice Fernando de los Ríos Urruti.
Before the return trip to Barcelona, Calvet took the players to one side and asked how many wished to go home.
"He tells them, 'If you stay here, it's no problem – it's okay'," Viñas says.
And nine players decide to stay in America and in France. But, O'Connell returns. He says, 'If there are potatoes in Barcelona, I'll come back. It's all very professional."
But, at no stage does O'Connell rescue the club. He's never Barcelona's saviour. The club – and its administrators – plan a smart, money-making tour to Mexico. Their political stance makes them many friends and leads to an extended trip and more cash. But that had nothing to do with their coach. Still, the accepted version of events portrays O'Connell as a heroic Barcelona figure. The truth is more complicated, especially after he leaves in 1940 to go back to Betis.
"In the beginning, Betis are a proletarian club – a club of the working class," Viñas says.
"The other team in the city – Sevilla – is the elite club. Now, it's very different. But in the war, both clubs are associated with Franco. They are Francoist clubs. They are not left-wing. In Barcelona, it's different. The club is persecuted during the war. So, what's interesting for me is that O'Connell goes back to Betis. He is republican in Barcelona but at the end of the war he's back at Betis with the Franco regime. It's a political controversy because O'Connell may not be 'a republican' but he does return to train a Francoist Betis during Spanish fascism."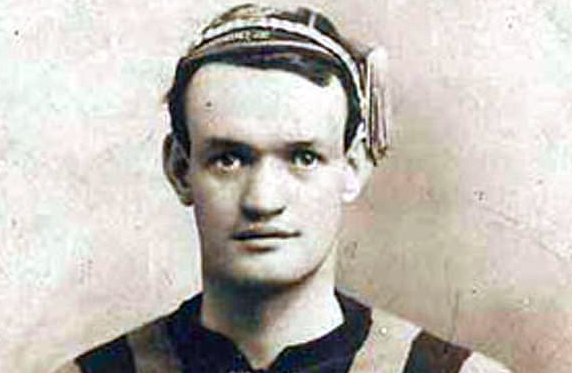 But, Viñas doesn't think there was anything sinister to O'Connell's motives. And his future coaching jobs back up that sentiment.
"I think O'Connell is apolitical," he says.
"'Oh, I can train in Betis? Okay, I'll go to Betis'. It's like sport now and when athletes say, 'no, no – I'm not political'. Given the situation at the end of the war…the context is very different when you look at it now.
Also, O'Connell goes back to Betis in 1940 and then to Sevilla – their greatest rivals – just two years later. That's crazy and would never happen now."
O'Connell would also return to Santander for one final fling in 1947 before heading back to England two years later.
Again, like some other of his football contemporaries, life without football didn't seem to make much sense and he struggled with the transition.
Money became an issue and Betis assisted him, financially, when they were alerted to his situation in the early 1950s. Presumably, Barcelona also intervened, given O'Connell contacted them too.
"Later on, there are letters from O'Connell to Barcelona," Viñas says.
"Like many ex-Barcelona players and coaches did. There was one – Ferenc Plattko – a goalkeeper, who spent a lot of his subsequent coaching career in South America. Many players sent letters to Barcelona saying, 'I'm poor – send money'. A lot of them sent letters looking for help."
Ten years after leaving Spain, O'Connell was dead. His body was placed in an unmarked plot at St. Mary's Cemetery in the London suburb of Kilburn and forgotten about. It wasn't until a small group of passionate O'Connell supporters set up a trust fund in 2014 that the grave was properly restored last year.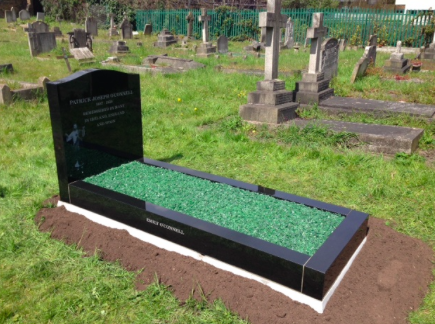 But, despite his rebirth as a romantic football figure, so much about O'Connell remains a mystery.
So, what is his real, authentic legacy in Barcelona? How is he remembered?
"A lot of people began to draw the lines between Belfast, Barcelona, Ireland and Catalonia and it was the beginning of the renaissance of the 'O'Connell in Barcelona' story," Viñas says.
"The most romantic thing he does is come back the first time – at the beginning of the war. That's where he gets the maximum respect here. It's the only great moment of Patrick O'Connell in Barcelona. It's only this. Nothing else."
Subscribe to The42 podcasts here:
The incredible story of the Irish war hero who managed Sevilla and then vanished
Louis Bookman: Solving the mystery of a revolutionary and pioneering sportsman
Source: http://prntscr.com/fub00u