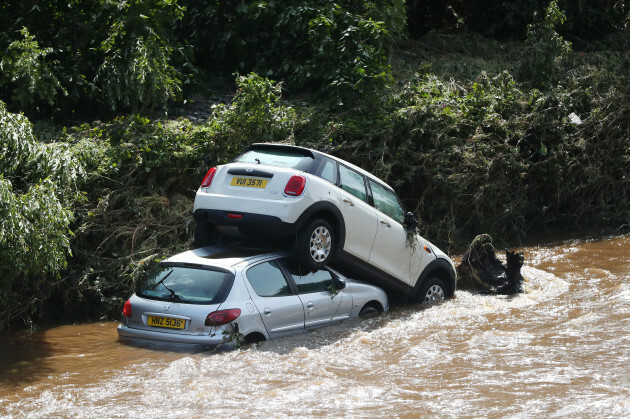 Cars washed into Derry's river Faughan
Source: PA Wire/PA Images
FLASH FLOODING IN Ireland's north-west has caused extensive damage, destroying bridges, roads and houses, as well as leaving thousands of homes without power.
A month's worth of rain fell in the space of a few hours, resulting in severe conditions in Donegal and Derry as roads closed and flights were cancelled.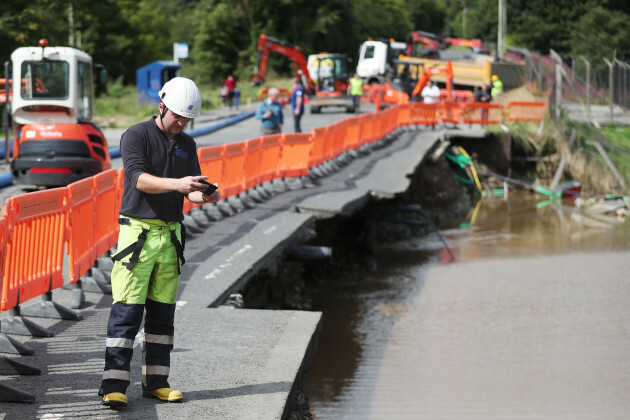 An engineer surveys damage to the road next to river Faughan
Source: PA Wire/PA Images
AA Roadwatch is reporting that a number of roads remain closed due to the damage. In Donegal, these roads include:
The Muff to Quigley's Point road (R238) at Ture
The Carndonagh to Quigley's Point road ( R240)
The mountain road between Carndonagh and North Pole (R244)
The Clonmany to North Pole road (R238)
The Cockhill Bridge and The Mill Bridge.
Grainne's Gap
In Derry, the A5 is closed between Strabane and the top deck of Craigavon Bridge in Derry City. The Dromahoe road is closed at the bridge at Three Mile House.
Serious flooding in central parts of Derry City tonight. Video by @centralbarderry pic.twitter.com/pjyQA3lFmy
— Barra Best (@barrabest) August 22, 2017
The A2 also remains closed at Eglinton between the Airfield roundabout and Broadbridge roundabout.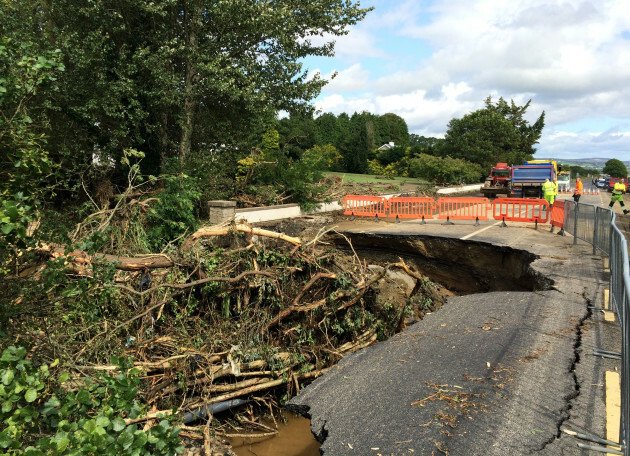 Damage to the main Derry to Moville road in Donegal
Source: PA Wire/PA Images
Local councillor Martin McDermott told Donegal's Highland Radio of the "serious devastation" to roads the flooding had caused, praising emergency services.
Not a good night in Burnfoot #Donegal #flooding #burnfoot pic.twitter.com/jMRm9CqjEK
— James Sweeney (@JamesSweeney74) August 23, 2017
Source: James Sweeney/Twitter
Farmers have lost animals, he said, describing it as a "miracle" that no serious injuries occurred.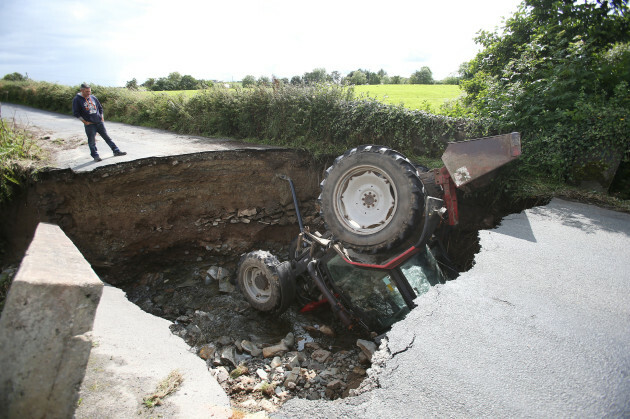 A man looks at a tractor which has fallen into a river after a road collapsed in Iskaheen, Donegal
Source: PA Wire/PA Images
People were rescued from vehicles caught in the flooding last night, with the Northern Ireland Fire & Rescue Service (NIFRS) responding to 60 flood reports between 7pm and 11pm.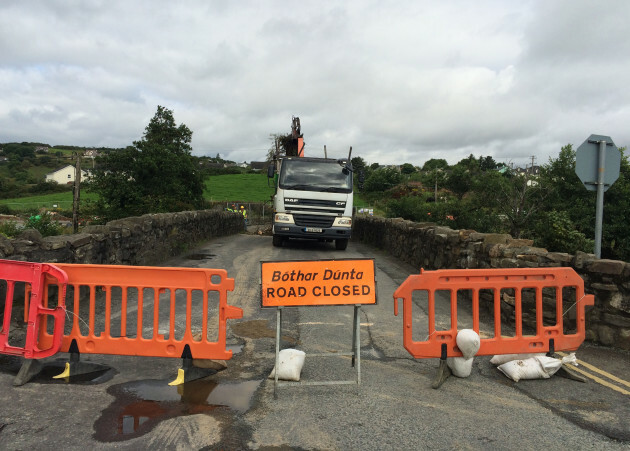 Clean up operations at Cockhill Bridge in Buncrana, Donegal
Source: PA Wire/PA Images
Met Eireann reports that tonight will be mainly dry in the area, but with a few showers expected.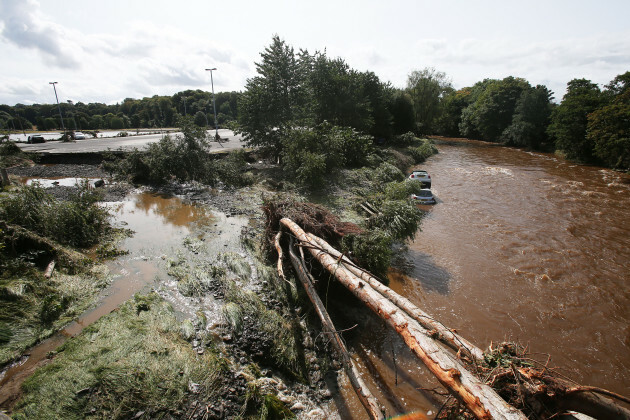 Trees and vehicles in the river Faughan in Drumahoe, Derry
Source: PA Wire/PA Images
Northern Ireland's Department of Communities has confirmed that a scheme offering emergency financial assistance to those affected by the flooding in Derry is to be made available by councils.
Wow! Landslide at Near Muff in County Donegal. Video by Sinead Quigley. pic.twitter.com/WpFwZkT2xm
— Barra Best (@barrabest) August 22, 2017
Government chief whip Joe McHugh, a Donegal TD, said that the flooding in the county will be treated as a "priority case".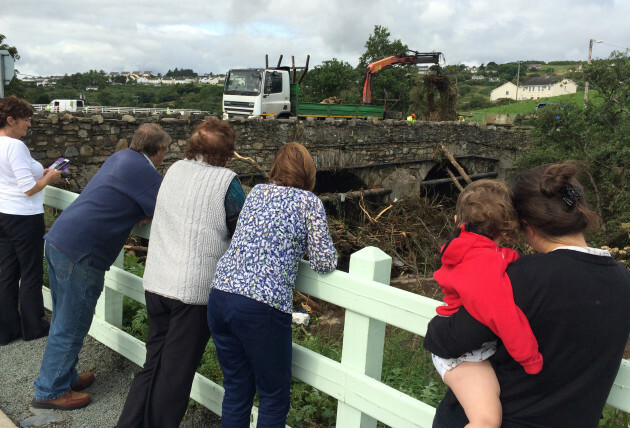 Clean up at Cockhill Bridge in Buncrana, Donegal
Source: PA Wire/PA Images
Read: Senior ladies football and camogie All-Ireland finals 'of major importance to society' >
Read: RTÉ secure broadcast rights for Ireland qualifiers for Euro 2020 and World Cup 2022 >
Source: http://prntscr.com/fub00u