THE CENTRAL BANK of Ireland has opened its archives to the public for the first time, revealing everything from the architectural plans of key Dublin buildings to the alternative designs considered for the Irish pound.
In addition to the history of the bank itself, the archives' contents help tell the story of the economic development of Ireland, from how female clerks were hired to how much gunpowder came through a port in Derry in any given year.
One item in possession of the bank reveals the history of how Irish ships came into contact with piracy. When the Ouzek Galley failed to return to Dublin by 1698, two years after schedule, the ship was considered lost.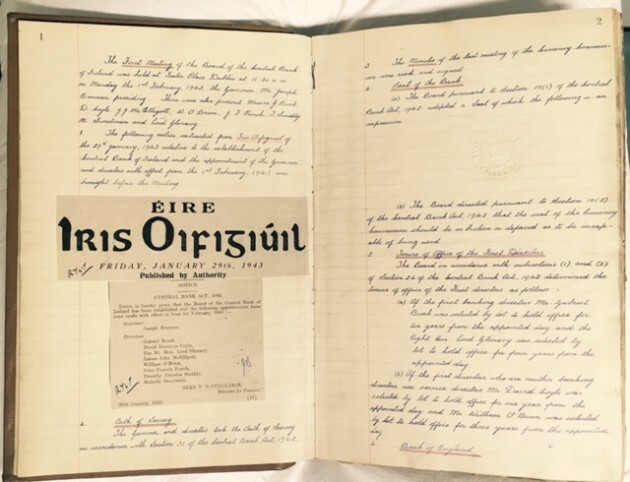 The bank's minute books are contained within the collection
When it suddenly reappeared in 1700s, its crew claimed to have spent five years under the control of pirates. With the insurance payout already made to the ship's owners, the Ouzel Galley Society was formed to resolve future shipping disputes, and its seal has ended up in the hands of the Central Bank.
Also owned by the bank are the entrance exams from 1946 for those seeking to become "Woman Assistants", where the starting salary was 35 shillings a week. Exam questions included: "Explain why water entering a house by a pipe at or below level will flow from a tap in a room upstairs when you turn on the tap?"
Overall, the bank's collection contains over 12,000 paper files, 4,000 photographs and 560 architectural plans and drawings.
Public engagement

While the archives are expected to act as a "treasure trove" for historians and economists, the bank is hoping that members of the public will also engage with the materials, Cónán Ó Broin, the bank's media relations officer, told TheJournal.ie.
It has created an online catalogue, with anyone free to view materials in North Wall Quay with 48 hours notice.
The bank decided to open its archives for public research as part of the design of its new headquarters in North Wall Quay. From now on, the bank will release materials after holding them for 30 years – the same rule followed by government departments, although it is not required to by that legislation.
It is currently running two free exhibitions there, telling the story of how Ireland established its own currency after independence and exploring the history of the euro.
Read: The old Central Bank roof is being altered – but in the 1980s they had to knock 30 feet off the top >
Read: In the 1980s over 500 Irish river sites were of pristine quality, now there are just 21 >
Source: http://prntscr.com/fub00u