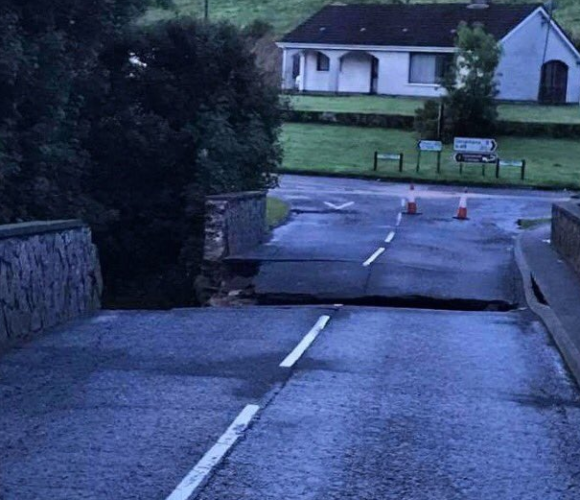 Flooding has damaged several roads across the north west.
Source: Barry Whyte
Updated at 12.10pm
MANY PARTS OF Donegal and Northern Ireland have been hit by flash flooding following heavy rain across the north of the country.
AA Roadwatch is reporting that several roads in Donegal are closed due to bridges collapsing and mud slides.
These are:
The Muff to Quigley's Point road (R238)
The Carndonagh to Quigley's Point road (R241)
Mountain road between Buncrana and Carndonagh (R244)
Grainne's Gap
Cockhill Bridge in Buncrana
The Carraroe road in Sligo town is also closed due to flooding while in Cavan the Bawnboy to Ballinamore road is closed near Boley.
"If you have to drive through standing water, do so slowly and in the centre of the road as it tends to be the highest point," the traffic information service advises.
In Derry the A5 is closed between Strabane and Derry while the Ballynamee Bridge in Claudy also collapsed due to the flooding overnight.
All flights in and out of City of Derry Airport have been cancelled as a major clean-up operation is underway following extensive flooding.
City of Derry Airport was also hit by flooding overnight, as a result all flights have been cancelled #Derry #NorthWestFloods pic.twitter.com/oV9HR7BbqD
— Barry Whyte (@BarryWhyte85) August 23, 2017
Source: Barry Whyte/Twitter
Donegal TD and government chief whip Joe McHugh said the flooding in Donegal will be treated as a "priority case".
Minister McHugh said: "My first thoughts this morning are with the families affected by this severe weather event.
I also want to thank the emergency services, Donegal County Council and the incredible volunteers who worked through the night to save property and to save lives.
The minister of state for the Office of Public Works and flood relief, Kevin 'Boxer' Moran, will travel to Donegal today to see the damage caused by the flooding.
Over 600 homes have been left without power in north Donegal. Buncrana is worst affected with 409 customers losing their electricity supply.
The severe weather conditions have also left more than 600 homes in Northern Ireland without power following damage to the network.
Numerous videos were published on social media showing extensive flooding in several areas across the north-west of the island.
Wow! Landslide at Near Muff in County Donegal. Video by Sinead Quigley. pic.twitter.com/WpFwZkT2xm
— Barra Best (@barrabest) August 22, 2017
Source: Barra Best/Twitter
An example of the sheer destruction and damage the heavy rain caused overnight. This is the main Quigley's Point to Muff road in #Donegal pic.twitter.com/ogX4hxY7am
— Barry Whyte (@BarryWhyte85) August 23, 2017
Source: Barry Whyte/Twitter
Northern Ireland Fire & Rescue Service (NIFRS) responded to 60 flood reports between 7pm and 11pm last night. Numerous people were  also rescued from vehicles caught in the flooding.

Source: JPD Media/YouTube
Double parked cars in the river at Drumahoe pic.twitter.com/OWO8sIz0CT
— Enda (@endamcclafferty) August 23, 2017
Source: Enda/Twitter
Met Eireann says heavy showers will also be frequent today.
A Northern Ireland Fire & Rescue Service spokesman said: "Northern Ireland Fire and Rescue Service are continuing to deal with a large number of flood related incidents across the province as a result of localised heavy rainfall.
"A considerable number of these incidents have occurred in the west of the province.
NIFRS has carried out a number of rescues of persons trapped in vehicles in flood water and we would advise all road users to exercise extreme caution overnight.
Numerous pitches and other recreational facilities have been badly hit by the severe flooding. Carrickmore GAA club in Co Tyrone suffered extensive damage to its grounds and facilities during the "worst floods in recent memory".
Carrickmore GAA club badly hit last night. Both fields flooded. Nally heritage museum and gym destroyed. Worst floods in recent memory. pic.twitter.com/TXzUXqReUw
— Ryan McAleer (@RyanMcAleerUH) August 23, 2017
Source: Ryan McAleer/Twitter
The club posted a message on Facebook thanking volunteers for their efforts to protect the grounds from the flood waters:
A sincere thank you to all the volunteers who once again showed true carmen spirit and commitment to our club this evening when they reacted very quickly to the severe flooding, the highest water levels ever witnessed around the club grounds.
The football grounds of Institute FC in Derry were also flooded.
Soul Destroying.
Further announcement to follow to see where we go from here 🙁 pic.twitter.com/8oI8Ww9Elj
— Institute F.C. (@Institute_FC) August 23, 2017
Source: Institute F.C./Twitter
Bernard McGuinness, who is a Fine Gael councillor for Inishowen, said: "I have never seen anything like it in all my life. The rain was relentless and torrential.
Roads which never flood did this time. It was a weather event not seen here in living memory with 70mm of rain in just a few hours.
"Damage in many areas is severe. I want to pay tribute to local people, emergency services and council staff who worked through the night."
Fianna Fail spokesperson on transport Robert Troy has called on the minister for transport, Shane Ross, to make emergency funding available to repair the damage to roads and bridges.
It's clear that emergency funding will be needed to help repair the damage to roads and bridges in particular.
"Minister Ross needs to put in place a contingency fund to help repair the damage and ensure that works are carried out without delay," Troy said.
READ: Gardaí use batons and pepper spray to break up massive wedding brawl in Westmeath>
READ: Torso of journalist was tied to metal object to weigh it down, police say>
Source: http://prntscr.com/fub00u