Updated 8 hours ago
PLANNING PERMISSION FOR a controversial apartment proposal on the estate of a former Mother and Baby Home institution in Bessborough in Co Cork has been refused.
Survivors have welcomed the decision.
Campaigners have been very critical of plans build 179 apartments in three blocks, ranging in height from five to seven stories, on 3.7 acres of privately-owned land at the site of the former institution.
Developer MWB Two Ltd applied under the the fast-track strategic housing development (SHD) process. The site overlaps with an area of land identified on historic maps as a "children's burial ground".
The burial place of over 800 children who died at the institution, or shortly after being transferred from there to hospital, remains unknown. Campaigners had argued that planning permission should not be granted until the location of a burial ground was established.
An Bord Pleanála held an online oral hearing on the issue last month. MWB Two Ltd had argued it was "highly unlikely" the site in question contains a burial ground.
In its decision, ABP said it is "not satisfied that the site was not previously used as, and does not contain, a children's burial ground".
KOD Lyons, which represented some survivors, today called the news a "significant victory for campaigners". Stephen Kirwan, part of the legal team who represented the Cork Survivors and Supporters Alliance (CSSA), told The Journal: "We are obviously delighted with the outcome of today's decision."
Carmel Cantwell, whose brother William was just a few weeks old when he died at in St Finbarr's Hospital in Cork in 1960, also welcomed the news this morning.
"I'm delighted that the right decision has been made. Hundreds of children are unaccounted for and today's decision is for them. Someone is finally listening," Cantwell told The Journal.
There's nowhere else I wanted to be this morning. Thinking of mothers and children who died in #Bessboro. The decision to refuse planning on the grounds was the right one. pic.twitter.com/nMzY0FX2y6
— Carmel Cantwell (@ctcantwell) May 26, 2021
Actor Noelle Brown, who was born in Bessborough, told us the decision was "fantastic" but unexpected.
"It's really great news and unexpected because we have been so let down in the past, you never really believe anything good is going to happen, at any speed anyway, so it's absolutely fantastic."
In its decision, ABP said: "The Board is not satisfied that the site was not previously used as, and does not contain, a children's burial ground and considers that there are reasonable concerns in relation to the potential for a children's burial ground within the site associated with the former use of the lands as a Mother and Baby Home over the period 1922 to 1998.
"In this context, the Board considers that it would be premature to grant permission rsr the proposed development prior to establishing whether there is a children's burial ground located within the site and the extent of any such burial ground."
Terry Prendergast, member of An Bord Pleanala, continued: "It also considers that it would be premature to grant permission given the implications of such for the satisfactory implementation of the development as proposed. The proposed development would, therefore, be contrary to the proper planning and sustainable development of the area."
The CSSA welcomed the decision but said "it should not have come to this stage".
Some survivors and relatives want the remains exhumed in the hope that DNA may help identify them. However, the CSSA does not want exhumation to take place.
The group's statement continued: "We are concerned by the possibility that a commercial developer may be authorised to carry out investigations which should be the responsibility of the State. Excavation is descercration and will result in the removal of what remains of the little angels and mothers.
"The value of human remains is intrinsic, not evidential. The mothers' wishes are paramount and must be centred in order to avoid re-abuse of their autonomy. We appeal to those in power to step in and use compulsory purchase order legislation to protect and respect the Children's Burial Ground at Bessborough."
'Disappointed' 
In a statement, MWB Two Ltd said it is "disappointed" by ABP's decision.
"The objection to the concept of building on a burial ground expressed by survivor groups and others is fully understood by the developer. However, as MWB Two Ltd. has previously said, experts in the areas of archaeological conservation and heritage found no evidence to suggest that its proposed development site contains any undocumented burials associated with the former Mother & Baby Home.
"Furthermore, MWB Two Ltd. believes that the identification of a burial ground on its land based on a single interpretation of old Ordnance Survey Ireland records is erroneous."
Related Reads
27.04.21
Bessborough survivor says more women 'will die not knowing if their child is rotting in a septic tank'
22.04.21
'It's a children's burial ground': Expert claims map of Bessborough site is correct
21.04.21
Survivors call plan to build apartments at Bessborough site 'an abhorrent act of desecration'
At ABP's oral hearing last month, John Clarkin, a mapping expert with Ordnance Survey Ireland (OSI), said he believes a children's burial ground is indeed located on the land in question.
Clarkin told the hearing he believes a children's burial ground is located in the field as indicated on an OSI trace map from 1949/1950, and not in an adjoining graveyard for nuns, as the developer had claimed.
"What I'm saying is that is the position and wording are correct – it's more than a burial ground, it's a children's burial ground," he said.
Over 900 deaths
In February part of the plan was rejected by Cork City Council. Planners in the local authority refused planning permission for an eight-storey block of 67 apartments on the site.
MWB Two Ltd had initially applied to build 258 residential units – six houses and 252 apartments – on the site, as well as a creche.
More than 900 children died at Bessborough or in hospital after being transferred there from the institution, which operated between 1922 and 1998.
Despite "very extensive inquiries and searches", the Commission of Investigation into Mother and Baby Homes was only able to establish the burial place of 64 children.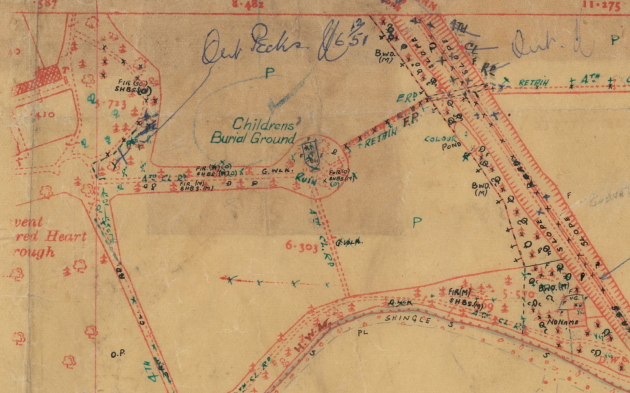 Source: OSI map from 1949/1950
The burial places of more than 800 babies and children are therefore unknown, with the Commission concluding that it is likely some of them were buried in unmarked graves.
At the oral hearing last month, MWB Two argued it is "highly unlikely" the land in question contains a burial ground.
The company's submission to ABP stated: "Though highly unlikely, it cannot be ruled out that the SHD site contains human remains." As such, the company said it was "happy to conduct further site investigation".
However, survivors and their relatives labelled the plans "an abhorrent act of desecration" and "a travesty".
#Open journalism
No news is bad news
Support The Journal
Your contributions will help us continue
to deliver the stories that are important to you
A number of politicians have welcomed the decision today.
Sinn Féin's spokesperson on children, Kathleen Funchion TD, said: "The proposal was entirely insensitive and inappropriate, given the prospect of children's remains being buried at the site."
Funchion, who is the chair of the Oireachtas Children's Committee, continued: "This site now needs to be included in the remit of the Certain Institutional Burials (Authorised Interventions) Bill and the site must be properly investigated.
"As I have said throughout, survivors' needs and concerns must be at the centre of all processes. Their views must be listened to and respected. We must not face a situation like this again where survivors' views are so disregarded."
The Oireachtas Children's Committee is currently carrying out pre-legislative scrutiny of the Institutional Burials Bill. The legislation would lead to forensic investigations and the excavation of bodies buried at the sites in question.
Holly Cairns, a Social Democrats TD for Cork South-West and member of the committee, today said ABP's decision is "humane".
"Given the nature of this site, the unaccounted for remains of hundreds of babies – and the proposed development's vicinity to the 'Children's Burial Ground' (as marked on an OSI map) – it was always a highly inappropriate plan.
"An Bord Pleanála reached a humane decision on this sensitive matter. The human rights abuses and violence associated with Mother and Baby Homes means any developments on or adjacent to these locations need to be conscious of their history and respectful of these spaces as commemorative and traumatic landscapes," Cairns said.
Source: http://prntscr.com/fub00u