Updated 1.30pm
IRELAND WILL NOT be used as a pawn in any "bigger negotiations" between the UK and Europe, the Minister for Foreign Affairs, Simon Coveney, said today.
"We will be realistic and fair but we will also be stubborn in relation to defending Ireland's interests," the minister told the media in Iveagh House in Dublin today.
In a policy paper published today, London outlined its wish to have no hard border between Ireland and the North after the UK leaves the EU.
The UK government has said it wants to maintain a "seamless and frictionless" border between the two countries. Currently people and goods are able to move freely between the Republic and Northern Ireland.
The possibility of a hard border being introduced following Brexit has stoked concern for people living in the areas of both countries that would be most affected.
According to the UK government, it will be pushing to avoid any physical border infrastructure and border posts for any purpose following Brexit.
While welcoming the two UK Brexit position papers on customs, Northern Ireland and other Irish issues, Coveney said he is glad to see an acknowledgement by the British that technology will not work in controlling the post-Brexit border.
'Make no mistake, we are part of the EU negotiating team' says Coveney pic.twitter.com/BZT4ALCSIT
— Christina Finn (@christinafinn8) August 16, 2017
Source: Christina Finn/Twitter
"This paper seems to say that type of infrastructure (cameras on the border and number plate recognition) is not going to happen and I think that is welcome.
"I think it is vindication of the position that we have been taking that technology is not going to solve this border issue," said Coveney, who admitted it might assist in the future.
A solution which does not exist anywhere else 
What is needed now, he said, is a "political solution" and one that "doesn't have any precedent within the EU".
Speaking specifically about the issue of the border, the minister said areas that need to be addressed are issues such as farmland, agri-food and disease control.
"Diseases and animals don't respect borders," he said, adding:
And certainly from an agri-food point of view, how that could be possible, I just don't see how it could work.
There are all sorts of problems… I think we understand very well on the island of Ireland in the context of smuggling and so on.
Coveney said he is satisfied there is commitment to avoid any physical border between the Republic and Northern Ireland, but said more clarity is needed as to how this is going to be achieved.
Coveney welcomes position papers on Brexit pic.twitter.com/ezQG1Fdii1
— Christina Finn (@christinafinn8) August 16, 2017
Source: Christina Finn/Twitter
"Delivering on aspirations will be difficult," he said, telling reporters that there are "still many unanswered questions".
The British media coverage of Brexit 
Coveney was quick to point out that the two position papers released by the UK government are just that – position papers and a jumping off point for negotiations.
One of the mistakes being made in terms of Brexit issues, particularly in UK is that when there is a statement made by the British government, the assumption by many is: 'That's it then – that is what we are going to achieve.' Actually what it is is a negotiation position which needs to be teased out and agreed and compromised positions found within the EU negotiating team.
He said the UK position on issues such as Northern Ireland was "badly needed", adding "now we have to negotiate the realities of that paper".
'Ireland will not be a pawn' pic.twitter.com/ivnIbuAxr2
— Christina Finn (@christinafinn8) August 16, 2017
Source: Christina Finn/Twitter
He said he was pleased to also see other issues, such as the Common Travel Area, the Good Friday Agreement and peace co-operation mentioned in the new Brexit papers.
The minister said, for the first time ever, the UK has also acknowledged the need for a common electricity market on the island of Ireland, as it will impact greatly on prices in the North.
Irish concerns are Europe's concerns
"We appreciate the extent to which Irish Government concerns in these areas are being taken on board," he said, adding that it reinforces what Europe's lead negotiator Michel Barnier has been stating for some time: "Ireland's interests are Europe's interests."
While welcoming the clarity the British have given today, he clarified that Ireland will not be used "as a pawn", adding that his focus is delivering the best deal for the people of Ireland.
He said the Irish government is preparing for the "worst case scenario".
Ireland cannot be walked to the "cliff edge" and "pushed over", said the Cork TD, stating it was correct that preparations for all possible scenarios are discussed.
The decision to leave the EU was a British decision, not an Irish one, said Coveney. However, despite this fact, Ireland must be prepared to protect its own interests.
The release of the UK position papers has been described as timely and helpful, but the government warned, "protecting the peace process is crucial and it must not become a bargaining chip in the negotiations".
Customs
The UK yesterday laid out its plans to leave the customs union in order to negotiate a new deal with the EU.
To replace this union, the government released a document outlining two possible options: a "highly streamlined customs arrangement" or a "new customs partnership" with the EU.
Under a new customs partnership, the UK said there would be no customs border at all between the UK and Ireland.
Under a highly streamlined customs arrangement, provisions to deal with the border could include:
A continued waiver on submitting entry/exit declarations
A continued membership of the Common Transit Convention to help Northern Irish and Irish companies transit goods.
The UK said both these arrangements would need facilitations which reflect the unique circumstances of Northern Ireland.
However, Guy Verhofstadt, one of the EU's Brexit negotiators, yesterday described aspects of the customs plan as "fantasy", so it remains to be seen how Europe will react to these proposals.


Source: Guy Verhofstadt/Twitter
Good Friday Agreement 
The UK paper also makes clear its plans to protect the Common Travel Area (CTA) between Ireland and the UK and the rights for citizens that go with it.
It also committed to uphold the Good Friday Agreement in all its parts, and called on the EU to prioritise these objectives also.
"Both sides need to show flexibility and imagination when it comes to the border issue in Northern Ireland and that is exactly what our latest position paper will do," a UK government source said.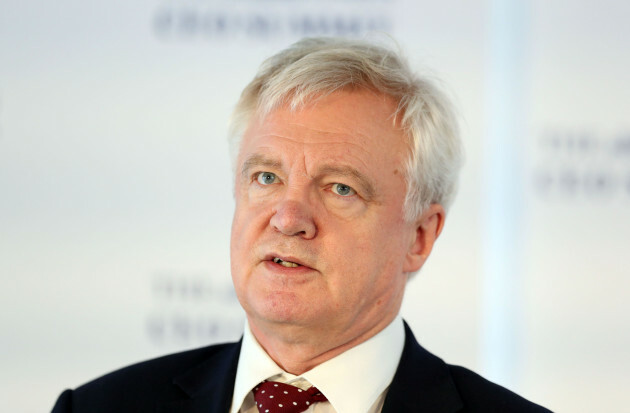 UK Brexit Secretary David Davis.
Source: Jonathan Brady
Irish response 
"The immediate focus for the coming rounds of negotiations remains on advancing the issues identified for phase one of the negotiations, including citizens' rights and the financial settlement, as well as issues specific to Ireland," said Coveney.
The government remains hopeful that there will be sufficient progress on these issues to allow the necessary parallel discussions on the future relationship between the EU and the UK, including in relation to customs, to commence.
With reporting by Christina Finn 
Read: EU negotiator calls UK's Brexit plan 'a fantasy'
Read: What's a 'hard' and 'soft' Brexit, and which one are we likely to get?
Source: http://prntscr.com/fub00u