IT'S A DAY of rest, and you may be in the mood for a quiet corner and a comfy chair.
We've hand-picked the week's best reads for you to savour.
1. Houston flooding and its unchecked development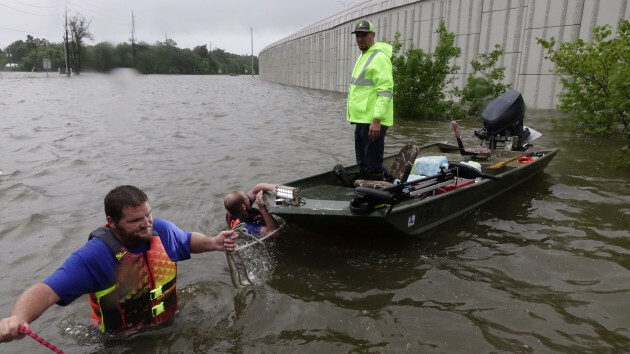 Shannon Breaux pulls a boat through shallow water as Brett Lejeune looks on as Acadiana residents respond to rescue flood victims of Hurricane Harvey.
Source: Lee Celano/The Advertiser via USA Today Network/PA
In the first of two articles this week about the Houston flooding, this one looks at how development in the city might have contributed to the disastrous impact of the hurricane.
(Quartz ,approx 7 mins reading time)
It's not just wetlands that are being destroyed. Prairies, which also act as floodwater sponges, have been decimated too. Below, maps show the change in the Katy Prairie, west of downtown Houston. By 1996, much of it was gone, but another 10% had been lost by 2010, while the developed acreage grew by 40%
(Content warning for suicide) This piece explores the life and death of 18-year-old Océane, who took her own life in France. It takes in social media, teenage life online, and the reaction to Océane's tragic death.
(The Guardian, approx 28 mins reading time)
In the days and weeks after Océane's death, a number of rap "homages" began to appear online. The rappers were often young men whose unemployment and casual jobs were redeemed by a heroic alter ego – gangster, truth-teller and troubadour – even though, in most cases, their "celebrity" happened in a bedroom, and was known only to themselves. None of them had known the dead girl, but the story of her suicide spoke personally to them.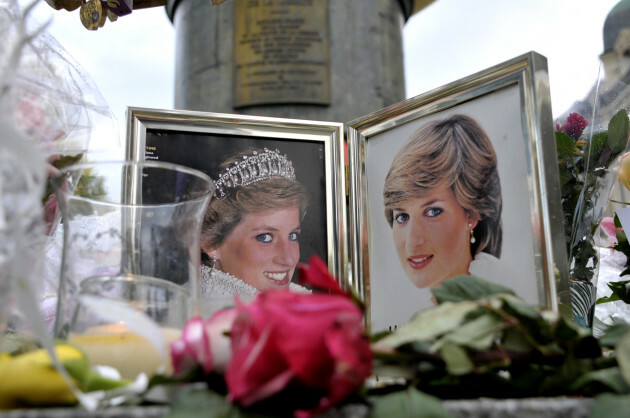 Source: Apaydin Alain/ABACA
Hilary Mantel is a woman you turn to when you want an insightful and in-depth look at royal life. This time, she turns her sights to Diana, on the 20th anniversary of her death.
(The Guardian, approx 21 mins reading time)
Private tapes she made with her voice coach have been shown in a TV documentary, Diana: In Her Own Words. They were trailed as revealing a princess who is "candid" and "uninhibited". Yet never has she appeared so self-conscious and recalcitrant. Squirming, twitching, avoiding the camera's eye, she describes herself hopefully as "a rebel", on the grounds that she liked to do the opposite of everyone else.
4. Undercover as a white supremacist
Theo Wilson, who is black, went undercover as a white supremacist in order to see what their world is like.
(Washington Post, approx 8 mins reading time)
Within a few weeks Wilson's alternate identity was questioning President Barack Obama's birthplace, railing against Black Lives Matter and bemoaning people he called "race-baiters," such as Attorney General Eric H. Holder Jr. After several months, he was a disaffected fixture on alt-right websites that draw white supremacists — such as Info Wars and American Renaissance — and in the comments section of racist YouTube videos.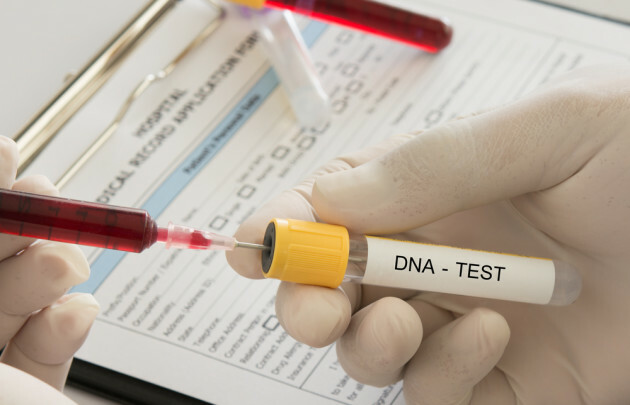 Source: Shutterstock/create jobs 51
DNA tests are all the rage at the moment – but for some people, they can lead to the discovery of family secrets that lay hidden for decades.
(New York Times, approx 10 mins reading time)
Mr. Hutchinson decided to have his DNA analyzed by 23andMe. The report revealed he is one-eighth sub-Saharan African, which means that his mother was of mixed race. There was some Italian and Swedish heritage. Mr. Hutchinson also learned that his mother was not an only child, but had a brother.
6. The snake-handling preacher
Here's the story of Cody Coots, one of America's last snake-handling preachers.
(The Ringer, approx 20 mins reading time)
Now the congregants kneel, and together they pray, all out loud, a cacophony of voices filling the room. When they finish, the music starts — Cody on guitar, his mother, Linda, on the drums, voices rising and feet stomping all across the room. They sing and they shout, songs about Jesus and about the Devil, about living right and doing good, about strychnine and serpents and heaven's streets of gold. Soon a few start jumping, hopping up and down across the room with their eyes closed.
…AND A CLASSIC FROM THE ARCHIVES…
Back in 2016, ProPublica described Houston as a "sitting duck" for a hurricane. Here's why.
(ProPublica, approx 51 mins reading time)
Still, scientists say, Houston's perfect storm is coming — and it's not a matter of if but when. The city has dodged it for decades, but the likelihood it will happen in any given year is nothing to scoff at; it's much higher than your chance of dying in a car crash or in a firearm assault, and 2,400 times as high as your chance of being struck by lightning. If a storm hits the region in the right spot, "it's going to kill America's economy," said Pete Olson, a Republican congressman from Sugar Land, a Houston suburb.
More: The best reads from every previous Sitdown Sunday>
Source: http://prntscr.com/fub00u