SWISS POLICE HAVE tracked down and arrested a man believed to have carried out a chainsaw attack in an office building which left several injured, local media said.
The ATS news agency said the man, identified as Franz Wrousis, aged 51, was detained tonight in Thalwil, a town south of Zurich.
Wrousis, who has a criminal history and had reportedly been living in a forest, is alleged to have targeted the CSS insurance company yesterday in the northern town of Schaffhausen, storming into their office and injuring two people, one of them seriously.
Three other people suffered various injuries amid the subsequent fracas, public broadcaster RTS reported.
Wrousis was caught on camera after the rampage carrying a black bag and rucksack, local media said.
Swiss police had issued an international warrant for his arrest.
Yesterday's attack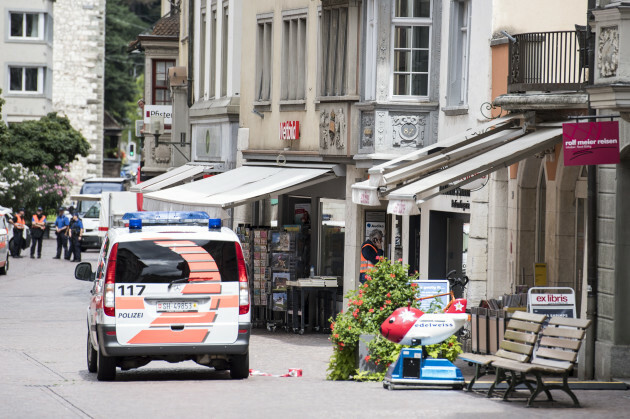 Schaffhausen, just north of Zurich and near the German border, has an estimated population of 36,000.
Source: ENNIO LEANZA
The attack began shortly after the suspect entered an office building in the northern town of Schaffhausen at 10.30am local time (8.30am here), local police said in a statement.
Schaffhausen prosecutor Peter Sticher told reporters that an insurance company with offices in the building was the apparent target, indicating the attacker had a grievance with the firm.
The authorities were alerted about 10 minutes after the rampage began and rushed officers, ambulances and helicopters to the scene.
The town's historic old quarter was sealed off by a large deployment of officers who evacuated all businesses and pedestrians, but the barricades were later removed.
Despite relatively low crime rates, Switzerland has one of the highest rates of firearm ownership in the world and police said it was likely that the suspect was carrying weapons while on the run.
Read: Manhunt underway after five people injured in 'chainsaw attack' in Switzerland
Source: http://prntscr.com/fub00u