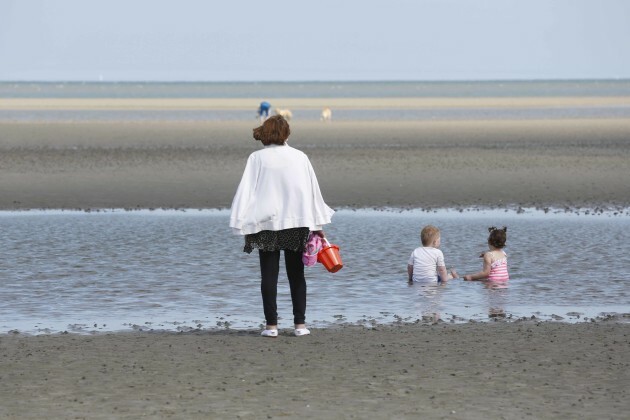 Children at Sandymount Strand.
Source: Sasko Lazarov/Photocall Ireland
DUE TO YESTERDAY'S heavy rainfall, Sandymount Strand and Velvet Strand in Portmarnock have been issued swim warnings.
More than seven millimetres of rainfall was recorded overnight at Dublin Airport, with some 24 millimetres recorded in Donegal.
RAINFALL TOTALS OVERNIGHT ?️
Finner Camp (Donegal) 24mm
Knock Airport 19mm
Belmullet 18mm
Johnstowm Castle (Wexford) 13mm
Dublin Airport 7mm
— Met Éireann (@MetEireann) August 14, 2017
Source: Met Éireann/Twitter
Heavy rain clearing the north coast this morning – latest radar below.
Showers in all areas today, heavy & prolonged in the south and east. pic.twitter.com/aZOyFacm1S
— Met Éireann (@MetEireann) August 14, 2017
Source: Met Éireann/Twitter
Swimming has been banned at Sandymount Strand and Merrion Strand due to the risk of water quality deterioration in the area due to the heavy rainfall and possible sewer overflow.
The ban on swimming is likely to last at least 72 hours.
Fingal County Council has also issued an advisory warning for Velvet Strand, Portmarnock.
Due to the heavy rain last night, there's a possibility of an increase in the levels of bacteria in the water as a result of an overflow from a nearby pumping station.
While the beach remains open, the council advises that there is an increase risk of illness if people take to the water, and have issued the following advice to bathers:
Avoid swallowing or splashing water
Avoid swimming with an open cut or wound
Wash your hands before handling food
Avoid swimming if you are pregnant or have a weakened immune system
For more information on what beaches in Ireland have swim restrictions, visit Beaches.ie. 
Read: Port Tunnel closed both ways due to truck on fire>
Read: 'Running for president of Ireland is not something I would do willy-nilly, but we need a contest'>
Source: http://prntscr.com/fub00u