TAOISEACH LEO VARADKAR has insisted the Public Services Card (PSC) is not a national identity card.
Public concern has been growing in recent months over the PSC, which is a plastic card needed by citizens to access an increasing number of State services.
Originally needed solely for social welfare recipients, the card is now becoming mandatory for a large number of services, prompting concerns that it is becoming a national identity card "by stealth".
Critics claim that the PSC is simply a national identity card, and that the government has introduced it without consulting anyone.
Today the Taoiseach denied that the PSC is a national identity card, stating that he is not in favour of them.
It is not a national ID card, we have absolutely no plans to introduce a national ID card in Ireland. It is not something I would be in favour of. The characteristic of a national ID card is that the police or army can ask you to produce it… that is not going to be the case.
This is what we always said it would be, it is a Public Services Card and it enables people to access important public services and also allows us to identify fraud by asking people to identify who they say they are.
This is something that is actually of real benefit to citizens.
Defending the Public Services Card
Defending the rollout of the card, the Minister for Finance and Public Expenditure, Paschal Donohoe, said the card "is not, was never intended and will not be used" as a national identity card.
Writing in the The Irish Times today, he said the law clearly prohibits the introduction of it being used as a national ID card, adding that the card was designed to be used only for the provision of public services.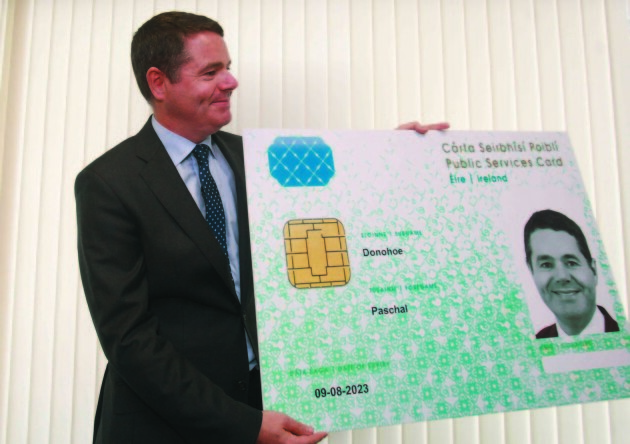 Minister Paschal Donohoe at the launch of the Public Services Card.
Source: Leah Farrell/Rollingnews.ie
However, concerns about the card has also emanated from government agencies.
Yesterday, the Data Protection Commissioner Helen Dixon said that the government needed to be more forward with the public about the card.
"While a framework to authenticate identity for individuals availing of State services is an entirely legitimate government policy choice, transparency to the public on the underpinning legislative provisions, what data is being collected, for what purpose, and with whom data may be shared and for what purpose, needs to be adequately addressed," the commissioner said.
Dixon said that the Data Protection Commission had raised concerns on multiple occasions in the past with government around the rollout of the card.
Varadkar said he will not brush off the Data Protection Commissioner's concerns about the PSC – but stands firm that there is a legislative basis for it.
Taoiseach says he always pays close attention to what the Data Commissioner says pic.twitter.com/MAPsm5TNOG
— Christina Finn (@christinafinn8) August 31, 2017
Source: Christina Finn/Twitter
"I always pay very close attention to what the Data Commissioner has to say. It is a government office, so we will always pay attention to what she has to say and respond to any concerns that the Data Commissioner makes," he said.
However, the Taoiseach argued that there is a legislative basis for the public service card in the Social Welfare Consolidation Act 2005.
"There is a whole section there on the Public Services Card, so we are confident there is a legislative basis for it… but I would never dismiss concerns about data protection.
"It is important that data that is held about people is held securely and that those that have access to it understand that they can only use it in a certain way and if they abuse the access to it there will be consequences," said Varadkar.
Read: A row about ID cards lasted years and cost the UK billions. Then Theresa May scrapped them>
Poll: Are you happy to give your data for a Public Services Card?>
Source: http://prntscr.com/fub00u