NEWLY CROWNED THREE-TIME European champion Joe Ward trots towards the voice recorder sporting a look of pure divilment.
"I hate Bernard Dunne, he should be sacked!" he shouts, sheepishly glancing upwards towards his new High Performance Director, who's chatting in the background. Dunne doubles over with laughter, issuing a thoroughly informal warning to his most prodigious talent, and the man whom he's entrusted to captain the Irish boxing team all the way to Tokyo 2020.
"Aw, sorry, he's there," Ward jibes, his face still inches from the recorder, which he's now treating as a microphone. The Moate light-heavyweight is in convulsions.
"He thinks he knows everything, but…"
Moments before, Dunne had warned that to interview Ward would require some fleet footwork; the media-shy 23-year-old had already made a bolt for the side exit of Irish boxing's new home at the Sport Ireland Institute, Abbotstown. He was definitely displeased to have been spotted – and so near the door, too – but after a couple of gags at Dunne's expense, he's game. He's also happy – more so than we've ever seen him.
"Look, it's great to get back winning, especially after the disappointment of Rio in 2016," he says, now almost three weeks removed from being crowned king of Europe for an Irish-record third time. "Rio was a bit of a downer for me. But to get back on track, starting with the National Championships, then going to Romania for the Multi Nations Championships and winning a gold medal, and then obviously going on to the European Championships and winning another gold medal, was great.
"But it's all about performing, and every day in the gym I've been getting better, every session I try to make the most of it and give myself the best opportunity to perform in all these big tournaments. That's what I've been doing. Long may it last, and hopefully come Hamburg I can perform, and who knows where it'll take me?"
Such is his pugilistic gift, the answer is likely back to the podium he graced in both 2013 and 2015, not that he'd suggest it. Never before has Ireland birthed an athlete who, at 23, has medalled twice at World Championships and taken three consecutive golds home from the Europeans. And yet for all these achievements and countless others, the discourse surrounding his most recent conquering of the continentals was largely focused on the dearth of plaudits it garnered.
The boxing public in Ireland was left aghast; 'imagine if it was a track athlete', proposed almost everyone. Even the rowers were used as a yardstick. Aggrieved, Ward's former teammate and current professional prospect Eric 'Lilywhite Lightning' Donovan curated a movement in which people changed their profile pictures on Twitter to photos of a triumphant Ward. The fact that numerous, high-profile journalists partook in the same not-so-silent protest perhaps speaks to a deeper issue within the Irish sports media landscape.
As is his wont, Ward steers clear of social media, but was made aware of the outrage discharged on his behalf.
"Ah sure, look, we all have a few snitches around who keep an eye on these things," he says, laughing off his own inexplicable lack of newsworthiness. And then he's serious.
"For me, the media is out of my control. I just worry about being the best I can for myself, for my family and for my country, and try to win as many medals as I can, and putting Irish boxing back to where it was.
"Where we were was in the top three or four nations in the world, and I can't see now, with the new guys coming in with so much natural talent, why we can't become the number one nation in the world. I believe that we have something special."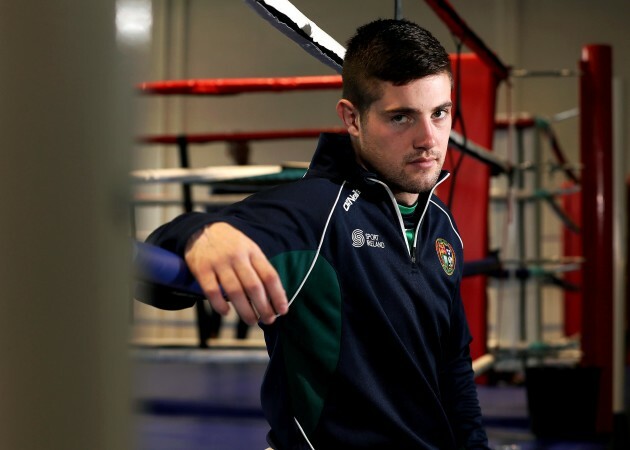 Source: Tommy Dickson/INPHO
It's a new Ward we're dealing with, here. The most experienced member of Ireland's latest boxing crop, he's been named team captain and pledged his next three years to Bernard Dunne's cause. It's a real coup for the former super-bantamweight world champion in his new role; for weeks, and indeed as recently as last week, Ward had been strongly considering a move to the professional ranks.
He readily admits that it was Dunne who swayed him back in the direction of Abbotstown.
"It's a great honour for me to be captain," he says. "It means a lot to me to be selected amongst some wonderful, great lads on this team, who as I said have a massive amount of ability and talent. We can go on to achieve a lot of stuff.
Bernard gave me the opportunity to stay around. He has a vision. We're going to buy into it. We feel like it's going to improve us. I think we're going to be a very, very powerful nation over the next three years. It's not even about the short distance to the World Championships, it's about onwards and upwards towards Tokyo, and I feel we'll be a very, very powerful nation. We have a bundle of talent – men and women. It's great to be involved in it, and obviously, to lead it.
"It was the closest I've come to turning pro. I've been in negotiations with a lot of promoters, but as I said, Bernard gave me a great chance to stay here, and I saw his vision of what he wanted, what role he wanted me to take, what he wanted implemented in the team. I bought into it. The right decision for me to make was obviously to stay amateur, and try to improve as much as I can from now until Tokyo.
"Something I don't have on my mantelpiece is an Olympic medal, and it's something that I really want. It's a long way away, and there'll be a lot of ups and downs before we get to that, but it'd be something special if I could get that Olympic medal – a dream come true. Then, it'd probably be time to say goodbye to amateur boxing and go pro!"
Ultimately, the allure of big promotional names such as Frank Warren and former Golden Boy CEO Richard Schaefer were no match for the pull of Dunne, and more pertinently what the Dubliner intends to achieve in his dream gig as High Performance Director.
He and Ward are conspicuously close; Dunne, still a sprightly 37, probably wouldn't appreciate a father-son analogy, but watching them riff at close quarters is at least reminiscent of a nephew and his 'cool uncle'. There's an understanding which requires few words, and it's clear that in a short space of time, Ward has become almost an extension of Dunne – the in-ring enforcer of his lofty standards.
"So far, so good," Ward jokes of their relationship, with Dunne still in earshot, before adding the caveat, "I'm winning," to more laughter.
"Since Bernard's come in, he's really put his foot down. He wants us to be the number one country in the world, and I can't see why we can't be. The atmosphere is good, everyone is really tuned in and focused on improving and performing to the best of our ability.
"And who knows where that'll take us? We went to the European Championships with very little expectations because no one really knew what to expect after Rio, and we won two bronze medals [he neglects to mention his own gold]. And some of the lads who didn't medal were very unlucky; you could put it down to performance or lack of experience. This could be a phenomenal team.
"Male or female, we need to account for each other. Every session, we've got to set targets, but we've got to reach them. We've got to push each other to make this happen, not only as individuals but as a team. We want to be the best team in the world. We don't want to be two or three."
Ward frequently makes a point of mentioning the women in the team: Carly McNaul, Dervla Duffy, Christina Desmond, Gráinne Walsh and Kellie Harrington head to Italy for the returning EU Championships next August, and now train alongside their male counterparts; every warm-up, every drill, every punch, pivot or plank is done in unison, all in the same rings, all under the tutelage of Zaur Antia and his team. Not even sparring recognises gender.
It's Ward who paves the path through all of it, be it leading the extensive, single-file warm-up or demonstrating Antia's skill drills with Seán McComb for the rest of the team to follow. And they do follow, as they do World silver medallist Harrington, whose ferocity recently perturbed a Sport Ireland intern who asked that he learn how to spar before his term came to an end, 'once it's not with Kellie'.
Ward is four years Harrington's junior, but with icons in Katie Taylor, Paddy Barnes and Michael Conlan having departed the High Performance Unit, has been forced to step up to the plate. It's a challenge he's relishing.
"I'm only 23 but I've a lot of experience having been here for a lot of years," he says. "I've been very lucky to get the opportunities since a very young age to go out and perform. Obviously I did it. Now it's about giving back that experience, giving back what I achieved to the rest of the team. I'll give them the best advice I can give them, and try to help them, because it's no joke going to a European Championship or World Championship and trying to get over that line and win a medal.
"I know how to deal with the pressure, I know how to perform under pressure. I know how to win. My winning mentality is massive. The team knows what it means to me to win. That's something that will drive them on and give them more determination to achieve.
"To be selected as captain is special but it gives me more confidence. It shows what Bernard and the coaches think of me, and what they expect from me. As a young person, to lead this great nation of boxing towards Tokyo, it's something special."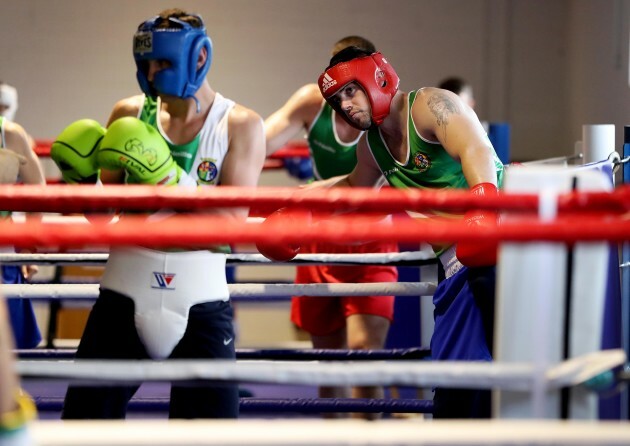 Source: Tommy Dickson/INPHO
But for the conveyor belt to continue in earnest, Ward is adamant that it's younger people still who must be assisted in their boxing journeys. In his home county of Westmeath – which has produced five European medals, four World Championship medals and one Olympic medal since 2011 – at least two boxing gyms are facing closure due to financial difficulty.
Ward is incredulous that it's come to this, and maintains that the sport in Ireland must be built from its foundation upwards if the country is to perpetually succeed on the world's grandest stages.
"Where we started was in these gyms, in these small places. It's very disappointing, because my own gym where I trained, where I grew up and learned how to box, is starting to come to an end because we have a lack of facilities too.
It's so disappointing because there's bundles of talent all over these towns and cities, and they're just not getting the opportunities because the County Council or the people involved are just not coming together and giving us the best facilities – or any sort of facilities suitable for a boxing club. It's sad to see these clubs closing down, because Irish boxing is only beginning from now. We're going to become the number one nation in the world. Just because 2016 didn't go our way doesn't mean we're going to slide down and accept it; we're going to drive on, and push forward. But we need to start somewhere, and obviously that's these towns where the boxing clubs are, where we all started as young kids.
"We need to keep as many boxing clubs as we can and give kids the opportunity to go there and learn their trade. Who knows where the kids are that are walking the streets – the kids that could become Olympic champion."
There's a fair chance that one of them once walked the streets of Moate, County Westmeath, even if Ward is no longer a kid.
Perhaps only when he does ditch the vest and starts making his own headlines will Joe Ward be catapulted to the highest echelon of Irish sporting stars. Nonetheless, there should be concern that not only will we miss Ward when he moves on, but that we might miss the next Ward, who, if we're not careful, might one day stroll past the boarded-up carcass of the local boxing gym which once produced champions.
– First published 07.00, 13 July
The42 is on Instagram! Tap the button below on your phone to follow us!
Sonia O'Sullivan's 15-year-old daughter storms to 800m victory at the Morton Games
Source: http://prntscr.com/fub00u