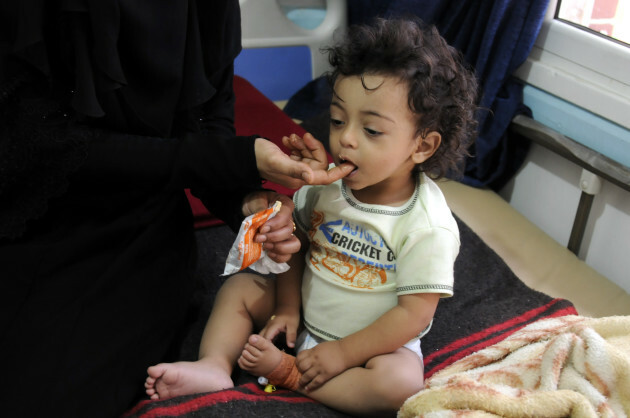 A woman feeds her cholera-infected child at a Sanaa hospital.
Source: Mohammed Mohammed via PA Images
AN INTERNATIONAL AID organisation warned today that Yemen's cholera epidemic, the world's worst since Haiti's 2010 outbreak, is likely to worsen in the rainy season.
Oxfam said in a statement that cholera in Yemen is now "the largest ever recorded in any country in a single year."
It comes a day after the World Health Organisation reported nearly 370,000 suspected cases of cholera and over 1,800 deaths since 27 April.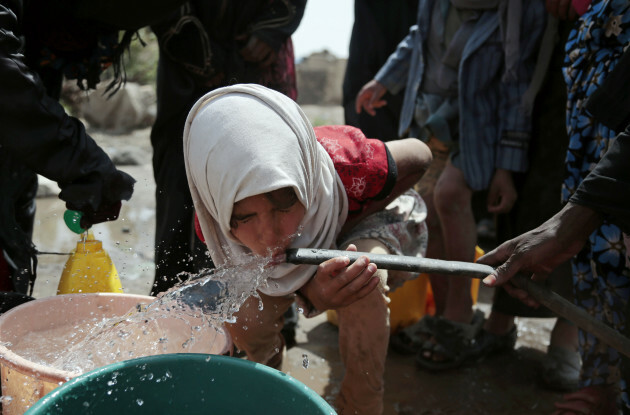 A girl drinks as she and others collect water from a well that alleged to be contaminated water with the bacterium Vibrio cholera in Sanaa, Yemen.
Source: Hani Mohammed via PA Images
"Cholera has spread unchecked in a country already on its knees after two years of war and which is teetering on the brink of famine," said Nigel Timmins, Oxfam's humanitarian director who has just returned from a fact-finding mission to Yemen.
WHO reported a decline in suspected cases over the past two weeks in some of the worst hit areas, including the capital Sanaa, but warned it's too early to tell if this is becoming a trend.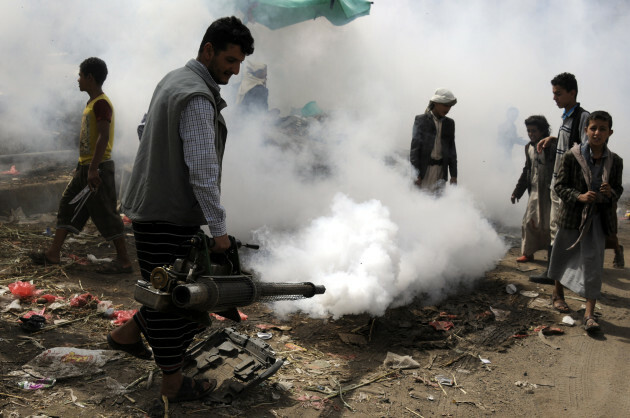 A man sprays anti-cholera pesticide during an outbreak campaign in Sanaa.
Source: Mohammed Mohammed via PA Images
Oxfam warned that Yemen's rainy season from July to September will accelerate the outbreak.
The conflict in Yemen worsened in 2015 when a Saudi-led coalition backing the internationally-recognised government waged an extensive air campaign aimed at dislodging Houthis, whom the coalition accuse of acting as an Iranian proxy, from northern Yemen.
The war has left more than 10,000 civilians dead, displaced 3 million people, and pushed the Arab world's poorest nation to the verge of famine.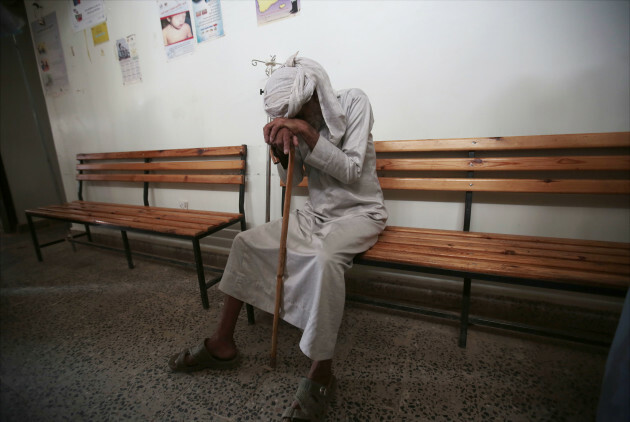 An elderly man waits for treated for a suspected cholera infection at a hospital in Sanaa.
Source: Hani Mohammed via PA Images
International aid organisations are struggling to deliver aid amid fighting and the closure of the country's main airports and port.
In Geneva, WHO said that 5,000 Yemenis fall ill with cholera symptoms every day. While the disease is easily treatable, people's access to health services is limited because half of the country's health facilities are out of service.
The WHO said children under the age of 15 account for 41% of all suspected cases and people over age 60 account for a third of deaths.
Malnutrition is one of the main challenges in containing the disease.
Read: 'Picking leaves from the trees': How locals in Yemen are surviving on the brink of famine
Read: Yemen is facing the worst cholera outbreak in the world
Source: http://prntscr.com/fub00u