THEY'RE UNLIKELY TO require a motivational speech to finish the job this season, but when Cork City won their last Premier Division title, the players admitted afterwards that a stirring oration from Derek Coughlan had been instrumental.
On the final day of the season in 2005, Derry City went to Turner's Cross in search of the point they needed to be crowned champions. For Cork City, nothing less than victory would suffice. In the dressing room before the game, Coughlan addressed his team-mates:
This is Cork. This is Turner's Cross. This is our home — there's no way those Derry fuckers are coming down here and taking the league from us in front of the people who have been supporting us all year.
"There was probably a few more expletives and banging of tables and doors thrown in there as well," he laughs now. "But it seemed to do the trick anyway. The lads were up for it at the right time. The atmosphere in the ground was really building as well so it was a bit of a perfect storm before kick-off. Everything came together for us on the night."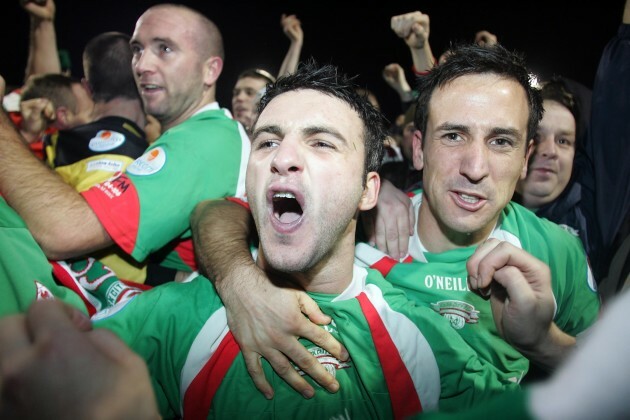 Derek Coughlan, Danny Murphy and Neale Fenn after Cork City's 2005 Premier Division triumph.
Source: ©INPHO
Cork City's 2-0 win over Derry City was the last game Derek Coughlan ever played in. He was still only 28, yet the memorable victory marked the end of a career which initially seemed destined for success in a different footballing code.
Coughlan's father, Seamus, was a senior All-Ireland winner in 1973 on a Cork team that included the likes of Billy Morgan and Jimmy Barry-Murphy. Derek spent much of his youth shadowing his dad in the dressing room and on the training ground at Nemo Rangers.
He'd stand behind the goalposts and kick balls out to Cork GAA legends like Dinny Allen, Tony Nation and Jimmy Kerrigan, all of whom won All-Irelands for both club and county. They, along with his father, were the footballers Derek Coughlan hoped to one day emulate.
"I loved playing soccer out in the park with friends, but it was all about hurling and football for me," he says. "I basically lived in the club in Nemo. I loved GAA all the way up and soccer only came into it if there was no GAA match on. It was the poor relation."
Douglas Hall AFC near his home in Grange were Coughlan's first soccer club, before he switched to Casement Celtic in his teens in order to play alongside his Coláiste Chríost Rí classmates.
His plans to follow in his father's footsteps were well on track in 1994 when he was selected to play — alternating between midfield and full-forward — on the Cork minor football team. The Rebels, who also had Seán Óg Ó hAilpín in their ranks, were knocked out of the championship at the Munster semi-final stage by Kerry.
With players like Barry O'Shea, Jack Ferriter and Mike Frank Russell, the Kingdom went on to succeed Cork as All-Ireland champions that September. But by then, Coughlan had left the GAA behind.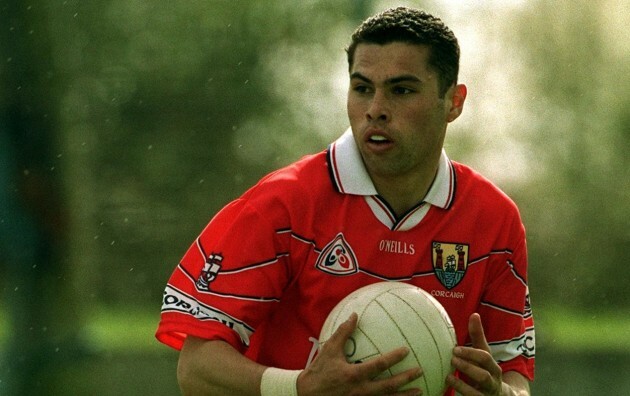 Coughlan played on the same Cork minor football team as Seán Óg O Hailpín.
Source: Lorraine O'Sullivan/INPHO
Having been called up to play for a Munster representative soccer side, his performances at the centre of defence impressed manager Liam O'Brien, who also worked as a scout for Nottingham Forest and Brighton & Hove Albion.
Sport had long played a significant role in Coughlan's life, but he never countenanced the possibility that he could make a living from it. When the prospect of earning money for kicking a ball suddenly became tangible, it sounded appealing. In August '94, aged 17, he arrived in Brighton to begin a two-year contract.
"I was a much better Gaelic footballer than I was a soccer player," he admits. "I had never done a training session in soccer when I went to Brighton. It was just matches with Casement. I was a centre-half but I didn't really have a clue what I was doing. I was working off instinct."
Managed by Liam Brady, who was being assisted by Liverpool legend Jimmy Case, Brighton were playing in England's Second Division — or League One as it's now known. Former Republic of Ireland strikers Frank Stapleton and John Byrne were there when Coughlan arrived, as well as England internationals like Steve Foster, Mark Chamberlain and Russell Osman.
"The lads used to whistle the tune to 'Escape to Victory' every time Russell Osman walked into the dressing room," he laughs.
Coughlan was on apprentice terms for his first year on England's south coast, before becoming a full-time professional for the 1995-96 season. There were night-and-day differences between the two experiences.
"It was tough going in the first year," he says. "They pay for your digs but I think we only got £40 a week after that. You'd get to the ground at half-eight in the morning, get all the kit and the boots ready and then bring everything to the training ground in the minibus for the first team.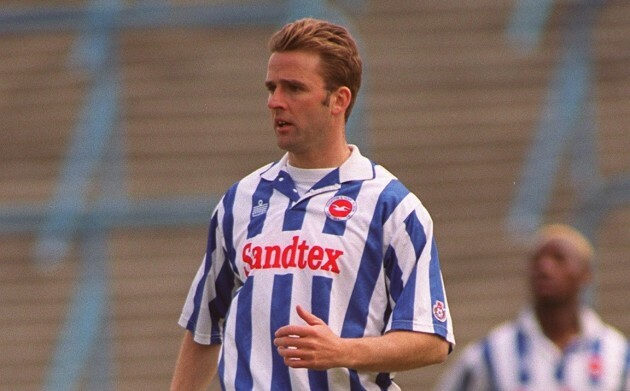 John Byrne at Brighton in 1996.
Source: EMPICS Sport
"After training you'd get back to the ground at around half-five in the evening, then you're cleaning the toilets, the halls, the boots, the dirty jocks, everything — and that was it every day for the first year.
"The second year was the total opposite. I think I was moved up to £150 a week and once you're finished training you're sunning yourself on Brighton beach for the afternoon. But I was still missing home all the time. That never got easier."
In his second season, Coughlan often featured in the first-team squad and eventually got his chance in a home game against Oxford United — "I remember picking up Matt Elliott for the corners" — although his debut nearly came in unusual circumstances the previous year.
Brighton were hit with a goalkeeping crisis ahead of a league game and needed back-up to regular stopper Nicky Rust. Aware of Coughlan's Gaelic football background, Brady turned to his 18-year-old, six-foot-four-inch, central defender from Cork.
"The reserve keeper and the two youth team goalkeepers were all out injured, so Liam Brady and Jimmy Case took me out on the pitch on the Friday afternoon," Coughlan recalls.
"They gave me a pair of gloves and spent half an hour firing shots at me. I ended up sitting on the bench as sub keeper the following day. A surreal experience, although thankfully I wasn't needed."
They're a Premier League club now, but by the summer of 1996 the future looked precarious for Brighton & Hove Albion. They were relegated to the bottom tier of the Football League and financial issues meant that Coughlan wasn't offered a contract extension. He certainly didn't mourn the development, however.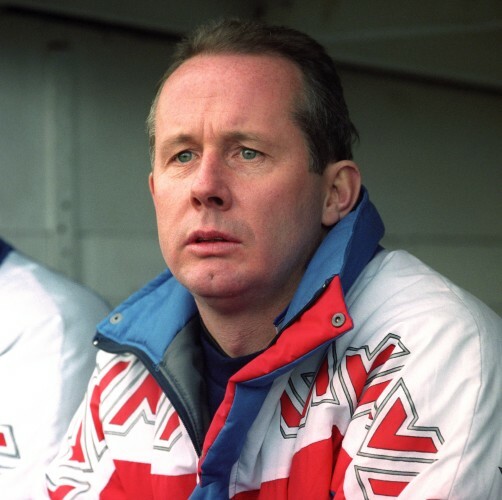 Liam Brady in the dugout at Brighton's Goldstone Ground.
Source: EMPICS Sport
"Playing soccer professionally came out of nowhere for myself and my family," he explains. "It was never on the cards. I was in fifth year in school when I went over so it was a big decision, especially for my parents.
"I had a great family and friends back here so I was homesick a lot. For some people, depending on their background, going over to England to play football can be a saviour. It can improve your life, but it can also have the opposite effect. I was fortunate to have a stable life at home so going to England to live in digs back in '94 — they were very different times — was tough.
"I wanted to go home all the time. There were four or five Irish lads there, which helped. Paul McCarthy, who passed away recently, was great to us. He brought a few of us up to his house for dinner and a few drinks at Christmas. But going from a fairly sheltered background in Cork to the craziness of professional football in England, for me it was a bit of a culture shock.
"When I had to leave Brighton, being honest, I didn't really care. There was a big part of me that was relieved because it gave me a reason to get out without actually raising the white flag. There was interest from other clubs in England but I was straight back to Cork. I wasn't in any way disappointed."
On the flight back to Cork, Coughlan was unsure what lay ahead. But the uncertainty didn't last long. When he arrived at the family home in Grange, Dave Barry was sitting in the living room with his parents. Barry was preparing for his first full season in charge of Cork City. After a difficult couple of seasons for the club, he had plans to rebuild the team which he wanted Coughlan to be part of.
"I signed the contract there and then," Coughlan says. "I wasn't going home in the mindset that I never wanted to be back in England again, but I knew I just wanted to get home for a while. The fact that I was able to play for Cork City too was ideal. I watched Dave playing at the Cross as a fan, so to be playing for him then was unreal. I was delighted."
Feared, formidable and with an eye for goal, Coughlan gradually became one of the League of Ireland's most respected defenders. His uncompromising approach to shackling the opposition's attackers, in addition to the fact that he once stood alongside them on the terraces, quickly earned him the adoration of the patrons at Turner's Cross.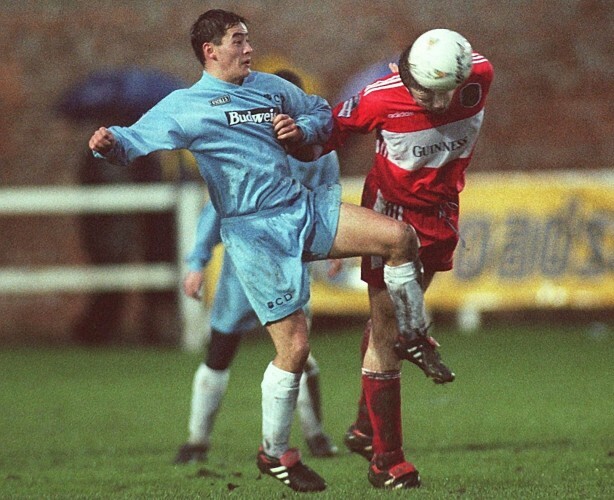 Coughlan tussling with UCD's Jason Sherlock in January 1997.
Source: © INPHO/Patrick Bolger
A year prior to the 9/11 attacks which led to heightened airport security globally, Coughlan began a job with the police and fire service at Cork Airport. A common refrain among Cork City supporters at the time was that Cork must have had the safest airport in the world. Nobody would be stupid enough to try anything as long as Derek Coughlan worked there.
As his first season with Cork City progressed, Coughlan caught the attention of Brian Kerr, who was preparing to take a Republic of Ireland side to the U20 World Cup in 1997. Yet despite being selected in the squad, Coughlan never travelled to Malaysia for a tournament in which Ireland famously finished third.
"Brian Kerr wanted me to come but I had to turn it down," he explains. "Myself and my dad had an argument over it because it was clashing with the Leaving Cert. I had gone back to get my Leaving when I came home from Brighton because I went over there before doing it.
"The tournament would obviously have been something special to be involved in, but nothing is a regret either. If you were to go back and change something then you have to change your entire life. I got my Leaving Cert which allowed me to get a job that I've been very happy in for the last 17 years, so that's that. No regrets."
Another chance to represent his country would eventually come Coughlan's way, but in the meantime he continued to excel for his club. He started his second season with Cork City by picking up the League of Ireland's player of the month award, and ended it as the hero as they won the FAI Cup for the first time.
After the 1998 final against Shelbourne at Dalymount Park ended goalless, the teams returned to the venue for the replay six days later. A breakthrough still hadn't been found late in the second half, until Kelvin Flanagan's corner from the left found the head of Derek Coughlan. It was the only goal on a memorable Saturday evening for Corkonians in Phibsboro.
Coughlan says: "Every time we're in a cup final now I'm pulled out of the closet to talk about it! But honestly, to be so closely associated with such a major occasion in this club's history is very special. It means the world to me.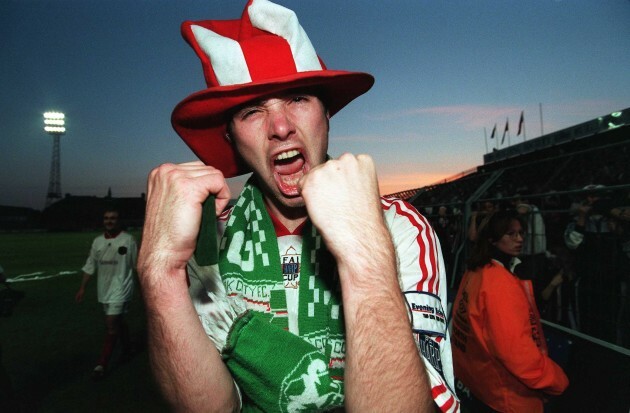 Derek Coughlan in the aftermath of Cork City's 1998 FAI Cup final victory.
Source: Patrick Bolger/INPHO
"I was actually determined before the game that I was going to score. I remember listening to my music on the bus on the way to Dalymount. The earphones were in, there were thousands of people on the streets around the ground. I had goosebumps. I just kept saying to myself: 'I'm going to score here today.'
"There was sheer euphoria after the goal but also a sense of, 'Hang on, I'm not letting them equalise!' I really wanted that to be the winner. It was a hard fight to keep them out for the final 20 minutes or so, but we managed it. The feeling at the end was incredible. I suppose winning the FAI Cup with Cork City was my All-Ireland."
That victory also set City up for the most memorable of the many European ties Coughlan was involved in with the club. The following season he scored at Turner's Cross in a 2-1 win in a Cup Winners' Cup first leg against CSKA Kiev. A 2-0 defeat in an eye-opening trip to Ukraine ultimately sent CSKA through to the next round.
"That goal stands out for me as a major highlight. I really enjoyed it," Coughlan says. "Even going over there as well was special, because those European trips were fantastic. Kiev was a mad one. I think we were only half an hour away from Chernobyl so we brought over our own chef and food. It was basically cold chicken and rice, bread rolls — which were stale — and bottled water.
"If you had a cut you weren't supposed to use the showers, and I had psoriasis at the time so I had to shower myself with bottles of Ballygowan water. They tried every trick in the book to make things hard for us too. They turned off the electricity in the hotel and the fire alarms were going off all night before the game. So many great memories looking back on those trips, though."
Coughlan's displays against CSKA Kiev also brought him to the attention of Ireland U21 manager Ian Evans. In a team that featured the likes of Richard Dunne and Kevin Kilbane, he subsequently started in European Championship qualifiers against Croatia and Yugoslavia.
"Richard Dunne was playing alongside me in defence, which was strange because he was on a few grand a week at Everton and I was picking up my £120 at City. But being recognised for the U21s was probably a sign that I was finally starting to understand being a centre-half."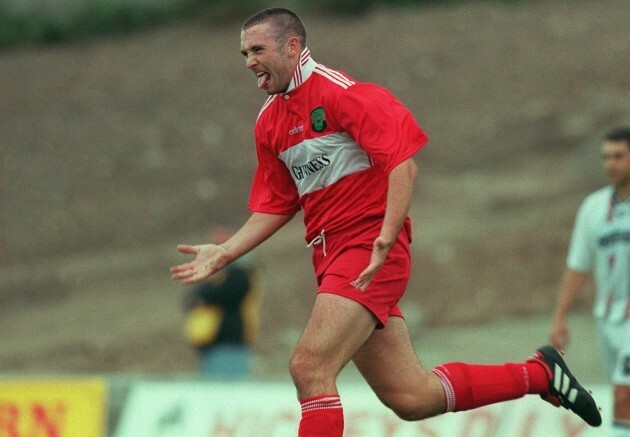 Coughlan celebrates after scoring against CSKA Kiev.
Source: Keith Heneghan/INPHO
In March 1999, while Cork City jousted with St Patrick's Athletic in a gripping Premier Division title race, Coughlan suffered a setback. A challenge with Dundalk's Jumbo Brennan left him with a torn anterior cruciate ligament which sidelined him for 10 months. Pat's went on to win the league by three points and Coughlan missed the rest of Ireland's qualifying campaign too.
"It was very bad timing," he says. "We'd had a great season and even though Pat's beat us in the games between the two teams, we were still in it right down to the wire. After I had the operation, I actually checked myself out of hospital in Waterford two days early so I could go to the Cross to watch the second-last game of the season against Shels.
"My dad picked me up from the hospital, I lay across the backseat of the car and the passenger seat was pushed back down so I could rest my leg up on top of it.
"Winning the league with City that season would have been incredible. It was disappointing. Very disappointing."
After recovering from the injury, Coughlan was soon back to his best. Expressions of interest from clubs in England hadn't been uncommon since he returned to Cork. In the summer of 2001, at the age of 24, he took up the offer of a trial from Luton Town.
"I went over and spent four or five days with them and played in a friendly against Hull," he explains. "I did well but I didn't enjoy it at all. I rang my mam and dad and told them I was coming home, and they were like: 'What? We've just had Ricky Hill [Luton manager] on the phone wanting to sign you.'
"But it wasn't for me at all. Like, the lads there were having a food fight on the bus. I was after coming from a dressing room with guys like Declan Daly and John Caulfield, hard-working men with families who played football with passion. They were seriously strong characters. They taught me how to be a footballer.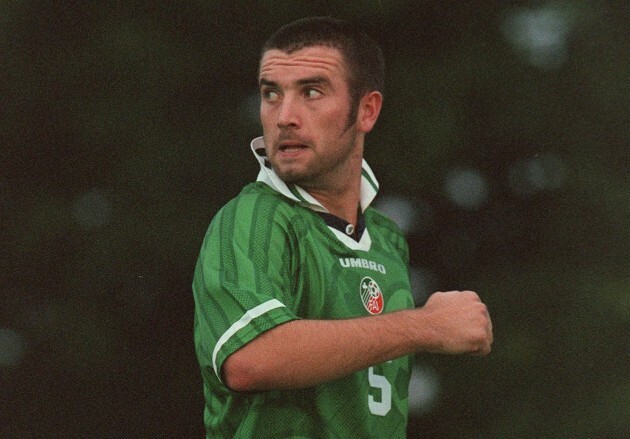 Playing for the Ireland U21s against Croatia.
Source: Lorraine O'Sullivan/INPHO
"Then I was looking around at these lads at Luton throwing food at each other and that environment just didn't appeal to me. It was like going back to being a kid again. And maybe that's the difference between a successful club and an unsuccessful one. Luton weren't doing well at the time. Maybe if I had gone over to a successful club where the environment was different I might have felt differently."
Coughlan was back with Cork City for 2001-02 but his career took an unexpected twist at the end of that campaign when he met manager Liam Murphy to discuss his contract for the following season.
"Other clubs in the league had tried to sign me before that — Shamrock Rovers, Derry City — but I had no interest," insists Coughlan. "Going to Dublin or somewhere else didn't appeal to me. I never had a notion of playing for any other League of Ireland club. I was Cork to the core from a young age and, coming from a GAA background, playing with a different team from somewhere else up the country always seemed alien to me."
He adds: "From what I remember, I was on £240 a week and then half that during the off-season when there was no matches. I met Liam in the car park of The Grange [Bar]. He handed me a piece of paper with what they were offering.
"When I looked at it, it was the same wage I was on during the season but with no pay in the off-season. So it was a decrease from what I was on, even though I had played every game, I was captain then as well and I felt I was still doing well at a good age.
"He said that's all they were prepared to offer so it was a case of take it or leave it. I didn't have any figure in mind but I certainly wasn't expecting a reduction. The same contract would have done me fine. It was disappointing. I told him I couldn't sign that contract and that was that.
"For a person in any job in any walk of life, even besides financially, having your worth reduced like that is always going to knock you back. From the club's point of view, I think they had the sense when dealing with players that if we were from Cork then we were never going to leave, so maybe they used that to their advantage. They thought we'd take whatever we were given."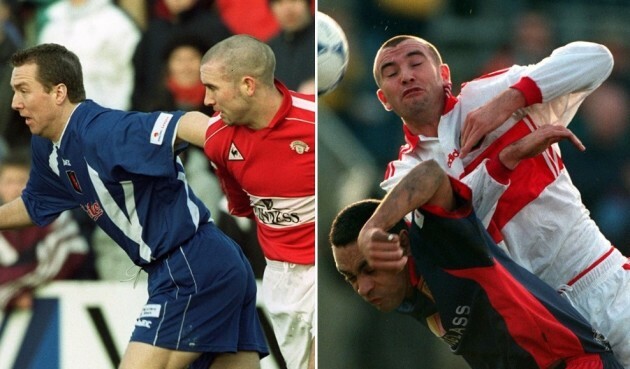 Coughlan rates Liam Coyle and Paul Osam as the best players he came up against.
Source: INPHO
Stephen Kenny, who had taken over as Bohemians manager six months earlier, got wind of the situation and put in a call to the Coughlan family home.
Coughlan: "I met Stephen and he made me feel so wanted. I have a lot of time for him. He was very passionate about Bohs at the time. Once I met him it was a no-brainer. He made me feel 10-feet tall. I signed straight away."
Bohs offered Coughlan more than twice what he had been earning, but the key element of the agreement initially was that it allowed him to continue living in Cork. His job at Cork Airport gave him access to reduced-fare flights, for which Bohs also picked up the bill.
"I think I was the only player in the world who used to fly to training," Coughlan jokes. "I could come off a night shift in the fire station, then get on the plane to Dublin and walk down to the pitch in ALSAA to train. Sometimes I'd have to leave training early to catch the flight back and the planes would fly directly over us, so the lads used to be slagging: 'Derek, he's after flashing the lights, time for you to go.'
"That was every Tuesday and Thursday for me, then I'd fly up for games at the weekend. I went from a situation where I didn't feel wanted at City, to Bohs where they couldn't have done enough for me."
He adds: "As a Cork lad going up to play for a Dublin team I was nervous enough, but the lads — Tony O'Connor, Damien Lynch, Kevin Hunt, Glen Crowe, Bobby Ryan, Colin Hawkins and the likes — made me feel welcome and took me in straight away. It was very like the Cork City team I won the cup with. Those players had the same character.
"The fans were great too and I enjoyed meeting them after games. I loved my time at Bohs and I still have massive time for the club. In saying that, when you're playing for Bohs you're just playing for a club. With Cork City I was playing for my family, friends and my city and county. That's what makes City so special. The Dublin clubs don't really have that. Up there you just feel like you're only representing the area around the ground. But it was a great time and I loved it there."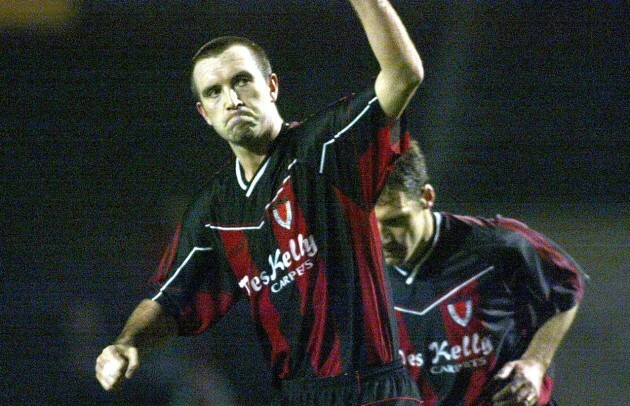 "As a Cork lad going up to play for a Dublin team I was nervous enough…"
Source: INPHO
After he left Cork City to move to Dublin and join Shelbourne in 1996, there was a hostile reception waiting for Pat Morley whenever he returned to Turner's Cross. That was also the case for Liam Kearney when he made the same move a decade later. Coughlan didn't get a free pass, but there certainly wasn't as much abuse as he anticipated.
"I got a bit of it: 'Judas' and 'Derek's pockets go jing-a-ling-a-ling'. There wasn't a massive amount but I did get a bit," he says. "But for me when I was playing against Cork City, I nearly felt like I had to prove myself, that they shouldn't have let me go."
Having won the FAI Cup with Cork City in 1998 and the League Cup a year later, Coughlan completed the full set of major domestic honours in his first season at Dalymount Park. At the end of the 2002-03 campaign, Bohs had five points to spare over Shelbourne at the top of the Premier Division table.
"Winning the league with Bohs was a brilliant experience," Coughlan says. "I really enjoyed the brand of football we played. We just tore teams apart at the time, similar to what Dundalk have been doing for the last three years. The football we played is what sticks with me when I look back on that time. The lads celebrated for a good few days afterwards but I was straight back down to Cork to do a double shift in work."
Eager to build on an enjoyable and successful first year with Bohs, Coughlan arranged a year's leave of absence from work in order to move to Dublin and commit to the Gypsies on a full-time basis in 2003. But as the League of Ireland switched to summer soccer, things didn't go according to plan.
"I got injured and I couldn't get back in the team for a while," he recalls. "I was earning decent money but I was on my own in a house out in Lucan, just myself and the dog, with all my family and friends down in Cork.
"The feeling I had was that if I'm not playing in the team then I don't want to be up here just to pick up a wage. I spoke to Stephen about it, we had a good conversation, and he was very good about it. He didn't want me to leave but he understood my position."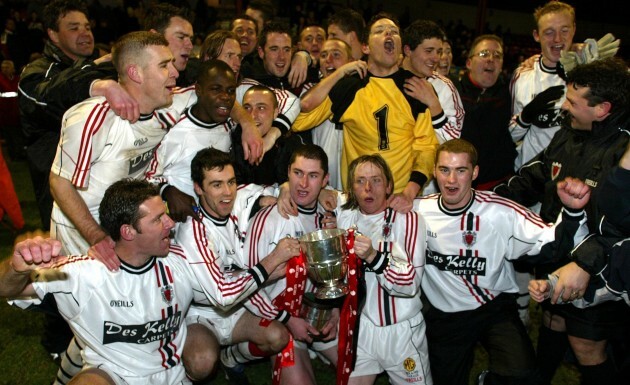 The Bohemians side that won the 2002-03 Premier Division title.
Source: ©INPHO
Midway through the season, Coughlan was back at Cork City under Pat Dolan. A groin problem sidelined him in 2004, and he then began to consider a return to GAA with Nemo Rangers. That was until Damien Richardson got in touch when he took over at Turner's Cross in 2005.
Cork City pipped Derry to the title that November, with Coughlan having to settle for a back-up role for most of the year. Dan Murray and Alan Bennett were establishing themselves as a sound central defensive partnership, and although he was still only 28, it wasn't easy to be a part-time player in a squad which — with the exception of Coughlan, Billy Woods and Colin O'Brien — consisted entirely of full-time professionals.
"The minute I met Rico I wanted to sign," he says. "We developed a very good relationship and he wanted me to be a big part of the team. I was disappointed I didn't play as much as I would have liked at the same time. I had a problem with tendonitis in my knee which didn't help, and all the while Dan and Benno were playing fantastically so I couldn't really complain.
"Even though I was sitting on the bench and I'd have given my left arm to be on the pitch, I was still playing a huge leadership part and I really enjoyed that. I'd be eyeballing the other team in the tunnel and getting the lads riled up.
"It's something I probably learned from Deccie Daly, who had a similar experience when he wasn't getting into the team towards the end of his career. He spoke with passion and love for the club and his team-mates, and that's how I was as well. I would have done anything for City, whether I was in the team or not."
And then there was the speech. Coughlan was introduced from the bench as City were crowned champions at a packed Turner's Cross. It was the last game played at the venue while The Shed, which housed City's hardcore support, still stood. After the victory, he led his team-mates in that direction with their newly-acquired silverware.
"I think the fans got it [the speech] printed on a t-shirt at the time and I have one of them in my mam's attic still," he laughs.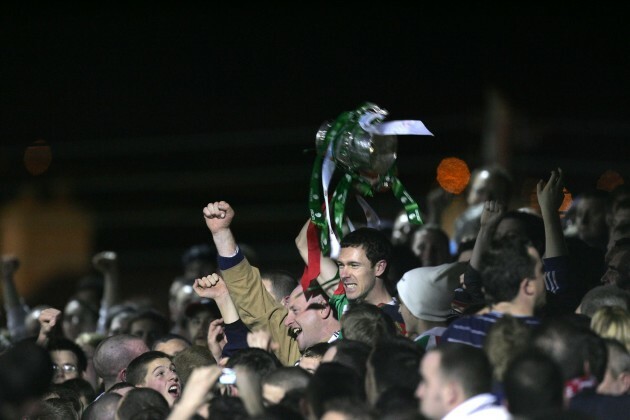 Cork City's George O'Callaghan with the cup in The Shed.
Source: ©INPHO
"What happened was we got to the Cross early, had a bit of tea and toast and we were walking around out on the pitch early like we always did. Everyone was relaxed.
"Damien came over to me and asked for my advice on what we should say to the lads beforehand. My thoughts were that we should leave the lads stay relaxed, then when we get back into the dressing room after the warm-up we'll get them pumped up. I didn't think there was any point in wasting energy too far in advance. That's when we started getting everyone going, as if we were heading into war.
"That night was just incredible for anyone connected to Cork City. You couldn't better it. Disney could have done a film on it. The packed house, the lights, the last night of The Shed — jumping in there with the cup, where else would you get it? Everything was just perfect."
Cork City could look forward to competing in the qualifying rounds of the Champions League in 2006 and there was a contract on the table for Coughlan to remain with the club on part-time terms. The body was still willing, but there was a bigger picture to look at.
"I was working three out of four weekends a month and I was using all my annual leave for matches, kind of constantly playing catch-up," he says. "I was only going on 29 and the league was almost entirely full-time at that stage. It was a case of give up the job or give up soccer.
"As an example, I'd be getting back from Derry at 5am and then heading straight into work for 7am. It was getting too hard and I had to make a call. I could have given up the job and gone full-time with City, but I'm so glad I didn't because we all know about the financial trouble the club found itself in not long after that.
"There was no big announcement or anything. In the end it just fizzled out. I enjoyed taking a break and I got to do a bit of travelling and stuff. A few teams got in touch but I could never justify going back into it. I probably had five or six years left in me but it wouldn't have been the right thing to do.
"I never kicked a ball for another team again, even at local level. It was just too hard to keep it going and I'm glad I was able to finish with success for such a special club which is so close to my heart."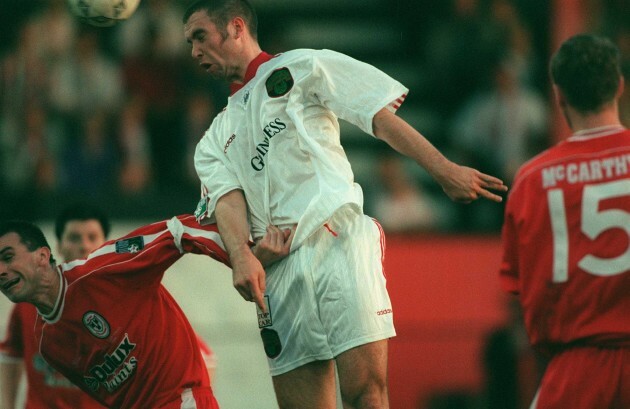 Derek Coughlan heads the winning goal in the 1998 FAI Cup final.
Source: Billy Stickland/INPHO
Although he signed off by winning a second league medal, Coughlan is still remembered mostly for his heroics against Shelbourne in 1998. Having waited 14 years to finally get their hands on the FAI Cup, Cork City then almost lost it within weeks.
Coughlan: "We were on the piss for a good while afterwards. We were sitting outside Le Chateau bar in town with the cup, having a few drinks in the sunshine, happy out. But we had to be out to The Wilton Pub that evening with the cup. Myself, Dave Hill and Ollie Cahill hailed a taxi and went off out to Wilton.
"We must have been there for a couple of hours before we realised we didn't have the cup. We left it in the boot of the taxi. All we knew was that it was a red taxi. We ended up having to ring every cab company in Cork to ask: 'Have ye any red taxis there?' It was missing for a few hours but we got it back eventually. There's a lot of red taxis in Cork, by the way."
As a young player with Cork's most successful Gaelic football club and the son of an All-Ireland winner, the only cup Coughlan had eyes for during his formative years was the Sam Maguire. At 40, and with the benefit of hindsight, try convincing him now to trade in that FAI Cup medal for anything else.
"What really stands out for me about that whole occasion was seeing my dad as we were going up the steps to get the cup," he says. "He was looking up at me with his fist up and the tears were rolling down his face.
"Coming from him, a guy who won an All-Ireland medal in front of over 70,000 people at Croke Park, that really hit me. Even though he was from a GAA background, he trusted every decision I ever made and backed me all the way.
"He passed away four years ago, and while it's great that people still talk about the goal itself, that image of my dad was all I needed to tell me that things had turned out well. I had done okay."
'We used to kick the s**t out of each other in training but the bond was incredible'
'I'd given everything to Cork, but there's always that tinge – that little bit of regret'
Source: http://prntscr.com/fub00u