THOUSANDS GATHERED ON the campus of the University of Virginia overnight for a candlelit vigil against hate and violence.
The vigil in Charlottesville came after a weekend of violence and protest saw the city of 47,000 become an international byword for racial tensions and left a 32-year-old woman dead.
Two police officers also died in the city after their helicopter crashed. Those in attendance at the vigil sang several spirituals and observed a moment of silence for the three lives lost during Saturday's violence.
The vigil was held on the same day as a memorial service was held for Heather Heyer, the woman killed when a car ploughed into a crowd of anti-Nazi protesters. Heyer was eulogised as a woman with a powerful sense of fairness. The mourners, many of them wearing purple, her favorite colour, applauded as her mother urged them to channel their anger not into violence but into "righteous action".
US President Donald Trump, who has been heavily criticised for his reaction to the violence, tweeted a tribute to Heyer, his first mention of her since her death.
"Memorial service today for beautiful and incredible Heather Heyer, a truly special young woman. She will be long remembered by all!"
The White House did not say whether the President had contacted Heyer's family.

Criticism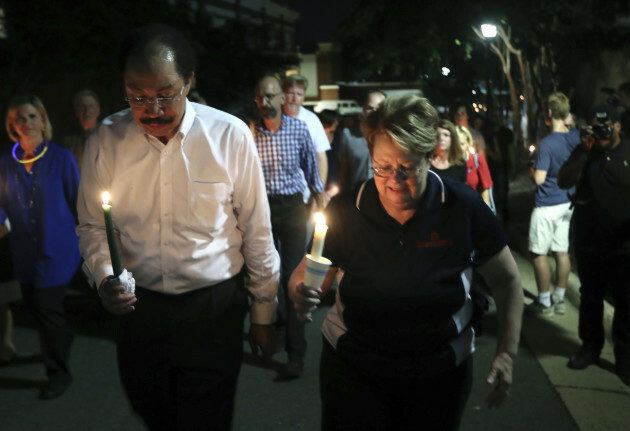 UVa president Teresa Sullivan, right, walks in the vigil.
Source: AP/PA Images
Trump has found himself increasingly isolated due to his response to the violence in Charlottesville.
His initial response was seen as mealy-mouthed by those demanding a full-throated condemnation of racism and violence, but his further remarks on Tuesday — when he doubled down on his claim that there had been "blame on both sides" — set off a political firestorm that may come to be seen as a turning point in his presidency.
Almost immediately, senior business executives began dropping out of White House economic advisory councils. Trump tried to save face yesterday by abolishing two of the bodies, but not before it had become clear that America's captains of industry could no longer risk the damage to their brands and reputation.
The chorus of criticism from the political left was as loud as it was predictable — but few in the Republican camp were willing to speak up publicly to defend the president. Two of his predecessors — George Bush and his son George W. Bush — issued a statement urging Americans to "reject racial bigotry… in all its forms."
With AFP
Read: Opinion: 'These bigots are not representative of 60 million citizens who voted for Trump'
Source: http://prntscr.com/fub00u