Updated at 6.33pm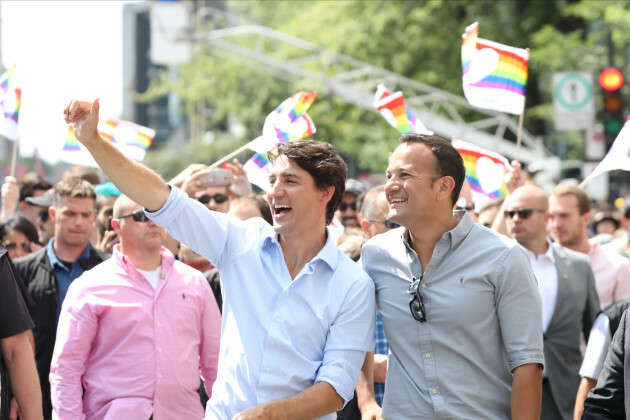 Source: Adam Scotti, PMO
TAOISEACH LEO VARADKAR marched alongside his Canadian counterpart Justin Trudeau in the Montreal Pride Parade today.
Earlier today the two leaders held a bilateral covering a wide range of topics from EU-Canada trade deal CETA, along with Brexit, abortion, and health issues.
In a tweet, Taoiseach Varadkar described the meeting as very good.
Varadkar told reporters afterwards that an invitation to Donald Trump to visit Ireland still stands, and that he still intends to travel to the White House for St Patrick's Day, RTÉ News reports.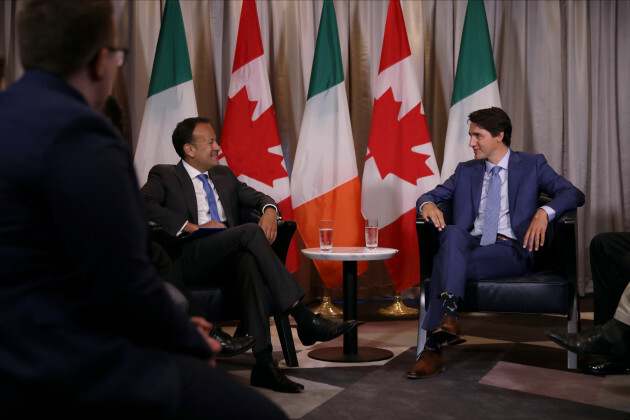 The meeting between Trudeau and Varadkar.
Source: Adam Scotti, PMO
Varadkar is due to travel to Toronto as part of his three-day visit to Canada where he will carry out a number of engagements focused on growing trade and tourism opportunities between Ireland and Canada.
This will include addressing the Ireland Canada Chambers of Commerce and a series of meetings with the IDA, Enterprise Ireland and Tourism Ireland client companies and representatives.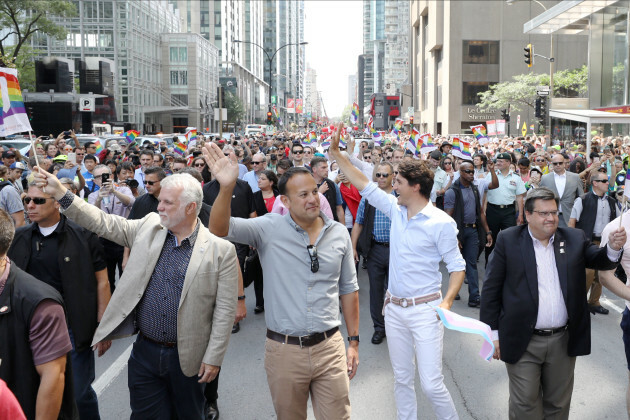 Source: Adam Scotti, PMO
During the visit Varadkar will be briefed on customs arrangements at the US-Canadian border.
He will also turn the sod on a new park in Toronto in memory of Dr George Robert Grasett, who tended to Irish famine victims on their arrival in Canada in the late 1840s.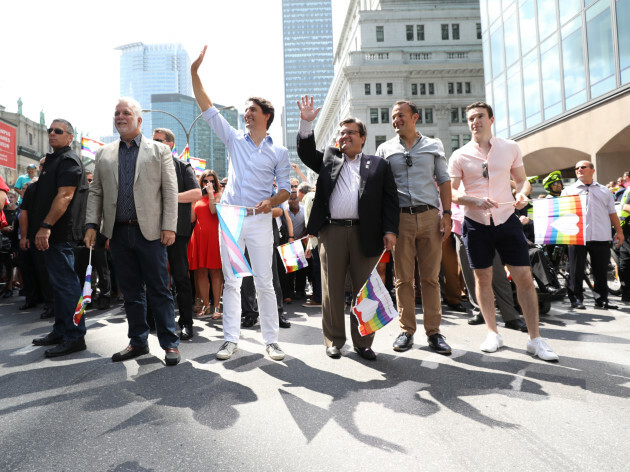 Source: Adam Scotti, PMO
Trade deal 
Speaking ahead of the visit, Varadkar said: "I had the pleasure of welcoming Prime Minister Trudeau to Ireland early last month when we discussed a number of issues concerning Irish and Canadian relations.
This return visit to Canada offers the opportunity to deepen the very important bilateral relationship between our two countries, a process that will be further accelerated through the Ceta trade deal which comes into effect in September.
Varadkar said, in the context of Brexit, it is "more important than ever" that the Irish government "seeks to expand our markets overseas and strengthen our relationships with major trading partners".
As well as meeting political and business leaders, the Taoiseach will meet members of the Irish community in both cities and representatives of emigrant support services.
Additional reporting by Nicky Ryan. Originally published at 6.30am.
Read: Socks, drums and GAA: Government goes 'Full Riverdance' for Trudeau visit
Read: 'It's the smart thing to do': Canadian PM gives Varadkar advice on gender balance
Source: http://prntscr.com/fub00u