AT THE TOP of the bend, Brian Gregan, sitting back in third, had ground to make up. He needed to find something special if this was to be the night he hoped for in front of his home crowd and parents.
With a qualification time for next month's World Championships already safely secured, Gregan turned the corner and released the shackles, finding another gear to explode down the home straight and go .20 seconds better than he did in Geneva a fortnight previous.

Gregan celebrates his 400m victory at the Morton Games earlier this month.
Source: Morgan Treacy/INPHO
He had waited four long years for a personal best to come along and in the space of two meets he had set one and then smashed it again. Brazilian athlete Anderson Henriques and Britian's Conrad William were left trailing behind.
Gregan's time of 45.26 over 400m was not only a Morton Games record, a personal best and a Clonliffe Harriers club record but it was verification, if it was needed, that the Dubliner was back. There were no doubts now and the celebration told you as much.
It also made it all the more poignant that such an exhilarating high came on the same track, and in the same stadium, that had been the scene of so many excruciating lows for Gregan.
That wasn't lost on him and to have his parents in attendance, and then down trackside afterwards, was particularly special because they all must have questioned if nights like that would ever happen again.
Twelve months previous, Gregan's athletics career had hit rock bottom. He showed up to training only to be sent home and on the days he was fit and healthy enough to partake in the session, he was so far off the pace, athletes he would normally breeze past had his number.
A pre-season training camp in Florida at the start of the 2016 season was designed to prepare him for a big summer and a tilt at qualification for the Rio Olympics but instead it saw him crash and burn. It was a setback on so many levels.
"I was in really good shape," he explains to The42. "I'd had three bad years and I felt 2016 was the year I was going to get back. I had just missed out on London 2012 and Rio was a very big target for me so everything was working towards that.
"In 2013 I qualified for the World Championships and got to the semi-final and I finished fifth at the World University Games. Things just went downhill from there and in 2014 I tried to change things to help get to the next level by switching coach and it just didn't work unfortunately.
"I tried something different but I just couldn't find form and then in 2015 I picked up this virus which just completely floored me. Every time I tried to train or run fast my body just shut down and it took me a while to get back. Maybe four or five months."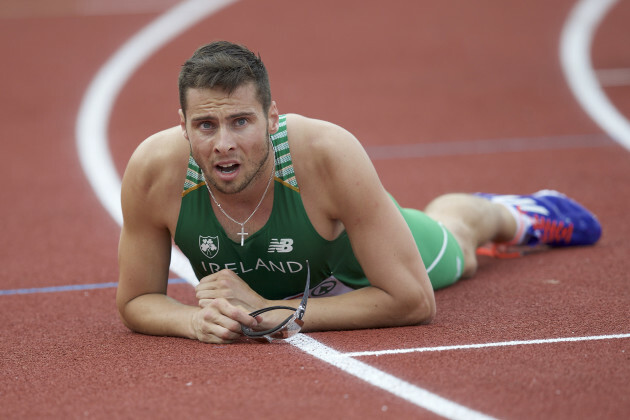 Gregan enjoyed a hugely successful start to his career and won silver in the 400m at the U23 European Championships in 2011.
Source: Karel Delvoije/INPHO
Gregan was only just back and beginning to run fast again when lightning struck twice, as he contracted another mystery virus after an intense few weeks in Florida.
"I didn't know what it was and nobody could tell me," he continues. "I overtrained in America and I probably wasn't eating enough as I was trying to get lean for the season. By the time I was coming home I was just wiped out. I've never experienced anything like it before."
Christine Ohuruogu, the 2008 Olympic champion, contracted something similar and it eventually resulted in Gregan being admitted to hospital with gastroenteritis, putting pay to any hopes he had of getting back to conjure any sort of Rio qualification bid.
By the time he was hospitalised, Gregan had already been sidelined for six weeks and, unlike an injury such as a hamstring strain for which there is a particular prognosis, there was no way of knowing how long this illness would keep him out for. It could have been two weeks, but in the end it was two months.
"I rang my coach telling him I was in hospital and he said 'yeah, good one' thinking I was joking but I was actually banged up in a hospital bed," Gregan explains.
"At that stage I had to just say to myself, look I'm not going to Rio and I have to just worry about shaking this thing off and building again for the 2017 season. It was tough going. It was pretty difficult and mentally draining as I wondered did I want to do the sport anymore.
"I had got back into decent shape and then this happened."
As Gregan lacked the physical strength to pick himself out of bed, let alone be in any fit state to train, his fitness levels were deteriorating rapidly and the mental torment and anguish of it all was beginning to take its toll.
The team behind the man. pic.twitter.com/BpaPhRgzsl
— Brian Gregan (@BrianGregan89) July 14, 2017
Source: Brian Gregan/Twitter
At the same time, he was losing more time at the start of a season which was supposed to reignite his career and any hopes he had of salvaging something from it were disappearing with the kilos he was losing from not eating properly.
"It was a day-to-day thing and I just couldn't get myself out of bed. There was no motivation, it was pretty crap as anytime I tried to go to the track to do something I'd be gone after the warm-up. It would take it out of me and my coach would just send me home straight away.
"It knocked me back and in hindsight because it was Olympic year I pushed it but I should have just shut it down and taken three to four weeks off doing absolutely nothing. One day I'd get up and feel a good bit better and go to the track and just go back to square one. I'd be stuck in bed again.
"With an injury at least you can go to the gym or do some stuff in the pool but with this I couldn't do anything so I was losing fitness by the day and driving myself mad. I was basically like a skeleton and that was so tough to take, watching all your hard work disappear and there was nothing you could do about it.
"The fact that there's no timeline, that's the killer. It could be two weeks or two months and that's mentally draining as your life is on hold each day. You can barely get out of bed and you don't know what to do. The negatives thoughts creep in.
"When there's no motivation, your lust for athletics just disappears. It's a tough sport as it is and people don't realise what we put ourselves through to get to that start line. I questioned my future all the time. Would I ever get back to where I was?"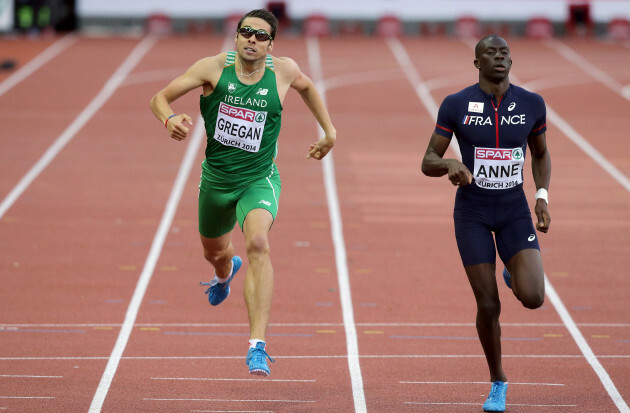 Gregan has had a difficult four years with injury and illness but has made a superb start to the 2017 season.
Source: Morgan Treacy/INPHO
The doubts and questions reverberated for some time and as Gregan's health eventually improved, he then had to overcome the mental challenge of starting from the bottom again. Watching rivals he knew he was better than run faster times than him was torture.
In a bid to rediscover his form and fitness, Gregan travelled the country racing in 'shitty meets that meant nothing to him' only to be beaten by guys he was always so far ahead of at both junior and senior level.
"It was the lowest of the low," he admits. "Going out to race and looking at 47 seconds was absolutely awful. Going out and having guys beat you comfortably doesn't do anything for your confidence but I had to do the dirty work.
"I had to realise that I was going to be beaten, be humiliated, at these shitty meets that meant nothing to me and doing that was hard because I had raced on the biggest stages against the best guys in the world before."
But the lowest ebb can so often be the turning of the tide and Gregan attributes his change in attitude to the performance of Thomas Barr in Rio as the Waterford native, who had battled his own injury problems, came agonisingly close to an Olympic medal.
Gregan watched on and thought to himself if Barr could do that on the biggest stage, why couldn't he?
"Four years without a personal best erodes your confidence. I know there was reasons for it but my girlfriend kind of gave me a bit of a kick in the arse and said 'you need to get back to where you were and be a little more ruthless.'
"I needed to get out there and set the bar higher because I've set too many realistic goals in the last while because I was afraid I wasn't going to achieve them. I was scared of failure because my confidence was non-existent but I just said to myself at the start of this year that I'm going to go into every race thinking I'm going to win."
That new-found confidence was evident in Santry last week and the manner in which Gregan found that extra gear to powerfully finish and cruise to victory speaks volumes of the place he's in both mentally and physically.
In the six outdoor races he's run this season, the Tallaght native has won all six and has grown in confidence with each passing meet. His performances have provided a timely reminder of his ability when so many had started to write him off after a couple of bad years.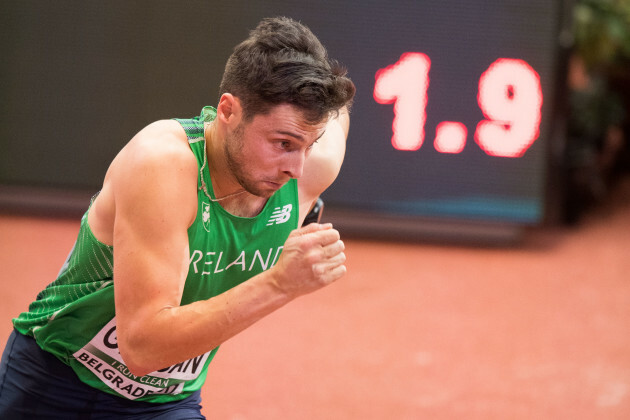 The 27-year-old has won all six of his races in the outdoor season.
Source: Sasa Pahic Szabo/INPHO
Gregan heads into this weekend's National Championships with a renewed swagger and a new lease of life but the unfortunate reality is that he has had to live with the harsh consequences of three years in the shadows.
Not only has his Sport Ireland funding been slashed to €12,000 (before tax) per year but Adidas dropped him as a sponsored athlete and Sky Sports, for whom he worked as an ambassador with the Sport for Life programme, pulled out of Ireland.
"Trying to live off €10,000 a year is less than the Dole," he continues. "I am still obviously very grateful but it's far from easy. Like anyone I have to run my car, get to all these places for training and meets and have to live some sort of life and it's all on funding. €10,000 isn't a lot.
"I had a poor season and didn't qualify for the Olympics and when you run shit sponsors pull out. It's just the way it is but there are so many athletes I know from different countries that are getting kit all their lives and they're far inferior to myself, they're not really running any sort of times I'm running but I'd never begrudge anyone for that.
"You really realise how much you appreciate a sponsor when you're going online and paying €115 for a pair of spikes as that really dents into your €10,000. I was with Adidas since 2010 so I suppose it's just a shock and a bit of a wake-up call."
As a result, Gregan is living at home with his parents and he admits last year was made harder by the growing realisation that his performances on the track were having a significant bearing on his livelihood off it.
"Definitely last year it had a massive impact on me because I couldn't train and I couldn't race. All I was thinking was oh my god I'm going to get cut from my grant. I had been working with Sky Sports but unfortunately they pulled out of that. I was running terrible and then Adidas left.
"I was thinking if my grant gets cut I'm going to be living on nothing and I'll have to get a full-time job and that's going to be detrimental to your athletics. I've had part time jobs and worked a couple of hours here and there before, that's good for you, but spending a whole day in work and then going training at 7pm would be demoralising. It would be taking a step backwards.
"You're trying to compete with the best guys in the world and you're living on the breadline and you've got absolutely nothing. When you get to the start line you look at these guys and wonder how you're going to compete, you've already lost it."
Gregan adds: "For me it's a passion and that keeps me going. There's a lot more people in athletics who fall out of love with it when they realise there's no money but for me I absolutely love it.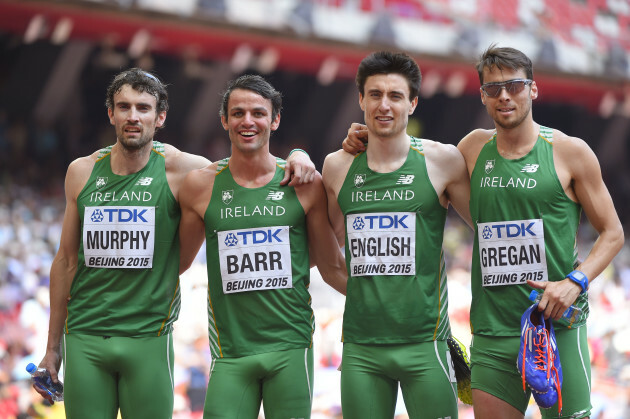 He's also part of the men's 4x400m relay team.
Source: Ian MacNicol/INPHO
"My ultimate goal is to go to the Olympics and challenge for European medals and running fast this year might have a knock on effect, I might pick up a sponsor and maybe my grant will get bumped up."
As the in-form athlete in the country right now, Gregan is certainly back on track and it would be shameful if he wasn't picked up by a sponsor on the back of his performances in 2017.
With that at the back of his mind, the DCU graduate acknowledges that he's running with an added burden on his shoulders and every time he takes to the track he is going out there with a point to prove. Not just to himself, but to those who doubted him and wondered would he ever fulfil his potential.
At the minute, that is working to his advantage. His confidence and motivation is sky high and the experience of the last four years is fuelling his desire to get back to where he was and then reach the next level.
The World Championships in London provides the perfect stage for him to re-announce himself and complete something of a full circle four years after competing in Moscow.
"I'm not going out saying I'm going to make a semi-final or final, I'm not going to get too far ahead of myself, but I want to run as fast as I can. I want to show everyone how good I am," Gregan adds.
"I've been representing Ireland for 11 years now and am full of confidence and feel physically fit and mentally in the best place I've ever been in. Every race I'm enjoying it again and that's a massive difference.
"Not only is my attitude now to go out and win every race but to show whoever is watching how good I am, what shape I'm in and that I'm still knocking around."
The42 is on Instagram! Tap the button below on your phone to follow us!
Booze in sport: blamed too much for defeat and enjoyed too much in victory
English-born sprinter who wants to race for Ireland pens open letter to IAAF President
Source: http://prntscr.com/fub00u