Updated 9.25 pm 
THE OPENING DAY of a trial involving the death of Irishman Jason Paul Corbett started with introductions and preliminary paperwork for over 125 jurors at the Davidson County Courthouse in Lexington, North Carolina today.
At approximately 9:30 am, the two accused suspects, Molly Martens Corbett and Thomas Michael Martens, separately entered the courtroom with their lawyers. Neither suspect showed much emotion as they entered.
Both Martens Corbett and Martens are represented by law firms from Winston-Salem. Martens Corbett is represented by Walter Holtman and Cheryl Andrews from Holton Law Firm.
Martens is represented by David Freedman and Jones Byrd, from Crumpler, Freedman, Parker & Witt Law Firm.
The prosecutors for the case are Davidson County Assistant District Attorneys Greg Brown, Alan Martin and Ina Stanton.
Superior Court Judge David Lee is presiding over the case.
Martens Corbett and Martens are each charged with second-degree murder and have entered pleas of not guilty, claiming self-defence and defence of another.
The 39-year-old Limerick died of fatal head injuries on 2 August 2015.
At around 3am  on 2 August 2015, Davidson County Sheriff's Office deputies responded to a reported assault at the Corbetts' residence at Panther Creek Court in Winston-Salem.
Deputy C.S. Dagenhardt wrote in a report the Davidson County 911 Center was advised the caller had been in an argument with his son-in-law and struck him with a baseball bat.
Corbett died from blunt-force trauma inflicted by a baseball bat and landscaping stone, according to an autopsy report.
Martens, a retired FBI agent, told authorities he was awakened by an argument between his daughter and son-in-law and went to the bedroom to intervene.
In a March 2016 interview, Holton, one of the attorneys for Martens Corbett, said Martens had no choice, alleging that Corbett was choking his daughter and threatening to kill her.
Investigators also said they found evidence that Corbett was planning to return to Ireland with his children and was not planning to take Martens Corbett with them.
In December 2015, Martens Corbett and Martens were indicted by a grand jury.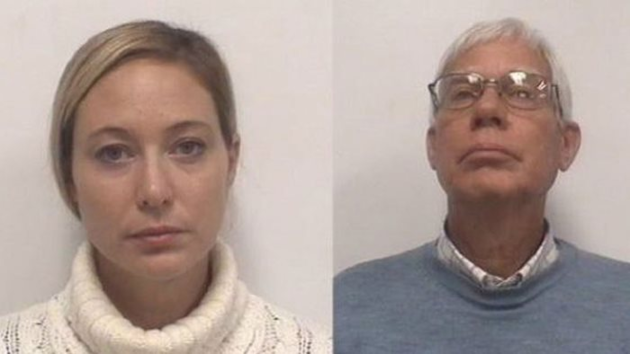 Molly Martens Corbett and her father Thomas Michael Martens.
Source: Davidson County Sheriff's Office
In court today family and friends for the two suspects and for Jason Corbett sat close to the front of the courtroom.
Both sides had at least five supporters, with Jason Corbett's side having a few more. Similar to the suspects, none of the family members expressed much emotion during the first day of proceedings.
At approximately 11:30 am, officials distributed surveys to 143 jurors inside Courtroom C.
Lee said the questionnaires are about 16 pages long, and include names of possible witnesses and questions concerning employment, background and knowledge of the case. Lee added that the questionnaires will be used to whittle down the pool of jurors.
Officials then separated the jurors into groups of 50 — group A, group B and group C. Group A was asked to stay, while groups B and C were dismissed and asked to call later to see if they are needed.
Lee estimated the trial may last two weeks.
The case has received attention in numerous US newspapers on cable news shows as well as in Irish media.
Earlier this year, defence attorneys tried to have the trial moved out of Davidson County, arguing the coverage it has received would make it impossible to form an unbiased jury.
A judge denied that request.
Comments have been disabled for legal reasons
Read: Wife and father-in-law of Jason Corbett charged over his death >
Source: http://prntscr.com/fub00u