Category Archives: Asia
At weekends, the vibrant, crowded streets of Kowloon intensify in Mong Kok to a point where the footfall outpaces London's rush hour. In the heat and high humidity, it occasionally seems difficult to breathe. Weekdays are busy, too. By rights, the markets here should be extinct, gone the way of rickshaws and shophouses thanks to gentrification, air-conditioned malls and the internet. Instead, they thrive. Here's The markets of Mong Kok.
Two years ago, Mong Kok made international news when the "umbrella revolution" arrived, student-led occupations and protests aimed at bringing the city to a standstill. Weeks of stand-off followed, then violence erupted as police clashed not only with the students, but traders and triad gangsters frustrated by gridlocked traffic and political deadlock. Today, despite supermarkets eclipsing many of the food stalls, hordes of Hongkongers and visitors still descend on this Kowloon district in search of a bargain.
Toy collectibles | The markets of Mong Kok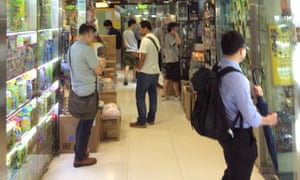 The modern Mong Kok marketplace is above ground, forced upwards into the area's tenement buildings by increased rents. Hong Kong's property boom isn't just at the top end (the world's most expensive street, Pollock's Path, is less than five miles away), so many stallholders now lease space in cheaper, upper floors. Anonymous doorways can lead to a variety of curiosity shops.
The two floors that make up In's Point are crammed with new and used toy collectibles; acres of lego, game characters and movie merchandise, stacked floor to ceiling, in clear perspex stalls. Masses of Iron Man masks, retro money-eating monsters, Batmen and Supermen. Some stalls are sublet, divided into smaller perspex cubes, where amateur collectors display and sell on their fantasy trove to the likeminded. Many are online, such as tokyostation.com.hk.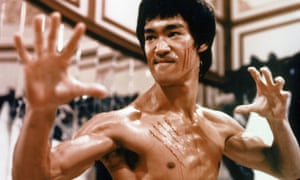 But it's not just about toys: fashion, retro Japanese shoes, antiques, vintage wear and The Bruce Lee Club are squeezed in here, too. Similar, but roomier, is the nearby CTMA Centre: six floors of tailoring, prototype and retro toys, boutiques, manga comics and anime DVDs.
• In's Point, 530-538 Nathan Rd; CTMA Centre, 1N Sai Yeung Choi Street South
Other multistorey markets …  | The markets of Mong Kok
The Mongkok Computer Centre (8 Nelson Street) for technowizardy old and new; The Sino Centre (582 Nathan Road) for Asian pop culture and secondhand CDs; Trendy Zone (580A Nathan Road) – think TopShop/Primark, but cheaper.
Sneaker Street | The markets of Mong Kok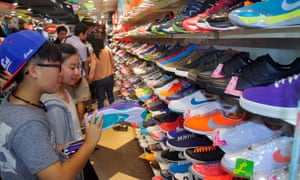 A 200-yard stretch at the southern end of Fa Yuen Street is rammed with every sneaker, plimsoll, running shoe design ever made: Nike Air Max, Converse Wedges, Supra Skytops, Vans or those silver-brogued trainers you've been dreaming of are here, leaving JD Sports on the starting block. New products arrive the instant they're launched, anything considered five minutes ago is shunted to the back. Older styles are heavily discounted (50% is common) in outlets like SMS Crew ("Super Mad Sneakers") and Dahood. There are no fakes, partly because the manufacturers themselves are now jostling for shop space.
• Sneaker Street, at the southern end of Fa Yuen Street, between Argyle Street and Dundas Street
Fa Yuen Street Market | The markets of Mong Kok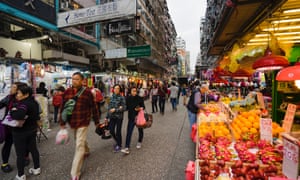 The northern end of the street has stalls and shops piled high with pants and bras, trousers and tops, bags, accessories and myriad leopard-skin mobile phone covers. Shoes in small stores, such as Red Bee, start at HK$29 (about £3). Silvered leather is clearly a thing right now.
It's all mixed up with kitchen gadgets, exotic vegetables, a small bakery for fresh mooncakes, and one stall loudly demonstrating the rich variety of karaoke microphones available today. The corner at Mongkok Road houses a covered wet market, where mongers eschew ice in favour of compartmentalised counters holding enough shallow water for fish to wriggle energetically until purchased.
• Fa Yuen Street Market, between Prince Edward Road West and Mongkok Road
The Ladies Market | The markets of Mong Kok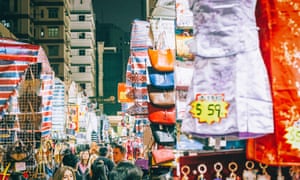 Once the flagship thoroughfare, brassily boasting fashions knock-offs, handbags and watches. There are still clothes – Chinese old-lady-style silk dresses and wide-leg culottes – but the fakes are hidden from view in response to the law. No shortage of verbal offers ("Copywatch! Copywatch!") but only the occasional stallholder is foolhardy enough to display any glittering contraband. One stall had counterfeit canvas artworks of Yue Minjun, China's best-known contemporary painter, whose grinning self-portraits realise millions at auction: after a few seconds haggling, the asking price of HK$300 (about £30) tumbled to HK$120 (£12). Mens' "Ralph Lauren" polo shirts are four for HK$100 (£10).
There's jade (a separate jade market is well known for selling fakes), mobile phone accessories, collectibles and leather goods. It's not all tat, by any means. If you really do want to bring back souvenir mahjong sets, or decorative chopsticks, they're cheaper here than the tourist shops in Central. In the evening it gets very busy – and be prepared for robust argument over prices.
• Ladies Market, Tung Choi Street, between Dundas Street and Argyle Street
Goldfish Market | The markets of Mong Kok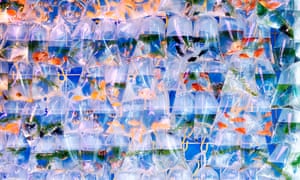 There's no other market street like this anywhere, certainly not in the west. Several blocks of tiny shops display dozens of water-filled plastic pouches in their doorways, holding all manner of brightly coloured fish, on sale for pennies. They're interspersed with pet shops, with small dogs in the windows. Others showcase miniature turtles and tortoises, large insects and small kittens. Sacks of pet food, boxes and cages spill out higgledy-piggledy onto the pavement. Inside, miniature menageries sell rodents, insects, more puppies, rabbits and yet more kittens. In the Harbour Koi Centre (no 174), a tank of giant koi carp were priced at HK$2,000 (£200) each. Gifts for the dedicated aquarist include underwater Chinese pagodas, bonsai trees, wrecked junks and replicas of SpongeBob SquarePants.
• Goldfish market, northern end of Tung Choi Street, between Mongkok Road and Prince Edward Road West
Shanghai Street | The markets of Mong Kok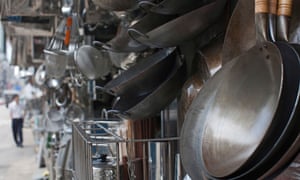 The southern end is where to go for kitchen equipment: woks and chopsticks, steamer baskets and bowls, porcelain ladles and all manner of other gadgets. Man Kee at No 342 has beautifully crafted chopping boards. You may also be interested in catering equipment, knives and machetes (or possibly not).
Further north, (numbers 600 to 626) is a row of 10 scruffy looking "shophouses", which date from the 1920s and are Grade I listed, a reminder to modern Hongkongers in high-rise towers of a recent past, when tenants would mostly live and work in tiny rented apartments above narrow shops.
At 481, a store window is filled with what appears to be a large display of bright yellow Cheesy Wotsits but is, in fact, fish maw, dried swim bladders which are the buoyancy controllers of large fish. Rich in collagen and gelatin, maw is feted in China as a healthy ingredient for soups and stews, and is reputed to be the secret of shining, healthy skin. Shelves groan with large jars of other fresh and dried health supplements; abalone, ginseng, goji berries, sea cucumbers, mandarin peel and clipped-off bull tails, which are apparently a gentleman's aid …
English is not spoken and although prices start at a few pounds for each item, they climb steeply, according to age and quality, peaking at several hundred pounds a kilo. (Across the bay at Sheung Wan there's a dedicated market, "Dried Seafood Street", and, elsewhere, a profitable illegal trade in maw from endangered species.)
Flower Market Road | The markets of Mong Kok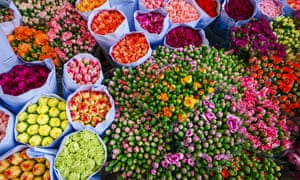 This is half a mile of cheap blooms and plants with large numbers of orchids and bonsai trees – the clue's in the name. The pavements are crammed with greenery, the air heavily scented. It's a welcome oasis in the midst of Mong Kok's overcrowded thoroughfares. At the centre is Brighten, a three-storey, air-conditioned supermarket of dried-flower sprays for every occasion, Christmas decorations (from August), mid-autumn festival bouquets, giant paper rabbits and silk flowers aplenty.
The adjacent shops on Prince Edward Road West are equally interesting. Zen in 5 Seasons produces its own healthy elixirs (schisandra and momordica fruits, self-heal spike tea; honeysuckle, Chinese wolfberry and chrysanthemum tea). Next door, Natural Cha Cha has unusually sublime indoor/outdoor ceramics and objets, and Farm Direct is a healthy chain of shops specialising in pesticide-free, hydroponically grown fruit and veg, sold either unadulterated or fashioned into lettuce noodles or kale spaghetti. Next door is Maria's, a home bakery with a fine line in delicious, not quite so healthy, soft and fluffy mini cheesecakes plus Fong's egg cake (on sale every day from 3pm).
• flower-market.hk
Bird Market | The markets of Mong Kok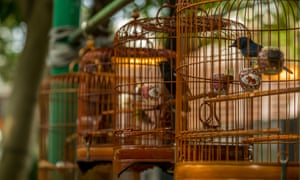 At the eastern end of the flower market can be heard the twittering of small birds – hundreds of them. The commercial side does nothing to alleviate concerns about caging birds: lots of small birds temporarily housed in very small, yellow, plastic cages are not a pretty sight. There's bird food for sale, including bags of live locusts, which one stallholder has to extract from a large cage by hand, an act which owes more to the bushtucker trials of I'm a Celebrity … than avian or insect husbandry.
Adjacent to this is the garden (bird-garden.hk), where elderly men bring their tiny winged companions in delicate cages, to sit and listen in contemplation. Away from the crowds and the traffic roar, in the shade of the trees, the garden offers respite, a rare moment to consider the most pleasurable tweets in Hong Kong – without a smartphone in sight.
• Yuen Po Street Bird Garden and Market, Yuen Po Street
Category Archives: Asia
Ocheteaul Beach – Cambodia Beaches and Islands
Cambodia Beaches and Islands – on the East side of town, about a 5 minute ride from downtown. This beach runs about 3 kilometers from Serendipity Beach to Otres Beach. Ocheteaul is filled with beach stands and chairs. Seafood, burgers, pizza, and booze. Most places serve Khmer style food, but most offer Western dishes. Across the street from the beach, there's an assortment of restaurants and hotels. Central Ocheteaul, going towards Otres Beach, is an unoccupied 2 kilometers of beach, behind the "golf course" which never was. This is your walking path to South Ocheteaul and Otres Beaches. South Ocheteaul is a 200 meter stretch of beach ending in a rocky point, river and bridge. a few hotels here, beach restaurants, and mostly quiet and beautiful. You can walk here from the other Ocheteaul Beaches. Also, you can go on the road, around the "golf course" to this beach. You can walk across the bridge, and you're at Otres Beach. Voila.
See Also Cheap Cambodia Beach Huts
Serendipity Beach – Cambodia Beaches and Islands
The tourist beach on the East Side of town. Actually the last 200 meters of Ocheteaul beach towards Sokha Beach. No beach stands here, just Western style bars, hotels and restaurants. One of the few places with rooms right on the beach (or hillside). Swimming's not great here, but the scenery on the beach is. Very quiet daytime, but can be very noisy at night. Many new souvenir shops, clothing, MP3 downloads, tour services and boat departures to the islands. Serendipity has turned into the shopping section of town.
Cambodia Beaches and Islands
You'll find the main tourist pier for trips to the islands here. Also, Serendipity Beach Road, from the pier 400 meters to the Golden Lions Circle, has over 60 guesthouse/hotels, and over 80 restaurants (covering about 20 different nationalities). Rooms here are from $2 a night to $200+.
Victory Beach – Cambodia Beaches and Islands
At the bottom of "The Hill", near the port, Victory beach has quickly become the tourist beach on the West side of town. Unfortunately, this is all "private beach" now or under construction, so not very popular. An easy walk from Victory Hill, with plenty of seafood, boating activities, guesthouses, and a full service casino or three. Some quiet beach in the middle, and some restaurants towards the port. Also, featuring a pier for island boat trips. You can also find mini golf behind the beach.
Island Beaches – Cambodia Beaches and Islands
Opening up quickly, but still (mostly) pristine, the islands offer some very beautiful beaches. Day trips to the islands let you experience a few of these. Many have basic bungalows (and some really nice ones too) on the island beaches. Most bungalows on the islands cost $10 to $40 per night. One island features $5,000 rooms per night.
Independence Beach – Cambodia Beaches and Islands
A kilometer or two of nothing but beach. A Small collection of new beach restaurants in the middle, and a private beach at the Independence Hotel complex at one end, and at the Holiday Palace Casino at the other. One of the quietest beaches.
Sokha Beach – Cambodia Beaches and Islands
Sokha beach is a private beach, 1.5 kilometers long, for the guest of the Sokha Resort hotel. Well groomed beaches, not too many people, and for a fee (if you're not a hotel guest), a beautiful swimming pool, fitness center, and lobby lounge. At the near end of Sokha are a few hillside and cliff side bungalows.
Hawaii Beach – Cambodia Beaches and Islands
Hawaii beach is filled with pine trees, shading the beach area. Many small boats are available for rent to the islands. Right next to the bridge to Snake Island, which you can see a few hundred meters from the shore. Several beach restaurants here, but no accommodations.
Otres Beach – Cambodia Beaches and Islands
Outside of town, Otres is the fastest growing beach in town. Several dozen beach stands and fine dining are here. Electricity and a couple new roads just came to this beach, so it's expanding rapidly. Also, sailboat and kayak rentals and windsurfing here. Many hotels and guesthouses with rooms from $7 to $250.
Other Cambodia Beaches in SihanoukVille – Cambodia Beaches and Islands
Past the port, is Hun Sen beach along the road to Steung Hauv. Not normally a tourist beach, but worth a ride out. You can check out the fishing piers along the way. There's also a beautiful beach at Ream National Park, about a half hour drive outside of town. Not a great swimming beach, but great scenery and lots of seafood. Steung Hauv fishing village is a great day trip, but no swimming beaches. A half hour by road from downtown.
Category Archives: Asia
Cheap Cambodia Beach Huts – Most of the beach hotels in Cambodia can be found in Sihanoukville, the country's up-and-coming beach destination. Sihanoukville already drew Cambodia's jetset to its golden beaches in the 60s but the party came to an abrupt end in 1970 when Cambodia descended into civil war. A few intrepid backpackers returned to Sihanoukville after the peace returned in 1993 and since then visitor numbers have risen steadily. After 30 years of housing only ghosts, the Independence Hotel is up and running again and more and more Khmers and expats have come to Sihanoukville to run bars and restaurants. This list presents the best beach resorts in Cambodia, as rated by visitors.
Check out our Cambodia Beaches and Islands reviews.
Tranquility Guesthouse – Cheap Cambodia Beach Huts
The Tranquility Guesthouse boasts a convenient location in Sihanoukville and modern amenities in every guestroom. Room facilities include a balcony or terrace. Along with its convenient location in Sihanoukville, the hotel also offers a wide range of services and facilities to the guests such as restaurant and a bar.
Beach Club Resort – Cheap Cambodia Beach Huts
Located a gentle five minute stroll to the seemingly endless sands of the beautiful Ochheuteal Beach, the Beach Club Resort is Sihanoukville's premier boutique mid-range hotel. All rooms have a swimming pool view and are tastefully furnished and well equipped with modern amenities and services.
Independence Hotel Resort & Spa – Cheap Cambodia Beach Huts
The Independence Hotel was built in 1962 and completed in 1963. Back then, it used to be Sihanouk Ville's most luxurious and elitist accommodation. Today, its 88 rooms and suites contain all the modern amenities guests would expect from a 4 star hotel. Furthermore, the private white sand beach, outdoor swimming pool, and fitness center will keep those who choose to stay here entertained.
Koh Thmei Resort – Cheap Cambodia Beach Huts
Resort is perhaps a bit of an overstatement for this place, but Koh Thmei Resort is certainly a relaxing place to spend a few days. Opened in December 2010, the bungalows are brand new, with walls of wood and tin roofs covered by thatch for aesthetics. Koh Thmei is located in the Ream National Park.
Reef Resort – Cheap Cambodia Beach Huts
Reef Resort is Sihanoukville's premier boutique hotel resort, with 9 superior double rooms, 4 family rooms and 1 apartment all set around the swimming pool. Room facilities include air con, fan, mini bar and free WIFI. The restaurant & bar has quality Mexican, Western and local food cooked by four experienced chefs.
Sokha Beach Resort – Cheap Cambodia Beach Huts
The best of the Cambodia beach resorts, the Sokha Beach Resort in Sihanoukville is set amidst a beautiful beachfront garden. This resort is designed with 2 accommodation wings, offering spaciously defined rooms and suites with private balconies, either with a view of the garden or sea. The beach resort is designed uniquely in craftsman-style of wood and stones reflecting a warm rustic ambience. The Asean House serves buffet and ala carte menu throughout the day while the Fishermen Village offers fresh seafood.
Category Archives: Asia
Dhaka's Shahjalal International Airport
Shahjalal International Airport, located in Dhaka, is the largest airport in Bangladesh. Shahjalal serves as the home base for all Bangladeshi airlines including GMG Airlines, Regent Airways, United Airways, and Biman Bangladesh Airlines. The airport is located within the city sprawl of Dhaka, about thirteen miles from downtown. Be sure to visit Cheap Flights to Bangladesh Dhaka from Birmingham first to find the best flight deals available.
Leave Birmingham behind
Birmingham Airport is one of the biggest in the UK. It is easy to access and close to the bustling city centre, which can provide lots to see and do. The great value flights Birmingham Airport offers to are available to travellers from all parts of the country, as the airport is located close to a hub of the motorway network. Cheap Flights to Bangladesh Dhaka from Birmingham.
Car parking is plentiful for flights from Birmingham, with three large long stay areas and a drop off zone. Make sure you book online to save money. Advance bookings start at £3.99 per day. If you would rather not worry about parking, it may work out cheaper to get the train to Birmingham International and hop on the brilliant Air Rail Link. This free train service whisks passengers directly to the airport from the platform. The airport is also well served by long distance coaches from a variety of cities.
The modern terminal has everything the business traveller needs, with Wi-Fi hotspots and facilities such as photocopying and meeting rooms available. If you are feeling peckish, you can sit down for a bite to eat at one of several restaurants including Frankie & Benny's and The Meriden. Picking up some last minute shopping before boarding will also save you some money, thanks to the duty free shopping facilities that are available. The number of flights from Birmingham to Dhaka is increasing all the time, and you can find the best deals on flights, accommodation and vehicle hire at ebookers.com.
The Weather in Dhaka
The climate in Bangladesh is tropical. That means the summer monsoon season is hot and humid, with temperatures averaging 33°C to 36°C. July and August are the rainiest months, so if you're visiting then, be sure to bring rainwear. Winter months are a little cooler, with highs generally around 30°C.
A Bustling Metropolis
The greater Dhaka area is home to over eighteen million residents. The streets are filled with people and the atmosphere is wonderfully frenetic. There are more cycle rickshaws here than anywhere else in the world, and they are the most popular way to get around. The city itself is very historic and features many significant religious sites. Baitul Mukarram Mosque is the national mosque of Bangladesh and is one of the largest in the world. Holy Rosary Church is a venerable Portuguese-inspired sanctuary built in 1677. Visit the 1857 War Memorial, the Mausoleum of National Leaders, and the National Poet's Graveyard. Check out a majestic royal Bengal tiger at the Dhaka Zoo or discover new wonders at the National Museum of Science and Technology. Art lovers will appreciate the magnificent National Museum. As you'd expect, a city this size has nearly limitless cultural and entertainment opportunities. When you're ready to plan your trip to Dhaka, let ebookers help you find the best possible deals.
Ground Transportation in Dhaka
There are a number of ways to get to town from the airport, including taxis, buses, government rentals, and autorickshaws. A taxi ride will average around BDT 400 and should take about half an hour, depending upon the traffic. The Bangladesh Parjatan Corporation offers a fleet of government taxis, cars, microbuses, and Jeeps. For a unique experience, consider taking a ride in an autorickshaw. While they are not allowed at the terminal, you can find them close by. Fares to town should range from BDT 70 to 100 and are negotiable.
Cheap Flights to Bangladesh Dhaka from Birmingham
Find the best flight Birmingham – Dhaka on Birmingham Dhaka flight search engine. Compare all flight to Dhaka. Are you looking for the best fares and deals for your Birmingham to Dhaka flight? Find your cheap flight to Dhaka with Jetcost. Compare ticket prices: discounts, cheap flights Birmingham – Dhaka, last minute offers to Dhaka among many online travel agencies, tour operators, traditional airlines as well as low cost carriers.
Cheap Flights to Bangladesh Dhaka from Birmingham – Jetcost helps you find a cheap flight to Dhaka airport. You can also compare Dhaka hotel prices and Dhaka car rentals.
Booking your Dhaka flight from Birmingham is just few clicks away. Find the cheapest prices and the best fares for your Dhaka holidays on Jetcost.co.uk.
Use the Birmingham – Dhaka flight search engine Jetcost to find and book your cheap air ticket in just a click.
Birmingham to Dhaka is 5,019 miles
The average flight time from Birmingham to Dhaka is 12h 10min. The most popular airline flying from Birmingham to Dhaka last month was Emirates.
Find flights from Birmingham to Dhaka with Skyscanner. Skyscanner is a fast and simple search service that compares hundreds of flights from all major airlines and travel agents, finding you the best deal on cheap flights from Birmingham to Dhaka – best of all Skyscanner is free to use!
Cheap Flights to Bangladesh Dhaka from Birmingham – Use the graph above to compare the best month to fly from Birmingham to Dhaka, alternatively use the search box above and enter your dates. The search results will show you the widest range of airlines and travel agents anywhere on the web, then you can simply book your flights from Birmingham to Dhaka directly by clicking through to agency or airline sites.
Website: www.skyscanner.net/
Category Archives: Asia
Fabulous fresh food is the order of the day – every day – in this ancient riverside town. But explore the temples and beaches by bicycle and all those grilled dishes and pho will have been well-earned. Here's Top 10 things to do in Hội An, Vietnam.
Vietnam's former imperial capital, Huế, has the sights – temples, tombs and the Purple Forbidden City – but much of it was destroyed during the "American war" (from 1955 to 1975). The ancient town of Hội An, 100km south, down the coast, is a much more beguiling place to spend a few days, with its lazy river lined with mustard-yellow merchants' houses, and beaches a few kilometres away. It owes its wonderfully well-preserved state to the silting-up of the Thu Bồn river in the 19th century, which put an end to its importance as a trading post, but helped it escape modern development and US bombing. Yes, it's touristy, but the old town is surprisingly extensive and can absorb a lot of visitors without losing its dreamy atmosphere. And while much of Vietnam, to both north and south, gets a thorough soaking in summer, the central coast is at its driest and sunniest in May, June and July.
Take a cooking class | Top 10 things to do in Hội An, Vietnam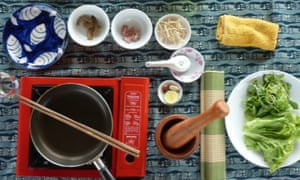 Hội An is known for its diverse and excellent food: a legacy of the many nationalities, including Japanese, Chinese and Portuguese, that lived or traded here. It can seem that every other restaurant is offering cooking classes, but the Thuan Tinh cooking day offers more than some. After a visit to the fascinating market to collect ingredients, you board a river boat and putter eastwards along the river to this low-lying island near the river mouth, completing the final stretch by rowing boat. Then it's on with cooking (and eating) a selection of dishes – fresh spring rolls, crispy pancakes, beef noodle salad and classic pho, say – while enjoying the village atmosphere and watching tiny basket boats navigate the water-coconut-lined waterways.
• £24pp, cooking-tour.com
Explore on a cycle tour | Top 10 things to do in Hội An, Vietnam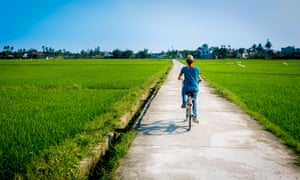 Cars and even motorbikes are banned from the centre of Hội An, so the pushbike is king. Most homestays offer bikes to guests, and joining the many cyclists on the roads provides an instant immersion into local life. To explore further afield, Heaven and Earth cycle tours, run from a quiet street in beguiling An Hội island, across the river from the old town, offers a selection of trips into the countryside and islands close to the city. Choose from an easy few hours with just 9km of cycling along quiet lanes, lunch included, or a more demanding 50km adventure. All take in traditional villages, handicrafts, fragrant rice paddies and rickety floating bridges.
• From £16pp, vietnam-bicycle.com
Hit the beach | Top 10 things to do in Hội An, Vietnam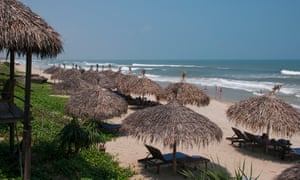 The nearest beach to town, Cửa Đại, has a severe erosion problem, exacerbated by winter typhoons, which saw most of the sand washed away from the seafront. An Bang beach, further north, is a more appealing prospect, with much less development and plenty of soft sand. Cycle there from town (it's about 5km) and several persistent old ladies will try to charge you to park your bike, but turn off the main road on the lanes parallel to the sea to left or right and the many cafes and restaurants will let you park in return for purchasing a few drinks. Buy lunch as well and they'll throw in an umbrella and a pair of sunbeds. There's also plenty of space for those who want to rock up and lie on their towel.
See where your lunch is grown | Top 10 things to do in Hội An, Vietnam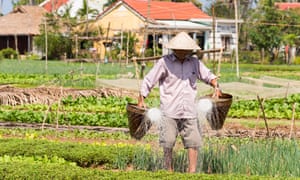 Most meals in Hội An include an abundance of the fresh vegetables and herbs that make eating in Vietnam such a delight. And much of it will have come from Tra Que, the fresh-veg village between town and An Bang beach. This small farming community grows everything from fine spring onions to hefty taro root on this flat fertile island in the De Vong river. A couple of enterprises, such as the Water Wheel, offer cooking classes, foot massages and more, but it's possible to just wander the plots, trying to identify plants and chatting with farmers. A little place called Baby Mustard, to the right across fields from the Water Wheel, will does an excellent cheap lunch. Try the "three friends" – bundles of pork, prawn and mint, tied with spring onion.
Drink bia hơi | Top 10 things to do in Hội An, Vietnam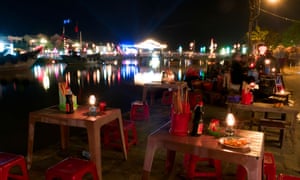 After doing the sights in town (temples, ancient houses, chapels, the covered bridge) head south over the central footbridge to An Hội islet, whose riverfront is lined with bars offering ice-cold glasses of the daily-brewed refreshing lager called bia hơi at cheap prices (less than 20p a half pint). It's delightfully light, with only around 3% alcohol, so it's easy to while away a couple of hours sipping and watching boats without feeling worse for wear. Try The Island (Dong Hiep Entertainment Area, Hội An 51000), at the eastern point of the islet, for Thu Bồn river views and waterside tables. Spend a few dong on a packet of little, salty, locally grown peanuts from a street vendor, and you're all set.
Eat cau lao | Top 10 things to do in Hội An, Vietnam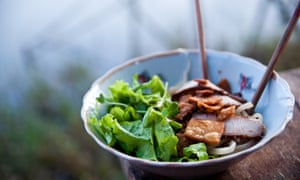 This Hội An noodle speciality has been eaten in the city since the 17th century. The rice noodles get their brown colour and unusual flavour from being mixed with lye water. Ash for the lye is supposed to come from the wood of the Cham islands 12km off the coast, and the water for the noodles from a particular secret well outside town. How true that all is doesn't really matter when something is so delicious. The hand-cut noodles are tossed with sliced pork, crunchy rice crackers, spices, big handfuls of fresh herbs and a small amount of super-tasty broth. There are some great versions at stalls in the riverside food market – try Mrs Thu, on the right as you enter from Tran Phu Street. For slightly more space and comfort, and cau lao at just over £1 a bowl, go to Cơm Gà Hương just off main Le Loi Street.
Try a tasting plate | Top 10 things to do in Hội An, Vietnam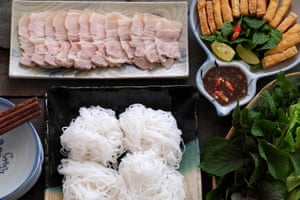 There are often more Vietnamese than westerners at Quan Dau Bac, a tiny wedge-shaped restaurant at the western end (no 147) of main Phan Chau Trinh Street. Most of them will be tucking into bún đậu mắm tôm, a platter of pork, fried tofu, herbs, vegetables and chunks of sticky rice noodle, around a pungent dipping sauce of fermented shrimp. Don't be put off by the smell of the sauce: its flavour is much more mellow, with an elusive sweetness that combines beautifully with the other ingredients.
Discover street barbecue | Top 10 things to do in Hội An, Vietnam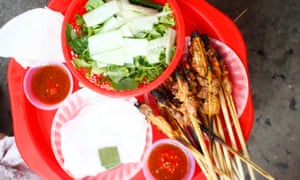 For a really cheap dinner on the hoof, wander the north bank of the Thu Bồn river after dark, where dozens of little charcoal braziers are set up with skewers of thịt nướng: grilled pork, chicken or prawns that come with some herbs and greens, and a few rice paper wrappers to roll it up in. The whole thing is then dipped in a spicy peanut tomato sauce, with a few toasted sesame seeds. The skewers cost 30p-40p each, and while some vendors sit in regular spots on the waterfront, they're just as good bought from a lady who walks around – with a barbecue and the food hanging off her bamboo pole.
Budget accommodation at a homestay | Top 10 things to do in Hội An, Vietnam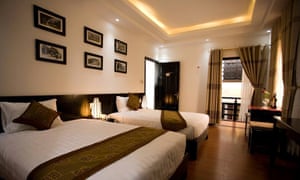 As with many parts of Asia these are not really homes but small, informal hotels built on the site of a family house. The Golden Bell is particularly well placed, an easy bike ride (bikes can be borrowed for free) from the town and An Bang beach. Staff are friendly – though not as friendly as the resident small dogs – and breakfast includes fruit, eggs and a great homemade banana cake.
• Doubles about £22 B&B, hoiangoldenbellhomestay.com
Splash out – a little – for pool views | Top 10 things to do in Hội An, Vietnam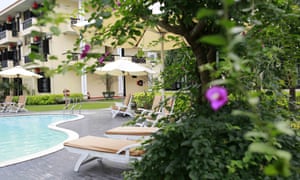 For a bit extra, Phu Thinh Boutique Resort, offers a pool, a central location in the old town, and magnificent gardens with water lilies, and a dining room in their midst. Ask for a pool-view room to avoid the noise from the main Cửa Đại road. Borrow a bike to tour the town, then relax at one of two bars or in the Jasmine spa.
• Doubles from about £33 B&B, phuthinhhotels.com