Category Archives: Tourism
Ocheteaul Beach – Cambodia Beaches and Islands
Cambodia Beaches and Islands – on the East side of town, about a 5 minute ride from downtown. This beach runs about 3 kilometers from Serendipity Beach to Otres Beach. Ocheteaul is filled with beach stands and chairs. Seafood, burgers, pizza, and booze. Most places serve Khmer style food, but most offer Western dishes. Across the street from the beach, there's an assortment of restaurants and hotels. Central Ocheteaul, going towards Otres Beach, is an unoccupied 2 kilometers of beach, behind the "golf course" which never was. This is your walking path to South Ocheteaul and Otres Beaches. South Ocheteaul is a 200 meter stretch of beach ending in a rocky point, river and bridge. a few hotels here, beach restaurants, and mostly quiet and beautiful. You can walk here from the other Ocheteaul Beaches. Also, you can go on the road, around the "golf course" to this beach. You can walk across the bridge, and you're at Otres Beach. Voila.
See Also Cheap Cambodia Beach Huts
Serendipity Beach – Cambodia Beaches and Islands
The tourist beach on the East Side of town. Actually the last 200 meters of Ocheteaul beach towards Sokha Beach. No beach stands here, just Western style bars, hotels and restaurants. One of the few places with rooms right on the beach (or hillside). Swimming's not great here, but the scenery on the beach is. Very quiet daytime, but can be very noisy at night. Many new souvenir shops, clothing, MP3 downloads, tour services and boat departures to the islands. Serendipity has turned into the shopping section of town.
Cambodia Beaches and Islands
You'll find the main tourist pier for trips to the islands here. Also, Serendipity Beach Road, from the pier 400 meters to the Golden Lions Circle, has over 60 guesthouse/hotels, and over 80 restaurants (covering about 20 different nationalities). Rooms here are from $2 a night to $200+.
Victory Beach – Cambodia Beaches and Islands
At the bottom of "The Hill", near the port, Victory beach has quickly become the tourist beach on the West side of town. Unfortunately, this is all "private beach" now or under construction, so not very popular. An easy walk from Victory Hill, with plenty of seafood, boating activities, guesthouses, and a full service casino or three. Some quiet beach in the middle, and some restaurants towards the port. Also, featuring a pier for island boat trips. You can also find mini golf behind the beach.
Island Beaches – Cambodia Beaches and Islands
Opening up quickly, but still (mostly) pristine, the islands offer some very beautiful beaches. Day trips to the islands let you experience a few of these. Many have basic bungalows (and some really nice ones too) on the island beaches. Most bungalows on the islands cost $10 to $40 per night. One island features $5,000 rooms per night.
Independence Beach – Cambodia Beaches and Islands
A kilometer or two of nothing but beach. A Small collection of new beach restaurants in the middle, and a private beach at the Independence Hotel complex at one end, and at the Holiday Palace Casino at the other. One of the quietest beaches.
Sokha Beach – Cambodia Beaches and Islands
Sokha beach is a private beach, 1.5 kilometers long, for the guest of the Sokha Resort hotel. Well groomed beaches, not too many people, and for a fee (if you're not a hotel guest), a beautiful swimming pool, fitness center, and lobby lounge. At the near end of Sokha are a few hillside and cliff side bungalows.
Hawaii Beach – Cambodia Beaches and Islands
Hawaii beach is filled with pine trees, shading the beach area. Many small boats are available for rent to the islands. Right next to the bridge to Snake Island, which you can see a few hundred meters from the shore. Several beach restaurants here, but no accommodations.
Otres Beach – Cambodia Beaches and Islands
Outside of town, Otres is the fastest growing beach in town. Several dozen beach stands and fine dining are here. Electricity and a couple new roads just came to this beach, so it's expanding rapidly. Also, sailboat and kayak rentals and windsurfing here. Many hotels and guesthouses with rooms from $7 to $250.
Other Cambodia Beaches in SihanoukVille – Cambodia Beaches and Islands
Past the port, is Hun Sen beach along the road to Steung Hauv. Not normally a tourist beach, but worth a ride out. You can check out the fishing piers along the way. There's also a beautiful beach at Ream National Park, about a half hour drive outside of town. Not a great swimming beach, but great scenery and lots of seafood. Steung Hauv fishing village is a great day trip, but no swimming beaches. A half hour by road from downtown.
Category Archives: Tourism
Fabulous fresh food is the order of the day – every day – in this ancient riverside town. But explore the temples and beaches by bicycle and all those grilled dishes and pho will have been well-earned. Here's Top 10 things to do in Hội An, Vietnam.
Vietnam's former imperial capital, Huế, has the sights – temples, tombs and the Purple Forbidden City – but much of it was destroyed during the "American war" (from 1955 to 1975). The ancient town of Hội An, 100km south, down the coast, is a much more beguiling place to spend a few days, with its lazy river lined with mustard-yellow merchants' houses, and beaches a few kilometres away. It owes its wonderfully well-preserved state to the silting-up of the Thu Bồn river in the 19th century, which put an end to its importance as a trading post, but helped it escape modern development and US bombing. Yes, it's touristy, but the old town is surprisingly extensive and can absorb a lot of visitors without losing its dreamy atmosphere. And while much of Vietnam, to both north and south, gets a thorough soaking in summer, the central coast is at its driest and sunniest in May, June and July.
Take a cooking class | Top 10 things to do in Hội An, Vietnam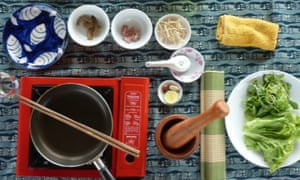 Hội An is known for its diverse and excellent food: a legacy of the many nationalities, including Japanese, Chinese and Portuguese, that lived or traded here. It can seem that every other restaurant is offering cooking classes, but the Thuan Tinh cooking day offers more than some. After a visit to the fascinating market to collect ingredients, you board a river boat and putter eastwards along the river to this low-lying island near the river mouth, completing the final stretch by rowing boat. Then it's on with cooking (and eating) a selection of dishes – fresh spring rolls, crispy pancakes, beef noodle salad and classic pho, say – while enjoying the village atmosphere and watching tiny basket boats navigate the water-coconut-lined waterways.
• £24pp, cooking-tour.com
Explore on a cycle tour | Top 10 things to do in Hội An, Vietnam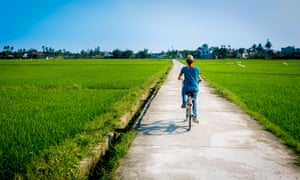 Cars and even motorbikes are banned from the centre of Hội An, so the pushbike is king. Most homestays offer bikes to guests, and joining the many cyclists on the roads provides an instant immersion into local life. To explore further afield, Heaven and Earth cycle tours, run from a quiet street in beguiling An Hội island, across the river from the old town, offers a selection of trips into the countryside and islands close to the city. Choose from an easy few hours with just 9km of cycling along quiet lanes, lunch included, or a more demanding 50km adventure. All take in traditional villages, handicrafts, fragrant rice paddies and rickety floating bridges.
• From £16pp, vietnam-bicycle.com
Hit the beach | Top 10 things to do in Hội An, Vietnam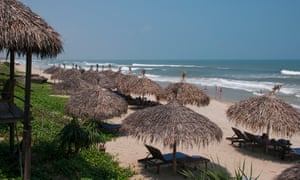 The nearest beach to town, Cửa Đại, has a severe erosion problem, exacerbated by winter typhoons, which saw most of the sand washed away from the seafront. An Bang beach, further north, is a more appealing prospect, with much less development and plenty of soft sand. Cycle there from town (it's about 5km) and several persistent old ladies will try to charge you to park your bike, but turn off the main road on the lanes parallel to the sea to left or right and the many cafes and restaurants will let you park in return for purchasing a few drinks. Buy lunch as well and they'll throw in an umbrella and a pair of sunbeds. There's also plenty of space for those who want to rock up and lie on their towel.
See where your lunch is grown | Top 10 things to do in Hội An, Vietnam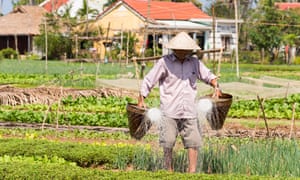 Most meals in Hội An include an abundance of the fresh vegetables and herbs that make eating in Vietnam such a delight. And much of it will have come from Tra Que, the fresh-veg village between town and An Bang beach. This small farming community grows everything from fine spring onions to hefty taro root on this flat fertile island in the De Vong river. A couple of enterprises, such as the Water Wheel, offer cooking classes, foot massages and more, but it's possible to just wander the plots, trying to identify plants and chatting with farmers. A little place called Baby Mustard, to the right across fields from the Water Wheel, will does an excellent cheap lunch. Try the "three friends" – bundles of pork, prawn and mint, tied with spring onion.
Drink bia hơi | Top 10 things to do in Hội An, Vietnam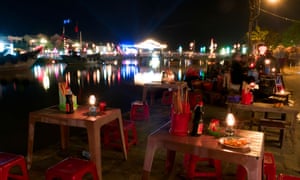 After doing the sights in town (temples, ancient houses, chapels, the covered bridge) head south over the central footbridge to An Hội islet, whose riverfront is lined with bars offering ice-cold glasses of the daily-brewed refreshing lager called bia hơi at cheap prices (less than 20p a half pint). It's delightfully light, with only around 3% alcohol, so it's easy to while away a couple of hours sipping and watching boats without feeling worse for wear. Try The Island (Dong Hiep Entertainment Area, Hội An 51000), at the eastern point of the islet, for Thu Bồn river views and waterside tables. Spend a few dong on a packet of little, salty, locally grown peanuts from a street vendor, and you're all set.
Eat cau lao | Top 10 things to do in Hội An, Vietnam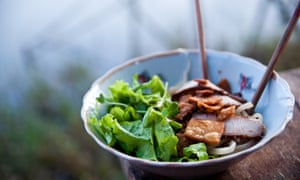 This Hội An noodle speciality has been eaten in the city since the 17th century. The rice noodles get their brown colour and unusual flavour from being mixed with lye water. Ash for the lye is supposed to come from the wood of the Cham islands 12km off the coast, and the water for the noodles from a particular secret well outside town. How true that all is doesn't really matter when something is so delicious. The hand-cut noodles are tossed with sliced pork, crunchy rice crackers, spices, big handfuls of fresh herbs and a small amount of super-tasty broth. There are some great versions at stalls in the riverside food market – try Mrs Thu, on the right as you enter from Tran Phu Street. For slightly more space and comfort, and cau lao at just over £1 a bowl, go to Cơm Gà Hương just off main Le Loi Street.
Try a tasting plate | Top 10 things to do in Hội An, Vietnam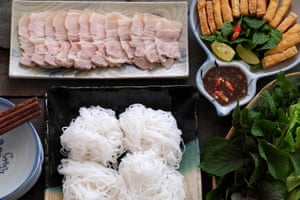 There are often more Vietnamese than westerners at Quan Dau Bac, a tiny wedge-shaped restaurant at the western end (no 147) of main Phan Chau Trinh Street. Most of them will be tucking into bún đậu mắm tôm, a platter of pork, fried tofu, herbs, vegetables and chunks of sticky rice noodle, around a pungent dipping sauce of fermented shrimp. Don't be put off by the smell of the sauce: its flavour is much more mellow, with an elusive sweetness that combines beautifully with the other ingredients.
Discover street barbecue | Top 10 things to do in Hội An, Vietnam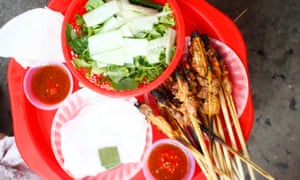 For a really cheap dinner on the hoof, wander the north bank of the Thu Bồn river after dark, where dozens of little charcoal braziers are set up with skewers of thịt nướng: grilled pork, chicken or prawns that come with some herbs and greens, and a few rice paper wrappers to roll it up in. The whole thing is then dipped in a spicy peanut tomato sauce, with a few toasted sesame seeds. The skewers cost 30p-40p each, and while some vendors sit in regular spots on the waterfront, they're just as good bought from a lady who walks around – with a barbecue and the food hanging off her bamboo pole.
Budget accommodation at a homestay | Top 10 things to do in Hội An, Vietnam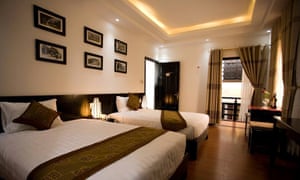 As with many parts of Asia these are not really homes but small, informal hotels built on the site of a family house. The Golden Bell is particularly well placed, an easy bike ride (bikes can be borrowed for free) from the town and An Bang beach. Staff are friendly – though not as friendly as the resident small dogs – and breakfast includes fruit, eggs and a great homemade banana cake.
• Doubles about £22 B&B, hoiangoldenbellhomestay.com
Splash out – a little – for pool views | Top 10 things to do in Hội An, Vietnam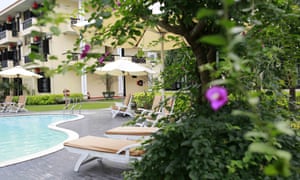 For a bit extra, Phu Thinh Boutique Resort, offers a pool, a central location in the old town, and magnificent gardens with water lilies, and a dining room in their midst. Ask for a pool-view room to avoid the noise from the main Cửa Đại road. Borrow a bike to tour the town, then relax at one of two bars or in the Jasmine spa.
• Doubles from about £33 B&B, phuthinhhotels.com