Category Archives: Nightlife
Amsterdam's nightlife is thriving, with three major new clubs adding to the existing scene. Here's TOP 10 clubs in Amsterdam: 
De Marktkantine | TOP 10 clubs in Amsterdam
De Marktkantine has been around for about two years. For me, it's the most unappreciated club in the city even though the programming is high-quality, and varied. There are other clubs in Amsterdam that are trying hard to trademark a certain style but Marktkantine is more relaxed about who can come in. You can still see the balconies and booths from when it was a theatre. The balcony is particularly large and gives a great view down onto the stage. Then, behind the stage there are stairs up to another level with a small bar. They just started a new series of nights, curated by DJ and producer duo Red Axes, with shows every couple of months. The first edition was a success and musically it was amazing.
• Jan van Galenstraat 6, marktkantine.nl
Shelter | TOP 10 clubs in Amsterdam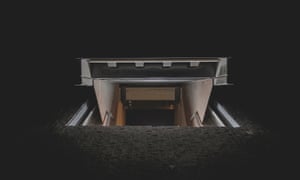 Shelter is among the newest additions to the city's club scene. Finally, a club in the north side of Amsterdam! The venue opened during Amsterdam Dance Event (ADE) 2016 and is in the basement of the former Shell tower, hence the name. Standing in front of the entrance you immediately get that underground vibe. Literally. On club nights the venue opens a hatch, which you walk down to get inside. You enter a spacious, concrete room with a very good sound system. It's dark, but not too dark – you can see who's dancing next to you. The crowd is really open – whether you play house or techno, people follow your lead. And, with its 24-hour permit, nights merge easily into mornings.
• Overhoeksplein 3, shelteramsterdam.nl
Tolhuistuin | TOP 10 clubs in Amsterdam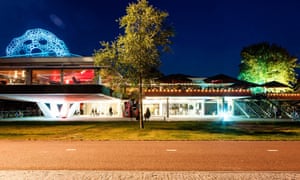 We deliberately picked the Tolhuistuin for our club night, Progress Bar, which focuses on a more socially and politically aware take on club culture. We mix talks, screenings, performance and clubbing into one night. Just a short ferry ride across the IJ from Central Station, Amsterdam Noord prides itself on an edgier and raw atmosphere – that still persists amid the gentrification. Tolhuistuin is a good example of this. It's in the canteen of the old Shell factory, an industrial remnant that has been repurposed as a cultural destination offering a mix of music, theatre and exhibitions, bringing together mainstream and more avant garde, free-spirited programming.
• IJpromenade 2, tolhuistuin.nl
De School | TOP 10 clubs in Amsterdam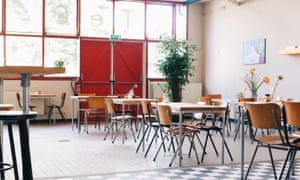 This place is more than a club: it is also one of the best restaurants in town, a bar, a gym and it shows great art that you can still see during club hours. There are also two other venue spaces, Muzieklokaal and s105, for smaller nights and live shows – and the garden is our favourite spot to hang out on summer nights. There is a great creative energy around this whole building. Of course, the club itself is amazing. It's exactly what you want: intimate-feeling, but big enough to get lost in, with crisp sound and a sense of freedom.
• Dr Jan van Breemenstraat 1, deschoolamsterdam.nl
Sugarfactory | TOP 10 clubs in Amsterdam
Years ago this building used to be a … sugar factory, but since the venue opened its doors in 2005 – near the centre of Amsterdam – it has been home to Wicked Jazz Sounds, our weekly Sunday club night. We came from a club without any facilities, so by comparison the Sugar Factory felt like getting into a warm bath and then being embraced by lovely, caring people. This club holds up to 500 people but still feels intimate, has a great sound, an amazing amount of lights, and a wide variety of programming, every day of the week.
• Lijnbaansgracht 238, sugarfactory.nl
OT301 | TOP 10 clubs in Amsterdam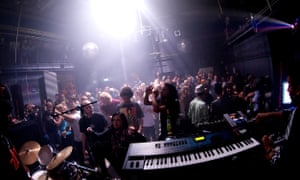 OT301 is a real Amsterdam heartthrob. The former squat packs in 300 people for experimental and rowdy club nights, concerts and collaborations. Think nights hosted by Rush Hour, Sub:Terrein, Sonic Acts and our own club night, Somewhere Else. The multi-storied, graffiti-covered building holds a club, a tiny underground dance room, a gallery space, a vegan restaurant and a cinema. Subbacultcha has hosted nights at OT301 from the beginning, so we decided it was fitting to celebrate our 10th anniversary last year with a takeover – filling every inch of the OT301 with emerging music.
• Overtoom 301, ot301.nl
Oedipus Brewing | TOP 10 clubs in Amsterdam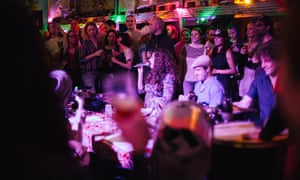 The home of Amsterdam's new favourite local brew, Oedipus, is a gem in Amsterdam Noord. The brewery is a simple spot that offers a few beers on tap, an empty space for dancing and a couple of benches out front. DJ Broadcast had its fundraiser there this year, which was a blast. Catch Red Light Radio's much-loved Liquid Jams on a given Sunday, when a band is invited to perform amid the beer barrels. And don't miss the famed Brazil in the Brewery nights that brings the vibes, music and atmosphere of hot Brazilian nights.
• Gedempt Hamerkanaal 85, oedipus.com
Claire | TOP 10 clubs in Amsterdam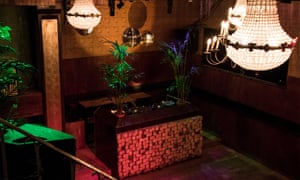 There is obviously a diverse array of clubs in Amsterdam; I love De School for good sound and a night of raw energy; OT301, which is cosy and raw. One club that deserves a special shout out is Claire, where I have a residency, and which has given me the opportunity to grow as a DJ. Claire has great acoustics, a wonderful wooden floor and feels like a living room! Unfortunately it's in in the not-so-soulful area of Rembrandtplein, though the club itself is a soulful place. It opened during last year's Amsterdam Dance Event and its lineup presents a great mix of underground artists, from Volcov to the Parisian Antinote crew.
• Rembrandtplein 17, claire.nl
Club NYX | TOP 10 clubs in Amsterdam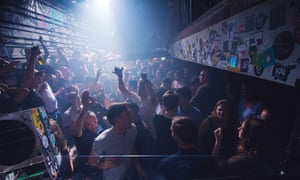 For me, Club NYX is a little bit more "free" than the rest of Amsterdam's clubs. It's a three-floor venue and on the third floor, which is the toilet, there's also a DJ booth – so you can dance and pee and wash your hands in this big penis-shaped sink. The decorations are "out there": there are neon words everywhere and stairs that go nowhere. The first few times I went I got lost and every time I take someone for the first time they get lost too. Throughout the week there are a lot of parties that focus on being inclusive. It's still a gay club really, but on Thursday nights it has parties that are for everyone. There's a regular night, called Vogue, where there are these ballroom parties. Everyone puts on wigs, big dresses and just dances; it's fun. My friends and I love going because (and it sounds really stupid) it feels like everyone is in it together.
• Reguliersdwarsstraat 42, clubnyx.nl
De Trut | TOP 10 clubs in Amsterdam
Category Archives: Nightlife

Paris has swung to the rhythms of jazz for nigh on a century. With legends Bud Powell, Chet Baker and Miles Davis woven deep in its history, and pioneers Django Reinhardt and Stéphane Grappelli providing the backdrop to its cafe society, jazz is as much a part of the capital's cultural heritage as art, philosophy and literature. Here's TOP 10 Paris jazz clubs.
Yet jazz in Paris is no sepia-tinted relic: it remains a flourishing art form that packs out bars, clubs and caverns. With a profusion of styles on offer (from trad, modern and avant garde to bossa nova, jazz-funk and Afro-jazz, not forgetting France's singular contribution to the genre – gypsy jazz), its freedom-loving soul lives on. And the more experimental among the city's contemporary players are lifting its appeal to new heights.
Jazz Club Etoile | TOP 10 Paris jazz clubs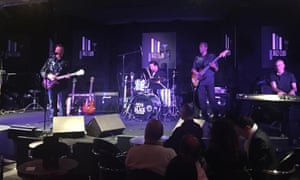 This club has held mythical status on Paris's jazz scene for four decades. Many jazz and blues legends, including Cab Calloway, BB King and Lionel Hampton have passed through its doors. The clientele is an interesting cocktail of music lovers and hotel guests who come down from their rooms [it is in Le Meridien Etoile hotel] to find this incredible jazz club. Recently refurbished, it merges vintage with modern. I love the art-deco design, the subtle lighting, the art on the walls and its nod to Paris in the metro-style tiles and Eiffel Tower-esque metal materials. Its 200 seats and curved stage are just the right size for a jazz club – intimate yet spacious enough – and it's a great place to catch the cream of French and international jazz.
• 81 Boulevard Gouvion-Saint-Cyr, 17th arrondissement, +33 1 40 68 30 42, jazzclub-paris.com
La Petite Halle | TOP 10 Paris jazz clubs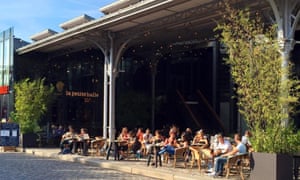 La Petite Halle has become a hub for open-minded jazz people, with unusual jams, seamless DJ sets and memorable moments. Organised by Reza Ackbaraly (the man behind the Jazz Mix at Jazz A Vienne festival), the club recently saw the legendary Tony Allen playing drums with Robert Glasper and Mos Def, Japanese band JariBu Afrobeat Arkestra and Magik Malik jamming with Steve Coleman's band. Its loft-like interior is often packed with local musicians and groovers who party in a laid-back style. The wood-fire oven pizzas are delicious and the terrace delightful when the weather is nice.
• La Grande Halle de la Villette, 211 Avenue Jean Jaurès, 19th arrondissement, +33 9 82 25 91 81, lapetitehalle.fr
Le Baiser Salé | TOP 10 Paris jazz clubs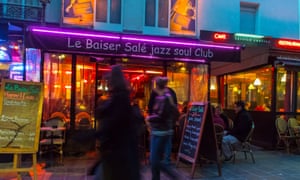 It usually costs just €3 to see a talented local quartet at this intimate club in the Châtelet district, though top-class musicians (mainly from the UK and US) also play there. What's cool about it is there's no amplified sound so the music travels directly from instrument to audience. The decor is simple, with a wooden floor and wooden chairs, making it feeling like an old-school Louisiana jazz joint. People don't go because it's stylish, they go to listen to great music and soak up the vibes. When friends visit Paris and want to listen to jazz, I always point them in the direction of Baiser Salé.
• 58 Rue des Lombards, 1st arrondissement, +33 1 42 33 37 71, lebaisersale.com
La Dynamo | TOP 10 Paris jazz clubs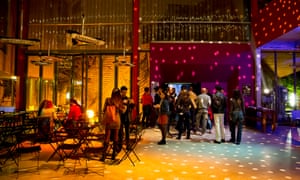 Ten years have passed since La Dynamo opened its doors, just outside the Boulevard Périphérique – the club, like those who play there, is on the fringes of the city's jazz scene: the rolling trance bass of the São Paulo trio, Metá Metá, the rambunctious Sons of Kemet, the disconcerting Thomas de Pourquery and the astonishing saxophone player Ilhan Ersahin. The capacity is 300, admission is never more than €16, and in the neighbouring bar, good wine costs €3. Free jazz or soul, revisionist soundtrack or electronic echoes; history is being made here. For the last decade, La Dynamo has taken a chance on music that is unknown, unprecedented and sometimes extraordinary.
• 9 Rue Gabrielle Josserand, 93500 Pantin, +33 1 49 22 10 10, banlieuesbleues.org
La Cave du 38 Riv | TOP 10 Paris jazz clubs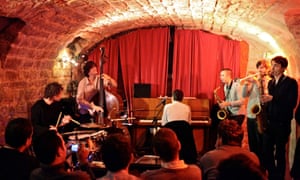 There's an authenticity to Cave du 38 Riv – it's like a "proper" jazz club from the 1950s or 60s. I like to imagine being back in those times, playing with famous musicians. Today most jazz clubs are at street level, so it's quite special to find one that's underground. There is no stage, so the audience is right up close to the band which lends it a friendly and sociable air. Cav du 38 Riv is made up of two adjoining caverns (one for the music and one for the bar) with stonework giving it a medieval feel. It offers a broad range of jazz styles: traditional, modern, bossa nova, gypsy and more. On Friday and Saturday nights there is a late jam – starting at midnight and swinging through till 4am.
• Rue de Rivoli, 4th arrondissement, +33 1 48 87 56 30, 38riv.com
New Morning | TOP 10 Paris jazz clubs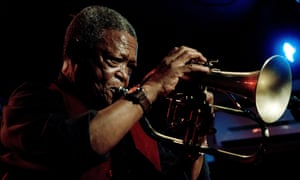 It's easy to fall in love with the distinctive mood and exotic atmosphere at New Morning. It opened back in 1981 and many jazz icons played there towards the end of their careers: Chet Baker, Dizzy Gillespie, Stan Getz, Dexter Gordon and so on. Prince named it his favourite place in Paris, returning many times to play surprise after-show jams. The interior of the club is rather like a garage, nothing particularly cosy or chic, but the audience crowding round the stage makes for a special atmosphere. It has a capacity of 500, and feels neither too big nor too small. It's always an eclectic but classy mix (with a regular offering of world music acts, not just jazz), which is why it's well known to music lovers and jazz aficionados.
• 7-9 Rue des Petites Écuries, 10th arrondissement, +33 1 45 23 51 41, newmorning.com
Sunset/Sunside Jazz Club | TOP 10 Paris jazz clubs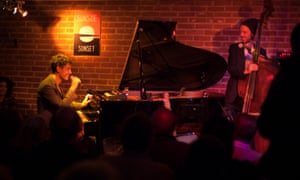 A club I really enjoy both playing at and visiting is Sunset/Sunside, one of three jazz clubs on Rue des Lombards. It's a spirited little place with a real jazz club ambience: Sunside is on the ground floor, and Sunset is a cavernous space in the basement. You can see all the great names in jazz here, as well as new talent in other genres. It attracts an eclectic crowd, many of whom often go out of curiosity, not knowing in advance who'll be performing.
• 60 Rue des Lombards, 1st arrondissement, +33 1 40 26 46 60, sunset-sunside.com
Studio de l'Ermitage | TOP 10 Paris jazz clubs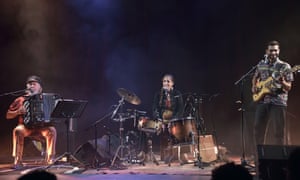 Originally an old cookie factory, Studio de l'Ermitage retains many charms from its industrial past. Yet, when you step inside you can also feel the conviviality of this father-and-daughter run place. It's a medium-size space (250 capacity) and the staff are always happy and welcoming. Its booking policy is discerning and diverse, from jazz to world music, it supports emerging artists and gives monthly residencies to bands such as Akalé Wubé (Ethio jazz), Roda do Cavaco (Brazil) or Cumbia Ya! (Cumbia). We organised a label night at Studio last year for Record Store Day. Most of the label musicians jammed together and it was an unforgettable night. It's in the same street as two other venues, La Maroquinerieor Bellevilloise.
• 8 Rue de l'Ermitage, 20th arrondissement, +33 1 44 62 02 86, studio-ermitage.com
Duc des Lombards | TOP 10 Paris jazz clubs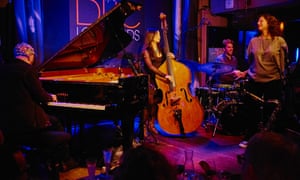 Like Ronnie Scott's in London or the Village Vanguard in New York, young jazz cats dream of playing here – that's why the shows and energy are always so intense. World-class artists such as Ahmad Jamal and Kenny Barron play here, and for me its sound system is the best in any jazz club in the capital. The refurbishment is really classy – a bit different to its original early 80s incarnation as a smoked-out mysterious joint. The food and drinks are always top-notch, so that helps, too. My secret tip for visitors would be: hang around after the second set for bartender Lois's creative cocktails – and take in his soul tropical jazz mix, it's one of the best in the city. Definitely the place to go in Paris if you're looking for a straight-ahead jazz moment.
• 42 Rue de Lombards, 1st arrondissement, +33 1 42 33 22 88, ducdeslombards.com
Les Disquaires  | TOP 10 Paris jazz clubs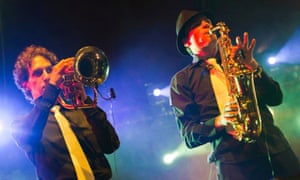 This is not your typical cosy jazz club: its minimalist style looks like one of the many bars you find in the Bastille area, with a young, hip crowd hanging out there due to cheap drinks and free entry. It's one of those rare venues in the city where the new breed of Parisian jazz players can experiment with new sounds in front of an audience of a similar age. The stage is narrow, but this is more of a musical laboratory than a concert hall. Here, bands mix jazz with contemporary influences, from pop to hip-hop, M-Base to Radiohead, and experiment with electronics, loops and drum machines. Les Disquaires is the place to go if you're looking for the next big thing in French experimental jazz. It also has funk and Brazilian bands on at weekends.
• 4-6 Rue des Taillandiers, 11th arrondissement, +33 1 40 21 94 60, lesdisquaires.com
Category Archives: Nightlife
Cheap London Broadway Tickets – Here's how to grab discount tickets for the best and biggest London theatre shows.
For theatre tickets to London shows and for tickets to all the latest musicals, plays and comedy such as Wicked, The Lion King or Les Miserables – you'll find a range of brilliant offers right here! Not sure where to start?
The top prices in the West End can be daunting, but cheap theatre tickets abound in London… Terrified at the prices of theatre tickets in London? Worried that you can't get tickets to a sold out play or the latest musicals? Or just a fan of a good discount? if you know how to get them. Here are tips on where to find them, as well as the best ways to score last minute tickets to sold out shows.
Cheap London Broadway Tickets
London is home to arguably the world's best theatre scene, with millions of visitors flocking to the area to enjoy everything from blockbuster musicals to crowd-pleasing comedies, classic revivals and cutting-edge drama. You can join them with our selection of last minute theatre tickets.
London's rich theatre history
Although the first purpose-built London theatres were found in East London and Southwark, its history can be traced all the way back to the 17th century, with the opening of the Theatre Royal on Drury Lane in 1663. The current building to hold that name is the fourth, and was opened in 1812.
Many of London's theatres date back to the 19th or early 20th centuries, and are often filled with lavish neo-classical and art deco features. Today, London is home to almost 40 theatres, and continues to go from strength-to-strength, with a record breaking 14.5 million London theatre tickets sold in 2013.
• Discount Cheap London Broadway Tickets lastminute are a good start for finding substantial discounts to shows in the West End proper and a few larger theatres elsewhere.
• Also try the reliable non-profit Leicester Square ticket booth, aka Tkts. Located in Leicester Square's Clocktower Building since 1980, with a second outlet at Brent Cross, it's run by the Society of London Theatre and is several cuts above other, unofficial touts in the vicinity.
• Remember that from fringe theatres to the West End, virtually every show will have reduced price previews prior to opening night. However, bear in mind that the production will technically still be a work-in-progress.
Who's Afraid of Virginia Woolf?
Multi-Olivier winner Imelda Staunton stars in the late Edward Albee's masterpieceWith timing both serendipitous and sad, this revival of Edward Albee's most famous play was announced the week the 88-year-old titan of American theatre died. Imelda Staunton and Conleth Hill will star as Martha and George, a warring WASP couple who suck new college professor Nick and his wife Honey into their horrible personal war.
School of Rock – Cheap London Broadway Tickets
Whereas Jack Black is the star of the 2003 original film, it's the kids that shine in this stage adaptation. The kids are really cute. And really talented. You would have to be an absolute monster to not be charmed and impressed by the little pipsqueaks. There are three child casts, who pluckily howl and strum their way through Lloyd Webber's undeniably toe-tappin' song list.
The Mousetrap
Agatha Christie's brilliant whodunit is still packing out St Martin's Theatre four decades after it was first staged here in 1974, making it the longest running show in the world, and for good reason. A countryside setting, a mystery murderer and a collection of highly suspicious characters ensure the audience is kept on the edge of their seats until all is revealed.
The Curious Incident of the Dog in the Night Time
Ultimately 'Curious Incident' is a tragedy about a family torn apart by the pressures of looking after their son. But this high quality, high tech adaption of Mark Haddon's novel which follows Christopher Boone, the teenage 'mathematician with some behavioural difficulties' remains a thing of unbridled wonder.
An American in Paris – Cheap London Broadway Tickets
Packed full of jazz standards from George and Ira Gershwin, 'An American in Paris' is a musical to treasure. And this lavish, award-winning Broadway production is a chance to see it at its glitzy finest – toe-tapping dance routines, gorgeous costumes, and swirling romance unfold in the capable hands of acclaimed choreographer and director Christopher Wheeldon.
Wicked
One of the world's best – and best-loved – musicals, this Wizard of Oz prequel has been wowing London theatre-goers for more than a decade. It's wickedly good, and a must for any lover of musicals. If you've not heard Defying Gravity performed live, then you really should give it a go.
London Musical Tickets
Cheap London Broadway Tickets for a London musical offer you a night of unforgettable entertainment. Visiting the West End is a memorable experience, there is nothing like the excitement of being in a theatre, getting to sing along and soak up the atmosphere. Watching musicals in London, live on stage, makes you feel part of the show. Mamma Mia, The Lion King and Phantom of the Opera are just a few of the spectacular West End shows you can now see. Make a night of it with musical and dinner tickets, or a hotel package. Take advantage of this fantastic opportunity, order now, collect the tickets on the night or get them delivered. At Theatre Tickets Direct you get London musical tickets to see top shows at affordable prices!
Category Archives: Nightlife
Amsterdam is renowned for its Cheap and Budget Amsterdam Coffee Shops." Here are seven of the best.
I'VE ZONED OUT AND my fellow "researchers" are waving away the final joint. They can't handle anymore either. There are only so many joints you can smoke in a day.
I take out my notepad and we try to convey how we feel about this place. After a few long pauses, we give up, order a drink, and begin to roll another joint. I guess you can never smoke too many.
Matador sent me on assignment in Amsterdam (no expenses paid) to find the best coffee shops in the city. This marked my fourth trip to the city and I was only happy to oblige.
If you are looking for the Cheap and Budget Amsterdam Coffee Shops best of the best, follow your nose to these places for the highest times in Amsterdam.
Note: Amsterdam recently banned smoking tobacco indoors. This has hurt many of the coffee shops since people in Europe smoke marijuana with tobacco.
A few coffee shops have set up separate areas where people are allowed to smoke inside. A few turn a blind eye to the ban. Most tell you to go outside and offer a herbal tobacco substitute. Ask before you light up.
Cheap and Budget Amsterdam Coffee Shops
Trinity
This coffee shop is out of the city center, making it a "locals only" spot. (I found it with the help of a local.) There's a big bar with a great selection, much, much cheaper than the center. There's also a few pool tables, a big screen TV, and a separate smoking room.
The staff is really friendly and the locals are intrigued as to how you found this place. The smoking ban hit this place hard so it's not as packed as it used to be but it's more relaxed than other places.
De Rokerij
This café is located on the way to Leidsplein and has a mystical ambiance, one long room with dark lights and darker walls with tribal designs for you to stare at all day.
The weed here is good but the place is better known for its atmosphere. You aren't allowed to smoke tobacco and they offer an herbal substitute. The drinks here are also reasonably priced considering its location.
The Greenhouse
This coffee shop has three locations, the flagship located in the Red Light district. It's one of the most famous in Amsterdam and the walls are adorned with photos of celebrities to prove it. Their weed constantly wins the Cannabis Cup (try the haze).
Cheap and Budget Amsterdam Coffee Shops & Cheap drinks help cushion the blow to your wallet. You can't smoke inside but there are outdoor tables or you can use the free tobacco substitute they provide. The music is eclectic (I heard Pink Floyd and Snoop Dog in the same sitting) and the décor dark and relaxing. They even have a few coves in the wall to relax in.
The Grasshopper
Located in between Damrak and the Red Light district, this coffeeshop wears multiple hats- it's a bar, restaurant, and coffee shop. Head downstairs for the coffee shop.
They've created a separate smoking area down here so you can light up anything smokable. Tables are lined together in close quarters, making it easy to meet people. TVs run in the background and music plays over the speakers. The staff is friendly and knowledgeable and the weed is reasonably priced.
Hunter's Café
Hunter's has been one of my favorites since I started coming to Amsterdam.
Located right at the beginning of the Red Light district, this place is a little touristy, however, the black decor gives a nice lounge feel and there are ample chairs and couches to relax on.
Staff is really friendly and the prices are somewhat cheaper than other shops in the area. They make great shakes, too. There's no tobacco allowed here, but you can use the substitute they offer. Just head up Warmastraat and look for the giant peeing dog.
Dolphins
Located right off Leidstraat near Liesplein, this coffee shop follows the ocean theme all the way. The walls are painted blue with various sea life images and "coral" is replicated to give this place a true underwater feeling.
Upstairs has the bar and a few tables. You can't smoke tobacco up there, but head downstairs where the big comfy couches and TV welcome you with open arms. They also offer free wi-fi.
DampKring
Cheap and Budget Amsterdam Coffee Shops was made famous by the movie "Ocean's 12" and has since seen a steady stream of people trying to pretend they're Brad Pitt or George Clooney.
The shop has a wide open interior with orange painted walls. The various shades of orange are in different shapes to provide for the ultimate psychedelic experience.
Good drinks and good weed are served here at standard prices. The tables have patterns carved into them. They turn a blind eye to smoking inside-if they don't see it, it's not there. A lazy cat sits in the window all day to greet you as you come in.
No matter where you go, remember that these coffee shops all share similar characteristics. They have atmosphere, a friendly staff, couches, good drinks, and friendly stoners. Look for that and you'll find the best coffee shop in Amsterdam.