A CHARITY THAT supports people affected by gambling addiction in Ireland faces the prospect of folding in the coming months unless it receives an urgent funding injection. 
The Extern Problem Gambling Project – which runs the website problemgambling.ie – provides supports and counselling for problem gamblers, referrals for related services and provides talks in schools.
Founded five years ago, its CEO Barry Grant had hoped that by now the government's gambling legislation first proposed in 2013 – which would provide a "social fund" for problem gambling treatment and prevention – would be well established.
Instead, this legislation has gathered dust and Grant told TheJournal.ie that over the years his organisation had applied to every government organisation and semi-state body related to this area for funding to no avail. 
"We've always faced funding issues," he said. "We're at a point now. After some philanthropic funding in 2019 helped us to provide a counselling service and some educational services – that's now run out. Unfortunately it's where we're at."
The charity has been at the forefront in campaigning for Ireland's gambling laws to be changed and amended to reflect gambling in the 21st century, including the proliferation of online betting.
Extern's calls have followed those of other groups and political parties in recent times. 
A recent position paper from the College of Psychiatrists in Ireland has called for urgent action to deal with the "public health crisis" of problem gambling in this country. 
It called for an outright ban on gambling advertisements in sports along with dedicated treatment pathways to support those who need help with gambling addiction.
Since 2013, legislation which would reform Ireland's gambling laws has not been progressed by the government. It is expected that the government will roll out reforms at some stage this year, including the establishment of a gambling regulator.
Grant said that he had seen "false dawns" regarding legislation to reform the gambling sector on a number of occasions in the seven-and-a-half years since the government first proposed new gambling laws. 
"We'd a 50% increase in traffic to our website last year," he said. "We know people are spending more time gambling online than ever before with the shops closed for large periods due to Covid.
That's something that's extremely worrying. At the same time, government at policy level is completely ignoring this. 
He described how the group had been unsuccessful in its efforts to receive government funding, and highlighted recent failed applications to the HSE for Section 39 funding.
"These applications are torturous, and have to be to make sure things like governance and financials are all in order," Grant said. "It took weeks. Within hours of submitting, we'd have HSE managers coming back to us to say gambling wasn't in their remit.
When we set this up five years ago, I'd hoped we'd be in a different situation. In my naivety, I'd believed the government would enact this legislation, and with the social fund we'd be in a position to commission more services on the ground. Where we are now is very different.
#Open journalism
No news is bad news
Support The Journal
Your contributions will help us continue
to deliver the stories that are important to you
Speaking in the Dáil this week, Sinn Féin spokesperson on addiction, recovery and wellbeing Thomas Gould calling for specific supports for people with gambling addiction issues to be established by the government. 
He said: "There are no supports for people with gambling addictions and the Extern Problem Gambling Project, which provides counselling for those with such an addiction, receives no Government funding.
"I contacted five Departments before Christmas, namely, the Departments of Justice, Health, Children and Youth Affairs, Rural and Community Development, and Education, and each came back with the response that no funding was available.
"A representative of the Extern Problem Gambling Project told me today that if the Government does not step in now, it will close in six weeks' time due to a lack of funding. We need to act now to support people who are in gambling addiction."
In a statement to TheJournal.ie, Gould also called for interim funding to be provided to fund Extern.
He said: "I have written to a number of Ministers and Junior Ministers seeking this funding. They need to pull the finger out now on gambling. This has dragged on for too long and those in addiction are now at risk of losing one of the only specialised supports they have now. This is a disgrace."
TheJournal.ie has contacted the Department of Justice – which is the lead department on gambling reform – for comment. 
Source: http://prntscr.com/fub00u
IRELAND'S FIRST COVID-19 antigen testing facility has opened in Dublin Airport. The move comes as some countries close down borders to untested fliers.
The facility opened this morning at Dublin Airport, with the rapid test costing €89 and with results available in one hour.
The antigen test, which detects viral protein fragments in a nasal swab, is now required before travelling to the Netherlands. The Dutch Government has said that all travellers to the country must produce a negative antigen test result immediately before departure, as well as a PCR test up to 72 hours before departure.
Antigen examinations are thought to be less effective than the more common PCR and are focused on catching the illness at the peak of infection.
The Dublin Airport testing is provided by Rocdoc and is available in drive through and walkthrough facilities. It is not just for those travelling on flights, it is also available for the general public.
David Rock, RocDoc Chief Executive, said the company plans to roll out antigen testing across the country shortly.
"We have been trialling antigen tests at RocDoc for a number of weeks now and we are very pleased to announce that we are the first company to provide antigen tests at an Irish airport.
"We would encourage passengers to arrive in adequate time to get the test done before heading through the airport," he said.
RocDoc also provides pre-departure Health Products Regulatory Authority (HPRA) approved CE marked PCR and LAMP tests for passengers flying out of Dublin Airport.  The EU-wide 'traffic light' system requires all passengers travelling from at-risk regions to undergo a pre-departure test for Covid-19.
RocDoc is based in Ashbourne Co Meath and launched its private COVID-19 testing services in August 2020.
At present the State do not recognise antigen testing as a replacement for the more reliable PCR tests, Despite this Health Minister Stephen Donnelly, in reply to a Dáil question, said this week that his department were examining a broader roll out. 
"I want to see more of it. It is already being deployed, including in Letterkenny and in healthcare settings. We are working on other places where it can be deployed. I note, for example, the very wide use of it in the UK and we are exploring how it can be deployed here.
"I agree wholeheartedly that it is not in a place where it would replace PCR testing. It is to be used in places where we would not otherwise use PCR testing."
It was announced earlier this week, by the HSE, that Ireland will receive its first allocation of antigen tests from the European Commission in the first quarter of this year.
#Open journalism
No news is bad news
Support The Journal
Your contributions will help us continue
to deliver the stories that are important to you
Before Christmas, the European Commission signed a contract with Abbott and Roche allowing the purchase of over 20 million rapid antigen tests at a cost of €100 million. 
It is recommended that EU countries use antigen tests in certain situations and settings, such as diagnoses among symptomatic cases, contacts of confirmed cases, outbreak clusters, screening in high-risk areas and closed settings.
The Commission also recommends using rapid antigen tests for population-wide screening in epidemiological situations or areas where the proportion of test positivity is very high.
It is hoped that rapid antigen testing will assist with preventing outbreaks in hospitals and other healthcare settings.  
Additional reporting by Christina Finn.
Source: http://prntscr.com/fub00u
FREIGHT TRANSPORT ASSOCIATION Ireland has warned supply chains "are slowing up" and criticised as "unsustainable" the current level of inspection of goods coming into Ireland. 
In a week that has seen disruption to supply chains and stocks across the island of Ireland, the FTAI has raised concerns about the impact of post-Brexit importation and the timelines given to the industry to adjust to new rules. 
FTAI General Manager Aidan Flynn said it is "unbelievable" that 30% of goods imported into Dublin Port are being inspected, which he described as "unsustainable". 
Speaking on RTÉ's Today with Claire Byrne, Flynn said the industry is not able to handle the new documentary and regulatory requirements. 
He said industries "haven't had a chance to test" these new regulatory customs requirements and that "supply chains are slowing up" as a result.
While some issues may be ironed out, there is significant pressure on the haulage industry which operates on "very, very tight margins, who really don't have any time to waste, as we try and understand what the new requirements are," Flynn said. 
Last week, Revenue gave a stern warning that many businesses "were not as prepared as they thought or significantly underestimated what was involved in being Brexit ready".
At a Brexit briefing in December, Eddie Burke from the Department of Transport was asked how long it could take for traders to get used to new post-Brexit checks and systems. He said it unclear how long it would take. 
Given the new processes and checks that have to be done on goods, particularly on goods entering Ireland from the UK, delays are inevitable. 
"Customs and other regulatory checks take time — and some take longer amounts of time than others," Revenue Commissioner Gerry Harrahill explained last week.
These aren't new processes — Irish authorities have been carrying them out on goods coming from 'third countries' for years.
However, these have never been applied to UK goods until now, meaning the overall volume of imports that have to be checked increased basically overnight on 1 January.
Agricultural and food products travelling from the UK into Ireland will have to be checked to ensure they meet European safety standards. 
Plant and animal products coming from Britain will have to travel with a health certificate signed by a UK vet and official identity seal.
#Open journalism
No news is bad news
Support The Journal
Your contributions will help us continue
to deliver the stories that are important to you
Farm equipment will have to be checked to make sure it's not contaminated with soil.
Consignments can be rejected or unloaded and the individual boxes checked if they don't meet the new requirements. 
While there have been "isolated instances" of empty supermarket shelves this week, FTAI's Flynn said many retailers had stockpiled before Christmas and said there is "no cause for concern at the moment."
"But there's no doubt that supply chain is reliant on efficiency. We do rely on Britain and have done a lot for the landbridge to connect continental Europe," said Flynn. 
"We do have new direct services to continental Europe, but we just don't have enough to be able to handle the volumes we are seeing, over-bookings on ferries, which obviously highlights the fact that the increased demand needs to be dealt with."
"And we didn't see an awful lot of support for new ferry operations into continental Europe…and we need more support from various different departments in Government to help support industry transition so that there isn't a long term issues with supply chains."
With reporting from Gráinne Ní Aodha and Ian Curran


As the clock ticks down, get all the best Brexit news and analysis in your inbox:
Source: http://prntscr.com/fub00u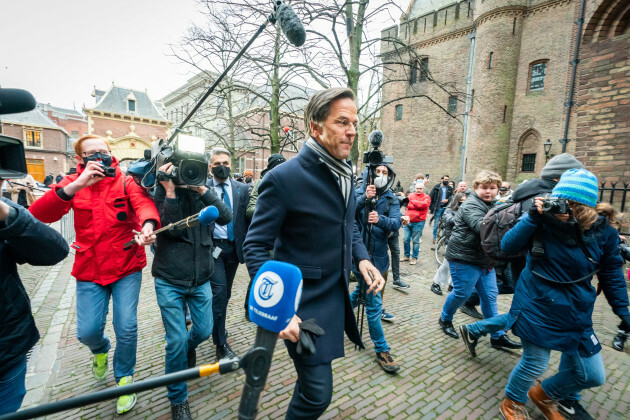 Mark Rutte en route to hand his resignation to King Willem-Alexander.
Source: SIPA USA/PA Images
DUTCH PRIME MINISTER Mark Rutte's government resigned today over a child benefits scandal, threatening political instability as the country battles the coronavirus pandemic.
Thousands of parents were wrongly accused by Dutch authorities of fraudulently claiming child allowance, with many of them forced to pay back large amounts of money and ending up in financial ruin.
The fact that some parents were targeted for investigation by tax officials because they had dual nationality also underscored long-standing criticisms of systemic racism in the Netherlands.
Rutte – one of Europe's longest-serving leaders, having been in power since 2010 – said the cabinet would stay on in a caretaker role to oversee the response to Covid-19 until elections in mid-March.
"The buck stops here," Rutte told a press conference after a crisis meeting of his four-party coalition cabinet in The Hague.
"We are of one mind: if the whole system has failed, only joint responsibility can be borne. And that leads to the conclusion that I have just now offered the king the resignation of the entire cabinet."
The rule of law must protect its citizens from an all-powerful government, and here that's gone terribly wrong.
Rutte defended the decision to resign when the Netherlands is fighting the coronavirus pandemic, with the country facing a surge in cases of a new variant first found in Britain.
"Our fight against coronavirus continues," said Rutte, adding that the caretaker cabinet would "do what is necessary in the interests of the country."
Polls say his Freedom and Democracy Party would likely come first in the next elections, putting Rutte in line for a fourth term since 2010.
'Lives destroyed'
A hard-hitting parliamentary investigation in December said civil servants cut off benefits to thousands of families wrongly accused of fraud between 2013 and 2019.
Many were required to pay back benefits totalling tens of thousands of euros. Reports said several couples had split up as a result of the strain.
Pressure had been mounting on Rutte to resign over the scandal, with the government facing a possible confidence vote.
The clamour grew after opposition Labour party chief Lodewijk Asscher, who was social affairs minister in Rutte's previous cabinet, resigned yesterday over the scandal.
Dutch far-right leader Geert Wilders, known for his strong statements against immigration and Islam, said it was "right" that the government had quit.
"Innocent people, were criminalised, their lives destroyed," Wilders said on Twitter. "It is not credible that officials should continue as if nothing had happened."
Green-Left party leader Jesse Klaver, another leading voice who had called for Rutte to resign, said the decision could be a "new start, a turning point" for the Netherlands.
#Open journalism
No news is bad news
Support The Journal
Your contributions will help us continue
to deliver the stories that are important to you
Dutch media said some 26,000 people had been affected by the scandal.
Tax officials were also revealed to have carried out "racial profiling" of 11,000 people based on their dual nationality, including some of those hit by the false benefit fraud accusations.
The Dutch government announced at least €30,000 in compensation for each parent who was wrongly accused but it has not been enough to silence the growing clamour over the scandal.
Victims lodged a legal complaint Tuesday against three serving ministers and two former ministers including Asscher.
Several parents released a video calling for the government to quit and "Rutte resign" has been trending on Twitter since Tuesday.
Rutte has led three coalition governments since 2010, most recently winning elections in 2017 despite strong opposition from Wilders.
Source: http://prntscr.com/fub00u
Updated 14 hours ago
TAOISEACH MICHEÁL MARTIN has cast doubt on the annual St. Patrick's Day trip to the White House saying that "the virus could dictate a lot of that". 
Martin made the comments during an address to the Institute of International and European Affairs (IIEA) in which he said that Ireland should "look forward greatly" to Joe Biden's presidency. 
The Taoiseach said that "the eyes of the world" are on the transition from the Trump administration to the Biden administration following what he described as the "appalling events of last week in Washington". 
Asked about the annual visit by the Taoiseach and ministers to the US capital, Martin said it could not be confirmed as yet. 
I think obviously the course of the of the virus could dictate a lot of that. When I invited President Biden to Ireland he said "try and keep me out", so it won't be out of a lack of enthusiasm on his part. But we have to practical about it, it's early days yet and Covid will have a significant impact on all bilateral contacts and meetings in the coming way.
Echoing previous comments he made to TheJournal.ie, Martin said that Biden wanted to "rapidly reset that relationship with Europe" 
The Taoiseach said that said that many of Biden's team are "well known to us" and that "we will be starting from a point of mutual friendship and respect". 
He said that Biden has been a "stalwart friend of Ireland" and that he "spoke passionately about his Irish heritage" during their phone call after his election win. 
Earlier this week, Biden named Dublin-born former UN ambassador Samantha Power to lead the US foreign aid agency and also picked Irish-American Marty Walsh as his Labour secretary. 
Brexit
Speaking at length about Brexit, both the 2016 vote and its effects, the Taoiseach said it was based on "40 years of English Euroscepticism" and that the debate was "not informed by the reality of what was being proposed".
We reject the false idea of sovereignty is compromised by respecting common policies and the rule of law within the union. In fact, is an essential enabler of sovereignty. It was once said that a small country is one which has to worry about its existence. If looked at that way, membership of the union has been an unprecedented act of guaranteeing the sovereignty of one's vulnerable states.
#Open journalism
No news is bad news
Support The Journal
Your contributions will help us continue
to deliver the stories that are important to you
Speaking about the current situation, Martin addressed concerns that have been raised about supply chain issues in Northern Ireland as a result of the ending of the post-Brexit transitionary period. 
NI Agriculture Minister Edwin Poots yesterday blamed Brexit's Northern Ireland Protocol for potential food shortages and singled out the Irish government, Sinn Fein, the SDLP and Alliance Party for criticism.
Martin said today the debate needed to be "depoliticised":
Potentially, due to continued access to obviously the UK market and the European Union Single Market,  it represents a very significant opportunity for Northern Ireland, I still believe that.
"I think what's critical is we, as rapidly as we can, depoliticise the Brexit debate now and get on with the pragmatic working out and operationalising of the protocol, trying to simplify and ease the trading environment for all of the companies and businesses involved."
Source: http://prntscr.com/fub00u
LLOYDS PHARMACY CHAIN has been forced to suspend its online doctor service due to Brexit.
The company has contacted its customers to inform them that law changes following Brexit mean that they are currently not allowed to offer the service. 
The service allows patients to get prescriptions for specific medications without seeing a doctor face-to-face.
Lloyds said that the reason they have had to suspend the service is down to a law which now states UK-based doctors can not prescribe Irish patients medications. 
A statement from Lloyds reads: "Unfortunately, we've had to temporarily suspend our service in Ireland and you won't be able to place any more orders for the moment. 
"This is due to a change in the law linked to the end of the Brexit transition period which means out Irish-registered but UK-based clinicians can no longer prescribe to our Irish patients."
Lloyds customers had been sent an email in the days leading up to the New Year which stated that their service would not be affected by Brexit. 
"We want to take this opportunity to apologise for any confusion or disruption this might cause to the way you get your treatments. We're doing everything we can to get the service back up and running. We'll update you as soon as possible," the statement added.
#Open journalism
No news is bad news
Support The Journal
Your contributions will help us continue
to deliver the stories that are important to you
Lloyds has been contacted for further comment.  


As the clock ticks down, get all the best Brexit news and analysis in your inbox:
Source: http://prntscr.com/fub00u
BRAZIL'S FEDERAL POLICE have arrested Argentinian golfer Angel Cabrera for extradition to his homeland to face charges for several crimes, officers said.
Cabrera, who won Masters and US Open championships, had been on Interpol's red code list.
Police said in a statement that an arrest was made in an upper class area of Rio de Janeiro, without announcing the suspect's name. It described him only as a 51-year-old Argentine.
Two federal police sources based in Rio separately confirmed to the Associated Press that Cabrera was the man arrested.
The police statement said the arrest was authorised by Brazil's top court and the man would be held until his extradition to Argentina.
Originally published at 13.03
Be part
of the team
Access exclusive podcasts, interviews and analysis with a monthly or annual membership.
Source: http://prntscr.com/fub00u
THE CHAIR OF the government's high-level Covid-19 vaccine task force has said officials will "learn a lot" from the three pilot mass vaccination centres in place this weekend.
Health Minister Stephen Donnelly confirmed earlier that three mass vaccination clinics will be set up tomorrow in Dublin Citywest, Galway and Portlaoise, Co Laois to vaccinate GP teams. 
The first batch of around 1,800 Moderna Covid-19 vaccines will be used in these centres.
Professor Brian MacCraith, Chair of Ireland's High-Level Task Force on Covid-19 Vaccination said: "I think we will learn a lot from that and the HSE estates team has been in advanced planning around this issue for weeks, maybe months, and I'll probably visit some of these myself over the weekend to get a sense of how they operate."
Speaking on RTÉ radio's News at One, he said this will "support the GP communities that are going to play such a critical role in the vaccination rollout". 
He said the country could soon be receiving "hundreds of thousands of vaccinations per week". 
Many people are wondering, when will I be able to get vaccinated? Everyone who wants to will receive their vaccination by September. This chart tells you when you are due to be vaccinated. 1/n pic.twitter.com/YtiXYux2zy
— Ossian Smyth TD (@smytho) January 14, 2021
Further mass vaccination centres "will be distributed regionally, and represent and reflect the demographic distribution", MacCraith said. 
He said that the task force is "looking at all possible sources of scaling up the vaccinated workforce beyond where it is at the moment". 
"We have a lot of offers from various sources. For example, talking to the Irish College of General Practitioners… but also cohorts of retired GPS have approached us, hospitals have offered weekend and evening clinics."
At its peak, he said the rollout would require 2,500-3,000 vaccinators and that over 4,000 people have so far undertaken vaccine-specific training online. 
Ireland might need to re-examine its vaccine rollout after it was announced today that US pharma group Pfizer will reduce vaccine deliveries as it ramps up production.  
#Open journalism
No news is bad news
Support The Journal
Your contributions will help us continue
to deliver the stories that are important to you
MacCraith said today that Pfizer's manufacturing plant in Belgium is currently scaling up from 1.3 billion doses per year to 2 billion doses which has lead to a pause due to "regulatory issues". 
"We can't make predictions about the actual scale backwards in terms of deliveries with confidence, as we've stated a number of times, on the number of vaccines that will be coming on a weekly basis from Pfizer," he said.
"And as of this moment we don't know what the implications are in that regard."
MacCraith said the task force is currently working through "a number of scenarios" about how the delay may affect Ireland's rollout. 
"We've always said from the very beginning of this that the implementation plan, the strategy had to be agile, we're dealing with so many factors that are uncertain and again, we're seeing potentially a production issue for one of the major vaccines.
"But it also highlights the fact that it's so important to have a range of vaccine possibilities coming on stream. So we'll wait and see. It's just very difficult to predict the impact of this but we will adjust accordingly. We've planned for this sort of eventuality, we'll adjust accordingly to change the rollout plan to accommodate this," he said. 


TheJournal.ie's coronavirus newsletter cuts through the misinformation and noise with the clear facts you need to make informed choices. Sign up here:
Source: http://prntscr.com/fub00u
COW & GATE AND Aptamil have recalled batches of their muesli range due to the possible presence of apple stalks. 
Nutricia, the company which makes the products, said that only one batch of the muesli is affected. 
The company said that point-of-sale recall notices will be placed in stores which were supplied the implicated batches.
The affected products are: 
Cow & Gate My First Muesli Baby Cereal +10 Months (330g with a best before of 13/10/21)
Aptamil Oats, Raisin and Apple Bircher Muesli +10 months (275g with a best before of 27/12/21)
Aptamil Multigrain & Fruit Bircher Muesli (275 g with a best before of 28/12/21)
More information can be found on the FSAI website here. 
#Open journalism
No news is bad news
Support The Journal
Your contributions will help us continue
to deliver the stories that are important to you
Source: http://prntscr.com/fub00u
TÁNAISTE LEO VARADKAR has indicated that there will be no ban on travellers from South America arriving into Ireland as there are no direct flights from that continent.
Travellers from South America are no longer allowed to come into the UK, amid fears over a new virus variant first identified in Brazil.
The UK's new travel ban came into effect at 4am this morning.
There have been some concerns raised about the Brazil variant possibly being more contagious.
Scientists analysing the Brazilian variant believe the mutations it shares with the new South African strain seem to be associated with a rapid increase in cases in locations where there have already been large outbreaks of the disease.
During yesterday's briefing, the National Public Health Emergency Team said no strain of the South American variant had been detected in Ireland.
15.01.21
Covid-19: UK bans passengers from South America amid concerns over new Brazilian variant
Passengers arriving from South American countries are routed through other EU countries, or the UK, before arriving in Ireland.
When asked about the UK travel ban and whether Ireland would follow suit with restrictions, Varadkar said:
"There aren't any direct flights from South America so that doesn't arise but any one entering the State from any other part of the word from this weekend will have to have evidence of a negative PCR test."
As countries in South America are listed as grey under Europe's traffic light system map, travellers from countries such as Brazil will have to restrict their movements for 14 days upon arrival in the country.
#Open journalism
No news is bad news
Support The Journal
Your contributions will help us continue
to deliver the stories that are important to you
This period can be reduced if a person takes another PCR test five days later, that returns a negative result.
Source: http://prntscr.com/fub00u
A DISQUALIFIED DRIVER who drove down the wrong side of the M50 to evade gardaí before ploughing into the car of an elderly couple has been jailed for six years.
Brian Reilly (24) ruined the lives of John and Ellen Armstrong after he crashed into their car as they were stopped at a red light in Finglas in January last year, Judge Melanie Greally told Dublin Circuit Criminal Court.
Ellen Armstrong suffered significant injuries and had to have the tip of her thumb amputated in the wake of the crash, which has left her dependent on others for care, the court heard.
Reilly, a disqualified driver with 126 previous convictions, was trying to evade gardaí after he was stopped and asked for his driving license. He had been released from jail just six weeks prior to the incident after serving a sentence for offences including endangerment, the court heard.
Reilly of Tailteann Drive, Navan, Co Meath, pleaded guilty to two counts of endangerment, one count of dangerous driving causing serious bodily harm to Ellen Armstrong, one count of refusing to provide a blood or urine sample and one count of driving without insurance on 29 January 2020.
Sentencing him today, Judge Greally said that Reilly "exposed four separate drivers to risk of death or serious harm" on the day in question.
"In the case of Mrs Armstrong, he inflicted a life-long episode of pain and loss of independence and loss of of the pursuits she enjoyed so much," she said.
She imposed a sentence of seven and a half years and suspended the final 18 months on a number of conditions, including that Reilly engage with drug addiction services. She disqualified him from driving for life.
Garda Kieran Moloney previously told the court that a garda approached Reilly's car at a garage on the North Road in Finglas, after he noticed Reilly and two other occupants of the car were acting suspiciously.
When asked for his licence, Reilly took off at speed, going the wrong way around a roundabout before joining the M50.
During the pursuit, which gardaí had to abandon as it was too dangerous, Reilly drove down the wrong side of the M50 in the hard shoulder before driving down the wrong side of the N2.
He clipped one car while swerving across lanes on the M50 and reversed into another car at the Ballymun slip road. The incident came to an end when he crashed into a van at Kilshane Cross.
This collision sent his car crashing into the Armstrongs, who were stopped at a red light. Their car then crashed into a tree.
Reilly fled the scene and was found by gardaí hiding behind a nearby bush. When taken to James Connolly Memorial Hospital, he refused to provide a blood or urine sample to ascertain whether he was intoxicated, the court heard.
Ellen Armstrong suffered multiple rib fractures and other injuries in the crash, the court heard. She had to have the tip of her right thumb amputated and now needs help washing, getting dressed and performing basic household tasks, according to her victim impact report.
Her husband John Armstrong still suffers pain on a daily basis since the incident. He suffered a head wound and had a seizure in the wake of the crash.
#Open journalism
No news is bad news
Support The Journal
Your contributions will help us continue
to deliver the stories that are important to you
The couple feel they have "little left to live for" now that their independence and daily activities, such as going for walks and shopping, have been taken away from them, the court heard.
Keith Spencer BL, defending, previously handed up a letter of apology to the Armstrongs but the court heard they do not wish to receive it at present.
Mr Spencer said his client had "panicked" when pulled over by gardaí. The court heard Reilly has spent much of his life in and out of prison and has a drug addiction. He is one of a large Traveller family and received a limited education.
Almost half of Reilly's previous convictions are for road traffic offences, including six for dangerous driving, nine for driving without a licence and eight for driving without insurance.
"He has directly caused adversity and harm to two individuals who were expecting a comfortable retirement," Mr Spencer said, adding Reilly was extremely remorseful.
Judge Greally accepted Reilly was genuinely remorseful and she noted he had a "less than ideal start in life". But she said he must face a lengthy prison sentence given the seriousness of his offending.
"These are two elderly people whose lives have been ruined because of the actions of the accused, who was disqualified from driving at the time," the judge said.
Source: http://prntscr.com/fub00u
FROM TODAY, ALL PAYE workers can check if they have any outstanding tax liabilities from 2020.
This morning, the Revenue made preliminary statements of tax liability available for all employees through the MyAccount portal on the Revenue.ie website.
Some 46% of us will have no outstanding balance for 2020 but 27% (over 600,000 workers) will have some sort of a hangover from last year.
Of that 600,000, over 400,000 people received payments under one of the government's Covid support schemes, the Temporary Wage Subsidy Scheme (TWSS) or the Pandemic Unemployment Payment (PUP).
Payments made under these schemes were not taxed at source, leaving an accumulation of tax liabilities that will have to be paid back.
Now – at the best of times, tax is confusing.
For many PAYE workers, who are used to their employers deducting income taxes and Universal Social Charge 'at source', this will be uncharted territory.
But to add to the confusion, the TWSS was replaced last September by the Employment Wage Subsidy Scheme, which remains in place. The good news is that payments made under that scheme are taxed at source as normal, meaning you won't have to worry about doing this all over again next year if your employer is still availing of it today.
With all of this in mind, we're going to try to answer some of the most pressing questions.  
When will I have to pay it back?
Probably the most important thing to understand if you received a preliminary tax bill this morning is when you'll have to pay it back.
The simple answer is: not right now.
The Revenue Commissioners have repeatedly stated that to "minimise any hardship", you can pay the money back gradually over a period of four years.
Revenue will do this by reducing your tax credits over time.
Crucially, that process won't start until 2022 so you won't have to pay a cent until then, unless you want to, of course.
If you do want to square away your tax affairs as soon as possible, you can opt to pay back the money straight away through the 'Payments/Repayments' facility in MyAccount.
How do I access my preliminary statement?
First of all, you'll have to log onto the MyAccount section of the Revenue.ie website.
If you don't have an account yet, it shouldn't take too long to set one up. All you need is your PPS number, email address, home address and phone number.
Once you're in, you'll see a section titled 'PAYE services'.
To access your preliminary statement, just click 'Review Your Tax 2017-2020′.
You'll then have an option to 'request' your preliminary statement of liability, which should appear in a matter of seconds, depending on how much traffic the Revenue website is handling.
How much will I owe?
This will vary from person to person.
Your statement will tell you whether you have overpaid or underpaid tax and by how much.
If you have overpaid, you'll be due a refund. According to Revenue data, over 706,000 taxpayers are in this position.
#Open journalism
No news is bad news
Support The Journal
Your contributions will help us continue
to deliver the stories that are important to you
"For those PAYE taxpayers that were in receipt of one or more of the wage supports during 2020, about 47% are either due a refund or have no additional liability; a further 23% have an additional tax liability of less than €500 and a further 15% have an additional tax liability of between €500 and €1,000," explained Declan Rigney, head of Revenue's Personal Division in a statement last night.
Is this my final tax bill?
No, it's just a preliminary statement.
Once you have it, you have to follow through and fill out an income tax return form on the Revenue.ie website.
All of the info from your statement will automatically appear in this form, meaning you just have to click through, check the info and approve it.
It will also include whatever employee tax credits you're entitled to.
This means that your final bill could be much lower than the figure stated in your preliminary statement.
How can I reduce my bill?
Apart from your standard tax credits, you might be entitled to others that can help shrink your final tax bill.
"Importantly, the figure owed to Revenue could be reduced to zero or even turned into a refund by claiming additional tax credits which many people are entitled to, but often don't claim," a spokesperson for the Association of Chartered Certified Accountants Ireland (ACCA) explained this morning.
According to ACCA, other tax credits include:
An eWorking tax credit of up €200, based on a simple formula of 30% of broadband costs and 10% of electricity costs
A home carer tax credit of up to €1,500 for people at home looking after their own children, a parent or relative living locally
Health and dental expenses 
Tax relief for pension contributions — a one-off payment to your pension as an "additional voluntary contribution" that will reduce your tax bill by up to €40 for every €100 contributed to the pension.
"These PAYE tax credits can be easily claimed through the 'myaccount' section of the Revenue website and you will not need an accountant to do this. Assistance can be accessed through Revenue's online chat facility where queries can be answered, and more information can be provided," the spokesperson said.
Source: http://prntscr.com/fub00u
ATTORNEY GENERAL PAUL Gallagher has told Taoiseach Micheál Martin that a referendum would not be required for survivors of Mother and Baby Homes to gain access to their birth certificates.
Fianna Fáil Senator Lisa Chambers told RTÉ's Today with Claire Byrne programme that a bill will be published shortly on information and tracing legislation.
Adopted people are not entitled to their birth certs or family information under the current law. The situation has been severely criticised by survivors for many years, but previous efforts to grant them access to their information have failed.
In the aftermath of the publication of the judicial commission of investigation report into the network of Mother and Baby Homes earlier this week, survivors said that the State's apology is hard to accept without access to their personal records.
The commission of investigation acknowledged the right to a birth cert and stated that it should be allowed.
It suggested that a referendum would be required to overcome the problem, basing its stance on legal advice given to then children's minister Katherine Zappone by then Attorney General Séamus Woulfe.
However, legal experts disagreed with this view. David Kenny, Assistant Professor of Law at Trinity College, wrote in TheJournal.ie that no referendum is needed, and the Oireachtas can legislate for an unqualified right of access to records. 
"The (previous) Attorney General's concern is based on a valid and important consideration: the privacy rights of birth mothers, some of whom do not wish to have their identities revealed, and may have expected that this would never happen," Kenny wrote.
But the rights of adopted people to know their identity are similarly important, and this is a situation where rights clash: we cannot defend both at the same time.
#Open journalism
No news is bad news
Support The Journal
Your contributions will help us continue
to deliver the stories that are important to you
After the report was published, the government steered clear of promising survivors access, amid uncertainty about whether it was legally possible.
Chambers did not provide a timeline for when the legislation will be published when she announced the development today.
Source: http://prntscr.com/fub00u
A FURTHER 3,498 new cases of Covid-19 have been confirmed in Ireland, the National Public Health Emergency Team (NPHET) has said this evening.
In a statement, it said that a further 50 people confirmed to have Covid-19 have died.
The death toll from Covid-19 in Ireland is 2,536, and the total number of confirmed cases is now at 166,548.
Of the cases notified today:
1,576 are men / 1,906 are women
54% are under 45 years of age
The median age is 42 years old
1,182 are in Dublin, 421 in Cork, 258 in Limerick, 187 in Galway, 164 in Waterford, and the remaining 1,286 cases are spread across all other counties.
As of 2pm today, 1,850 Covid-19 patients are hospitalised of which184 are in ICU. there were 118 additional hospitalisations in the past 24 hours.
Dr Tony Holohan, Chief Medical Officer said new variants of Covid have recently been identified in Brazil, and in travellers to Japan from Brazil. He said is no evidence of these variants in Ireland.
"Anyone who has travelled from Brazil in the last 14 days is advised to self-isolate for 14 days, from the date of arrival, and identify themselves, through a GP, for testing as soon as possible," he added.
Dr Ronan Glynn, Deputy Chief Medical Officer, added "We have worked exceptionally hard in recent weeks to reduce our close contacts. At the end of December, the number of close contacts per confirmed case peaked at approximately 6. That has now dropped to 2.3 contacts. This enormous effort is the reason we are seeing case numbers beginning to fall." 
We have worked exceptionally hard in Ireland in recent weeks to reduce our close contacts. At the end of December, the number of close contacts per confirmed case peaked at approximately 6. That has now dropped to 2.3 contacts per case. @roinnslainte #COVID19 @ICGPnews @HSELive
— Dr Ronan Glynn (@ronan_glynn) January 15, 2021
"We know that it is extremely difficult to keep our close contacts to a minimum, particularly over an extended period of time. But this is the main way we can protect ourselves and our loved ones from Covid-19. Again today, we are reporting the highest number of people with Covid-19 to date in our hospitals. We must stay home to protect ourselves and each other."
Recording of deaths
NPHET said all of today's reported 50 deaths occurred in January 2021. The median age of those who died was 82 years, and the age range was 45-96 years. There was no newly reported death in healthcare workers. There was no newly reported death in a young person under the age of 30, their statement read. 
#Open journalism
No news is bad news
Support The Journal
Your contributions will help us continue
to deliver the stories that are important to you
Deaths of people with Covid-19 are not reported in real-time but may have occurred over a period of several days. 
The number of deaths reported on a given day, therefore, does not necessarily mean that a person with Covid-19 died within the previous 24-hour period or even the preceding few days.
In the early days of the pandemic, Chief Medical Officer Dr Tony Holohan urged families, despite the difficulty, to register their loved one's death as early as possible so that health officials could gain an accurate picture of mortality.
Essentially, there is a delay between when a person dies from Covid-19 and the National Public Health Emergency Team being informed of their passing
With reporting by Cónal Thomas and Garreth MacNamee


TheJournal.ie's coronavirus newsletter cuts through the misinformation and noise with the clear facts you need to make informed choices. Sign up here:
Source: http://prntscr.com/fub00u
DUBLIN CITY COUNCIL is looking to gauge interest from potential contractors for a €22 million "flagship" white-water rafting facility in Dublin, which has been the subject of considerable backlash.
The Council has issued an 'expression of interest' document for a potential contractor to build the facility which will include a white-water rafting course, swift-water rescue training facility and a kayaking and canoe polo pool area at George's Dock on the River Liffey. 
The scheme was delayed last year with the onset of the pandemic. The council faced much criticism over the €22.8 million bill for the project, coming in the midst of a housing and homelessness crisis.
The Council aims to create a central island with a canoe polo pool including a kayak and canoe conveyor, pumping station, swift-water rescue training centre and a "floodable urban street," according to a document released today.
The final contractor will also be expected to carry out conservation work to the existing dock and works to include a new mechanical structure to operate the facility. 
"The successful tenderer will be required to demonstrate a high degree of environmental awareness. This project will be a flagship project for the roll out by DCC of environmental design best practice regarding climate change matters.
"Contractors must note their enthusiastic participation in this initiative is required," the Council has said. 
The deadline for submissions to express interest in the project is 22 February. It is expected that a full tender for construction will then be issued by the Council in the coming months. 
The Council has said the project remains subject to funding. 
#Open journalism
No news is bad news
Support The Journal
Your contributions will help us continue
to deliver the stories that are important to you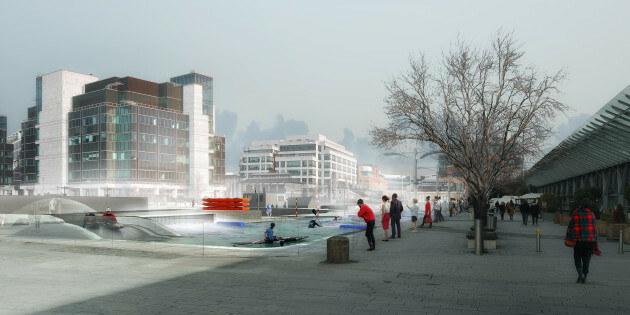 Visual of the amenity alongside the CHQ building at George's Dock.
Source: DCC
Amid concerns expressed last year by local representatives, the Council said that more than half of funding for the project – €13 million – would be covered through Government grants, with a further €4.9 million covered through development levies, and another €4 million coming from capital reserves. 
However, TheJournal.ie previously learned that a €6.6 million grant application was refused by the government.
The application to the Large Scale Sports Infrastructure Fund (LSSIF) "did not score highly enough" according to the Department of Transport, Tourism and Sport which administers the scheme.
A Council spokesperson told TheJournal.ie last October: "We do not expect to publish tender documents for the main contract in 2020.  It is hoped that the construction contract will be advertised on eTenders in Q1 2021.
Discussions are ongoing with funding bodies but it is hoped that all necessary external funding for the project will be confirmed prior to tendering for the main contract.
Covid-19 has certainly effected our programme for getting the project to tender stage due to challenges with remote working for the Multi-disciplinary Design Team.
With reporting by Sean Murray
Source: http://prntscr.com/fub00u
BORIS JOHNSON HAS scrapped the UK's travel corridors, meaning arrivals from every country must self-isolate for at least five days.
He told the Downing Street press conference that the measure is in response to the rollout of coronavirus vaccines and the discovery of new strains of the virus.
He said: "It's precisely because we have the hope of that vaccine and the risk of new strains coming from overseas that we must take additional steps now to stop those strains from entering the country.
"Yesterday we announced that we're banning flights from South America and Portugal and to protect us against the risk from as-yet-unidentified strains we will also temporarily close all travel corridors from 4am on Monday."
People arriving in the UK from a destination with a travel corridor are currently exempt from the 10-day quarantine requirement.
The new policy means arrivals from every destination will need to self-isolate for 10 days, or receive a negative result from a coronavirus test taken at least five days after they enter the UK.
It had already been announced that travellers arriving in England and Scotland from Monday will need to have a negative test taken up to 72 hours before leaving the country of departure.
Tim Alderslade, chief executive of trade body Airlines UK, said travel corridors were a "lifeline" for the travel industry when they were introduced in summer 2020.
#Open journalism
No news is bad news
Support The Journal
Your contributions will help us continue
to deliver the stories that are important to you
He acknowledged that "things change" and it is the correct decision to remove them, but added that restrictions should be eased again "when it is safe to do so".
Joss Croft, chief executive of inbound tourism body UKinbound, said: "Consumer safety is paramount and although the removal of all travel corridors is regrettable, given the current trajectory of the virus it's an understandable decision."
Source: http://prntscr.com/fub00u
TÁNAISTE LEO VARADKAR has said designating the Beacon Hospital in Dublin as a vaccination centre for healthcare workers is "at odds" with the hospital's refusal to sign up to the deal that allows the HSE use bed capacity in private hospitals.
Speaking outside Government Buildings today, Varadkar said he did not know if there was a review clause in the Beacon-HSE contract, but said if there is perhaps it should be looked at.
However, he added that any agreement between the Beacon Hospital and the health service in relation to the vaccine centre would have been signed with the HSE, not government.
A deal was struck this month between the HSE and a number of private hospitals, other than the Beacon, to supply, depending on the incidence of the Covid-19, up to 30 per cent of their capacity. 
The arrangement will be in place for 12 months, during which safety net measures would be invoked in the event of Covid-19 surges.
Vaccinations commenced for healthcare workers from across Dublin South, Kildare and West Wicklow, including "a select number" of healthcare workers from the Beacon Hospital, at a newly set up mass vaccination centre, according to a Beacon Hospital spokesperson.
A press release issued yesterday indicated that a number of healthcare workers from the Beacon Hospital received their jab this week. 
"The prioritisation that the Government has agreed puts healthcare workers in three categories. Number one; those who are dealing with patients, particularly those dealing with Covid patients and number two; those dealing with samples for example, people working in labs and pathology and then in third those healthcare workers who are not dealing with patients, that is the Government policy and we believe that should be adhered to," Varadkar said today.
The vaccination centre, located at the Beacon Hotel, which was recently purchased by Beacon Hospital, has vaccination stations and can provide minimum 100 vaccines per hour.
A spokesperson for the hospital told TheJournal.ie that the centre was set up to support the HSE, with the Beacon Hospital staff administering vaccines "free of charge". 
Related Reads
15.01.21
No plans to ban South American passengers as there are no direct flights into Ireland
15.01.21
EMA says shorter process can be used if vaccines have to be adapted for new strains
They added that while some Beacon healthcare workers working with the vaccine team have been given the vaccine, over 1,000 HSE workers have also been vaccinated at the centre.
There is currently a vaccination team of up to 90 Beacon Hospital doctors and nurses administering vaccines Monday to Saturday, the hospital said this week.
Labour leader Alan Kelly hit out against the hospital this week, stating:
"At a time when our country is facing so many unknowns with this virus, it is absolutely shameful that the Beacon Hospital, one of the largest private hospitals in our capital city, chose to opt out of this process."
Speaking about the issue this week, HSE boss Paul Reid said one hospital group were looking for a location for a mass vaccination centre, and it engaged directly with the Beacon Hospital. 
"It does appear to be a good facility," he said, but added: 
#Open journalism
No news is bad news
Support The Journal
Your contributions will help us continue
to deliver the stories that are important to you
"It is, to be frank, at odds with the fact that we don't have a an agreement currently with the Beacon Hospital,  signed agreements, in relation to the surge or safety net deal, and that is a concern of mine."
A spokesperson for the Beacon Hospital said that engagement between the hospital and the HSE is ongoing. They added that the hospital does already provide capacity to the HSE under existing agreements, stating that 20% of surgical capacity is currently being used by public patients and 50% ICU capacity is being used to support public patients under current arrangements.
They indicated that capacity in the hospital for public patients "will increase over the coming days". 
Source: http://prntscr.com/fub00u
A NUMBER OF claims on social media have suggested that face masks are not effective against Covid-19.
Some social media users have said that masks do not work or aren't safe, while one post has claimed that there have been no studies on the "protective value of repeat wearing of dirty, contaminated cloth masks".
However, claims that masks are ineffective or unsafe are not supported by trusted scientific evidence nor by public health bodies which have recommended their use to curb the spread of Covid-19.
The Claim
Multiple claims have appeared on social media in recent months arguing that masks are ineffective.
One post on an Irish Facebook page from December wrote: "It's a con the world's biggest con and most people wear them knowing they don't work only afraid of what people will say to you."
Another Facebook post that made several false claims said that people "continue to promote masks as safe and effective, despite ample sources for and against" and that "even now [people] don't want to know about the risks associated with mask-wearing."
The post has been seen over 63,000 times since it was first posted on 17 October.
On 28 December, a Twitter user tweeted: "What is the protective value of repeat wearing of dirty, contaminated, cloth masks? No study has ever been done on this real world question. Even in perfect sterile conditions, surgical grade masks are quickly contaminated with viral particles and should be replaced." 
The tweet was originally posted on Twitter on 28 December and has since been screenshotted and shared elsewhere on social media.

A tweet shared on 28 December
The Evidence 
The World Health Organization, the Centres for Disease Control and Prevention (CDC) in the US, and the Health Service Executive (HSE) – as well as other bodies around the world – recommend the use of masks to help curb the spread of the virus.
There is widespread scientific evidence to show that masks can help to reduce the spread of infections, and in the last year, a range of studies have been carried out on masks' effectiveness against Covid-19. 
The virus spreads between people from an infected person's mouth or nose in "small liquid particles when they cough, sneeze, speak, sing, or breathe heavily", according to the WHO.
"Other people can catch Covid-19 when the virus gets into their mouth, nose or eyes, which is more likely to happen when people are in direct or close contact (less than one metre apart) with an infected person."
Masks, including cloth masks, work by reducing the spread of droplets that spread a virus, mostly by blocking particles that a person wearing a mask exhales, but they can also reduce the droplets that a person wearing a mask inhales by filtering droplets and particles.
One social media user asked what the "protective value [is] of repeat wearing of dirty, contaminated, cloth masks" – but it is not recommended to wear a dirty or contaminated mask in the first place.
Public health guidance advises that cloth masks should be washed frequently with soap and hot water.
There has been scientific research carried out into the efficacy of cloth masks and how to decontaminate them between uses, particularly in the past year as their usage has grown massively. 
A study published in September 2020 tested different types of common disposable masks and cloth masks, especially ones from common fabrics that could be used if there was a shortage of other masks, like surgical masks.
It recommended that cloth masks which have multiple layers and use a blend of different fabrics are the most effective, particularly ones which have an inner layer of cotton or linen, a blended middle layer, and an outer layer of polyester or nylon.
Cloth masks that are being reused should be washed daily in soap and water heated to at least 60 degrees Celsius, the study said.
"While cloth face coverings may not be as protective as surgical masks or respirators, an optimal quality cloth mask can be designed by an understanding of the principles of design and the differences between filter mediums, construction, mechanisms of action of different fabrics, key performance factors and limitations in these common masks," it said.
"Formal guidance of design principles for cloth masks should be provided by governments where cloth masks are recommended.
"Mask wearing in the general population with a well-designed cloth mask can flatten the curve in areas of high incidence and should be used in combination with other non-pharmaceutical options such as social distancing and hand hygiene," it concluded.
Another study, which was published in October 2020, outlines that cloth masks are not the optimal mask type for healthcare workers, who should ideally use a medical or surgical mask, but that they are useful in a community setting to prevent the spread of infection.
"Protection [given by cloth masks] is affected by proper mask use as well as by selection of fabric and design of the masks for water resistance, filtration, and fit," the study said.
"Current evidence suggests that multilayered masks with water-resistant fabric, high number of threads, and finer weave may be more protective," it said.
The study said that cloth masks "can be reused after being decontaminated by various techniques, ideally washing in hot water with soap".
"Other methods or products include using bleach, isopropyl alcohol, or hydrogen peroxide; autoclaving or microwaving; and application of ultraviolet radiation or dry heat.
#Open journalism
No news is bad news
Support The Journal
Your contributions will help us continue
to deliver the stories that are important to you
"Unlike disposable medical masks and respirators, the material of cloth masks is unlikely to degrade from standard decontamination procedures."
Researchers have noted that more studies should be done on different types of cloth masks and their efficiency, but that current evidence does show they have value for preventing the transmission of infection.  
At the start of the pandemic, some scientists did have questions about how effective masks would turn out to be against the virus, but as time went on, it became clear that they were helping to curb the spread.
TheJournal.ie has previously debunked claims around the safety of masks, including the suggestions that:
Spikes in Covid-19 infections were actually Legionnaire's disease caused by mask-wearing: FALSE
Masks reduce oxygen intake: FALSE
Masks are dangerous harbours for germs: FALSE
A German court ruled masks posed a danger to health: FALSE
The Verdict
Public health organisations around the world have recommended the use of face masks in certain settings during the Covid-19 pandemic because of the protection they offer against the spread of infection.
Scientific studies have tested the efficacy of face coverings, including cloth masks.
The suggestion that no study has been done on the protective value of dirty or contaminated cloth masks is a fallacy – official guidance advises that cloth masks should be washed and decontaminated between uses.
There have been multiple studies looking at the effectiveness of cloth masks against viruses, and specifically against Covid-19, and how to clean them.
Current evidence shows that cloth masks are useful in a community setting to prevent the spread of infection, but that medical and surgical masks are more appropriate for healthcare workers, although cloth masks can also be useful in a healthcare setting where other masks are not available.
Many researchers agree that more studies should continue to be carried out to obtain as much information as possible about the best materials, fittings and other properties for cloth masks.
As a result, we rate the claim that masks don't work: FALSE.
As per our verdict guide, this means: The claim is inaccurate.
TheJournal.ie's FactCheck is a signatory to the International Fact-Checking Network's Code of Principles. You can read it here. For information on how FactCheck works, what the verdicts mean, and how you can take part, check out our Reader's Guide here. You can read about the team of editors and reporters who work on the factchecks here.
Source: http://prntscr.com/fub00u
TWO MILLION PEOPLE have now died worldwide with coronavirus, figures show.
The tally by the Johns Hopkins University passed the threshold on Friday, showing a new figure of 2,000,905.
The university, based in Baltimore in the US state of Maryland, says that more than 93 million people worldwide have been infected by the Covid-19 virus.
The milestone was reached just over a year after the coronavirus was first detected in the Chinese city of Wuhan and as vaccines developed at breakneck speed are being rolled out around the world in an all-out campaign to vanquish the threat.
The number of dead is about equal to the population of Brussels, Mecca, Minsk or Vienna.
While the count is based on figures supplied by government agencies around the world, the real toll is believed to be significantly higher, in part because of inadequate testing and the many fatalities that were inaccurately attributed to other causes, especially early in the outbreak.
It took eight months to hit one million dead.
It took less than four months after that to reach the next million.
#Open journalism
No news is bad news
Support The Journal
Your contributions will help us continue
to deliver the stories that are important to you
"Behind this terrible number are names and faces — the smile that will now only be a memory, the seat forever empty at the dinner table, the room that echoes with the silence of a loved one," said UN Secretary-General Antonio Guterres.
He said the toll "has been made worse by the absence of a global coordinated effort".
"Science has succeeded, but solidarity has failed," he said.
Source: http://prntscr.com/fub00u
A SENIOR GARDA has issued a strong appeal to "a minority" who are not complying with the stay at home order.
In a statement issued this afternoon An Garda Síochána said that these people "put everybody's health at risk".
The organisation said that their members had experienced overwhelming public support for the regulations but called on people to stay the course.
Deputy Commissioner John Twomey, Policing and Security said there was no break from the threat of the virus.
"Throughout this pandemic the vast majority of people have been compliant with public health advice. We thank them for that. We know this hasn't been easy and has involved great sacrifices.
"However, as we all know, Covid-19 doesn't relax. It doesn't take weekends off. We are asking people to remember this as they plan their weekend so they can enjoy it while protecting themselves and others.
"Exercise within 5km of your home. If you are doing this in a place that is getting crowded then leave. Minimise your contacts. Only take essential journeys. Maintain social distancing. Wash your hands.
"When visiting amenities within 5km of your home park legally. Illegal parking can hinder access by emergency services and could put lives at risk. As we saw last weekend, people who illegally park are at risk of having their cars towed and impounded," he said.
Deputy Commissioner Twomey's comments come after it was revealed that gardaí on a checkpoint stopped a group outside their county to a chipper. 
Since Monday, Gardaí may now issue a Fixed Payment Notice (FPN) of €100 to people who break these travel restrictions without a valid excuse.
Between Monday and Wednesday, 29 fines were issued by Gardaí while a further eight were issued for previous breaches between 1 and 10 January.
Gardaí have also released examples of breaches that don't include any reasonable excuse, such as a group of three who travelled 80km to collect a takeaway.
The group when stopped at a checkpoint in Dublin said they had travelled from Meath to pick up burgers in Ringsend. All occupants of the car received a fine.
In North County Dublin, Gardaí observed four people leaving out the back of a gym – gardai also issued fixed charge notice penalties in that instance.
The garda statement said that the Health Act 1947 was being used which includes the provision that "a person shall not leave his or her place of residence without reasonable excuse'. 
The statement said that the force continued to engage, explain, encourage and enforce when dealing with members of the public.
#Open journalism
No news is bad news
Support The Journal
Your contributions will help us continue
to deliver the stories that are important to you
"However, An Garda Síochána can, and will, issue Fixed Payment Notices for breaches of Covid-19 Public Health regulations where appropriate to do so.
"This weekend An Garda Síochána will continue to support the effort against Covid-19 by enforcing the Public Health Regulations and other relevant legislation where appropriate," the statement warned.
Gardaí again said travel restrictions do not apply to domestic violence victims seeking help.
"Victims of domestic abuse incidents, including coercive control, will continue to receive highest priority response for service under Operation Faoiseamh.
"If you are a victim of abuse or you know of a family member or friend who is a victim of such abuse, that information is important to us and we ask that you make contact with An Garda Síochána. If you require urgent assistance or support, please call 999 or 112, we are there to listen to help and to protect.
"If you are unable to make phone contact please approach any member of An Garda Síochána on duty, on patrol, on a checkpoint and look for assistance, we are here to help.
"An Garda Síochána is committed to working with our communities to help and support those vulnerable or isolated at this time.  If you need help or know someone who does, please contact your local Garda station," the statement concluded.
Source: http://prntscr.com/fub00u